The 6 Best Retaining Walls Christchurch Specialists
Your retaining walls should not only look good but also be council-compliant and built to last. To help you ensure this, we've outlined the best retaining walls Christchurch specialists for you here.
For this list, we included experienced and qualified builders who are known for providing a high-quality result. Also, we opted for those with easy communication, decent prices and great client reviews.
You can take a look at these companies below to see what they have to offer. Now, if you're all set, here are the best retaining walls Christchurch specialists!
1) TBT Earthworks Ltd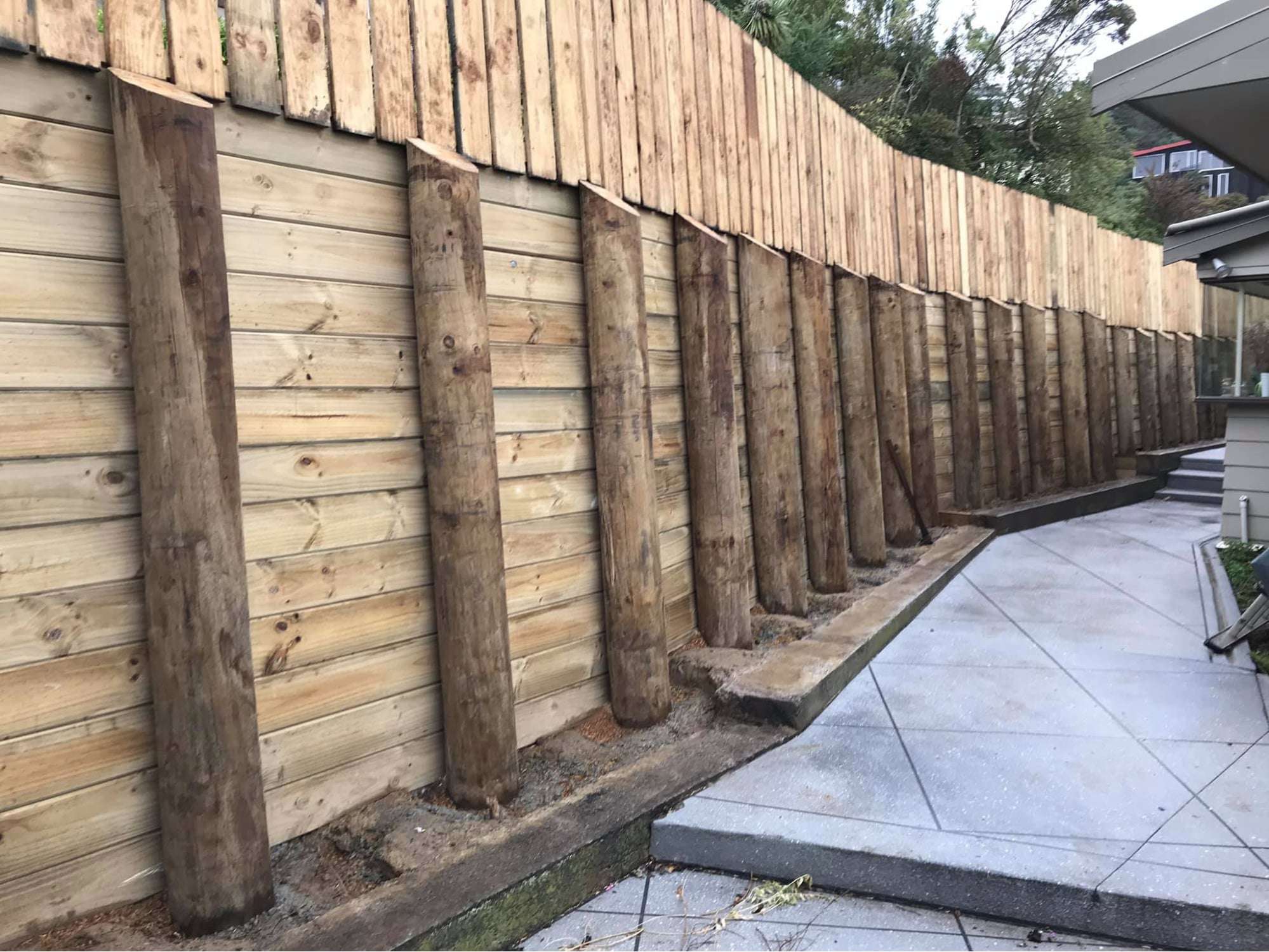 BEST FOR
Solid Retaining Walls
SERVICES
● Site Cuts

● Hill Work

● Demolition

● Earthworks

● Site Clearing

● Tree Removal

● Shingle Supply

● Ribraft Construction

● Block Retaining Walls

● Timber Retaining Walls

● Concrete Retaining Walls

● Bulk or Detailed Excavation

● Foundation Excavation and Backfill

● Landscaping, Ready Lawn, Paths

● Concrete Placing, Driveways, Paths, Patios, Foundations

● Hole Augering / Boring

● Digger Hire

● Truck Hire

WEBSITE
https://www.tbtearthworksltd.co.nz/
ADDRESS
76 Atlantis Street, New Brighton, Christchurch 8083, New Zealand
CONTACT DETAILS
+64 27 858 0556
OPERATING HOURS
24/7
TBT Earthworks Ltd is a respected family-owned business specialising in all aspects of earthwork and retaining walls in Christchurch.
Depending on the site and the load being retained, they can build timber, block, concrete, crib, and vegetated retaining walls. They do so to a high standard and finish, as shown in their pictures of finished work (on their website) and attested by clients.
Their crew will manage the project from start to finish, including acquiring council consent, designing, operating diggers and machineries, and hiring subcontractors. You can thus rest assured that the retaining walls built by their team will be good ones.
Highlights
Solid retaining walls
Can project-manage the task
Excellent service
Modern equipment
Customer Reviews
Here's what one client, Steve Hannaford, had to say on Google:
"Margaret and I wish to say thanks to every one at TBT earthworks for the fantastic job they did on our retainer wall. We are thrilled with the finished product and the professional way they carried out their work. We found Terry and Trent very easy to work with. Thanks guys."
2) Yardscape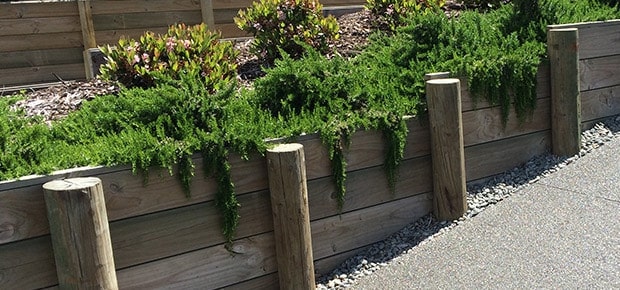 BEST FOR
Beautiful and Functional Retaining Walls
SERVICES
● Installation of new retaining walls

● Upgrades to existing retaining walls

● Repairs to existing retaining walls

● Revitalisation of existing retaining walls

WEBSITE
https://www.yardscape.co.nz/retaining-walls.html
ADDRESS
7 Tucson Place, Christchurch 8061, New Zealand
CONTACT DETAILS
0508 Yardscape (0508 927 372)
OPERATING HOURS
24/7
Looking for something better than a bland and ordinary retaining wall? Well, Yardscape has got you covered. They are dedicated to bringing your outdoor oasis dream to life.
Specialising in landscaping, they can integrate their creative flair into your retaining wall builds. They add vibrant and nicely-arranged plants to pair with the retaining wall, for instance.
Their qualified builders offer installation, upgrade, renovation and refresh of new and existing retaining walls for residential clients.
As you can see, they're some of the best retaining walls Christchurch specialists. You can get in touch with them by phone or email for a free quote.
Highlights
Decorative retaining walls
Licenced builders
Handle the work from design to installation
Free quote
Customer Reviews
On Google Business, Mitch Tucker said this:
"Really enjoyed the quick response and outcome of the work! Have already directed friends on to them for their own work. Highly recommend!"
3) Retaining Canterbury Ltd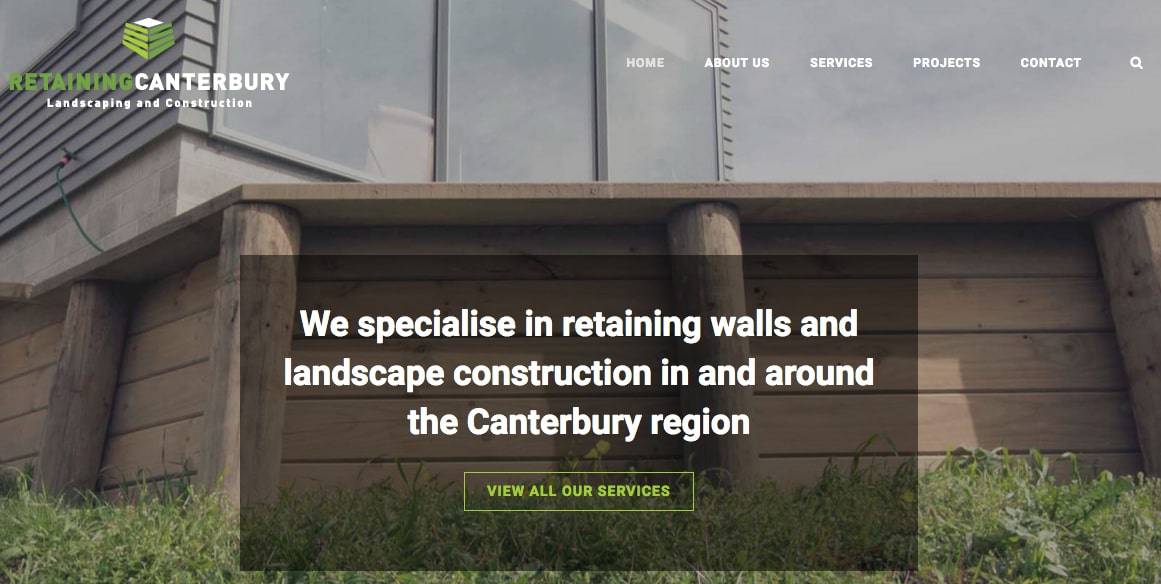 BEST FOR
Remarkable Communication
SERVICES
Retaining Walls and Landscaping

Bridge Construction

Renovations, Repairs and New Builds

Insurance Work

WEBSITE
https://retainingcanterbury.co.nz/
ADDRESS
Christchurch, New Zealand
CONTACT DETAILS
+64 274 270 457
OPERATING HOURS
Monday to Friday: 8am – 5pm
Retaining Canterbury has an exceptional team of architects, engineers and builders with steadfast dedication to quality and superb communication from start to finish.
As New Zealand Certified Builders, they use premium materials to produce a fantastic build outcome. Also, they offer an industry-leading 10-year guarantee for their work.
They offer building and repair of different types of retaining walls, such as in-situ concrete, timber, crib and block. They ensure that the retaining wall project will meet council requirements and will stand the test of time.
From the outset, the project and its pricing are kept transparent. This lets you know that you can trust them as well as are getting your money's worth from their service.
Highlights
Council-approved and durable retaining walls
Superb communication
Honest and decent rates
NZ Certified Builders member
10-year residential guarantee
Customer Reviews
One customer, Tim Phillips, reviewed the company on Google:
"Chris and his colleague Brogan replaced an earthquake damaged concrete wall for us. There were numerous hurdles to negotiate – the sloping section, the wall supporting the path to the front and only door to the house, some council pipework beneath the wall, and perhaps most recurrently, our indecision on various aspects of the job. Chris and Brogan managed all that and more with ease, and produced a great result quickly and within budget.
Good communication was a highlight. Updates throughout the job were regular, and they were always willing to take 5 to discuss aspects of the job and provide expert advice."
4) Sculptural Landscapes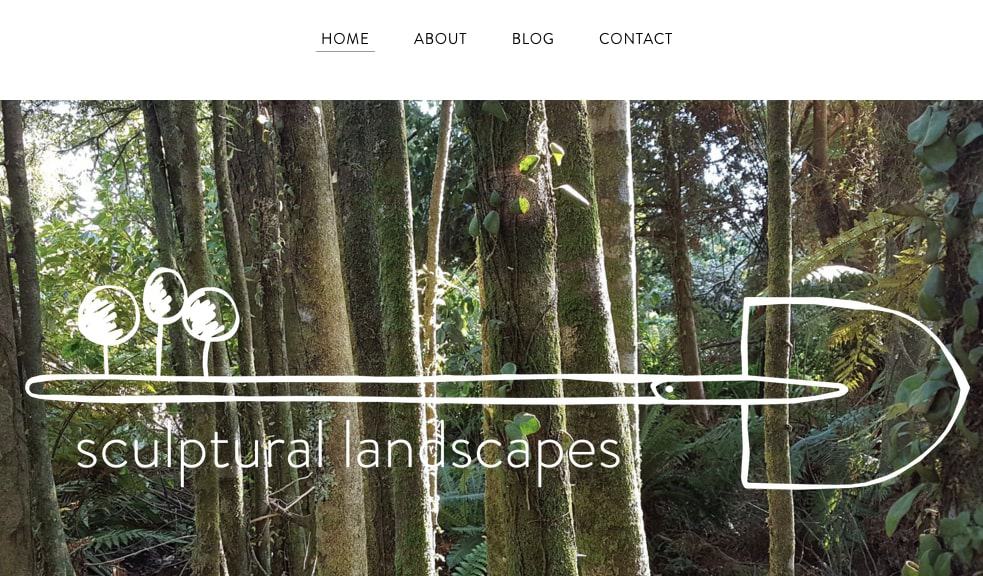 BEST FOR
Creative Retaining Walls
SERVICES
Hard & Soft Landscaping

Retaining Walls

Decks

Maintenance

WEBSITE
https://www.sculpturallandscapes.co.nz/
ADDRESS
Christchurch, New Zealand
CONTACT DETAILS
+64 22 172 6389
OPERATING HOURS
Monday to Thursday: 7am – 6pm

Friday: 7am – 4pm
If you prefer retaining walls with lovely flower beds, a series of terraces, or walkway extensions, then ring Sculptural Landscapes.
Their creative and inspired staff aim to transform your living space into beautiful and usable spaces. Clients also said that they are friendly and professional to work with.
Aside from building retaining walls, they can also repair, renovate or maintain them for you. No work is too small or large for them when it comes to landscaping tasks.
Also, as much as possible, they use sustainable materials in crafting your retaining walls to reduce the environmental impact.
Highlights
Beautiful and functional retaining walls
Creative and inspired staff
Also undertakes maintenance or repair works
Uses eco-friendly materials
Customer Reviews
Find out what Daniel Blair wrote on Google Business about one of the best retaining walls Christchurch specialists:
"In 2017 Sculptural Landscapes carried out work on building new retaining walls at our property as part of our EQC repairs, and building a deck for us as a separate project. We were impressed with not only the standard of the work completed but also with the friendliness of the team led by Jon. The team were always courteous on time and diligent in their approach to the projects , they worked in what sometimes pretty nasty weather conditions and never complained. We would highly recommend Sculptural Landscapes."
5) Ellis Landscape Company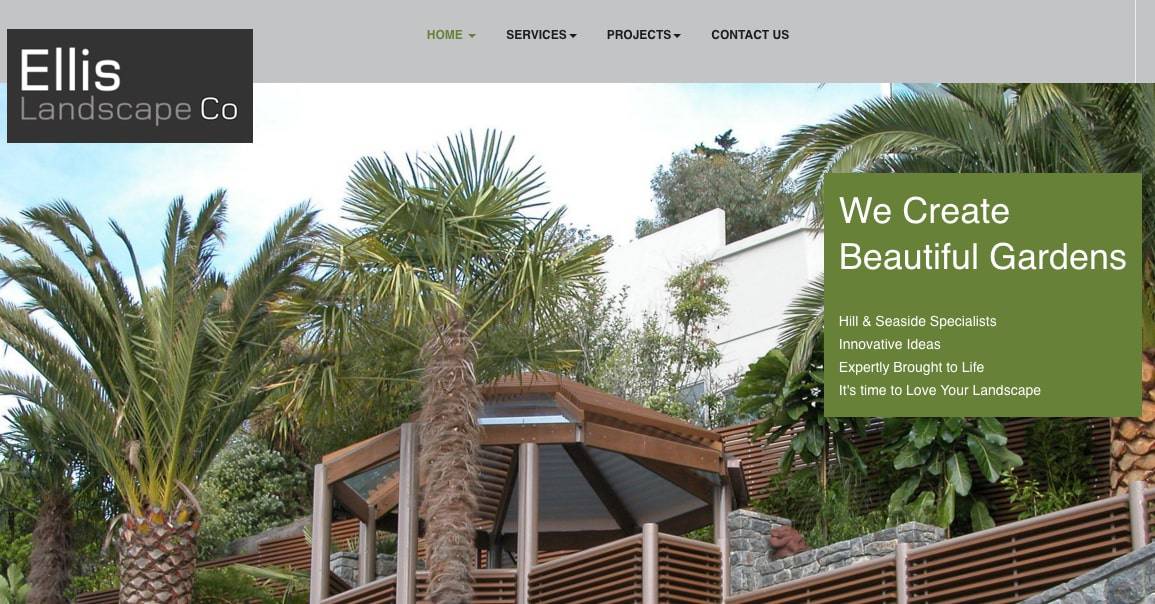 BEST FOR
Commercial Garden Retaining Walls
SERVICES
● Excavator operation

● Drainage work

● Retaining walls

● Pool installation

● Timber, concrete, and stone masonry work

● Timber decks/ Pergolas/ Fences/ Planters

● Driveways/ Paths/ Paving

● Planting

● Irrigation Systems to ensure plants thrive and grow in our uncertain climate

● Retaining Walls built from stone, concrete block or Timber

● Timber Drainage systems specific for hill properties and code of compliance

● Timber decks/ pergolas/ fences/ planters

● Stonemasonry Concrete Block retaining walls and planters

WEBSITE
https://www.ellislandscaping.nz/
ADDRESS
36 Tuawera Terrace, Clifton, Christchurch 8081, New Zealand
CONTACT DETAILS
+64 274 310 582
OPERATING HOURS
Monday to Friday: 8am – 6pm

Saturday: 8am – 2pm
Have a dream garden with eye-pleasing retaining walls in mind for your subdivision, villa or hotel? If your answer is yes, then Ellis Landscape Company can help you out.
They are an established landscaping contractor based in Sumner, Christchurch. For over 25 years, they've specialised in the design and build of hill and seaside gardens.
You can trust their expertise and skill to build stable and wonderful retaining walls. That's because they're members of the Registered Master Landscapers Association of NZ.
Your retaining walls can be made out of concrete block, stone, or timber. Whether you prefer a classic, modern or tranquil retaining solution, they have the solution for you.
Highlights
Specialises in hill and seaside gardens
Builds stable and wonderful retaining walls
Qualified team
Over 25 years' experience
Customer Reviews
Having built a lot of aesthetic retaining walls, they deserve to be called one of the best retaining walls Christchurch specialists. Also, Andrew Docking said on Google:
"Erik has been a great help with our landscaping earthquake repairs. He comes with terrific expertise and we recommend him to anyone considering retaining or landscaping works."
6) SJM Retaining Walls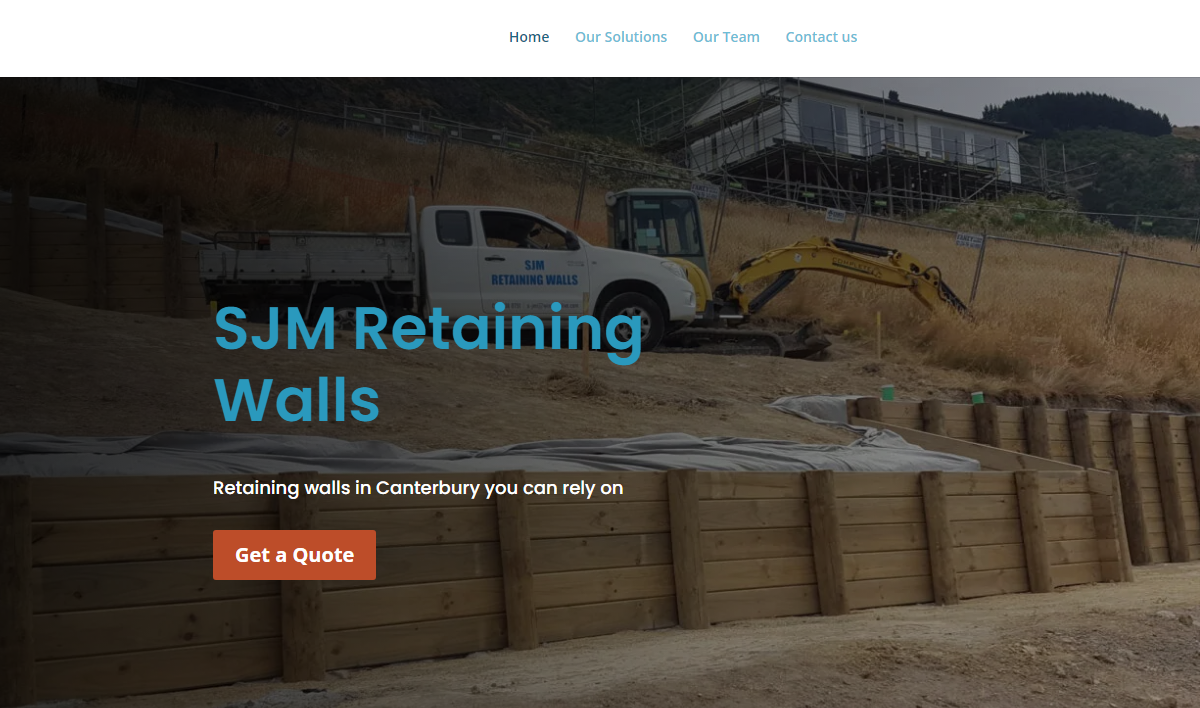 SJM Retaining Walls builds structurally strong walls. Not only that, but their works are also an aesthetically pleasing addition to any property.
They have more than 18 years of experience in building retaining walls. They recommend getting in touch with the team to consult and begin with the project.
They will then survey the site and come up with the most suitable options for any budget and site specifications. Certain retaining walls will need an engineers design and SJM Retaining Walls in Christchurch can help with everything that needs to be done.
Highlights
Experienced staff
Friendly and professional team
Free consultations
Customer Reviews
"We contacted SJM to give us advice about whether a retaining wall was needed along a section of our property with a growing height differential. Shane visited the property quickly, gave us excellent advice about what was necessary (not more than was necessary), and was able to carry out the work promptly as promised. He did an excellent job, and we are pleased with the result. We'd recommend SJM without hesitation."

"Shane is an exemplary contractor. He proved very skilful at a range of jobs, from building retaining walls to fences. He was always prompt and courteous, and exceedingly helpful in optimising the job to our needs. Fantastic!"

"We are extremely happy with the new retaining wall Shane installed for us.
I really enjoyed having Shane working on site and was really impressed with his prompt communication in informing us of progress at all stages of the job.
I would have no hesitation in recommending him to any prospective client.
Many thanks"
And those were the best retaining walls Christchurch specialists. They are the ones to call if you need quality retaining walls for your residential or commercial needs.
Did we miss anything for this list? If we did, just let us know by messaging us and we'll update this post promptly.
What's more, check out our other design and building lists. For example, you can take a look at the best deck builders in Christchurch for a deck that will extend your outdoor living space.