Top 12 Companies for Best Roof Cleaning in Auckland Reviewed
Cleaning your roof is essential to extending the life of your house or workplace. Wondering whom to call? You're right on time as we've put together a list of companies offering the best roof cleaning in Auckland!
We picked the ones who are professional, dedicated and experienced in tidying and cleaning your roof. Moreover, we selected roof cleaning companies who are trained in safety practices and use the latest equipment.
Also, we looked at what customers said about them — this told us that we weren't mistaken in choosing the cleaners for this list.
With them, you get a spick and span result that you'll be proud of.
Top Companies for the Best Roof Cleaning in Auckland Reviewed
1) Klean Freaks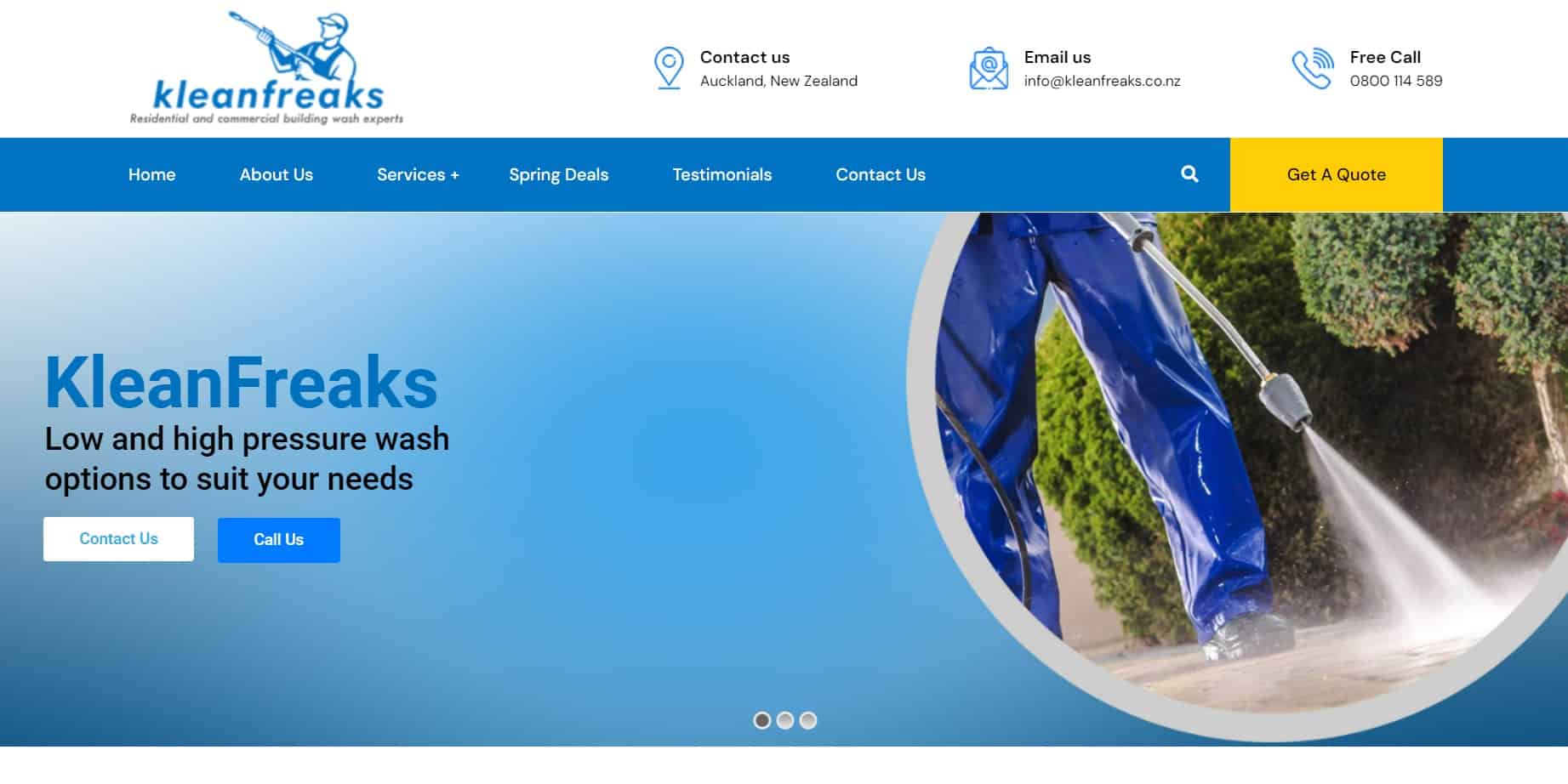 BEST FOR
Pressure Washing Solutions
SERVICES
House Washing/Soft Washing
Gutter Cleaning & Repairs
Roof Cleaning
Roof Treatments
Window Cleaning
Commercial Building Wash
Waterblasting
Drain Cleaning/Hydro Jet Flushing
WEBSITE
https://kleanfreaks.co.nz
ADDRESS
Auckland, New Zealand
CONTACT DETAILS
0800 114 589
OPERATING HOURS
Monday to Friday: 8 am – 5 pm
Klean Freaks is a company that provides its clients with professional and comprehensive cleaning services ideal for all sorts of properties.
From roof cleaning to driveway and gutter wash services, we like that they combine their diverse experience in the field to ensure safety and efficiency with each project that they handle.
Aside from this, they also employ highly experienced cleaners for the job to ensure that all projects will be dealt with tailored care and practical options at all times.
Overall, with their inclusive packages offered, diversely experienced personnel, and excellent customer service, we highly recommend interested clients to check them out.
Highlights
Friendly and professional team employed

Wide variety of cleaning options available

Makes use of environmentally friendly products

Package deals with joint services to save you money
2)  Tailored Property Services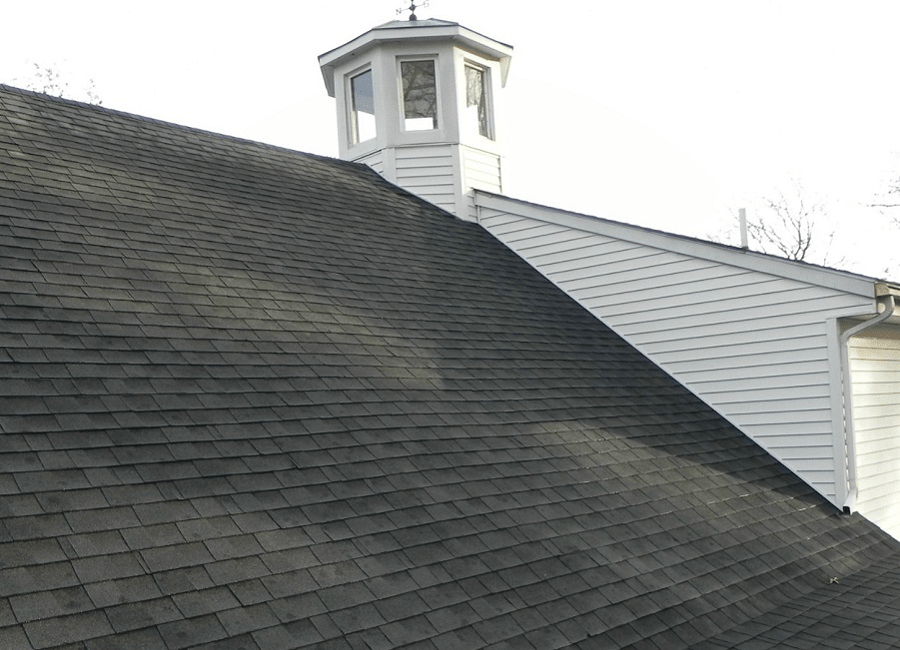 BEST FOR
Safe and Professional Roof Cleaners
SERVICES
Roof Cleaning

Water Blasting

Gutter Cleaning

House Washing

Window Cleaning

Deck Cleaning

WEBSITE
https://www.tailoredpropertyservices.co.nz/cleaning/roof-washing-auckland/
ADDRESS
5 Upland Road, Remuera, Auckland 1050, New Zealand
CONTACT DETAILS
Free Phone | 0800 422 125

Louis Taylor | 0800 422 125

OPERATING HOURS
Monday to Friday: 9am – 5pm

Saturday: 9am – 5pm
If your roofing looks like it needs some washing done or it's overgrown with moss, lichen and mould, then Tailored Property Services might be the best roof cleaning in Auckland for you.
Roof cleaning is one of the services they offer for a full exterior residential and commercial cleaning. The professional team is trained to work at the height of your roof safely.
They possess the knowledge and expertise to  take care of your roofing system, be it shingle, limestone, or some other type.
Also, they use the proper roof treatment solution for a gentle cleaning each time they do a roof washing in Auckland. Whether you're giving your roof a one-off cleaning or regular maintenance — if you choose them, you will get a cost-effective service!
Highlights
Offer house maintenance services including roof cleaning
Professional & safety-trained team
Use the proper roof treatment solution
Cost-effective service 
Customer Reviews 
One customer, Sophie Lee, mentioned on the website: 
"Great communication and the only roof cleaning service to get back to me straight away with a quote. Andrew came to wash the roof of our house on time and did a great job. This is the business to contact if you want reliability and quality. Thanks guys!"
3)  Chemwash Auckland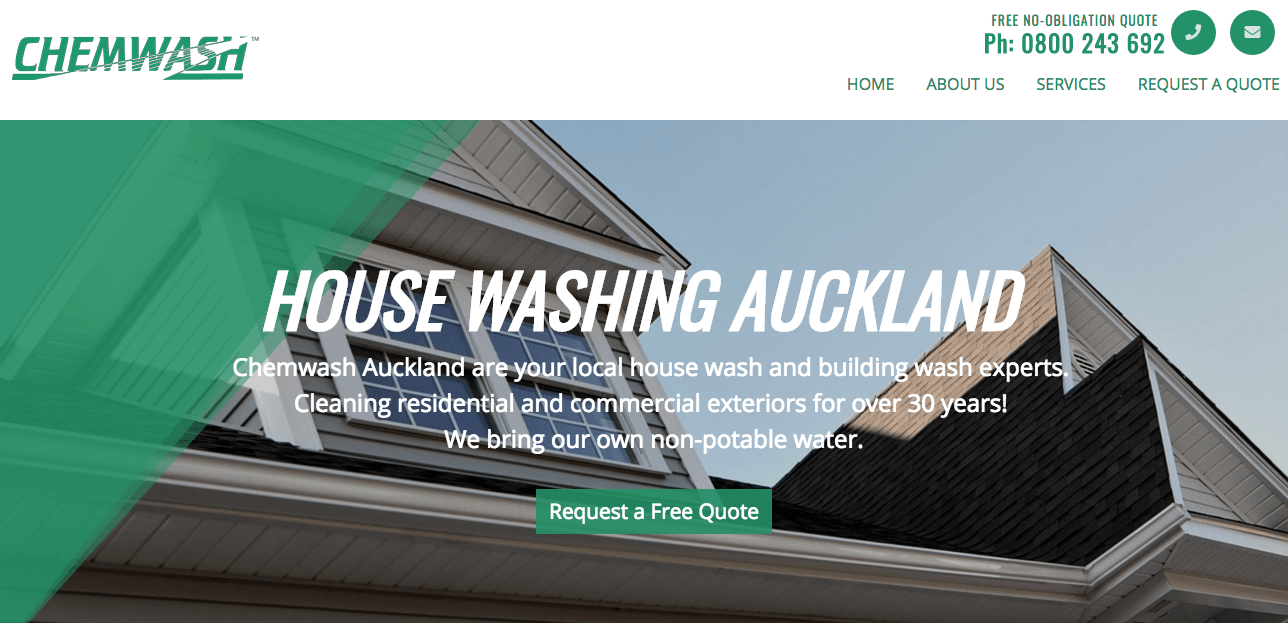 BEST FOR
Safe, Biodegradable Soft Washing
SERVICES
House Washing

Decking

Roof Cleaning

Gutter Cleaning

Commercial Exterior Cleaning

Concrete Cleaning

Pest Control

Window Cleaning

Chewing Gum Removal

WEBSITE
https://auckland.chemwash.co.nz/
ADDRESS
273-275 West Coast Road, Glen Eden, Auckland 0602, New Zealand
CONTACT DETAILS
+64 9-818 3752
OPERATING HOURS
Monday to Friday: 7.30am – 4pm
Chemwash Auckland is the premier house and building cleaning name in the city. They have over 30 years' experience and offer clients a comprehensive range of services on top of roof cleaning in Auckland.
Their soft washing cleaning system uses less water with detergent that gives your house a thorough, gentle and efficient clean without causing unwanted damage.
They are able to clean all types of roofing, whether it's coloursteel, clay, or concrete tile. Furthermore, they can do specialised roof treatments too to keep your roof in tiptop shape.
Here, you'll get a combination of top-notch quality and low rates which are quite competitive among roof cleaning cost in NZ– and this is what makes them one of the companies that offer the best roof cleaning in Auckland!
Highlights 
Able to clean all types of roofing
Soft washing cleaning system
Over 30 years' experience
Top-notch quality
Affordable rates
Customer Reviews 
Check out Barney McLawry's review on Google Business:
"The quote was competitive & the service impeccable. The guys did a really great job; no fuss; right into it; thorough. Probably the best chemwash money can buy in this gridlocked city of ours. Highly recommended."
4)  Spray & Wash North Shore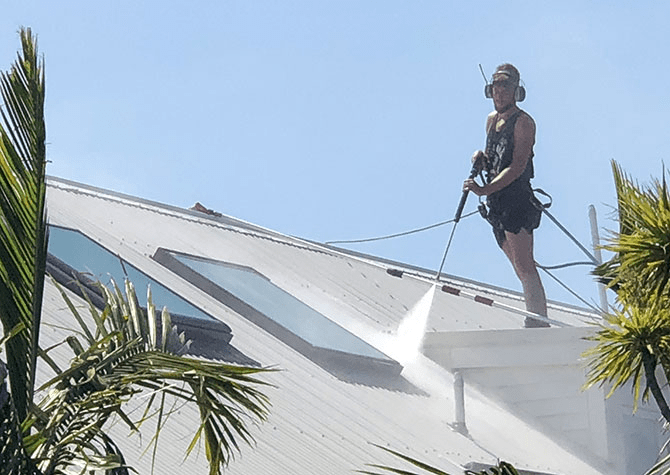 BEST FOR
Affordable Roof Cleaning & Treatments
SERVICES
●      Deck Cleaning

●      Spider Treatment

WEBSITE
https://www.northshorewash.co.nz/roof-cleaning/
ADDRESS
102 Sunset Road, Unsworth Heights, Auckland 0632, New Zealand
CONTACT DETAILS
0800 88 11 23
OPERATING HOURS
Monday to Friday: 9am – 5pm
Do you live around the North Shore and are you looking for an affordable roof cleaning service? Well, you've found it with Spray & Wash North Shore.
You basically have two options here: roof cleaning and roof treatment. Both entail the use of high-pressure chemical washing to produce a spotless result for their roof wash in Auckland.
But when it comes to organic growth like mould, mildew, lichen, moss, a roof treatment would be better. This adds longevity to your roof and makes for healthier air and home.
The company prides itself on providing effective results of roof cleaning in Auckland. You'll see them immediately!
Highlights
Effective roof cleaning results
Offers roof cleaning and roof treatment
Skilled and experienced cleaners
Affordable rates
Customer Reviews 
Take it from one customer, Poul Evans, who said on Google Business:
"I have worked with Henry and the North Shore House Wash guys for 3 years now and recommend them as honest, reliable and professional."
5)  NZTS Treatments & Spraying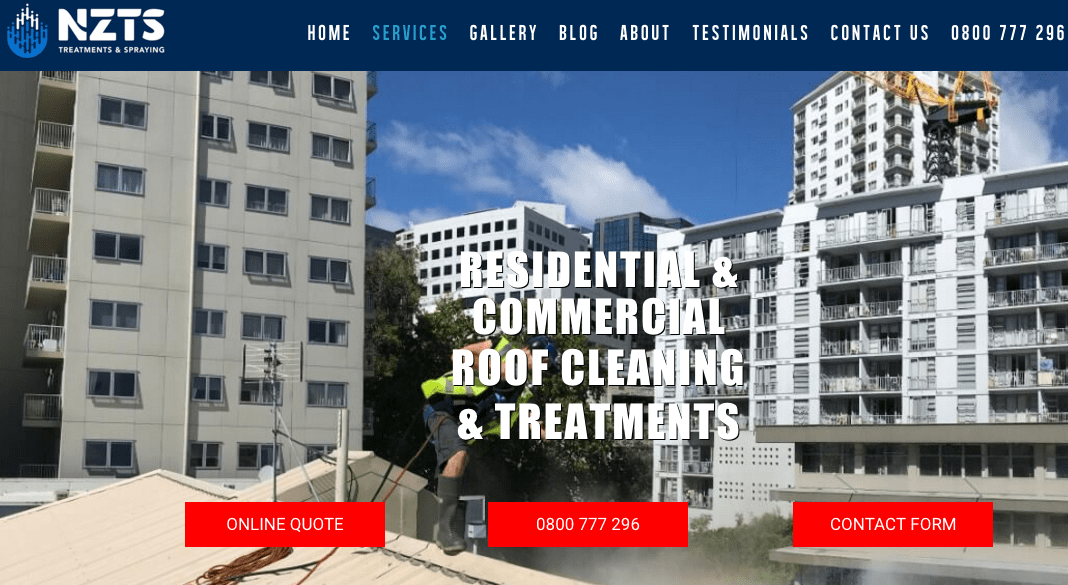 BEST FOR
Personalised Roof Cleaning
SERVICES
Building Washing

Gutter Cleaning

House Washing

Roof Washing & Treatments

Window Cleaning

Gutter Guard

WEBSITE
https://nztreatmentsandspraying.co.nz/roof-cleaning/
ADDRESS
2 Olive Road, Penrose, Auckland 1061, New Zealand
CONTACT DETAILS
0800 777 296
OPERATING HOURS
Open 24 hours
Here at NZTS Treatments & Spraying, you get a tailored service for roof cleaning in Auckland for guaranteed satisfaction — a result that's more than what you hoped for and expected!
With a decade of experience, the team knows how to deal with kind of roof cleaning conditions in Auckland.  As a result, they can give you advice as to the best type of cleaning for your commercial or residential roofing.
It might be a pre-paint washing, moss/mould/lichen treatment, pressure cleaning, soft washing, or waterblasting. You'll get the best care for your roof that adds to its life.
That's why, were confident about including NZTS among the companies offering the best roof cleaning in Auckland!
Highlights
Tailored roof cleaning service
Skilled and reliable team
Can advise you on the best cleaning method
Have a decade of experience
Customer Reviews
Here's the review from one customer, Deeco Studio, on No Cowboys NZ: 
"The team at NZTS are great to work with. Highly skilled at building washing, we've seen firsthand and can vouch for their work. Hire them to sort your home or building's exterior wash. Fair pricing and a job well done. Cheers."
6)  Auckland Alliance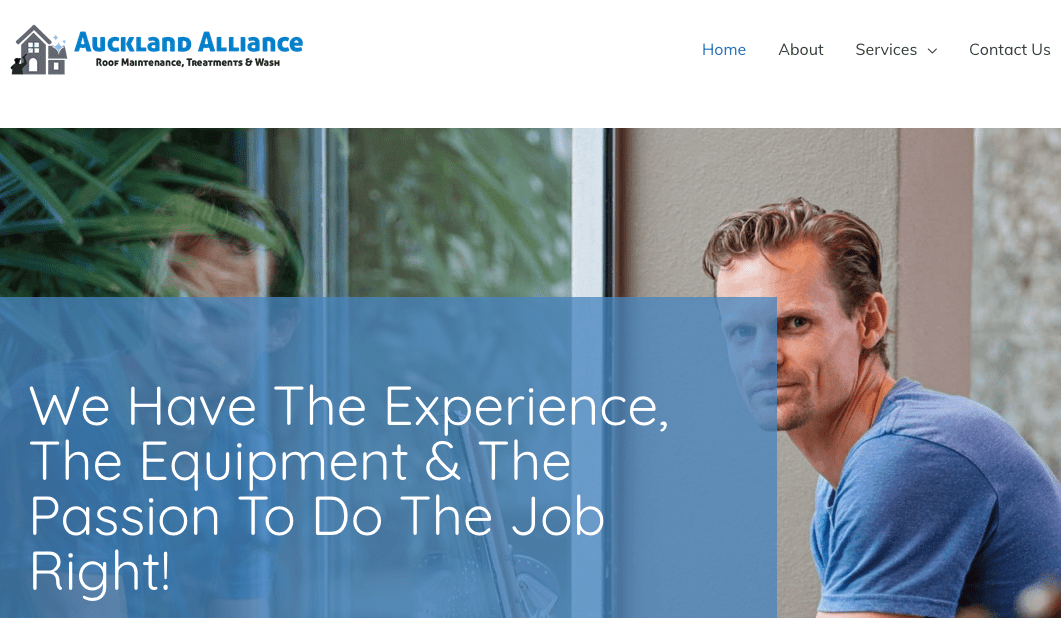 BEST FOR
Competitive Prices & Satisfaction Guaranteed
SERVICES
Fence & Deck Cleaning

Gutter Cleaning

Roof Cleaning

Driveway & Pathway Cleaning

Window Cleaning

Exterior House Cleaning

WEBSITE
https://aucklandalliance.co.nz/
ADDRESS
57c Taka Street, Takanini, Auckland 2112, New Zealand
CONTACT DETAILS
0508 229 274 | 027 292 7448
OPERATING HOURS
7:00 AM – 6:00 PM

7 Days a Week
Affordable and safe roof cleaning is what Auckland Alliance is all about. They offer residential and commercial exterior washing throughout Auckland.
Their rule is that if you're not satisfied at the end of their service, you don't pay. That's a testament to their service quality as well as their expertise and experience.
The professional cleaners will happily inspect and assess your roof's condition to determine the best method to clean it. They also treat your home as if it were their own.
In addition to that, they are respectful and always leave the place neat and tidy afterwards. These kinds of cleaners are very rare to find, probably since tidying up the place afterwards is a minor thing that's easy to overlook!
Overall, if you want a company that's safe, efficient and takes customer satisfaction seriously, then Auckland Alliance could well be the company to offer you the best roof cleaning in Auckland.
Highlights
Affordable and safe roof cleaning
Guaranteed customer satisfaction
Respectful and skilled roof cleaners
Treat your home as if it was their own
Customer Reviews
Here's what Bill Tonkin has to say on Google Business for one of the best roof cleaning professionals in Auckland:
"You guys have done a great job today washed and cleaned the cutters and sprayed the roof you both left the ptty clean and tidy  I was very impressed with the job I wouldn't hesitate to recommend your company to anyone great price for the work done too."
7)  Roof Restore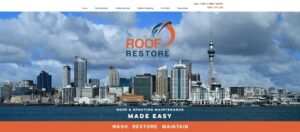 Roof Restore offers high-quality roof cleaning in Auckland at affordable rates.. They provide a variety of roof maintenance services, from cleaning to repair.
With more than nine years of experience, there's no doubt that they know what they're doing. If you're interested and want to know if they have great roof cleaning costs in NZ, call them for a free quote.
Highlights
9 years of experience
Free quote
8)  Prime Property Wash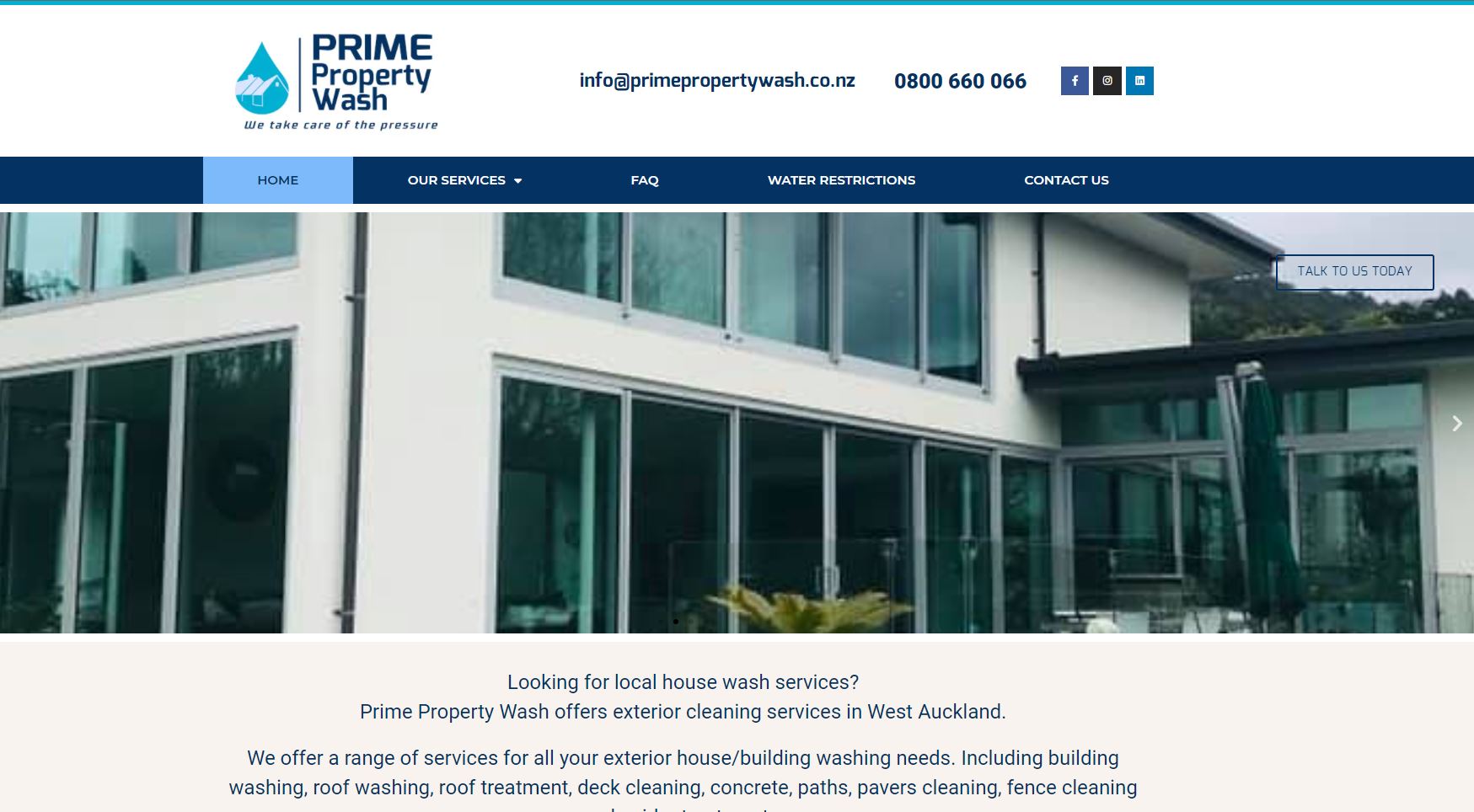 BEST FOR
House Washing
SERVICES
Deck Cleaning
Gutter Cleaning
Roof Cleaning
Exterior House Wash
Paving, Driveway Cleaning
Roof Treatment
Fence Cleaning
Pre Paint Clean
Spider Treatment
WEBSITE
https://primepropertywash.co.nz/
ADDRESS
Auckland
CONTACT DETAILS
0800 660 066


[email protected]

OPERATING HOURS
N/A
Prime Property Wash offers the complete suite of house washing services. From gutter cleaning to exterior cleaning, they can handle any task you need them to do.
If your annual spring cleaning season is coming up, it's best to clean the house inside and out. Contact them for a free quotation now.
They also offer exterior house wash and other home services on top of roof cleaning in Auckland. They're a best fit if you want a 'one-stop' service for your roofing and house needs.
Highlights
Free quote available
Wide range of services
9)  Blasterman

BEST FOR
High-Pressure Cleaning
SERVICES
Water Blasting
House Washing
Driveways & Decks
WEBSITE
https://www.blasterman.co.nz/
ADDRESS
N/A
CONTACT DETAILS
021 232 2387
OPERATING HOURS
N/A
Blasterman is a cleaning company that specialises in water blasting, a high-pressure method of roof cleaning in Auckland. As a plus, they use environmentally friendly materials in their work.
They take pride in the outstanding quality of their services. If you're in need of top-notch roof cleaning, they're the ones you should call.
Highlights
Free quote available
Experienced in cleaning a wide range of services
Uses reliable equipment and environmentally friendly materials
10) A1 Water Blasters
BEST FOR
Eco-friendly services
SERVICES
Gutter Cleaning
Driveway Cleaning
Roof Treatment
Fence Cleaning
Deck Cleaning
House Washing
WEBSITE
http://www.a1waterblasters.co.nz/
ADDRESS

68A Matija Place, Red Beach 0932, New Zealand

CONTACT DETAILS
0800 4 A1WASH or 021 188 8366
OPERATING HOURS
Open 24 hours
A1 Water Blasters is considered to be one of Auckland's leading house and building wash company. They offer a multitude of services for you to acquire; namely gutter cleaning
driveway cleaning, roof treatment, fence cleaning, deck cleaning, and house washing.
They have their very own low-pressure system made for cleaning all exteriors and assures each spot to be clean after!
With their premium quality services at lower rates, A1 Water Blasters is definitely one of the companies offering the best roof cleaning in Auckland.
Highlights
Risk-free quote
Soft washing
Efficient cleaning
Customer Reviews
Take a look at some of the reviews left by customers of A1 Water Blasters:
"Highly recommend A1 Water Blasters Ltd. From the time I enquired, I had a very responsive Jason. Got back to me exactly when he said he would. Professional and great work done our driveway, path and deck. I will be using him again and recommend any new customers to call him.
5 star."
"Highly recommend this company, well priced for such a high quality service. Jason does a great Job cleaning our Kebab Stores patio annually and he is very friendly to deal with."
"Jason was in regular touch as his day progressed. The job was done in good time and he left the site looking great. He is also well set up with good modern equipment and he is pretty tech savvy too!! I will certainly recommend Jason and A1 to my friends and family."
11) Wash Rite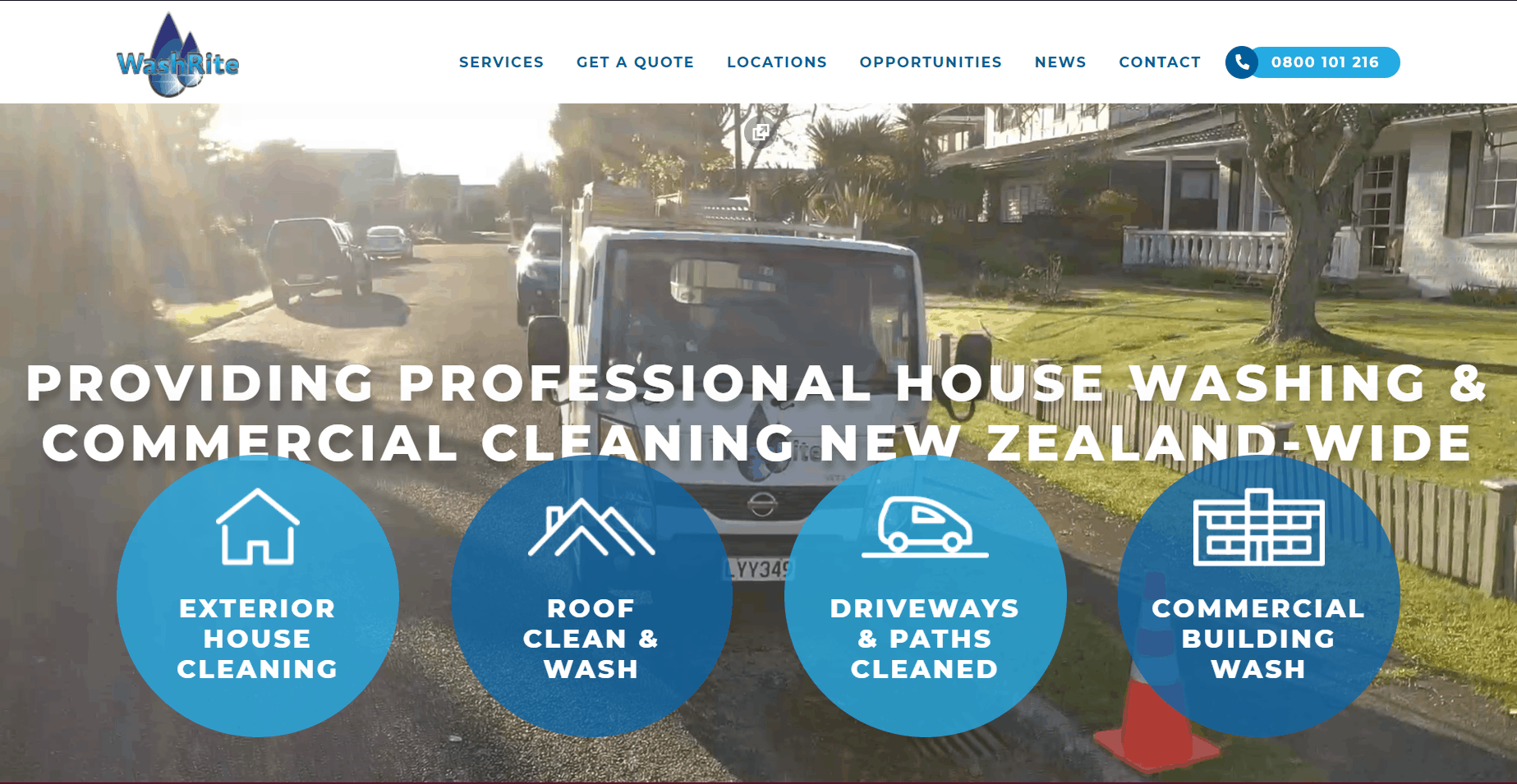 Are you on the lookout for top-notch house washing? Or perhaps your commercial space needs some cleaning?
If so, Wash Rite may be right up your alley. See, Wash Rite is one of the leading domestic house washing and commercial cleaning company.
It's also one of the biggest, with numerous locations scattered all over New Zealand. As such, Wash Rite is highly accessible, flexible, and professional, with the company and its franchises taking on any job regardless of its scale and size.
Aside from that, we would also like to commend Wash Rite's dedication to consistency. The company always takes note of the clients' requests and makes use of top of the line equipment and products to ensure that they will attain a 100% satisfaction rate by the end of the job.
All in all, if you want a reputable company with several locations across the country, then Wash Rite could offer you the best roof cleaning in Auckland.
Highlights
Serves the entirety of New Zealand
Caters to commercial and residential cleaning requests
Professional and prompt response
12)  JP Franklin Roofing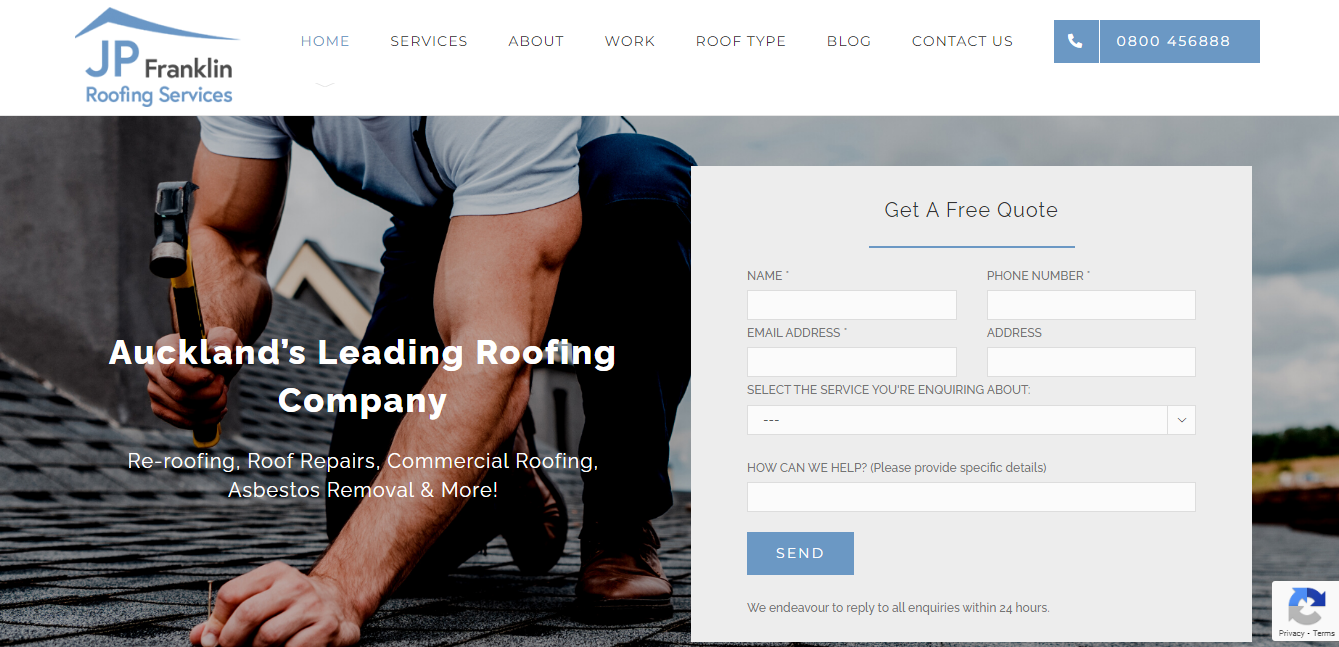 JP Franklin Roofing is a prominent figure in the Auckland roofing sector. They are a local one-stop-shop for moderately priced roofing needs for both residential and commercial settings, with a 91 percent satisfaction rate.
They are a group of eight full-time professionals that contribute their years of knowledge to every project that their clients entrust to them. Clients may rest certain that their approach is holistic and oriented at providing the finest outcomes for long-term durability, regardless of the type of roof.
Prices are not listed on their website, but they do offer a free quotation so that clients and the company may personalize and negotiate the most accurate price before beginning the project.
Clients may expect a stress-free experience from start to end thanks to the company's practices. They not only use high-quality items, but they also ensure that any subsequent oversight and follow-up requirements are met.
They also offer free guidance to their clients, which is particularly beneficial to those who are new to their services or the area in general.
Highlights
Experienced staff
Utilizes quality products
Offers free advice
And that's it for our list of companies offering the best roof cleaning in Auckland! These specialists will clean your roof and make it spotless and longer-lasting.
Do you have any questions or suggestions about this topic? If you have one, kindly let us know by sending us a message and we'll get right back to you.
Also, you might like to read about the best roof repair services in Auckland. If your roof is leaking, you should get them patched up to prevent further damage and additional costs in the long run.
Moreover, if you want to have your house cleaned from the inside, check out our list of the best cleaning services in Auckland.