8 Services for the Best Roof Painting in Auckland Reviewed
The roof completes the house besides protecting you from the harsh weather. If you're thinking of having it painted anew, we came up with services for the best roof painting in Auckland.
It takes a highly skilled person to paint, especially from a height. And since you can't see the whole thing when the painting is done, you need someone you can trust.
That's why we looked for painters who have experience and can be trusted. So, let's now see the best roof painting services in Auckland to keep your house looking new, clean, and rust-resistant!
Services for the Best Roof Painting in Auckland Reviewed
1)Master Roofing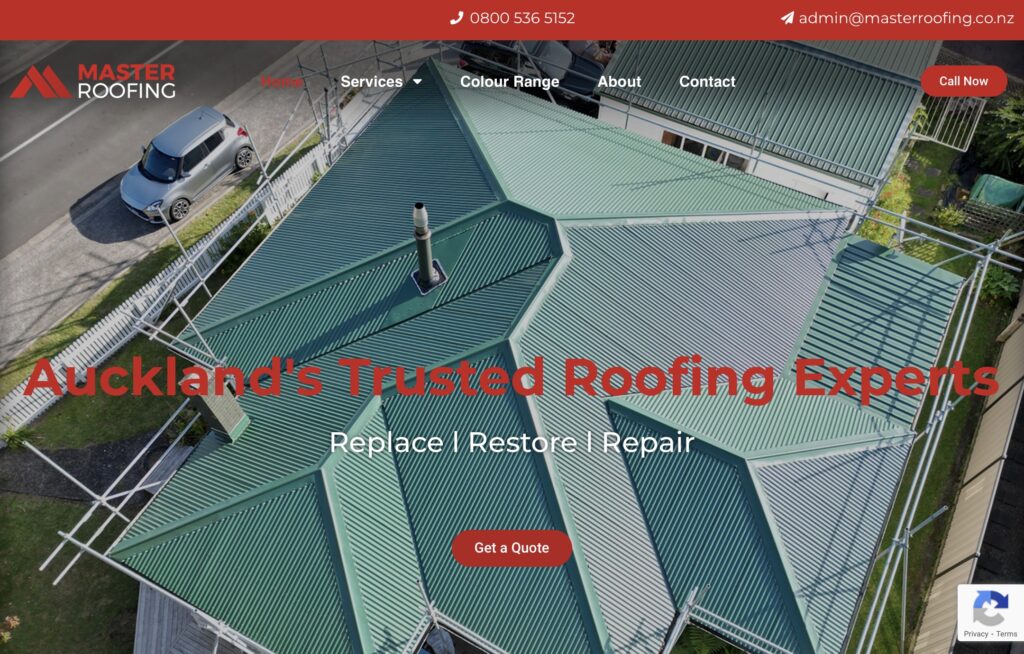 | | |
| --- | --- |
| BEST FOR | New Roof Installation |
| SERVICES | Commercial, Residential, Moss Treatments, and Repairs |
| WEBSITE | https://www.masterroofing.co.nz/ |
| ADDRESS | Auckland Wide, New Zealand |
| CONTACT DETAILS | |
| OPERATING HOURS | By appointment basis |
Our experience with Master Roofing left us astounded. Their services combine the finesse of an artisan with the efficiency of a well-oiled machine. When it comes to roof painting, they are masters of their craft.
The quality of their work is nothing short of exemplary. It's as if they took a paintbrush to the heavens and brought down the sky to adorn our roof. Every stroke is a testament to their dedication to perfection.
Efficiency is their middle name, or so it seems. The speed at which they transformed our roof from drab to fab was truly impressive. Our neighbors were left in awe of the swiftness and precision with which Master Roofing operates.
Master Roofing managed to balance their remarkable quality and efficiency without leaving a gaping hole in our pockets. It's as if they possess a secret formula for delivering excellence at an affordable rate.
In addition to the roofing wonders they perform, the customer service is an experience in itself. Their team is not only professional but also friendly, which is a rare combination in this industry. They were a pleasure to work with, and their ability to put customers at ease is a commendable skill.
We can't help but appreciate the little details that Master Roofing focuses on. Their attention to even the most minuscule imperfections left us in awe. It's clear that they care deeply about their work and reputation.
However, they don't offer promos at the present. We advise checking their website for other affordable deals.
Highlights
Exceptional Quality Work
Efficient and Timely Service
Competitive Pricing
Professional and Precise Assessment
Customer Reviews
I can't speak highly enough about Master Roofing! From the moment we contacted them to the final brushstroke, their service was impeccable. Our roof was in dire need of a makeover, and they worked their magic with such precision and speed that it left us stunned. The quality of their work is top-notch—it's like our roof went from ordinary to extraordinary overnight. What's even more impressive is that they managed to do all this without emptying our wallets. If you're looking for a roof painting company that delivers excellence, Master Roofing is the way to go. We're thrilled with the outcome, and our neighbors are envious of our beautiful roof!
We recently had the pleasure of working with Master Roofing, and the experience was nothing short of fantastic. Their team is not only highly skilled but also incredibly courteous. They took the time to explain the entire process, which put our minds at ease. The efficiency with which they completed the project was remarkable. It's not just the speed but the attention to detail that impressed us the most. Our roof now looks brand new, and we can't thank Master Roofing enough. The icing on the cake was their pricing—reasonable and fair for the level of quality they provide. If you want your roof to be the envy of the neighborhood, don't think twice about choosing Master Roofing. They are true professionals who take pride in their work, and it shows in the final result.
2) Superior Painters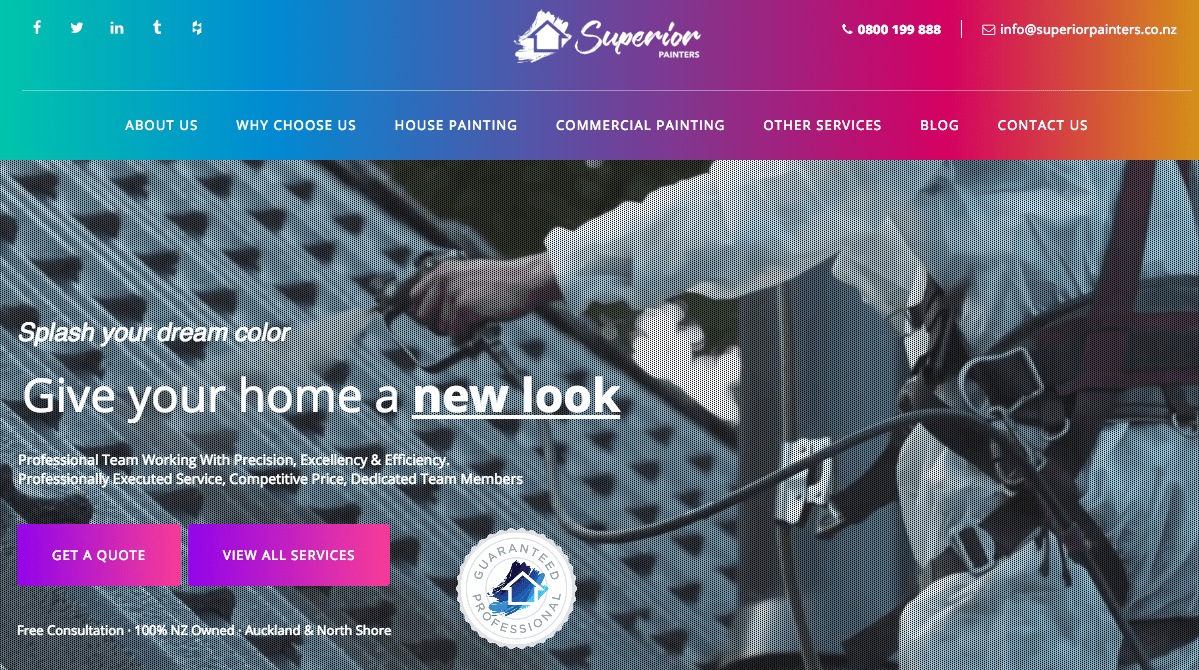 | | |
| --- | --- |
| Best for | First Rate Roof Painters |
| Services | Roof Painting, Pre-Cleaning, Maintenance |
| Address | F4/ 27-29 William Pickering Dr, Rosedale, Auckland 0632, New Zealand |
| Contact no | 0800 199 888 |
| Website | https://superiorpainters.co.nz/ |
Roof painting in Auckland doesn't only involve painting, but also pre-cleaning for a wonderful result! Superior Painters follow this rule by removing debris, lichen, or cracks before splashing some colour onto your roof.
One of the things that enable them to perform efficiently as roof painters in Auckland is their project manager. He constantly checks their work to that end, in addition to being easy to communicate with.
Hence, the client is guaranteed picture-perfect quality for the roof. However, if it happens that you're not content with their workmanship, the team will be more than glad to repair it for you.
Highlights
Picture-perfect guarantee
Knowledgeable and expert team
Amazing communication
Customer Reviews
As found on Google Reviews, Elaine Ren said:
"Excellent job done by Superior Painters. The whole process is so efficient and fast. We are satisfied with the high quality job. Thank you Kevin!Definitely we will use you again. Highly recommend to my friends."
3)  Kowhai Painters & Renovators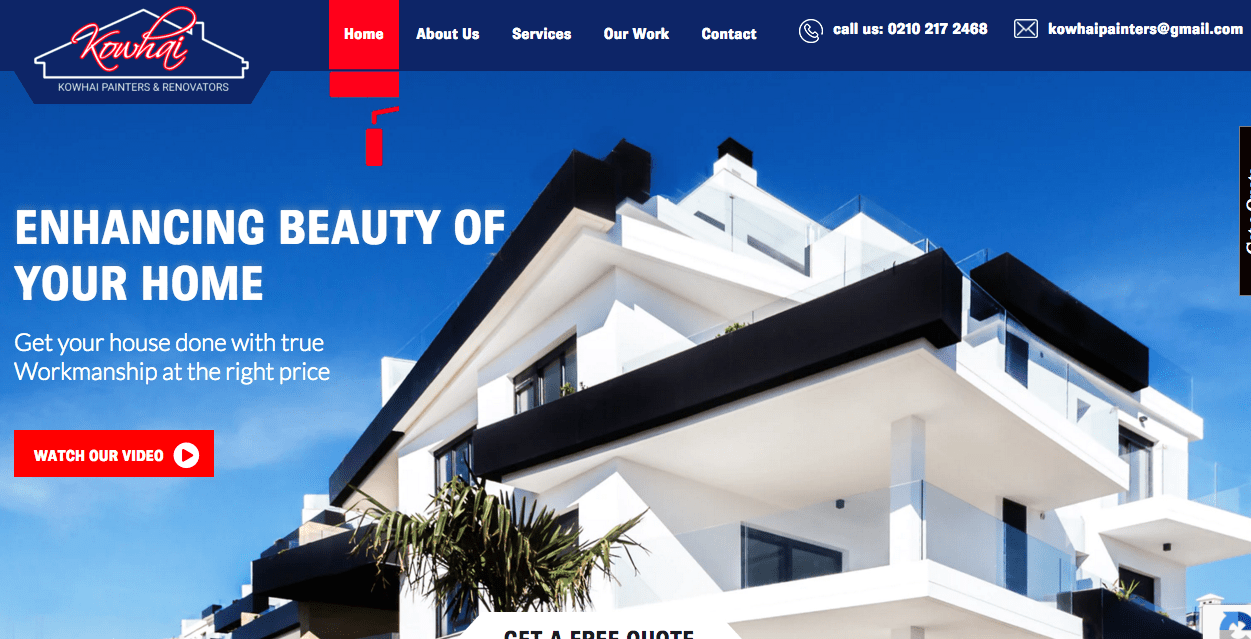 | | |
| --- | --- |
| Best for | Affordable Roof Painting |
| Services | Roof Painting, Repairing, Renovation |
| Address | 11 Nixon Street, Grey Lynn, Auckland 1021, New Zealand |
| Contact no | 0210 217 2468 |
| Website | https://kowhaipainters.co.nz/ |
If you are looking for a cost-effective roof painting in Auckland, get a quote from Kowhai Painters & Renovators. They offer complete roofing solutions that include painting, renovating, and repairing.
The company is Site Safe accredited with well-equipped painters. This means that the work is done at the highest levels of safety and quality — something that you'd be proud to show off.
Plus, when the painting is finished, the team will tidy up after the place for absolutely zero clutter in your house. Hence, Kowhai Painters are one of the best services for roof painting in Auckland.
Highlights
Affordable rates
Mesmerising paint job
Great quality paints and tools
Customer Reviews
Harry H from Sandringham Road gives a shout-out:
"Thanks Kowhai.  My place is looking amazing. You guys rock.  I had often imagined what it could look like with new paint but wow, it was even better.  I can see you pay attention to the fine detail which was important to me.  Good communications throughout the project.  Well done."
4)  Sindabad Decorators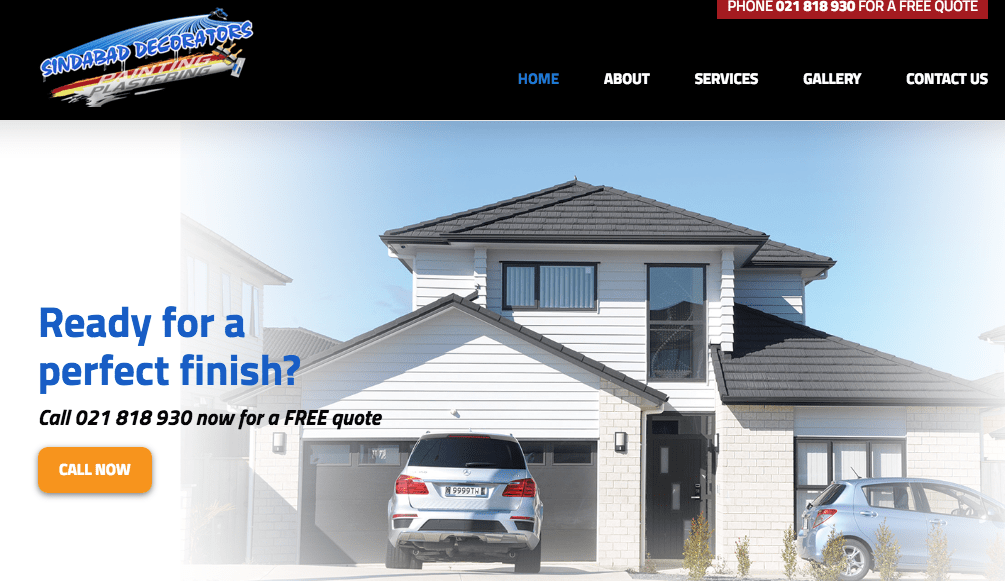 | | |
| --- | --- |
| Best for | Time-bound Roof Painting |
| Services | Roof Painting, Water Blasting |
| Address | 18 Sean Fitzpatrick Place, Papatoetoe, Auckland 2025, New Zealand |
| Contact no | 021 818 930 |
| Website | http://sindabad.co.nz/ |
It's honestly hard to come by roof painters in Auckland who care about their workmanship and the client satisfaction. But you can find such dedicated painters with Sindabad Decorators.
Sindabad Decorators has been sprucing up homes for 13 years and counting. They use only branded paints to protect your roof from rusting or the changing weather conditions.
If you're working under a strict time frame, they are one of the best roof painters in Auckland to hire. They also have kind, approachable and friendly staff.
Highlights
Enthusiastic painters
Branded paints and primers
13 years of experience
Customer Reviews
Ian Freeman commented from Google Reviews:
"This is the second time we have used Alan and his team and once again they have surpassed our expectations! Excellent standard of work, clean and tidy and they have gone beyond what was asked of them. Could not recommend more."
5)  Auckland Roof Painting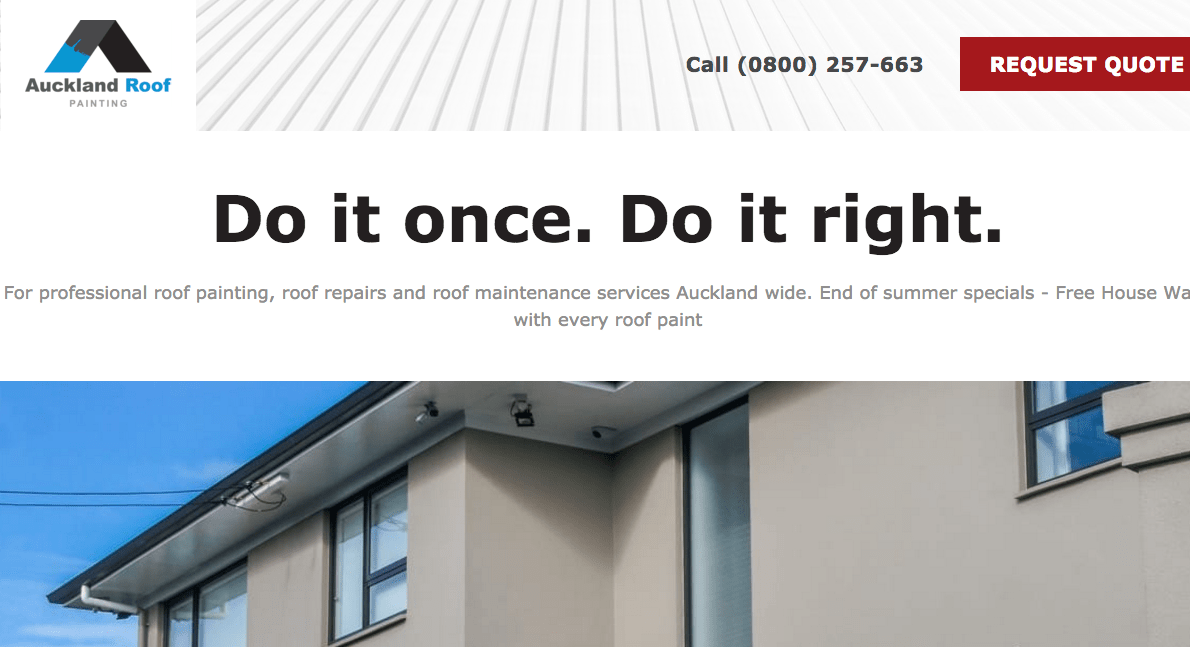 | | |
| --- | --- |
| Best for | Paints with Durability and Weather Resistance |
| Services | Roof Painting, Repairing, Renovating, Re-roofing |
| Address | 40 Cornwall Park Avenue, Epsom, Auckland 1051, New Zealand |
| Contact no | (0800) 257 663 |
| Website | https://www.aucklandroofpainting.co.nz/ |
Auckland Roof Painting offers a full range of services for roof painting, re-roofing , and maintenance. With 30 years of experience, they are one of the best roof painting services in Auckland.
Their Procoat paints are durable, weather-resistant and eco-friendly and can give your house an invigorating look that will last. To prove this, they offer you a 10-15 year warranty for this paint.
They serve residential and commercial clients throughout Auckland. If you have a renovation project or a refurbishment coming up that involves roof painting, you can call up Auckland Roof Painting!
Highlights
Customer Reviews
Meredith describes an experience with Auckland Roof Painting:
"I am very happy with my roof thank you. I chose to go with your company even though the quote was more as you provided a guarantee and I felt I would get a good finish on my roof which had lots of old flakey paint on it."
6)  Reliance Roof Restoration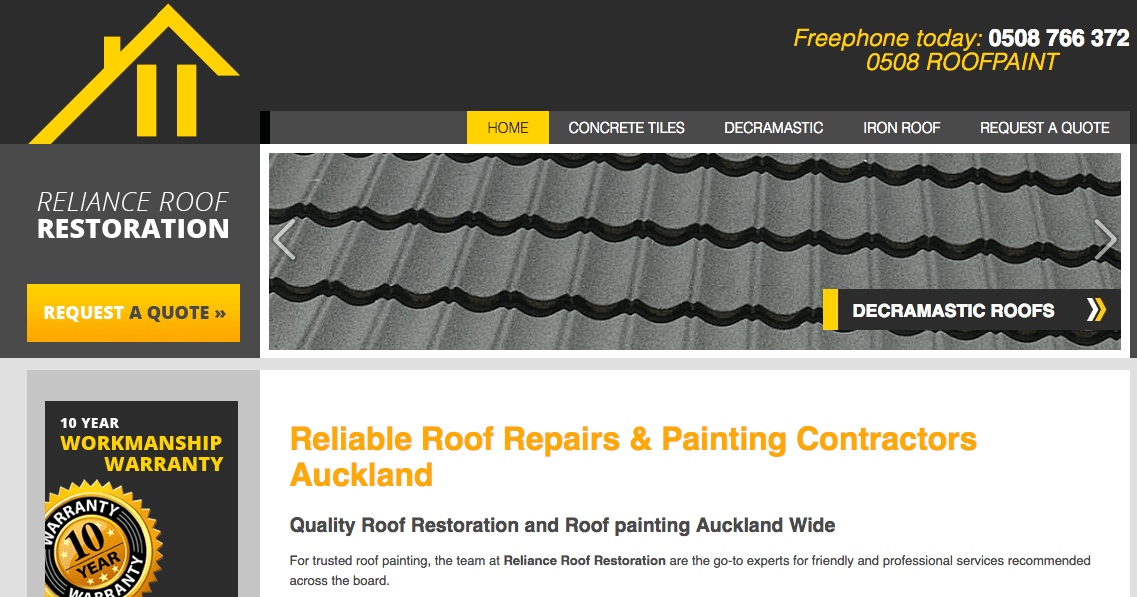 | | |
| --- | --- |
| Best for | Restoration Projects |
| Services | Roof Painting, Restoring, and Repairing |
| Address | 704 Great South Road, Penrose, Auckland 1061, New Zealand |
| Contact no | 0508 ROOFPAINT | 0508 766 372 |
| Website | http://www.relianceroofrestoration.co.nz/ |
Has the paint cracked or faded on your roof? Reliance Roof Restoration has got you covered. They offer roof painting in Auckland though they specialise in roof restoration and maintenance.
Those organic things like lichen, mould or moss are removed and the roof cleaned to prepare for the painting. Only high-quality paints and coating products are used.
For competitive prices, epic 10-year warranty, and astonishing colour, we believe Reliance Roof Restoration is one of the best roof painting services in Auckland.
Highlights
Professional team
Great prices
Top-notch paint products
10-year warranty
Customer Reviews
Here is Stephen May's review which is found on the website:
"Thank you for the great job on the roof, I have neighbour envy, neighbours have asked about your services and commented on the professionalism of your staff. And happy to say no leaks. Roof looks Great ! "
7) Accredited Roofing & Coatings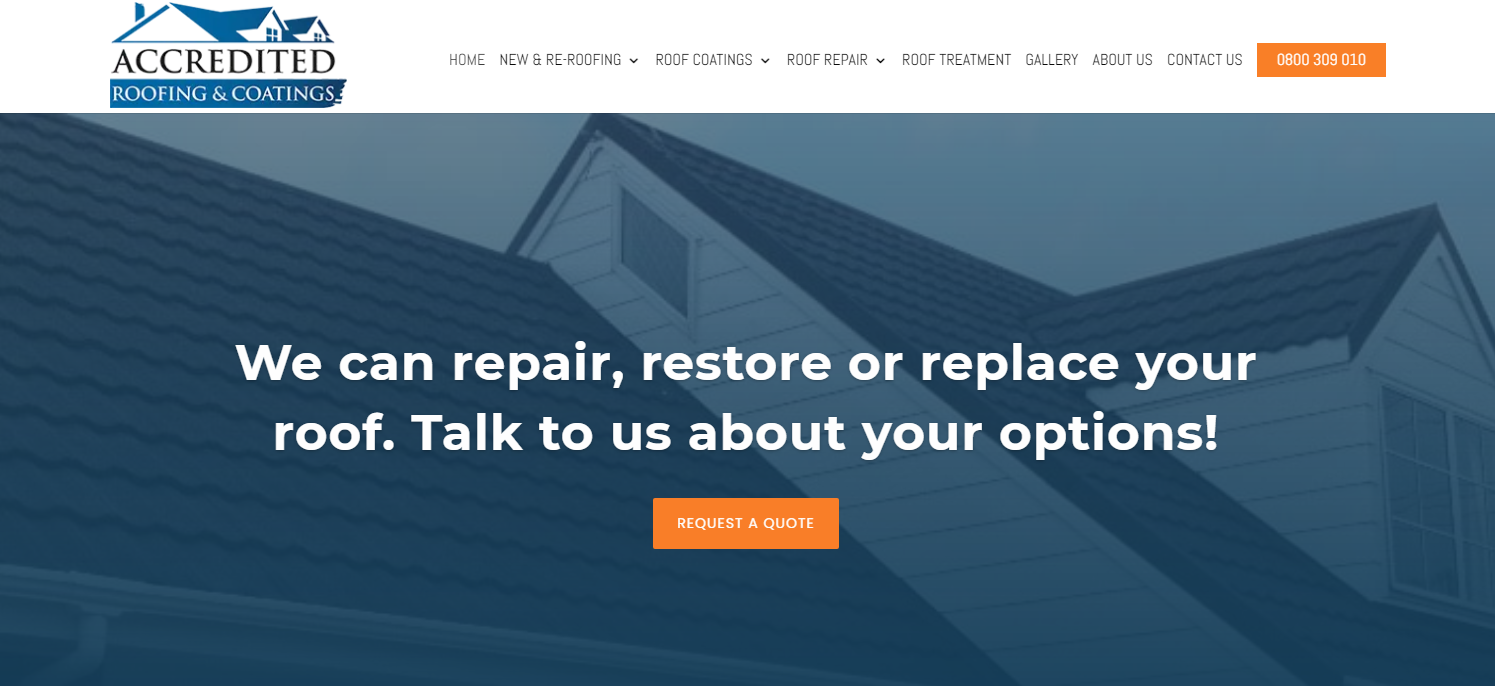 Accredited Roofing & Coatings is a family-owned and operated business that has been serving the people of Auckland for several years now. The company, from the get go, committed to providing quality roofing services, making use of only the best equipment and products on the market.
As a result, countless people now trust the Accredited Roofing & Coatings name.
For those who are looking for a new company to depend on in terms of roof services, Accredited Roofing & Coatings offer treatment, repair, replacement, and coating to those who are in need of it. Aside from the general service, Accredited Roofing & Coatings also provides decramastic repairs, concrete tile sealing, colorsteel replacement, and metal tile roofing.
It's worth noting that each and every service that Accredited Roofing & Coatings has listed can be personalised to fit the clients needs. This, alongside the extensive list of services, makes the company highly recommended.
The last reason why we recommend Accredited Roofing & Coatings as one of the best roof painters in Auckland is the quality of customer service.
See, Accredited Roofing & Coatings strives to attain 100% customer satisfaction with each client they take on. So, it isn't at all surprising that the company comprises skilled and knowledgeable individuals who are also punctual, professional, and courteous.
All in all, Accredited Roofing & Coatings makes an excellent choice for all roofing needs.
Highlights
Family owned and operated business
Offers a wide array of roofing services including repairs and coatings
Prompt and professional response to queries
Customisable roofing services
Team of experienced professionals
8)  JP Franklin Roofing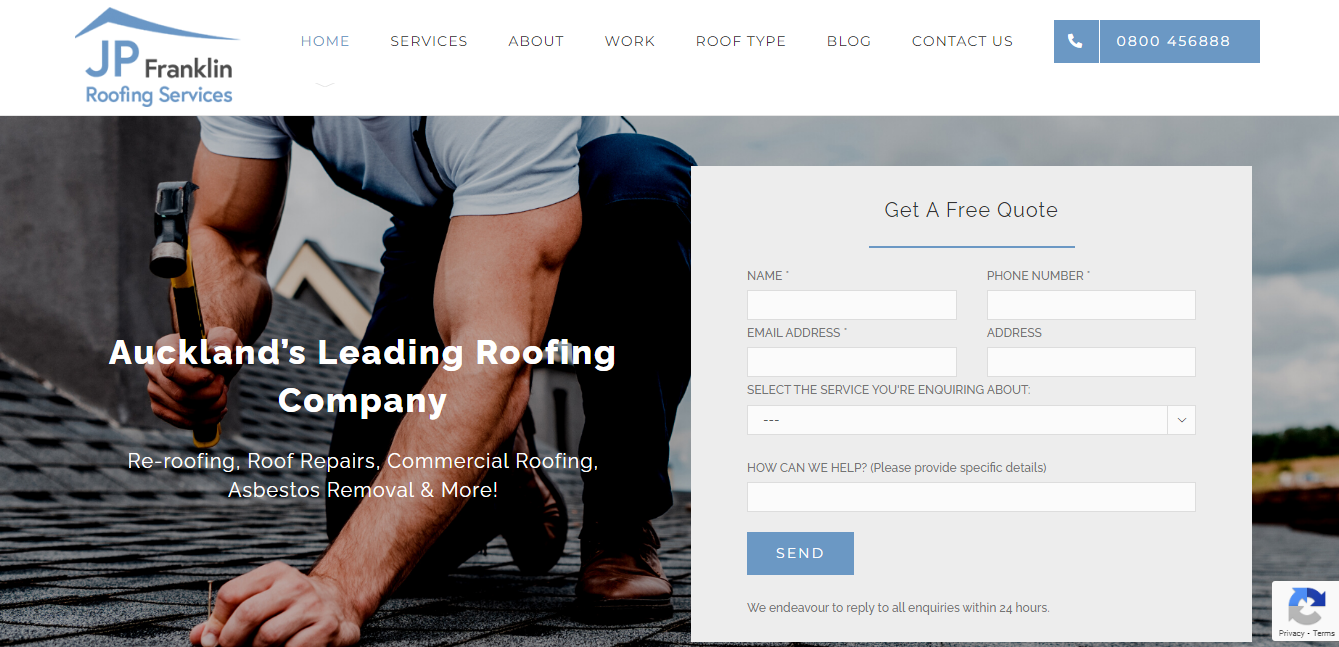 JP Franklin Roofing is one of the leading figures of the roofing industry in Auckland. With a satisfaction rate of 91%, they are a local one-stop-shop for reasonably priced roofing needs for both a residential and commercial setting.
They are comprised of a team of 8 full-time professionals who bring their years of experience to the field in every project that clients ask them to handle. No matter what type of roof it may be, clients can be assured that their approach is holistic and geared to giving the best results for long lasting durability as well.
Prices are not available at their website, but a free quotation is in place so that the clients and the company can customize and negotiate the most accurate possible before starting the said project.
The company's procedures enable clients to have a stress-free experience with them from day one to finish. Not only do they make use of quality products, but they also make sure to take care of the overseeing and follow-up needs that may follow.
Furthermore, they also provide free advice to their clients which is ideal for those who are new to their services and the field in general.
Highlights
Experienced staff
Utilizes quality products
Offers free advice
And that's all for the best roof painting services in Auckland. Whether you want to increase the repair a leaky roof or simply brighten it up, you can let these painters do it for you.
So what do you think of our lineup? Tell us all about it  by sending us a message and we will get back to you.
If you want to give your roof a bit of an extension, be sure to give our list of best awning services in Auckland a read.
Also, give our other handyman lists a try if you need more professional help for your home. For example, if you need help with the wiring, you might like to read about the best electrician services in Auckland.