The 6 Best Roof Painting Wellington Tradesmen
Every few years or so, your roof should be repainted to keep it looking great and going strong. Don't know which painter to call? We've got you covered, as we outlined the best roof painting Wellington tradesmen here!
We picked the ones who are adept, experienced painters who will give your roof the full-quality treatment. In addition, we selected those who have excellent communication, and are personable and helpful to deal with.
What's more, we also read the client reviews to see what their customers thought of them. In turn, this let us know that we had been right in including the ones for this list.
Anyway, you're probably excited about sprucing up your roof! So allow us to present to you already the best roof painting Wellington tradesmen.
1)  Wellington Roof Painting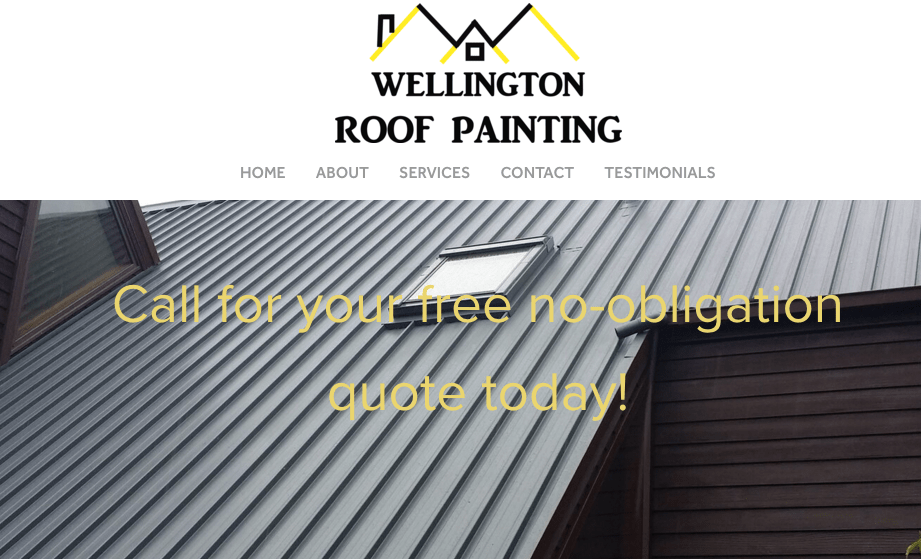 BEST FOR
High Level of Workmanship & Customer Service
SERVICES
Painting and Restoration

Repairs and Maintenance

Replacement and Insulation

WEBSITE
https://www.wellingtonroofpainting.co.nz/
ADDRESS
8 McKinley Crescent, Brooklyn, Wellington 6021, New Zealand
CONTACT DETAILS
0224642569
OPERATING HOURS
—
Wellington Roof Painting is a one-stop shop for your roof painting, replacement, repairs and insulation needs. They have had many satisfied customers over the years.
They follow an efficient process when they paint your roof. This includes the preparation work like replacing rusty screws and washing away the moss, mould, and lichen.
Priding themselves on top-class workmanship, their experienced personnel can clean all kinds of roofs including decramastic or concrete tile, corrugated iron, and Colour Steel.
While they're there, you might like to take advantage of the fact that they do insulation work too. This spares you the effort and cost of hiring an altogether different contractor just for that.
Highlights
Top-class paintwork
Experienced personnel
Effective and proven process
Offers a complete range of roof services
Also does insulation work
Customer Reviews 
Pieter from Churton Park shares on the website: 
"I saw the ad on your car and decided to contact you.  I have contacted many roof painting companies and your quote was by far the most reasonable and best value for money.  You did not rush the job and allowed enough time in between the coats for the paint to dry properly…Thanks for a job well done."
2)  Capital Painting Services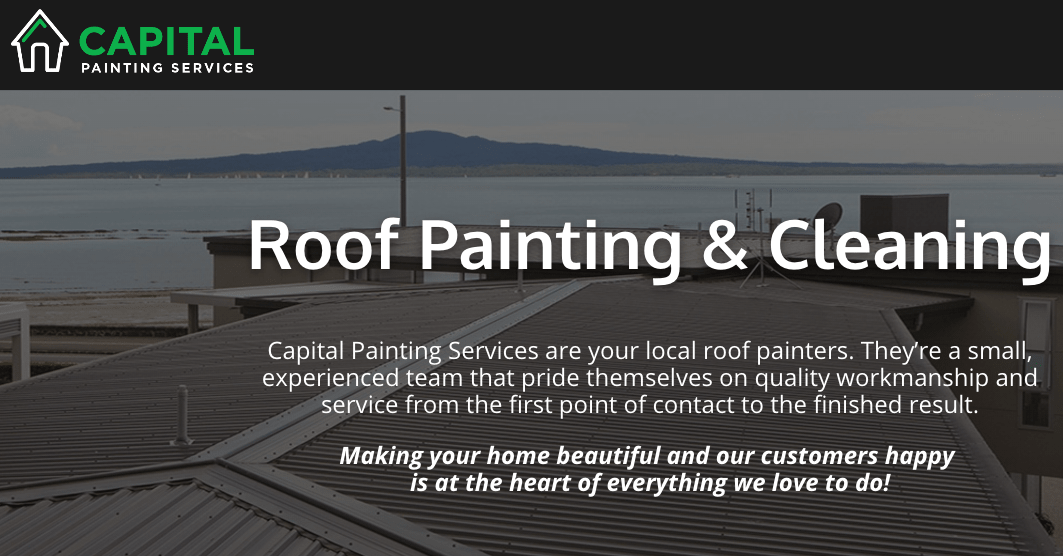 With Capital Painting Services, you will have fresh, attractive and long-lasting paint on your roof. They specialise in butynol roof painting, though they can paint most roof types.
Their service is flawless from quote to final coat. The team provides a free on-site inspection for any cracks, blisters/bubbles, gaps, asbestos, lead paint or rotten wood.
Then you'll collaborate with their talented design consultants to find the best colour combination for your roof. From there, their expert painters will handle the rest.
Earning a perfect rating on Google Reviews, they are some of the best roof painting Wellington tradesmen.
Highlights
Fresh, attractive and long-lasting paint
Can paint most roof types
Talented design consultants
Free on-site inspection
Ensures customer satisfaction
Customer Reviews 
Let's see the feedback of one customer, Halina Kuchciak, on Google Reviews: 
"Capital Painting Services are a fantastic company! Dave Bell is the go to guy. He provides excellent service, communication and respects your home. His experience is second to none! He takes the time to discuss every aspect of the job in full creating an amazing result. Highly recommend!"
3)  CompleteHomes Painting & Plastering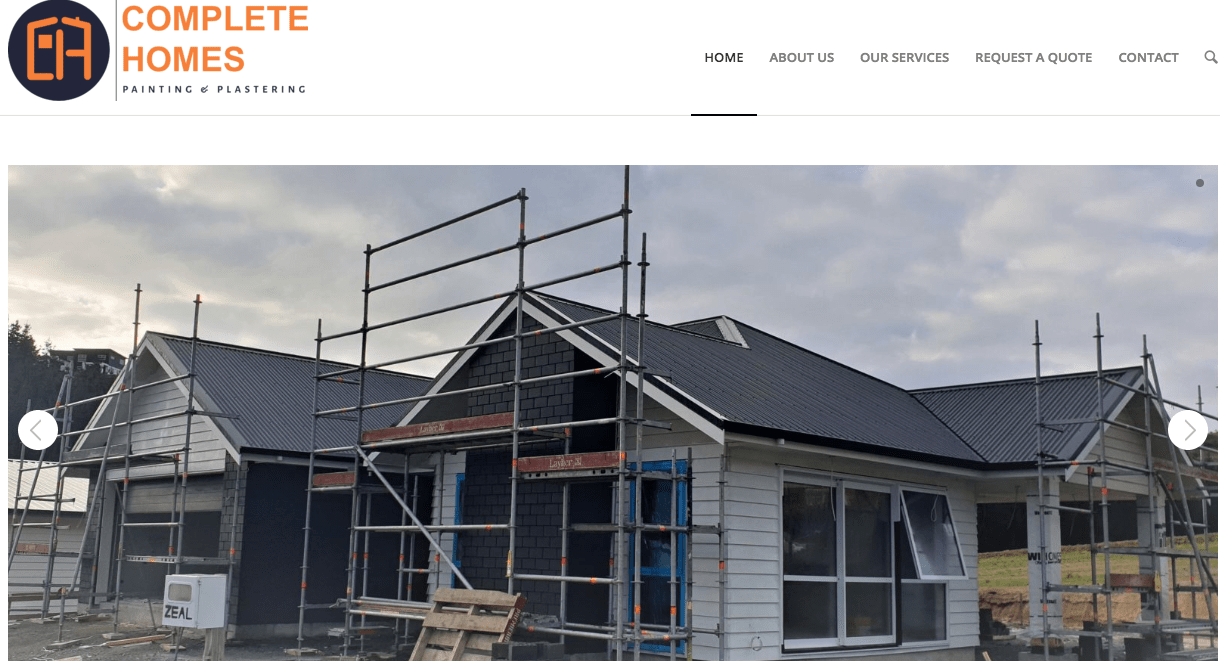 BEST FOR
Exceptional Customer Service
SERVICES
Interior Painting

Exterior Painting

WEBSITE
http://completehomes.co.nz/
ADDRESS
47 Hawtrey Terrace, Churton Park, Wellington 6037, New Zealand
CONTACT DETAILS
+64 22 457 6674
OPERATING HOURS
Open 24 hours
CompleteHomes is a Wellington-based painting and plastering company with a qualified team and unbeatable customer service.
They're some of the best roof painting Wellington tradesmen, with over 7 years of experience. They've worked alongside a diverse range of clients from different fields.
The team provides a high-quality finish and attention to detail, say their customers. These also stated that the roof painting was done in a timely and professional way.
Plus, to give you peace of mind, their painters are SiteSafe members and carry a public liability insurance of $2 million in the unlikely event of property damage or injuries.
Highlights 
Provides a high-quality finish
Superb customer service
Qualified and professional team
SiteSafe members
Liability-insured with $2 million
Customer Reviews
Here's an excerpt from one client, Jody Bullen, who wrote on Google Reviews:
"Steven was always available, responsive to my questions, stayed on top of any issues, kept me informed of progress, stayed the course and pulled out all stops to ensure the job ran smoothly and on time. 
Our job was extensive exterior renovation and full re-paint of a large multi-level property, not an easy job. Steven and his team were the shining star of all the trades people we had on site and would not hesitate to use him and his team again."
4)  Viet Duc Painting and Plastering Specialists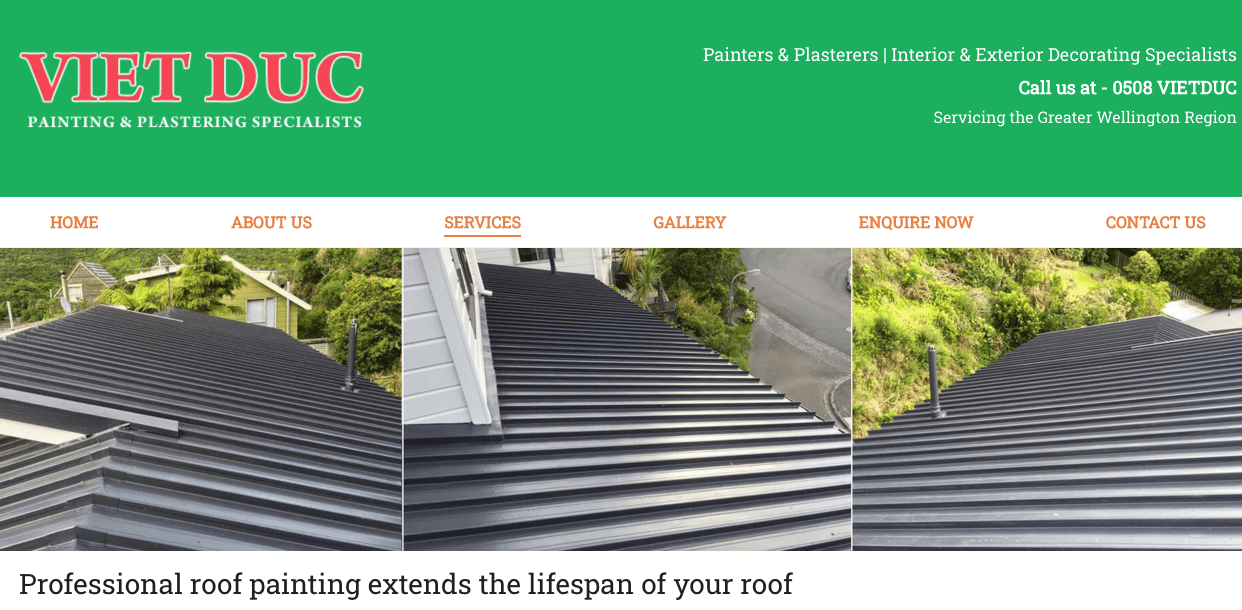 BEST FOR
Affordable Roof Painting
SERVICES
Interior Painting

Exterior Painting

Commercial Painting

Industrial Painting

Plasterer

Home Restoration

Building Maintenance & Painting

WEBSITE
https://www.vietduc.co.nz/roof-painting-wellington
ADDRESS
74 Oriel Avenue, Tawa, Wellington 5028, New Zealand
CONTACT DETAILS
+64 274 400 246
OPERATING HOURS
Monday to Sunday: 8am – 5pm
Viet Duc has to be another one of the best roof painting Wellington tradesmen since their people are certified members of Master Painters New Zealand and Site Safe.
Providing a wide array of services, they cater to both residential and commercial clients in the Wellington Region, including Hutt Valley, Porirua and Kapiti Coast.
To get the best finish for your roofing, their design consultants will work closely with you to plan on the most fitting colour scheme, which will then be painted to a high standard.
Additionally, their services are also affordable and punctual to avoid causing disruption, especially at your workplace. Also, you get a solid 5-year work guarantee! 
Highlights
High-standard roof painting
Accommodating and expert staff
Affordable rates
Members of Master Painters NZ and Site Safe
5-year work guarantee
Customer Reviews 
One client, Ashley Lovell, puts it simply on Google Reviews: 
"Very fast and efficient – super hard workers. Good quality job\finish. Good price."
5)  Saigon Decorators Ltd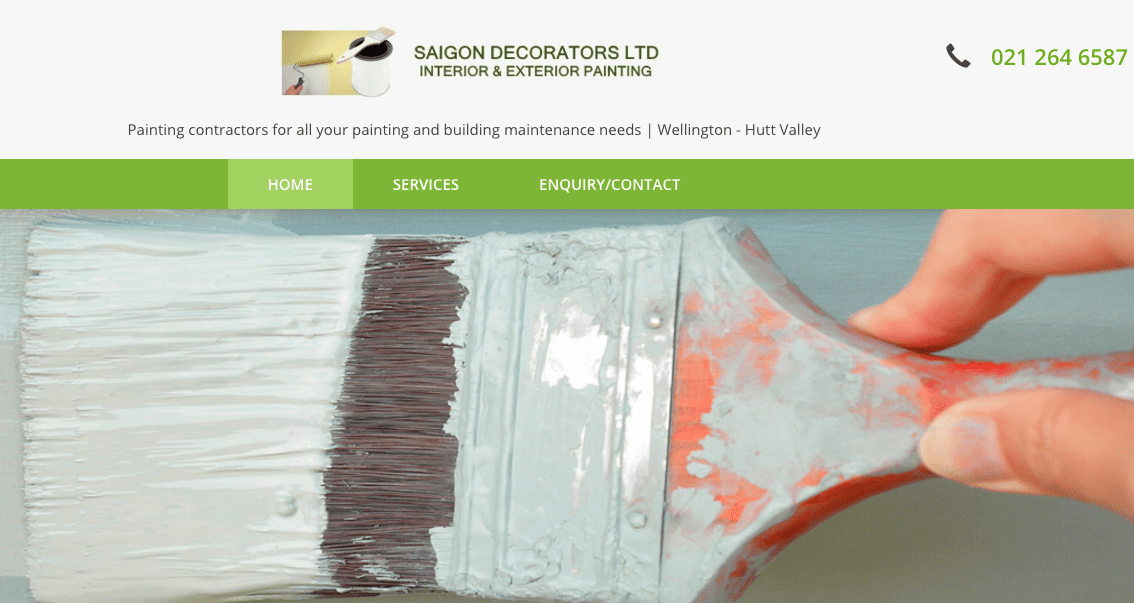 BEST FOR
Precise House and Roof Painting
SERVICES
Complete House Painting

Exterior Painting

Interior Painting

Decorating

WEBSITE
https://www.housepaintingwellington.co.nz/
ADDRESS
75 Kauri Street, Miramar, Wellington 6022, New Zealand
CONTACT DETAILS
+64 4-380 6066
OPERATING HOURS
Monday to Friday: 9am – 5pm
Put some life and colour in your house or roof again by calling in the painters at Saigon Decorators. Their team is known for being industrious, professional and friendly.
They specialise in house painting, decorating and maintenance around Wellington and Hutt Valley areas. Whether it's interior or exterior painting, they have your back.
With 29 years' combined experience, they certainly can differentiate between great and sloppy painting. The former requires careful, expert preparation, which they do.
They will also ensure a finish that you'll be proud of and that will raise your house's value. You can trust them on this, for all their work is guaranteed for a minimum of 2 years.
Highlights 
Precise house and roof painting
Specialises in house painting and maintenance services
Friendly, hardworking and professional team
29 years' combined experience
Guaranteed workmanship
Customer Reviews
Here's the review from one customer, Emma Giesen, on Google Reviews: 
"Highly recommend Tam and the team at Saigon Painters.  They just did our house exterior and were professional and hard working and great to deal with the whole way through.  Tam had great advice and was communicative and helpful, and his painters always friendly.  They did an excellent job."
6) Quality Local Painters Group

BEST FOR
Painting and Decorating Services
SERVICES
Interior, Exterior, and Roof Painting
WEBSITE
https://www.qlpgroup.co.nz
ADDRESS
Karori, Wellington, NZ
CONTACT DETAILS
0508-388-389
0225 388 389
OPERATING HOURS
Contact for more information
Are you looking to bring colour into your current project but simply don't have the time or energy to do so? If so, then the next company may pique your interest.
Quality Local Painters Group, as its name suggests, is a locally owned and operated painting service company that has been serving the Wellington area since 2007. The company specialises in interior painting, exterior painting, as well as roof painting.
Now, one of the reasons why Quality Local Painters Group comes highly recommended is its team, which consists of professional painters with years of experience under their belt. These individuals are very thorough, make use of the finest paint products, and typically treat each paint job as their own.
The result? Superb painting jobs that leave no spot on the surface unpainted.
Aside from being trained and experienced, the Quality Local Painters Group also consists of highly professional and friendly painters. They're punctual in every job they take on, which also contributes to their quality of work.
All in all, Quality Local Painters Group makes an excellent painting contractor given its team of painters and the quality paint work they have to offer.
Highlights 
Painters trained and insured
Experienced painting team
Locally owned and operated
Competitive rates
And that's it for now for the best roof painting Wellington tradesmen. If your roof seems old and tired, give it a colour makeover by calling in these painting contractors.
Do you have any questions or suggestions about our topic today? If you have one, just drop us a message and we'll get back to you promptly.
We talked about restoring your roof to its former glory, but what about your furniture? To do that, you can read about the best furniture restoration Wellington professionals.