The 11 Best Roof Repair Services in Auckland
If you notice your ceiling is leaking, the roof might be the problem. Rather than get an entirely new one (which costs a fortune), you should try calling a specialist for roof repairs in Auckland.
There are a lot of reliable roofing companies and it can be difficult to make a choice. That's why we compiled this list of centres offering the best roof repair in Auckland based on their efficiency, reputation and customer reviews.
Before we go fix that leak in your roof, you'll probably want to know how much it's going to cost first.
How Much Does Roof Repair Services in Auckland Cost?
Assuming that your roof is in generally good condition and only needs minor repairs, you can expect to pay on average around $200 – $300 for basic roof repair in Auckland. Factors such as the quality of materials used and the labor charge can affect the price.
We've outlined the average costs you can expect to pay below depending on what your roof is made of.
| | |
| --- | --- |
| Material | Cost |
| Asphalt | $180 – $380 |
| Copper | $190 – $400 |
| Corrugated Iron | $140 – $260 |
| Membrane | $90 – $190 |
| Slate | $130 – $350 |
| Tile (Concrete/Clay) | $80 – $200 |
If the damage to your roof is beyond simple repair and needs a re-roofing, you can expect to pay between $4,500 to $7,000 for an average three-bedroom home. This type of roof restoration in Auckland will take about five days to complete.
Unless money is no object, replacing your entire roof should be a last resort, as you can easily reach over $10,000 for such a project, depending on the material you choose. To better visualize what the the cost per square meter of new roofing material might be, we've summarized it for you here:
| | |
| --- | --- |
| Material | Average Price per Square Meter |
| Metal | $65 |
| Concrete | $75 |
| Clay | $104 |
| Quarried Slate | $300 |
| Copper | $190 |
| Membrane | $100 |
The Best Roof Repair Services in Auckland Reviewed and Compared
Now that you know what to expect when hiring a roofing company, we can now take a look at our picks for the top roof repair services in Auckland.
1. Johnson Roofing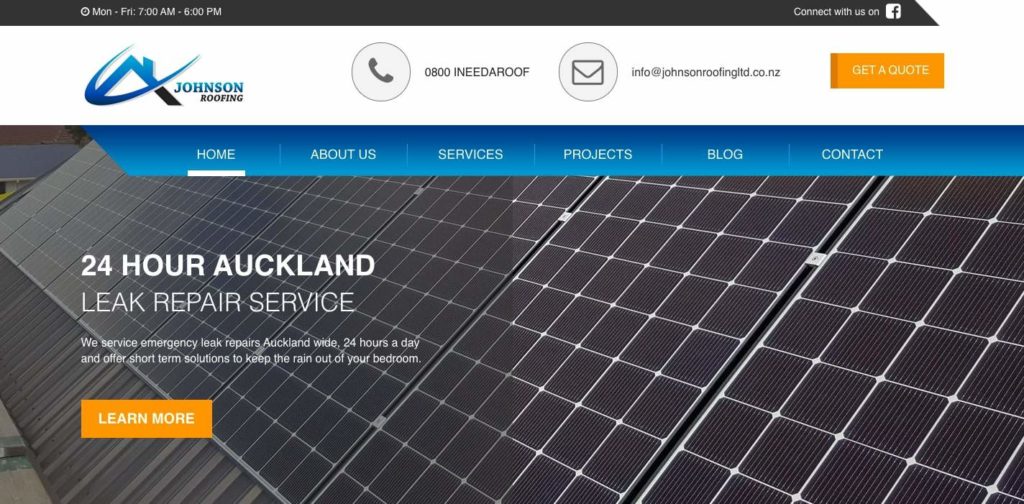 SERVICES
New Roof, Re-Roof, Roof Maintenance
WEBSITE
https://johnsonroofingltd.co.nz/
ADDRESS
Unit 1/3 Oracle Drive, Albany, Auckland 0632, New Zealand
CONTACT DETAILS
Toll Free: 0800-INEEDAROOF
Phone: (09) 447-3857
Email:

[email protected]

OPERATING HOURS
Monday to Saturday: 8:00am – 5:00pm
Johnson Roofing is a residential and commercial roofing repair specialist in Auckland that offers new roof installation, roof repairs, and roof maintenance. They are a SiteSafe and Roofing Association New Zealand (RANZ) member.
Established in 2013, they have earned a reputation for their fair pricing and spotless work record. They offer no-obligation estimates and provide their services to the entire Auckland region from Orewa to Manukau.
We like Johnson Roofing for patchwork because their team can go to you 24/7 for any emergency leaks or repairs! If the weather is unforgiving or too dangerous for them to work in, they can set up immediate temporary solutions to keep your home dry for the meantime.
While any delay in a project isn't ideal, Johnson Roofing claims that they'll always inform you in advance should there be any complications due to weather. They'll also do their best to adapt quickly to schedule changes to finish your re-roofing project on time.
Their services go beyond your basic roof repair in Auckland – they can also repair and replace tile roofs, shingle roofs, and those covered with Butynol, a synthetic protective membrane.
Johnson Roofing is also upfront about negotiating prices – they're willing to offer a better deal compared to their larger competitors to secure you as a client. They're a great alternative because they also offer regular maintenance, repair, and replacement work on gutters and the flashings surrounding your roof.
That's not all, as this busy company can also assist with installing solar panels or setting up iron sheds. If it's got long-run steel or anything remotely related to it, they might be able to help out, which earns them a spot on our list.
Auckland-wide coverage
5-year workmanship guarantee
24/7 leak repairs
Wide array of roofing services and materials
Might delay projects if weather is not cooperative
Completion times may be longer than most
Customer Reviews
Rachael Goldstone, a customer, was impressed with the professionalism of Johnson Roofing when working on her home. She writes:
"I would highly recommend Johnson Roofing. We found all the staff we dealt with to be conscientious, knowledgeable, polite, friendly and most of all efficient. Our old roof was removed and the new one installed really efficiently and best of all within our tight time frame. The old roofing tiles were neatly stacked on site while this was done, then the site cleaned up very well when they were removed. Our new roof looks great, the price was very reasonable and service was excellent – great company to work with!"
Matson Broederlow, the General Manager of Network Builders, is a long time partner of Johnson Roofing. He shares his thoughts:
"We have worked with James and his team for a number of years now. They are all great to work with, deliver on time and complete work to the highest standard. For us quality is crucial and Johnson Roofing have not let us down yet."
2. Shamrock Reroofing Ltd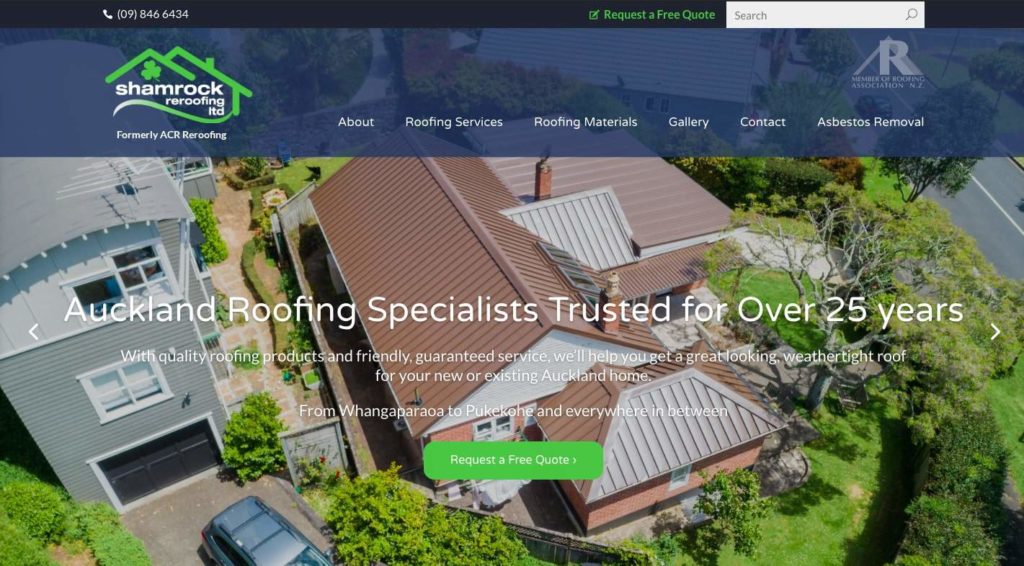 SERVICES
Long Run Steel Roofing, New Roofing, Re-roofing/Replacements, Insulation, Spouting/Downpipes, Asbestos Removal, Flashings, Guttering & Gutters, Fascia & Downpipes, Respouting, New spouting, Coloursteel Spouting, Box Guttering, PVC Guttering & Spouting, PVC Downpipes, Coloursteel Downpipes, Residential Spouting & Guttering, Commercial Spouting & Guttering, Gutter Foam
WEBSITE
https://shamrockreroofing.co.nz/
ADDRESS
1/21a Ruarangi Road, Mt Albert, Auckland 1025, New Zealand
CONTACT DETAILS
Phone: (09) 846-6434
Fax: (09) 846-6249
Email:

[email protected]

OPERATING HOURS
Monday to Sunday: 9:00am – 5:00pm
Shamrock Reroofing is a company for roof maintenance in Auckland that was founded in 1988, providing roofing products and services to residents at competitive prices. They only use New Zealand-made products, so if you want to do your part in supporting your local economy, then this is the roof repair specialist in NZ to go with.
They supply and set up all types of long-run iron and roof spouting and can even install fiberglass insulation while working on your roof. This company is so confident in the quality of the materials they're supplied with that they even offer an impressive 10-year warranty.
You can rest easy knowing that health and safety regulations are followed down to the letter, made possible with their exclusive partnership with a reputable scaffolding company.
They'll also apply the same meticulous attention to detail when working on your roof, disposing of any waste and leaving the site spotless.
If you want to schedule regular inspections and roof maintenance in Auckland, Shamrock Reroofing is up to the task. They're big advocates of preventive maintenance and recommend inspections annually up to every three years.
During the inspection or repairs, ​​they can simultaneously replace your spouting, gutters and check your flashings while they work on your roof.
Now if your roof's problem is beyond repair or perhaps you just want to upgrade, they can do that for you as well. Whether you want a Custom Orb, Hi Rib steel roof, or want to install some insulation, they've got you covered.
Although they have limited selections of roofing materials and focus more on industrial styles, you can count on their durability. While they may not install clay or concrete roofs, they are able to repair them just as well.
Hands down, big kudos to a locally-owned roof repair specialist in Auckland that uses local roofing material and products!
10-year service warranty
Provides industrial grade roofing materials
Can do scheduled preventive maintenance
More focused on re-roofing than repairs
Only uses long-run roofing
No free estimates
Customer Reviews
Nathan McClintock, a customer, gives Shamrock Reroofing a 5-star rating. However, he says:
"Where is the 6th star???!!! If you need a roof repaired or replaced at a very competitive price, call these guys. Have used them twice and have been super impressed with their service and workmanship."
3. Accredited Roof Coatings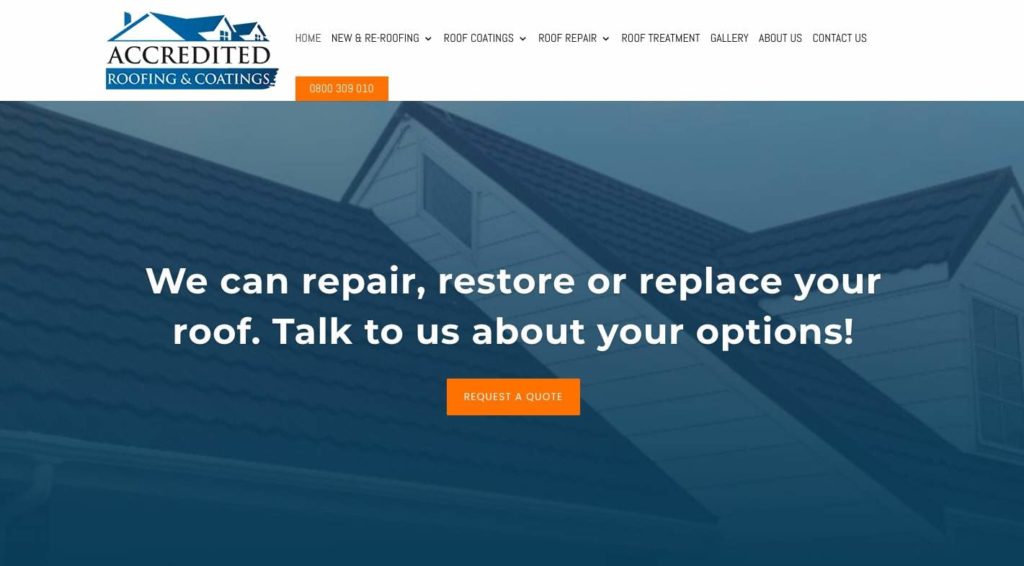 SERVICES
Roof Treatment, Roof Repair, Roof Replacement, Roof Coatings, Decramastic Repairs, Concrete Tile Sealing, Colorsteel Replacement, Metal Tile Roofing
WEBSITE
https://accreditedcoatings.co.nz/
ADDRESS
Unit 2, 41 Porana Road, Wairau Valley, Auckland
CONTACT DETAILS
Toll Free: 0800-309 010
Email:

[email protected]

OPERATING HOURS
Monday to Sunday: 8:30am – 5:00pm
Accredited Roofing & Coatings is a family-owned and operated Auckland roof repairs business that keeps all its services in-house. When you deal with this company, you deal directly with the owners, who have over two decades of experience for your roofing specialist needs.
Whether it's repair, maintenance, or replacement, their extensive Roof Maintenance Programs are customized for each project. Their experienced team will go through the options available for you so you can make the best decision.
Their entire inventory of materials has been thoroughly tested for the unique weather and conditions that New Zealand is known for. This has helped them earn the title Auckland's Authorized Distributor for Metrotile Roofing Systems.
One of their areas of expertise is their capability to implement a flexible pointing system, which is only doable by a qualified tradesperson. Doing so keeps your ridge caps from falling apart and allows the materials to expand and shrink with variations in weather and temperature.
Accredited Roofing & Coatings can handle almost any repair or replacement but their specialties are Decramastic tile, concrete tile, or corrugated iron roofs. With tailored systems in place to handle these kinds of materials, they can restore your roof to looking like it's brand new in no time at all.
While they may be a very efficient roofing company, they may not always get the job done as quickly as you'd like – sometimes their attention to detail gets the best of them. However, you can rest assured that safety is their first priority.
They can also apply a variety of waterproof coatings for almost any membrane surface. They'll even give you an impressive 20-year warranty for each project.
This warranty speaks much of their confidence in their work, and along with their personalised service, it's not too surprising that they're considered one of the best roof repair specialists in Auckland.
Now, if your roof is beyond repair and needs to be replaced, they offer over 20 Colorsteel options that are eco-friendly and have been tested to withstand the weather in New Zealand. You can choose from Corrugate, Trapezoidal, and Tray profiles to suit your needs and preferred look.
Qualified in Decramastic Metal Tile Repair and Replacement
Offers complete range of Colorsteel products
20-year warranty for waterproofing
Can repair almost any roofing material
Can experience delays in completing projects
Will only use their preferred brands for repairs and installations
4. Archer Roofing Ltd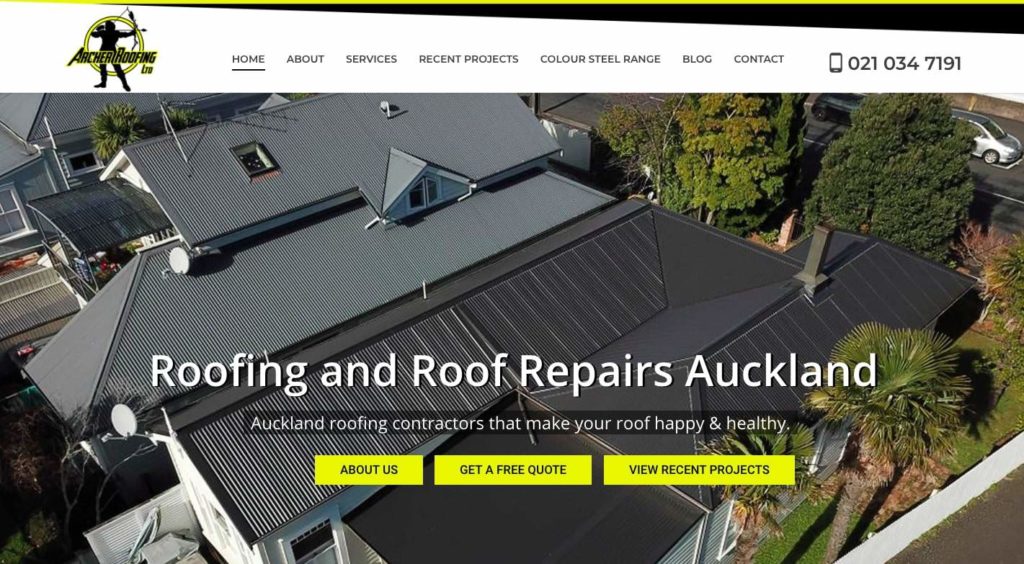 Archer Roofing Ltd is a locally owned and operated roofing company that services clients in the Greater Auckland area. They conduct re-roofs and roof replacement, new roof installs, and guttering services with over a decade of experience in the industry.
Whether your building is near open water, in areas with strong gusts of wind, or exposed to constant rain, they have a tailor-made solution for any situation. They've repaired brittle roofing, lifted eaves, leaks, and rusted roofs, all of which are common to the Auckland area.
They use Kiwi-made products such as Colorsteel and ColorCote. If you're looking for another branded product to withstand the harsh Auckland weather, you probably need to look somewhere else as these are the only products they use.
Clients get a minimum 5-year workmanship guarantee to cover damage that may occur within that period. We're not that impressed with it, but it is passable.
Archer Roofing can help with anything else related to your roof, such as the repair and maintenance of your guttering system, spouting, fascia, and downpipes, among others. Their personalized solutions even allow you to pick the color of your gutters to suit your home's color scheme.
We also like that they service the greater Auckland area so if you're centrally located and may need to Google, "Roof replacement near me", you can be sure their services will reach you.
100% Kiwi-owned and operated
Offers full Colorsteel range
Can choose gutter colors
Only uses Colorsteel and Colorcote for roofing
No moss spraying services offered
Customer Reviews
Karen Kingdon, a customer, was at ease dealing with the contractors from Archer Roofing. She shares:
"We decided to use Kevin from Archer Roofing as we felt comfortable/confident dealing with him. Kevin did a fantastic job with our roof, kept us updated with progress, communication was also top notch. We would highly recommend Kevin for any roofing work. Fantastic team who works alongside Kevin."
Bronwen Williams, another client, praises the professionalism and speed at which Archer Roofing worked. He says:
"Kevin and his team did an amazing and professional job on our recent roof replacement. They coordinated well with the company removing the previous fibrolite roof, and had the new roof pretty much on in one day. We have an unusual roof configuration, and Kevin himself oversaw all the work, making sure that everything was being done properly. He was a fantastic communicator with us, always replying to questions immediately and keeping us in the loop. We knew exactly when he would be on site, and he even helped us make the final decision about the colour of the roof. We are absolutely delighted with the final result and feel it was excellent value. We would highly recommend Kevin and his team to anyone needing a new roof!"
5. Solution Roofing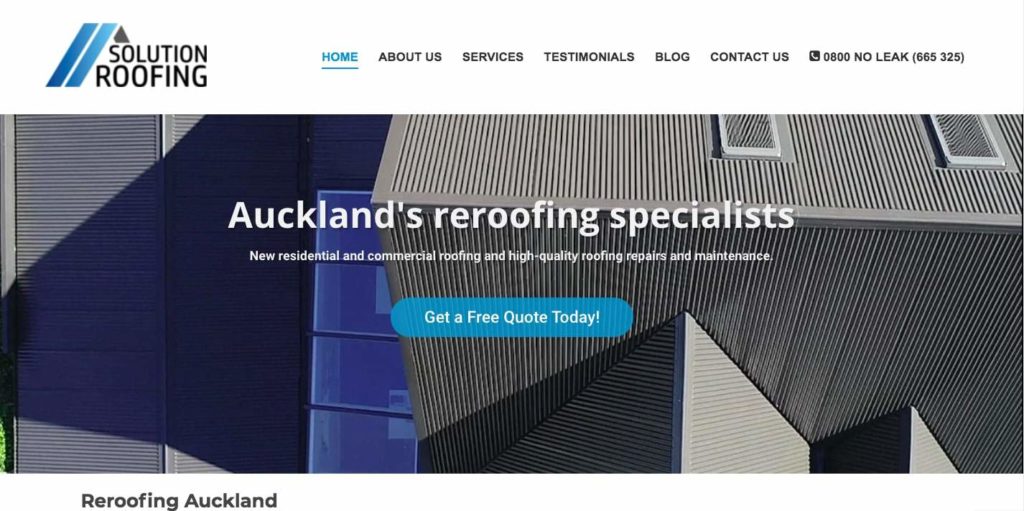 SERVICES
Residential and Commercial Roofing and Repairs
WEBSITE
https://solutionroofing.co.nz/
ADDRESS
293 Paremoremo Road, Paremoremo, Auckland​ 0632
CONTACT DETAILS
Toll Free: 0800-NO LEAK (665 325)
Email:

[email protected]

OPERATING HOURS
Monday to Saturday: 8:30am – 5:00pm
Solution Roofing is a locally-owned company servicing the greater Auckland area. With experienced and licensed installers under their employ, they have a combined experience of literal decades in the industry.
They cover new roofing, re-roofs, and repairs. Their two specialties are gutters and leaks.
If personnel are available, they'll immediately come to your aid for any roofing repairs. However, what makes them a great option is that they prefer to be proactive and can do maintenance work.
They can tighten up loose chimney flashing and check the sealing to make sure it is watertight. They can also perform simpler work such as securing your roof by replacing nails with screws to decrease the chances of leaks.
In short, they want to be the solution before you need a solution. And they'll do all this with any sized properties regardless of the scope of the project at an affordable price.
Their services for roof repairs in Auckland for residential properties include converting your existing tile roofs to long-run metal, which requires less maintenance and saves you money
They aren't limited to homeowners either, as they also offer services to commercial properties as well. All their work is backed by an impressive 18-year warranty on materials and five years of workmanship
As a licensed building contractor and SiteSafe member, their cost-effective rates and quality craftsmanship set them apart from the rest and earn them a spot on our list.
Provides 18-year warranty on materials
Specialises in long run roofing installs
Services entire Auckland
No moss spraying services
No power washing services
Customer Reviews
Tiemke The-Elsinga, a customer, experienced damages during a storm and called Solution Roofing to solve their problem.
"After the last storm we had in Auckland our roof and spouting were damaged. We contacted Solution Roofing for a quote and they responded the same day. The next day we received a quote for the job and they completed the job within 1 week. Very professional work!! I would very much recommend them."
Margaret Allis, anothe customer, appreciated both the quality of work and the service she received. She shares:
"Great work. I appreciated the team were polite and safe, trying not to disturb my elderly parents too much while the roof was replaced. The quote was also reasonable and there were no surprises"
6. Enviro Roof Control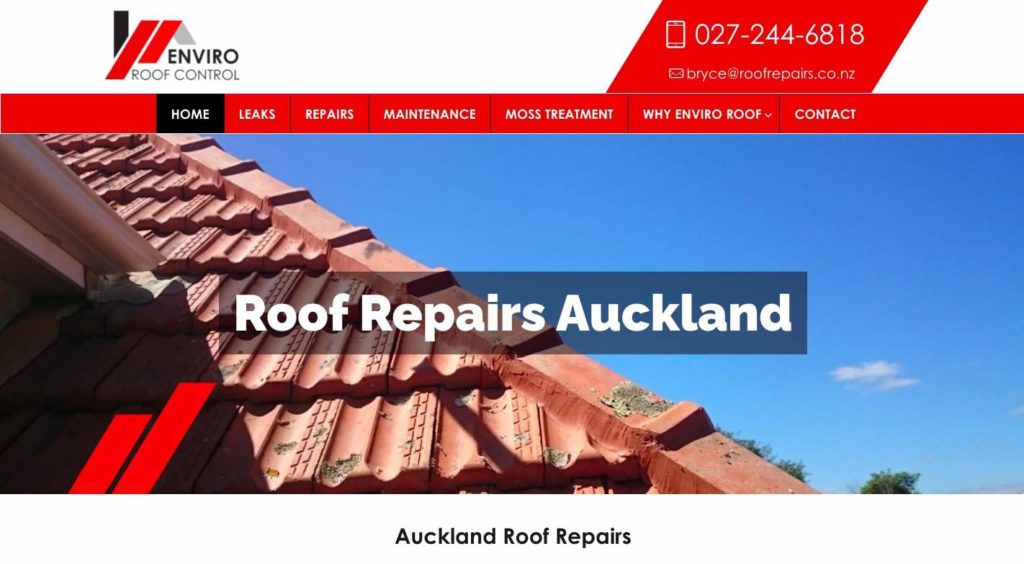 | | |
| --- | --- |
| SERVICES | Roof Leaks, Roof Repairs, Moss & Mould Removal, Tile replacement, Valley/Barge replacement, Repoint, Cement work |
| WEBSITE | https://roofrepairs.co.nz/ |
| ADDRESS | Manurewa, Auckland, New Zealand |
| CONTACT DETAILS | Phone: (027) 244-6818 |
| OPERATING HOURS | Monday to Friday: 8:00am – 4:00pm |
If you go with Enviro Roof Control, you'll meet Bryce, an experienced roof repairman and the owner. He has over 25 years of experience in Auckland roof repairs and looks like he's not stopping anytime soon.
As the face of Enviro Roof Control, Bryce has been known to brave adverse weather conditions to repair a leaking roof just to make sure families are safe from the elements.
So whether your roof is made of concrete or clay, Enviro Roof Control can repair roofs, remove moss, and even dole out professional advice on proper roof maintenance. It's this kind of personal touch in customer service that makes this company one of our favorite picks.
If they're just fixing a problem area, they'll do their best to match the existing color of roof tiles for you as well! The only downside here is they focus solely on clay and concrete and don't work on steel roofs.
They can also maintain a roof if it is covered with moss, algae, and lichens. They'll spray a biodegradable softwash product to get rid of the growths, but it can take 3-12 months before it completely disappears.
Some of the other maintenance work they offer includes replacing cracked tiles, loose cement, and ridge caps. If needed, blocked valleys and the repair of rusted ones can be arranged as well.
For their excellent customer service and efficiency, Enviro Roof Control rightfully earns its spot on our list of the best roof repair services in New Zealand.
Excellent, personalized customer service
Hands-on owner ensures project quality
Offers moss and mould removal
Only repairs concrete and clay roofs
No power washing services for homes
Customer Reviews
This was a review by James Thompson as shown on Enviro Roof Control's website, as he shares the great experience he had.
"Bryce was a pleasure to deal with. He came around and quoted on the job in less than 3 hours after we rang. Then the very next day he braved occasional showers getting the job done which saved the roof from further leaking. We're impressed by his professionalism and wouldn't hesitate to recommend him to others in need."
Cam Moore, praises the punctuality and ease of doing business with Enviro Roof Control. She shares:
"Bryce was on time and professional with good communication. I was extremely satisfied with the service, and would use again, and pass on his details to anyone. 5/5"
7. Fern Roofing Solutions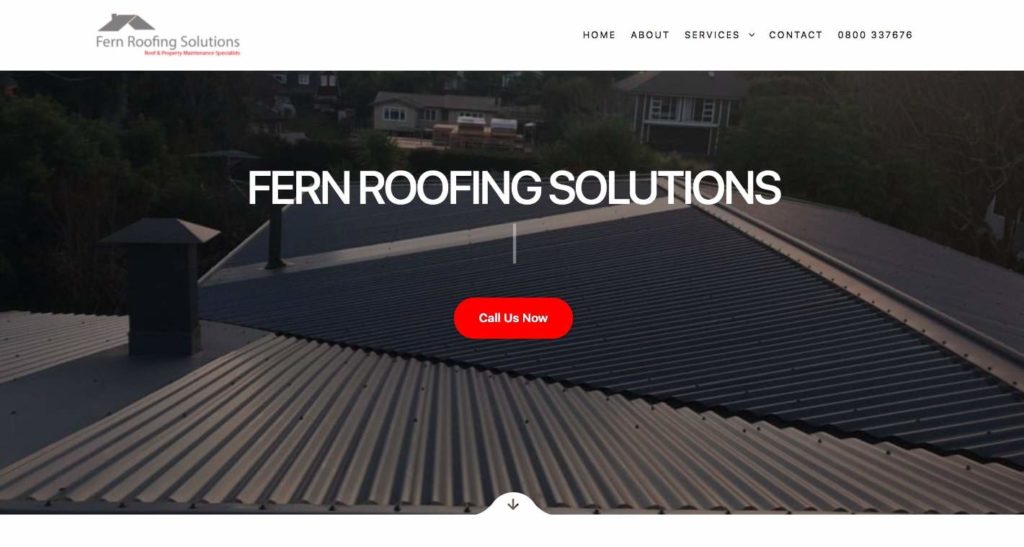 SERVICES
Concrete & Clay Tile Roofing, House Washing, Home Improvements, Iron & Compressed Tile Roofing, Roof Maintenance & Roof Inspections, Spouting & Guttering Services, Roof Restorations & Re-Roofing
WEBSITE
http://www.fernroofingsolutions.co.nz/
ADDRESS
Auckland 1060, New Zealand
CONTACT DETAILS
Phone: (021) 124 6519
Email:

[email protected]

OPERATING HOURS
Monday to Saturday: 7:30am – 5:00pm
Fern Roofing Solutions is a family-owned and operated company that provides a wide variety of roofing services in Auckland. Although a relatively new company, they have already maintained and serviced roofs in over 80 locations across Auckland.
Their team is highly knowledgeable in their work and is very accommodating with all of their client's questions. They are more than willing to explain the differences and benefits between clay, concrete, and steel roofs.
Fern Roofing Solutions can perform ridge cap and valley repairs along with checking your flashing for any maintenance work needed. For concrete and terracotta roofs, this involves checking the mortar and pointing compound that can cause cracks.
Not limiting themselves to repairs and maintenance, they can also do leak detections and complete paint restorations for concrete and clay roofs. Their efficient work ethic has some clients amazed that they can finish a project in a single day.
We like that they also offer power washing services for your entire home. You can conveniently restore both your roof and the exterior of your house to look fresh and brand new in a single project!
If you're looking for passionate roofers who don't mind a difficult job, then Fern Roofing Solutions is a great choice. Their wide variety and quality services earned them a spot on our list of the best roof repair services in Auckland.
Always strives for 100% customer-satisfaction rate
Family-run company
Fast project completion time
Offers house washing services
May not be as experienced as other roofers
Focuses more on concrete and clay roofs
No moss removal offered
8. Affordable Roofing & House Washing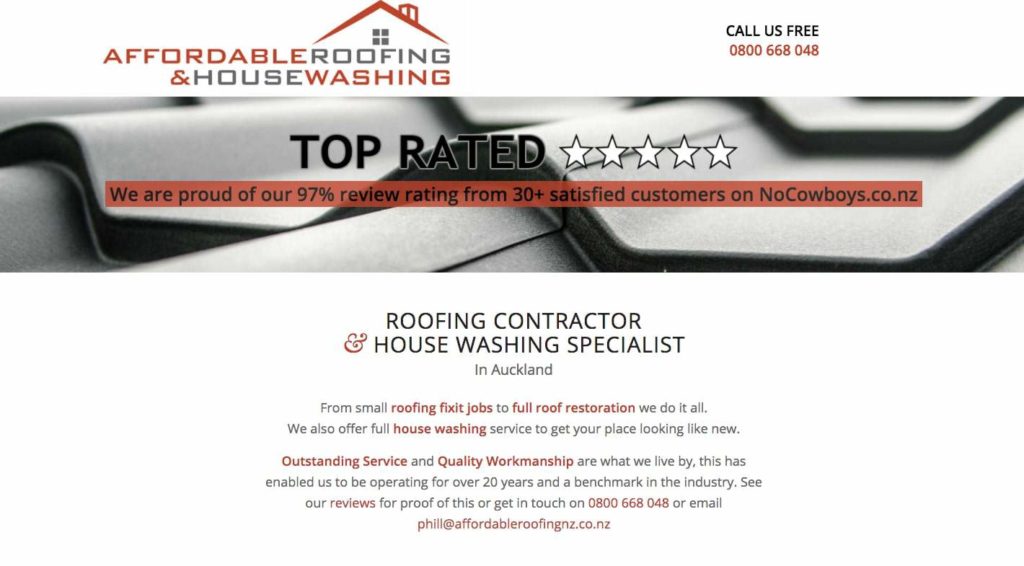 Affordable Roofing Ltd was established in 1997 by Phil Harris, offering tile roof repair, roof restoration, and house washing in their list of services. They are Nationally Qualified Roofers too.
While they generally only serve the East and South of Auckland, they consider servicing areas on a case-to-case basis. As their name implies, their affordable rates and expert craftsmanship have helped them build up a database of satisfied and loyal clients.
From small roofing jobs to entire roof restorations in Auckland, no project is too big or small for Affordable Roofing. In their 20 years of experience, they have encountered almost every type of job in the industry, so you can rest assured they'll come up with quick solutions.
Not limiting themselves to repairs, they can do almost anything roof-related. This includes cleaning, painting, repairs of tiles, and even new build installations.
Unlike other roofers in Auckland, they also offer to give your entire home a good wash! Not only will it make your home look great, it's also preventive maintenance – removing grime and mould can prolong the shelf life of materials used in your home.
They use a soft water blasting process with environmentally friendly products to get the best clean possible. If you only want your roof cleaned, they also do water blasting for any growth of mold, algae or lichen material that needs to be taken out.
Competitive Pricing
House washing services
Moss spraying services
May not offer service outside of East and South Auckland
Might experience delays due to weather
Customer Reviews
Jayne, a client, loved the easy-going service she received that gave professional results. She shares:
"Phil is awesome, he is friendly and easy to deal with. He assessed the damage, gave me a very reasonable quote and then fixed several broken tiles the very next day. He also took before and after photos so I knew exactly what he had done. I would highly recommend him to all my friends and family."
9. Tyson Roofing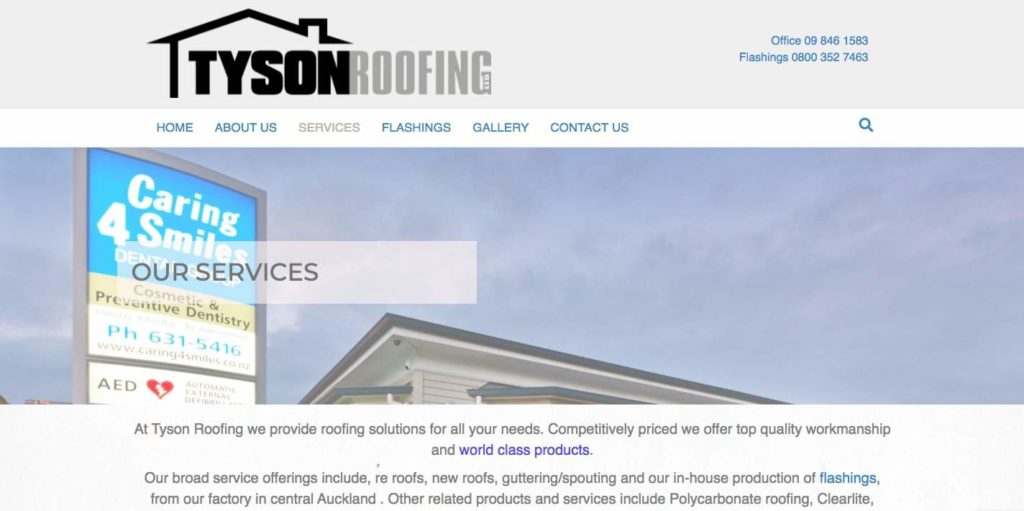 SERVICES
Re-Roofing, New Roofs, Flashing
WEBSITE
https://tysonroofing.co.nz/services/
ADDRESS
13 Taylors Road, Sandringham, Auckland, 1025
CONTACT DETAILS
Phone: (09) 846-1583
For Flashings: 0800-352-7463 (0800 FLASHME)
Email:

[email protected]

OPERATING HOURS
Monday to Thursday: 6:30am – 4:00pm
Friday: 6:30am – 3:30pm
At Tyson Roofing, there is one main goal: to provide prompt, high-quality roofing services without the typical outrageous price tag that accompanies them.
Since the day it was first established up until now, Tyson Roofing has been continually living up to that goal, according to a lot of people.
Tyson Roofing accomplishes this feat by sourcing the materials from trusted traders. Not only that, but the company also dedicates itself to screening every professional they send out, which includes checks on their skills, expertise, professionalism, and character.
Another thing we like about Tyson Roofing is the fact that the company is a member of Licensed Building Practitioners and is partnered and preferred installers of established brands, ColorSteel and Steel & Tube NZ.
Now, note that Tyson Roofing is more focused on re-roofing than conducting patchwork kind of roof repairs in Auckland. You should therefore only seek their services if it's been determined that your roof is already beyond simple repair.
Nevertheless, they excel at what they do and they'll complete the job on time and on schedule when possible. Their competitive pricing and prompt responses earn this locally owned business a spot on our list.
Competitive pricing
Prompt and professional technicians
Locally owned and operated
Specialize more in re-roofing than repairs
Uses only partnered brands
10. Auckland Flat Roof & Waterproofing Services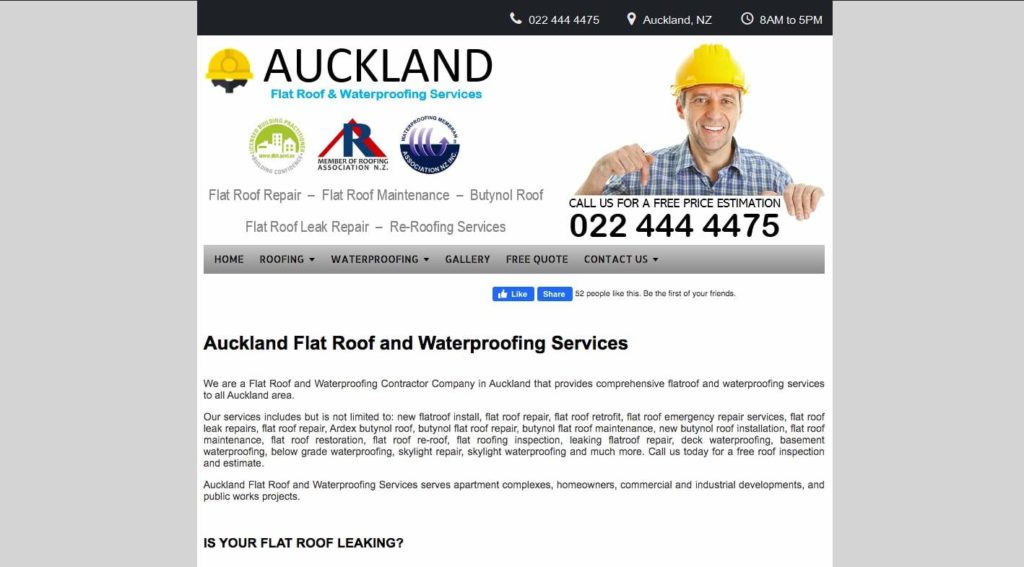 SERVICES
New Flat Roof, Flat Roof Repair, Flat Roof Maintenance, Re-Roofing, Flat Roof Restoration, Flat Roof Retrofit, Flat-Roof Leak Repair, Butynol Roof, Nuraply Roof, Skylight Leak Repair, Basement Waterproofing, Deck Waterproofing, Butynol Waterproofing
WEBSITE
https://www.flatroof.co.nz/
ADDRESS
3H/20 Charlotte Street – Auckland, NZ 1021
CONTACT DETAILS
Phone: 022 444 4475
Email:

[email protected]

OPERATING HOURS
As expected from the company name, Auckland Flat Roof & Waterproofing is a service company that offers comprehensive flat-roof and waterproofing services to all of Auckland.
Flat roofs are not common, so knowing that there's a company that specializes in it in the region is a huge deal. A leaky flat roof can be a nightmare, especially if it's on a commercial or industrial building.
Fear not because this roof repair company in Auckland provides emergency leak services that you can call on at any time of the day or night. Their 24/7 response can be a godsend for your business.
Moreover, you'll want to take advantage of their scheduled maintenance programs, which let them keep tabs on your flat roof year-round. In this way, you will always be one step ahead of any potential problems.
You don't have to worry about your business being interrupted because the tradesmen here are skilled in maintaining an unobtrusive presence. This lets your daily activities keep going while they're conducting repairs or maintenance on your roof.
Their expertise may be in flat roofs but they can handle almost any type of material as well. Whether it's Butynol membranes or concrete, their state-of-the-art tools help them complete projects more efficiently than their competitors.
Auckland Flat Roof & Waterproofing is also one of the few roofing companies that can handle skylights, which can also be a prime cause for leaks. They can take on a full replacement or repair specific areas such as the glass, gaskets, or flashing, among others.
Another thing worth noting about Auckland Flat Roof & Waterproofing is the company's professionalism. Every technician from Auckland Flat Roof & Waterproofing has been thoroughly screened in terms of character, skills, training, and professionalism.
One of the few flat roof specialists in Auckland
Offers 24/7 emergency leak services
Can repair skylights
Gives free estimates
Doesn't handle long-run steel which is more common
No cleaning services offered
Will only use preferred brands for roofing repairs and replacements
11. HomeSmart Roof Repair and Painting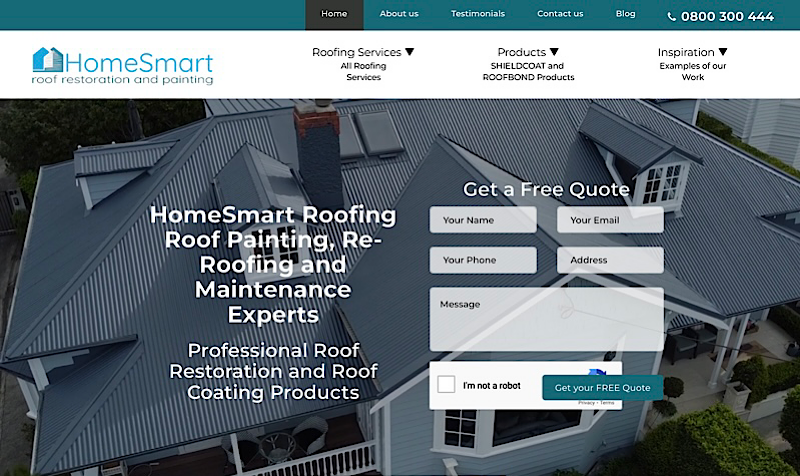 HomeSmart Roofing is founded by Nick Bridge, with an extensive career in roofing services that dates all the way back to 1998. In executing projects, the company prides itself in knowledge, experience, systems, reliability, and integrity.
They offer roof painting and resurfacing, re-roofing and roof replacement, roof cleaning treatments, roof repairs and maintenance, and gutter replacement services.
As a plus, the company provides a 5-year workmanship and a 10-year product warranty. They also sell roof paint, primers/sealers, clear top coats, flexible pointing, and heat reflective products.
Some brands they work with are Shield Coat, Resene, Metalcraft Roofing, and Dulux.
For those interested in their roofing services, HomeSmart Roofing is located at 11/36 William Pickering Drive in Rosedale, Auckland.
5-year workmanship and 10-year product warranty
Over 20 years of experience
Offers roof maintenance and other services
Free quotation available
No operating hours on their website
Few brand options available
Customer Reviews
Here are some reviews from their website:
"I am very pleased with the work done on my property. I will have no hesitation in recommending your company to friends and family. Your staff are excellent." – John from Sunnyvale, Auckland

"I found Homesmart to be a smart solution to protect my home and offer peace of mind that all is now well. Gared Thomas was very professional and offered proactive suggestions. Homesmart delivered a great job when promised at quoted price. The house looks like new again." – David
FAQs about Roof Repair Services in Auckland
---
And that's all for the best roof repair services in Auckland. You will get quality service and prices with these roof contractors to restore your roof to its great condition without leaks or rust damage.
Do you have any questions about this topic we've tackled? If so, kindly send us a message and we'll get back to you as soon as we can.
Furthermore, just a friendly reminder that if your house or office was built before 1991, chances are your roof has dangerous asbestos. To get it removed safely, we'd suggest you check out our list of the best asbestos removal firms in Auckland.