By Tony Wang
If you notice your ceiling is leaking, the roof might be the problem. Rather than get an entirely new one (which costs a fortune), you should try calling in the best roof repair services in Auckland to see if they can fix it.
You can find a lot of reliable roofing companies in Auckland that will repair your roof. Obviously, you have to look for repairers who are timely, skilled, and friendly as well as efficient.
To spare you the trouble, we looked for them ourselves. And with that, here are the best roof repair services in Auckland!
1)  Johnson Roofing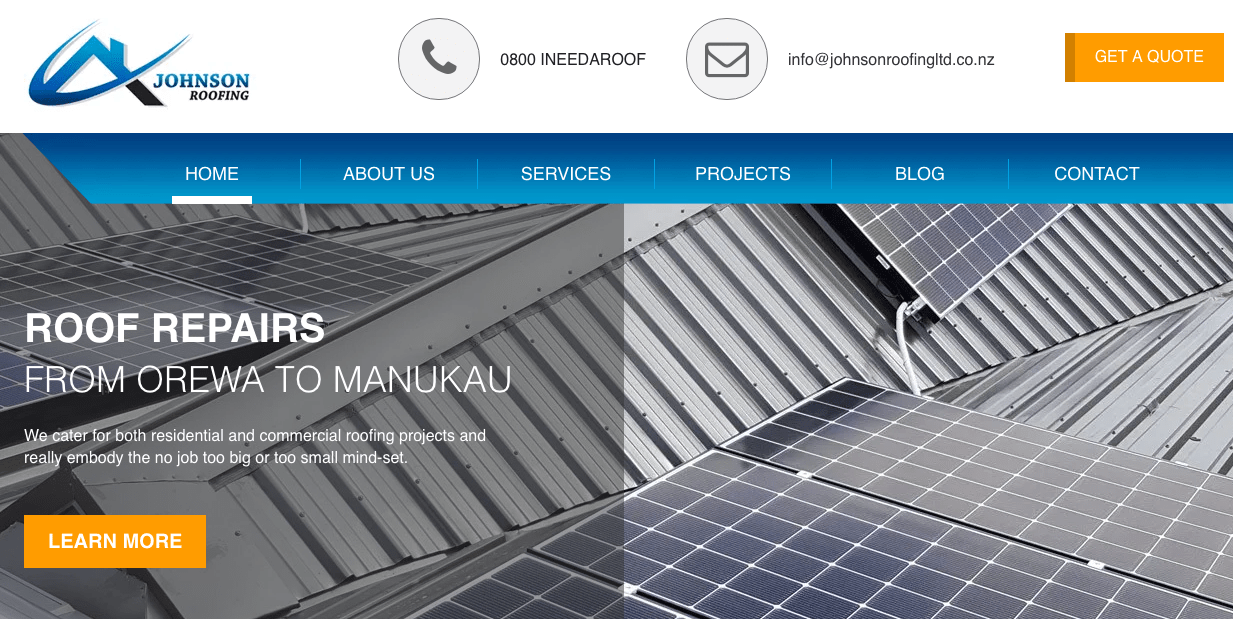 | | |
| --- | --- |
| Areas covered | Auckland-wide |
| Services | New Roof, Re-Roof, Roof Maintenance |
| Address | A1-8 Henry Rose Place, Albany, Auckland, New Zealand |
| Contact no | 09 447 3857 |
| Website | https://johnsonroofingltd.co.nz/ |
Johnson Roofing is a residential and commercial roofing company that offers new roof installation, roof repairs, and roof maintenance throughout Auckland. They are a SiteSafe and Roofing Association NZ member.
If your roof needs some patching, the team can come to you 24/7. For re-roofing, they can replace your old roof with high-quality steel roofing that's really durable and covered by a full warranty.
This is one of the best roof repair services in Auckland, thanks to the lower rates and a timely and efficient team. They always inform you when there are schedule changes or delays too.
Highlights
Durable steel roofing products
SiteSafe member
On-time and efficient team
24/7 leak repairs
Competitive prices
Customer Reviews
Matson Broederlow, GM of Network Builders said:
"We have worked with James and his team for a number of years now. They are all great to work with, deliver on time and complete work to the highest standard. For us quality is crucial and Johnson Roofing have not let us down yet."
2)  Shamrock Reroofing Ltd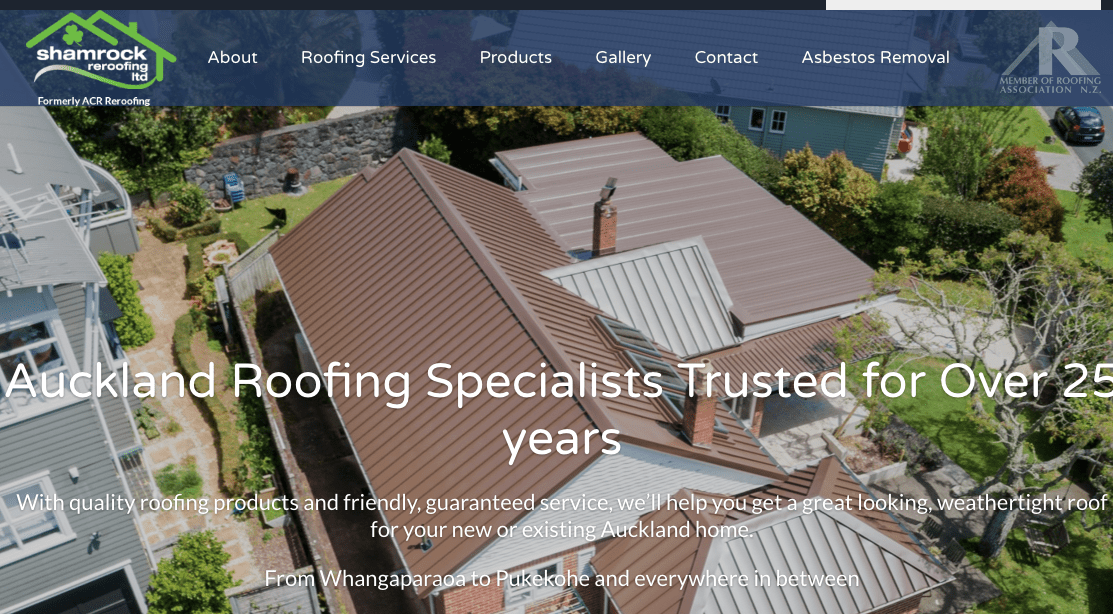 | | |
| --- | --- |
| Areas covered | Auckland-wide |
| Services | Long Run Steel Roofing, New Roofing, Re-roofing/Replacements, Insulation, Spouting/Downpipes |
| Address | 1/21a Ruarangi Road, Mt Albert, Auckland 1025, New Zealand |
| Contact no | (09) 846 6434 or 021 941 447 (Brendan) |
| Website | https://shamrockreroofing.co.nz/ |
If you have any damage to your roof due to the scorching sun or weather, get in touch with Shamrock Reroofing. Their services include work on new roofs, roof repairs, gutters, downpipes, fascia and spouting within Auckland.
With over 25 years of experience, they can be trusted with their jobs. They follow the NZ Health and Safety Regulations to keep a safe environment for both them and the client.
In case your roof will need a total replacement, they have many roof options available that are weather-resistant and very durable. That accounts for their impressive 10-year workmanship guarantee.
Highlights
Offers home re-roofing
More than 25 years of experience
Complies with NZ safety regulations
Gives a 10 year service warranty
Customer Reviews
Nathan McClintock gives it a rad score of 5 stars but he said:
"Where is the 6th star???!!! If you need a roof repaired or replaced at a very competitive price, call these guys. Have used them twice and have been super impressed with their service and workmanship."
3) Accredited Roof Coatings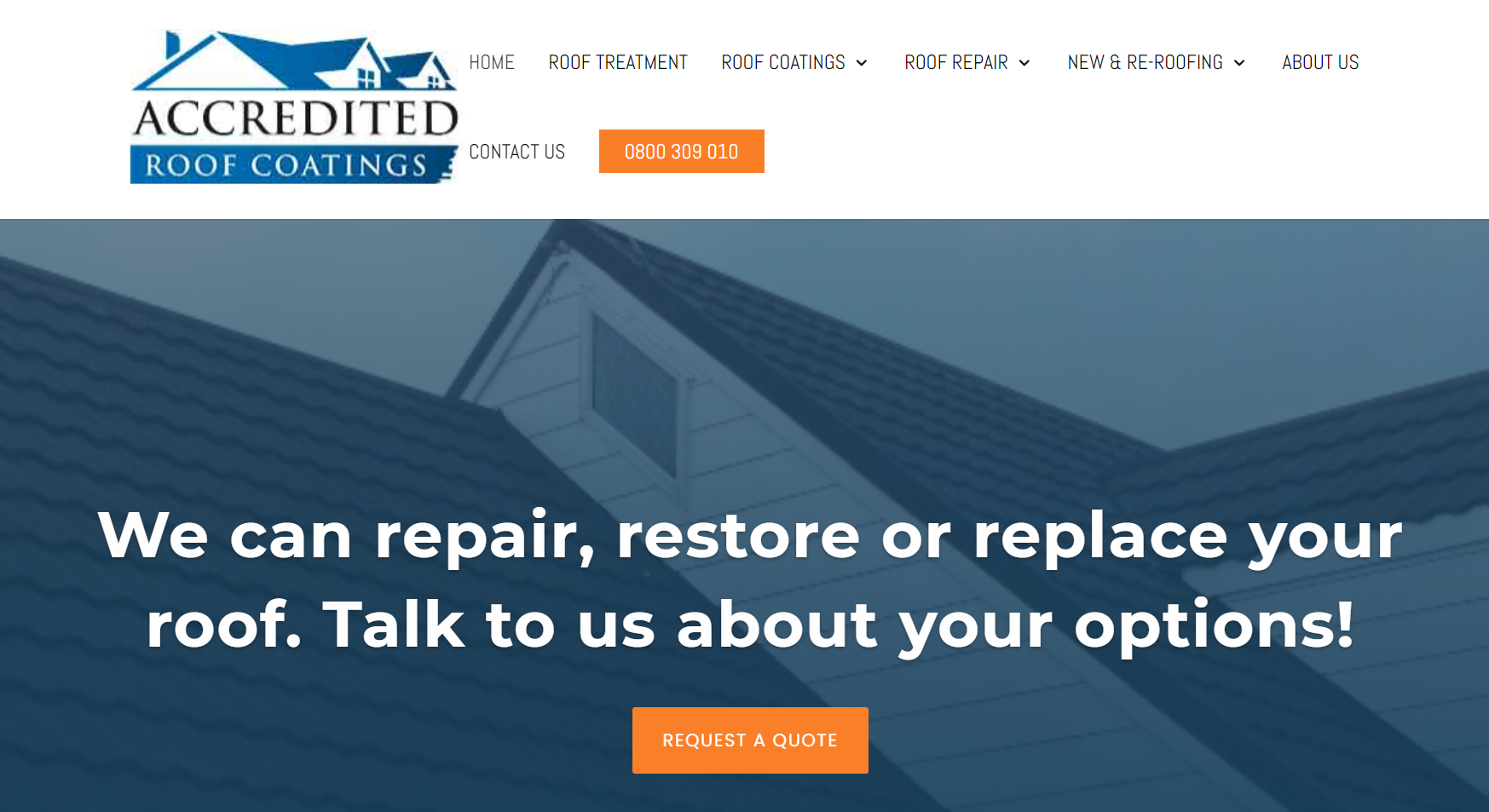 | | |
| --- | --- |
| Areas covered | North, South, East & West Auckland |
| Services | Roof Repairs, Roof Coatings, Roof Replacements, Moss & Mould Treatments |
| Address | Rosedale, Auckland |
| Contact no | 0800 309 010 |
| Website | https://accreditedcoatings.co.nz/ |
Regularly maintaining your roof can save you money and reduce the risk of ceiling damage and dampness in your home. Our comprehensive Roof Maintenance Programs are tailored to each individual home.
Whether you require maintenance, restoration for your old roof, or a complete roof replacement, our experienced team will offer knowledgeable advice and options to help you make the best decision.
Accredited Roof Coatings is a family-owned and operated business – we're not a franchise company and we don't sub-contract our work out to others, so our customers have the opportunity to deal directly with us, the owners of the business.
Our experienced employees are specialists in the industry and will provide you with personal, expert service with regards to your roof.
All of our materials are made and tested for New Zealand conditions.
Highlights
Concrete Tile Restoration Experts recommended by Monier NZ
Qualified in Decramastic Metal Tile Repair and Replacement
Trained in Colorsteel Roofing and Recommended in NZ Steel Manufacturers
Over 20 Years industry Experience
Site Safe Licenced
Auckland Distributor for Metrotile Roofing Systems
Customer Reviews
Customer Review direct from No Cowboys Website
"Accredited Roof Coatings has just finished my restoration project. They were so easy to deal with throughout the process. The work was done on the days they said it would and they showed me photos of the work they did at each stage of the project. I had three roofs repaired and repainted by them. They were very thorough with their workmanship and communication throughout the whole project. I would not hesitate to use them again or recommend them for any roofing project."
4)  Archer Roofing Ltd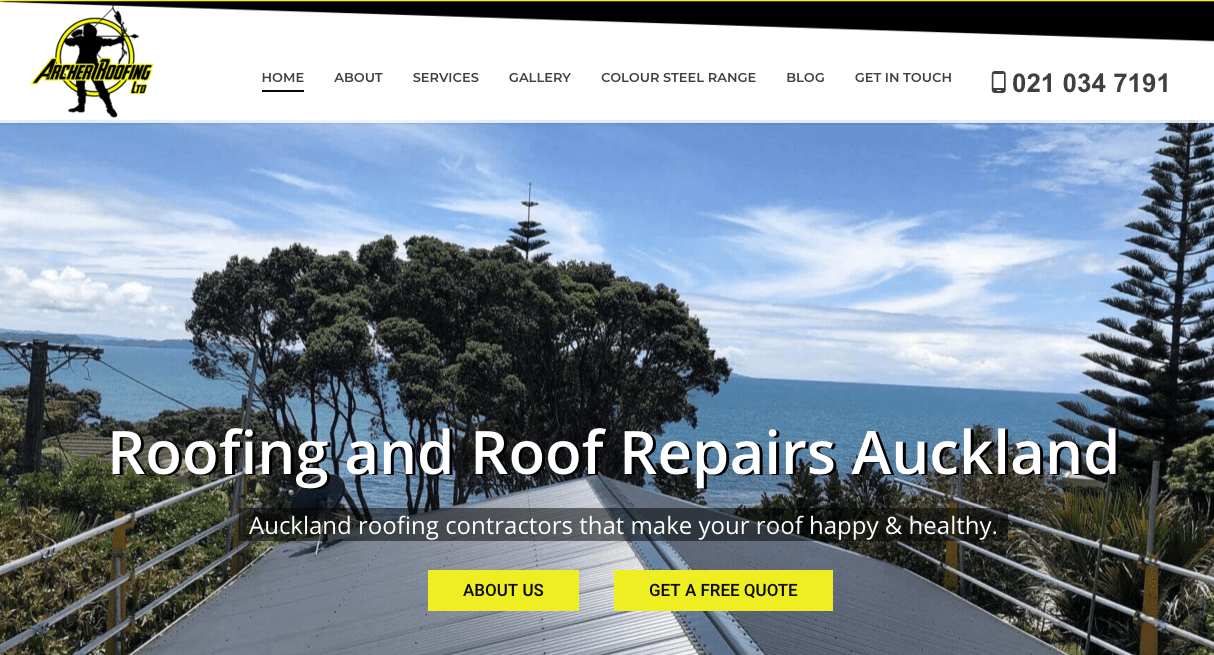 | | |
| --- | --- |
| Areas covered | Greater Auckland area |
| Services | New Roofs, Re-roofing, Roof Repairs, and Gutters |
| Address | 22 Bay Street, Red Beach 0932, New Zealand |
| Contact no | 021 034 7191 |
| Website | https://www.archerroofing.co.nz/ |
Archer Roofing Ltd is a locally owned and operated roofing company that services clients in the Greater Auckland area. They conduct re-roofs and roof replacement, new roof installs, and guttering services.
They utilise Kiwi-made products such as COLORSTEEL and ColorCote for your roofing. Being tough and durable, these are specially designed to withstand the harsh Auckland weather.
Clients get a minimum 5-year workmanship guarantee to cover damage that may occur within that period. Plus, they give fast responses and seamless communication to their clients.
Highlights
100% Kiwi owned and operated
Top-quality roofing
Minimum 5-year service guarantee
Affordable price
Easy communication
Customer Reviews
Karen Kingdon said on Google Reviews (and gave them 5 stars):
"We decided to use Kevin from Archer Roofing as we felt comfortable/confident dealing with him. Kevin did a fantastic job with our roof, kept us updated with progress, communication was also top notch. We would highly recommend Kevin for any roofing work. Fantastic team who works alongside Kevin."
5)  Solution Roofing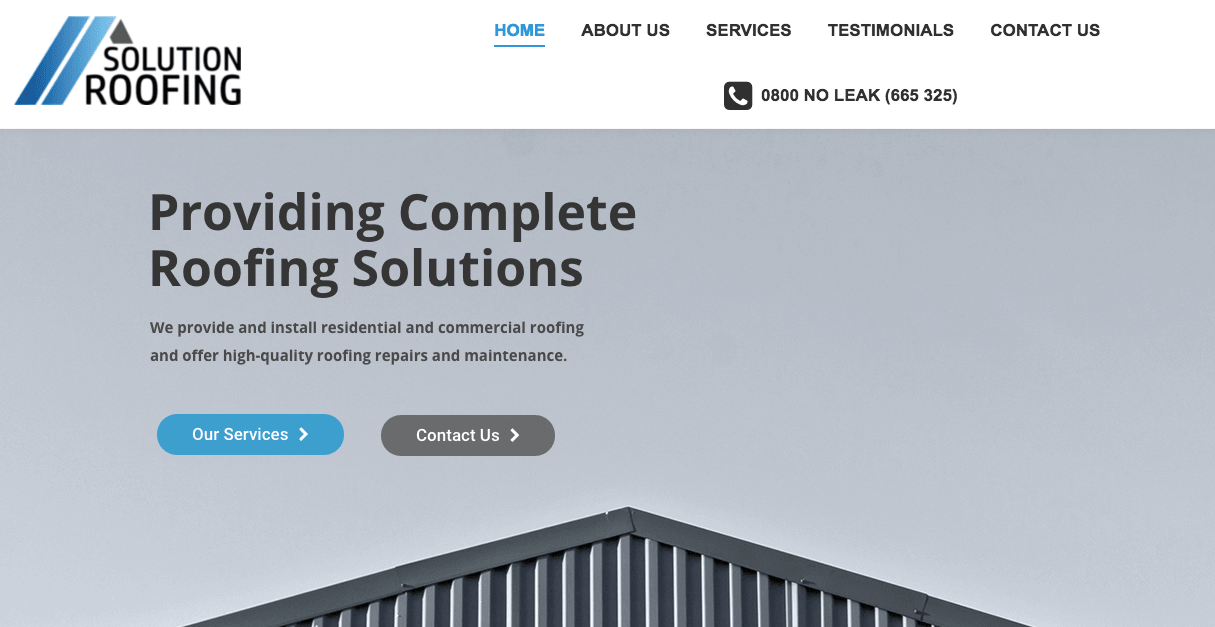 | | |
| --- | --- |
| Areas covered | Greater Auckland area |
| Services | Residential and Commercial Roofing and Repairs |
| Address | North Shore, Auckland, New Zealand |
| Contact no | 0800 NO LEAK (665 325) |
| Website | https://solutionroofing.co.nz/ |
Trying to get someone to repair your roofing? Solution Roofing is the company that you're looking for. They cover the Greater Auckland area offering new roofing, re-roofs and repairs.
They install or repair roofs for private and commercial properties regardless of the scope or size of the project. And you get ace-quality service for a price that's affordable.
Solution Roofing is a licenced building practitioner and SiteSafe member. That proves you can trust them to do any roofing work without endangering anyone — just one more reason they are one of the best roof repair services in Auckland.
Highlights
Specialises in longrun roofing installs
Serves residential and commercial clients
Excellent workmanship
SiteSafe member
Cost-effective rates
Customer Reviews
Tiemke The-Elsinga wrote as can be found on the website:
"After the last storm we had in Auckland our roof and spouting were damaged. We contacted Solution Roofing for a quote and they responded the same day. The next day we received a quote for the job and they completed the job within 1 week. Very professional work!! I would very much recommend them."
6) Enviro Roof Control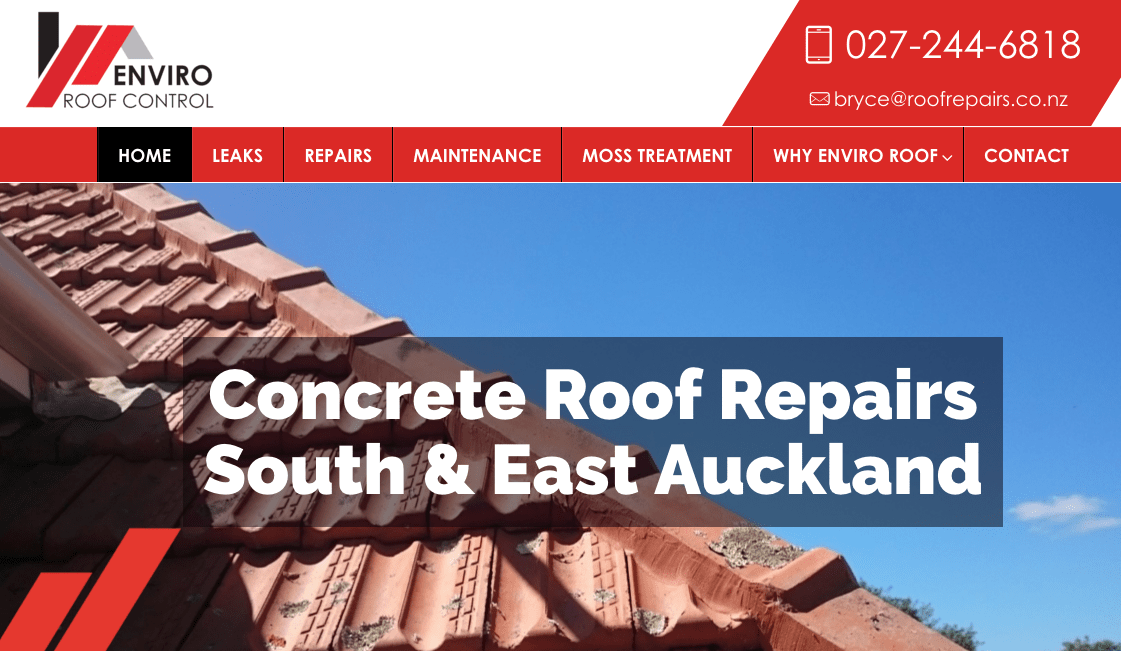 | | |
| --- | --- |
| Areas covered | South and East Auckland |
| Services | Roof Leaks, Roof Repairs, Moss & Mould Removal |
| Address | Manurewa, Auckland, New Zealand |
| Contact no | 027 244 6818 |
| Website | https://roofrepairs.co.nz/ |
For concrete or clay tile roof repairs in East and South Auckland, Enviro Roof Control has you covered. Other roof services they provide are fixing leaks and removing moss or mould.
The team arrives at your property to fix your problems and won't upsell you things you don't need. They charge very affordable rates too despite the excellent quality of their service.
This company has been repairing roofs for 25 years already. That's how it came to be among the best roof repair services in Auckland.
Highlights
Clay and Concrete roof tile specialist
In business for more than 25 years
Offers moss and mould removal
Affordable prices
Customer Reviews
This was a review by James Thompson as shown on their website:
"Bryce was a pleasure to deal with. He came around and quoted on the job in less than 3 hours after we rang. Then the very next day he braved occasional showers getting the job done which saved the roof from further leaking. We're impressed by his professionalism and wouldn't hesitate to recommend him to others in need."
7) Fern Roofing Solutions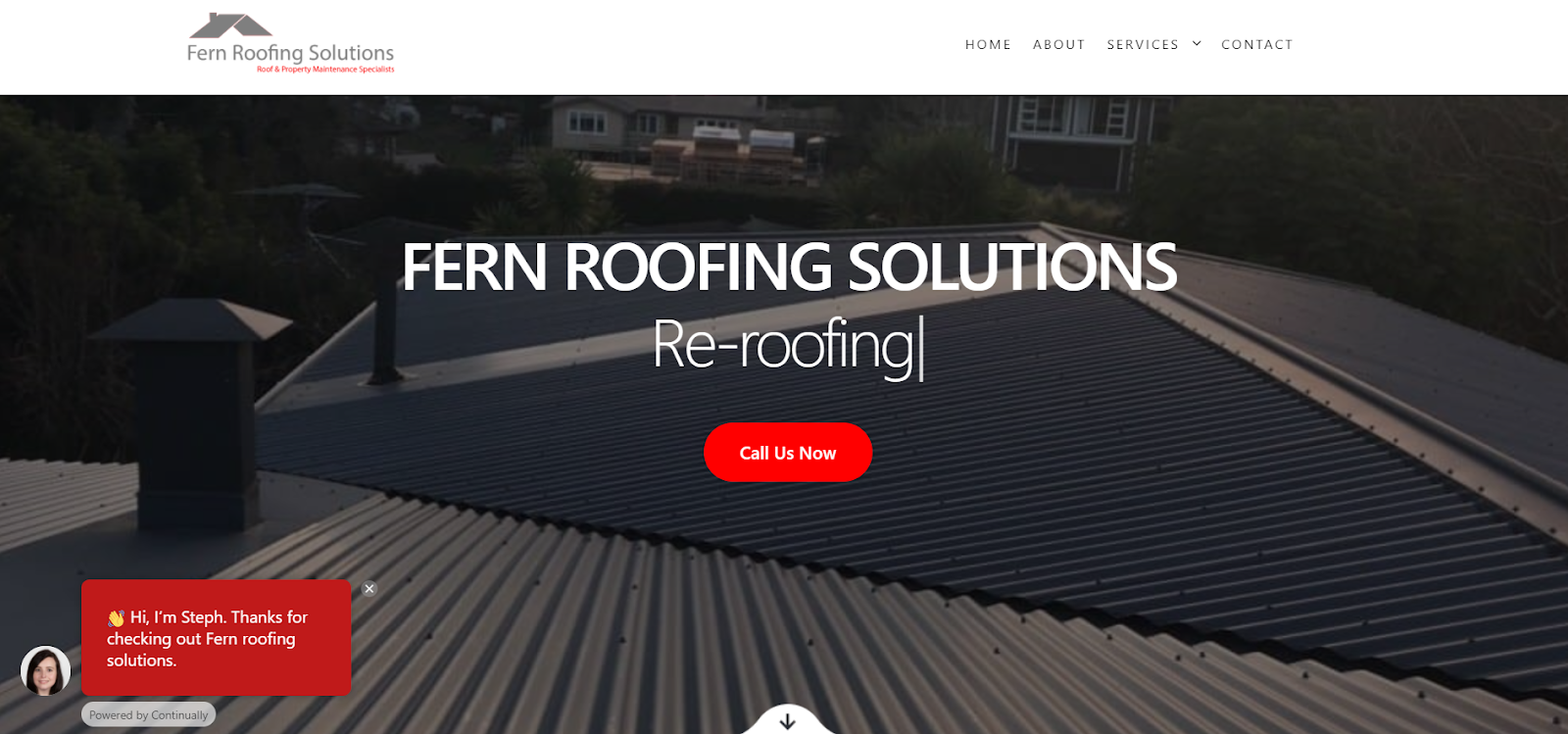 | | |
| --- | --- |
| BEST FOR | Customer Satisfaction |
| SERVICES | Inspections and Maintenance, Concrete & Clay Roof Repairs, Repair Service, Tile Repairs, Restorations, Painting, Spouting services |
| WEBSITE | http://www.fernroofingsolutions.co.nz/ |
| ADDRESS | Auckland 1060, New Zealand |
| CONTACT DETAILS | (021) 124 6519 | [email protected] |
| OPERATING HOURS | Monday – Saturday, 7:30 AM to 5:00 PM |
Fern Roofing Solutions is a family-run company that provides a wide variety of roofing services. They have maintained and serviced roofs in over 80 locations across Auckland.
Their team highly knowledgeable in their work and is very accommodating with all of their client's questions. They are also commended for their efficient workmanship.
Some clients hired the team to do their roof in the morning and then finished by the end of the day. Fern Roofing Solutions' wide variety and quality services definitely take a spot in our list of best roof repairs in Auckland.
Highlights
100% customer-satisfaction rate
Family-run company
Fast turnover
Customer Reviews
Here are some examples of the feedback posted by customers on Google Reviews:
"I had contacted the team at Fern to assist with a leak and gutter issue that I had, I had quick response and the repair was fixed efficiently. The team also helped assist me with any other questions I had regarding my roof. Very helpful will be using again."
"The team from Fern Roofing Solutions did our roof & gutter a few months ago and they were great. They were very professional and did an excellent job. Came in early morning and were done by the late afternoon. I Would highly recommend for any roofing work that needs to be done."
8) Auckland Re Roofing and Repair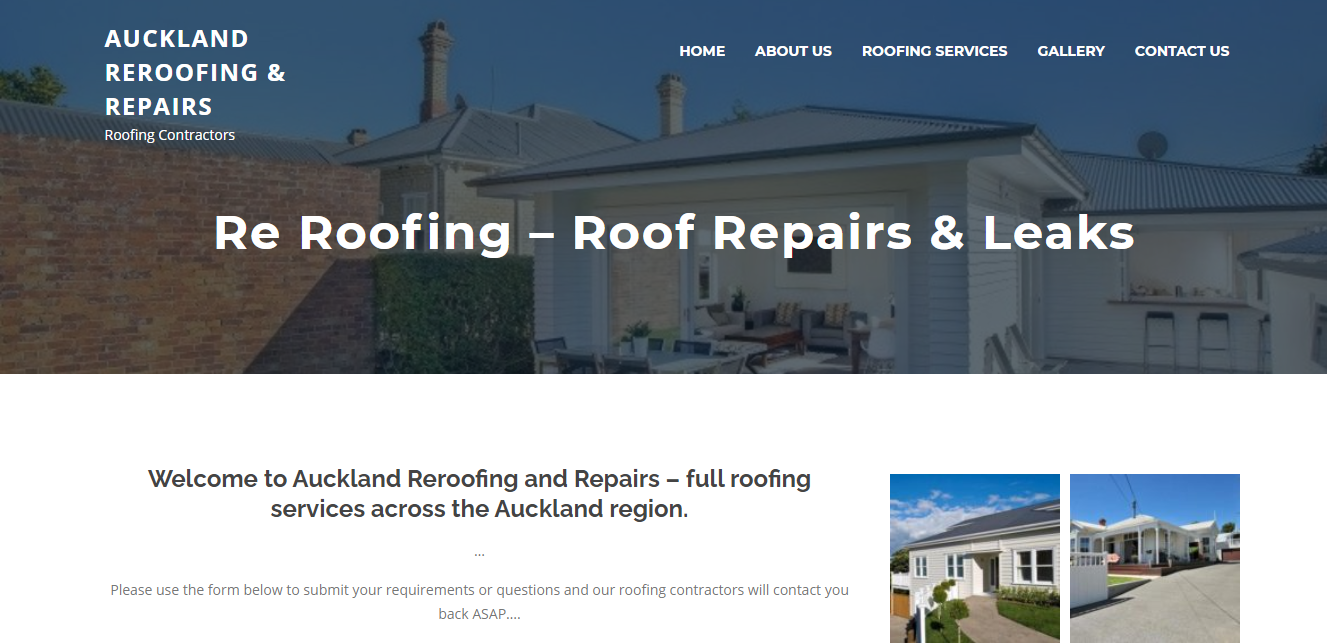 | | |
| --- | --- |
| BEST FOR | Housing repairs |
| WEBSITE | http://www.aucklandreroofing.nz/ |
| ADDRESS | 73 Gardner Avenue, New Lynn, Auckland 0600 |
| CONTACT DETAILS | 027 611 7586 |
| OPERATING HOURS | 8:00am to 6:00pm Mon to Sat |
Auckland Reroofing and Repairs consists of a team of experienced Kiwi roofing professionals, Based in West Auckland, they are happy to service any roofing requirements around the Auckland region.
The team specializes in long-run colour steel re-roofing and have broad experience in all types of roofing materials and repairs of all types of roofing. The roofers are leak repair experts and can advise you on the best approach to fixing any leaks in your roof.
Auckland Reroofing and Repairs also has experience in all types of guttering and spouting. They also give free advice on new gutters, leaks and repairs.
Highlights
Free quotation
Extensive repairs by professionals
Affordable and budget-friendly
9) Affordable Roofing & House Washing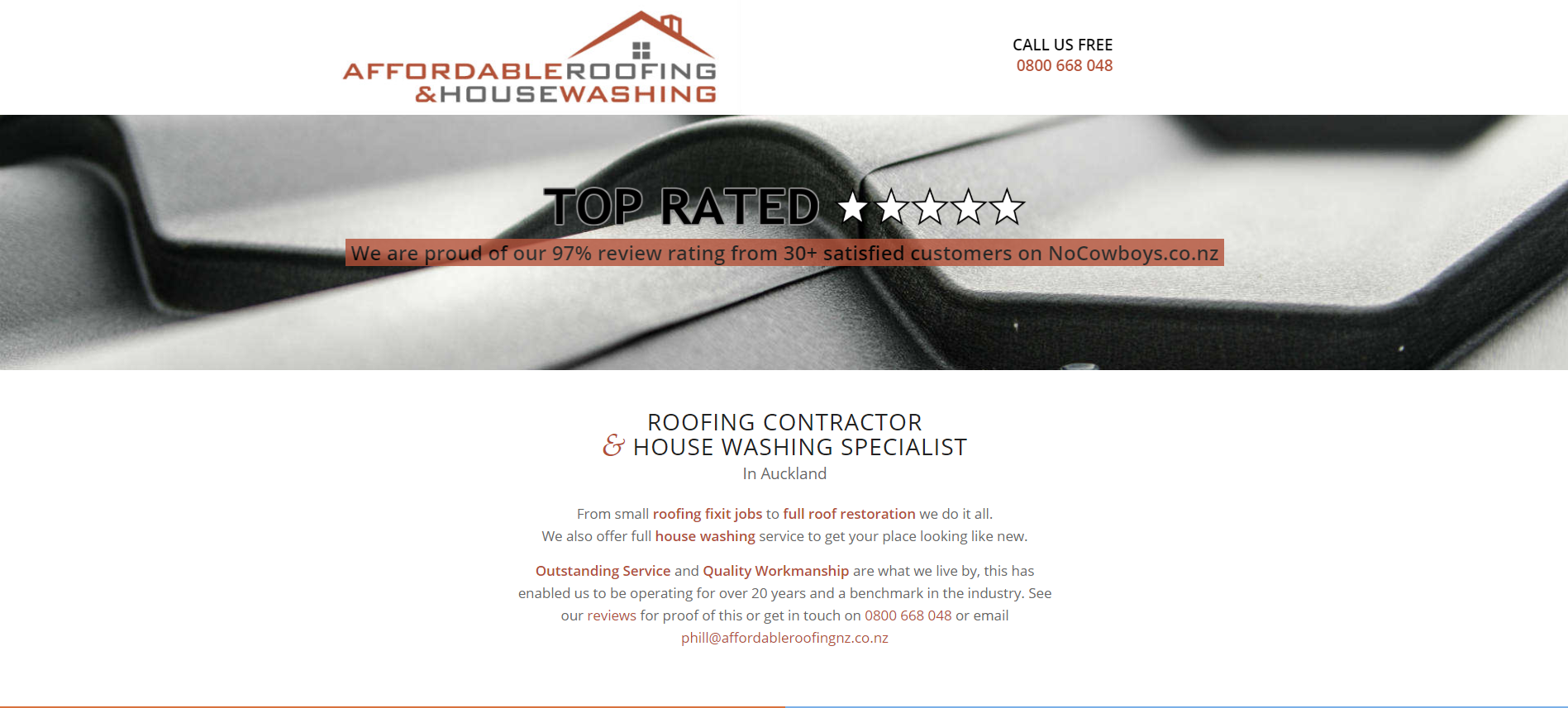 Affordable Roofing & House Washing is a roof repair company that specialises in concrete tile roof repair and roof restoration. They usually operate in the East and South Auckland area.
With more than 5,000 happy clients served, they guarantee that their services remain one of the best in the area. Any roof that Affordable Roofing repairs is sure to serve you for a long time.
Highlights
Competitive Pricing
Services with lasting quality
10. Tyson Roofing

At Tyson Roofing, there is one main goal: To provide prompt, high-quality roofing services without the typical outrageous price tag that accompanies them. Since the day it was first established up until now, Tyson Roofing has been continually doing so, gaining the trust of the people.
If we delve into the specifics, Tyson Roofing accomplishes such a feat by sourcing the materials to trusted traders. Not only that, but the company also dedicates itself to screening every professional they send out, which includes screening for their skills, expertise, professionalism, and character.
Combined, these tasks make it possible for Tyson Roofing to constantly deliver on their promise. But it doesn't stop there.
Another thing we like about Tyson Roofing is the fact that the company is a member of Licensed Building Practitioners and is partnered and preferred installers of established brands, ColorSteel and Steel & Tube NZ.
Highlights
Competitive pricing
Prompt and professional technicians
Locally owned and operated
11) Auckland Flat Roof & Waterproofing Services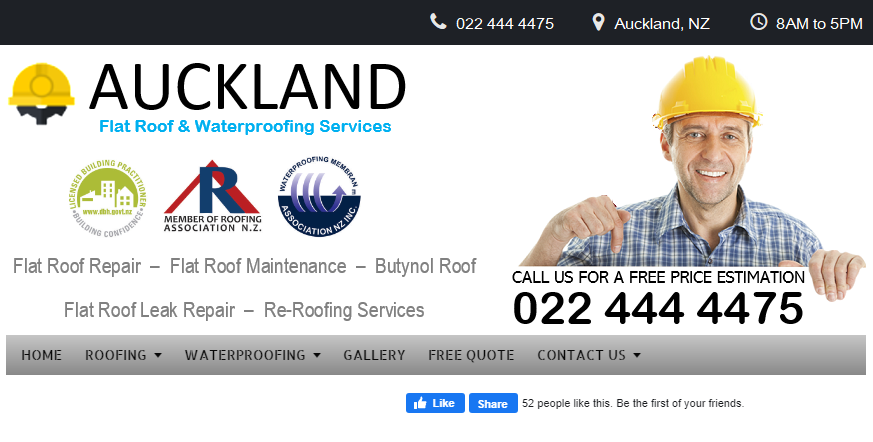 As expected from the company name, Auckland Flat Roof & Waterproofing is a service company that offers comprehensive flat-roof and waterproofing services to all of Auckland.
To be more precise, the company's services include new flat roof install, flat roof repair, flat roof retrofit, flat roof emergency repair services, flat roof leak repairs, flat roof repair, Ardex butynol roof, butynol flat roof repair, butynol flat roof maintenance, new butynol roof installation, flat roof maintenance, flat roof restoration, flat roof re-roof, flat roofing inspection, leaking flat roof repair, deck waterproofing, basement waterproofing, below-grade waterproofing, skylight repair, skylight waterproofing, and much more.
No matter the property, be it residential or commercial, Auckland Flat Roof & Waterproofing is readily available with their flat roof and waterproofing services. Industrial properties are even included alongside residential and commercial properties.
Another thing worth noting about Auckland Flat Roof & Waterproofing is the company's professionalism. Every technician from Auckland Flat Rood & Waterproofing has been thoroughly screened in terms of character, skills, training, and professionalism.
The technicians are also prompt and upfront when it comes to the costs of the services and the materials needed.
Highlights
Caters to all property types
Competitive pricing
Services all areas in Auckland
And that's all for the best roof repair services in Auckland. You will get quality service and prices with these roof contractors to restore your roof to its great condition without leaks or rust damage.
Do you have any questions about this topic we've tackled? If so, kindly send us a message and we'll get back to you as soon as we can.
Furthermore, just a friendly reminder that if your house or office was built before 1991, chances are your roof has dangerous asbestos. To get it removed safely, we'd suggest you check out our list of the best asbestos removal firms in Auckland.