9 Firms for the Best Roof Repairs in Wellington
A leaky or damaged roof can get costlier in the long run if it's not repaired at once. To help you out with this dilemma, we've rounded up the firms for the best roof repairs in Wellington here!
We composed our list by choosing those with qualified and skilled technicians, prompt and friendly service, and great customer reviews. Rest assured, you can depend on them for your roof repair needs.
Now without any further ado, we bring you the firms for the best roof repairs in Wellington!
1)  Bayside Roofing Ltd.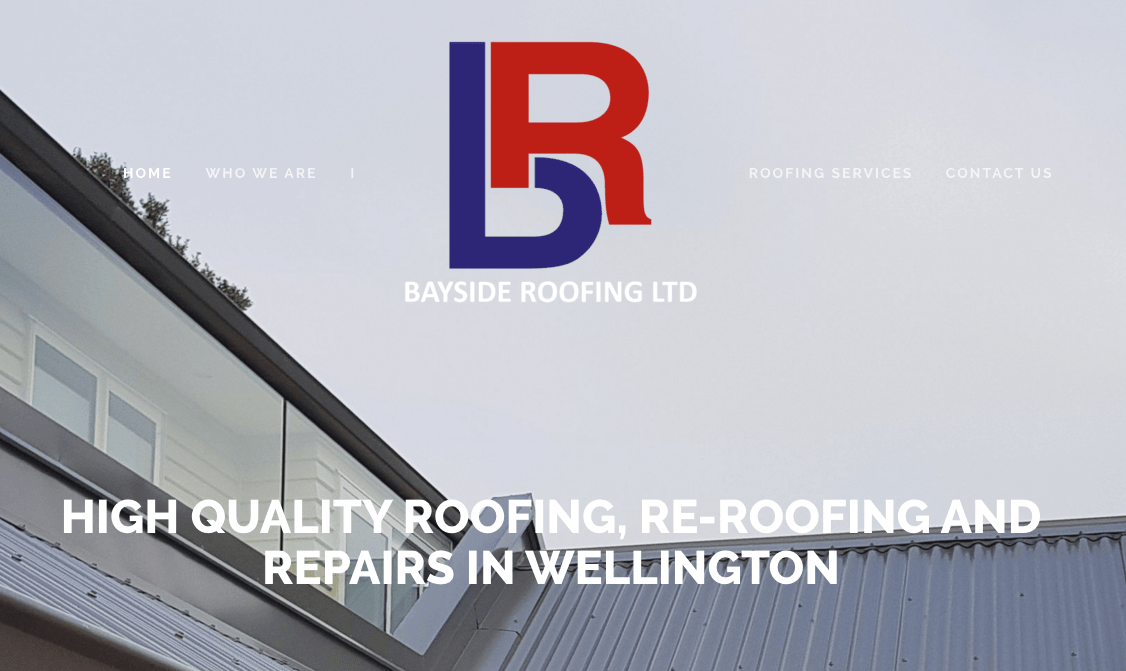 BEST FOR
Top Standard Roofing Repairs
SERVICES
New Roofing, Re-Roofing and Repairs
WEBSITE
https://www.baysideroofing.co.nz/
ADDRESS
5 Nevay Road, Miramar, Wellington 6022, New Zealand
CONTACT DETAILS
+64 274 437 277
OPERATING HOURS
Monday to Friday: 7.30am – 6pm

Saturday and Sunday: Closed
Boasting 35 years of experience, Bayside Roofing offers premium roofing, re-roofing and repairs. The team has a wealth of knowledge and expertise for you to draw on.
They are Licensed Building Practitioners, meaning you can trust them in your roofing repairs. Also, they can provide sound advice to help you make the most of their service.
More importantly, their high-quality work is backed up by a 15-year workmanship warranty. As you can see, they are one of the firms for the best roof repairs in Wellington!
Highlights
Licenced Building Practitioners
Wealth of knowledge and skill
High quality service
15-year workmanship warranty
Customer Reviews
One customer, Hamish Johnson, posted a review on Google:
"Paul and the team at Bayside Roofing did an outstanding job with our roof.  They were really competitively priced and incredibly well organised and professional when it came to getting the job done.  What I like most about it was the professionalism.  Paul took the time to come round to the house a couple of times and provide us with really good advice at the beginning of the job around materials.  This meant we made well informed decisions through the process and we're super happy with the end result."
2)  Southern Plumbing & Gasfitting Ltd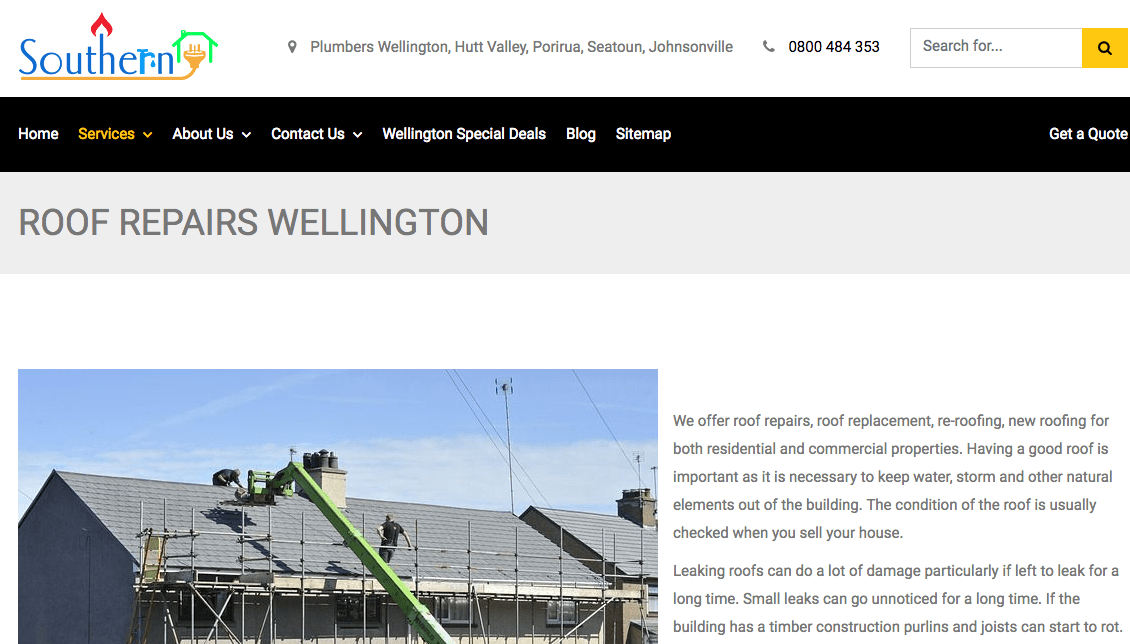 | | |
| --- | --- |
| BEST FOR | Safe and Dedicated Roofers |
| SERVICES | Roof Leak, Roof Replacement, New Roof Installation and Re-Roofing |
| WEBSITE | https://www.southernplumbing.co.nz/roof-repairs-wellington/ |
| ADDRESS | 19 Arthur Street, Unit 1 Te Aro, Wellington, New Zealand |
| CONTACT DETAILS | (04) 384 4635 |
| OPERATING HOURS | Open 24 hours |
If you notice that your roof is leaking, you can call Southern Plumbing & Gasfitting at once! The qualified roofers there can then evaluate the problem and work out a solution!
Even if you have a high and hard-to-access roof, the team has the skills and equipment needed for the task. Often, they use safety-approved scaffolding when repairing roofs.
The company has successfully completed 29,000 roofing projects in the last 30 years. And that feat alone already makes them one of the firms for the best roof repairs in Wellington!
Highlights
Safe and dedicated roofers
Licenced to carry out roofing services
30 years' experience
Customer Reviews
Judith Dent, one client, commented on Google Business:
"Southern plumbing did an excellent job repairing our leaking roof. The staff were very professional. We will definetly recommend them, and we will use them again for our plumbing needs."
3)  Wellington Roof Painting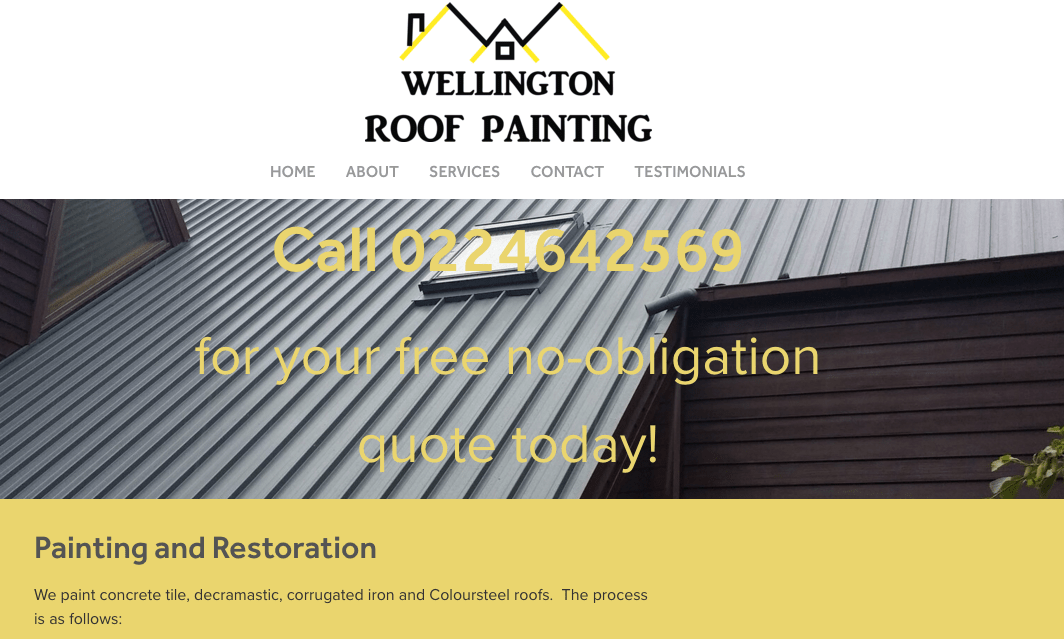 | | |
| --- | --- |
| BEST FOR | Comprehensive Roofing Services |
| SERVICES | Roof Cleaning, Chimney and Aerial Repair and Removal, Flashing Replacement, Ridge Cappings Repair, Replacement and Painting, and Gutter Cleaning and Removal |
| WEBSITE | https://www.wellingtonroofpainting.co.nz/ |
| ADDRESS | 8 McKinley Crescent, Wellington, New Zealand |
| CONTACT DETAILS | 022 464 2569 |
A roof totally repaired and refurbished is what Wellington Roof Painting can give you. They are dedicated and timely professionals who provide a breadth of roofing services.
Whether your roof needs repainting or repair, they have your back! Their team keeps you well-informed every step of the way by regularly communicating with you.
Not only will you be pleased with the end result, but you will also get value for your money. And that explains why they have a lot of loyal and satisfied customers.
Highlights
Extraordinary workmanship
Offers a full range of services
Solid communication
Gives you value for your money
Customer Reviews
On the testimonials tab of the company website, Kate, a client from Vogeltown, noted:
"Wellington Roof Painting did a great job on our old concrete tile roof. Their communication throughout the job was great, and the job was completed in a timely manner. The end result is fantastic!"
4)  Element Roofing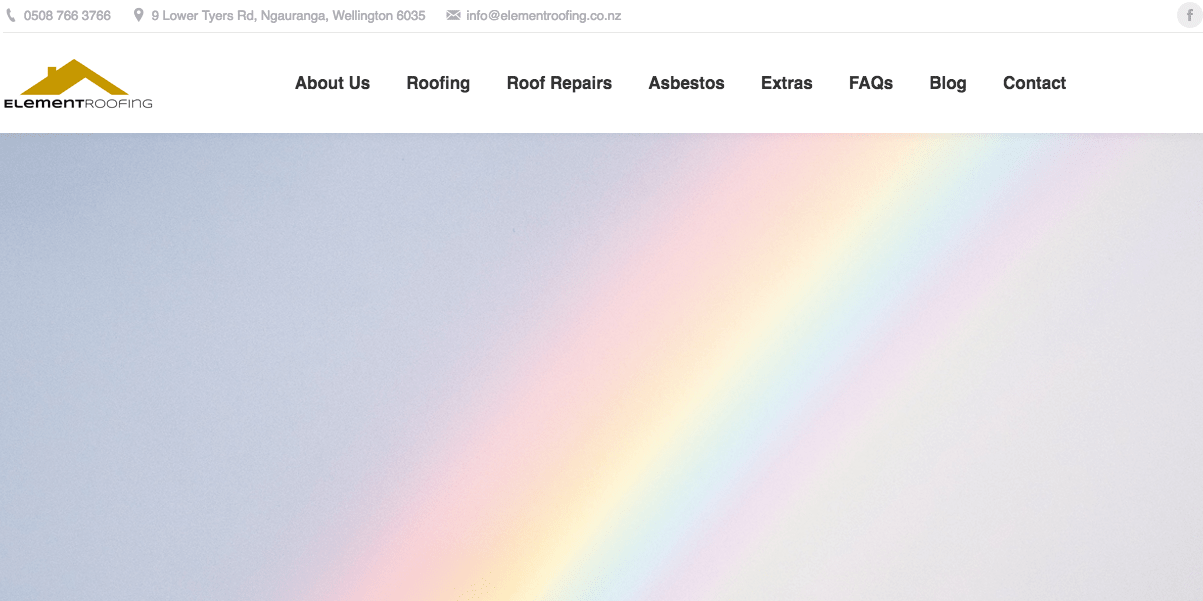 | | |
| --- | --- |
| BEST FOR | Metal Long Run Roof Repairs |
| SERVICES | Roofing, Roof Repairs, Asbestos Removal, Skylights, Gutter Installation & Replacement |
| WEBSITE | https://elementroofing.co.nz/ |
| ADDRESS | 9 Lower Tyers Rd, Ngauranga, Wellington 6035, New Zealand |
| CONTACT DETAILS | 0508 766 3766 |
| OPERATING HOURS | Monday to Friday: 7.30am – 5.30pm |
Element Roofing is committed to providing a high standard of work for roofing and re-roofing throughout Greater Wellington, including Kapiti, Eastbourne and Upper Hutt.
They specialise in metal long-run roof repairs for residential and commercial properties. Additionally, they can replace or repair damaged concrete, clay and decramastic tiles.
You will find their service personnel friendly and pleasant to deal with. And to meet or exceed your expectations, they talk, advise and collaborate with you in the course of the roof repair.
As such, they are one of the firms for the best roof repairs in Wellington!
Highlights
Specialises in metal long-run roof repairs
High standard of work
Amiable and hardworking
Excellent communication
Customer Reviews
On Google Business, one customer, Angela Ward wrote a review:
"Just wanted to say thank you to you and the Element team on my roof repair.  Very professional and the process seamless.  Great communication, and minimal involvement from me…all I needed to do was pay the account upon completion.  I will definitely be in contact if/when I need to replace my roof in the future."
5)  Top Kat Roofing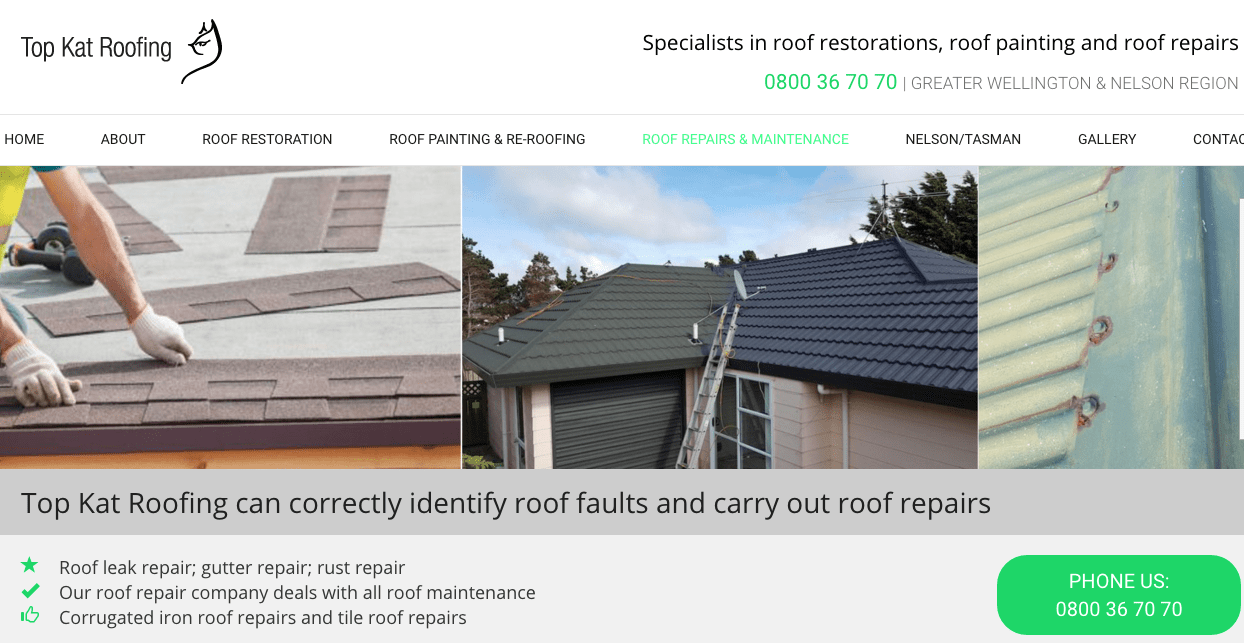 Whatever problems you have in your roof — be it rust, leaks, loose nails, old gutters — Top Kat Roofing can solve them! They have over 25 years' experience in the field, so they know what they're doing.
Only top-quality materials are used for your roofing restoration, painting and repair. This, coupled with their superior workmanship and knowledge, ensure your 100% satisfaction.
But setting them apart from competitors is their integrity: they don't cut corners in roof repairs. Aside from that, they stand behind their work with a solid 5-year guarantee!
Top Kat roofing serves clients across Wellington and Nelson. They're easily among the easiest to work with here if you need roof repairs.
Highlights
Superior workmanship and service
25 years' experience in the field
Honest and knowledgeable team
Offers an extensive range of services
Customer Reviews
Mark Harrison, one client, said on Google Business:
"Fantastic. Came round promptly, identified the cause, applied sealant and job done. They warrantied their workmanship against future leaks. Also have good advice on other works, proposing simple solutions other tradies had missed.
Highly recommended."
6)  Roof It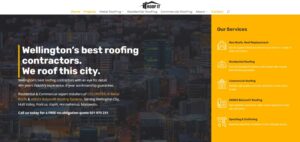 BEST FOR
Quality Services
SERVICES
Metal Roofing, Residential Roofing, Commercial Roofing
WEBSITE
https://roofit.nz/
ADDRESS
Unit 2/ 132 Park Road, Miramar, Wellington.
CONTACT DETAILS
021973231
[email protected]
OPERATING HOURS
N/A
Roof It is Wellington's trusted roofing contractors. They roof the city. Roof It has the skill, talent and experience to build premium quality Residential, Commercial and Industrial roofs.

No project is too big or too small for their professional team. With their dedication to customer satisfaction, you can rest assured that any job you commission them for will exceed expectations.
Highlights
No obligation quote
40+ years industry experience
Sharp eye for detail with superior finishes
8 year workmanship guarantee
7)  Maca Brothers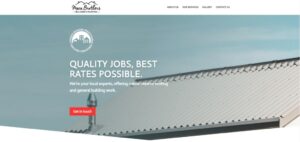 BEST FOR
Building and Roofing
SERVICES
GENERAL BUILDING WORK
NEW SPOUTING/GUTTERS
RE PITCHING OF OLD ROOFS
STRUCTURAL REPAIR WORK
QUALITY JOBS COMPLETED ON TIME AND ON BUDGET
ASBESTOS ROOF REMOVAL
WEBSITE
https://www.macabrothers.co.nz/
ADDRESS
N/A
CONTACT DETAILS
021 192 7932
[email protected]
OPERATING HOURS
N/A
Maca Brothers is a building and roofing company with more than 25 years of experience in the industry. They have a wide range of services available, from general residential building work to more time-intensive repairs.
With all their services, they aim to get the job done the first time. You can count on them to have any of your building and roofing needs covered.
Highlights
25 years of experience
Wide range of building and roofing services
Free quote available
8)  Christchurch Roofing Contractors

BEST FOR
Roofing Services
SERVICES
New Roof
New Roofing
Roof Repair
Roofing Repairs
Leaking Roof
Residential Roofing
Residential Roof Repairs
Commercial Roofing
Commercial Roof Repairs
Roof Extension
ReRoofing
Roof Restorations
Replace Roof
Longrun Coloursteel Roof
Slate Roofs
Tile Reroofing
Tile Roofing Repair
GuttersGuttering Repairs
Spouting

Spouting Repairs
Downpipes
Roof Flashings
Roof Fascia
Roof Leak Repairs
Roof Asbestos Removal
Roof Box Gutters
Corrugated Iron Roofing
Corrugated Iron Roof Repair
Roof Louvres
Gutter Cleaning
Gutter Guards
Shingle Roofs
Roof Skylights
Urgent Roof Repairs
Roof Whirly Birds
Metal roof repair
Replace Metal Roof
Clear Roof Sheeting

WEBSITE
https://christchurchroofing.net.nz/
ADDRESS
Curries Road

Hillsborough

Christchurch 8022

CONTACT DETAILS
027 237 9431
OPERATING HOURS
N/A
Christchurch Roofing Contractors allows you to connect with tradesmen for any of your roofing needs. They offer an extensive set of services, ranging from roof installations to maintenance.
They can handle projects of any size, may it be small or large-scale. Contact them now through their website!
Highlights
Wide variety of services
Connected with tradesmen and professionals of various specialisations
9) Yak Contracting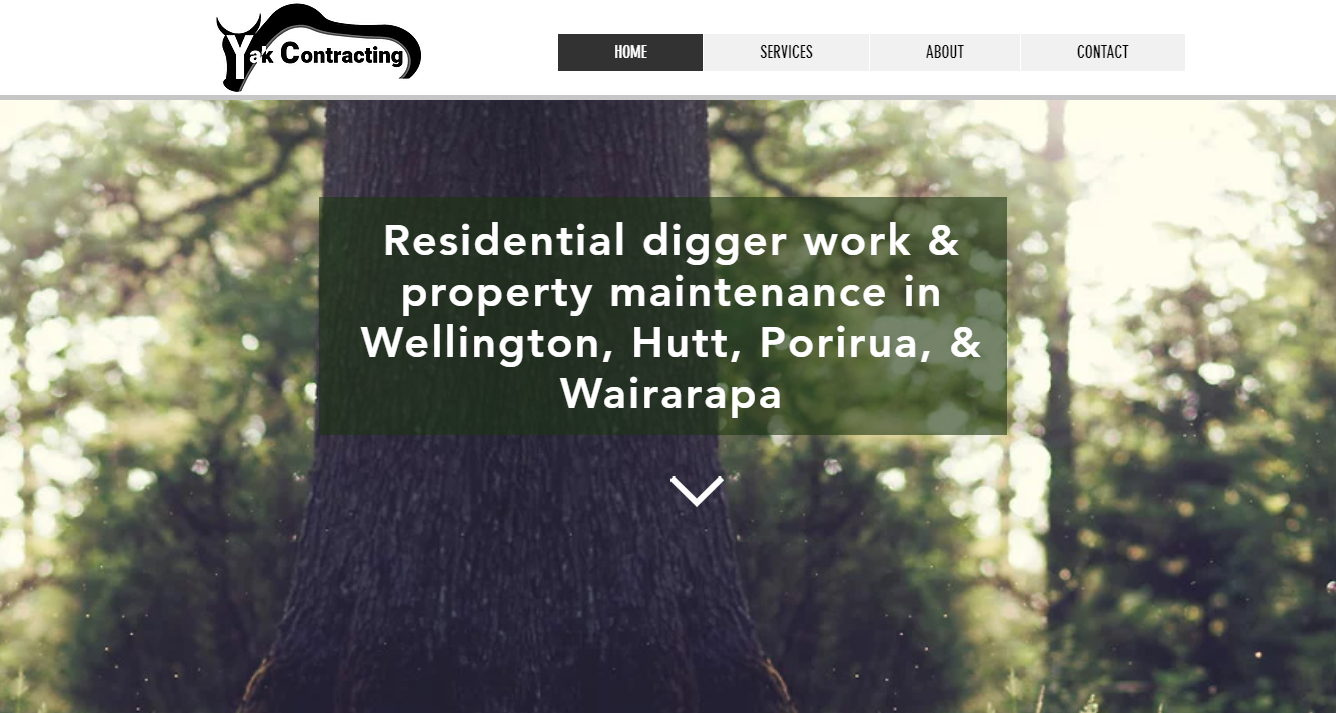 BEST FOR
Outdoor Work
SERVICES
Earthwork & Digger Work

Driveways and Paths

Ditches & Trenches

Fences & Retaining Walls

Tree and Bush Maintenance

Custom Carpet Installs

Lawn Resowing

WEBSITE
https://www.yakcontracting.co.nz
ADDRESS
New Zealand
CONTACT DETAILS
022 434 4942
OPERATING HOURS
N/A
If you're looking to spruce up the outer part of your property, then you may want to consider Yak Contracting.
Yak Contracting is owned and operated by Callum Lord, a handy Kiwi who has worked with landscapers and builders alike, and who has a passion for everything outdoors.
Throughout his years in the field, Callum has carried out extensive flood restoration and home renovation works. Moreover, he's qualified to provide flooring and carpet services.
Some of the services that Callum and Yak Contracting has to offer are residential earthwork and digger work, driveways and paths, tree and bush maintenance, custom carpet installation, carpet repairs, retaining walls, and of course, roof repairs.
Each and every service is customised to fit the client's needs and requirements. Plus, Yak Contracting makes it a point to be as affordable as it can be.
Those who are interested should also note that Yak Contracting offers its services to clients in Wellington, Porirua, Lower and Upper Hutt, Featherston, Carterton, Masterton, and Martinborough.
Highlights
Large service area

Wide range of outdoor services
And there you have it for the firms for the best roof repairs in Wellington! These roofing specialists will patch up your roof to shelter and protect you from the outside elements!
Do you have any questions for us regarding the topic? If you have one, talk to us by sending us a message and we'll get back to you right away!
Aside from that, you might be interested in having your chimney cleaned some time. In that case, you can read about the best chimney sweep Wellington professionals!