The 5 Best Roofing Companies in Invercargill
The roof is the most exposed element of any home or building and needs immediate attention when something goes wrong with it. If you've got a leak in yours or need an actual replacement installed, then today is your lucky day!
We've compiled this list of the best roofing companies in Invercargill to help you out. We based our picks on the company's track record, experience, services offered, and client feedback. 
Before we get to that, though, you'll probably want to know how much it's going to cost first.
How much does roofing cost in Invercargill?
The amount that you'll spend on roofing will depend on the size of your home, the number of levels, and the material that's going to be used. If you're having repairs done, the nature or complexity of the work also determines the final cost.
We highly recommend getting quotes from three to four roofing companies and choosing the best proposal. There are really no flat rates for this kind of work, so expect varying prices from each contractor. 
Generally speaking, you can expect to pay around $100 per square meter for materials and installation. This means that roofing can easily cost around $18,000 to $20,000 for a standard family home.
Moreover, not many people know that scaffolding is an extra fee all in itself, which makes a multi-level home more expensive than a bungalow. Scaffolding costs can reach around $2,000 to $5,000 for a two-story home.
However, if your roof's condition is only spotty in a few places and just needs simple repairs, you can expect to spend just around $200 to $300. If you need to do re-roofing because the damage to your roof is more complex, then you can expect to pay $4,500 to $7,000 for an average home.
We've outlined the average costs you can expect to pay below depending on what your roof is made of.
| | |
| --- | --- |
| Material | Cost |
| Asphalt | $180 – $380 |
| Copper | $190 – $400 |
| Corrugated Iron | $140 – $260 |
| Membrane | $90 – $190 |
| Slate | $130 – $350 |
| Tile (Concrete/Clay) | $80 – $200 |
And to better visualize what the the cost per square meter of new roofing material might be, we've summarized it for you here:
| | |
| --- | --- |
| Material | Average Price per Square Meter |
| Metal | $65 |
| Concrete | $75 |
| Clay | $104 |
| Quarried Slate | $300 |
| Copper | $190 |
| Membrane | $100 |
The Best Roofing Services in Invercargill
Now that you know what to expect when hiring a roofing company, we can now take a look at our picks for the top roof repair services in Invercargill.
1. CS Roofing Southland Ltd.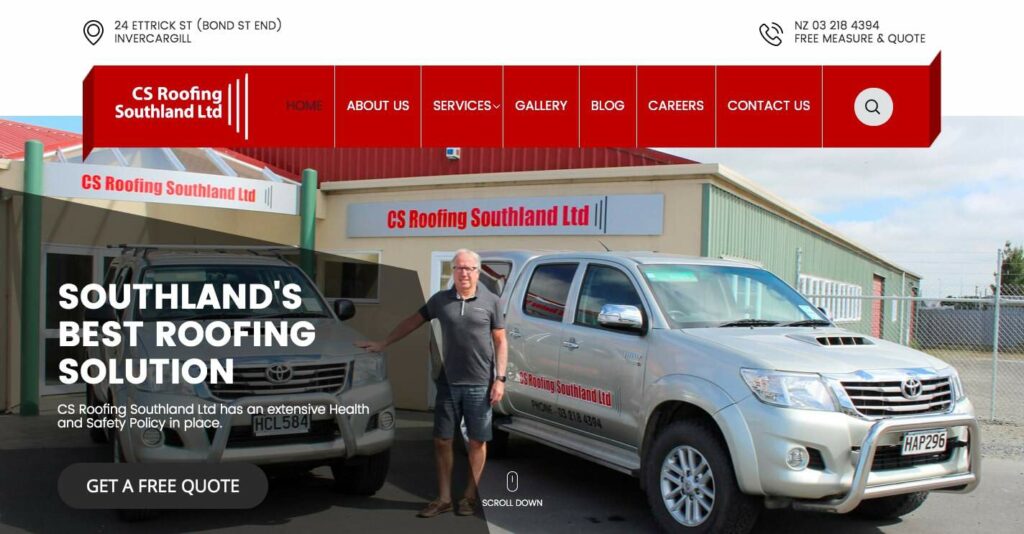 SERVICES
Rubber Membrane, Metal Wall Cladding, Spouting, Downpipes, Fascia, New Build Roofing
WEBSITE
https://csroofingsouthland.nz/
ADDRESS
24 Ettrick Street (Bond St. End), West Invercargill 9810
CONTACT DETAILS
Phone: (03( 218-4394
Email:

[email protected]

OPERATING HOURS
Monday to Thursday: 8:00am – 5:00pm
Friday: 8:00am – 4:30pm
CS Roofing Southland was first founded in 2009 by Keith Ivey, offering its roofing installation services in Invercargill and the surrounding areas. Although a relatively new company, they already have over 30 years of experience in the field.
As Licensed Building Practitioners and members of the Roofing Association, most of their team is certified by the New Zealand Qualifications Authority (NZQA) in metal roofing and wall cladding as well.
CS Roofing Southland is also approved at the highest level of accident insurance in ACC, Site Wise Green, and is a member of Site Safe. This means that not only can they work fast, but they also work safely while adhering to the high standards set by these associations.
Despite their multiple accreditations, CS Roofing Southland still offers free quotations for any roofing project. They won't just stick to a simple visual inspection either – they'll even measure your roof so that they can give you an accurate estimate moving forward.
Moreover, CS Roofing Southland's workforce is unique because they have both contract and full-time professionals. This helps them divide up tasks efficiently to available personnel to make sure that projects are completed on time, although this can come at a slightly higher cost.
Offering their services to both residential and commercial projects, they have taken on large government projects, or large-scale development sites, and have repaired roofs for individual homeowners as well.
CS Roofing Southland can also build new roofs or install waterproof rubber membranes on your flat roof. While they're working on those, they can likewise simultaneously install downspouts and fascia for a quick all-in-one job.
In short, CS Roofing Southland fulfills some of our most important qualifications for a reliable contractor. They hold multiple certifications, have a reputation for being efficient, and have the experience to back it all up.
Free measure and quote
Has staff that hold several NZQA certifications
Member of Site Safe and Site Wise Green
Limited operating hours on Friday
Slightly more pricey than competition
Customer Reviews
Extremely polite and friendly
"Having such a complicated, time consuming roof to fit the roofers completed the job with attention to detail, worked in a professional manner, were extremely polite and friendly and cleaned up after each day. I would have no hesitation in recommending to homeowners needing a new roof. The workmanship warranty and product warranty is always a bonus working with an experienced company." – Jenny Barnett
2. Ryder Roofing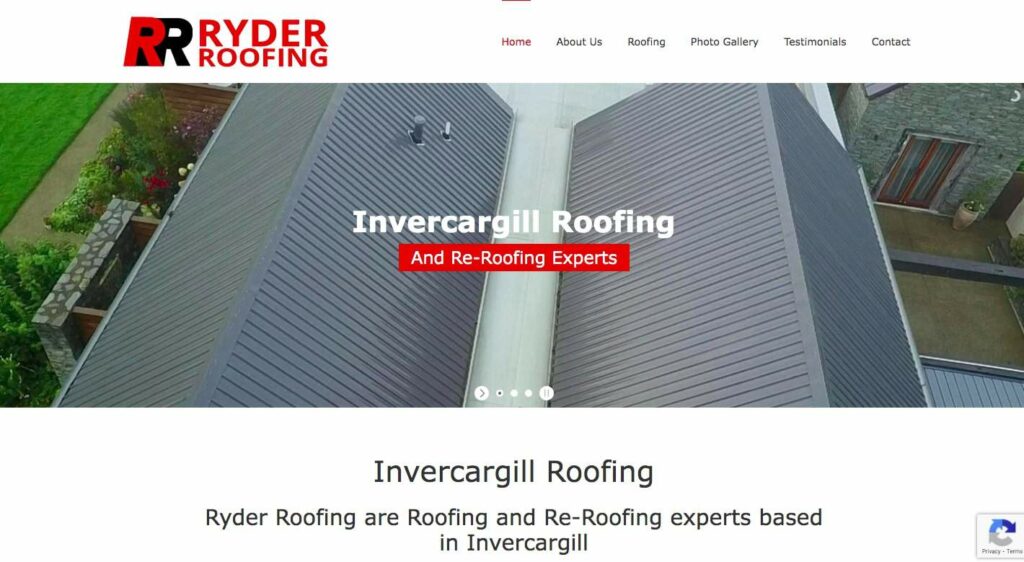 SERVICES
Re-Roofing, Commercial Roofing, Industrial Roofing, Residential Roofing, Warehouse Roofing, Garage Re-Roofs, Sheds, Metal Roofing, Metal and Butynol Roofing, Rubber Membrane, Spouting, Fascia and Downpipes
WEBSITE
https://www.ryderroofing.co.nz/
ADDRESS
167 Ettrick Street, Appleby, Invercargill 9812
CONTACT DETAILS
Phone: (03) 218-8694
Mobile: (027) 432-6543
After Hours: (03) 215-6616
Email:

[email protected]
Ryder Roofing is a family-owned and operated business that has been providing its services for over 50 years to the residents around Southland. They specialize in commercial, industrial and residential projects in the area.
Trevor Ryder currently sits as the company's CEO – he personally has over 40 years of experience in plumbing and roofing, which gives this company extra points in our book. Throughout the years of working in the field, he has learned firsthand some of the best techniques, methods, and materials to use in roofing.
Therefore, one of the advantages of working with Ryder Roofing is that you get to deal with the owner directly, which helps keep projects moving at a quicker pace. He will be there from the moment of quotation until the final installation and can quickly make any decisions on-site if needed.
If you want to see some of Ryder Roofing's work, you can go check out several well-known large-scale projects such as the Invercargill Water Tower, Southern Cross Hospital, and Southern Institute of Technology. Their portfolio also includes schools, hotels, community centers, and food processing plants.
Since they've worked on several large projects, Ryder Roofing isn't a stranger to working with some of Southland's leading architects. So, if you're doing a new build or have a big construction project that you need to finish up with quality roofing, this company is an option worth considering.
Ryder Roofing offers free measurements and quotations as well, which makes them a favorite among locals who are searching for roofing services. This roofing company can also perform metal roofing, rubber membranes, spouting, fascia, and downpipes.
To top it off, Ryder Roofing is also a member of the Roofing Association of New Zealand (RANZ) and received the Roofing Association Roof of the Year for a project in Waianawa in 1996.
Owner is hands-on and usually present for each project
Experienced in large-scale roofing projects
Offers free quote and measure
Not BBB-accredited
Focused more on commercial and industrial roofing
3. Marshall Industries Ltd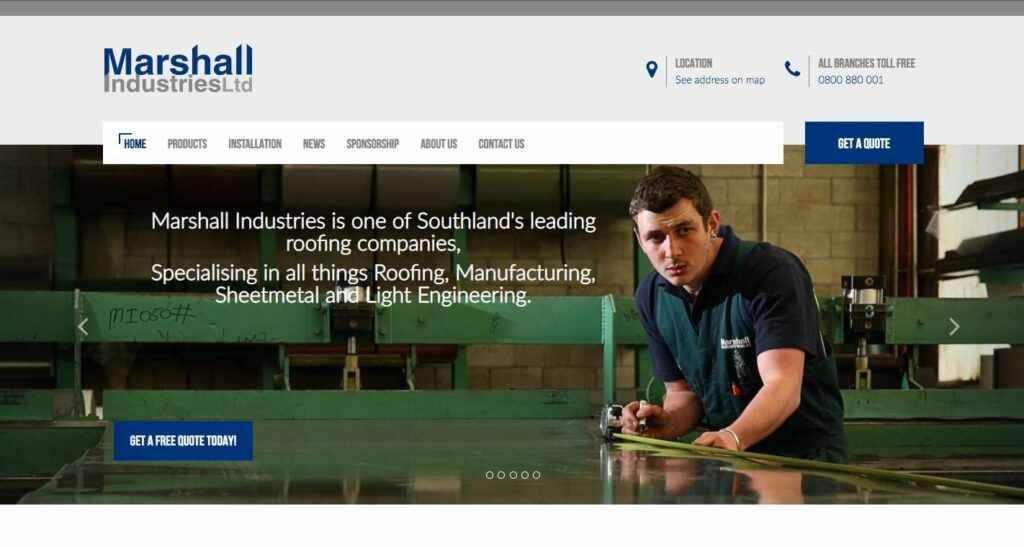 SERVICES
Roofing, Manufacturing, Sheet Metal, Light Engineering
WEBSITE
https://marshalls.co.nz/
ADDRESS
189 Bond Street, Invercargill 9840
CONTACT DETAILS
Phone: (03) 218-2579
Email:

[email protected]

OPERATING HOURS
Monday to Friday: 7:30am – 5:00pm
Marshall Industries was founded in 1936 by Owen Marshall, a known pioneer of longrun roofing in New Zealand. The company has remained a family-owned business throughout its decades, providing roofing and sheet metal services for the local community.
Today, third-generation owner Tom Marshall continues the tradition of the family business, providing innovative products and solutions for a variety of engineering or roofing projects. So, whether you need high-quality trays for your roof or sheet metal for a project, they offer a wide range of products that can meet a variety of needs.
Therefore, not only can they cover a full roof installation, but they can actually manufacture the metal completely in-house as well. This can considerably cut down costs as it eliminates the middleman, and makes Marshall Industries ideal for those contemplating metal roofing.
What's more, they are also licensed Building Practitioners and members of the Roofing Association of New Zealand and NZ Metal Roofing Manufacturers.
With over 80 years of experience manufacturing products for roofing, sheet metal, and light engineering needs, we think they're pretty well-versed in what will work best in the eclectic and unpredictable climate of New Zealand. That type of expertise is always an advantage.
Offering their in-house Pioneer brand of products, you can choose from a range of corrugate, six-line, and hi-line roofing, just to name a few. Marshall Industries offers a full 5-year warranty for all of their products and services, whether it's for a residential, commercial, or industrial application.
Now if for some reason there is a defect in the work produced by Marshall Industries, their warranty states they have two weeks to remedy it. If they fail to do so within that period, you are free to hire your own third party to perform the work and Marshall Industries will even foot the bill.
While their forte may be manufacturing and installing new roofs, it's important to note that this company doesn't perform repairs.
Manufacturers their own steel for roofing installations
Members of multiple associations
Two-week backjob guarantee to fix your roof
Only install their own brand of roofing
Known more as a manufacturer and not as a repair specialist
4. Tim Yeo Contracting Ltd.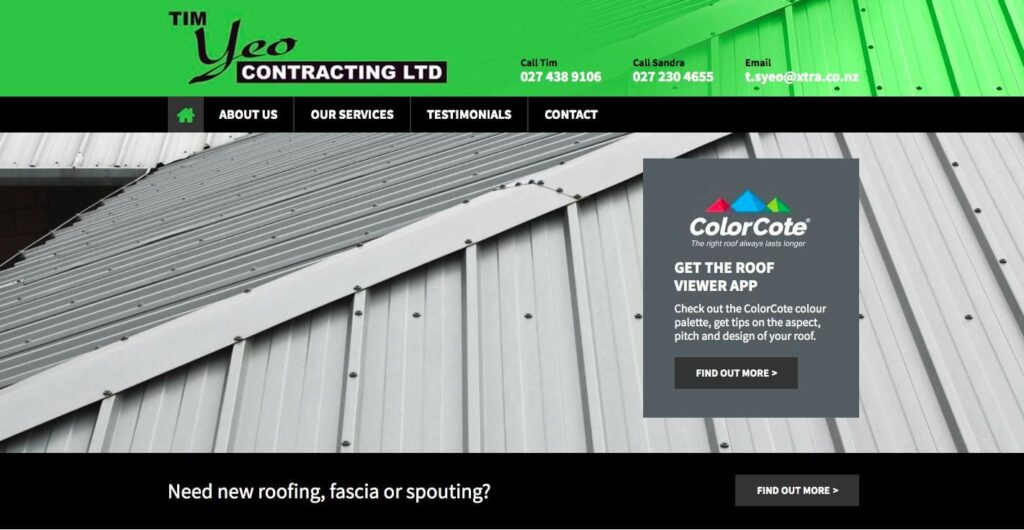 SERVICES
New Roofing, Repairs, Re-Roofing, Continuous Spouting, Fascia, Roof Viewer
WEBSITE
https://www.timyeocontracting.co.nz/
ADDRESS
168 Liddel Street, West Invercargill, Invercargill 9810
CONTACT DETAILS
Phone: (03) 235-8760
Mobile: (027) 230-4655
Email:

[email protected]
Tim Yeo Contracting has been serving Invercargill, Southland, and Fiordland with its roofing services for over two decades. This husband and wife team are hands-on owners, always joining their team of qualified roofers during each project.
This family-owned and operated contractor also offers its services to residential communities and commercial buildings. They are fully-insured Licensed Building Practitioners able to install new roofs, perform re-roofs, or conduct repairs.
Since they're residents of Invercargill themselves, the owners of Tim Yeo Contracting are familiar with the weather here. To prevent your home from seasonal damage, they can perform full inspections of your roof, flashings, fascia, and spouting to recommend the steps you need to take.
Tim Yeo Contracting offers various styles and colors of roofing to choose from too – these include corrugated (long run) in high five rib and six rib profiles. They prefer to use only Zincalume and Colorcote products though, which is important to take note of.
We particularly like that they have a Roof Viewer app that can help you choose a color for your new roof in your own time. You simply take a photo of your home's exterior, select your roof type, and browse their online Colorcote palette after that.
When it comes to gutters, they only install continuous spouting because the jointless system is more durable and easier to install.
As for fascia, on the other hand, Tim Yeo Contracting uses only Calder Stewart Paltec Fascia.
If you have an existing wooden fascia, though, they can easily replace or repair it as well. For a low-maintenance solution, they can even place metal caps on it to protect the fascia from rotting.
To sum all of this up, we like the hands-on approach of the owners at Tim Yeo Contracting because it can make customers feel like they're receiving special attention. Add to that their Roof Viewer app and handpicked roofing products, and we'd say that this roofing company deserves a spot on our best-of list.
Offers a variety of color palettes 
Roof Viewer app to conveniently browse roof colors
Fully-insured Licensed Building Practitioners
Only uses their own handpicked products
Only installs continuous spouting
Customer Reviews
Great service
"Great service with a smile, have been known to go the extra mile for their clients." – John Heslin
Helpful and professional
"Tim Yeo Contracting installed a new roof and fascia caps on my home. I found them helpful and professional and their price was better than most places. They were also very tidy and cleaned up everything after the job was completed. I would not hesitate to recommend them to anyone needing roofing services." – Kelvin Andrew
5. Karlo Boniface Plumbing Ltd.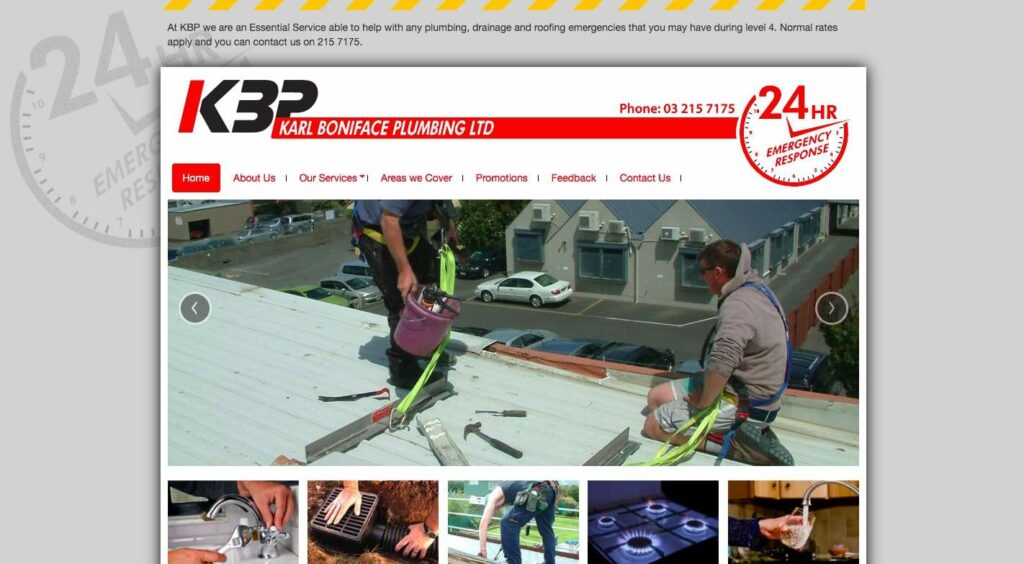 SERVICES
Roofing, Plumbing, Drainage, Gas, Water Protection, Content Processing
WEBSITE
http://www.kbp.net.nz/
ADDRESS
704 North Road, Lorneville, Invercargill 9810
CONTACT DETAILS
Toll-Free: 0800-315-717
Fax: (03) 215-7124
Email:

[email protected]

OPERATING HOURS
24 Hours a Day, 7 Days a Week
Karl Boniface Plumbing Ltd (KBP) was founded in 1994 by Karl & Diana Boniface. While they may be known for plumbing, gasfitting, and drainlaying, they are Licensed Building Practitioners as well.
With a team of specialized roof repair specialists in their staff, KBP is also IQP Qualified for Backflow Prevention. They're a member of the NZ Master Plumbers Association,which ensures they're continually learning about the best and most current standards and practices in their field.
They are also accredited for ACC Workplace Safety Management Practices program. So, you don't have to worry too much about haphazard working conditions in your home.
We like KBP because they often hold free roof & spouting inspection promotions right before the heavy rains come during the summer months. If the repair is simple enough, they might even repair it on the same day of the inspection!
Another reason we like KBP is that they offer 24-hour emergency services in case you have an uncontrollable leak in your pipes or your roof. With over three decades of honing their craft, they specialize in diagnosing problems quickly to provide equally swift solutions.
So whether you have a small leak at home or have major issues on a large industrial site, KBP can likely provide you with a long-term reliable solution to almost any roofing or plumbing problem.
Now, if your home's roof has Decromastic stone chip roofing tiles that were built in the 1970s to 1990s, KBP specializes in replacing these. Unlike other companies that just re-coat the stone chips, KBP offers to replace these with brand new colorsteel tiles for almost the same price.
Moreover, they can replace rusted internal fascia gutters, install additional downpipes or overflows, or upgrade them to modern spouting. This is pretty impressive for a company that is known more for its specialty in plumbing.
We should also note that we think KBP was smart to employ skilled roofers trained in traditional practices in their company. By doing so, they've amassed a collective knowledge of over 100 years of combined experience in roof repair.
ACC Workplace Safety Management Practices accredited
Specializes in replacing Decromastic stone chip tiles
IQP Qualified for Backflow Prevention
24-hour emergency services
Specializes more in plumbing
Can be fully booked 
Things to Consider Asking Your Roofing Contractor
Before you sign any contract or estimate with a roofer, it's important to discuss a few important queries with them first. Creating a relationship of trust with a roofing company is crucial so that you're both on the same page.
Ask about Delay Policies
With the unpredictable weather in Invercargill, you'll need to ask your roofer their standard operating procedure (SOP) when there is bad weather or other unforeseen delays. You need to find out if they'll reschedule the project and if it will incur any additional costs on your part.
Talk about Money
It's important to ask your roofer how they charge and if there are any clauses in your contract that may add-on extra charges to the quoted price. It wouldn't hurt to ask them about the terms of payment as well and the obligations required from you.
You'll want to know if subcontractors or any other special equipment (i.e. scaffolding) will be used in your project as well. Some roofers charge extra if they need another pair of hands to assist them.
Have a Contract
Some people often forget to have a contract drafted up for any work done in their home. After all, a roofer is a contractor, and it offers protection for you as a customer as well.
Nevertheless, a contract should also outline the payment scheme or schedule, so that you can familiarize yourself with the upfront costs. Remember that final payment should only be paid upon completion of the project.
FAQs about Roofing
---
And that's all for the best roofing companies in Invercargill. We hope this list helped you find a reputable contractor to give you the services you need. 
Do you have any questions about this topic we've tackled? If so, kindly send us a message and we'll get back to you as soon as we can.
Now, if you're looking for roofing companies because you're putting your home up in the market, then you may want to check out our list of the best real estate agents in New Zealand to help you out.