The 5 Best Rooms for Rent in Auckland
Featured Image Source credit: Princeton Apartments
Need a place to rent close to your workplace? Or just want to discover more of the beautiful City of Sails? We got you covered, as we've gathered the best rooms for rent in Auckland for you here.
We handpicked those that have clean, modern, and cosy facilities. Secondly, we opted for those that are accessibly located and offer budget rates for your stay.
Are you ready? Here are some of the best rooms for rent in Auckland you can find!
1. City Centre – Viaduct Harbour Rentals

City Centre offers a really sweet deal of $650 a week for a 2-bedroom and 1-bathroom space. Included with the deal is an underground secured car park for your use.
You'll have a nice view of the urbanscape as you wake up in the morning. The unit is fully appointed with an elegant sofa, a wooden dining table, and kitchen essentials.
There's also a small balcony with a lovely table where you can enjoy the view or contemplate while sipping flavourful espresso.
The room can accommodate up to four tenants, perfect for families or a group of friends. You can save up more if you divide the cost of stay amongst your buddies.
On top of that, it's located close to the Viaduct Harbour, Wynward Quarter, CBD, and Commercial Bay. You'll have fun exploring and doing great activities here.
Highlights
Great for families or a group of friends
Fully appointed room
Lovely view
Costs only $650 per week
Located in the centre of the city
2. City Centre Shared Apartment

This 6+ bedrooms shared apartment at Auckland CBD has recently undergone a full refurbishment. It has a contemporary kitchen and quaint decor like the rudder clock and vintage hat and umbrella stand by the entrance.
As of the time of writing, four bedrooms are occupied by three flatmates and a couple. There is still room for a few people, ideally a respectful professional or one seeking a lower cost for rent.
Also, the rental space is set amidst a vibrant and fast-paced city, not far from restaurants, bars, movies, public transportation, universities, and shopping centres.
Rooms with the King-single beds cost $150 per week, while rooms with Queen-sized beds go for $275 per individual. Power, water, and internet are already included in the price.
Highlights
Contemporary and quaint interior
Clean and modern shared facilities
Low-cost rent
Central location
3. 142 Vincent Street – EK Property

For singles or couples wanting a cosy, clean, and fully furnished flat, check out 142 Vincent Street apartment, situated right in the hustle-and-bustle of Auckland.
They offer single, double, and ensuite rooms complete with kitchen and washer facilities. The bedrooms also include a wardrobe and side tables to keep your clothing and shoes in.
For the ensuite rooms, you will certainly like the cosy and quiet living room and the rectangular wooden table with a small decorative touch for dining or relaxing.
You can avail this space for just $235 per week, all-inclusive, and stay as long as you like. If you're interested, just give EK property a ring at +64 9-379 4439.
Highlights
Cosy, clean, and fully furnished flat
Offer single, double, and ensuite rooms
Economical rates
Lively central location
Customer Reviews
Check out Barbara V.'s review of her stay at an EK Property, which has some of the best rooms for rent in Auckland:
"I have been in the flat for 4 months. Very nice place, everything is new. Also the EK team was very polite and attentive with me. For me it was a good experience. Thank you."
4. Princeton Apartments

BEST FOR
Student flats for long-term accommodation
SERVICES
Fully Furnished Apartment Water (cold and hot)
Weekly Housekeeping
WEBSITE
http://www.princeton.net.nz/longterm.html
ADDRESS
30 Symonds Street, Grafton, Auckland, New Zealand
CONTACT DETAILS
+649 950 8300 +6421 0827 9148

[email protected]

OPERATING HOURS
—
Perfect for students and them only, Princeton Apartments have practical and modern double bedrooms complete with a kitchenette and bathroom.
You'll have to present your student identification upon checking in. Note that they only offer the rooms if you plan on staying for 6 months up to a year for a lesser rate.
Having one of the best rooms for rent in Auckland, it's conveniently close to universities and language schools as well as shopping and entertainment venues.
No worries about cluttered rooms as their housekeepers will keep your room tidy and neat each week. Also, they have coin-operated washers for cleaning your clothing.
Highlights
Ideal for long-term stay for students
Self-contained double bedroom units
Housekeeping service
Convenient location
Customer Reviews
One student, Joshua G., stated about Princeton Apartments:
"Pretty good place, the employees are quite helpful and quite often go out of their way to assist you."
5. 2/19 Duncan Street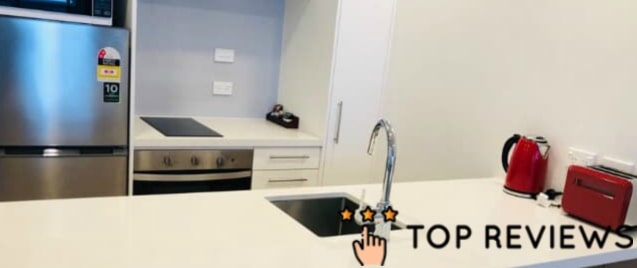 The multi-storey Queens Square apartment is modern, clean, and fully furnished with two bedrooms and one bathroom—a smart choice for professionals and students!
Embrace the city life with a convenient distance to Myers Park and ACG, AUT, Auckland University Zoned grammar school, supermarket, retail outlets, and eateries.
We picked this apartment as having one of the best rooms for rent in Auckland as it provides a luxurious lifestyle with flat-screen TVs, comfy sofas, queen-sized beds, washers and dryers.
And to top it off, they have a pool and gym in the apartment to burn those calories away, so you can feel light, refreshed, and balanced whenever you like.
Highlights
Modern, clean, and fully furnished rooms
Rent each week is $580
Superb location
Class equipment and amenities
So there you have it for the best rooms for rent in Auckland. To save you time and effort, we've narrowed down the very best apartments you can rent at the moment.
Do you have any questions or comments about our list? If you have one, feel free to let us know by leaving a comment below and we'll get right back to you.
Also, if you're satisfying your hunger pangs and don't know which places to go to in Auckland CBD, you can read about the best Takapuna restaurants!