The 6 Best Sandblasting Specialists in Auckland
Can't seem to remove the rust and corrosion from your place or equipment? No need to worry, as here we have collated the best sandblasting specialists in Auckland who can do it for you.
Sandblasting is the act of projecting solid particles onto a surface at high pressure. It is done to loosen etched paint and hardened rust on a variety of surfaces like steel, brick and concrete.
We looked around and found the ones with trained staff and modern equipment to give you a finish that will astonish. Now without any further ado, here are the best sandblasting specialists in Auckland!
1) Jets Mobile Blasting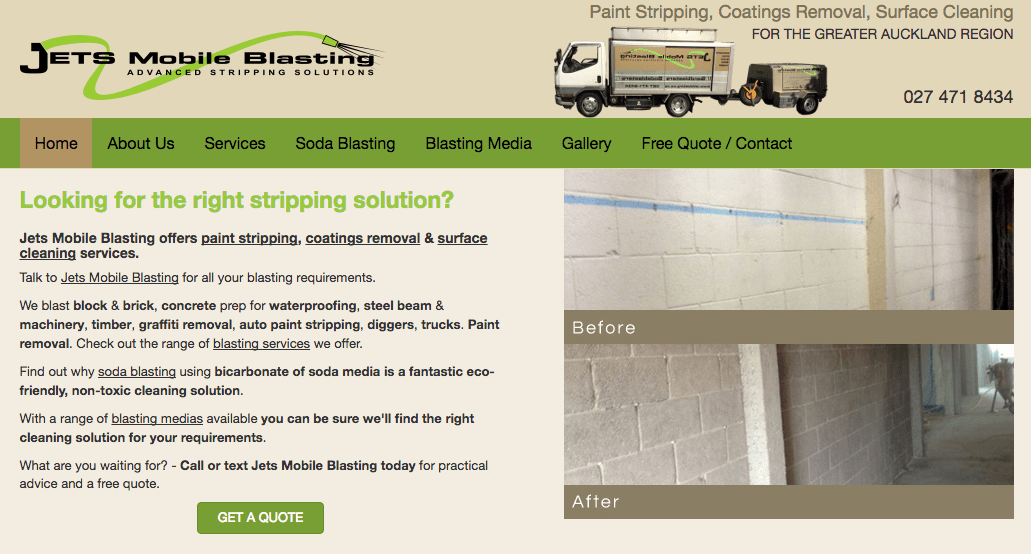 | | |
| --- | --- |
| Best for | Amazing Sandblasting Results |
| Services | Vehicle Sandblasting, Industrial Equipment, Prep for Waterproofing, Fire and Smoke Damage Restoration, Architectural Work, Statues and Stonework Restoration, Marine Anti-Foul Removal, Rust Removal, Graffiti Removal, Road Marking Removal, Swimming Pool Stripping, Exposing Concrete, Stencil Blasting |
| Address | 18 Rimutaka Place, Titirangi, Auckland 0604, New Zealand |
| Contact no | 027 471 8434 |
| Website | https://www.jetsblasting.co.nz/ |
From offensive graffiti to rust-heavy infrastructure, you can fix it all and get back that energetic and fresh look through Jets Mobile Blasting — coming to wherever you are in Greater Auckland.
They offer a complete range of services for abrasive and non-abrasive sandblasting. Their work is always impressively done. You can see before and after photos on their website if you want proof!
It's also important to note that they take extra care not to damage the structure or parts. So whether you have a minor or major sandblasting project, you can definitely bet on them!
Highlights
Impressive cleaning results
Serves the Greater Auckland area
Complete range of services
Careful and honest sandblasters
Customer Reviews
Wayne Johnson from Eye On U Productions Ltd praised the company's honesty and skills that got his trailer back to looking neat and new for his clients. This is from Google Business:
"Once again my sincere thanks to you and as most business is by word of mouth of good operators and people you can rely on and trust, I have no problems in sending anyone your way with any blasting jobs that need doing in the future."
2) ABC Sandblasting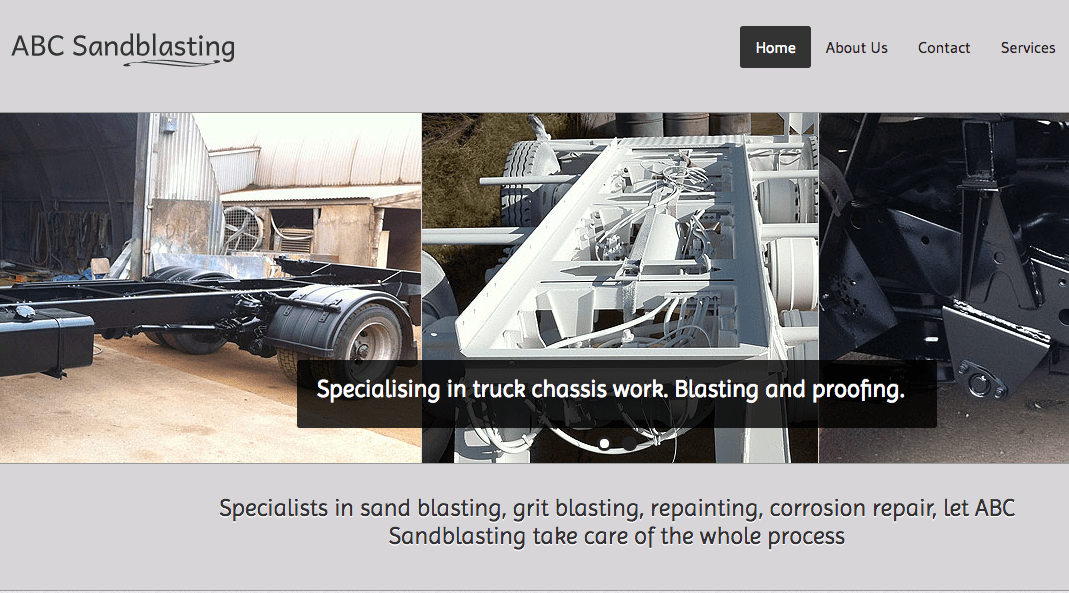 | | |
| --- | --- |
| Best for | Vehicle Chassis Sandblasting |
| Services | Car and Truck Chassis Sandblasting, Garden Trailers, Ornaments, Structural Steel, Waste Bins, Pre-Galvanised Steel, and Production Rollers |
| Address | Penrose, 102A Leonard Road, My Wellington, Auckland 1061, New Zealand |
| Contact no | (09) 579 4833 |
| Website | http://abcsandblasting.co.nz/ |
For a full repair and coating on steel equipment, ABC Sandblasting should be your choice! Based in Penrose, Auckland, they are your sandblasting experts specialising in vehicle chassis.
The team has over 15 years of experience, so you can trust them to provide excellent service for you. Neither corrosion, rust, nor calcium deposits will stand a chance against their sandblasting.
Their goal is to extend the life of your items or equipment so they can coat or paint them to look newer. And as such, they are also one of the best sandblasting specialists in Auckland for those who need it for their cars.
Highlights
Vehicle chassis specialist!
Offers coating and restoration services
Over 15 years of experience
3) AUTObLAST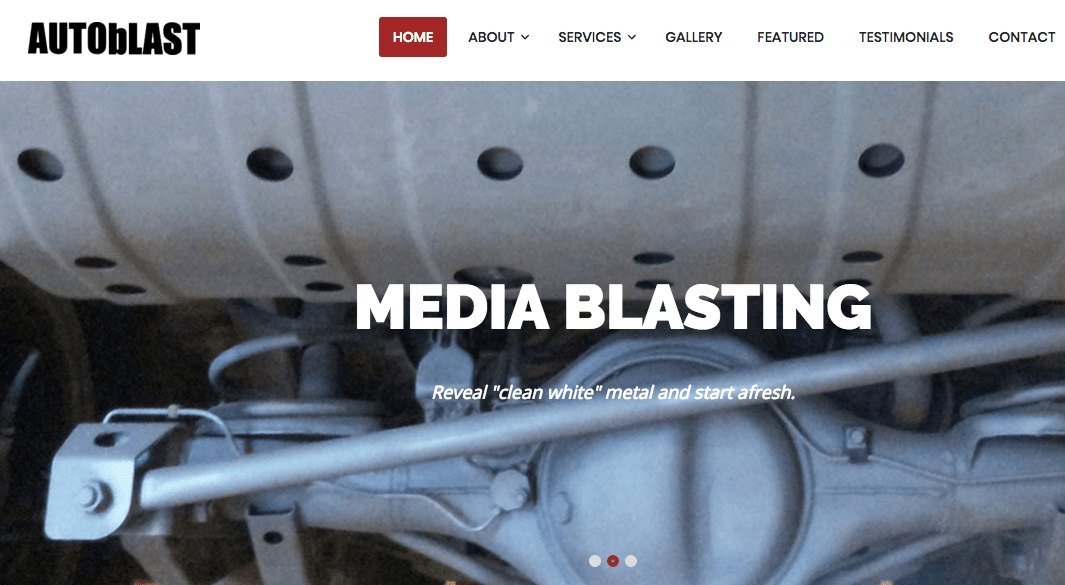 | | |
| --- | --- |
| Best for | Car and Campervan Maintenance |
| Services | Rustproofing, Restorations, Underbody Rust, Arc-Metal Spray, Cavity Waxing, Epoxy Coating, Media Blasting, and Auto Parts |
| Address | Unit 9 59/63 Porana Rd, Glenfield, Auckland, New Zealand |
| Contact no | 09 443 65 74 |
| Website | https://www.autoblast.co.nz/ |
Getting rid of the rust from under your car? You should get your car AUTObLAST-ed while you still can. They can get it to look sleek — almost new, even.
The stubborn and unforgiving rust will be sandblasted first in their blasting booth. Then, your auto will be coated with rust-resistant and water repellent material to render it stronger through the years.
With quality work and decent prices, AUTObLAST is one of the best sandblasting specialists in Auckland for vehicle sandblasting.
Highlights
Offers rust removal for vehicles' chassis
Gets your car back to prime form
High-quality products and equipment
Cost-effective prices
Customer Reviews
One client drove his Land Rover Discovery to AUTObLAST to be sandblasted and rust-proofed. He said:
"I was delighted with the service provided from initial assessment to completion. The pricing for all this work was very fair and an excellent investment. Anybody whose vehicle needs serious sandblasting and top-class protection should just head straight here."
4) Absolute Blast Ltd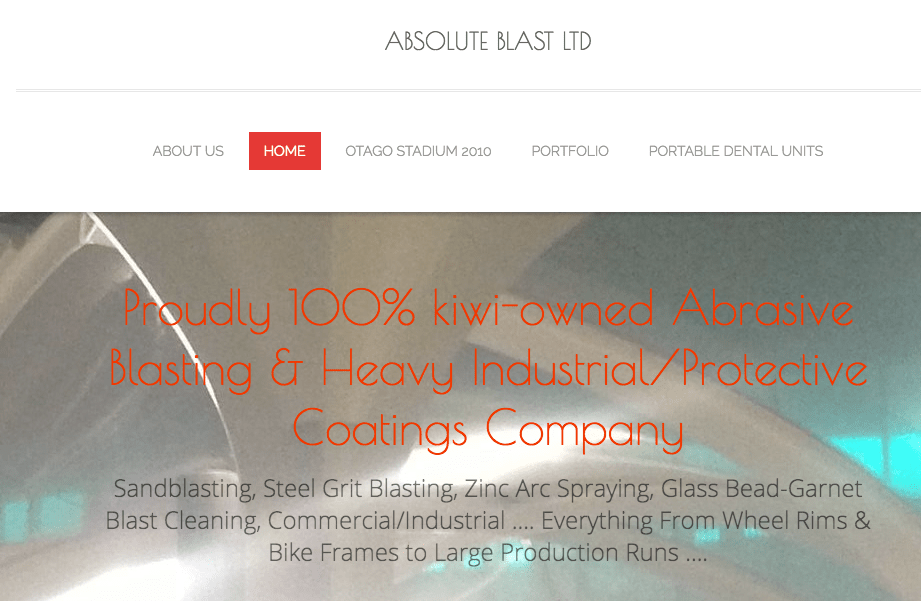 | | |
| --- | --- |
| Best for | Custom Sandblasting and Paint |
| Services | Sandblasting, Steel Grit Blasting, Zinc Arc Spraying, and Glass-Bead Garnet Blast Cleaning |
| Address | 6 e Morrin Road Panmure Auckland, New Zealand |
| Contact no | (09) 574 0000 |
| Website | http://www.absoluteblast.co.nz/ |
Absolute Blast Ltd is an Auckland-based sandblasting and coating company that caters to home, office, and industrial work. They blast anything under the sun, from bike frames to steel beams.
The company has had experience in petrochemical, engineering, transport, and construction blasting — which means they're all around and can work on marine vehicles and trailers.
Absolute Blast is an absolute beast in that they also offer galvanising and coating services to your specific requirements. You can even choose any colour of paint for these services.
Highlights
Extensive blasting experience
Offers a variety of services
High quality workmanship for big or small tasks
Offers custom spray painting
5) Blast It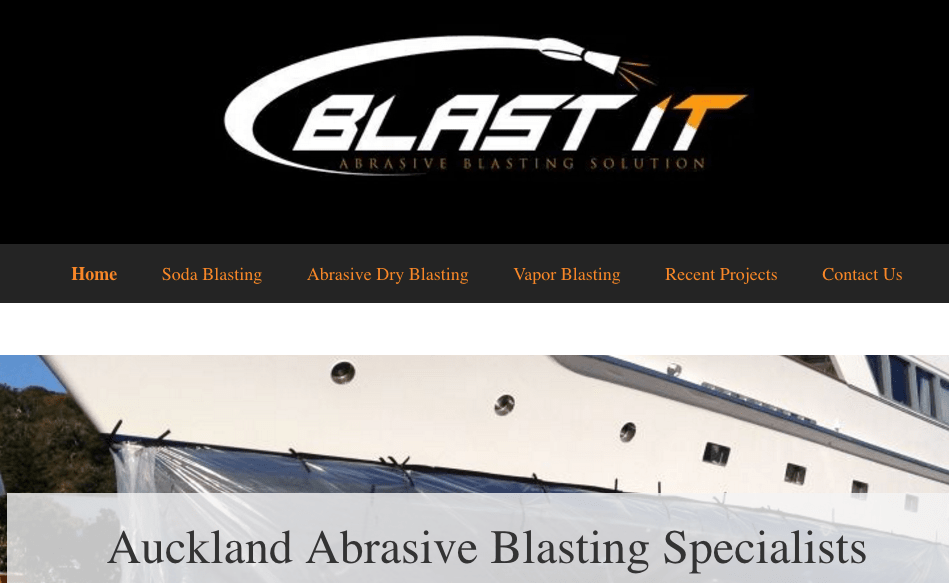 | | |
| --- | --- |
| Best for | Eco-friendly Sandblasting |
| Services | Sand Blasting, Soda Blasting, and Vapor Blasting |
| Address | Auckland, New Zealand |
| Contact no | 027 493 3694 |
| Website | https://www.blastit.co.nz/ |
Sandblasting can cause damage over a surface or part, if one isn't careful. But not with Blast It, that pride themselves on fast, safe, damage-free and eco-friendly sandblasting methods.
That includes garnet blasting, which is excellent if you need to polish a surface as a base for coating, for instance. It consists of garnet grains, which complies with Health and Safety requirements.
Another is glass bead blasting, characterised by the use of a crystalline texture with lower air pressure. This allows it to be used on different surfaces like steel, brass, copper, and plastic.
As you see, Blast It is another one of the best sandblasting specialists in Auckland. With their range of specialised blasting offerings, you have no reason not to consult them for sandblasting projects.
Highlights
Fast, exceptional, and eco-friendly sandblasting
Clean and rust-free result
Highly experienced team
Provides a variety of sandblasting services
6) Ecostrip NZ
Best for
Abrasive Blasting
Services
Concrete Blasting, Rust Removal & Corrosion Treatment, Paint, Graffiti & Road Marking Removal, Swimming Pool Repairs, Car, Boat & Aircraft Restoration
Address
Huntington Drive Hamilton, Waikato, 3210, New Zealand
Contact no
Office: (07) 855 4800

Mobile: 0212 284 418

Email: [email protected]

Website
https://www.ecostrip.co.nz/
Ecostrip NZ is an abrasive blasting specialist that covers a wide range of industries. They can handle tasks for automotives, construction & heavy equipment, marine & airline industries, and more.
They offer a sandblasting alternative that is eco-friendly compared to conventional methods. Ecostrip NZ's Vapour Abrasive ensures that it gets the job done without damaging the environment. You'll end up with a cleaner and well-contained cleanup process.
If you're interested, make sure to contact Ecostrip NZ for more info.
Highlights
Fully mobile vapour abrasive blasting services
Serves a wide range of industries
And that's it for the best sandblasting specialists in Auckland. These technicians are skilled at what they do and will take out those rust, corrosion, and paint to give your place or vehicles a clean finish!
Do you have any questions about sandblasting or the companies we listed? Feel free to let us know by messaging us and we will get back to you in a jiffy.
Apart from that, you might also like to see the best water blasters in New Zealand. Those use a pressurised form of washing to remove stubborn stains and grime from your house's exterior.