The 5 Best Security Cameras in New Zealand Reviewed
Keeping our homes and our family safe is always going to be a top priority. Thankfully, there are products like security cameras to help us to do that.
However, with so many security cameras in NZ to choose from, selecting the right one can be a daunting task. To make things easier, we've put together a list of the best home security cameras in New Zealand, based on their features, prices and ease of use.
If you're ready to protect your family and property, let's go ahead and take a look at our top picks for security cameras in the country today.
A Review of the Best Home Security Cameras in NZ
1. Swann Spotlight Outdoor Security Camera
Best Overall Security Camera in NZ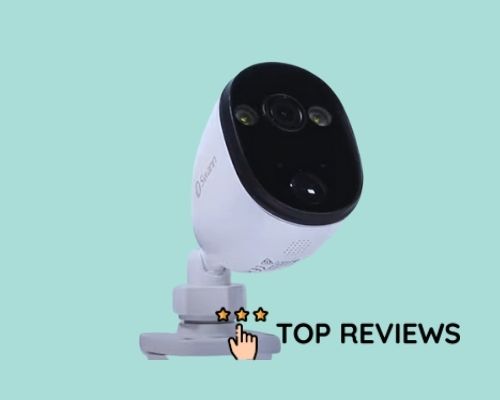 PRICE
NZ $219.99
WEBSITE
https://www.swann.com/au/
VIDEO RESOLUTION
1080p Full HD
VIEWING ANGLE
110-Degree Wide Angle
MOTION DETECTION
True Detec Thermal / Heat-Sensing PIR up to 10m (32ft)
NIGHT VISION
Monochrome: Up to 30m (100ft) Color: Up to 20m (65ft) with Spotlights
STORAGE
Secure Cloud & Internal Offline Back-Up
OTHER FEATURES
2 Way Audio, Siren, Bright 100 Lumen LED Spotlights.
WARRANTY
12 months
SUBSCRIPTION
ExtraSecurity Plan – $6.95 per month
CompleteSecurity Plan – $19.95 per month
Swann is no stranger to security, pioneering the Do-It-Yourself security category for homeowners and businesses. This Australian-born company may be known for more complex CCTV systems, but it has shifted its products towards providing more affordable security options.
The Spotlight Outdoor Security Camera is one of the best deals for home security cameras in NZ you can find around – it offers a great balance of features and affordability. It even has a durable design that's well-suited to withstand the elements, although there's a more budget-friendly indoor-only version of this camera as well.
All the parts you'll need to install it are included, including a mounting plate that also lets you adjust its viewing angles. If mounting it on a wall outside, you may need to bring out your inner handyman to map out the path for the cable to travel.
Unfortunately, it's not self-powered, but an 18m (60ft) extension cord is supplied so that you can easily connect it to an outlet. However, the ethernet cable is intertwined with the cord, and although clunky, it's a welcome addition just in case you need to connect it directly to your router.
The camera only supports 2.4GHz Wi-Fi networks, but in most cases, that should be enough to stream its 1080p video. With a 110-degree viewing angle, it offers enough clarity for the average homeowner to adequately detect images.
What makes this security camera worthwhile are its motion, heat, and infra-red sensors, which can give night-vision up to lengths of 30m (100ft). Coupled with its person-detection feature, it can distinguish people from other moving objects that might activate a false alarm.
If you're thinking that you might be flooded with false alarms, you can conveniently adjust the sensors' sensitivity and all the other features quite accurately with the Swan Security app.
It also has two-way audio with a microphone that can detect noises accurately and can even trigger the camera and spotlight. A siren can likewise be activated if there are intruders.
The only downside you might experience with this home camera system is connecting it to your Wi-Fi network. However, once you're done with that, you'll have access to multiple streaming cameras, alerts, and free 7-day online storage for the footage.
If you want more cloud video recording, more precise notifications, and special offers, you can sign up for Swann's Security Plans that cost $6.95 or $19.95 per month. You can conveniently test run the features for a 100-day trial period before subscribing.
Overall, if you want basic protection and security and are not too fussed with fancy features, this is one of the best security cameras in NZ available.
Spotlight and siren to ward of intruders
Up to 30m (100ft) night vision range
Google Assistant and Alexa supported
Wi-Fi and Ethernet connection
Needs connection to outlet for power
Only 7 days of recorded video stored on cloud storage
App is not user-friendly
Customer Reviews
Users say that the camera has excellent picture quality and is easy to set up. They also find the siren, night vision, and weatherproof features useful.
Check out the review of one buyer, Charlie, about the Swann Spotlight Security Camera:
"I love these user friendly cameras due to the ease of the set up process and good picture quality. The cameras were fully functioning and linked to my wireless within 20 minutes of unboxing the items. The mobile app is easy to set up and add cameras with the QR code. All you have to do is click add camera and take a picture of the code and the camera is set up. These cameras have some cool features such as 2 way audio, motion spot light, audible alarm and good night vision! The app has many options to customize your alerts to your mobile device. I plan on buying 3 more in the near future for a friend as a house warming present. I highly recommend the cameras!"
2. Vstarcam C17S Outdoor Security Camera
Affordable Security Camera in NZ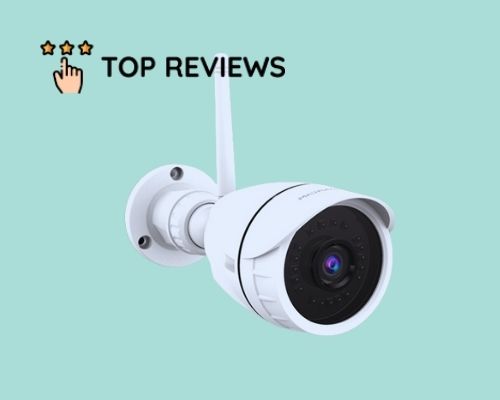 PRICE
NZ $79.99
WEBSITE
https://www.vstarcam.com/
VIDEO RESOLUTION
1080p Full HD
VIEWING ANGLE
104-Degree Wide Angle
MOTION DETECTION
Motion Detectin Alarm
NIGHT VISION
Up to 12-15m (4–50ft)
STORAGE
Cloud Service & micro-SD Card (128GB max)
OTHER FEATURES
IP66 Waterproof Rating; Support for Android, IOS, Windows PC, Eye4 App
SUBSCRIPTION
Eye4Cloud 7-Day Loop Storage – $4.99 per month
Eye4Cloud 30-Day Loop Storage – $12.99 per month
VStarcam Technology Co., Ltd, is a company based in Shenzen, China, and is known for its affordable video surveillance solutions and security products. Established in 2011, their cameras can now be found in over 190 countries worldwide, helping homeowners and businesses with budget-friendly CCTV systems.
One such product is the C17S Outdoor Security Camera, which provides 1080p Full HD Resolution at 25 frames per second.
Even though it's a 2-megapixel lens, it can reach up to 3 megapixels while monitoring, although you'll have to set this up manually in the settings.
While adjusting it doesn't drastically improve the image, it's still quite clear and the quality you'd pretty much expect from a product of this price range. Nevertheless, with a 104-degree viewing angle, you'll have a good and wide view of your scene.
With 18pcs of 850nm infrared LED lights, the night vision can provide visibility from 12-15 meters on a clear evening with the moon shining bright. If it's cloudy or raining, don't expect this range – what you can expect is for it to hold up against the weather since it's IP66 waterproof.
This home security camera in NZ has motion detection as well, including special "humanoid" detection capabilities but what surprised us the most is it can also notify you in the absence of people.
These features work surprisingly well and you'll receive a notification on the Eye4App or via email if any of your set parameters seem out of the norm.
It also has a "sensitive crying" detection, which can tell if a baby is distressed and it can notify you when a smoke detector's alarm goes off. While it picks up sound fairly well, do take note you can only hear audio on playback of recorded material and not while live streaming.
The sound pickup is a great feature for this home camera system in NZ but we would have appreciated it more if you can hear it during live stream.
It records via a micro-SD card and can support up to 128GB with an auto-record-over-loop function but can also save on the cloud. You can live stream on up to 4 multiple platforms as well as long as you subscribe to their Eye4Cloud plans.
This is not the perfect CCTV camera but its features like night vision and waterproof rating make it one of the best outdoor security cameras in NZ.
Extremely affordable
IP66 waterproof rating
Night vision up to 15m (50ft)
Can use up to 128GB storage
Limited features
2-megapixel camera
No audio during live streaming
3. Google Nest Indoor Security Camera
Best Security Camera for Indoor Use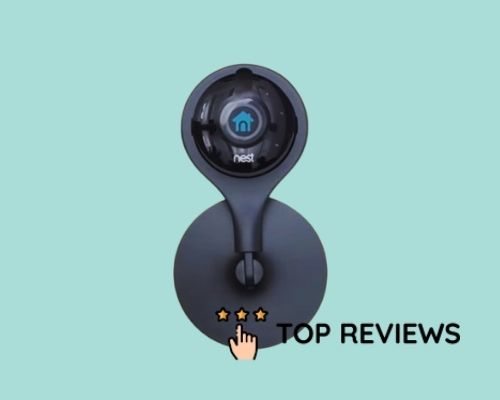 PRICE
NZ $233.00
WEBSITE
https://store.google.com/nz/category/connected_home
VIDEO RESOLUTION
1080p Full HD
VIEWING ANGLE
130-Degree Wide Angle
MOTION DETECTION
1080p Full-HD
NIGHT VISION
8 High-Power Infrared LEDs
STORAGE
300GB + Rolling Cloud Storage
OTHER FEATURES
8x Digital Zoom, 30-60 Days Event Video History, Intelligent Alerts, Activity Zones, Create & Share Clips, Mobile Notifications
WARRANTY
2-Year Warranty
SUBSCRIPTION
Nest Aware – $9 per month or $90 per year
Nest Aware Plus- $18 per month or $180 per year
The Nest Cam has an attractive black finish and a modern aesthetic and will find a place to blend into your home. It has a magnetic base and a rotating stand that aids in installing the camera at your preferred viewing angle.
One of the most attractive features that the Nest Indoor Camera has going for it is how easy it is to set up, which is no surprise with a product coming from Google. To start a live stream, just turn on the camera and connect it to your Wi-Fi network through the app.
The quick connectivity makes it one of the best wireless security cameras in NZ for us.
Whether it's daytime or evening, you'll get a clear picture thanks to its eight LED infrared lights and 1080p Full HD picture quality. You get a 130-degree field of view of any space and the picture quality remains crisp even when you use its 8x zoom.
You'll get notifications on your mobile phone when the motion or sound detectors pick up any movement. In some instances, you'll even receive a simple graphic or image to let you know what was detected, so you don't need to replay the footage.
However, notifications are not consistently instant and in some cases can take up to 30 minutes to reach you. Even if you upgrade your paid subscription from $9 to the premium $18 a month, you will at best only really get basic-level features and cloud service.
Upgrading lets you save the video footage for either 30 to 60 days, depending on your plan. You'll essentially be able to "unlock" premium features of your camera, such as event-based recording, sound detection, and emergency calls, among others.
In the end, while the Google Nest is one of our top security cameras in New Zealand, we would have expected more features considering its price tag. However, what you trade off in features gives you superior, crystal clear images and a smooth streamlined user experience.
Incredible picture
Simple to set up and use
Records 24/7
Excellent night vision
Monthly subscription for additional features
Notifications can be delayed
Expensive
4. Yi Home 20 1080p Wireless Security Camera
Easiest-to-Set-Up Security Camera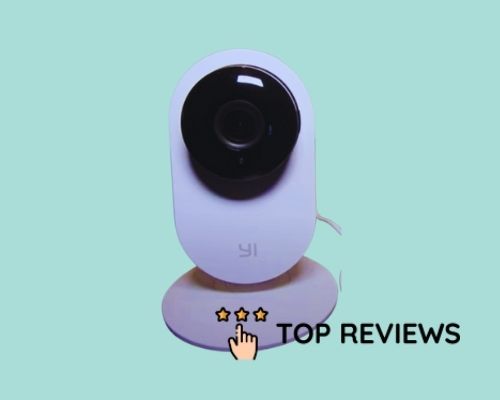 | | |
| --- | --- |
| PRICE | NZ $199.99 |
| WEBSITE | https://www.yitechnology.com/ |
| VIDEO RESOLUTION | 1080p Full HD |
| VIEWING ANGLE | 130-Degree Wide Angle |
| MOTION DETECTION | Human Detection |
| NIGHT VISION | 11 Infrared LEDs |
| STORAGE | micro-SD (32GB max) |
| OTHER FEATURES | 2 Way Audio, Siren, Bright 100 Lumen LED Spotlights. |
| WARRANTY | ARM Cortex A9 CPU, Ambarella S2LM IP, 6-layer Optical Lens, 256-bit Encryption, Light Detection, Compatible with Amazon Alexa |
If you're looking for a security camera in NZ that's easy to use, lightweight and unobtrusive, then you should definitely consider this.
The Yi Home 20 is one of this company's sleekest offerings, with a subtle and modern look that should easily find a place to fit in a corner of your home.
It has a wide-angle lens with a 130-degree field of view, which provides great coverage of any room, and you can likewise pan the camera view manually from the app.
It's lightweight and has a magnetic base that you can easily place on any surface and adjust the viewing angle accordingly. However, since the base is fixed in, this makes the camera only suitable to be mounted on something made of metal.
Regardless, the Yi Home 20 delivers crisp images in 1080p resolution. In case of poor network connections, it will automatically adjust to a lower resolution, even when in night vision mode.
However, even though it has a motion sensor and human detection feature, it can often fail to tell the difference between people from animals or moving objects.
During any movement, the Yi Home 20 records short 6-second clips of video. You can view these snippets without having to watch the entire video history, and this time-saving feature is important when choosing among the best home security cameras in NZ.
Take note that there is a "cooling period" of recording cycles. This means that after every 6-second video is recorded, the camera is unable to record or send any more alerts for at least three minutes.
We're not big fans of this feature because it can easily be taken advantage of by somebody familiar with how the camera operates.
Nevertheless, the app does include the capability to call emergency services instantly with a simple touch of a button. However, you'll need to sign up for their membership fee to access this feature.
Getting a subscription plan is not entirely necessary for cloud storage as you can use up to a 32GB microSD. If you don't need to record anything and just need the live stream capability, then you'll do just fine without any extra costs.
Sharp HD video
Files are protected in Yi Cloud
Easy to set up
Compatible with Amazon Alexa
Doesn't have email alerts
No alerts during cooldown periods
Faulty human detection sensors
Customer Reviews
The Yi Home Security Wireless Camera has all the basics down, but the only things it doesn't have are email alerts and smart home integration.
One independent reviewer, Kyle L., has this to say about the Yi Home Security Camera:
"The YI home camera 2 has made some major improvements in video quality, upgrading to a true 1080p resolution, but has taken a few steps backward in terms of design versatility."
5. Arlo Go Mobile Security Camera
Best Portable Security Camera in NZ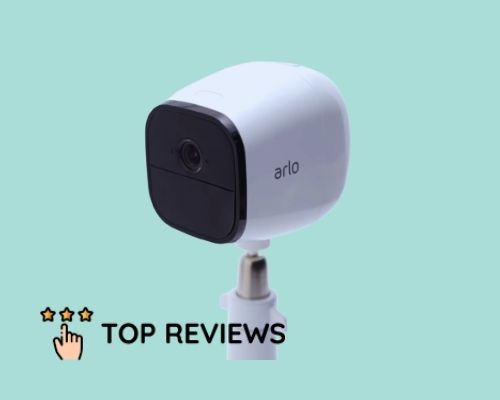 PRICE
NZ $589.00
WEBSITE
https://www.arlo.com/nz/
VIDEO RESOLUTION
720p
VIEWING ANGLE
130-Degree Wide Angle
MOTION DETECTION
Adjustable Up to 7m (23ft)
NIGHT VISION
850 nm LEDs; Up to 7.5m (25ft)
STORAGE
Cloud Service; Internal micro-SD (32GB max)
OTHER FEATURES
8x digital zoom
WARRANTY
1-Year Warranty
SUBSCRIPTION
Arlo Secure – $14.99 per month
Arlo Secure Plus – $23.99 per month
Continuous Video Recording (CVR) – $19.99 per month
Arlo was formerly part of Netgear, a company that specializes in wireless networking hardware, before becoming its own company in 2018. With headquarters in San Jose, California, Arlo focuses its efforts on security products for both homes and businesses.
The Arlo Go is their flagship product, which is the first and only wireless LTE mobile HD security camera that is IP65 Certified Weather-resistant. In short, you don't need Wi-Fi for this camera, and you can virtually put it anywhere outside and still have live streaming capabilities.
Since it's powered by both 3G and 4G LTE networks, you'll need a mobile plan to use it effectively. With video resolution configurable up to 1280 x 720 and a 130-degree viewing angle, you can have crisp and clear coverage almost anywhere.
Although you'll only get up to 720p video with the Arlo Go, it has a 3660mAh rechargeable battery that can last up to 45 days. Do note that this can vary depending on weather conditions and frequency of use, but you can pick up an optional solar charger as well.
It has night vision that illuminates up to 7.5 meters (25 feet), a wide-angle PIR motion sensor, and sound-triggered alerts that will send directly to your phone.
Its 2-way audio allows you to speak to whoever is on the other side as well, which makes it an ideal grab-and-go option if you're renting a property while on vacation.
You don't have to worry about signal interruptions because it has a built-in SD card slot that can take up to 32GB cards. If you want unlimited cloud storage, more features, and interactive alerts, you'll need to subscribe for Arlo Secure.
Arlo Storage gives you access to 30 days of storage, activity zones, and advanced person and emergency detection.
It can detect packages at your door or movement in your living room, sending you alerts right on your notification screen. You also have the option to mute any notifications if you choose.
Video for the regular plan only records up to 2K, so if you want 4K video, you'll need to switch it up to Arlo Secure Plus at $23.99 a month. However, that's the only upside and for a nearly $10 dollar difference, we're hard-pressed to find a reason to upgrade.
Our verdict: This is by no means the most affordable security camera in NZ. This isn't one of those Harvey Norman security cameras on sale. But if you have the budget for it, it's the best overall security camera in NZ. The extra features are definitely worth it.
Battery life up to 45 days
Powered by 3G/4G LTE
Supports Google and Alexa voice assistants
Expensive
Only up to 720p
Arlo Secure Plus only upgrades 4K video storage
Customer Reviews
Despite the mixed reviews on Amazon, Arlo Go Mobile has been praised by many owners for its Wi-Fi-less service, user-friendly app, excellent image quality, and value for money.
In fact, one reviewer used this product to record a video of someone breaking into his property. Thanks to the Arlo Go security camera, the burglar had later been arrested by the police.
Here's feedback from a customer named Della S.:
"Had to get customer service to help get it connected initially, but we were successful. I use this camera to watch our house and property which is under construction and does not have WiFi service. I use the 120 minutes per month plan which is sufficient at 10 seconds per motion trigger. There is a delay at the end of the auto renew billing period when the camera goes offline. I just went ahead and manually renewed and got a credit for paying a little early and got back online immediately. I have two cameras and would recommend them."
What to Consider When Buying a Security Camera in NZ
Not all security cameras in NZ are the same. Some can only be used indoors or have different features like two-way audio, siren alarms, Alexa voice assistant, or a combination of these.
Security cameras have different functions that can make you feel safer. These are resolution, connectivity, memory, price, user-friendliness, and features.
Considering these will help you find the best security camera in New Zealand for your needs. Now let's take a look at each of them:
Picture Quality
Choosing a security cam with great picture quality is crucial since you'd want to be able to clearly see the intruder's face and actions.
Aim for a camera with HD or Full HD graphics. Those types of security cameras will let you pick out the small details when you're replaying the video or catching the burglar.
It's even better if you can get one with a 2K or 1440p. However, it's usually more expensive.
Connectivity
See if the security camera is compatible with your phone's operating system. Most security cameras support Android and Apple devices, so that shouldn't be a problem.
It's great if you can access the camera's live stream and save your files on the cloud. Also, other security cameras can be controlled from smart devices like Amazon Echo Show or Google Home Hub.
Memory
This is different for every security camera. Some use SD cards, microSDs, TransFlash cards, and others even store saved clips or pictures on cloud storage.
For cameras using SD cards, you have to see if they include them. Otherwise, you'll have to get one. Not to mention that you'll need to delete or replace the card once it becomes full.
User-Friendliness
Fast camera setup means that you can use your security cam within a few minutes of the unboxing. Along with this, it has to have clear instructions and simple operation.
When you're keeping an eye on your home, you'd want to be quick, smooth, and efficient. And getting a camera that's user-friendly helps a lot.
Price
Security cameras in NZ have different prices. Some may be more expensive and have more features, while some may be cheaper and be limited in capability.
However, higher-priced security cameras aren't always better than cheaper ones. It still depends on the product's quality and features.
Though, be aware that certain security cameras might require you to purchase a subscription every month to use their features, which can cost you more in the long run.
Features
You can find various handy features in security cameras. Here are some of the features you'll see in the best security cameras:
Motion and heat sensors – These detect movement and heat from persons, animals, and cars. When triggered, you will get an alert through the app or email.
Siren and spotlight – These are nice features that can set off in particular situations. These will throw off the momentum of the intruder and may discourage him with his plan.
Alexa or Google Voice Assistant – You can turn on or take control of your security cam hands-free. This feature is very convenient and lets you take action faster to thwart the crime.
24/7 recording – Security cameras that have this feature record videos nonstop. With this feature, you can review videos and check out any suspicious activity near your home.
Night Vision – This feature lets you see in the dark as bright as day. It's also called night mode.
FAQs about Security Cameras in NZ
---
And there you have it for the best security cameras in NZ. These security cameras will keep everyone in your home and your property safe and secure.
Do you have any questions or comments at all about our list? If you have one, kindly leave us a comment and we'll get right back to you.
Now if your current internet signal range isn't enough to power your security cameras, you might want to check out this list of the best Wi-Fi extenders in New Zealand to give it a much-needed boost.