The 6 Best Security Companies in Auckland
Image Credit: Matrix Security
Whether we're at home, in an office, or in an event, safety is a primary concern for all of us. It's vital to have security guards and devices in place so that we can have peace of mind.
For this reason, we've rounded up the best security companies in Auckland for you.
We selected the ones that can secure your premises in a professional and competent manner. Also, we picked those that provide excellent communication, have quality security products, and great customer reviews.
Without much delay, here are the best security companies in Auckland!
1)  S.E.A.L Security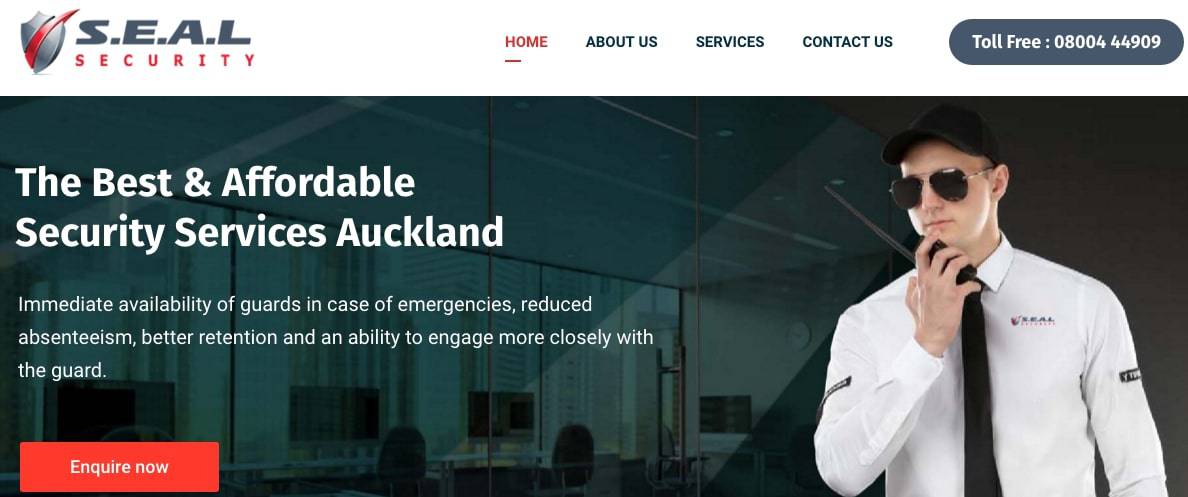 BEST FOR
Safe, professional, and reliable security
SERVICES
Static service

 

Property guarding

Event security

Mobile patrol

WEBSITE
https://www.sealsecurity.co.nz/
ADDRESS
5a Earl Richardson Avenue, Wiri, Auckland 2104, New Zealand
CONTACT DETAILS
020 444 6655

 

OPERATING HOURS
24/7
As one of the best and largest security companies in Auckland, S.E.A.L Security provides safe and reliable custom-fit security solutions through their qualified security guards.
The security agency is insured and bonded for protection against financial losses, theft, and damage. They operate day and night to safeguard your property or venue.
Services include static service, property guarding, event security, and mobile patrol. They respond quickly to emergencies to minimise the risk of unexpected crimes.
If you have a business, their trained security guards will exercise the safety policies of your company thoroughly and professionally for every staff and external guests.
Highlights
Safe and reliable security solutions
Wide range of offerings
Respond promptly to emergencies
Cover Auckland and NZ 
Customer Reviews
Check out what Experto Kitchen, one of their clients, has to say about their security services: 
"Very Professional and Happy from the service and price. We are using their patrolling Services and getting a very good response."
2)  Matrix Security

BEST FOR
Rapid security response
SERVICES
Home security

 

Commercial security

Technology solutions

WEBSITE
https://www.matrixsecurity.co.nz/
ADDRESS
3/8 Rockridge Avenue, Penrose, Auckland 1061, New Zealand
CONTACT DETAILS
+64 9-579 1567
OPERATING HOURS
24/7
Matrix Security is a recognised home and commercial security provider in the North and South Islands. It prides itself on providing rapid security response 24/7.
Scott Carter, the founder and director of Max Security, is a past board member and chairman of the New Zealand Security Association. With over 30 years of experience in the police force, he grew Max Security into one of the best security companies in Auckland for small- and large-scale businesses.
They offer alarm systems installation and maintenance, professional security guards, and on-site patrols. Like they've done for clients, you can trust them to keep your premises safe and secure.
Highlights 
Rapid security response
New Zealand Security Association member
Specialises in home and office security
3)  First Security

BEST FOR
Personalised security service
SERVICES
Officers & guards

 

Mobile patrols

Concierge & customer service

Electronic surveillance

WEBSITE
https://www.firstsecurity.co.nz/
ADDRESS
2 Arthur Brown Place, Mount Wellington, Auckland 1060, New Zealand
CONTACT DETAILS
0800 347 787

 

OPERATING HOURS
24/7
First Security is primarily committed to protecting people across Auckland and New Zealand. As such, each of their security experts puts this value into practice every time.
To accomplish this, they provide tailored security services for their clients. They do this by knowing the clients personally so that they can protect what's important to them.
They can help you with anything concerning security such as preventing crime, responding to accidents or medical emergencies, and guarding important individuals.
Like all the best security companies in Auckland, you can call them anytime 24/7, 365 days a year. As soon as possible, they'll come over quickly to assist you.
Highlights
Committed to protecting people first
Tailored security services
Swift response
Available 24/7
Customer Reviews
Check out this glowing review from Jan M.:
"Very professional. Switched on staff with fantastic attitudes. Highly recommend."
4) Auckland Security Cameras Ltd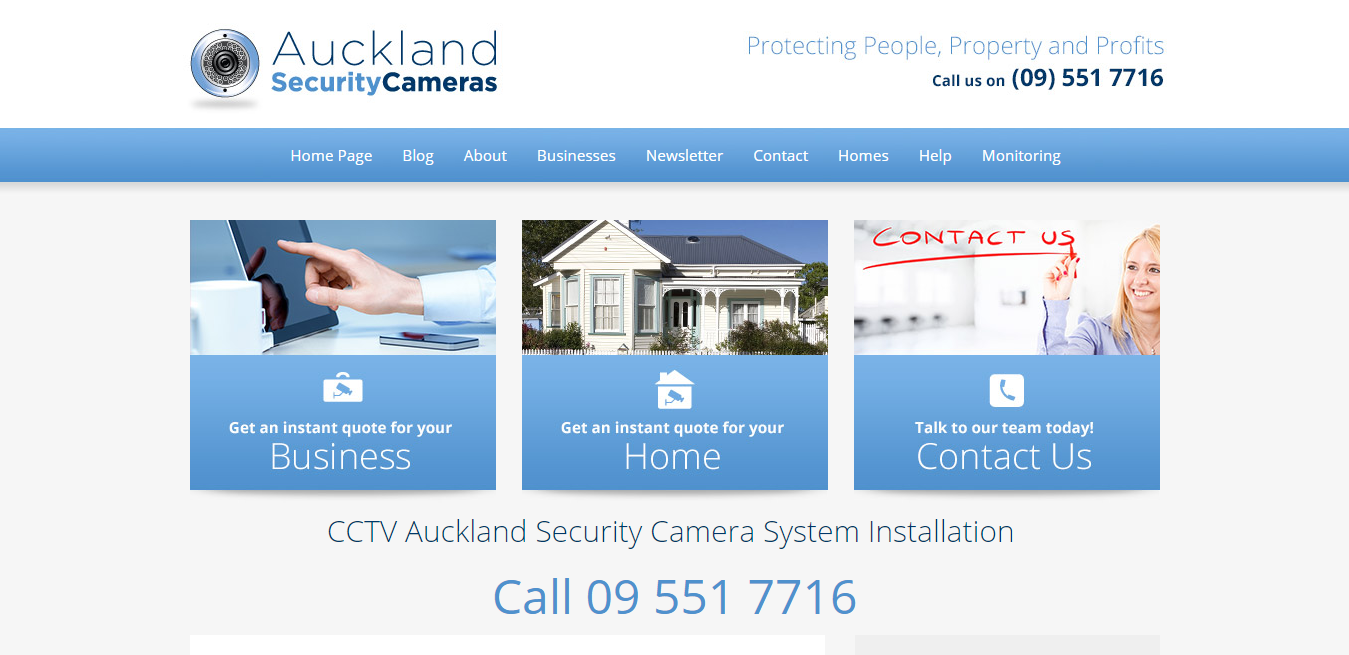 BEST FOR 

 

Security cameras installation
SERVICES
Security camera monitoring

 

Storage monitoring

Network monitoring

System updates

WEBSITE

https://www.aucklandsecuritycameras.com/

ADDRESS

PO Box 32293 Devonport Auckland 0744

CONTACT DETAILS

+64 9-551 7716

OPERATING HOURS

Monday to Friday: 7.00am – 5.00pm
Auckland Security Cameras is a proudly Kiwi-owned local business.  "We live in Auckland because it's the best place in the world, and we do our bit to keep it that way!" says Brian, one of the owners.
The team has decades of experience at installing and looking after CCTV systems & they specialise in large industrial sites – "The bigger the better!" says Brian.  "We love clients with factories, warehouses, multi-storey apartment buildings and big schools.  They have a lot of assets to protect and only a small staff to look after the place.  We understand what they need and we know how to keep these types of sites protected."
Their security monitoring includes network and storage monitoring to keep your system working properly.
Auckland Security Cameras' experts guarantee that they'll talk with you through layman's terms and not through jargon that may confuse you. They even offer up to eight years of warranty for some of their products.
"We don't just get it working, we keep it working!"  is Auckland Security Cameras' motto.  If that sounds like a fit for you, then get a free Quotation at their website or give them a call. 
Highlights
Up to 8 years of warranty

Free on-site and preventive maintenance

Storage and network monitoring

Regular updates and system firmware
Customer Reviews
One of Auckland Security Cameras' customers wrote this about them on Google Review: 
"I had to request to get the installation done urgently and Brian and Dave were able to get it done within my schedule and did an excellent job. The App is easy to use, the quality of the footage is amazing and the installation is tidy and clean. I have recommended them to my friend and I would recommend them to anyone."
5) Kiwi Security

BEST FOR
Security alarms installation
SERVICES
CCTV Services

 

Panic & smoke detectors

Alarm service

Access control

Intercom systems

Smoke alarms

WEBSITE
https://www.kiwisecurity.co.nz/
ADDRESS
206/8 Airedale Street, Auckland CBD, Auckland 1010, New Zealand
CONTACT DETAILS
+64 800 031 330
OPERATING HOURS
24/7
You can keep your loved ones and assets secured by equipping your home or office with alarms or CCTV security cameras. For this, you can surely rely on Kiwi Security.
Kiwi Security is accredited by New Zealand Security Association and SiteSafe. Knowing this, you are sure that they're all about giving you a quality service.
Combining state-of-the-art security products with a responsive team of security professionals, they are indeed one of the best security companies in Auckland.
Highlights 
Security alarm install specialist
New Zealand Security Association member
State-of-the-art security products
Prompt and responsive team
Customer Reviews 
One client, Marie Ann B., shared her review of Kiwi Security: 
"I contacted a competitor security company to replace our current alarm system. They would only replace with a monitoring system package and then reluctantly quoted me an exorbitant amount for an alarm only. I consequently contacted Kiwi Security . Amazingly they were able to get a technician to our home within half an hour. We were given a variety of options and the job was completed quickly with great communication . Their technician was outstanding. I could not recommend them highly enough."
6) Access Security & Control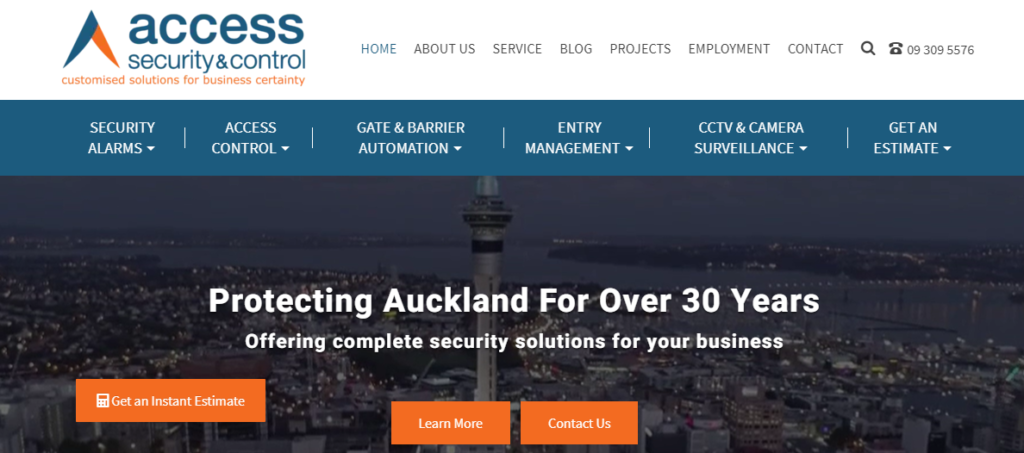 BEST FOR
Wide reach of services
SERVICES
Gate & barrier automation
CCTV and security camera systems
Security alarms
Access control
Entry management
Health and Safety
WEBSITE
https://www.accesscontrol.co.nz/
ADDRESS
1/432 Rosebank Rd, Avondale, Auckland
CONTACT DETAILS
+64 9 309 5576
OPERATING HOURS
Monday to Friday: 9.00am – 5.00pm
Access Security & Control (ASC) is all about providing commercial clients with security solutions. They've been in the business for over 20 years and can thus respond quickly and efficiently to your requests.
ASC offers the design and installation of gate barriers, CCTV systems, security alarms, access control, and entry management. They will also help you manage and maintain these security systems.
Their services are available not only in Auckland but in the entirety of the North Island. They also have a price generator on their website, which allows you to get an instant estimate of how much your security installation will cost. They seem to be a reliable choice wherever you may be within the island.
Highlights
Responsive services with at most 48 hours response time
Installation, maintenance, and repair of security systems
Wide reach of services
Customer Reviews
Here's what a long-time customer has to say about ASC's services:
"ASC have been managing our protoge access control for several years now, the system is still working really well and they are prompt at getting to site if we need any maintainance or updates"
So there you have it for the best security companies in Auckland! With their help, you can have peace of mind knowing that security won't be an issue.
Any questions or comments at all regarding this article? If you have one, feel free to send us a message and we'll get back to you as soon as we can.
Apart from hiring security services, you can also improve the security of your property by installing steel security doors. If you're interested, you can read about the best security doors Auckland installers.
Security Companies to Avoid
1) Rush Security Ltd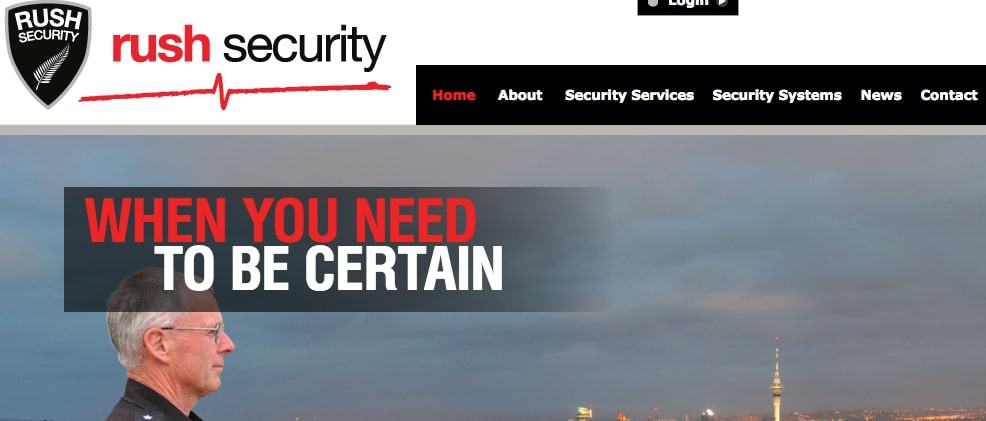 Rush Security is one of the companies you might want to avoid, as their services are of poorer quality compared to the other companies on this list. Their staff is especially inexperienced when it comes to crowd control.
Lack of training and overwork are the main reasons for their staff's poor performance, which then causes them to provide subpar security. The company suffered backlash from security guards not only because of the aforementioned reasons, but also due to late wages and anti-union discrimination.
After showing no signs of improving their management and services, they've only continued to lose contracts over the years. You might be better off finding another security company instead of hiring them.