The 36 Best SEO Companies in Auckland
Ranking higher in Google is key to getting more clients and expanding your business. But it's not always easy, especially if you have many competitors. So, to tip the odds in your favour, we're helping out with a list of the best SEO companies in Auckland. These companies can fine-tune your website to be more relevant for Google, though being no. 1 on the search rankings can't be promised. Still, we've outlined the companies based on their SEO, experience, and customer reviews. At any rate, here are the best SEO companies in Auckland!
1) Digital Refinery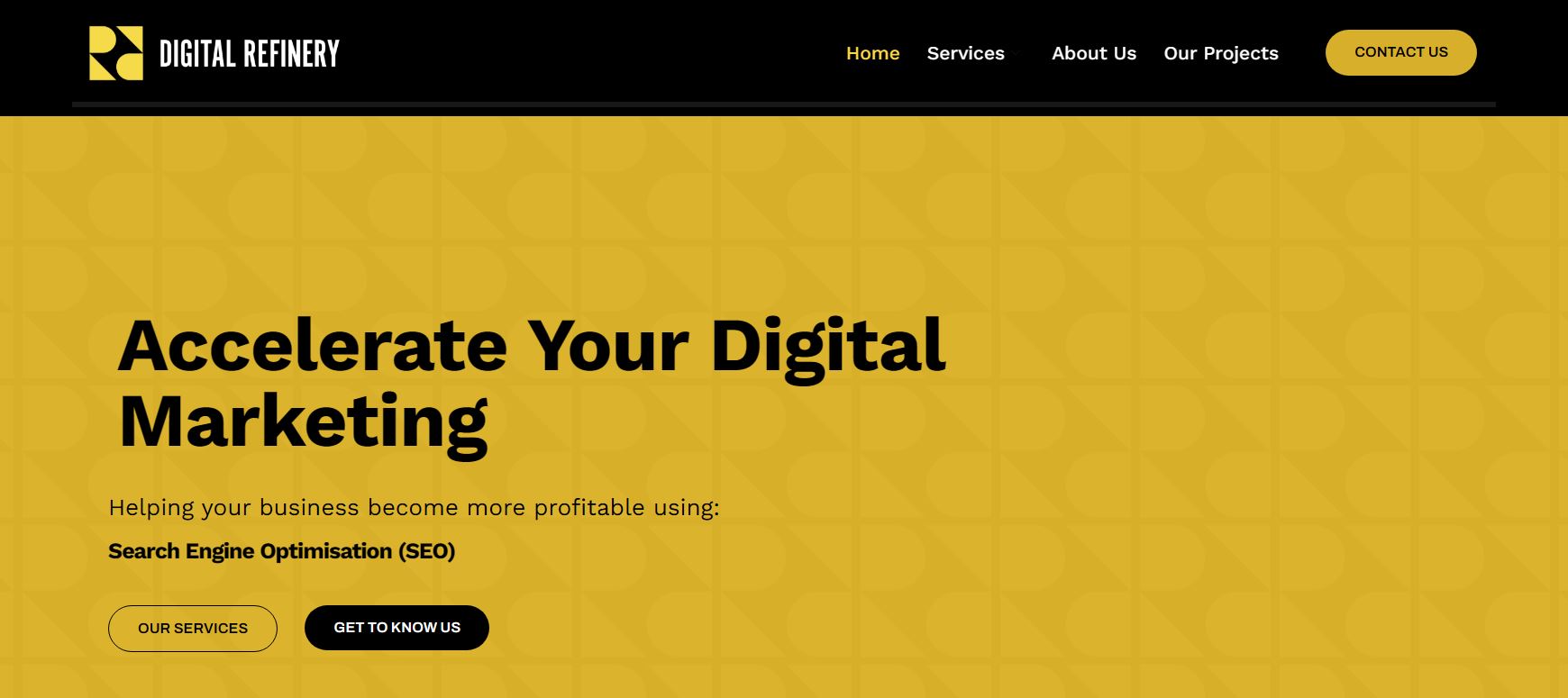 SERVICES

Search Engine Optimisation (SEO), Dedicated E-commerce SEO Service,

International SEO, Web Design & Development, Google Ads Services, Google Analytics and Reporting.

WEBSITE

https://digitalrefinery.co.nz/

 

ADDRESS

8a Sylvia Park Road, Mount Wellington, Auckland 1060, New Zealand

CONTACT DETAILS

09 3007 122

[email protected]

OPERATING HOURS

Monday – Friday, 8 AM – 4 PM
Staying relevant online can be tedious with the fast-changing phase our times are in. Luckily for us, we have Digital Refinery to help our website increase its visibility. They do this by optimizing the online presence of your website on search engines such as Google and Bing. The best thing about their company is that they don't look for clients, they look for long-time partners. That is why they aim to provide long-term gains by increasing your brand image by providing a personalized and transparent SEO process.  They have 3 plans depending on the scale of your business or website and each of the plans has different perks and disadvantages depending on if you're starting out or leading a huge company.  We highly recommend Digital Refinery, they offer unique SEO service features such as video call reporting, ethical SEO practice, and they always look at the bigger picture. They also have great rates and excellent reviews. One of the most trust worth SEO companies in Auckland. 
Highlights
Industry specific knowledge on SEO

Google & Microsoft Partner Agency

E-commerce & International SEO setup

Great Rates 

Transparent and personalized advice plans

Professional and experienced staff
Customer Reviews
Trustworthy and Pro-Active
"The Team (Azriel and Marina) I am currently working with at Digital Refinery are absolutely amazing. I reached out to them to take over the SEO side of my website. They are completely transparent, and they show me exactly what they are doing every step of the way. I can already see the results after only 2 months of working with them. Before joining with Digital Refinery I was very skeptical as I had a bad experience with another marketing company just before joining with Digital Refinery, but they have completely gained my trust and go above and beyond to make sure my business is going in the right direction. Azriel and Marina are very pro-active and exactly what I need as a small business owner not knowing anything about the IT/Marketing side and trying to grow my business. They really want to see you succeed rather than fill their own pockets. Thanks Team!!! Look forward to working with you for many years to come!!!!"- Corlia Knipe
They go the extra mile
"Digital Refinery has been amazing in helping me with my business Colour Addiction and doing the SEO for my website. I am an artist and have a lot of art/products and many pages to manage, they have helped me through all of it. I have worked closely with Azriel, Marina and Abby. They are super patient, always keep me in the loop and explain everything so I understand each step. They have gone the extra mile and helped with everything including social media and definitely on a personal level have increased my confidence to share my work and put myself out there. I have seen such good results since working with the team and highly recommend Digital Refinery to other businesses. " – Darsh Armstrong
2) Pure SEO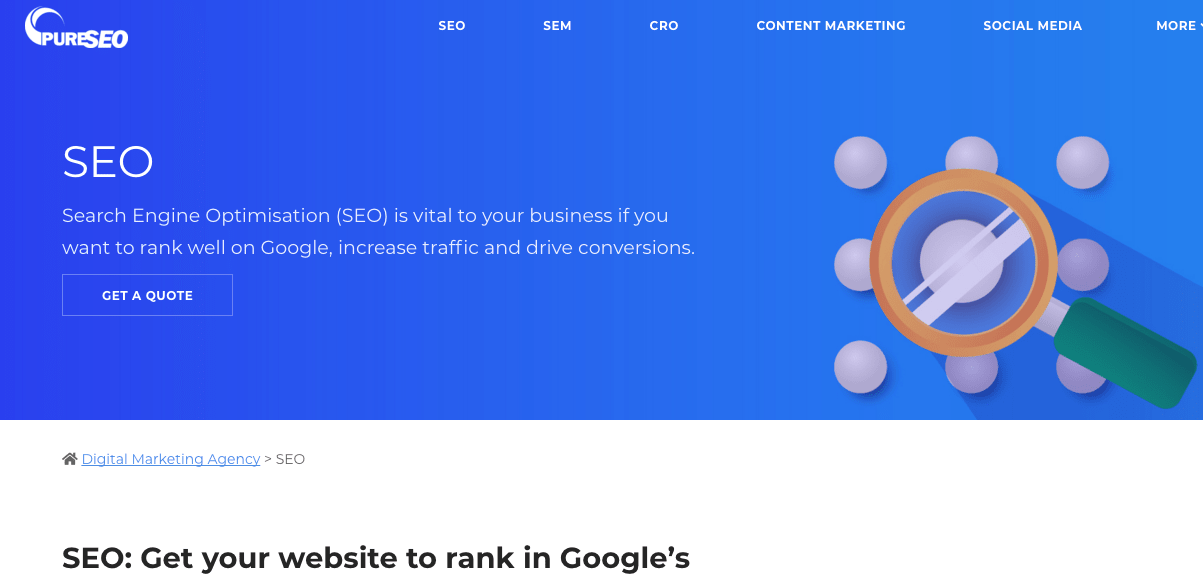 | | |
| --- | --- |
| Areas covered | Auckland- and Wellington-wide |
| Services | SEO, Social Media, Advertising, and Analytics |
| Address | 35 Kawana Street, Northcote, Auckland 0627, New Zealand |
| Contact no | 0800 SEARCH or (+64) 9 950 3888 |
| Website | https://pureseo.com/nz/seo |
Whether you are promoting your eCommerce store or expanding your business internationally, Pure SEO has got you covered. With a team of creatives, writers, marketers, and strategists, they'll make sure your website will be shown on organic searches, helping to convert traffic into sales. They also offer copywriting and video advertising. For its raw SEO focus, business will literally be one click away from clients' devices. And if you want to learn more, you can sign up for a 16-week course with them pertaining to digital marketing. Therefore we included this among the best SEO companies in Auckland. They pretty much have all bases covered on the SEO scene.
Highlights
Comprehensive services
Expert team
Get more sales and clients
Customer Reviews
Here's Simon Peters with a 5-star score from Google:
"We have used Pure SEO for our day spa business.  Being a non-technical person I was skeptical at first.  However you can't dispute the increase in bookings we have experienced since we started with them (8 months ago)."
3)  Isobar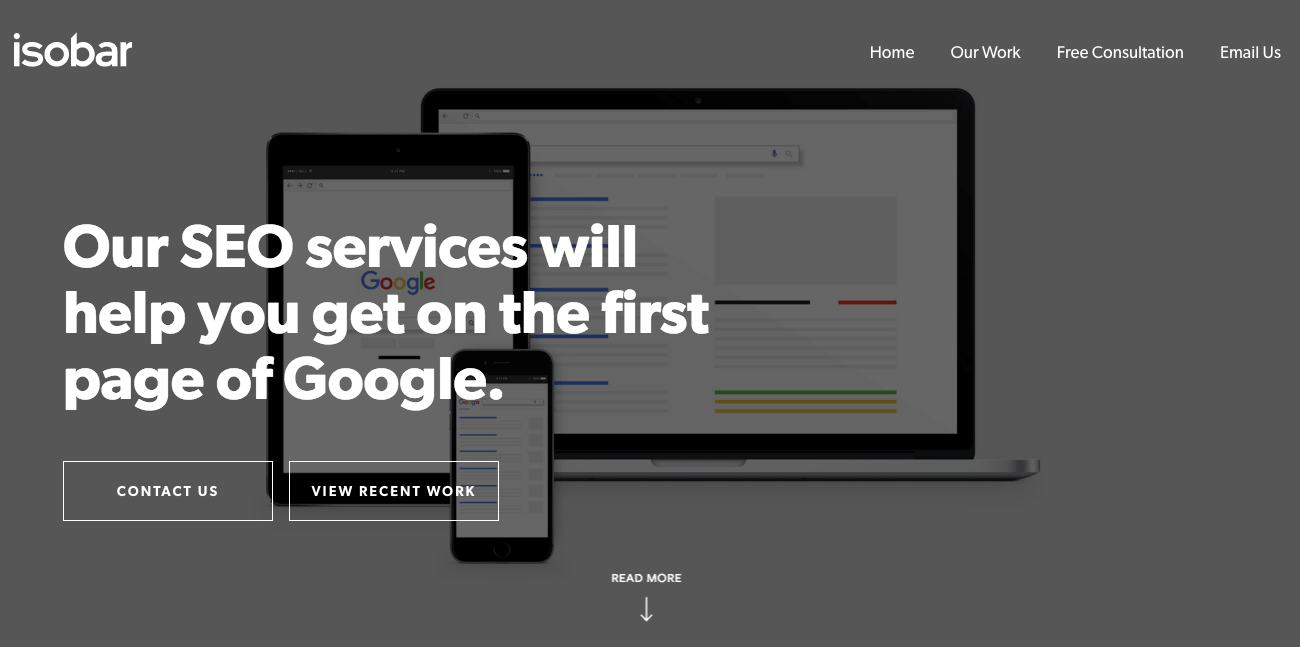 | | |
| --- | --- |
| Areas covered | Worldwide |
| Services | SEO Services, Reports |
| Address | 3F / Level 3, 47 High St,  Auckland 1010, New Zealand |
| Contact no | +64 9 551 6959 |
| Website | https://www.littlegiant.co.nz/seo/ |
Struggling with your SEO? Problem solved, you can contact Isobar a.k.a. Little Giant, which is a prominent marketing company that assists clients around the globe. You get the complete SEO package to make your presence known online. They will work on your site to get you on page 1 paired with advertising and social media campaigns to make you more visible. Furthermore, they never resort to clever tricks to lure people to your website. Rather, they are white-hat operators that communicate and report to you on a regular basis to keep you apprised of developments.
Highlights
Great communication
Complete SEO package
Affordable prices
Customer Reviews
Andrew Somervell left a review on Google supporting it being on the list of the best SEO companies in Auckland:
"Loved working with Little Giant on a number of projects. They worked to understand our business, their design aesthetic is world-class and their digital execution helped tell our story to customers, and increase revenue."
4) Adcelerate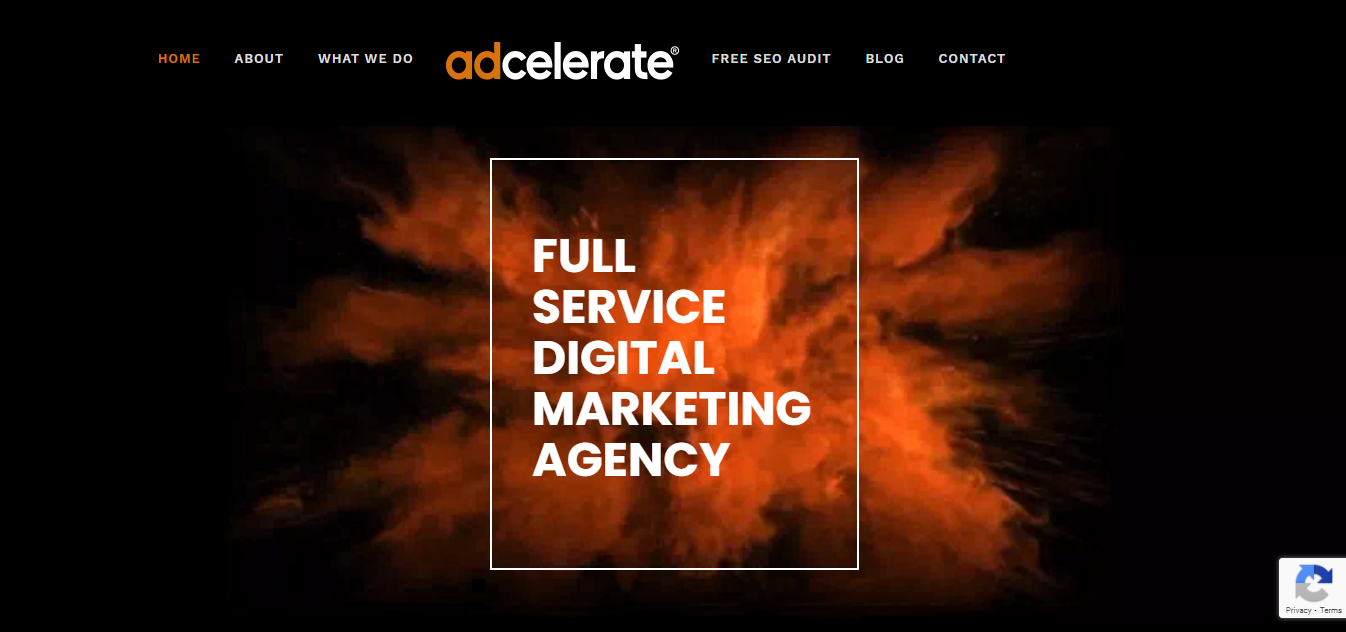 Areas covered
New Zealand-wide
Services
Google Ads, Web Development, Social Media Marketing, SEO, Remarketing, Strategy and Research, Web Design Auckland
Address
Level 1, 18 Northcroft St Takapuna, Auckland, 0622, New Zealand
Contact no

[email protected]

0800 237 665
Website
https://adcelerate.co.nz/
Adcelerate is a full-service Digital Marketing Company based in Auckland NZ. Their team consists of an experienced team that has an in-depth understanding of local markets. What people like about them is that they help small to medium businesses, throughout the country, in enhancing their online presence! Unlike other companies, with Adcelerate by your side, your business will definitely grow and you will not be disappointed.
Highlights
Free SEO audit
Google Certified Digital Marketing Consultants
Gives what they promise
Customer Reviews
They have 5 out of 5 stars on their Facebook page.
5)  Inbound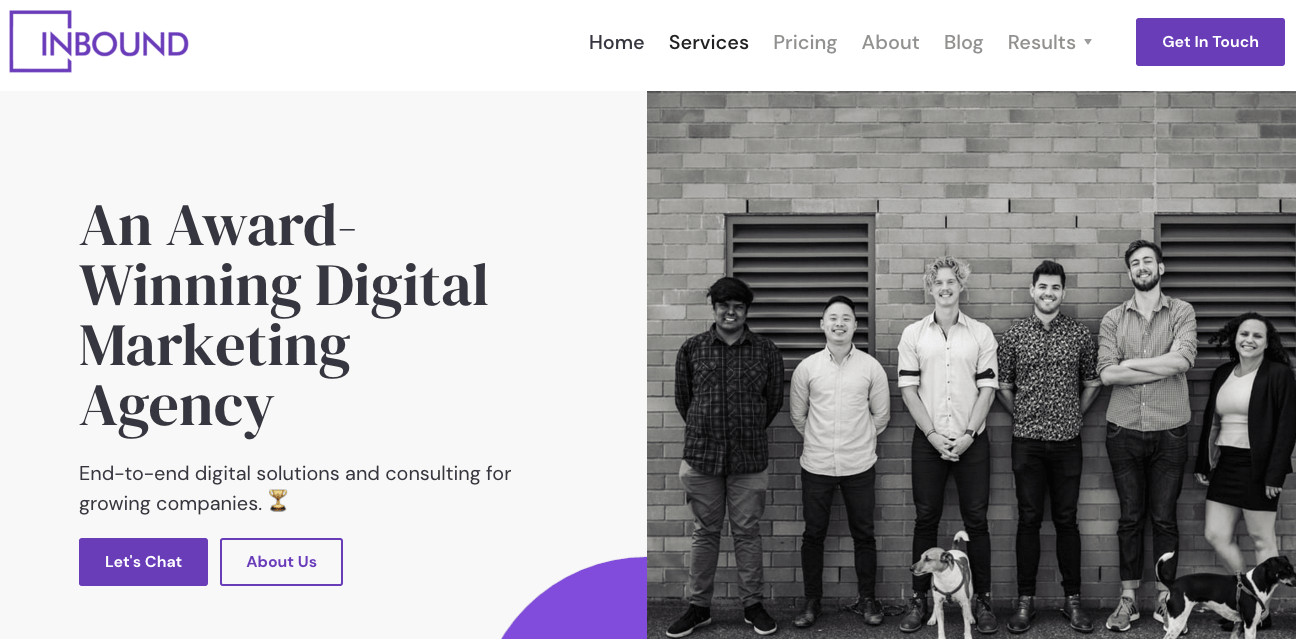 | | |
| --- | --- |
| Areas covered | New Zealand-wide |
| Services | SEO, Google AdWords, Social Media Campaigns, Email and Content Marketing |
| Address | Level 1, Compass House, 162 Grafton Road, Auckland, New Zealand |
| Contact no | +64 22 043 3992 |
| Website | https://www.inbound.org.nz/ |
It's rare to find a company that can guide you from marketing to sale. Inbound has been doing it for ages and will handle everything for you, even giving advice and support to your team. Their team is remarkable, proactive and results-driven — and they can push your business forward. They do everything including Google AdWords, social media, email, and content of your website. For 90 days, they will ensure you reach the right customers with your story and products. And at any time, you can ask them and know what they've been working on for your website.
Highlights
End-to-end marketing solution
Provides monthly reports
Creative marketing team
Customer Reviews
Google reviewer Matthew Dawson said:
"The guys at Inbound are great! Their level of expertise and knowledge about sales funnels is exceptional and they're really helping us to grow out business. We're super excited to continue working with them!"
6)  Clickthrough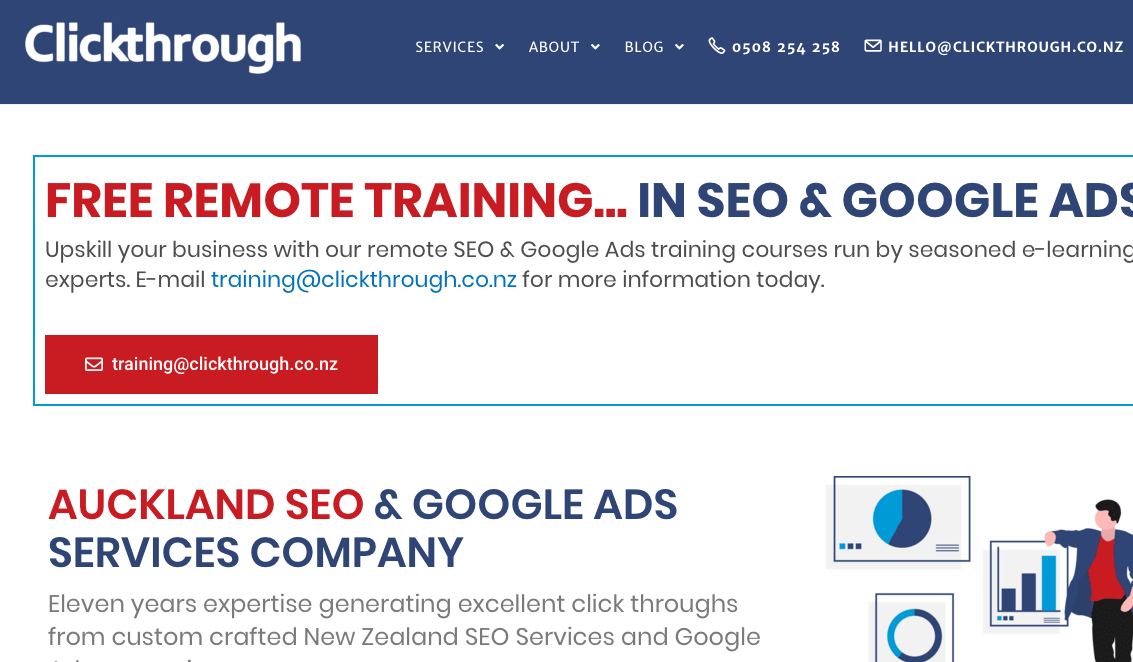 | | |
| --- | --- |
| Areas covered | Auckland-wide |
| Services | SEO, Copywriting, Google Ads, and Analysis |
| Address | Level 27, PWC Tower, 188 Quay Street, Auckland 1010, New Zealand |
| Contact no | 0508 254 258 |
| Website | https://www.clickthrough.co.nz/ |
If you're a local business trying to find your way digitally, you can trust Clickthrough. They can handle your marketing and advertising as well as improve your online store. The team is adept in optimising many website platforms like Shopify, WooCommerce, Magento, and WordPress. Soon, you will be able to see significant improvements when you attract new clients. This company was established in 2009 and has been a large help to clients in a variety of businesses. This is another one of the best SEO companies in Auckland.
Highlights
Best for local businesses
SEO savvy team
More than 10 years experience
Customer Reviews
As posted on Clickthrough website, Paul wrote:
"Clickthrough got our new water delivery website ranking at the top of Google in no time at all and it stayed like that forever. The site ranks so well we stopped our AdWords."
7)
Squid Group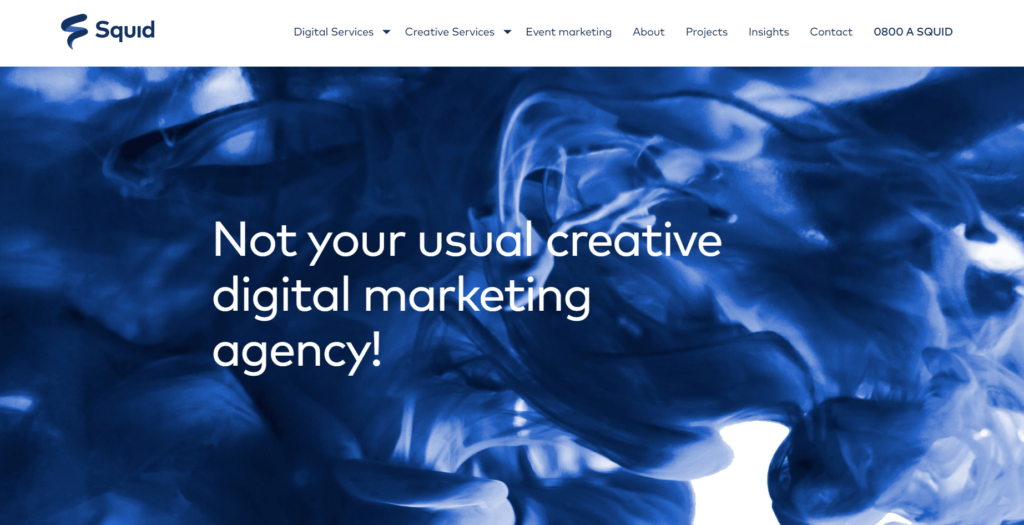 Squid Group is an
Auckland SEO Agency
that works with businesses from around New Zealand and Australia. Their experience in local and global SEO strategies enabled them to understand the importance of driving organic growth. Every business requires their own strategy and approach to grow in the digital landscape. Fortunately, the company implements a personalised approach for service-based and e-commerce clients so they can achieve their specific goals. The company offers a wide range of digital marketing services such as SEO copywriting, Google and
Facebook marketing
, and video production and graphic design. These ensure that clients are visible and relevant in the digital landscape. The company is also quick to reach out to their extensive network of partners to resolve a client's problem that is out of the company's knowledge. This shows their dedication to providing the best service they can to their clients by ensuring they have all their concerns addressed. Given their top-notch services, and attentive and customer-oriented team, Squid Group is a
digital marketing agency
in NZ well worth considering.
Customer Reviews
Here are some reviews of their clients:
"The digital marketing and website support Laurence and the team at Squid Group have offered us has been invaluable! They have been incredibly supportive of our Company's needs, provided advice and have helped us navigate the digital world as our business has grown. Whether it was an urgent website request or our monthly digital marketing, we know we can rely on Squid Group to deliver. If you are looking for a marketing agency which you can trust, I would strongly recommend getting in touch with Squid Group."
 -Neisha Livermore
"Great company to work with! They have been helping us with our social media marketing as well as our Google ads and re-marketing. I would definitely recommend them to other businesses needing marketing help!"
 -Shannon Funk
8) Cansoft Technologies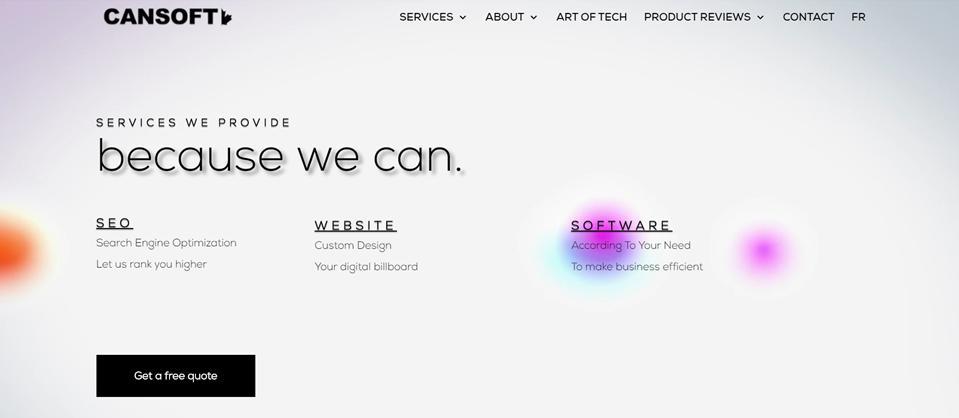 | | |
| --- | --- |
| Areas covered | Worldwide |
| Services | Branding Web Design Social Media Marketing Search Engine Marketing Search Engine Optimization |
| Address | Auckland, New Zealand |
| Contact no | +64 21 275 3041 |
| Website | https://cansoft.com/seo-in-auckland.html |
Cansoft Technologies was established in 2013 to help local companies go global. With their expertise, the team at Cansoft continues to provide top-notch designs and strategies made fit to each of their clients. Aside from their amazing assistance with search engine optimization, you can also take up other services from Cansoft Technologies. They can help you with branding, web design, social media marketing, and of course, search engine marketing. With their help, you're sure to receive greater traffic and distinction compared to before.
Highlights
Multinational marketing agency
Excellent customer service
Talented group of programmers, marketing experts, and customer service agents
9) Hello SEO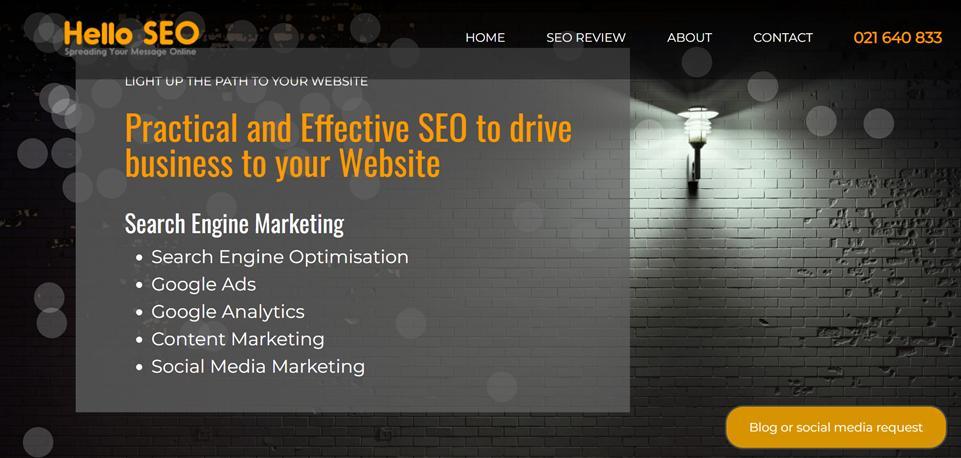 | | |
| --- | --- |
| Areas covered | Auckland-wide |
| Services | Search Engine Optimisation Google Ads Google Analytics Content Marketing Social Media Marketing |
| Address | Mellons Bay, Auckland, New Zealand |
| Contact no | [email protected] 021 640 833 |
| Website | https://www.helloseo.co.nz/ |
Hello SEO has been running for years, providing the people of Auckland top quality search engine marketing services. From analytics to advertisements and traffic,Hello SEO is there to assist you. What makes them one of the best us that they make sure to use the right strategies to help you pull ahead from your competitors online. With Hello SEO, you can rest easy knowing that whatever they need to do, they'll work on for you. Check out their rates and packages on the website for more details.
Highlights
Packages for digital marketing
More than 15 years of experience
Quality SEO and online marketing
10. Team Empathy
Team Empathy is Auckland and local-specific because local SEO is the single most powerful thing a business can do to rank in Google. As our world has become more and more convenient, so too has our expectations around service. The team is all about helping others, with the main focus on locality and client convenience. Team Empathy wants to see meaningful, authentic businesses in local Auckland grow, so they offer them simple yet effective marketing techniques to get the businesses' name out to the world. They are sure that every business is optimised in the right places can see you soar past your competitors, especially in New Zealand where most of us are behind on the game. Within a few months of creating a new relationship with a client, Team Empathy see epic results.
Highlights
Affordable packages
Free video audit
Helpful staff to guide clients
Customer Reviews
Here is a review left by a satisfied client:
"Ben is really great to deal with, we highly recommend! After shuffling through a number of corporate SEO providers over the years, we've found dealing with Team Empathy a much better experience and the value they create for us is much better than before!"
11. Digital Eagles

| | |
| --- | --- |
| Areas covered | New Zealand-Wide |
| Services | SEO, PPC, Web Design, Social |
| Address | Level 33/23-29 Albert St, Auckland, 1010, New Zealand |
| Contact no | 0800 328 998 |
| Website | https://www.digitaleagles.co.nz/ |
Digital Eagles is the best company to acquire services from if you're in need a full range of digital marketing assistance. They're equipped with highly experienced professionals and strategists that have been in the field for years. Trusted by various big brands and businesses, you can definitely rely on Digital Eagles to provide with only the best performance and output. With their help, you're sure to be satisfied and attain bigger goals. Head on to their site for a free marketing consultation!
Highlights
Tailored solutions
Free strategy consultation
Organic traffic increase
Customer Reviews
Take a look at some of the reviews from Digital Eagles' previous clients:
"I have worked directly with Ollie from Digital Eagles for several years now. Ollie always takes the necessary time to understand your specific needs, formulates a plan to reach the goals and most importantly – delivers the results he promises! Social media marketing is a young industry and you sometimes don't know what you are going to get. I had worked with several "media consultants" in the past, none of which could deliver on their claims and zero ROI. Ollie was the first consultant I found that was worth the money! Highly recommended."
– Christopher Penfold
"Digital Eagles are a great collaborative partner. I've known the founder for many years and have dealt with specialists across the entire team. The digital landscape can be a little like the dark arts of Hogwarts School of Magic, separating fact from fiction! From the outset of business, Digital Eagles have operated on several key themes: real collaboration (listening to input and also offering input even if it challenges your perceptions) minimising risk (by mitigating or eliminating the standard lengthy retainer lock in contracts where evidence can sometimes be scant) and results (reports and data to show the reality of what is working and what may be served being adjusted. The ethics of the business are sound and in this digital era (over self promotion on inflated or mythological results) the team do a stirling job."
– Mark Carter
12. 7 Glyphs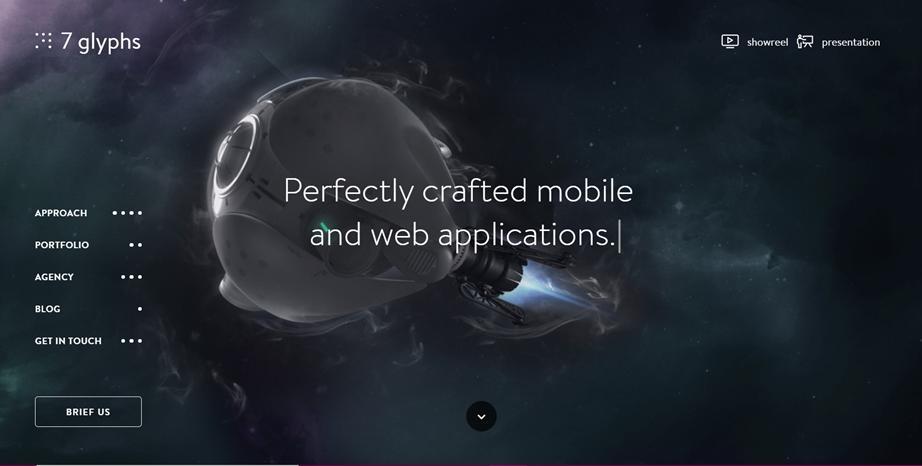 | | |
| --- | --- |
| Areas covered | New Zealand-wide |
| Services | Mobile application development, Backend development & solutions, Web application development, Turn-key project development, Logo Design, BrandBook, UX/UI Design, SEO |
| Address | 25 Jervois Road, Ponsonby, Auckland, NZ |
| Contact no | +64 800 459 747 |
| Website | https://7glyphs.com/ |
7 Glyphs offer amazing digital marketing services made with the best technologies of the latest. Their creativity stands out when it comes to generating new strategies for maximum outcome. They are a flexible
digital marketing agency
who's serious about getting great results for your business. Rest assured that their 20 years of experience would be of use for your needs. Let them assist you in every step of the process, contact them now for hiring!
Highlights
Great attention to details
High client involvement on development
Visualized application procedures
Customer Reviews
Receiving perfect 5-star ratings from all their clients, 7 Glyphs is truly a company to trust with all your digital marketing needs. Take a look at some of the feedbacks:
"Igor and his team are highly professional and provided excellent service throughout the redevelopment of our website. We absolutely love the new website, the design is beautiful and we will be recommending 7Glyphs widely."
– Dr. Shaz MacAvoy
"I was introduced to Igor and the 7Glyphs team from a friend and I'm so pleased I was. They turned an idea into reality, and that reality is our business Joyable. From the concept, brand, build, completion and support every step of the way has been professional, on time and seamless…with only one little hiccup that we were able to work through quickly together. I've worked with many IT teams and people in the past and I can hand on heart say that 7Glyphs is the most professional and friendly I've come across. I look forward to many years of partnership ahead."
– Rochelle Sheldon
13. Museo Analytics

| | |
| --- | --- |
| Areas covered | New Zealand, Australia |
| Services | Analytics and Data Data Visualisation Marketing Intelligence SEO Digital Advertising Competitor Analysis Digital Strategy |
| Address | 10 Waterloo Quadrant, Auckland CBD, Auckland 1010, New Zealand |
| Contact no | +64 21 254 4377 | [email protected] |
| Website | https://www.museo.co.nz/ |
Museo Analytics offers one of the most comprehensive digital marketing service there is in Auckland. They make use of predictive analytics and unique strategies to help you gain traffic for your business' website. Aside from SEO, you can also take up a few more of their services like advertising, data visualisation, marketing intelligence, and more. Check out more details at Museo Analytics' website.
Highlights
Competitive online strategies
Tailored advice
Personal digital marketing services
Customer Reviews
Read what clients have to say about Museo Analytics' services:
"Jordan Optimisation has rapidly transformed our online business. Alex's international experience in SEO, data analytics & the digital marketplace is invaluable. Extremely efficient, great to deal with, reliable. Cannot recommend highly enough"
– Alexander Hume
"The thing that differentiates Alex Jordan from other companies in the sector is his ability to think. His doesn't use a cookie-cutter/ click-repeat approach, rather he prefers to use his extensive knowledge in the data/ analytics space to serve up something that is meaningful, relevant and valuable to your business. Engage him. You won't look back."
– Neil Sparksman
14. SEOwriter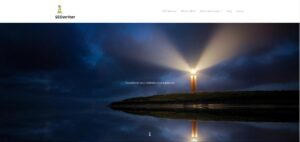 | | |
| --- | --- |
| Areas covered | New Zealand, Australia, USA, and UK |
| Services | SEO Copywriting Content strategy & management General digital marketing consulting |
| Address | New Zealand |
| Contact no | [email protected] |
| Website | https://seowriter.co.nz/ |
SEOwriter is run by Andrew Wassenaar, a professional copywriter whose specialty is SEO. Unlike other SEO agencies, he guarantees that the content he writes for websites not only captures people's attention, but also keep them interested. The secret to his effective writing lies in creating optimised content. With his help, your website can become a beacon for the market you're aiming for.
Highlights
Free intro to SEO
Bespoke content
$500 SEO website audit
15. Websites & Beyond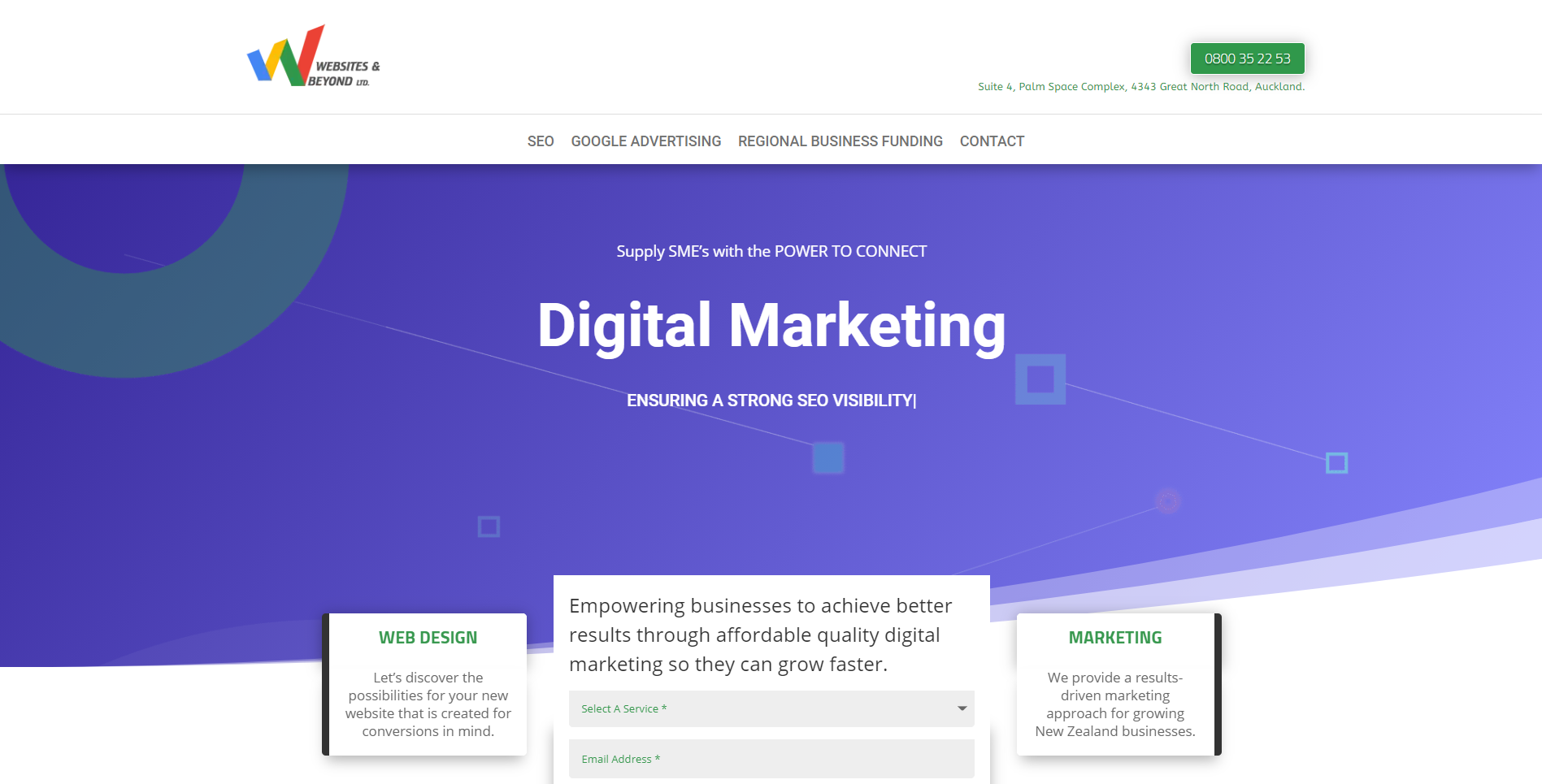 Websites & Beyond is a one-stop agency when it comes to digital marketing services. From SEO to advertisements, their wide range of services is sure to cover any of your digital marketing needs. Their transparent approach to their work is what keeps their clients coming back. All in all, you can count on Websites & Beyond to deliver only the best each and every time you need their services.
Highlights
Free consultation
Results-driven marketing approach
16. Business Website Group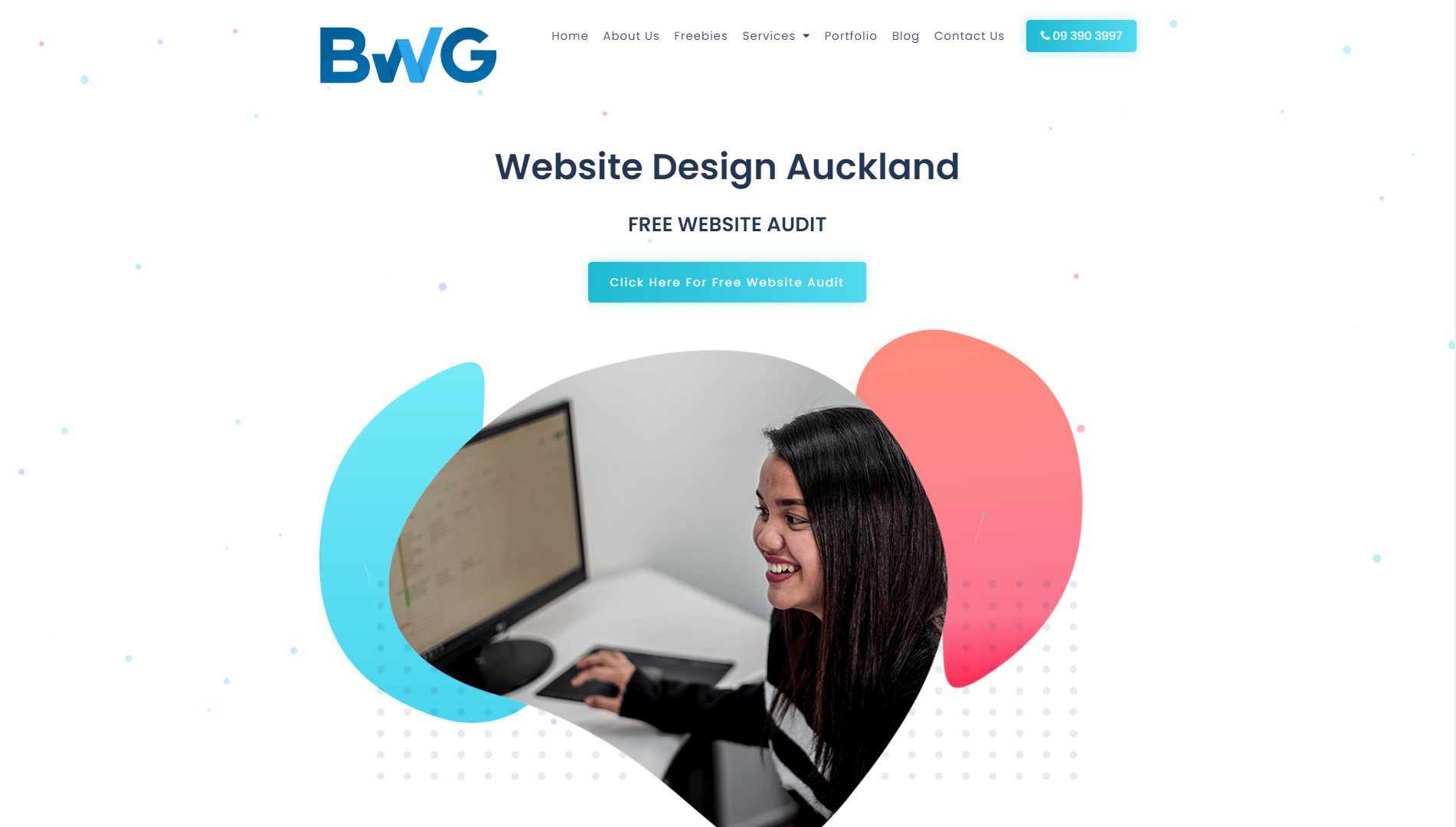 | | |
| --- | --- |
| Areas covered | New Zealand |
| Services | Web Design, SEO, Google Ads |
| Address | 7/31 Northcroft Street Takapuna Auckland 0622 |
| Contact no | 09 390 3997 |
| Website | https://businesswebsitegroup.co.nz/ |
Business Website Group will help you create a website that achieves real results for your business. They excel in working with clients who have fewer staff– making them the perfect choice for startup companies. Thanks to their production oriented sales staff, their campaigns continue to deliver above average results. As a plus, Business Website Group is also Google certified. Don't hesitate to rely on them for any of your marketing needs.
Highlights
Full digital marketing suite
Works with startup companies
Google certified
17. Hello Web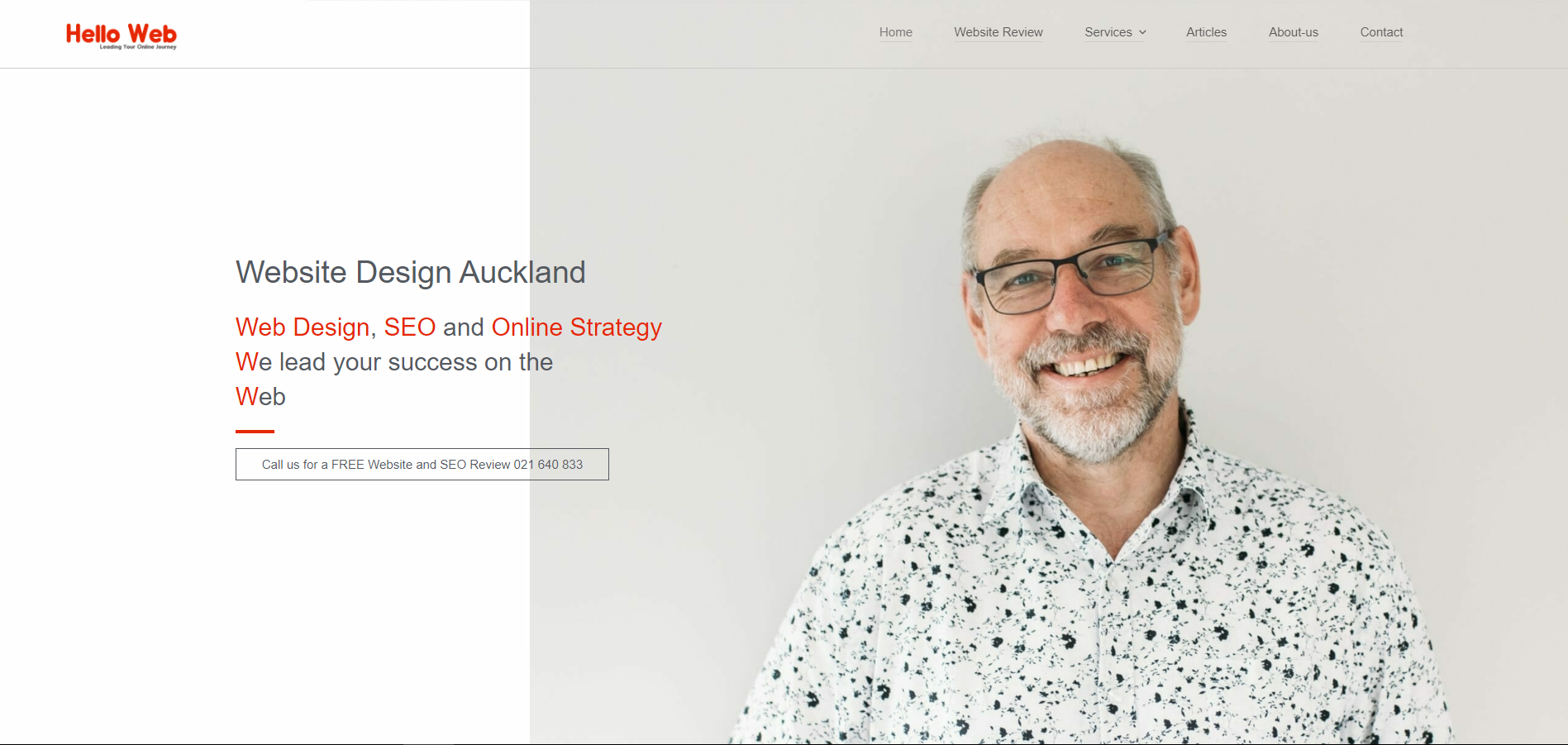 | | |
| --- | --- |
| Areas covered | Top-quality SEO Services |
| Services | Website Design, Website Content Creation, Website Management and Support, Search Engine Optimisation, Online Marketing and Google Ads, Website Hosting |
| Address | Hello Web Limited 16 Montressor Place Howick Auckland New Zealand |
| Contact no | Phone: 021-640 833 Email: [email protected] |
| Website | https://www.helloweb.co.nz/ |
Hello Web is a solo-run web design company. Despite their small team, they still continue to deliver some of the most competitive website and SEO rates in New Zealand. Their hands-on experience in the business gives them an advantage over other companies. As a plus, the various connections they have with expert professionals makes up for their small team. Most importantly, customer satisfaction is their priority. You can count on Hello Web to deliver only the best.
Highlights
Competitive website and SEO rates
Hands-on business knowledge
18. MORE SEO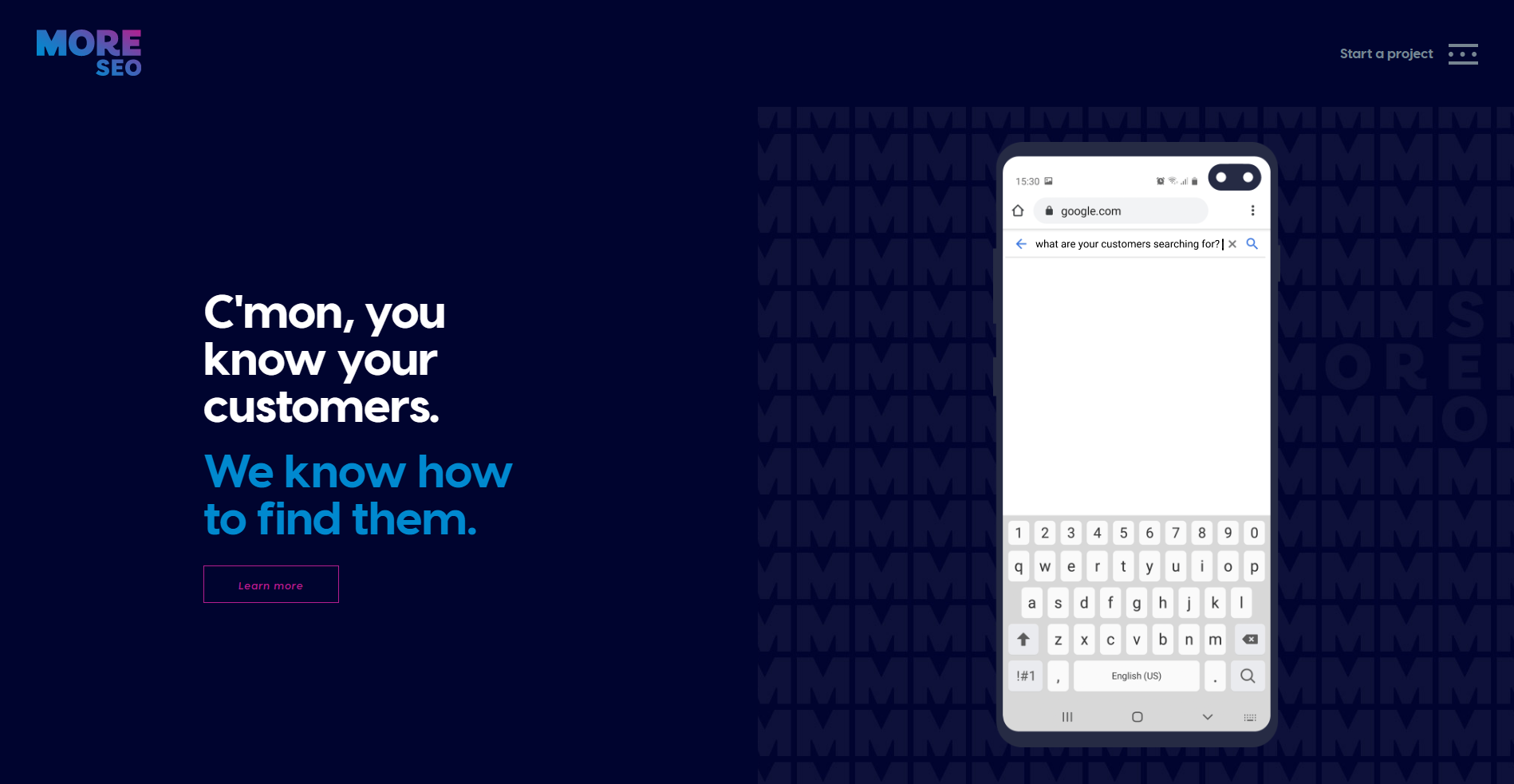 MORE SEO is a company that drives people to your website and keeps them there. They achieve this with their real world approach to SEO, one that uses industry-led and reliable strategies. They offer SEO packages of various sizes and prices, fit to accommodate any company's budget. With their help, your website's online traffic can reach unprecedented heights.
Highlights
Various SEO packages for business of all sizes
All packages include a free discovery session
19. Infinite Marketing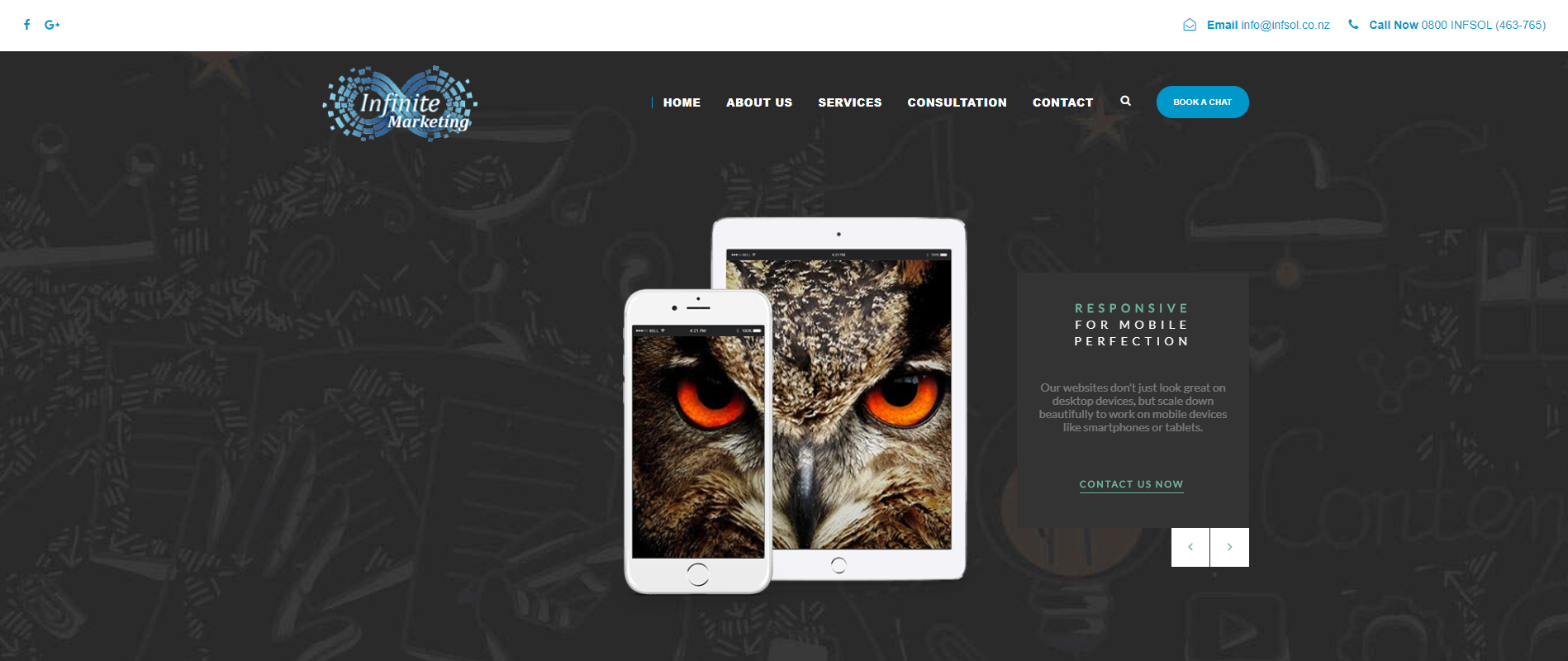 | | |
| --- | --- |
| Areas covered | New Zealand |
| Services | Google Ads NZ, SEO Services, Website Design, Domains & Hosting, Auto Dialer |
| Address | Takanini, Auckland 2110 |
| Contact No | 0800 INFSOL (463-765) [email protected] |
| Website | https://www.infsol.co.nz/ |
Infinite Marketing is an internet marketing company located in Auckland. Their speciality lies in creating websites that not only look good, but also produce great results. Their team has experience utilising various internet marketing strategies. One of these strategies is FastBot, an automated answering service for messenger. With FastBot, customers will be able to learn more about your company, especially if their inquiries are frequently asked by many. Infinite Marketing has a proven track record when it comes to their line of work. You can count on them to reach your intended audience effectively.
Highlights
Free consultation
No contract services
20. FlowMedia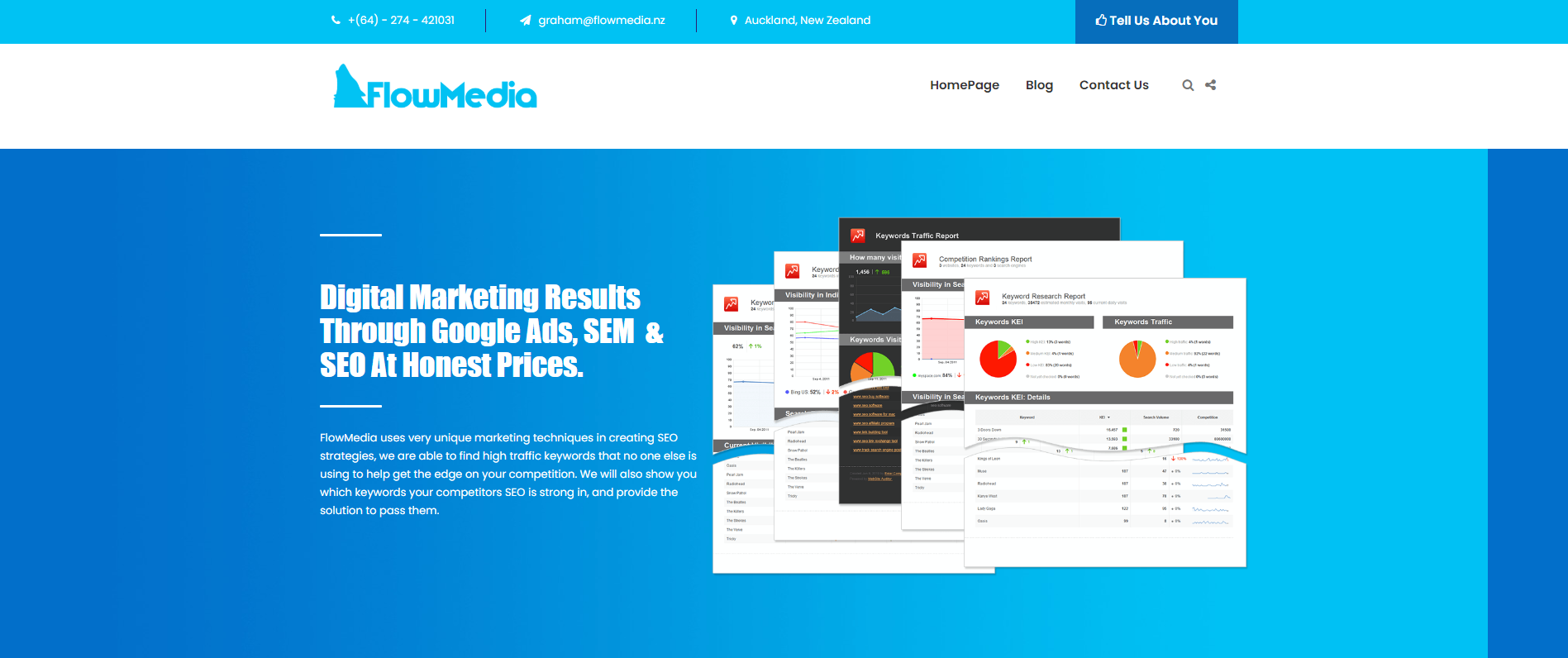 | | |
| --- | --- |
| Areas covered | Auckland |
| Services | SEO, Competitor Search Strategy, Link Building & Backlinking, Paid Search Management, Website Design, Website Health Check |
| Address | Auckland, New Zealand |
| Contact No | +(64) 027 442 1031 [email protected] |
| Website | https://www.flowmedia.nz/ |
FlowMedia is the perfect choice for newcomers to the business. They'll help you lead the trends in your industry, whatever it may be. They specialise in finding high traffic keywords that none of your competitors are using. With FlowMedia, you'll be able to stand out from your competitors in a unique way.
Highlights
Unique marketing techniques
Perfect for first timers
21)  Studio 46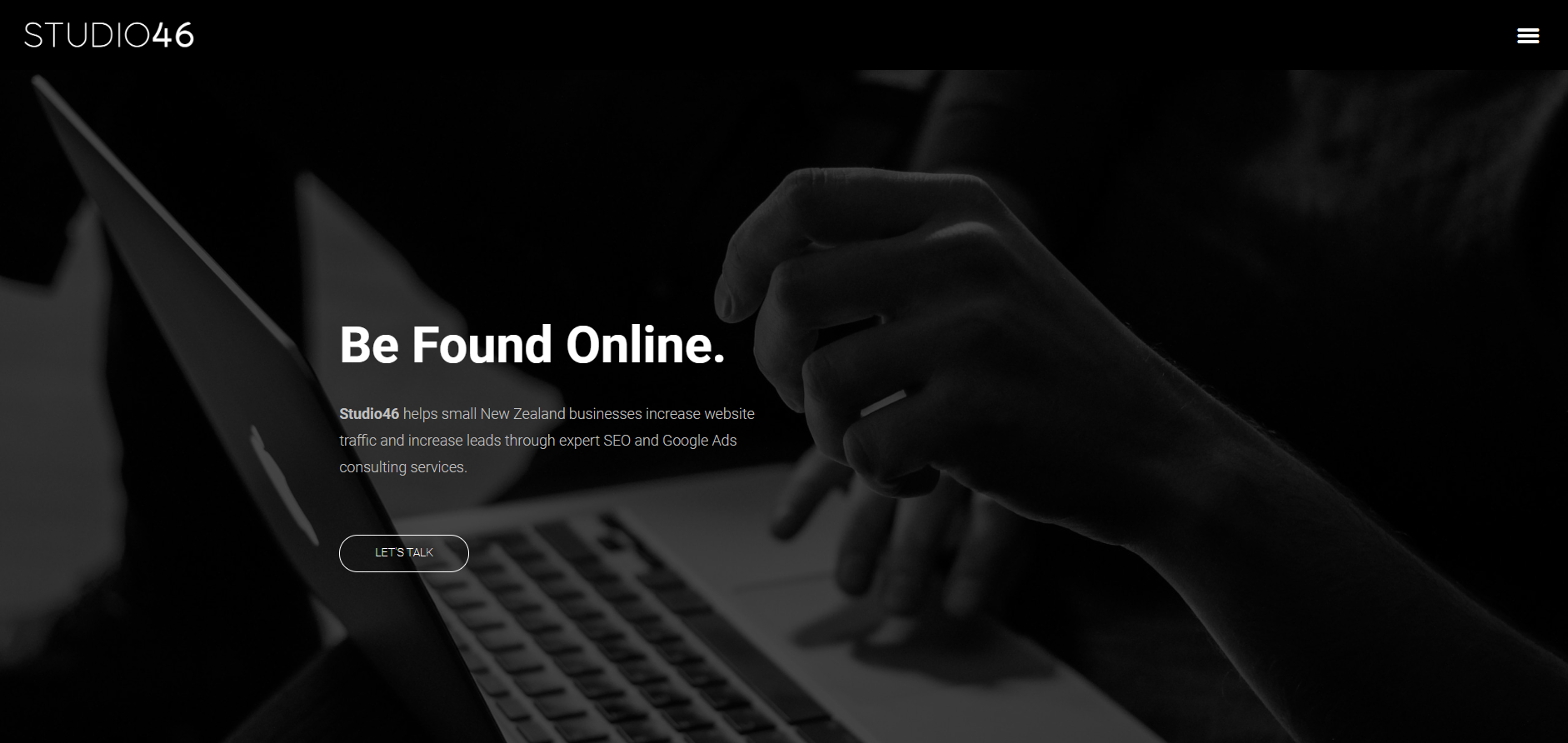 Studio46 aims to assist small businesses get increased website traffic and leads. They specialise in Google Ads and SEO consulting. As digital marketing consultants, they help businesses become better seen by the market. With Studio46's no contract and no minimum term services, you can always talk to them anytime you need to– no strings attached.
Highlights
No contracts
No minimum term
Pause anytime
22) Pixi Digital Marketing Agency

Areas covered
Auckland-wide
Services

Search Engine Optimisation
Google Search Ads
Google Shopping Ads
Google Display & Remarketing Ads
Conversion Rate Optimisation
Google Analytics
Website Audits & Custom Reporting
Facebook & Instagram Ads
Social Media Posts

Address
117 Centreway Road Orewa Auckland 0930
Contact no
09 550 1800 [email protected]
Website
https://www.pixi.co.nz/
If you're looking to increase traffic to your website, and get more sales & leads, then talk to Pixi Digital Marketing today! Pixi Digital Marketing is skilled and experienced at SEO, they offer all SEO services including search engine optimisation, conversion rate optimisation, Google Analytics and reporting. Pixi isn't limited to just SEO, they are also experts at search engine and social media marketing – covering all of your digital marketing bases! Pixi are driven to deliver you with the results that you deserve, they will provide you with a personalised approach that is tailored to your business and its needs and provide you with options that will give you the best return on investment. All while providing exceptional customer service and building lasting relationships with clients. Grow your business with Pixi and get in touch today!
Highlights
N

o f

ixed c

ontracts
5-star 

C

ustomer 

Se

rvice 

& Results

A track record of proven results
Customer Reviews
Take a look at what a very satisfied client had to say on Pixi's Facebook page:
"I'd highly recommend Pixi for SEO & SEM services. Simply put, they know their stuff, are great at getting results and are really easy to work with. You won't regret working with them, actually, you'll probably kick yourself for not doing it sooner!"
– Tracey Roberts, Global Survey
23)
Netbloom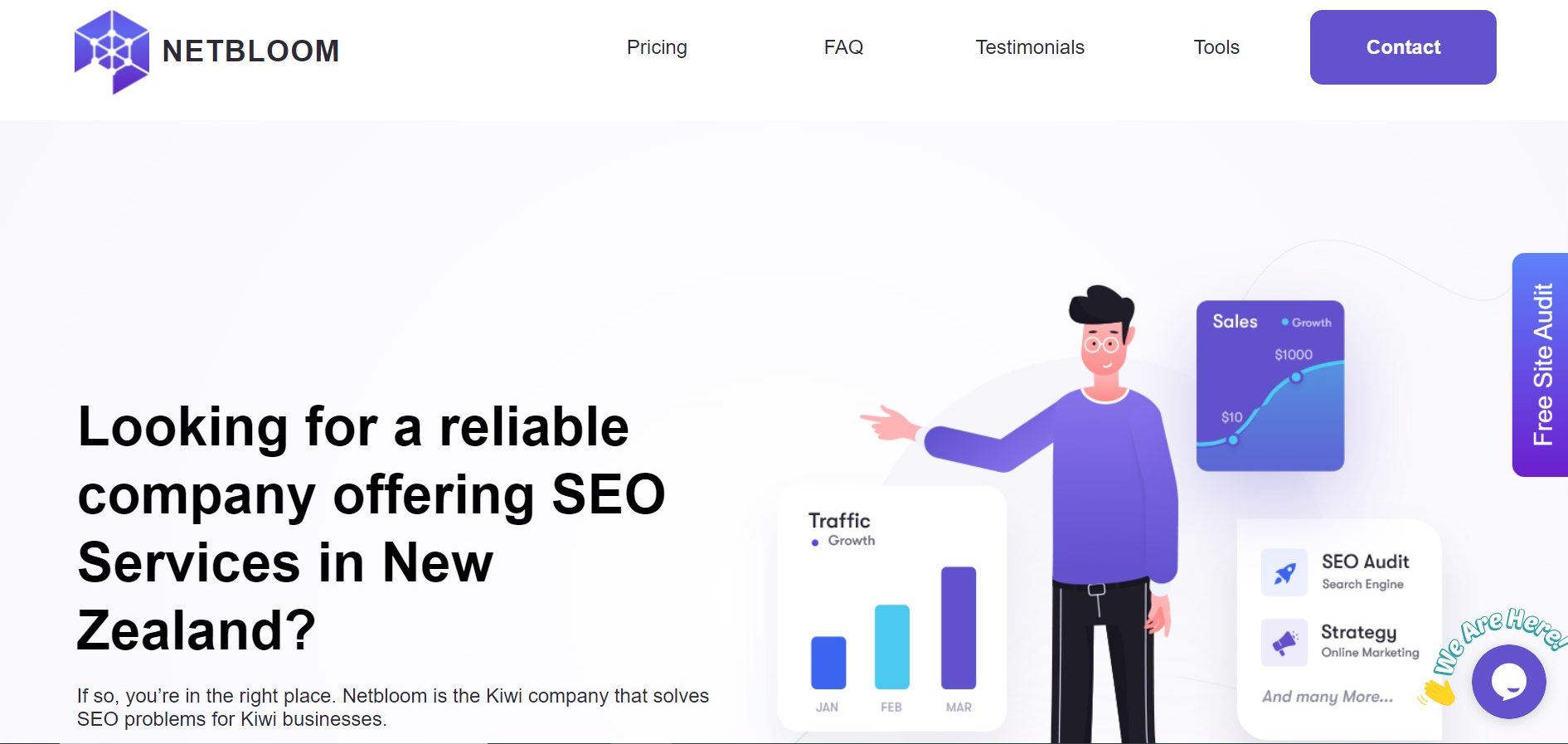 | | |
| --- | --- |
| Areas covered | Contact for more information |
| Services | SEO Audit, Custom SEO Strategy, Keyword Research, Content Optimisation, Meta Tags, Link Building, Competitive Assessment, Conversion Path Creation, Ad Campaign Management |
| Address | Auckland, New Zealand |
| Contact info | (+64) 27 392 9428 | [email protected] |
| Website | http://netbloom.co.nz/ |
Netbloom is not your typical SEO company that's simply trying to take a cut of your income. This SEO company focuses on your return of investment and they do this by giving tailored SEO services, regular updates and great communication. You might wonder why your new website is invisible with google, with Netbloom they can provide you the answers. Their solutions to bring your website's ranking higher involves keyword research, content optimisation, meta tags, link building and conversion path creation. With different solutions, Netbloom offers three levels of monthly plans for businesses that need a jumpstart or growth or even accelerated SEO services. Above all, Netbloom also understands that each business is unique which is why they offer custom SEO strategies that will fit your business' purpose.
Highlights
Free SEO Consultation
Custom SEO Services
Increase website's speed
Fix broken and dead links on website
Customer Reviews
Previous clients who have availed their services left these reviews:
"The difference Matthew has made to my website ranking is nothing short of astonishing. Often it can take weeks for pages to be indexed by Google but our new ones showed up in searches almost immediately. As well, page views rose dramatically with all the important metrics showing increases and we reached #1 for our key search term unbelievably quickly. Matthew is an outstanding young man who is a pleasure to work with."
– Lynnaire Johnston (Owner and CEO of Word Wizard)
"Matthew delivered beyond our expectations! He helped us with a Jumpstart SEO Package to help our website get ranked in Google and searchable. Whenever we couldn't figure something out, Matthew was on hand to explain it in detail so we knew how it worked, which included the best practices for us to use when updating our website, in order to help maintain the best SEO possible."
– Samantha Arthur Production Assistant & Editor of Con-Artist Magazine
24. Just SEO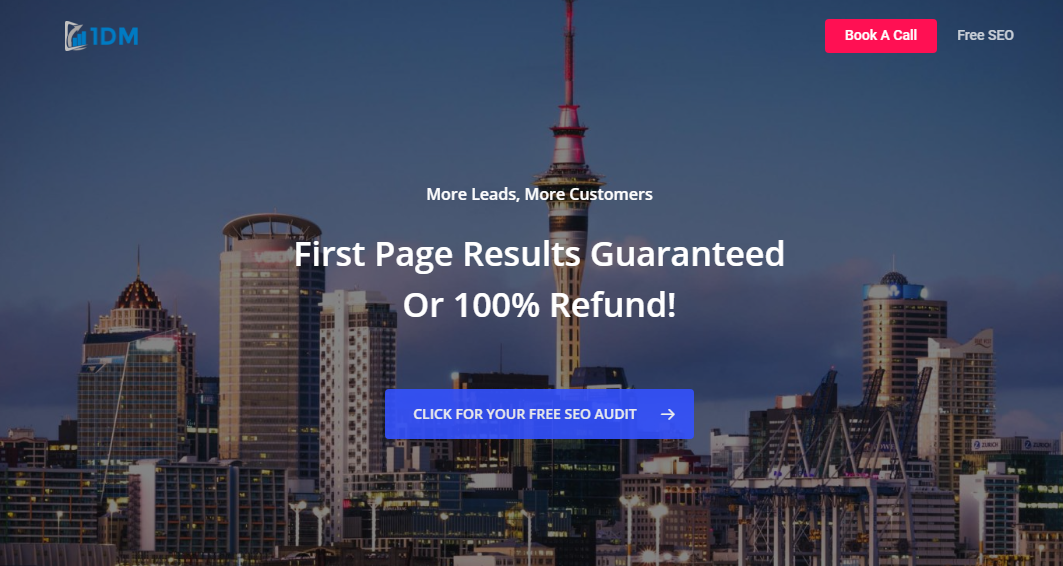 Just SEO is a firm that specialises in, you guessed it, SEO services. It was first established in 2014, after the founder, Ted, wanted to provide services backed by a guarantee.
Since then, Just SEO has steadily built a name for itself, helping frustrated clients by offering them services that can boost their visibility online. What makes clients stay, and even rave about Just SEO is the realization that the promises made by the firm is backed up by actual work. As previously mentioned, there is a guarantee when you work with Just SEO. And one of those guarantees is a spot on the first page of Google results, a highly coveted position regardless of the industry you're a part of. Now, aside from the guarantee, there are several other reasons why Just SEO made it on this list. One of which is the firm's professionalism, manifesting in prompt responses and personable staff members. Another is the custom-fit SEO services. See, much like other digital marketing tools, SEO isn't a one-size fit all solution. This is why Just SEO takes the time to consult with each client, learning the intricacies of their brand before curating SEO solutions that will work best with said brand. Lastly is the risk-free experience when working with Just SEO. We have already mentioned the guarantee, but did we mention the fact that it's 100% risk-free, with the offer of getting your money back on the off chance that Just SEO doesn't deliver? Yes. Just SEO has a 100% money-back guarantee, that's how confident they are in their services. Having said this, we consider Just SEO as an excellent choice in Auckland and all of New Zealand for its professionalism, timeliness, and quality of services.
Highlights
Long-term success
Risk-free guarantee
Free SEO audit
25) Firefly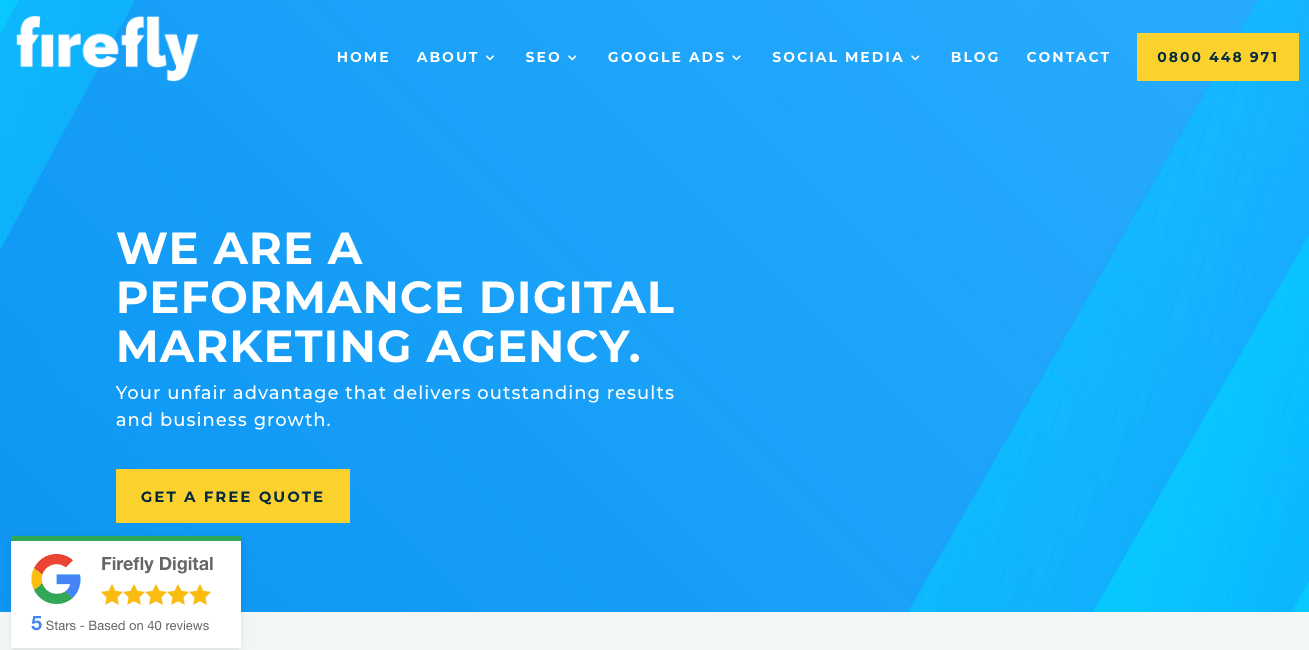 | | |
| --- | --- |
| Areas covered | New Zealand-wide |
| Services | SEO, Guarantee, Audit, Link Building, eCommerce, Reseller, Local |
| Address | BizDojo, Level 3, Partners Life House 33-45 Hurstmere Rd, Takapuna, 0622, Auckland, New Zealand |
| Contact no | 0800 448 971 |
| Website | https://fireflydigital.co.nz/ |
If you want to drive your website up Google's search page results for the long-term, Firefly has the SEO tools and marketing experience to get you there. For a relatively low price, you can multiply your conversions and traffic. Firefly guarantees that your business will show up on page one in 90 days or it's free! Unlike others that have repetitive press releases, copied content, or cheap links, Firefly focuses on white-hat (i.e. clean and Google-approved) methods. This will ensure you fly with the big boys for the long term and get a profit turnover.
Highlights
90-day first page guarantee
Long-term SEO
Increase sales and traffic
Customer Reviews
Monique Thomas who was an intern for Firefly stated:
"…The team is always up to date with all the latest information and skills that are continually changing in the digital world, which allows them to provide their clients with the best strategies possible. In need of anything digital marketing – go straight to Firefly Digital for the best service and the best results."
26) Digital Squad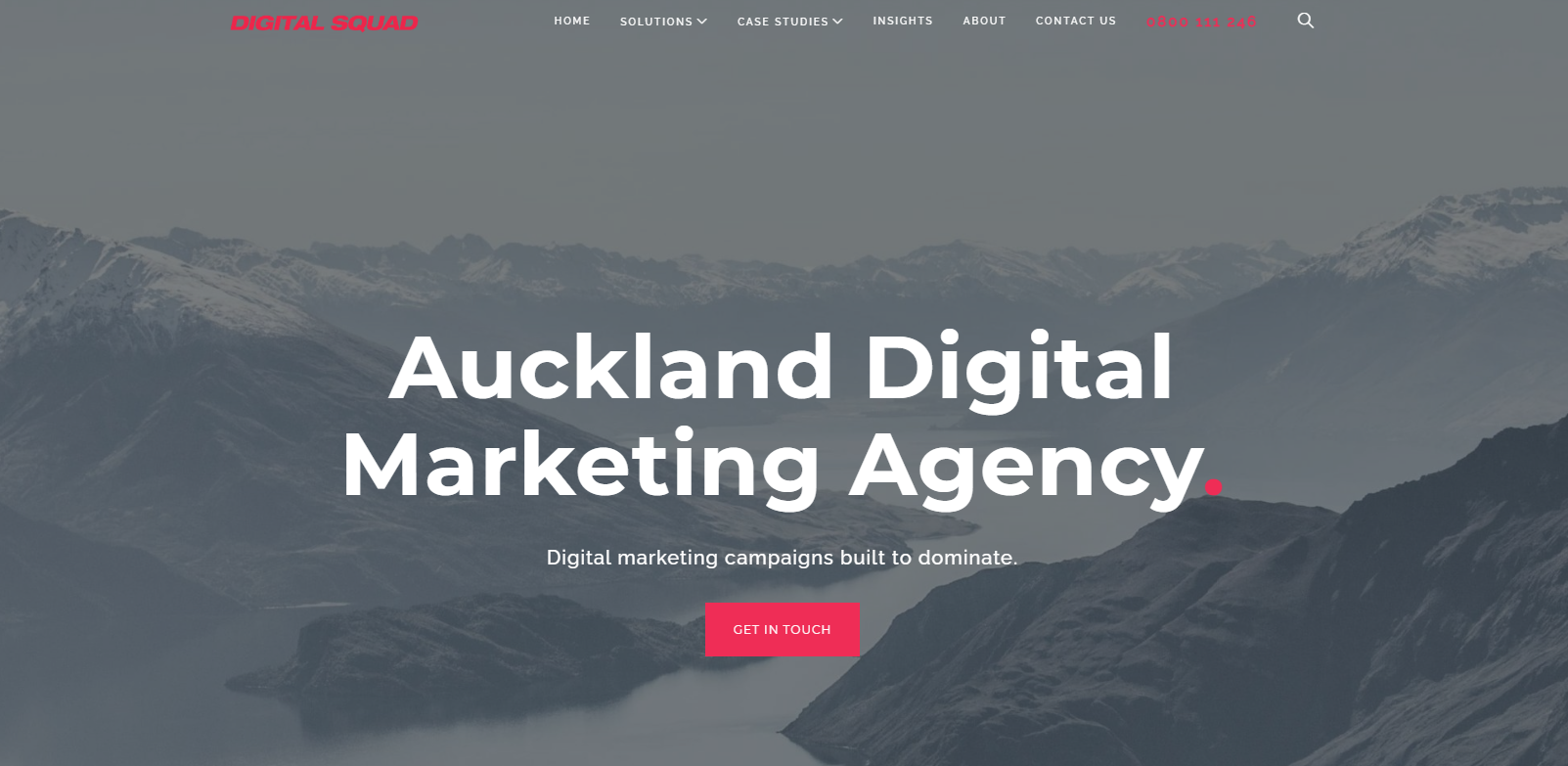 | | |
| --- | --- |
| Areas covered | New Zealand |
| Services | SEO ADWORDS MARKETING REMARKETING B2B MARKETING CONTENT MARKETING PROGRAMMATIC ADVERTISING CONVERSION RATE OPTIMISATION DATA & ANALYTICS MARKETING AUTOMATION INSTAGRAM ADVERTISING FACEBOOK MARKETING LINKEDIN MARKETING YOUTUBE ADVERTISING SOCIAL MEDIA MARKETING BING ADS GOOGLE DISPLAY NETWORK ADS GOOGLE REMARKETING SERVICES GOOGLE SHOPPING SERVICES |
| Address | Level 1, 56 Surrey Crescent Grey Lynn, Auckland 1021 |
| Contact no | 0800111246 | [email protected] |
| Website | https://www.digitalsquad.co.nz/ |
If you're looking for quick results from your next
digital marketing agency
, then you may want to consider Digital Squad. Digital Squad is a multi-award-winning digital marketing agency with bases in New Zealand, Australia, and Singapore. These bases are home to some of the most talented individuals in the field, each and every one specialising in marketing and its various forms. With their combined efforts, Digital Squad has been consistently delivering quality marketing strategies to clients from different agencies. Digital Squad customises each strategy to suit their client, regardless of if it's B2C or B2B, resulting in results faster than what the average agency can give. So, if you're unhappy about your status quo or stuck beneath your glass ceiling, get in touch with Digital Squad today and experience superior digital marketing.
Highlights
Multi-award-winning digital marketing agency
Offers a wide array of customisable digital solutions
Caters to the entirety of New Zealand
Multi-national digital marketing agency
27) GlobalInfo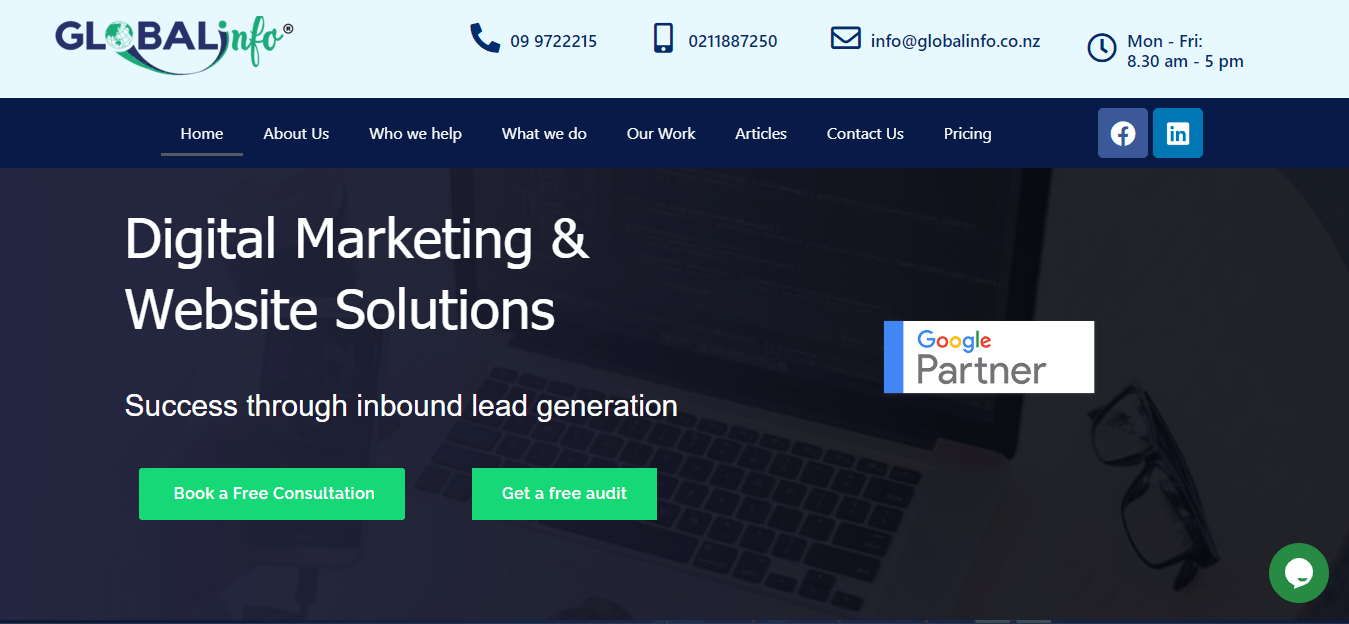 SERVICES

SEO, SEM, Google Ads, Social Media Marketing, Website Design, branding, Logo Design

WEBSITE

https://www.globalinfo.co.nz/

ADDRESS

7/164 Saint Georges Road, Avondale, Auckland 0600

CONTACT DETAILS

+64 9-972 2215 |

[email protected]

OPERATING HOURS

Monday – Friday: 8:00 AM – 5:00 PM
GlobalInfo combines digital marketing and website solutions to make businesses known to their respective target audiences. It has experience in a wide range of industries, including education, entertainment, technology, and lifestyle.
This company has experts in social media marketing, pay-per-click marketing, search engine marketing, and of course, search engine optimization. GlobalInfo is even led by a master's graduate of business management and computer applications.
With these experts under one roof, GlobalInfo can make each website and business marketable not only through aesthetics but also through content.
When it comes to SEO, GlobalInfo can do everything, from keyword research up to press release writing. Because of its comprehensive services, Globalinfo offers both off-page and on-page optimisation.
GlobalInfo also caters to other retail businesses. Clients can even avail of 12-month or 6-month installation programs for GlobalInfo's e-commerce website formation services.
Highlights
Expertise in numerous types of marketing strategies

SEO services include continuous content writing

Accepts a wide range of industries

Accommodates e-commerce websites
Customer Reviews
Here are some customer reviews to tell you more about what you should expect, should you choose GlobalInfo for your SEO needs:
"We love the recent redesign of our website and can't wait to start digital marketing with this company. They are very transparent and helped us going out of the way to achieve what we want. Thank you so much for your work."—WSA Sports
"Best and quick response from Globallinfo all the time,  everything is simple and nicely organized. Would highly recommend. Thanks Globallinfo."—Faiz Uddin
28) Your Web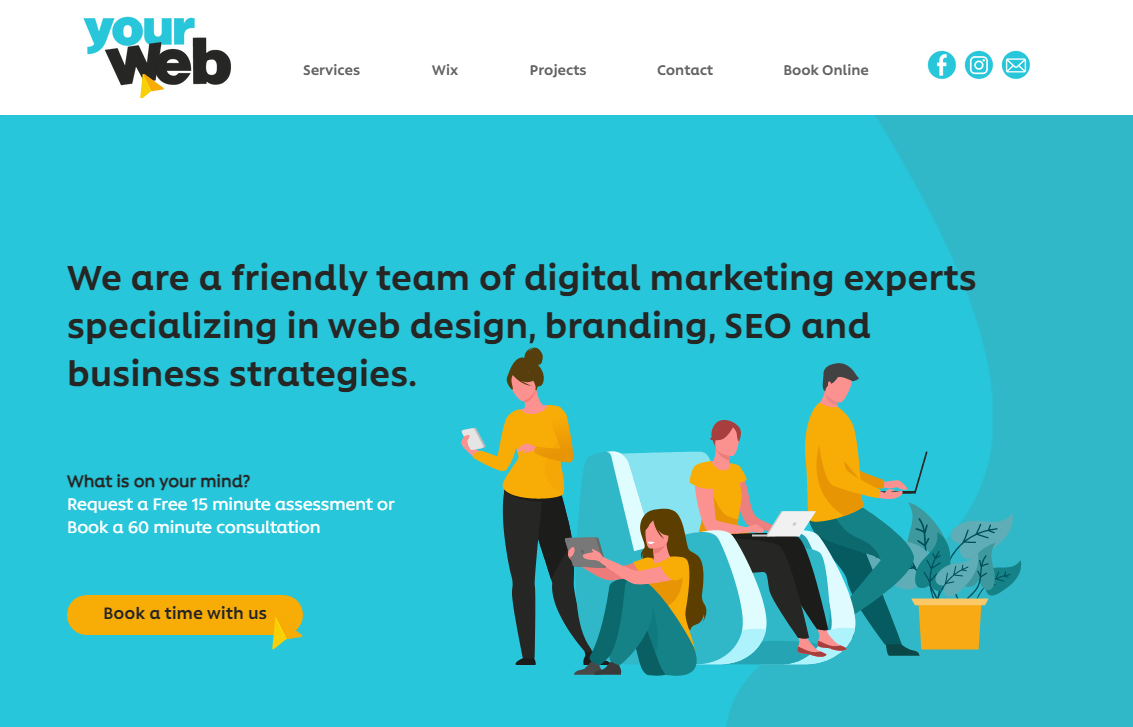 When choosing a digital agency, it's important to take note of its team alongside the range of services it has to offer. The next item on our list is an agency known for its custom solutions and team of digital experts. Locally owned and operated, Your Web is an agency based in Auckland, New Zealand. The agency caters to clients of all sizes, from different industries, and from different parts of the world. Now, in terms of actual services, Your Web provides website development and design, graphic design, content creation, and Search Engine Optimisation (SEO). Its team consists of individuals who are skilled in the aforementioned digital solutions. To top things off, Your Web staff isn't only skilled and knowledgeable, they are also professional, personable, and friendly. Their collective goal is to see their clients' growth, which is why, as much as possible, there is one person assigned to clients to oversee the post-process improvement.
Highlights
Tailored digital solutions

Works with a wide range of industries
Offers complimentary 15-minute consultations
Caters to clients from all around the globe
29) Online Asset Partners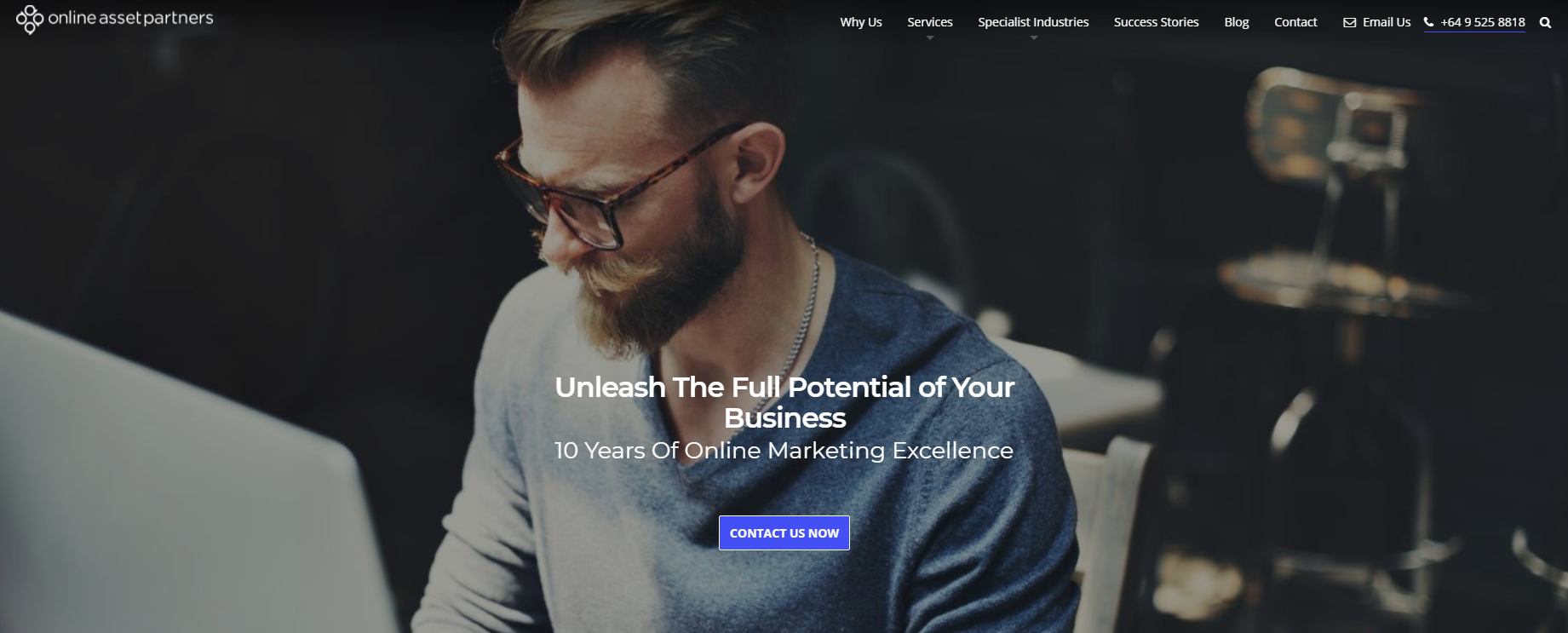 SERVICES
Search Engine Optimisation Google Ads & Bing Display & Retargeting Google Shopping Conversion Rate Optimisation Analytics & Tracking Strategy
WEBSITE
https://www.onlineassetpartners.co.nz/
ADDRESS
208 Ponsonby Road, Ponsonby, Auckland 1011
CONTACT DETAILS
0800 400 736  +64 9 525 8818  

[email protected]

OPERATING HOURS
By Appointment
Next on the list is a digital solutions agency that aspires to help clients unleash their full potential online. Online Asset Partners work to do so by offering a full suite of digital solutions, including but not limited to search engine optimisation, conversion rate optimisation, analytics and tracking, and Google ads and Bing. Now, it's worth noting that every solution that comes from Online Asset Partners is carefully tailored to meet the clients' needs. The firm takes into consideration each clients' brand, goals, and target audience before putting to use data-driven tactics and state of the art technology. The result is quite possibly one of the best digital solutions in all of Auckland. Online Asset Partners, over the years, has proven its prowess in the digital space, having helped clients experience significant growth with their services. To finish things off, Online Asset Partners is made up of talented and skilled individuals who are capable of working with any industry. To date, the firm has worked with clients from competitive industries such as Ecommerce, Travel, and SaaS. This flexibility in terms of clientle, paired with the skills and expertise, makes Online Asset Partners an excellent choice for digital marketing needs.
Highlights
Transparent work and reporting
Works with competitive industries
Effective and efficient solutions
Premier Google Partner with superior software
Honest pricing
30. Wise Dog Web Design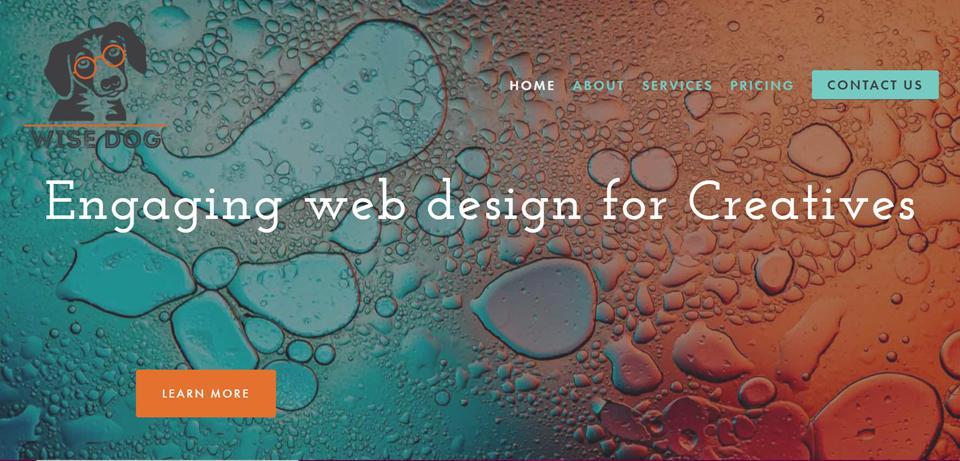 | | |
| --- | --- |
| Areas covered | New Zealand-wide |
| Services | Web Design, SEO, Commercial Photography, Content Development, Proactive Tune-Ups |
| Address | 63 Campbell Road, Onehunga, Auckland 1061, New Zealand |
| Contact no | |
| Website | http://www.wisedogwebdesign.com/ |
Wise Dog Web Design offers the most comprehensive packages for you to take up. They can assure you that you'll be getting all the best features for a more affordable price. With every web design package, you'll also be getting their prime SEO service, which is definitely something you should consider getting. Receive the best traffic for your business website, hire Wise Dog Web Design now!
Highlights
Proactive services recommended
Personalised development and commercialisation
Modern appealing design
Customer Reviews
Here's Kristie Jochim's full feedback on Wise Dog Web Design's SEO service:
"Steve helped me figure out the backend of my website and how to improve my seo. I am now ranking higher on Google because of him! I highly recommend him to any who is struggling with their website!"
31) FWeb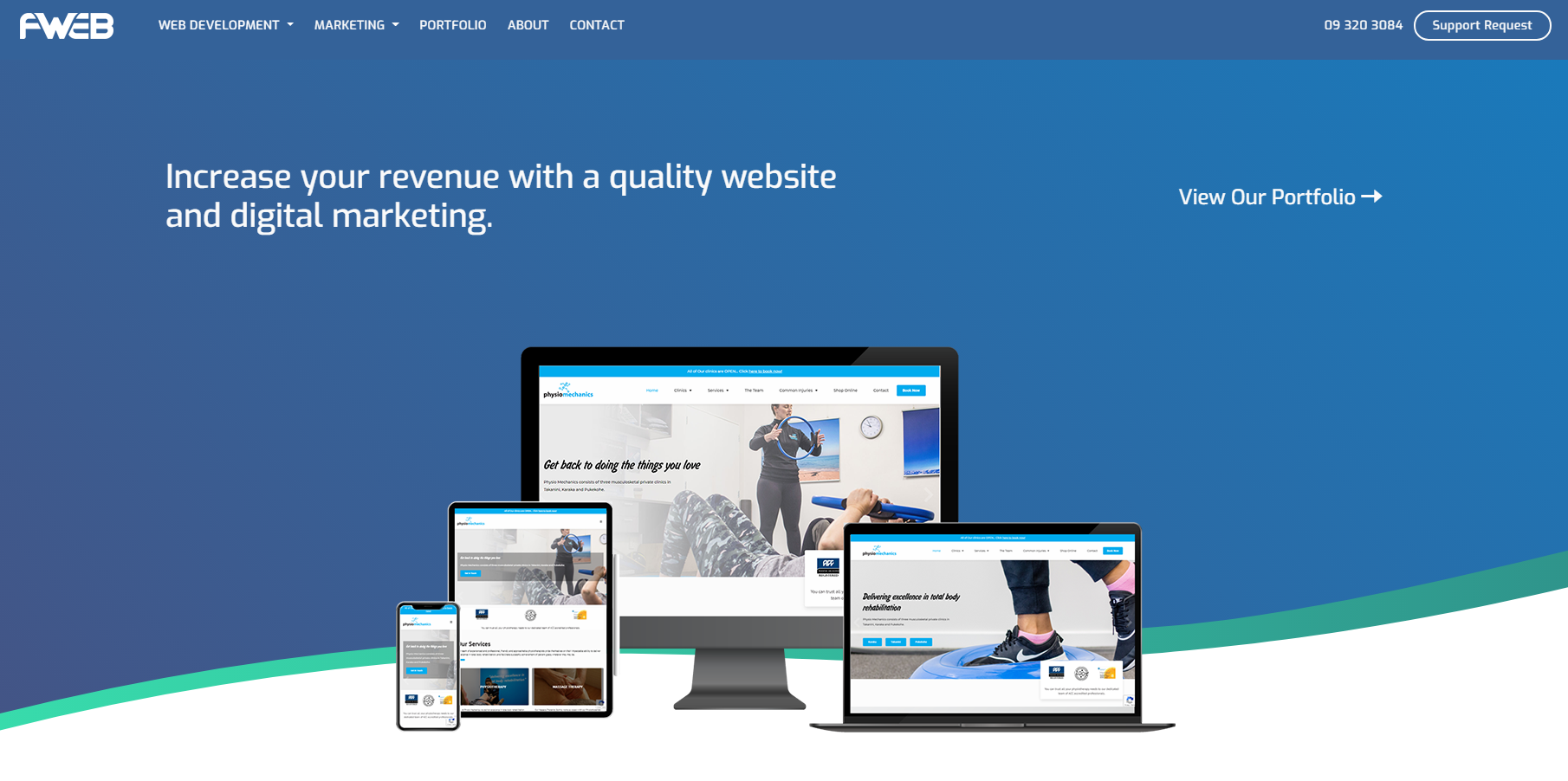 | | |
| --- | --- |
| SERVICES | Business Websites Ecommerce Solutions Website & Email Hosting Content Writing Search Engine Optimisation Adwords Identity & Branding Content Creation |
| WEBSITE | https://www.fweb.co.nz |
| ADDRESS | 6/6 Loft Place, Kumeu, Auckland |
| CONTACT DETAILS | |
| OPERATING HOURS | N/A |
Next on our list is FWeb, a web design and development agency based in Auckland, New Zealand. The FWeb team consists of skilled and trained individuals whose 30+ years of collective experience allows them to competently and confidently work on areas that have to do with web design and development as well as digital marketing. With that said, FWeb offers an array of services that help clients jumpstart their profession online. Some of these services include e-commerce solutions, website and email hosting, search engine optimisation, ad words, identity and branding, and content creation. Every single service that FWeb provides is specially tailored to meet the clients' needs. Those who are new to FWeb can expect the team to perform thorough consultations so that the FWeb team can learn more about the clients' identity (brand) is, who their target market is, and what they have to offer. Afterward, the FWeb team will proceed with a plan of action, not once leaving out the client in every step. This helps ensure that the clients are satisfied with the service and prevents any mishaps from happening. Those who are interested or have further questions can contact FWeb through phone or email.
Highlights
Diverse and highly talented team
Custom-fit services
Offers free consultation
32) Web Antler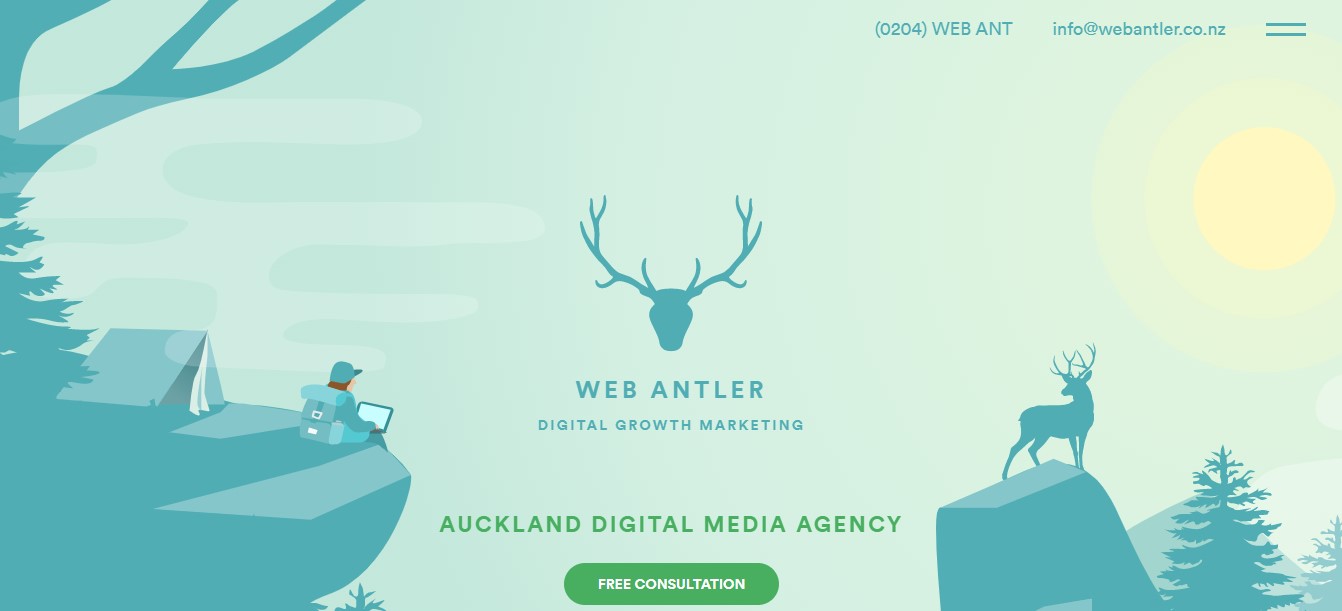 SERVICES

Search Engine Optimization, Conversion Optimisation, Search Engine Marketing

WEBSITE
https://webantler.co.nz/
ADDRESS

5-7 Kingdon St, Level 7, Newmarket, Auckland, 1023 New Zealand

CONTACT DETAILS

[email protected]

|  +64 204 932 268

OPERATING HOURS
Contact for details
Web Antler delivers a whole new level of performance-driven SEO services to growing businesses and brands. We specialise in intent-led search – analysing specific search behaviour and designing SEO strategies to suit. Our high-calibre SEO expertise and cutting-edge tools optimise your website for Google's algorithm so you rank higher on the search results and get the best possible conversion result.
No more paying through the nose for Google Ads or losing customers to competitors with better Google search performance. No more thinking, "But we've already done SEO" and putting it in the finished basket. Having us on board really will be a game changer for your business. We manage website rankings for targeted keywords to ensure brands are appearing in searches that are going to drive optimum results. We provide SEO for businesses that have a local or regional New Zealand focus to ensure strong organic performance in their target geographic area. For larger brands with international websites or target markets, we tailor unique SEO plans for optimum results in each specific country being targeted.
Highlights
Free consultation
Duel SEM / 

SEO

 Optimisation
Local and International 

SEO
33) Wise Dog Web Design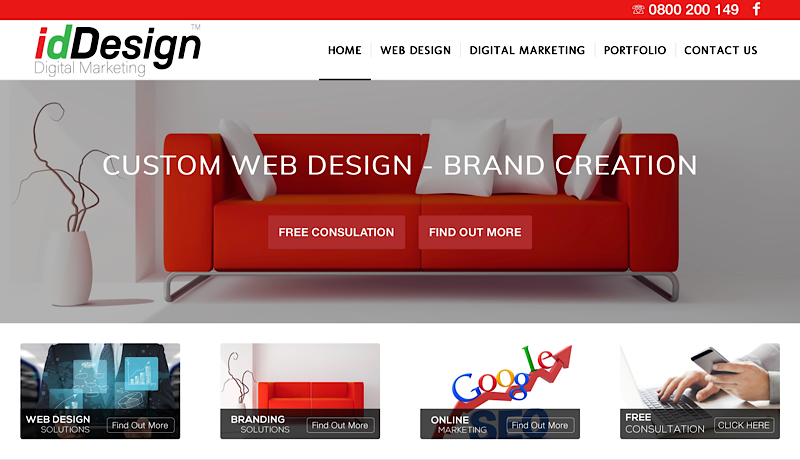 SERVICES

Web Design and Branding Solutions (Website Design & Development, Branding & Logo Design, Brochure & Graphic Design, Mobile and Tablet Compatible Websites, Google Adwords Pay per Click, SEO, Logo Design, E-commerce Web Design, Email Marketing

WEBSITE
https://www.iddesign.co.nz
ADDRESS

14 Basalt Place, East Tāmaki, Auckland 2013, New Zealand

CONTACT DETAILS

[email protected]

0800 200 149

0275 599290

OPERATING HOURS

Monday – Friday: 8am – 7pm
idDesign is a professional website design company that offers personalised web solutions that cater to each of their clients' unique needs. 
They offer a wide range of services from web design and branding solutions to search engine optimization (SEO), and e-commerce web design. 
For those who want to see their previous projects, idDesign has a portfolio available on their website. Some of their past clients include Remarkable Blinds, Prestige Heat Pumps, and Industrial Demolition. 
Their website also provides general information on what potential clients should know before engaging with a web design company. This helps people get insight on what they should be looking for and what to expect.
idDesign offers free consultation to interested clients so they can get an idea of what services to avail. The company can be reached through their website or contact details.
Highlights
Personalised website and branding solutions

Offers an extensive range of services

Free consultation/enquiry

Provides general information on website design
Customer Reviews
idDesign received a rating of 4.1 from Google Reviews. Here are some of their clients' reviews:
"Charles and his team provided my online learning platform with speed and top quality service. idDesign were flexible in their approach and very responsive to resolving challenges as they arose throughout the build process. We are so pleased with the final result!"
– Anita Gill
"
I found this service very helpful and pricing was excellent. I'd design I would highly recommend. I found then very professional and always willing to help."
– Industrial Demolition
34)
SEO Websites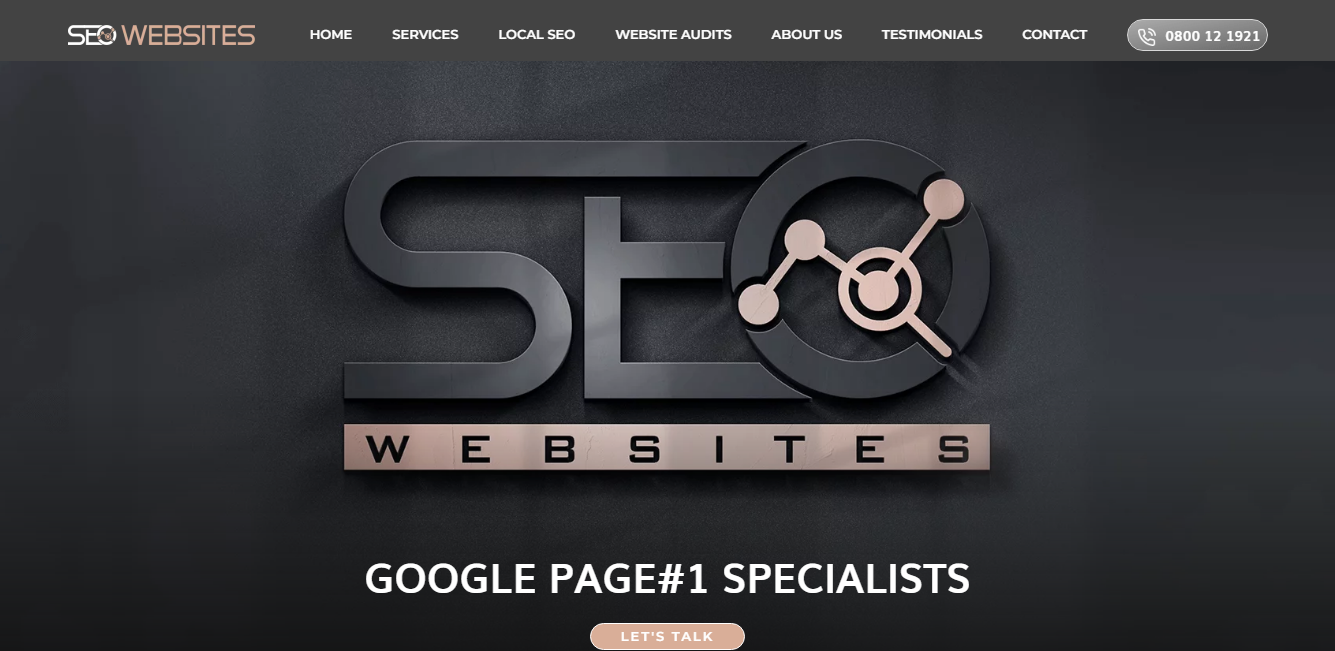 SEO Websites is a SEO agency in Auckland that offers full and complete digital marketing services. Their services are geared to help clients jumpstart their businesses toward the path that they intend their website to reach. They are comprised of a team of expert marketers who not only craft the website for clients but also guide them through the whole process to ensure that they make only the best steps for their goal. Deviating from the common ideal of their services being a quick fix, they approach each project with long term results in mind and cost-effective strategies that aids the company in reeling in profit. However, they do not hold any contracts and packages which could be a variable to consider for businesses keen on such paperwork. Aside from this, they are proud for their 100% retention rate of clients makes them one of the most commended and recommended SEO agencies the new enterprises can look to. Given their top-notch services, and attentive and customer-oriented team, Squid Group is a
digital marketing agency
in NZ well worth considering.
Highlights
Training is also offered
100% client retention rate
Attentive customer service
Customer Reviews
Here are some reviews from their clients:
"Clinton is great to work with. He has a very deep knowledge of SEO strategy across a wide range of business sectors." – Kirsten McHarg
"Clinton has completely transformed our online presence. Our website is now experiencing unprecedented levels of traffic resulting in a huge increase in the number of viable leads. We've no hesitation in recommending SEO Websites!" – Clare Chambers
35) Deeco Studio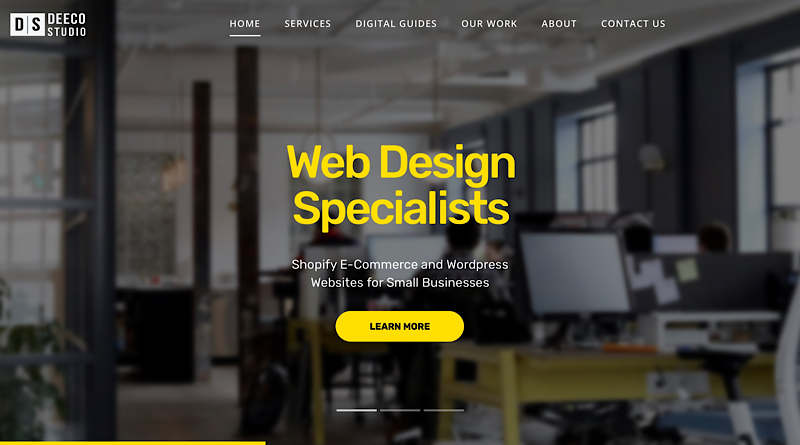 Best for
SEO
Services

Web Design, Search Engine Optimisation, Digital Advertising, Content Creation, Social Media, Analytics & Reporting

Address
Auckland, New Zealand
Contact no

[email protected]

+64 210 228 7113

Website
https://www.deecostudio.com
Founded in 2017, Deeco Studio is a digital marketing company based in Auckland. Besides customized digital marketing solutions, their previous clients have commended their SEO services.
Aside from SEO, some of their services include web design, digital advertising, and content creation. Because they do not stick to one service, they have the capacity to create a holistic solution for their projects.
Deeco Studio has worked with various enterprises such as Kaiser Baas, Logical Toys, and End User. These companies trust them in improving their digital presence to increase their revenue.
Upon request, interested clients can ask for a free quotation of their services. This is really helpful for those who are still undecided about what service they want to avail.
Above all, we like that they have their portfolio visible on their website. Their previous projects can be viewed as testimonials of their work.
Highlights
Customized digital marketing solutions

Offers other services aside from SEO

Has a team of digital marketing specialists

Free quotation is available
Customer Reviews
Here are some customer reviews we found on Google:
"Deeco Studio handle all of our online marketing and SEO beautifully. Easy to deal with, great communication, and last but not least… Great results for our spend!"
– Nick Parkin
"
The Deeco Studio team did an amazing job writing copy for us as well as helping us with SEO! Recommended!"
– Avi Shenkin
36) Topnotch SEO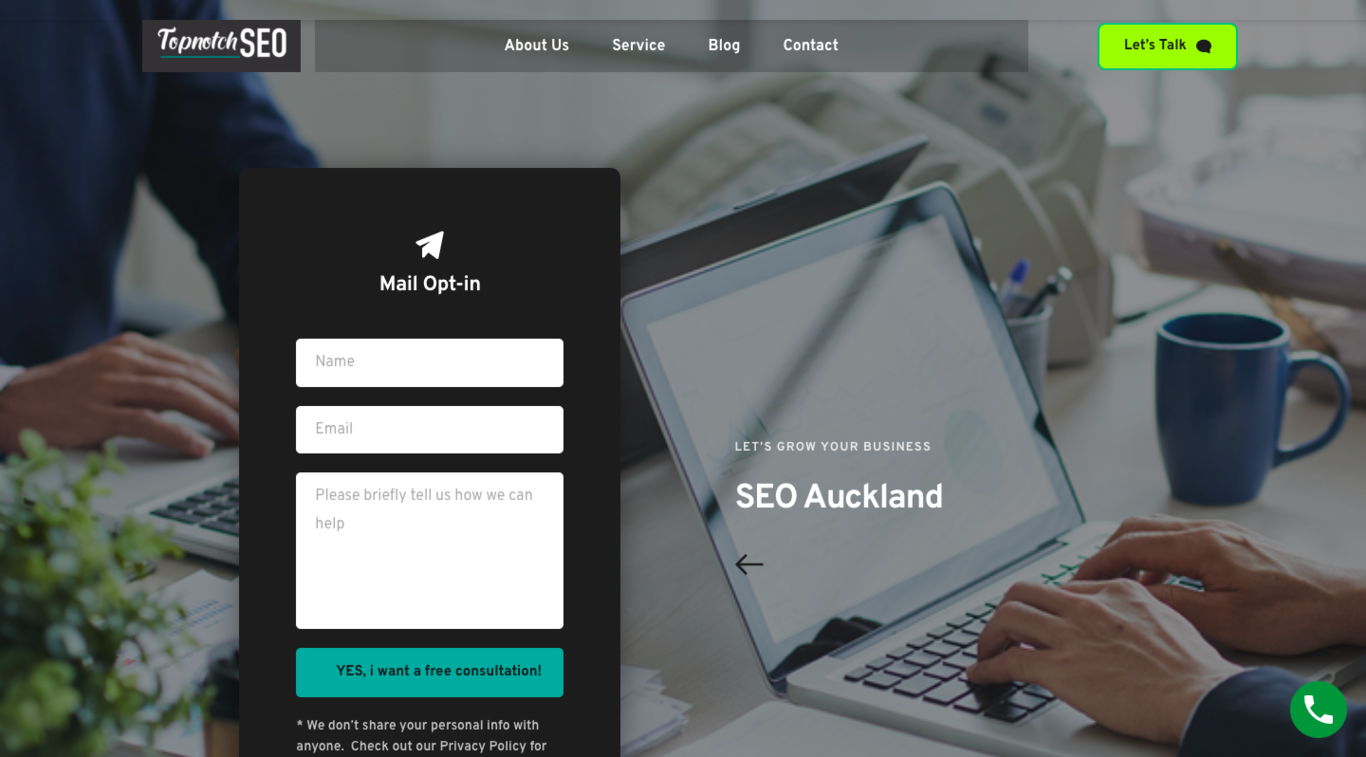 Wondering how to put your new website on the map, like Google's first page? Topnotch SEO can help! They're a New Zealand-based SEO specialist company that has been assisting local businesses have an online presence. They offer to do pretty much everything—keyword research, on-page and technical optimisation, and link building—so you don't have to. What we like about them is that they only use white hat techniques, so you'd never have to worry about getting banned. You can also stop the service anytime you decide that you no longer want to invest in SEO without being charged. Speaking of no additional costs, if anything goes wrong in the process, they'll fix it with no charges. They're very transparent and communicate with their clients well. Overall, clients strongly recommend them for their service, reasonable fees, and great outcomes. Since they specialize in SEO, they might not be the best option if you're looking for a company that covers more bases when it comes to digital marketing.
Highlights
SEO services using white hat techniques

100% transparency

Reasonable fees
Offers free consultation
Customer Reviews
Here are some customer reviews on their website: 
"Topnotch SEO has been My lifesaver. We get quality customer emails almost everyday from almost nil three months ago. I am super impressed with their knowledge and communications."
– Marcus
"Many words can compliment good companies but results speaks to themselves, as an electrical company owner we were able to connect, build rapport with our customers making growth in revenue months by months."
– Allen Y And that's it for the best SEO companies in Auckland. With these, you can bring your website to the forefront and leverage it to get traffic, sales, and membership sign-ups — basically, conversions and attention for your business! Are there any questions you'd like to ask us? If so, please send us a message and we will get back to you in a jiffy. Also, if you have a website that is clunky with SEO — or need an entirely new one — you can read about the
best web designers in Auckland
. We hope it will be of help to you.