The 7 Best SEO Companies in Christchurch
In an age where people find everything online, business owners can lose a lot of customers and profit without an optimised website. That's why we took the time to outline the best SEO companies in Christchurch.
SEO or search engine optimisation matters because it helps a website get to the top pages of its target customers' search results when they use Google. Remember — customers only notice the first page when they search the Web and ignore the rest.
With a good SEO company, your site can get a good enough position in those search results that you're assured of being seen by most of your target customers. So now without any delay, we present to you the best SEO companies in Christchurch to help with that!
1)  Premium SEO NZ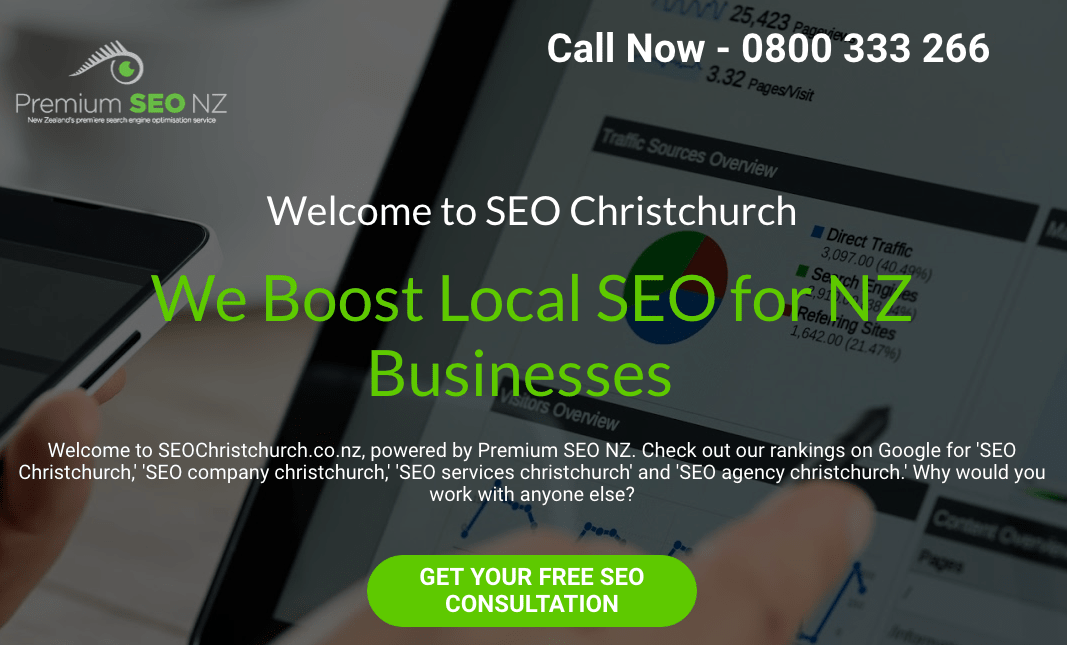 To get to number one in the search page rankings, you can bet on Premium SEO NZ. Ask its clients and they'll tell you that it certainly is one of the best SEO companies in Christchurch.
If you search for SEO Christchurch or SEO company Christchurch or other combinations, you will most likely see this company ranking at the very top or numero uno. That tells you they know what they're doing, SEO-wise.
Besides moving you up the rankings, Tom McSherry can also help you propel your business forward with smart marketing and design optimisations. Soon you will get more calls, traffic and sales than ever before.
Highlights
Get top rankings in search engines
Receive more sales, traffic, and calls
Monthly Report
Customer Reviews
Posted on the website, Adam James from Rock Solid Plastering wrote:
"…He delivered on this and as a result I have been on page 1 on my desired Google searches since and have never been short on jobs and leads as a result. Partnered along with some quality workmanship. Highly recommended."
2)  SEO Elements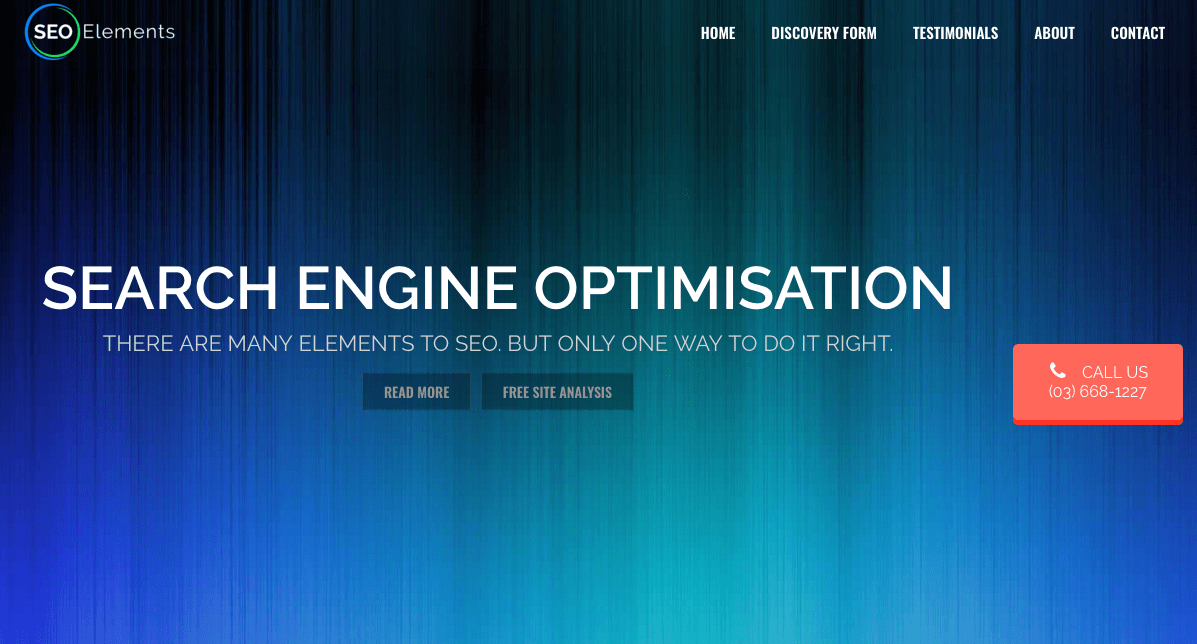 If you have a company way behind in Google's search results, SEO Elements is here to improve it.
Dedicated individuals on their team will organise the SEO and marketing of your website. Some other companies outsource that job to a third-party, by comparison, which makes their work inefficient.
SEO Elements is one of the best SEO companies in Christchurch, though, so they keep most things in-house. You will be a step ahead of your competitors because you'll have a higher ranking thanks to their efforts… and will get more clients as a result.
Highlights
Get the top search spot
Sincere, dedicated team
Earn higher revenues
Customer Reviews
Nicholas De Gillern said on Google Reviews:
"I've worked with Marco from SEO Elements in the past and he always manages to beat my expectations. I get so many more customers visiting my site now than I even know what to do with, so I would recommend his services if you want to grow your business."
3)  Firefly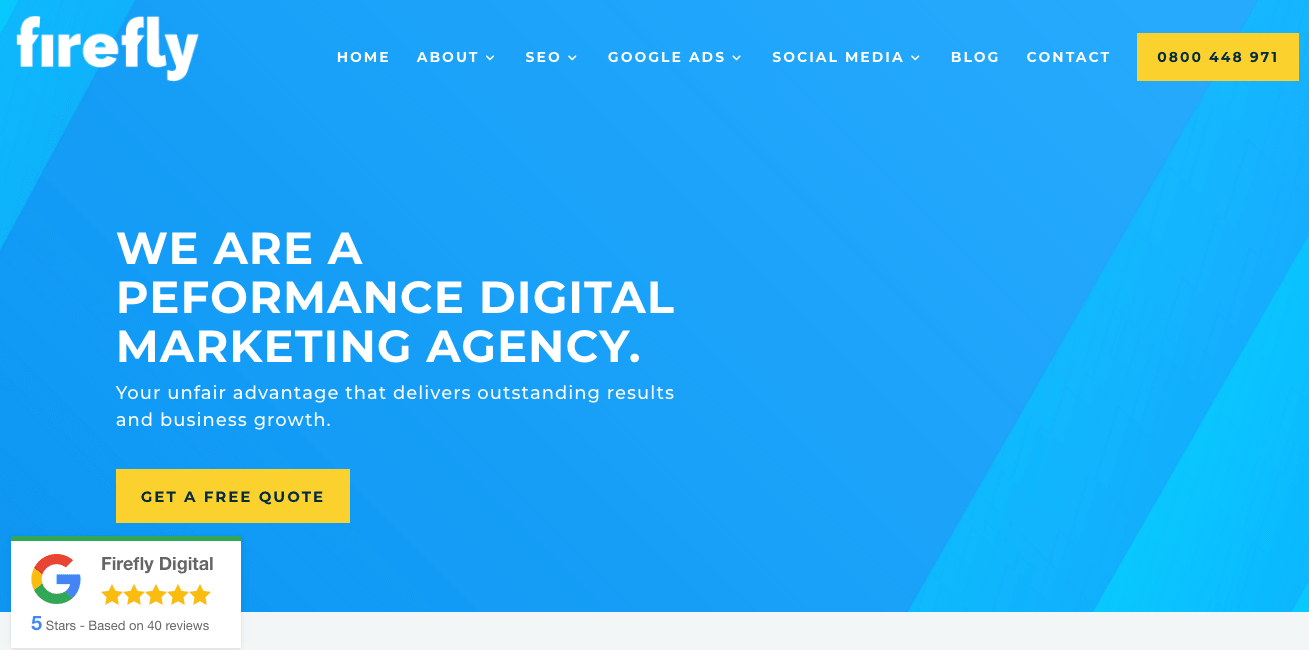 | | |
| --- | --- |
| Areas covered | New Zealand-wide |
| Services | SEO, Guarantee, Audit, Link Building, eCommerce, Reseller, Local |
| Address | Christchurch, New Zealand |
| Contact no | 0800 440 714 |
| Website | https://fireflydigital.co.nz/ |
Synonymous with innovative solutions and white-hat practices, Firefly is one of the best SEO companies in Christchurch. It has won many awards and has been featured in famous magazines for its work.
It starts with a website audit, keyword research, and competitor analysis. Their aim is for your company to rank high in search engines to ultimately grow your business.
Not just that but they also offer local SEO as well as eCommerce. And to reassure you that you're getting value for your money, you get a 90-day guarantee for first page results!
Highlights
Incredible SEO results
Uses white-hat or search-engine-approved methods
Reasonable price
Customer Reviews 
Let's take a look at Ashley Thomas' review from Google:
"Firefly Digital Marketing are an incredible team to work with, they really care about your business and want to see it grow as much, sometimes more than you can even imagine yourself."
4)  Strategus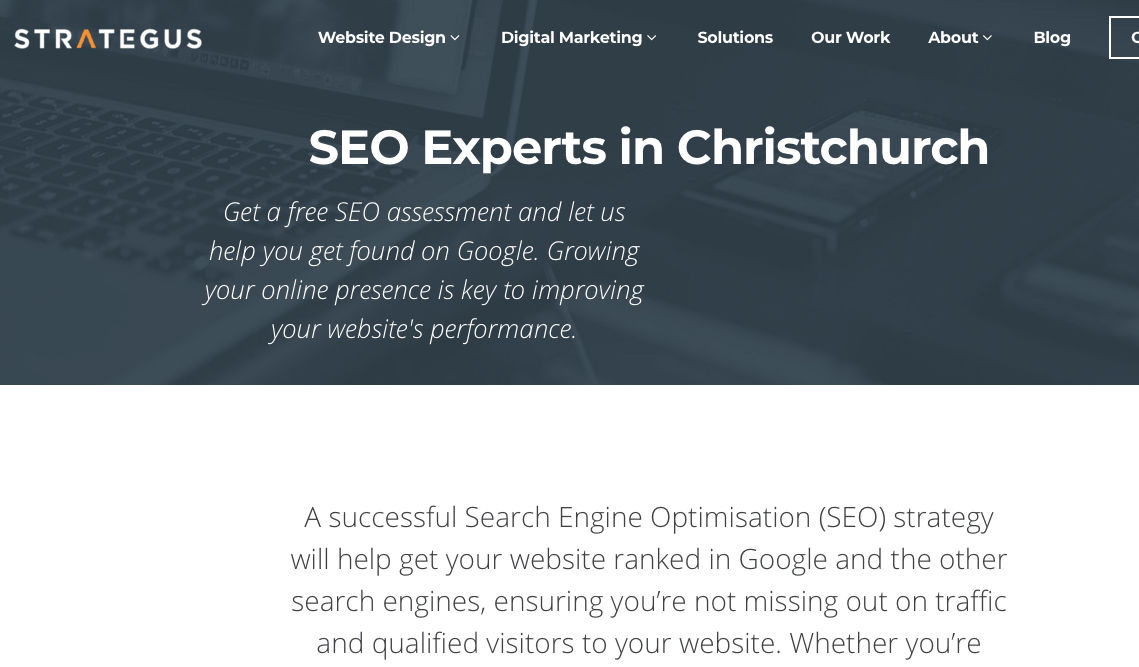 | | |
| --- | --- |
| Areas covered | Christchurch and Nationwide |
| Services | SEO, Website Design, Content |
| Address | 148 Merivale Lane, Merivale, Christchurch 8014, New Zealand |
| Contact no | +64 3 390 2500 |
| Website | https://strategus.co.nz/seo-christchurch/ |
Strategus is a marketing company based in Christchurch, New Zealand. To them, customers come first and every action is centred to them to produce the best results.
Their team can write engaging and simple content and set up the right links so you can get more visitors. Plus they can give your site a complete overhaul in line with SEO rules.
That will undoubtedly get you higher in Google's search results, enabling you to generate more leads, traffic, and sales. If you want to establish your company online, then we strongly recommend Strategus!
Highlights
Customer-centred SEO
Can design your website
Content writing
Customer Reviews
This is a review that is found on the website. Irene from Chocolate Traders said:
"Strategus has significantly improved the amount of organic traffic we are getting. We are now ranking for a lot more targeted keywords with higher results. This is driving direct enquiry and conversion and ultimately growing my bottom line."
5)  Alexanders Digital Marketing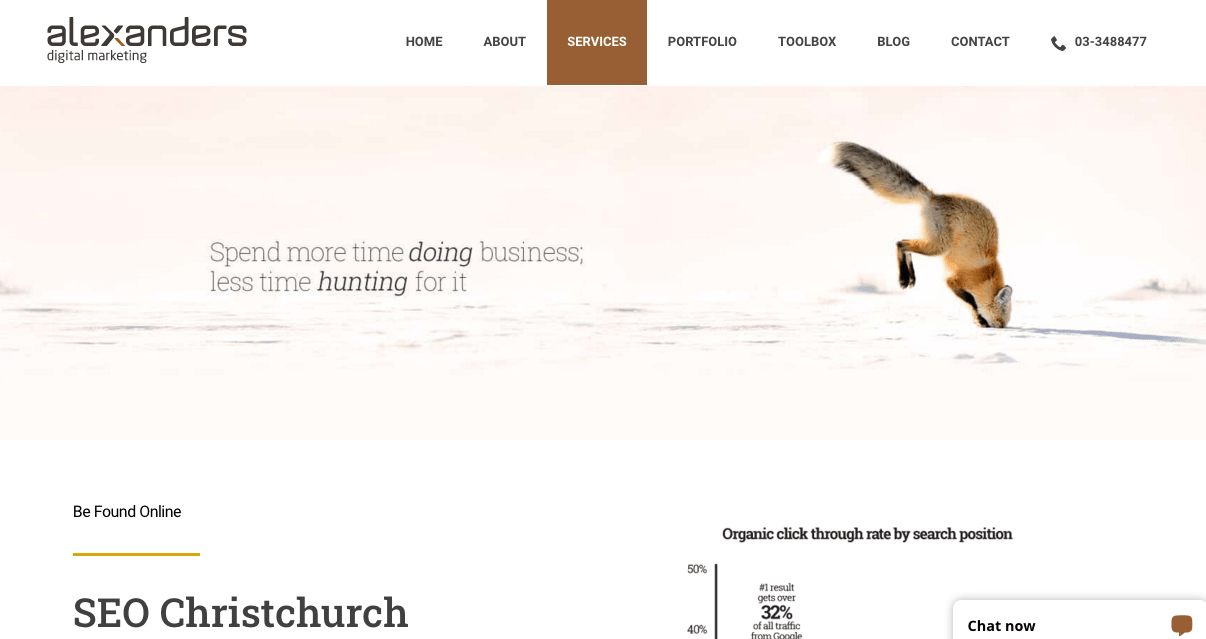 At a loss to set up your online store? Alexanders Digital Marketing has got your back. Their in-house team can organise your products in a platform that's attractive and user-friendly.
Not limited to that, Alexanders can assist you to keep your content interesting and optimised. This will direct a higher traffic to your site and improve your Google ranking which is important.
This company delivers results that will result in new clients, sales, and customer engagement. And there's no hidden fees as the quoted price is the only price you have to settle and nothing more.
Highlights
Extensive SEO services
Competent team
No surprise fees
Customer Reviews
Harry Raul Spicer wrote from Google Reviews:
"World Class" web designers and loyal to their trade. Had a fantastic time working with the team, they really incorporated my ideas and vision into the final result. Highly recommend to all!"
6)  The Digital Marketing Consultants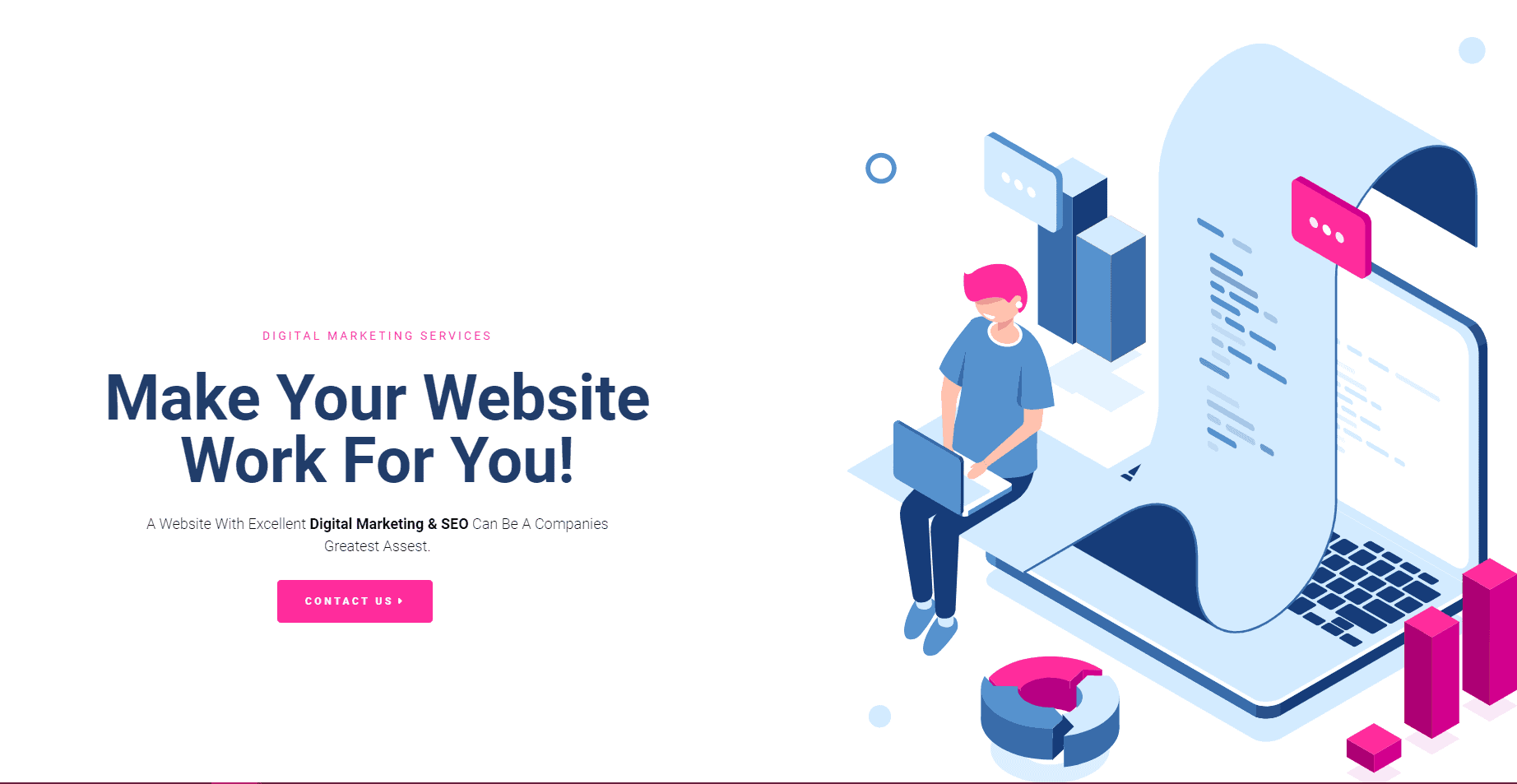 The Digital Marketing Consultants are one of the best when it comes to digital marketing. Social media marketing, website design, and SEO services are just some of what they have to offer.
Their SEO Services are more than capable of getting the job done, and can assist greatly in developing your company's brand identity and bringing in excellent leads. They have numerous types of available that can accommodate your needs, from global and local SEO to SEO for start-ups and enterprises.
No company is too small or big, no project too simple or complex, for their team of highly skilled and specialised SEO experts. They make sure to stay on top of the latest updates in the algorithm so they can continue delivering effective and responsive solutions to their clients.
When it comes to quality SEO services, The Digital Marketing Consultants is a company that's unmatched by many. They'll be happy to assist you with whatever your digital marketing needs be.
Highlights
Bespoke, industry-focused, and cost effective SEO services
Wide range of services available
Serves companies of any size
Skilled team of SEO experts
7) Intermart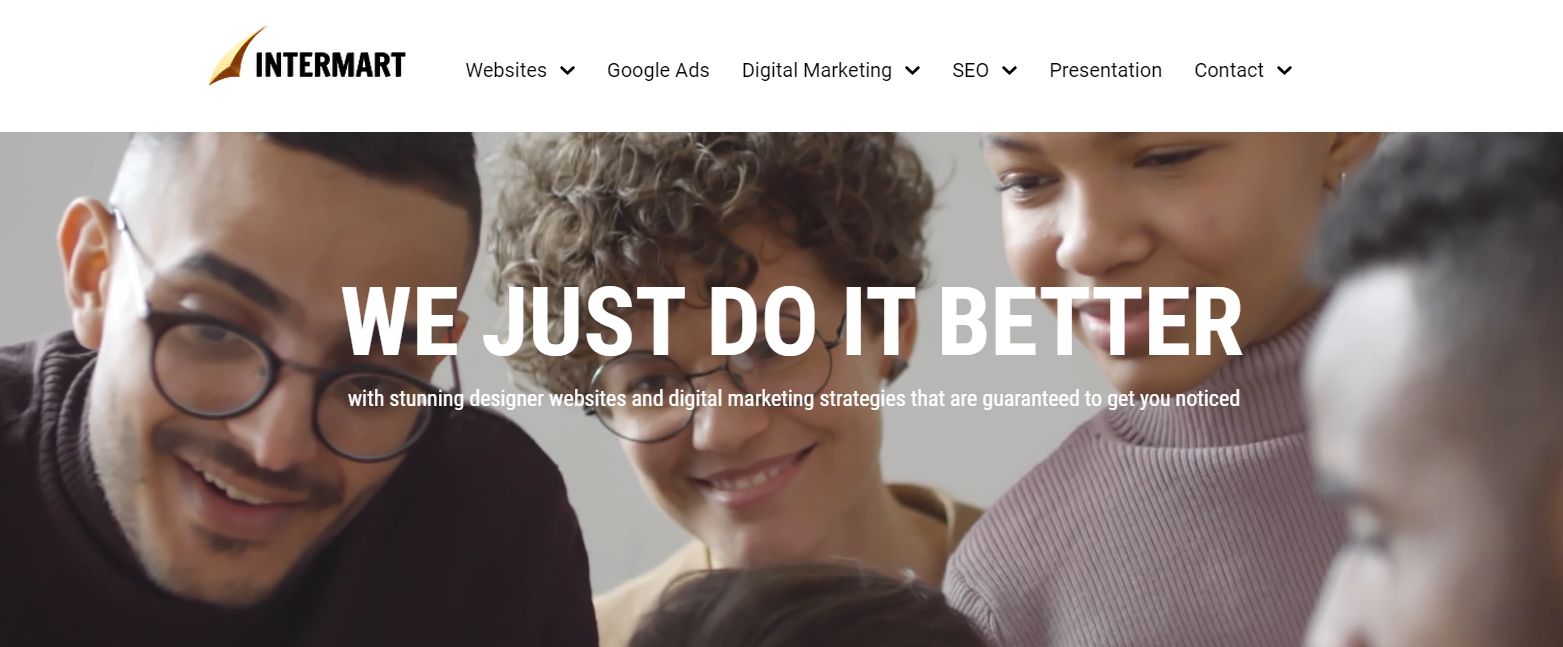 | | |
| --- | --- |
| Areas covered | New Zealand-wide |
| Services | Website Design, Google Ads, Digital Marketing, SEO |
| Address | Christchurch, New Zealand |
| Contact no | 0800 003 062 |
| Website | https://www.intermart.co.nz |
If you're looking for a firm that can help you grow digitally, then you may want to consider Intermart.
Based in Christchurch, Intermart has received awards for exemplary services in website design, Google adds, digital marketing, and SEO.
Now, it's worth noting that Intermart is made up of skilled and experienced individuals whose years working in digital marketing allows the firm to confidently and competently provide tailor-fit solutions.
These individuals endeavour to help small businesses grow, and will never consider using a one-size-fits-all approach to any problem that has to do with the digital space.
Aside from their commitment to quality and individuality, Intermart is also known for its excellent customer service. The team at Intermart is highly professional, and provides top-notch post-service care to all clients.
Highlights
Offers free SEO audits
Mainly caters to small businesses
Primarily a lead generation factory
And those were the best SEO companies in Christchurch. All of these are excellent partners for anyone trying to build a presence for his business online.
Do you have any questions about our list? You can drop us a line and we'll come back to you in a bit.
But if you're not just seeking SEO assistance — if you're creating a website from scratch and need a hand, you can try our list too of the best web design firms in Christchurch. Some of these can sort out SEO for you too.