The 6 Best SEO Companies in Wellington
Doing SEO or search engine optimisation for your website can be quite complex. But then again, most companies can just outsource the task — which is why we've listed the best SEO companies in Wellington today to help you!
We looked around for companies that have a high SEO rank themselves (they have to prove that they can practise what they preach!), fair prices, and great customer reviews. And without any more ado, here are the best SEO companies in Wellington!
1)  Pure SEO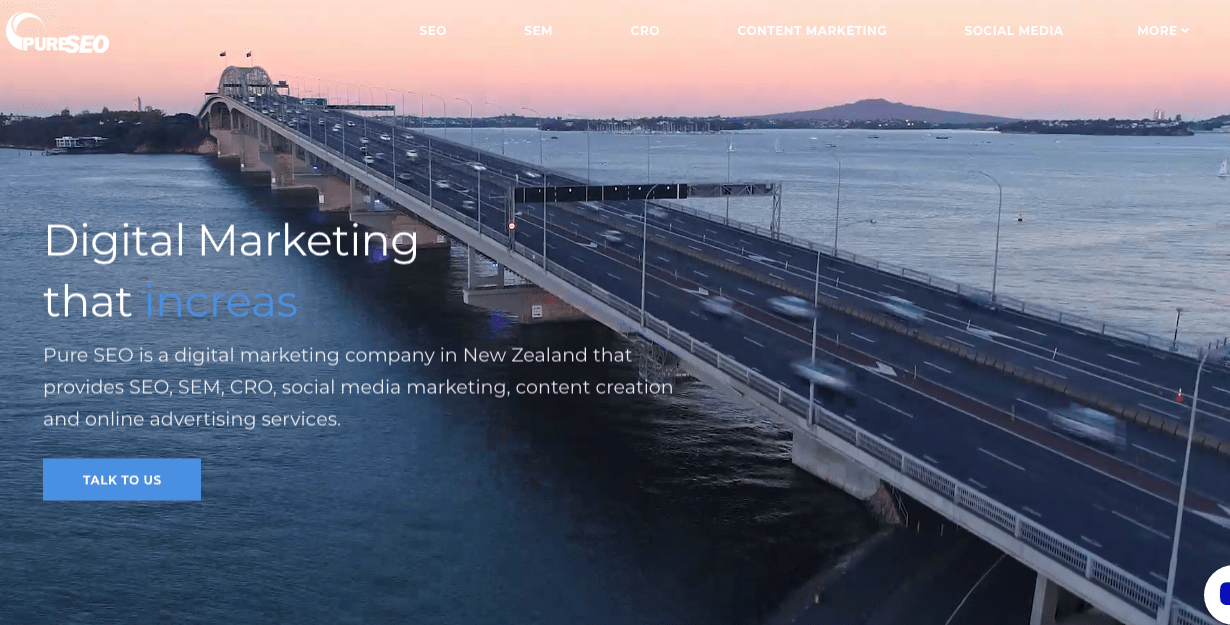 | | |
| --- | --- |
| Areas covered | Throughout Wellington and Auckland |
| Services | SEO, Social Media, Advertising, and Analytics |
| Address | 91 Main Road, Tawa, Wellington 5028, New Zealand |
| Contact no | +64 22 678 1276 |
| Website | https://pureseo.com/nz/ |
For a company you can trust to help your brand grow organically, choose Pure SEO. This firm is made up of digital solution experts who constantly strive to be honest and reliable in all their dealings, offering transparency and the highest quality of work to every client.
Pure SEO offers a comprehensive range of SEO services that can help your company rank higher on Google. Among them are local and international SEO, copywriting, eCommerce, link building, and penalty management.
The firm works closely with clients in every job they take on, learning each brand's intricacies and seeing website flaws (if there are any) and repairing those. Based on Google Reviews, it is also one of the best SEO companies in all of Wellington.
Highlights
Honest with clients
Provides excellent results
White hat SEO services
Customer Reviews
Howard Woolston said on Google Reviews:
"Richard, Ryan and the team at Pure SEO are a breath of fresh air. Their knowledge, experience, skill, dedication and sheer ability to deliver in the search engine marketing space has astounded me. I can not recommend them, highly enough. Well done guys!!"
2)  Aztera Marketing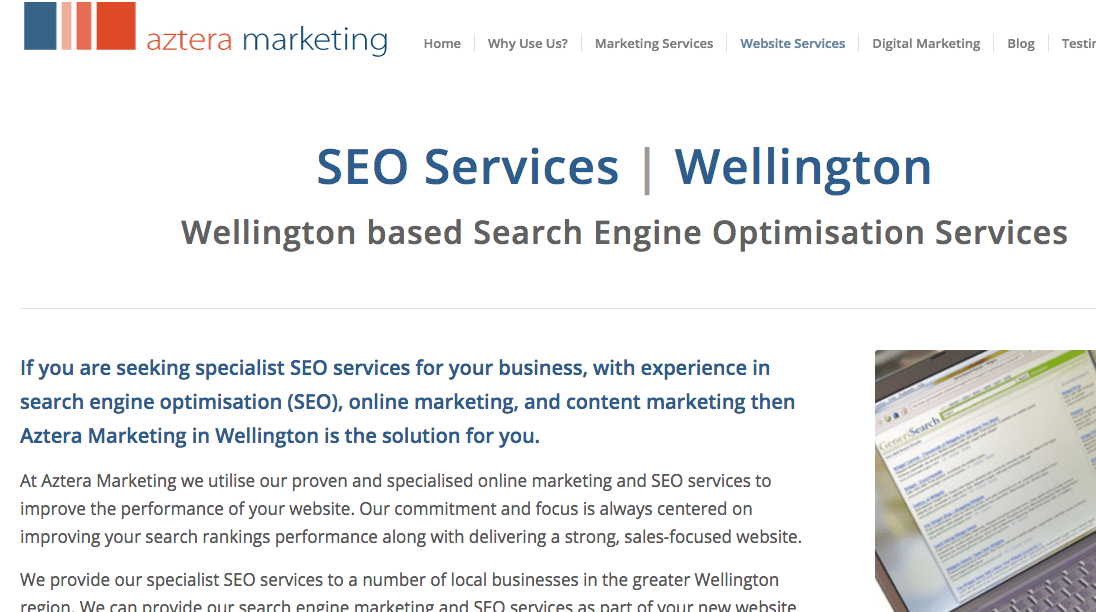 | | |
| --- | --- |
| Areas covered | Greater Wellington area |
| Services | SEO, Backlink, Copywriting, Onsite, Offsite, Audits, and Reports |
| Address | 60A The Drive, Tawa, Wellington 5028, New Zealand |
| Contact no | 04 232 9797 |
| Website | https://www.aztera.co.nz |
If you need SEO services for a competitive rate, call Aztera Marketing! They focus on making your company go up the SERPs (search engine results pages) and specially design your page to encourage sales and conversions.
They work with web developers, graphic designers, and digital marketers to offer you comprehensive SEO services. They can also report to you using analytics, so you always know what's going on with your SEO.
Whether you are rebuilding your website or making a new one, they can fit right in and add the benefit of SEO to you. Before long, you will see improved stats and new sales for your business.
See why we listed them as one of the best SEO companies in Wellington? They pretty much have it all!
Highlights
Get more click-throughs
Reasonable prices
Tailored to your needs
Customer Reviews
Right from the website, Angela from McKeefry Dental mentioned:
"…Aztera was very focussed on meeting deadlines and keeping me in the communication loop. The copywriting was great and I felt particularly pleased that I didn't have to provide every single word (or anywhere near that for that matter)…"
3)  3WhiteHats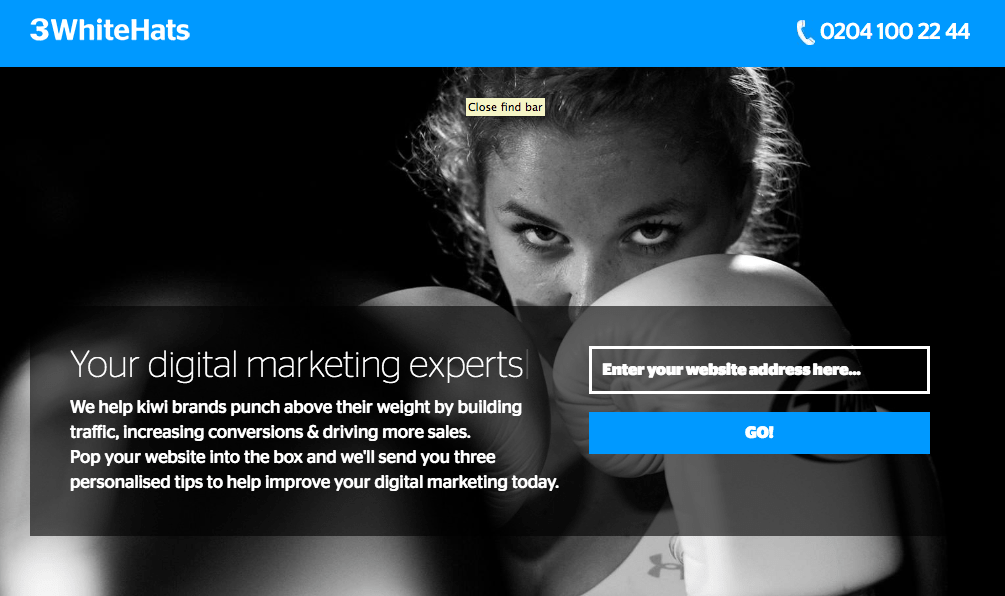 | | |
| --- | --- |
| Areas covered | Wellington-wide |
| Services | SEO, AdWords, Social Advertising, Analytics, Conversion |
| Address | BizDoJo, 115 Tory Street, Te Aro, Wellington 6011, New Zealand |
| Contact no | 0204 100 22 44 |
| Website | https://www.3whitehats.co.nz |
Gain more traffic and sales for your company with the help of the 3WhiteHats digital marketing agency. They have the tools and the technical expertise to boost both brand and revenue.
Their services revolve around SEO, AdWords, social media, conversion, and analytics. They regularly monitor the strategies undertaken for further optimisation or to see if a change is needed.
At any stage of the project, you are free to ask what they are up to or what the current plan is. The team is made up of innovators and keeps your organisation always ahead of your competitors.
Highlights
Get return of investment
Provides you with a solid SEO
Dependable team
Customer Reviews
On Google Reviews, Lucy Megginson states about one of the best SEO companies in Wellington:
"3WhiteHats have succeeded to get my SEO rankings consistently top for my business; their knowledge, insights and expertise has been key to my business success. Nothing is ever too big or too small to tend to and its so refreshing to have such amazing service providers for such a key element of marketing my business. Thank you!"
4)  SEO Elements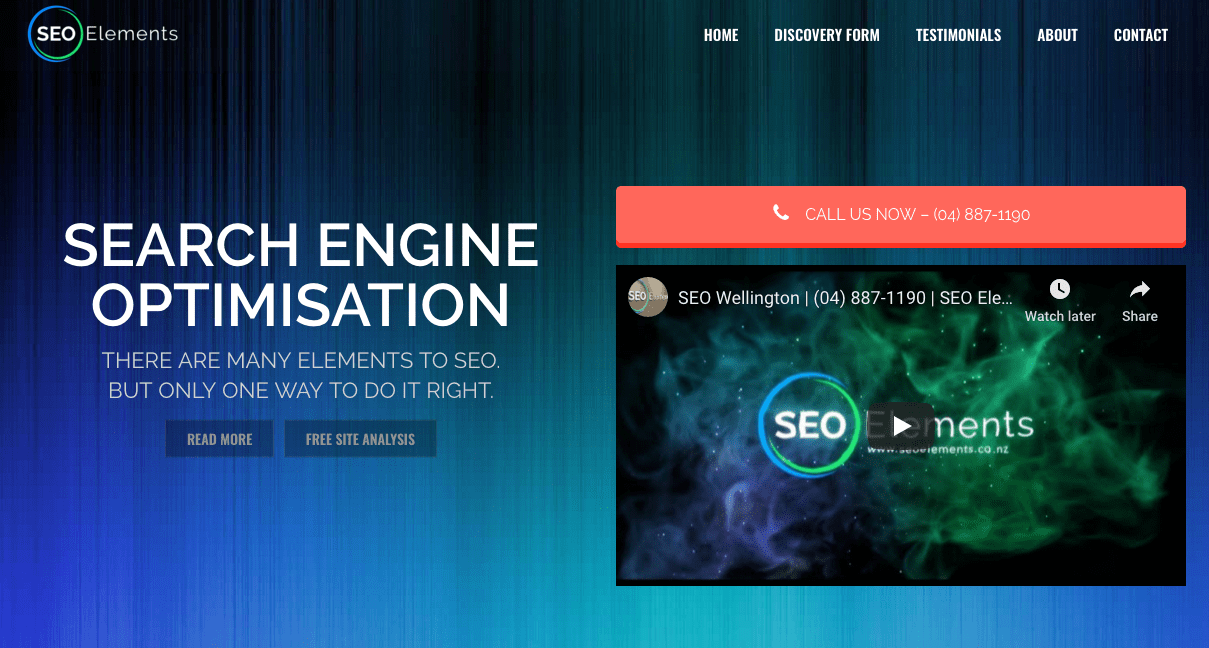 | | |
| --- | --- |
| Areas covered | New Zealand-wide |
| Services | SEO, Reporting |
| Address | 170 Taranaki Street, Te Aro, Wellington 6011, New Zealand |
| Contact no | (04) 887-1190 |
| Website | https://www.seoelements.co.nz/ |
If you want your company to be and remain on top, SEO Elements has what it takes. The Wellington-based company comprises a team that always innovates and achieves to advance your business.
They keep their word all the time and provide exceptional value for the clients. Reporting is done monthly to continually assess, evaluate, or improve your SEO actions, which is why they're among the best SEO companies in Wellington.
And you are not bound to any contract, however long or short the term. That means you can drop out of the project if you feel their service is not satisfactory and they will be cool with it.
Highlights
Top quality SEO
Conducts a monthly report
No long-term contracts
Customer Reviews
Simon Stafferton gives a review as posted on the website:
"Marco has a thorough understanding of digital marketing, and knows how to traffic into customers. It's rare in this industry to find someone who knows online marketing and search engine optimisation and does it well, and Marco delivers. His ability to think outside the box delivers great results for his clients. I highly recommend him."
5)  Clickthrough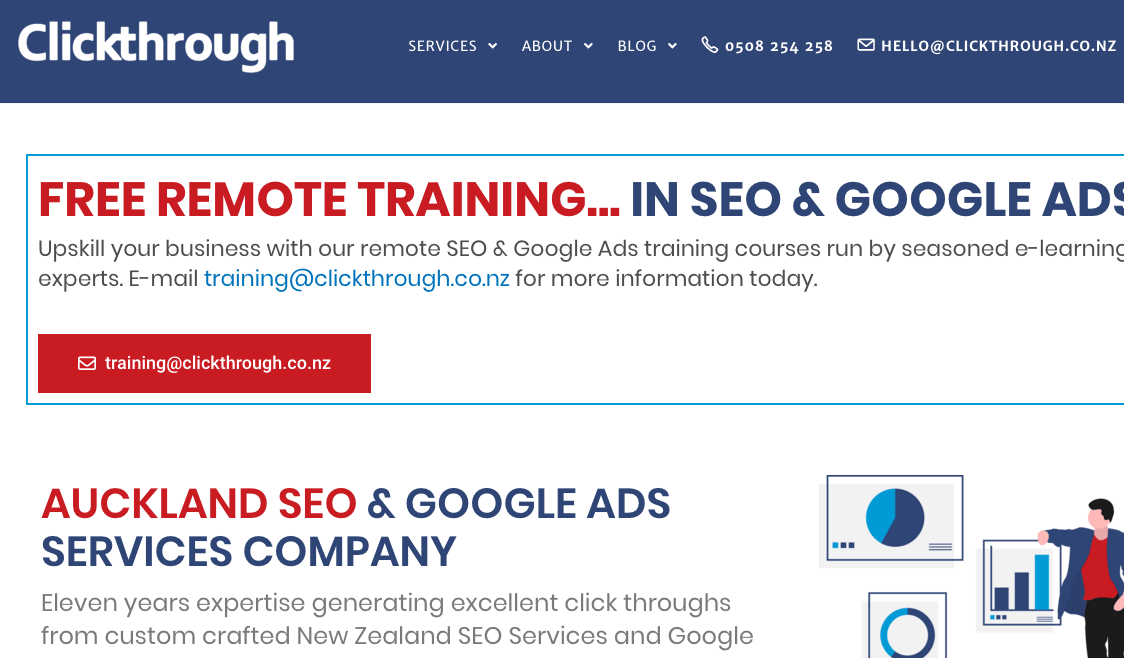 | | |
| --- | --- |
| Areas covered | Wellington-wide |
| Services | SEO, Copywriting, Google Ads, and Analysis |
| Address | 157 Lambton Quay, Wellington 6011, New Zealand |
| Contact no | 04 595 1208 |
| Website | https://www.clickthrough.co.nz/ |
Clickthrough is an SEO and SEM firm that specialises in tailor-made solutions. It was formed in 2009 with the aim of fostering company growth through the use of digital marketing.
Because each business is different, they employ a customised approach to find the perfect solution for you. In effect, you will draw the right customers, sell the right products, and have the right market.
They offer a full range of services that sharpens your SEO. Examples are copywriting, auditing, online store, video optimisation, and also training courses.
Highlights
Personalised solutions
Meaningful ROI
Full range of services
Customer Reviews
Jerrod Griffith is very satisfied with Clickthrough's help. He noted:
"We have been with Clickthrough for over a year now with our eCommerce store. I am impressed with their strategy, transparency and reporting, their ethical approach and most of all the results we have achieved…"
6)  The Digital Marketing Consultants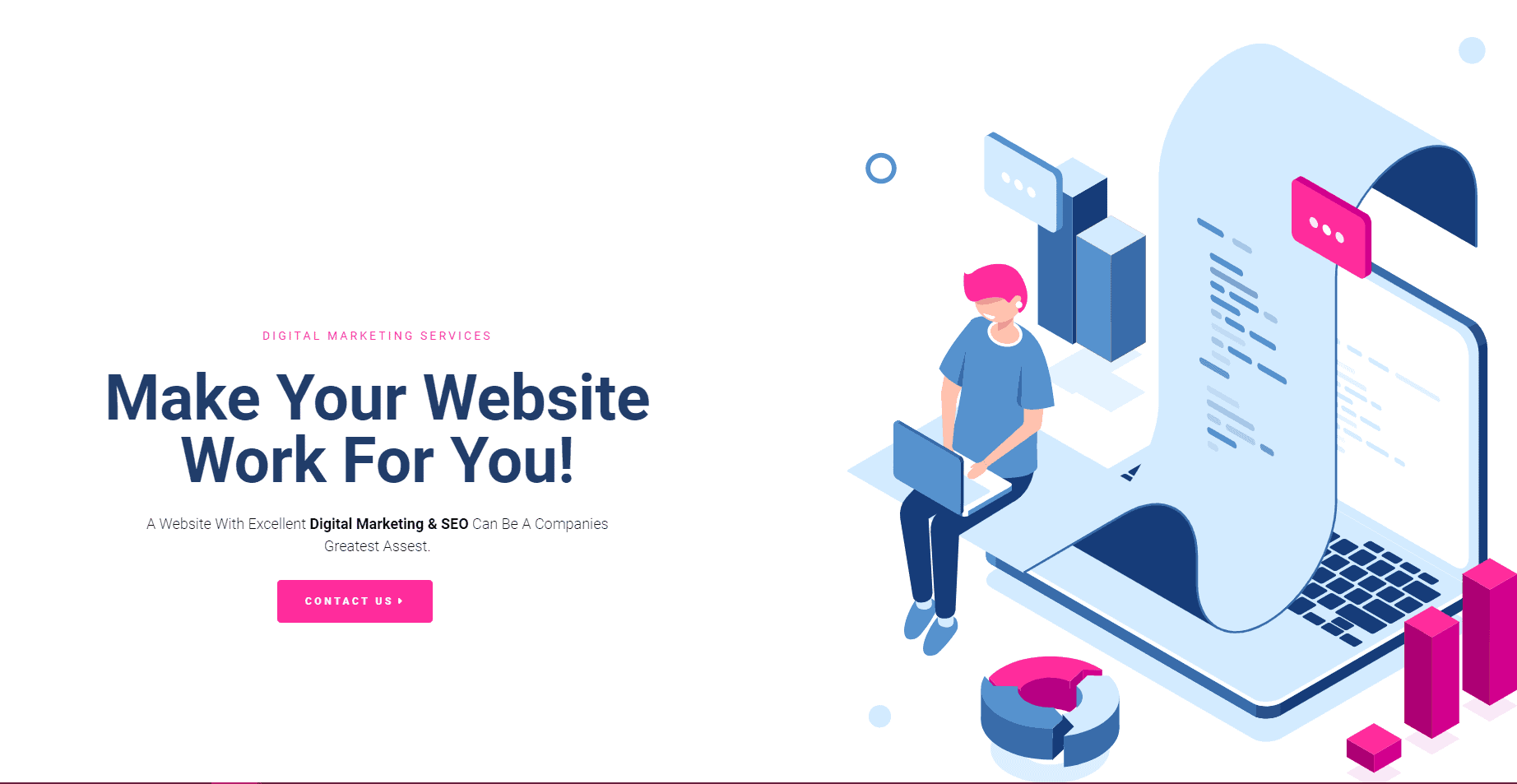 The Digital Marketing Consultants are one of the best when it comes to digital marketing. Social media marketing, website design, and SEO services are just some of what they have to offer.
Their SEO Services are more than capable of getting the job done, and can assist greatly in developing your company's brand identity and bringing in excellent leads. They have numerous types of available that can accommodate your needs, from global and local SEO to SEO for start-ups and enterprises.
No company is too small or big, no project too simple or complex, for their team of highly skilled and specialised SEO experts. They make sure to stay on top of the latest updates in the algorithm so they can continue delivering effective and responsive solutions to their clients.
When it comes to quality SEO services, The Digital Marketing Consultants is a company that's unmatched by many. They'll be happy to assist you with whatever your digital marketing needs be.
Highlights
Bespoke, industry-focused, and cost effective SEO services
Wide range of services available
Serves companies of any size
Skilled team of SEO experts
And that's all for the best SEO companies in Wellington. With their assistance, your company will soon be among the top items on the search results pages!
Are there any questions you'd like to ask us? You can send us a message and it won't take long for us to reply.
And for those living in Auckland, we have an article for SEO companies too. You can try the best SEO companies in Auckland.
Lastly for the people of Christchurch, you can just read our list of the best SEO companies for Christchurch! They can work on your website to get a lot of engagement and traffic too.