The 9 Best Serviced Apartments in Auckland
Image credit: Quest New Zealand Accommodation
Looking for a cheaper place to stay than a hotel? If you said yes, you're on the right page, as we've compiled a list of the best serviced apartments in Auckland here for you.
We selected those with neat, comfortable and well-equipped rooms. In addition, we went for those that have convenient locations, affordable rates, and positive reviews.
Let's get started with the absolute best serviced apartments in Auckland!
1) Auckland Waterfront Serviced Apartments

| | |
| --- | --- |
| BEST FOR | Fully appointed serviced apartments |
| SERVICES | One Bedroom Two Bedroom Three Bedroom |
| WEBSITE | https://aucklandwaterfront.co.nz/ |
| ADDRESS | Prince's Wharf, 143 Quay St, Auckland, New Zealand |
| CONTACT DETAILS | 0800 287 123 +64 21 972 401 |
| OPERATING HOURS | — |
Auckland Waterfront Serviced Apartments (AWSA) is perfect for staycations and is conveniently located in the vibrant metro. It is situated on the edge of the spectacular Waitemata Harbour.
You can check-in for a minimum of two nights and have access to complete room facilities and furnishings, including a washer, dryer, and kitchen equipment.
Their cosy rooms have living rooms and cable TV for watching sports and movies. On the balcony, you can sit and enjoy the romantic harbour view with your spouse.
Guests are also provided with a welcome set of fresh milk, tea, and cereal. For your other needs, you can go to the local supermarket within walking distance.
Highlights
Perfect for staycations
Fully appointed rooms
Wonderful views of the harbour
Centrally located
Customer Reviews
Take it from one guest, Richard P., who wrote a review of AWSA, one of the best serviced apartments in Auckland:
"Outstanding view of Auckland Harbour from a well appointed appartment with secure/private access with a dedicated parking space. We were greeted by the owners who were very helpful and they made us feel welcome. Highly recommended as the views and location are perfect for a city break in Auckland."
2) Quest Apartment Hotels

If you want a serviced apartment with a relaxed hotel ambience, look no further than Quest Apartment Hotels. It is centrally located in Auckland's Central Business District.
Quest serviced apartments offer a range of options suited to your needs. They have studio, studio executive, one-bedroom, two-bedroom, and three-bedroom executive apartments.
Their studio-type room is great for one or two people and is appointed with a kitchenette. On the other hand, the one and two-bedroom apartments are ideal for families and larger groups.
Of course, Wi-Fi access is available, so you can surf or stream to your heart's content. There's also an on-site restaurant and plenty of parking space at the premises.
Highlights
Relaxed and comfortable apartment hotel
Offer a range of options
Great central location
Have an on-site restaurant
Customer Reviews
Let's hear about Tigs S.'s feedback of Quest Apartment Hotels:
"One of the great places to stay in Auckland CBD and affordable with good items and needs already provided for you. Bed is comfy and they have a good shower. A relaxing place with balconies."
3) Waldorf Tetra Serviced Apartments

BEST FOR
Competitive apartment rates
SERVICES
Studio Apartments One Bedroom Apartments One Bedroom Superior Apartments Two Bedroom Apartments Two Bedroom Superior Apartments
WEBSITE
https://www.waldorf.co.nz/en/tetra/default.html
ADDRESS
85 Wakefield St, Auckland CBD 1010, New Zealand
CONTACT DETAILS
09 336 9000

[email protected]

OPERATING HOURS
—
Are you travelling and need a place to stay for a day or two? If so, Waldorf serviced apartments would be a perfect choice.
They have lower apartment rates compared to others, with prices starting at just $115 per night. They also offer membership rates and special discounts on their website.
You will greatly enjoy their fully-appointed modern rooms. If you're staying for more than a week, their housekeeping staff will clean and tidy your room each week.
Highlights
Best rates
Fully-appointed modern rooms
Perfect for short- or long-term stays
Lots of special offers and discounts
Customer Reviews
Let's see what Antony P. has to say about his experience at Waldorf Tetra Serviced Apartments:
"Stayed here at the start and end of my NewZealand trip, check in was easy the rooms were fine for what we needed. Only issue is that it doesn't have its own parking, there is parking across the road that's $25 a night (which isn't that bad really for a city centre parking lot)."
4) Quinovic Viaduct

BEST FOR
Outstanding service with a personal touch
SERVICES
Short-Term Rentals Long-Term Leases
WEBSITE
https://quinovic-viaduct.co.nz/
ADDRESS
125 Customs Street West, Auckland CBD, Auckland 1010, New Zealand
CONTACT DETAILS
+64 9 302 1458

[email protected]

OPERATING HOURS
—
Quinovic Viaduct leases quality and privately-owned serviced apartments in Auckland and the surrounding suburbs like Newmarket, Ponsonby, and Freemans Bay.
They pride themselves on their fully furnished and wonderfully decorated rooms that will make your stay all the more pleasant, whether it be for the short or long term.
As one of the leading serviced apartment leasing companies, they have had film crews, sports teams, and sporting event visitors as their guests before.
One client said that the team had been professional while providing personalised service. With so many glowing customer reviews, they are considered one of the best serviced apartments in Auckland.
Highlights
Fully furnished rooms
Professional and caring team
Offer short- and long-term lease
Have apartments in Auckland and the surrounding suburbs
Customer Reviews
Check out Garth R.'s review of Quinovic Viaduct:
"As an apartment owner I would greatly recommend Quinovic Viaduct. In my experience they have been professional in every way whilst maintaining that personal touch."
5) Adina Apartment Hotel Auckland Britomart

Adina Apartment Hotel Auckland Britomart offers the perfect serviced apartments for both business and casual travellers. Their apartments are close to corporate offices and attractions.
With spacious, modern, and fully-appointed apartment options, it's one of the best serviced apartments in Auckland.
Furthermore, they also have facilities like a cafe, bar, lobby, gym, and meeting room facilities where you can stay healthy, comfortable, and be able to indulge yourself in great food and wines.
And when you go outside, there are countless things to do. You can take in the serene waterfront view at Quay Park, shop at signature boutiques at Britomart, and board the ferry to Waiheke Island whilst enjoying the wonderful landscapes.
Highlights
Spacious, modern, and fully-appointed rooms
Ideal for business and casual travellers
Excellent location
Complete facilities
Customer Reviews
One guest, Makere E., shared this review about her stay at Adina Apartment Hotel:
"Amazing always is amazing. My favourite hotel apartment to stay. Everything is amazing frm the experience, to the service, the food and the amazing rooms always have the best sleep. Love the staff they are all so kind and helpful. Sam is the best too he's always looking after me very well. Feel so good staying here. I stay here alot and I can never see myself staying anywhere else in Auckland it can't get an better than this. I highly recommend to stay here you won't be disappointed trust me."
6) Princes Wharf Boutique Apartments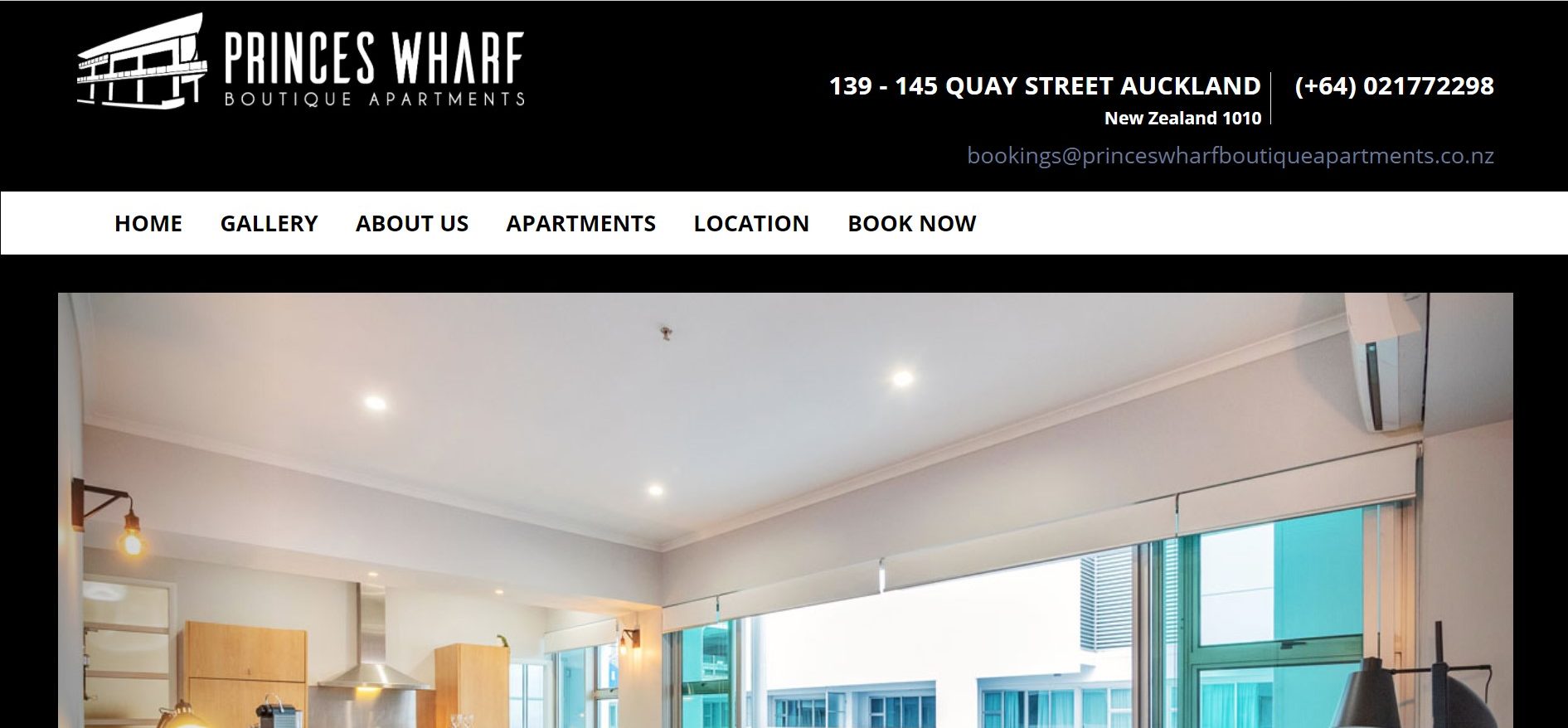 Princes Wharf Boutique Apartments offers one of the best accommodation options in a top location, close to the lively viaduct and walking distance to the CBD. There are many transportation services including the ferry to take you to many other locations in and around Auckland. They also have amenities you won't easily get anywhere else by providing a smart TV with Netflix, unlimited Wi-Fi,  A washer/dryer, full kitchen, private patio and BBQ.
It's definitely a great place to stay as you get everything you may need while staying, it's a 'home from home' for a competitive price.
Don't waste your time, book now!
Highlights
Best rates on offer
Comfortable apartment style
Clean and spacious
Designer decor
High-quality facilities
Customer Reviews
Below are some of the reviews left on Princes Wharf Boutique Apartments' website:
"I will be back. Fantastic apartment in a great location. So close to many restaurants and bars but in the quietest part of the wharf. Waterfront meters away. Really comfy bed. Host was quick to respond. Loved my stay and will be back"
"Great property, so nice and close to everything but also pretty quiet for being in the middle of the city. Beaut restaurants right at the door step. Property was clean and tidy and the host had great communication – thank you for this."
7) City Stays Auckland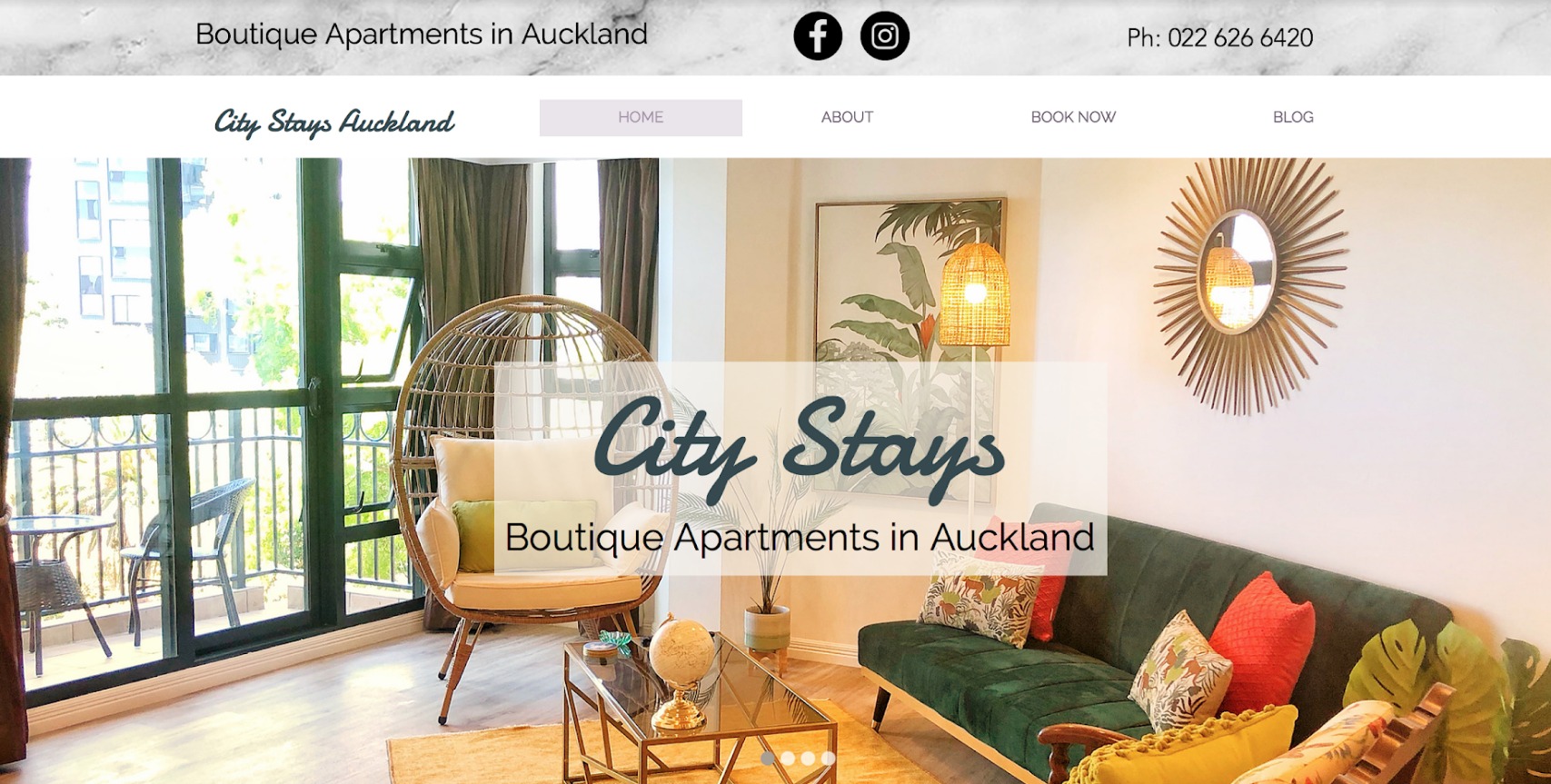 City Stays Auckland offers the best boutique apartment stays in Auckland. Each apartment is maintained properly and come with an extensive set of furnishings and amenities.
Short and long stays are welcome, with the latter having discounts available. If you're interested, booking and checking in will be easy as can be.
Highlights
Seamless online booking system
Beautiful decorations and stylish furnishings
Comes with full kitchens and complete equipment
Reasonable and competitive rates
8) Barclay Suites

BEST FOR

Central City Location

SERVICES
1 BEDROOM DELUXE SUITE
1 BEDROOM EXECUTIVE SUITE
1 BEDROOM TOWER SUITE
2 BEDROOM DELUXE SUITE
2 BEDROOM EXECUTIVE SUITE
WEBSITE
https://www.barclaysuites.co.nz
ADDRESS
74 Albert St
Auckland Central
New Zealand
CONTACT DETAILS

New Zealand
09 916 1888

International
+64 9 916 1888

OPERATING HOURS
24/7
Up next is Barclay Suites, an Auckland accommodation that comes highly recommended for a number of reasons. First, Barclay Suites is one of the most accessible options on this list, with it being situated in the city centre.
Second, it offers a wide array of suites for guests, which can accommodate as few as two people and as many as five. The suite options include the one-bedroom deluxe, executive, and tower suites as well as the two-bedroom deluxe and executive suites. 
Depending on the suite chosen, guests can have access to a dining area, fully equipped kitchen, and washer and dryer amenities. On-site there are also fitness and spa facilities available to be used.
Reception is open 24 hours, with check-in beginning at 15:00 and check-out at 11:00. Barclay Suites allows booking online and through email, and accepts all debit and credit cards.
Highlights
Accessible location
Fully equipped kitchen
In-room services
Fitness and spa facilities available
Excellent security measures
9) Stay Mission Bay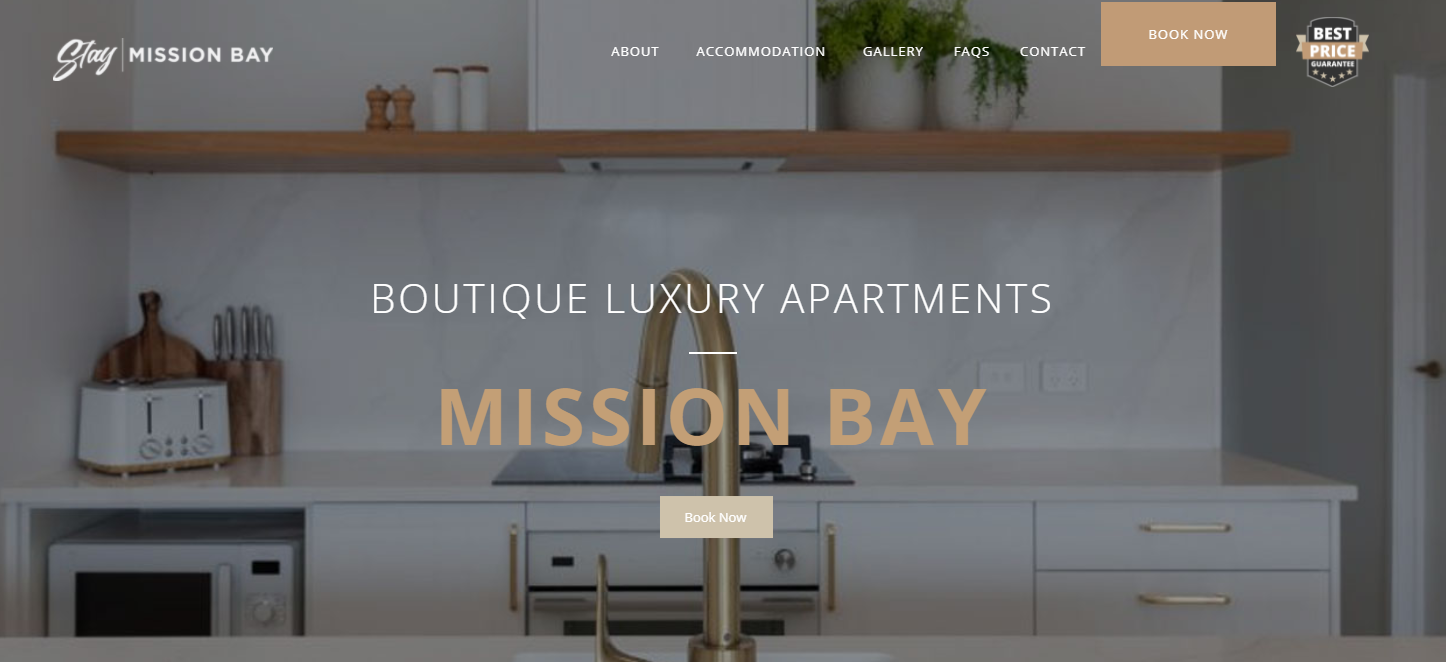 BEST FOR

Beach-front Accommodations

SERVICES
Studio
One Bedroom
Two Bedroom
Three Bedroom
Four Bedroom
WEBSITE
https://staymissionbay.co.nz
ADDRESS
9 Patteson Ave, Mission Bay, Auckland
CONTACT DETAILS

0800 223 223
+64 9 953 0299

OPERATING HOURS
24/7
If you're looking to stay some place that's near the beach and isn't too far from the city, then you may want to consider Stay Mission Bay for your next get away.
Stay Mission Bay is situated in, you guessed it, Mission Bay Village and is only a few minutes away from the golden sand beaches and spectacular Sea views of Auckland's Hauraki Gulf. It's only 10-15 minutes away from Auckland CBD, and is surrounded by numerous seaside cafes, restaurants, bars and ice cream parlours.
Aside from its accessible location, Stay Mission Bay is also known for the spacious accommodations it has to offer. The luxury apartments at Stay Mission Bay come in four sizes: Studio, One Bedroom, Two Bedrooms, and Four Bedrooms.
These apartments feature a modern, airy look, with comfortable beds, clean spaces, and fitted kitchen. Guests will also have access to Wi-Fi and Netflix as well as parking space while staying in the premises.
Highlights
Accessible location
Spacious apartments
Free Wi-Fi
Flexible terms and conditions
So there you have it for the best serviced apartments in Auckland. With their quaint and well-equipped rooms, you will feel like they're your home away from home.
Any questions or comments about our list thus far? If you have one, feel free to leave a comment below and we'll check them out and get back to you.
Other than that, you might like to read about our list of the best Auckland hotels. Though more expensive than serviced apartments, these 5-star hotels will give you a superb accommodation experience.