The 6 Best Sheds Christchurch Builders
Building a nicely-designed, unique, and functional shed for your garden or commercial needs? If so, you're just in time, as we are listing the best sheds Christchurch builders here today!
We chose the ones who are highly adept, professional, and dependable. We also picked those who use the finest products and keep the building process easy and stress-free.
The ones we picked are there for you from the initial concept to the completion of the project. So if you're ready, here are the best sheds Christchurch builders!
1) Fair Dinkum Sheds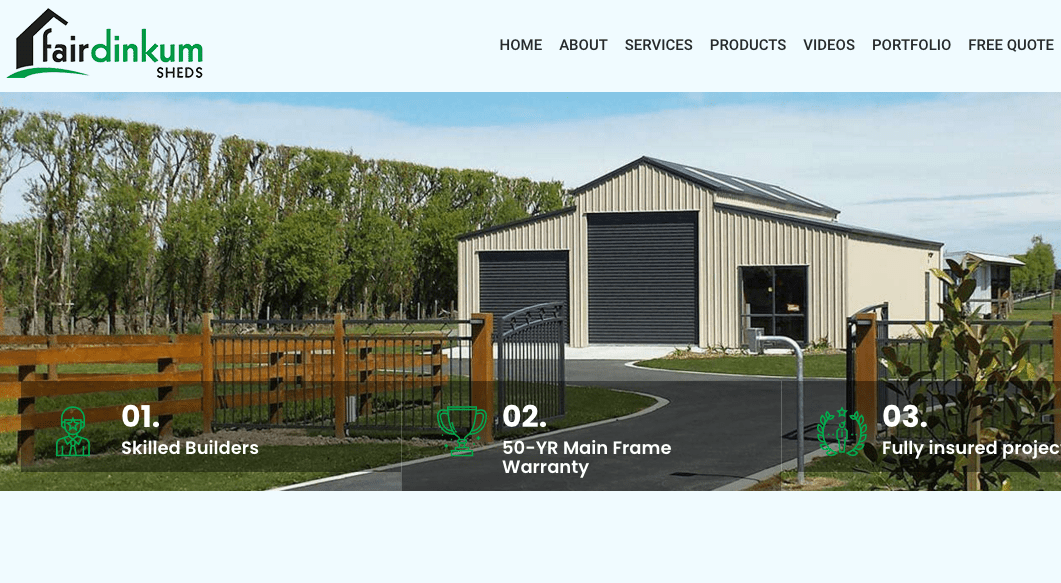 BEST FOR
Cost-Effective Shed Builds
SERVICES
Custom Shed Design

American and Quaker Barns

Commercial and Industrial Buildings

Dwellings

WEBSITE
https://www.durasteel.co.nz/
ADDRESS
698 Main South Rd, Islington, Christchurch, New Zealand
CONTACT DETAILS
022 657 7525
OPERATING HOURS
Monday to Sunday: 10am – 5pm
Building a farm shed, warehouse or vehicle storage facility? Fair Dinkum Sheds can help! Their builders are Master Builders and offer a 10-year guarantee on their projects.
Here, you have the freedom to design your shed as you want. Their personable and honest team can oversee the building from start to finish and can even project manage for you.
They provide superb and professional workmanship. You can also have them build shed houses for you. These come complete with the essentials, such as doors, windows, roller doors, upper floor, balconies, etc.
For the reasons stated above, we reckon that Fair Dinkum Sheds is among the best sheds Christchurch builders you can call!
Highlights
Cost-effective shed builds
Tailor-made design
Master Builders registered
10-year guarantee
Personable and honest team
Customer Reviews
Here's S & J Boswell's review on the website:
"We engaged Durasteel (Fair Dinkum Sheds) to build our garage and accommodation unit at Lake Ruataniwha. From the concept to the finished product, the service by all staff was excellent. They offer a quality product at a reasonable price. I would strongly recommend Durasteel (fair Dinkum Sheds) to anyone contemplating a building, don't look past a company that can offer a hassle free build. Well done and thank you"
2) Wide Span Sheds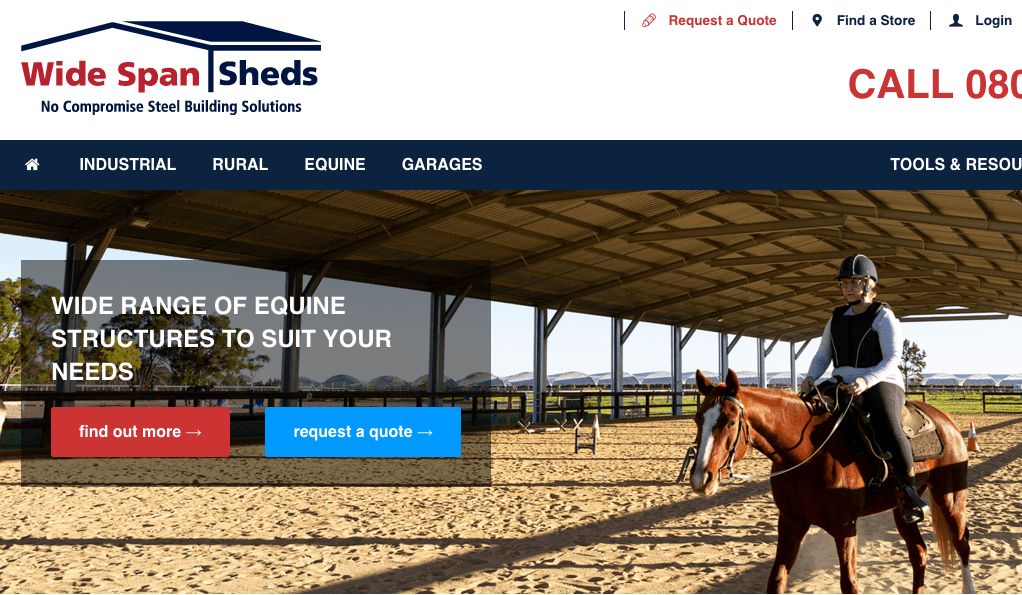 BEST FOR
Smooth, Seamless Experience
SERVICES
Garages

Rural Workshops

Commercial Buildings

Farm Sheds

Horse Stables

Storage Facilities

Industrial Warehouses

WEBSITE
https://www.sheds.co.nz/
ADDRESS
QB Studios, 19 Southwark Street, Christchurch 8011, New Zealand
CONTACT DETAILS
+64 800 943 377
OPERATING HOURS
Monday to Friday: 7.30am – 5pm
If it has anything to do with steel building, Wide Span Sheds can probably build it. One good example is the modern commercial shed they built for Jucy Car Rentals.
Wide Span Sheds is ShedSafe-certified, ensuring a safe and superior shed. Using local, premium-quality steel, they can custom-design your shed to perfectly suit the site.
They can build anything from garden sheds to commercial sheds. Their experienced team will make everything smooth and easy throughout the building process.
Since a shed should not only have a wonderful design but also a purpose, you can get in touch with them to build it to your specific needs and requirements.
Highlights
Superior custom-designed sheds
ShedSafe-certified
Offer shed kit choices
Experienced and knowledgeable builders
Use the finest quality NZ steel
Customer Reviews
Thomas, one client, said on the website:
"We are really happy with the service given to us by Wide Span Sheds. Building an arena can be quite a task, but they helped us every step of the way and we are really happy with the final product!"
3) Specialised Structures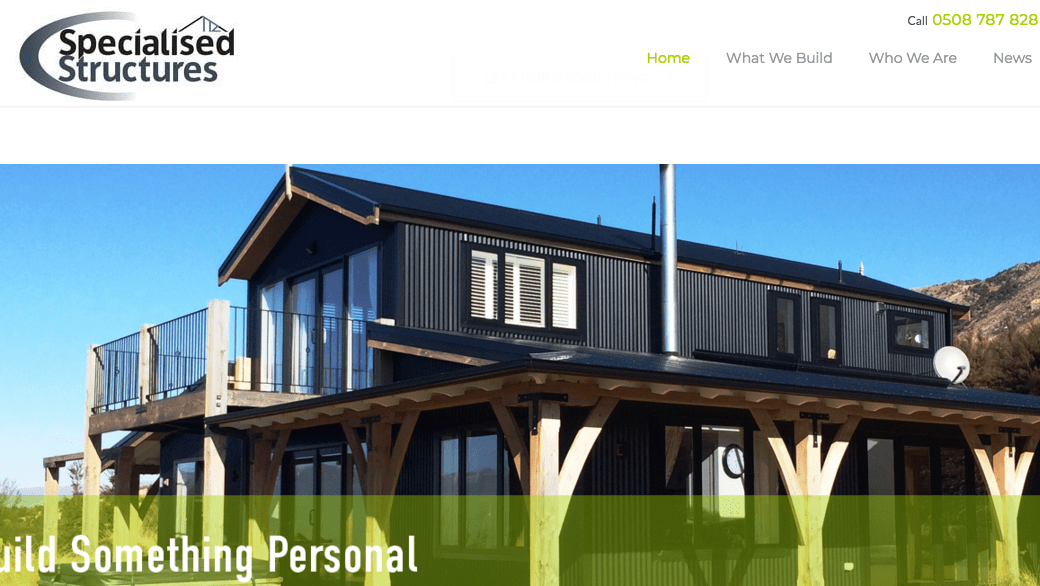 BEST FOR
Value for Money
SERVICES
Commercial Building

Retail Building

Industrial Building

WEBSITE
https://specialisedstructures.co.nz/
ADDRESS
3/21 Leslie Hills Drive, Riccarton, Christchurch 8011, New Zealand
CONTACT DETAILS
+64 508 787 828
OPERATING HOURS
Monday to Friday: 8am – 5pm
Locally owned and operated, Specialised Structures provides building and kitsets to a wide range of clients in the commercial, rural, industrial, and home sectors.
They pride themselves on creating eye-pleasing architectural sheds that meet your individual needs and specifications. From aircraft hangars to community halls to garden sheds, they have you covered.
For the price, you'll get exceptional value and quality from the build. You can view their gallery for some inspiration or ideas on how you'd like your shed design to be.
And that's why we added Specialised Structures to the best sheds Christchurch builders list!
Highlights
Exceptional value and quality
Eye-pleasing portal builds
Provides a full range of building services
Locally owned and operated
4) Sheds NZ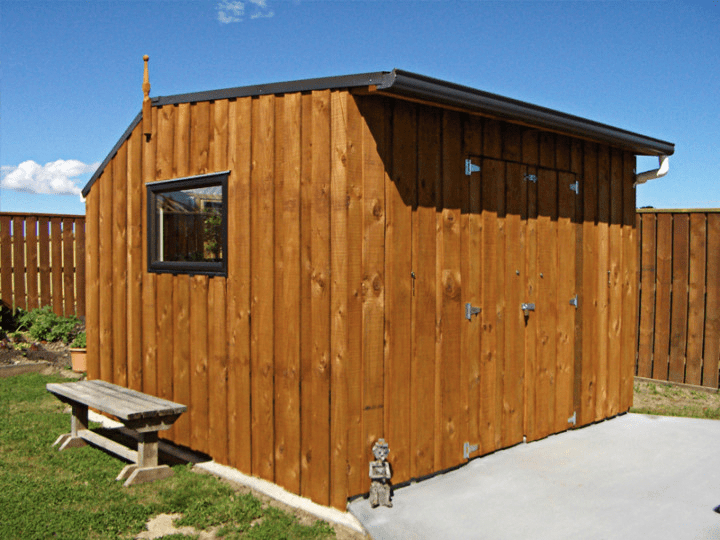 BEST FOR
Quality Timber Frame Kitsets
SERVICES
Kitset Building Supply and Installation
WEBSITE
https://shedsnz.co.nz/
ADDRESS
167 Manion Road, Rolleston 7675, New Zealand
CONTACT DETAILS
(03) 3477031
OPERATING HOURS
Monday to Friday: 8am – 5pm

Saturday: 8am – 12pm
If you're into DIY sheds, then you should check out Sheds NZ! You can visit their store at 167 Manion Road in Rolleston.
Sheds NZ offers an extensive range of kitset buildings, including garden and farm sheds; stables and animal shelters; commercial and landscape structures; sleepouts, playhouses, baches, and hay barns.
They are a respected supplier using sturdy materials and hardware in New Zealand. For over 25 years, they've been trading these products as well as supplying and installing within Canterbury.
Designed to last, their kitsets will make a stylish and wonderful addition to your home or business!
Highlights
Extensive range of kitset buildings
Premium, NZ-made products
Over 25 years' experience
Products are designed to last
Customer Reviews
One customer wrote on the website:
"I picked up the shed yesterday and unpacked it today, a big thanks to excellent service."
5) Stratco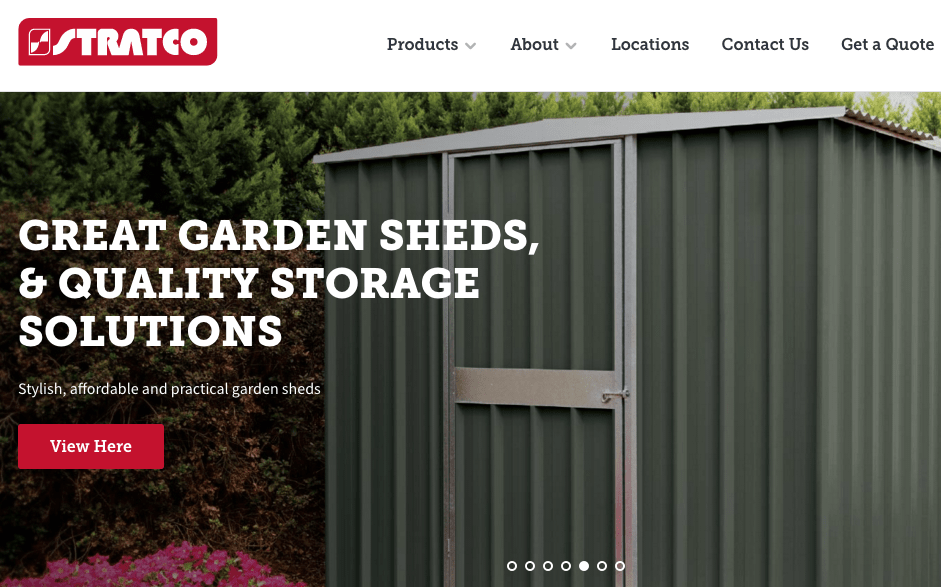 BEST FOR
Easy-to-Install Garden Sheds
SERVICES
Patios

Roofing

Fencing

Sheds

WEBSITE
https://www.stratco.co.nz/
ADDRESS
55 Hands Road, Middleton, Christchurch 8024, New Zealand
CONTACT DETAILS
+64 3-338 9063
OPERATING HOURS
Monday to Friday: 7.30am – 4.30pm
Think that you don't have the extra time to build your new shed? With Stratco garden and outdoor storage sheds, that problem is solved!
These sheds are very easy to set up, durable and practical, not to mention very appealing in design. They are particularly designed and produced for New Zealand standards.
From firewood sheds to larger workshop sheds, they have all the sizes and colours to meet your needs
You can get a quote by filling out the form on their website or calling them. So what are you waiting for? Take the first step towards getting your awesome new Stratco shed!
Highlights
Stylish, tough, practical, and easy-to-set-up garden sheds
Customisable options like colour and size
Made and designed to NZ standards
Customer Reviews
Stratco is also some of the best sheds Christchurch builders. One client, David, wrote on productreview.com.au:
"Very easy, straight to the point and got the building supplies we needed to build our wood shed. The guys helped us with each step of the way to finish it! Brilliant! :)"
6) Duratuf
BEST FOR
Timber Frame Sheds
SERVICES
Shed Building
WEBSITE
https://www.duratuf.co.nz/
ADDRESS
2A Maui Street
Hamilton 3200
New Zealand
CONTACT DETAILS
0800 438 274
OPERATING HOURS
N/A
Duratuf is well-known for their high-quality services, as well as their tough sheds. The secret to their study sheds lies in their use of timber framing.
As a plus, their sheds are also easy to put up. With their simple assembly yet long-lasting durability, there's no doubt that they're the top choice when it comes to sheds.
Highlights
3D Shed Builder
Eco-friendly sheds
Simple Assembly
And that's all for the best sheds Christchurch builders! They are your number 1 choice for high quality, durable sheds for your farm, workshop, vehicles, business and storage.
Any questions or suggestions about our topic for today? If you have one, let us know about it: just drop us a line and we'll get back to you as soon as we can.
What's more, if you need to tidy up your lawn for that lovely and verdant appearance, you can read about the best lawn mowing Christchurch gardeners!