The 5 Best Shoe Racks in New Zealand
It's satisfying to have your footwear organised in a single spot at home. If you want that for yourself, right on cue, as we've put together a list of the best shoe racks in New Zealand!
With the various kinds of shoe racks offered in outlets and online, it can be difficult to know where to start. So how do you know which one you should get?
To answer that, we'll walk you through what you have to look for. This will assist you later on in picking from our list. However, feel free to skip it if you want to.
No matter what your choice is, we'll dive into the finest shoe racks in New Zealand. So, let's begin!
What to Consider When Buying a Shoe Rack
Here are the essentials you need to take into account before buying a shoe rack:
1) Aesthetics
A shoe rack is typically easy to see. Hence, it makes perfect sense to pick one with both a design you like and that will fit seamlessly with your decor.
If you happened to buy a shoe rack that's completely out of place with the surroundings of your home, it could be a hindrance and a complete waste of money.
2) Type
There are a number of shoe rack types with differing functions. We'll talk about the most common ones, which are wooden shoe racks, steel shoe racks, and cabinet shoe racks.
Wooden shoe racks provide sturdiness as well as a stately look — like the IKEA Tjusig on our list. The downside is that wooden frames can be damaged by moisture or spills.
Steel shoe holders look neat and contemporary as an addition in your hallway or by your entrance door. They are very durable and can be used for a long time.
Cabinet-type shoe holders are a two-way shoe rack that can serve as a shoe rack, bench, or both. Because your shoes are stowed and kept inside, they will be free of dust and dirt buildup.
3) Durability
You'd like a shoe rack that will stay with you for years so that you won't have to spend more to replace a broken one. As we said, the material, whether it's steel, wood, plastic or bamboo-made, says a lot about its durability.
4) Stackability
This is a great space-saving feature that allows you to stack shelf over shelf. Aside from letting you have more shoes on display, it creates an option to showcase the different colours, sizes and shapes of your shoes.
5) Number of Shoes
How many persons are there in your home? Or to express it more accurately, how many shoes do the people or your family use at home?
A 2-tier shoe rack would usually suffice for a small family, but you need more if you're a shoe collector or lover. In that case, you could consider the stackable or expandable option to maximise the number of shoes you can put there.
The Best Shoe Racks in New Zealand
Now that you know what to consider for a shoe rack, we'll give you our rundown for the best shoe racks in New Zealand!
1) 3-Tier Stackable Bamboo Shoe Rack
Best in Durability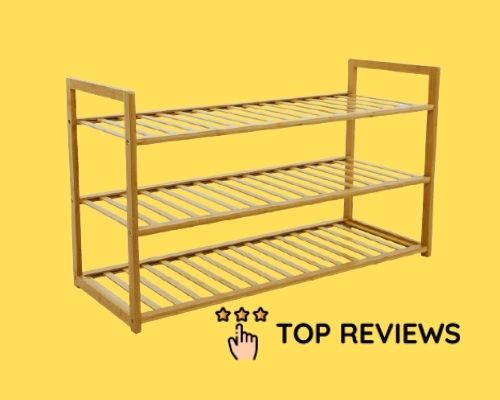 Price: $30
If you're simply looking for a shoe rack that is durable, then you won't be disappointed with the 3-Tiered Bamboo Shoe Rack. It can also be stacked in order to conserve your space.
The plain and mellow hues meld perfectly with lighter-toned backgrounds. Placing an ornamental plant next to it will complement your hallway, and create a pleasant, relaxing vibe.
Place your sneakers, loafers, running shoes, or formal shoes on it. For high heels or stilettos, they will just need to be set correctly in place due to the slats the rack has.
Along with this, it comes with footpads to keep your floor from being scratched when moving the rack. It's relatively simple to assemble: instructions will be supplied.
This bamboo shoe rack is also available at a super-affordable price!
Highlights
Hardy bamboo shoe rack
Complements your hallway or home
Affordable price
Can be stacked atop another
Footpads included
Customer Reviews
This Bamboo Shoe Rack has received an incredible 5-star score from 31 reviewers at Kmart. They pointed out its ease of assembly, solid build quality, and tidiness, which they benefited from.
One of the customers, Pandora L. said:
"This has been a great addition for our little house. Was easy to put together and seems super sturdy to me. We have 10 pairs of shoes on it, a mix of kids and adults. Looks tidy, would recommend."
2) GLORIA Shoe Rack Oak Storage Cabinet
Best Bench and Shoe Rack Combo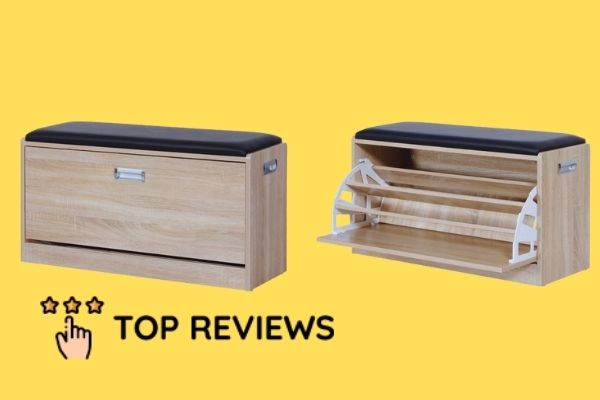 Price: $65.99
Are there lots of dirty sneakers lined along the border of your hallway? Problem solved! With GLORIA Shoe Rack Ottoman, you'll have a place to keep your shoes, plus a new seat, to boot.
It can conveniently store up to 12 pairs of shoes within the cabinet. You can close it or keep it open so the occupants can instantly take and wear their shoes when going out.
It's composed of part-MDF and particle board finished in elegant oak. The top portion is covered with polyurethane leather that doubles as a comfortable seat.
The GLORIA Shoe Rack Ottoman also serves to enhance your home's interior, where it keeps everything neat and tidy for your family or occasional guests.
Moreover, your shoes will be protected from dust accumulation, and thus save you from having to clean them up from time to time.
Highlights
Made of durable MDF and particle board
PU leather seat
Can store up to 12 pairs of shoes
Oak colour
Less dust buildup
Elegant addition to your home decor
3) Expandable Shoe Rack
Best for Budget Shoe Rack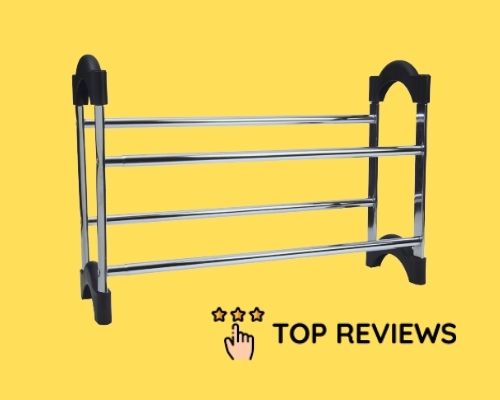 Price: $39.99
If you prefer a sleek chrome shoe rack, then consider the Expandable Shoe Rack. As the name suggests, it is built to expand from 61cm to 115cm to hold your varied footwear neatly together.
Solidly constructed, its robust chrome body is supported by soft plastic ends. This keeps the rack from sliding or wobbling, and also makes it durable for the years to come.
With its elegant and stainless design, it can accent your home's interior. Other than that, assembly is pretty simple with easy-to-follow instructions to guide you through it.
For a cost-effective shoe rack, this will be an excellent choice. That's why it's one of the best shoe racks in New Zealand.
Highlights
Expandable up to 115cm
Beautiful, stainless and durable design
Cost-effective price
Easy-to-follow instructions
Complements your home decor
Customer Reviews
On Briscoes, plenty of customers praise the Expandable Shoe Rack, mentioning that it is stable, durable, and great-looking in their home. One even found more value in this shoe rack as opposed to more expensive options.
Also, Cheryl Rowe commented:
"Excellent product and very easy to assemble. Shoes etc look very neat and tidy now. Would highly recommend this product."
4) UMBRA Imelda Shoe Rack
Most Stylish and Stackable Shoe Rack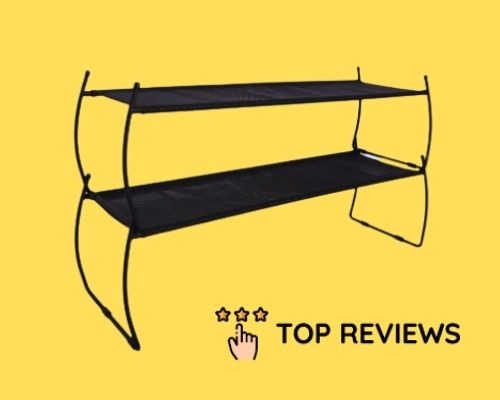 Price: $69.99
UMBRA Imelda Shoe Rack is a chic, contemporary and decorative shoe rack that can be stacked. Quick trivia: it's named after Imelda Marcos, who used to own a thousand shoes back during her husband's Philippine presidency.
It is constructed with stable metal frames and soft vinyl mesh for a nice change from other common shoe racks. You can arrange your different pairs easily with this so that they're nice to look at.
Don't hesitate to use the empty space beneath the rack to save more space, by the way. A single shelf can hold 4 shoes, although this depends on the size of them.
Either way, we consider this to be another of the best shoe racks in New Zealand for its uniqueness, stackability, first-rate quality, and artistic style.
Highlights
Decorative, artistic and engaging style
Vinyl mesh shelving for style and durability
Stackable shelves
Space-saving
Includes 2 shelves
Customer Reviews
It's been described by Bricoes customers as being sturdy, stackable (everyone likes this feature), and that the shoe rack has excellent depth for the shoes to sit nicely. Anna Baird Baird wrote:
"Excellent quality shoe rack. Sturdy and stackable. Easy to assemble and good depth to the shelves. Shoes sit nicely on the shelves – easy to keep footwear organized."
5) IKEA Tjusig Bench with Shoe Storage
Best Overall Shoe Rack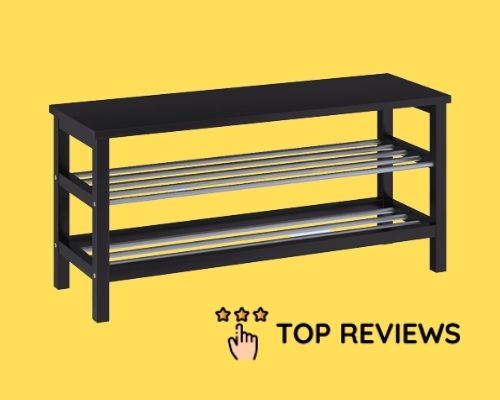 Price: $129
Here's a premium and natural wooden shoe rack that is a cut above the rest: the IKEA Tjusig Shoe Rack. It especially has a neat and simple appeal that is likable for everyone.
Part of the IKEA Tjusig series, it helps you store and organise your clothing, jacket, hats, polo shirts, and shoes. It's simple, but it classes up your home like no other shoe rack.
Made from sturdy solid wood as well as galvanised steel to combat rust and oxidation, it can hold a minimum of 8 pairs of shoes. Alternatively, you can put your organiser box or, if you like, some books and a vase and flower on top.
It also has a black version that resists grime better than the white version. Speaking of grime, cleaning it only involves a damp cloth with a little cleaner, then wiping it dry.
And to protect the surface of your flooring, you can opt to have FIXA self-adhesive pads underneath the feet of the shoe rack.
Highlights
Neat and simple appeal
Superb quality
Made from natural wood
Holds a minimum of 8 pairs of shoes
Part of IKEA Tjusig series
Easy to clean
Customer Reviews
Despite the price, customers were impressed as the IKEA Tjusig shoe rack is neat in white and solidly built. Jimmie, one customer, wrote a review:
"Good solid build and weight to it. It's a bench with 2 levels of shoe compartments in one! We use the bench top as space for all our bags coming home from work and school. It has a modern look and feel to it and matches perfectly with our white hallway table. There is also enough space on the floor area for our toddlers tiny shoes. This is one IKEA item that you won't regret buying."
And there you have it for the best shoe racks in New Zealand. These are some of the shoe racks you'll find with excellent quality in the country.
Do you agree with our suggested shoe racks here? Feel free to tell us what you think, or whether or not you have any questions by sending us a message, and we'll get back to you in a jiffy.
Oh, and while we're on the topic of shoes and feet, you may want to get your feet checked to ensure they're healthy and you haven't been wearing them out! For this, you can read about the best podiatrists in Auckland.