The 6 Best Short-Term Home Rentals in NZ
Image Credit: Penny Homes
Looking for rental homes where you can feel relaxed and cosy? If so, you're on the right page, as we've gathered the best short-term home rentals in NZ for you here.
Our list is based on contemporary, clean, and fully furnished homes. We also chose those that are very close to the city and have been commended by former guests.
You will surely have a great experience with your family or friends at these homes. So without more tarrying, here are the best short-term home rentals in NZ!
1) The Boathouse Russell Waterfront

| | |
| --- | --- |
| BEST FOR | Short-term home rental with boating activities |
| SERVICES | 3 Bedrooms & 2 Bathrooms Kayaking Heat Pump / AC Unit Free Wifi, Sky TV & BBQ |
| WEBSITE | https://www.holidayhouses.co.nz/properties/7240.asp |
| ADDRESS | 49 The Strand, Russell, Bay of Islands, New Zealand |
| CONTACT DETAILS | You can enquire through the link above |
| OPERATING HOURS | — |
Located in the Bay of Islands, the Boathouse Russell Waterfront can give you lovely pohutukawa trees, fun kayaking activities, and mesmerising sunsets.
The property's layout consists of 3 bedrooms and 2 bathrooms perfect for up to 7 guests. They have a spacious and cosy interior with windows looking out to the sea.
Fully equipped, the place has a heat pump and AC units as well as free Wifi, a Sky TV, and a barbecue grill. It's the perfect vacation for your mates and family.
A boat ramp is very close by for a unique kayaking experience. Also, you're just two minutes away from great flat whites and breakfast or a light, healthy dinner at the cafe.
As customers will agree, they are one of the best short-term home rentals in NZ.
Highlights
Spacious and cosy boathouse
Kayak whenever you like
Majestic views
Fully-equipped boathouse
Centrally located
Customer Reviews
Javier C., one guest, shared her experience at The Boathouse Russell Waterfront:
"Magical spot to unwind! Such a pretty place. A lovely house with everything we needed. We had a fantastic weekend waking up on the water, counting ferries, watching wakas, feeding the visiting ducks and exploring historic Russell! Looking forward to our next visit, we'll be back!"
2) Christchurch Central Apartment

| | |
| --- | --- |
| BEST FOR | Modern and clean home rentals |
| SERVICES | 2 Bedrooms Trundler Bed Couch Portacot Tea / Coffee / Milk Wifi |
| WEBSITE | https://www.holidayhouses.co.nz/properties/73340.asp |
| ADDRESS | 118 Bealey Ave, Christchurch Central, Christchurch, New Zealand |
| CONTACT DETAILS | You can enquire through the link above |
If you're coming to Christchurch for a few days for work or leisure, Christchurch Central Apartment is a great option!
Inside, everything is clean and well-presented from the lounge to the bedrooms. The unit is fully furnished to make you feel comfortable and at home.
There are 2 bedrooms each with a double or queen-sized bed which can accommodate 4 guests. Trundler beds, couches, and portacots can also be added by request.
Moreover, there's also a dedicated off-street parking area. The location is right in the centre of the city with lots of things to do.
Highlights
Fully furnished, modern apartment
Accommodates up to 4 guests
Centrally located
Dedicated off-street parking
Customer Reviews
Here's Summer's feedback of Christchurch Central Apartment, one of the best short-term home rentals in NZ:
"We booked the apartment for our customers. Peter is so nice and considerable. Location is very good, and the rooms are nice and clean.
Will definitely use again next time. Thanks!"
3) Kahikatea Retreat

Kahikatea Retreat is located in the Akaroa area in the Canterbury Region. It is a luxury country house built on picturesque 12-acre country farmland.
Historic and rural, this cottage has a luxurious bedroom, designer furniture, an elegant rug, nature artworks, an indulgent bathtub, egg pod chairs and interesting books.
Writer Armistead Maupin had written his most famous novel, Tales of the City, in this very house. English actor Sir Ian McKellen even said that Kahikatea cottage rivals Middle-earth.
But the enchantment doesn't stop there—the beach is just a 5-minute drive away from the country home, where you can sleep with your soulmate under the beautiful starry sky.
Spending a night at Kahikatea Retreat will cost $390 a night. However, special rates are available if you plan on staying longer.
Highlights
Luxurious rural cottage
Fully appointed
Great for romantic getaways
Close to Wainui Bay and Christchurch International Airport
Surrounded by beautiful nature
Customer Reviews
Let's hear Sally R's review of her stay at Kahikatea Retreat:
"We cannot speak highly enough of our stay at Kahikatea Retreat. The owners, could not have been more generous guests and went above and beyond to make sure our stay was amazing. They greeted us when we arrived and showed us around the beautiful farm …"
4) 5/30 Kipling Street, Addington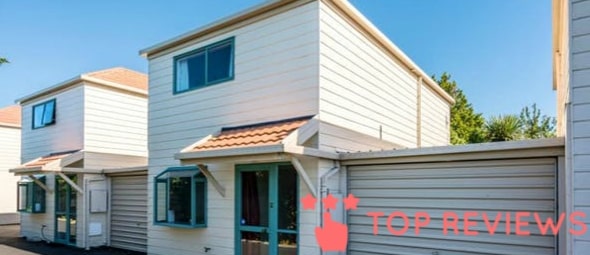 If you're looking for a cheaper rental option where you pay each week, this simple two-storey home might be for you. It's based in the Addington suburb of Christchurch.
It has double bedrooms and is equipped with a modern kitchen and bathroom facilities. They will also provide you with a heat pump so that you'll feel warm and cosy in any season.
Also, they have an internal-access garage where you can park your car. The garden outside lets you unwind and get some fresh air and sunshine in the morning.
You can get all this and more for only $375 per week.
Highlights
Cheaper rental option
Modern kitchen and bathroom
Heat pump included
Nice location
5) 1/19 Poinsettia Place, Henderson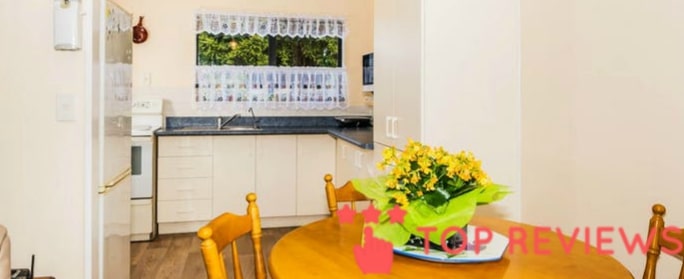 This delightful bungalow is located at Poinsettia Place, Henderson which is close to Auckland CBD and North Shore. So if you're working there and want a cosy place to stay at, this should be your top pick.
It's small and lovely, from the living room toward the kitchen and laundry areas. Step out onto the private deck and enjoy the home's indoor-outdoor flow.
There are 3 vibrant double bedrooms and a spacious computer room with a window. The roofed open garage is a nice touch with a pleasant and long driveway.
One of the best short-term home rentals in NZ is just minutes away from Lincoln Road, with lots of eateries, cafes, bars and restaurants.
Highlights
Cute, wonderfully decorated bungalow
Conveniently located
3 double bedrooms, 1 bathroom
Indoor-outdoor flow
6. NZ4U2U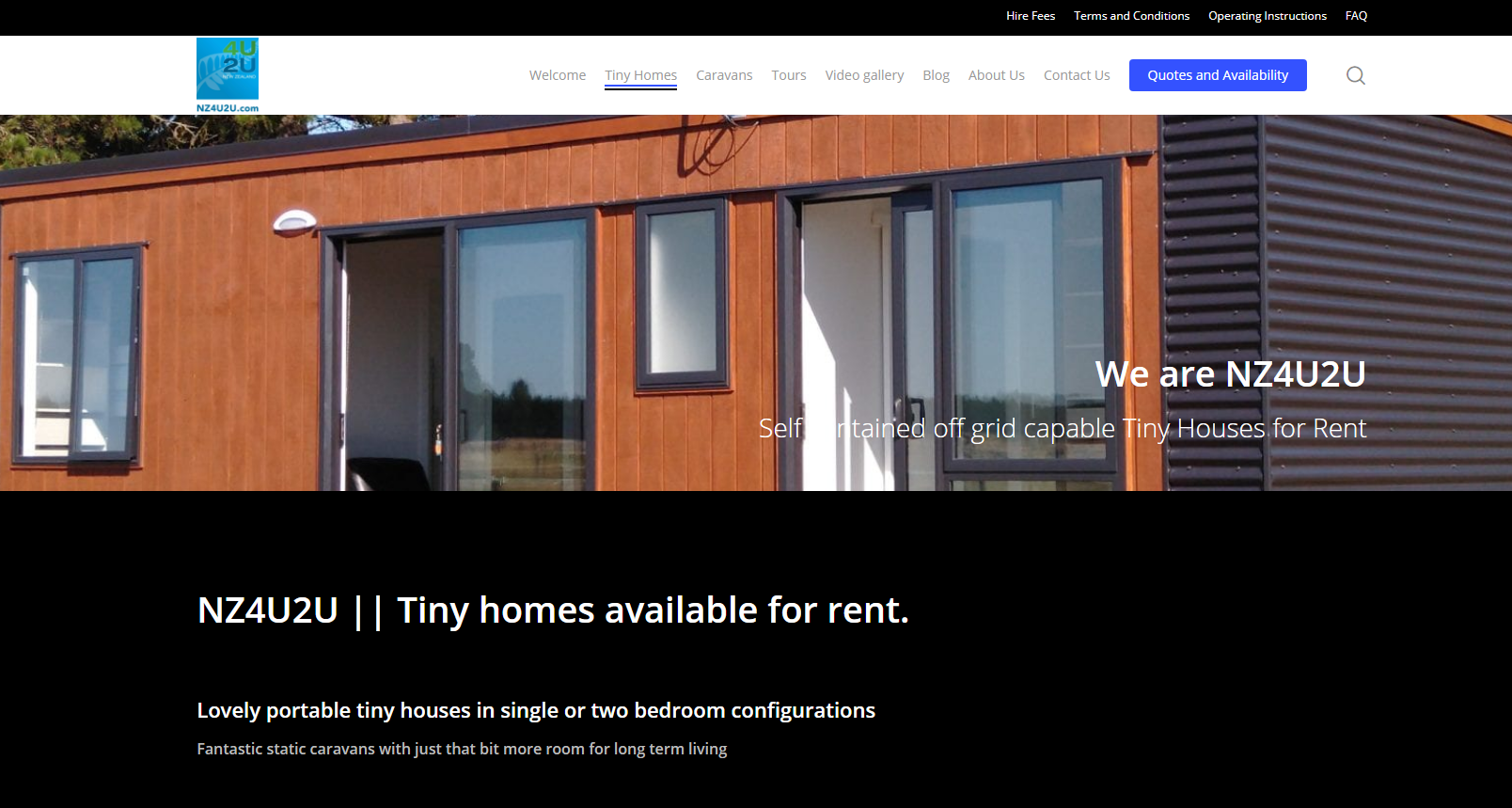 BEST FOR
Mobile tiny house rentals
SERVICES
Tiny home and caravan sales, Self-contained caravan hire, and Mobile tiny house rentals
WEBSITE
https://nz4u2u.com/
ADDRESS
Wilkinsons Road, Harewood, Christchurch, New Zealand
CONTACT DETAILS
64 220 694828
64 220 NZ4U2U
[email protected]
OPERATING HOURS
Contact for more information
NZ4U2U is a Christchurch-based company known for their caravans, tiny homes, and tours. In the business of home rentals, they offer a wide array of tiny homes that are easily transportable and fully-equipped with features needed for day-to-day endeavours.
The tiny homes they offer come in two arrangements: one-bedroom and two-bedroom tiny homes. With these varied room numbers come solar panels, gas heating and ovens, gas and electric fridge and water heating.
Despite the houses compact size, NZ4U2U made it so each cabin is spacious enough to live a significant amount of time in. This decision helps ensure every client can comfortably and easily breathe when staying in their homes.
Aside from the layout and features, NZ4U2U's home rentals are also known for their mobility. Adventure-seekers should know that these tiny homes can easily be transported by trucks and are road registered trailers, meaning renters need not get building consents when renting these mobile tiny homes.
Highlights
Fully-insulated homes
Off-grid options available
Efficiently-designed homes
Excellent customer service
And there you have it for the best short-term home rentals in NZ. We hope this helped you find a place where you can stay temporarily for your visit or work.
Got more suggestions for our short-term home rentals list? If you've got one, share it with us by leaving a comment below, and we'll get back to you in a bit.
Moreover, you can also take a look at the best serviced apartments in Auckland. These are fully-appointed, well-serviced, not to mention super-comfortable to stay in be it for the short or long term.