The 8 Best Skateboards in New Zealand
Thinking of getting a new skateboard for leisure or competition? Well, prepare to be stoked, as we are featuring the best skateboards in New Zealand today!
There is a large array of skateboards you can get here nowadays. That said, it can be difficult to know which one you should get in order to fit your needs.
That's why we'll tackle the fundamentals of buying a skateboard first. This will hopefully help you in picking from our list of the best skateboards in New Zealand later on.
So, if you're all set and ready, let's start!
How to Buy a Skateboard
A great skateboard is mainly dependent on its parts working together harmoniously as a whole. Among these parts are the deck, wheels, trucks, concave, bearings, grip tape, and graphics.
You might not be familiar with these terms, especially if you're skating the first time around.
But no matter! We'll discuss each of them in turn and show you how to pick a skateboard based on them, as you'll see below:
1) Deck
A skateboard deck is basically where you plant your feet. This is measured in terms of width. Usually, you'll find decks that are 7.5 to 9.5 inches wide.
This makes a huge difference in your skating performance. A wider deck provides more stability and a narrower one allows you to flip with ease.
Generally, this depends upon your personal preference, so it won't hurt to try out the board to see if it's comfortable for you.
2) Wheels
Another thing you have to consider are the wheels. These play a big factor and directly affect how you will skate, so it's crucial to get this part right.
If you are skating around the streets more often, then choose skateboards with smaller and lighter wheels. These let you turn and manoeuvre with less hindrance.
But if you plan to transition or vert skate, you should go for those with larger wheels. These will give you more speed in going up the ramp, pulling off a trick, and going back down.
3) Trucks
These refer to the metal parts that connect the skateboard wheels to the deck. Just try to see if their width, height and tightness is in line with your skating needs.
A short truck height (or wheel size) lets your deck grate the ground when you're turning. And while overly tightened trucks grant a stable ride, they make turning a chore.
The last thing you want is for your timing and game to be affected. Therefore, the key here is balance so that your ride will be smooth, consistent and fun!
4) Concave
A skateboard has a turned up nose and tail. Right in the middle, there's a curve that sort of goes down — that's the concave.
You may then ask, 'What's the essence of the concave?' Simple, the curved shape or downward dip allows you to perform flips a lot easier than with a flatter skateboard.
That said, when you flip and are already in mid-air, you'll have to reach down more with your feet to catch a concave skateboard as opposed to its flat counterpart.
5) Bearings
Wheel bearings are responsible for providing durability and precision to the skateboard wheels. Without them, your wheels will not have direction at all.
You can tell the bearing quality of the skateboard by looking at its ABEC (Annular Bearing Engineers' Committee) rating: 1 being the lowest and 11 the highest.
The higher the ABEC score of a skateboard, the better its wheels roll or move.
6) Grip Tape
Some skateboards come with a grip tape, while some don't. But basically it prevents the skater from slipping when riding or doing tricks.
There are various colours to choose from for grip tapes. All of them have the same function which is to offer a reliable grip on your skateboard.
7) Graphics
This pertains to the style you want or how you want your skateboard to express your personality and creativity. There's no wrong or right option here, so go ahead and pick your poison from among countless awesome designs!
The Best Skateboards in New Zealand
Now that you know how to buy a skateboard, allow us to present to you the best skateboards in New Zealand! Here are the ones we liked best among the many we tried out!
1) Impala Cosmos Skateboard Yellow 8.5″
Best Skateboard for Women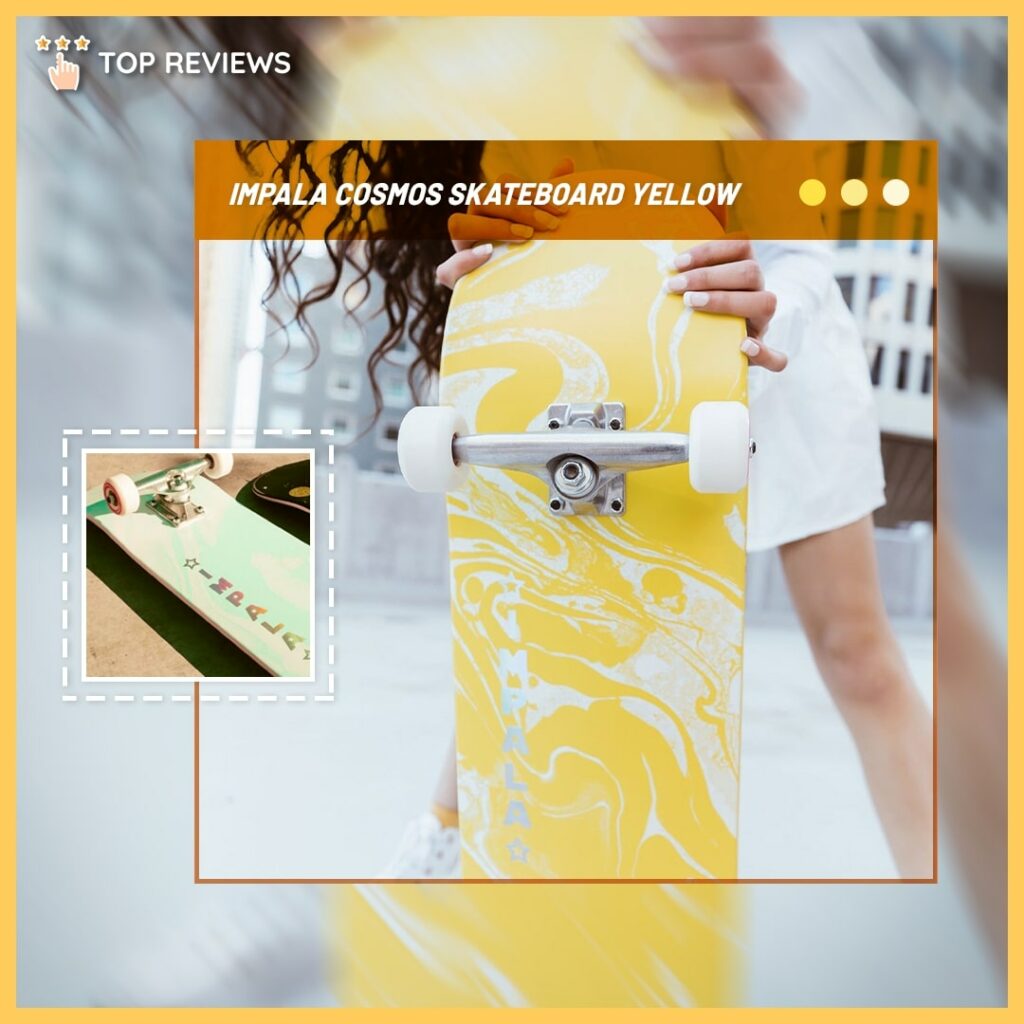 Price: $167.59
Check It Out At The Market
If you're looking to skate with extra pop and leverage, you should try the Impala Cosmos! This one is particularly popular for female skaters, thanks to its attractive and stylish design.
It is crafted from 7 Canadian Maple veneers bonded using epoxy-resin glue. This strengthens the skateboard deck while providing that echoing pop whenever you ride.
With its medium graceful concave, you'll be able to flip on this one effortlessly. And alloy trucks on this skateboard allow enough flexibility for turning with it.
Contributing to its very chic and cute design is the raised prism holographic logo and a sparkled grip finish on its lower half.
What's more, Impala has partnered with the National Forest Foundation (NFF). With this, they endeavour to plant 3 trees for every tree they use in making a skateboard.
Plus, this product is made to perform incredibly — you'll have great fun with it. It's also built to last, which is why it's backed up by a lifetime guarantee!
Pros
Nice pop
Chic and stylish design
Medium concave
Easy turning and manoeuvring
Eco-responsible product
Lifetime guarantee
Cons
Can smudge quickly if not handled well
2) Plan B Joslin Sliced Skateboard 7.25″
Best Skateboard for Value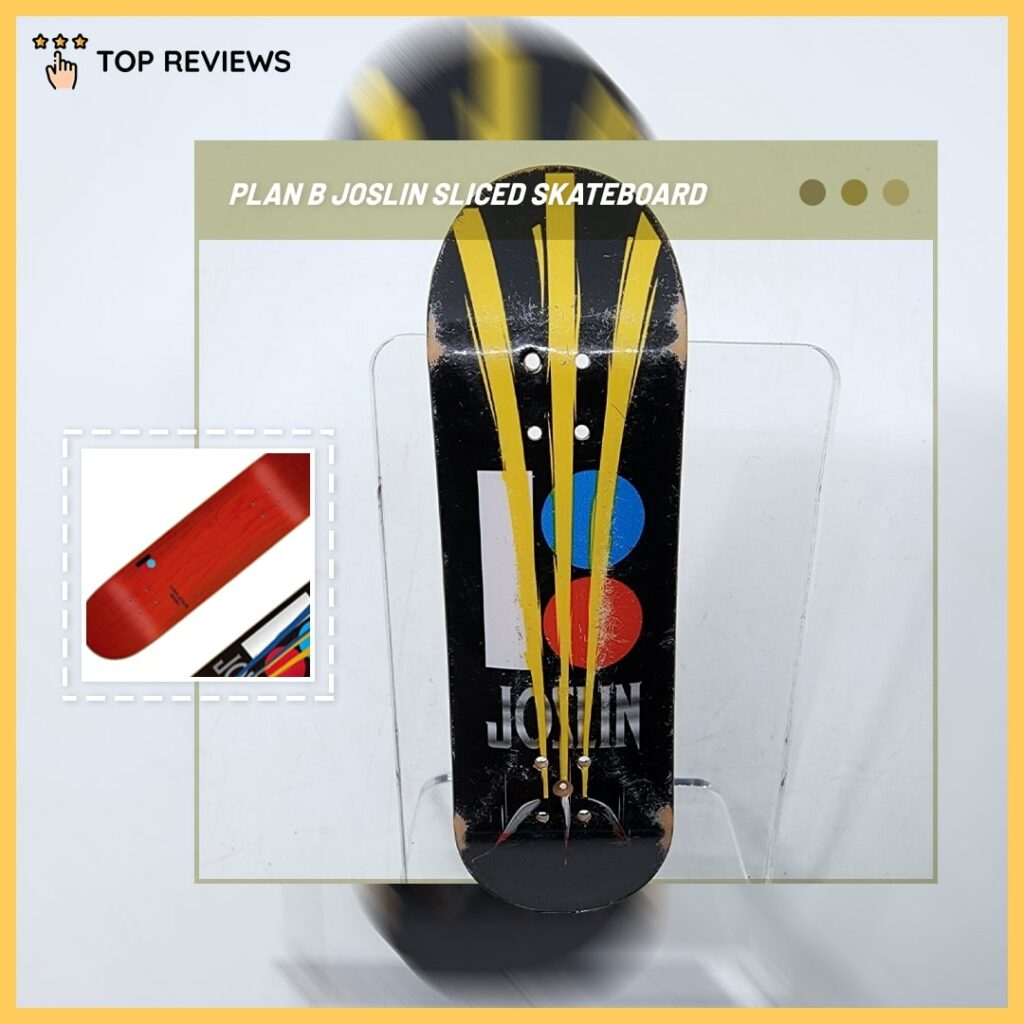 Price: $168.39
Shop Now At The Market
If you're a fan of pro skater Chris Joslin and want to pull off some of his tricks, you'd probably like the Plan B Joslin Sliced Skateboard 7.25"!
This features metal trucks and 50mm wheels excellent for transitioning or skating up the ramp. It comes with a matte black grip tape for added style and grip.
In addition, this board is rugged and hard-wearing, owing to its 7-ply Canadian Maple wood material. And the subtle B graphic and dual-toned beams make it strikingly cool!
Offering value for money, this skateboard is ideal for both beginners and mid-level skaters. Furthermore, it's top-class specs make it a rad choice for skating both on the street and in the park!
Pros
Unique and cool skateboard
Chris Joslin pro model
Consistent flips and great pop
Great for beginners and intermediate skaters
Smooth-rolling metal trucks and 50mm wheels
Rugged 7-ply maple deck
Value for money
Cons
3) Creature Martinez Sketchy-Moji Skateboard Deck (Custom)
Best All-Rounder Skateboard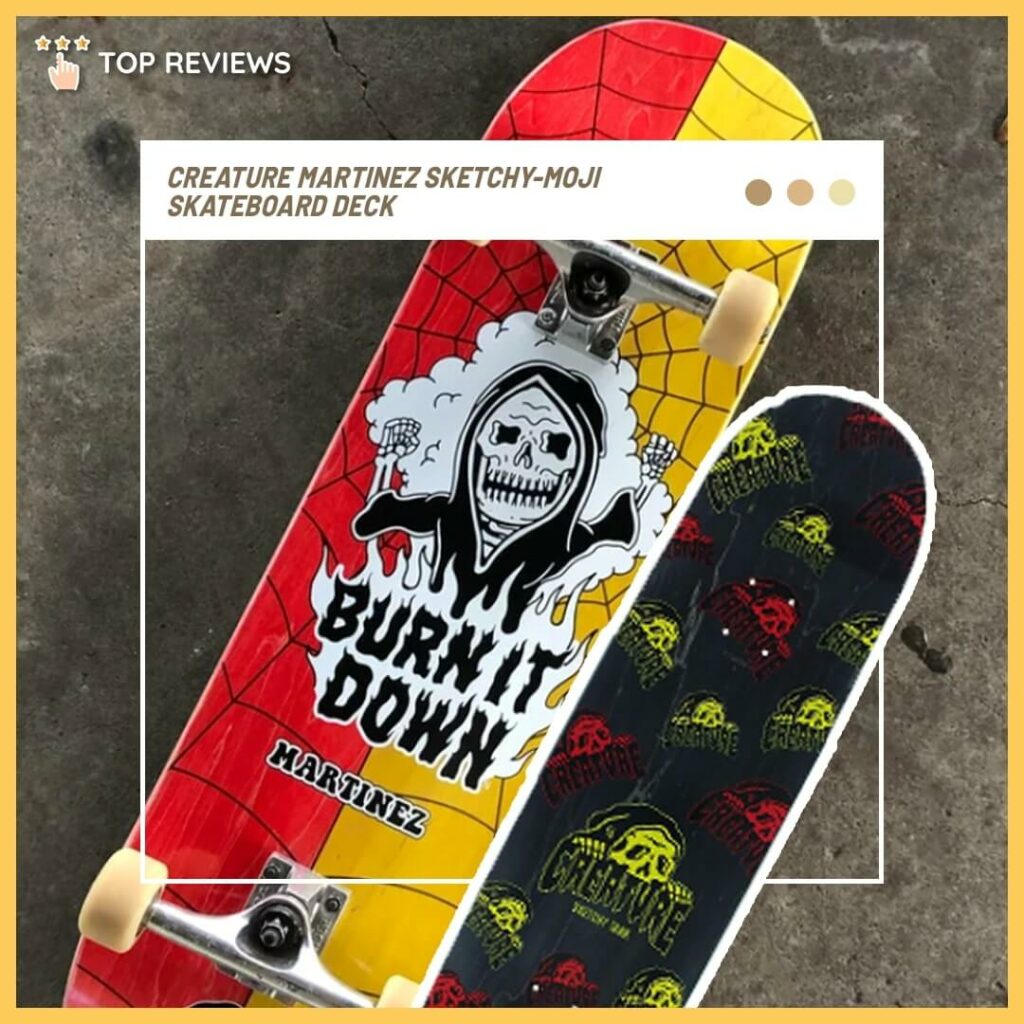 Price: $139.99
Designed by Creature, the Martinez Sketchy-Moji P2 is made from resilient North American Maple. It's an official Milton Martinez pro model skateboard deck.
You'll be really killing it when you use it to skate in the neighbourhood, training ground, or park. Its graphic shows an amused Death holding his scythe with a backdrop of traditional Halloween colours!
The deck is 8.6" wide — that's not too big or small for most feet. A skater of any skill level (even a pro) can ride or practise on this skateboard with enjoyment and glee.
Plus, it's worth noting that it has loads of pop and is well-made. It will let you skate for many years ahead!
Note that this isn't a complete skateboard, though, as it still needs other components. However, the deck comes with pre-drilled holes for easier attachment of the trucks and wheels.
Pros
Has tons of pop
Nice, exciting design
Official Milton Martinez pro model
Suitable for beginners to professionals
Made from 100% North American Maple
Well-made product
Cons
Not pre-assembled
Doesn't come with a grip tape
4) Adrenalin Thrasher Canadian Maple Skateboard
Best Youngsters' Skateboard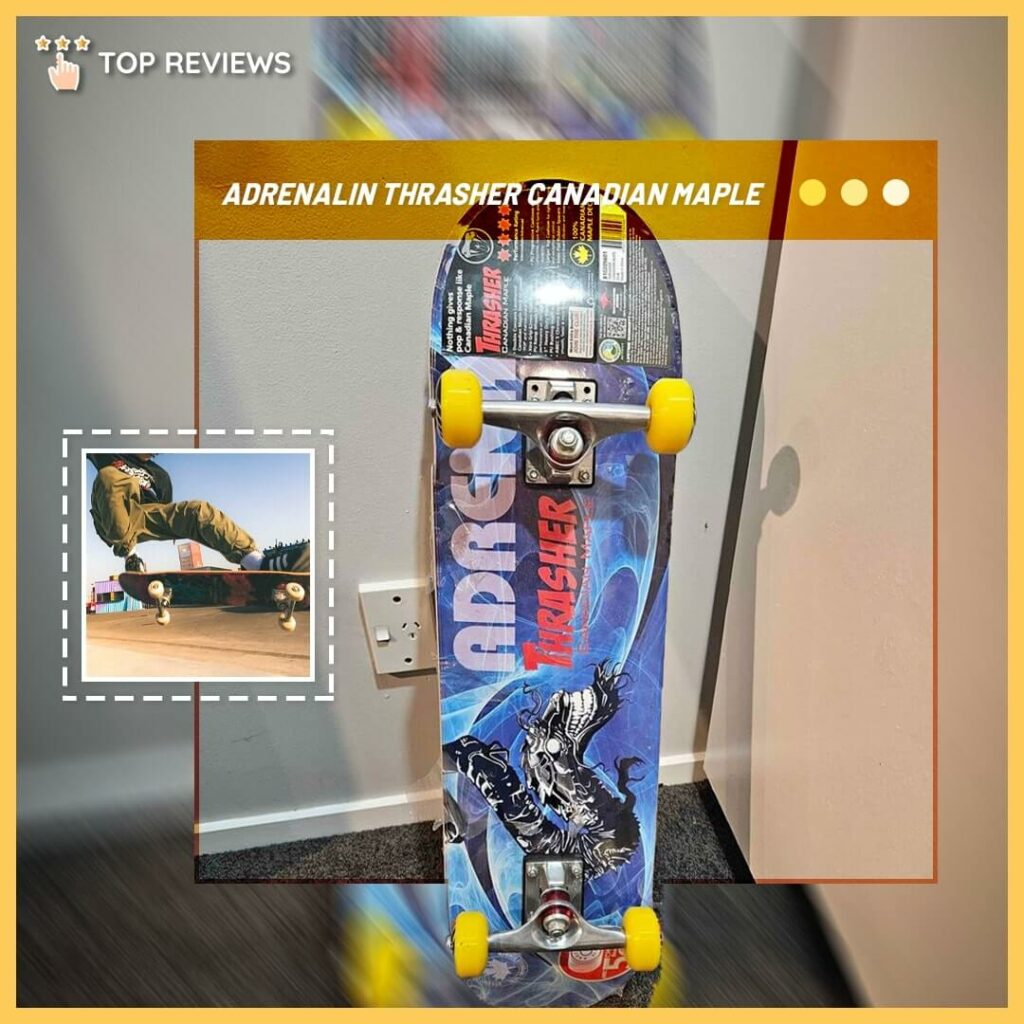 Price: $139.99
If your child wants a skateboard, then you can surprise him with the Adrenalin Thrasher Skateboard! Given its A-grade quality, it will be an extremely cool gift for him.
The board is made from real Canadian Maple timber for toughness and longevity, while the double kick concave brings a wallop of pop as well as a smooth-riding experience!
Its PU ramp 54mm wheels and grip offer increased grip and stability. Add to that the aluminium trucks that lighten and strengthen this hardcore skatepark shredder!
With ABEC 5 bearings, you'll glide with speed and fluency be it in the street or park. Not to mention its 6mm rubber spacers, which muffle the noise and vibration of the skateboard.
As a result, the Adrenalin Thrasher deserves to be part of our lineup of the best skateboards in New Zealand!
Pros
Made from long-lasting Canadian Maple timber
Gives an outstanding pop for flips and tricks
ABEC 5 bearings for a fast and fluent ride
Light to manoeuvre
Suitable for ages 9 to 12
High-grip 54mm ramp wheels
Cons
Kids can outgrow this skateboard
High price point
Customer Reviews
One buyer, Tisha, commented on Toyco's website:
"My son absolutely loves his new skateboard and it is extremely well made!"
5) Globe G3 Bar Carbon Maple Complete Skateboard
Best High-End Skateboard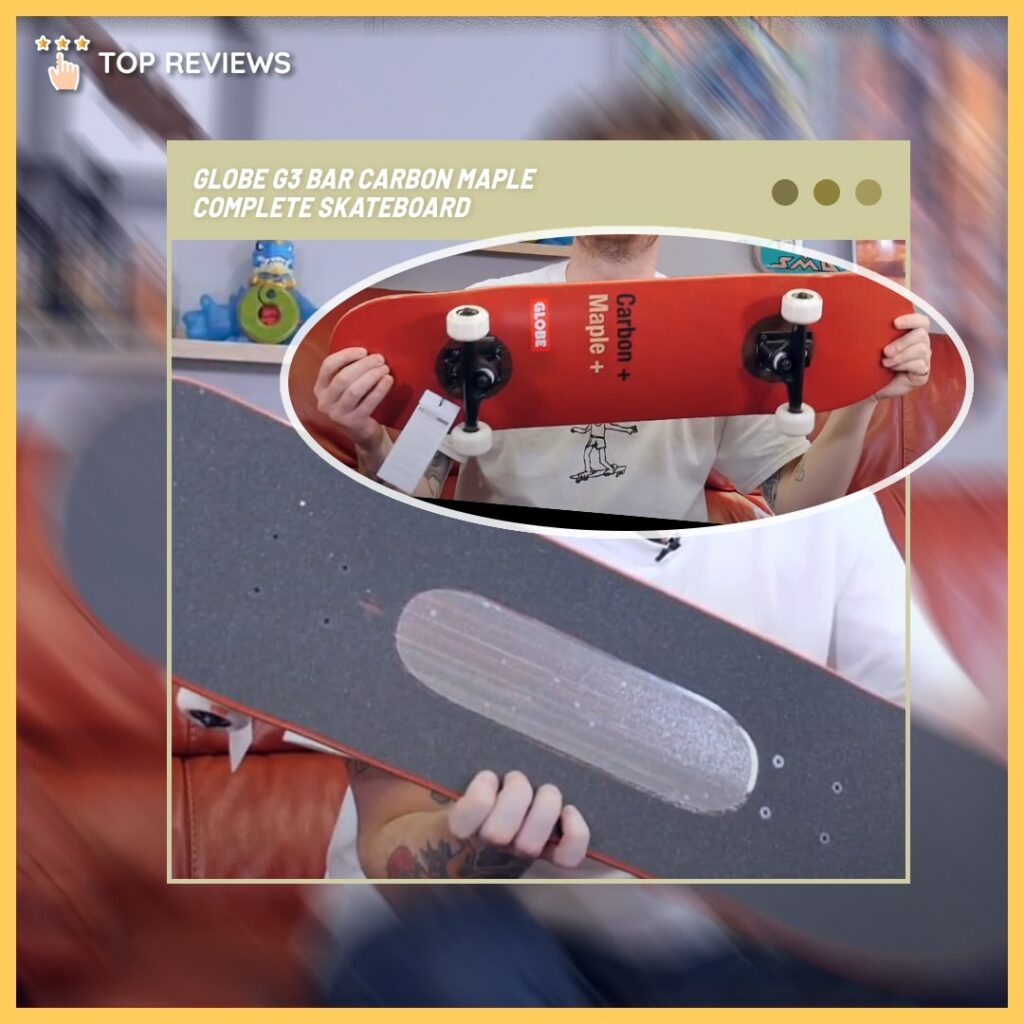 Price: $274.99
For a class and deluxe skateboard, look no further than Globe's G3 Bar Skateboard! Everything comes assembled from the trucks to the die-cut grip tape on the deck.
Engineered from Canadian Maple and carbon, this durable skateboard absorbs the impact from your ride. And a full concave body lets you do flips that much easier.
It also features 53mm conical wheels and 5.25" Tensor Magnesium trucks. Its white wheels and contrasting round design around the trucks add to the board's elegance.
This stylish red skateboard has a width of 8.25" that's just right for you to ace new tricks or casually ride it. Of course, this can also be ridden on verts and skateparks too!
Pros
Classy and deluxe skateboard
Carbon fibre helps to absorb the impact on the deck
Incredible pop and very durable
Made from Canadian Maple and carbon
Full concave body
Conical wheels and Tensor Magnesium trucks
Excellent for all skill levels
Die-cut grip tape
Has ABEC-7 bearings
Cons
Expensive
Plain body text design
Customer Reviews
One of the best skateboards in New Zealand, the G3 Bar makes your every dollar count. An independent reviewer, Riding Boards, concluded this about Globe skateboards (which includes the G3 Bar):
"Globe's complete skateboards are a good option if you're a beginner or intermediate skater looking to get back into the sport. Globe decks are quality pressed, lightweight, and durable. The components that come with the completes are great for mellow riding and simple tricks. Overall, most skaters agree Globe's boards are reliable and good value for the money."
6)  
Adrenalin Street Surfer Self Propelled Skateboard 3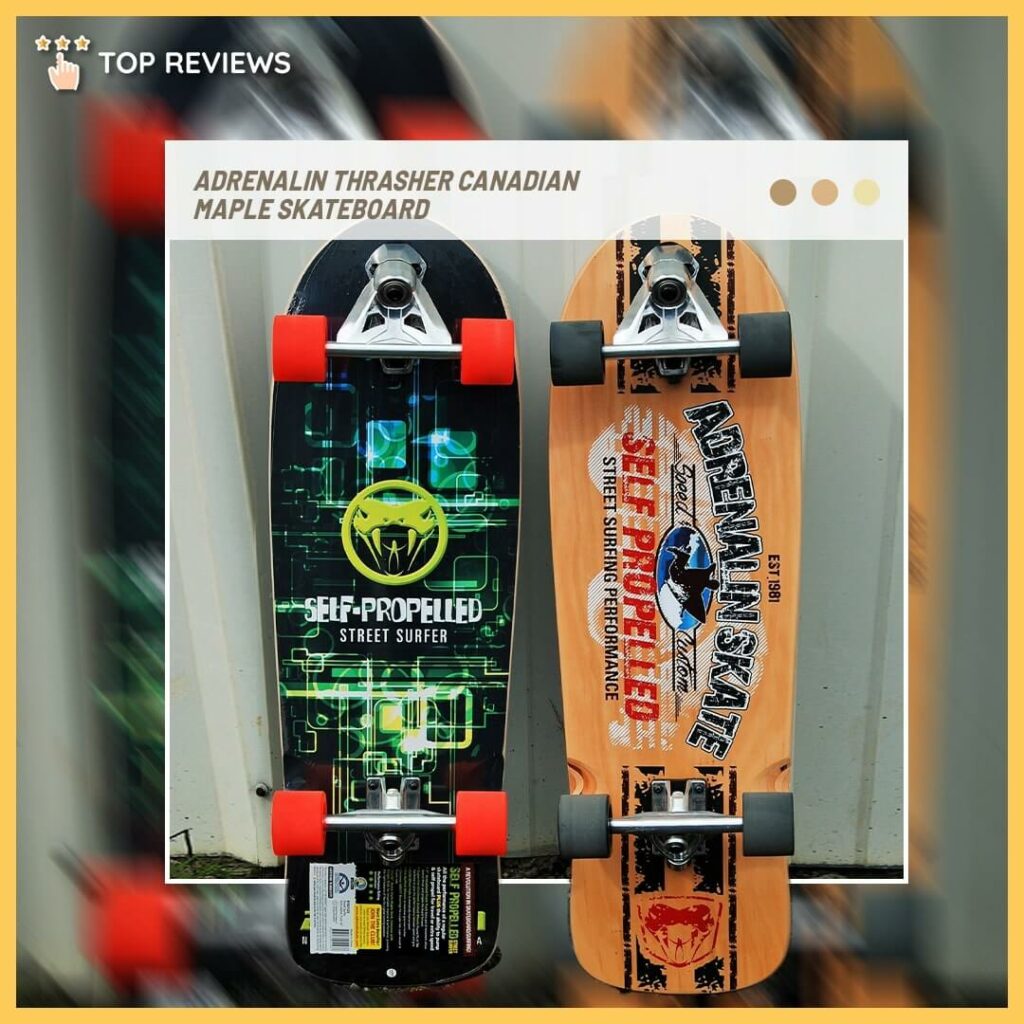 Price: $140.00
Looking for a self-propelled skateboard? Then you must get on your hands the Adrenalin Street Surfer Self Propelled Skateboard of New Wave NZ!
This skateboard features a Super-Fat 65x50mm Dished Wheels Poured PU of 78A hardness to give you a perfect balance between speed and grip. Plus, it has a 7″ Articulated Front Truck Extra that allows you to lateral thrust and propel the board forward.
It comes with Solid Wheel Hubs for improving speed and Pre-Buffed Wheels for maximising grip. In addition, it has Chrome ABEC7 Bearings that will certainly make your ride to be super smooth, super fast, and fluent.
Aside from its nice specifications, this skateboard is built with a Retro Style Maple Deck Concave with a Single Kick that will certainly offer the perfect balance of flex for a great twisting sensation.
Pros
Articulated front truck extra for lateral thrust and forward movement

Excellent for self-propelled

65×50 mm dished wheels poured for a perfect balance between speed and grip

Deck concave

Cons
7) ALPHA 4.0
Best Electric Skateboard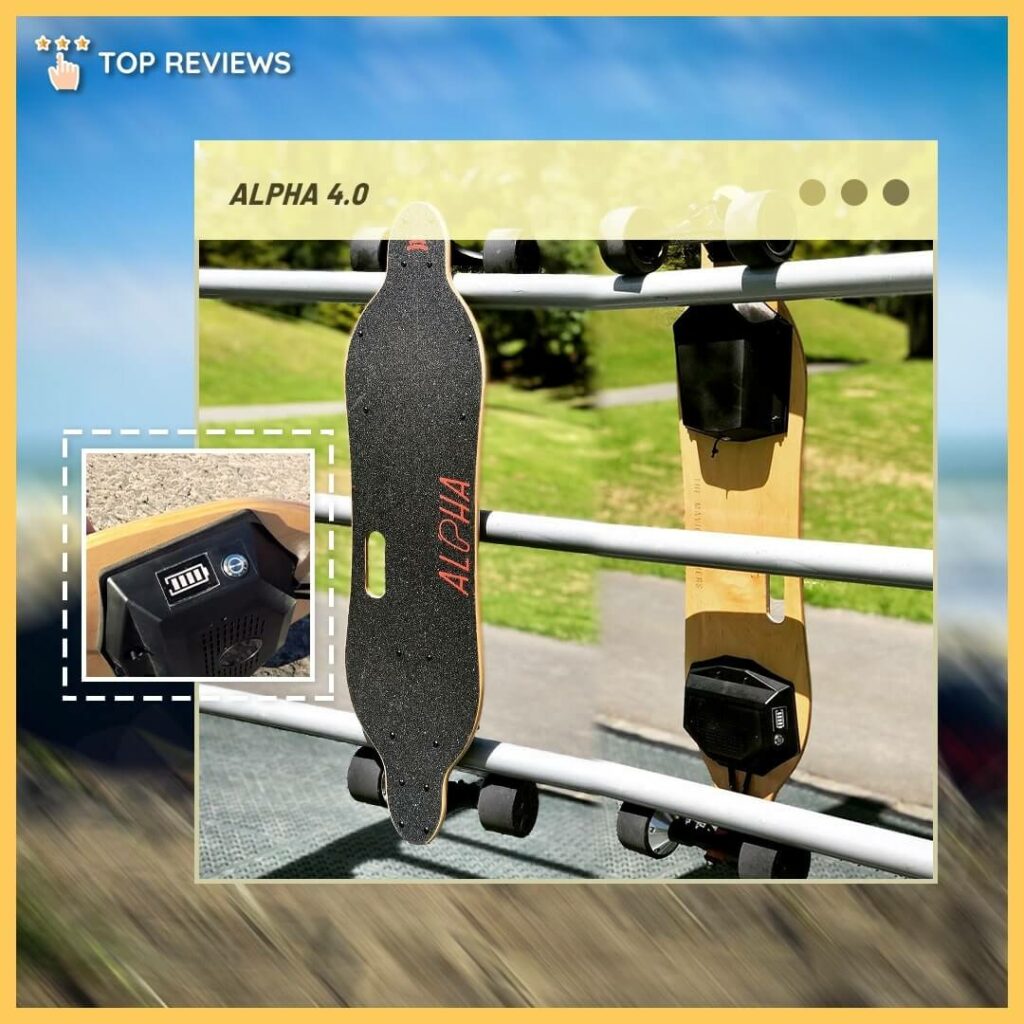 Price: $1,299.00
The ALPHA 4.0 is an electric keyboard perfect for quiet trips around your area. It features a flexible and sturdy board that can be controlled with the Mavic Ride Controller.
The controller's haptic feedback feature ensures that you have full-degree of controller over the direction and speed of your skateboard. It comes with 4 riding and braking modes for you to choose from.
The in-hub motor wheels make for a quiet ride, but allows you to reach a top speed of 48 km/h. It has a short charging time of 2 hrs, allowing you to ride for longer more frequently.
Pros
Flexible deck
2 hrs charging time
Regenerative Braking (22%)
Free shipping to buyers in New Zealand
Cons
8) LANDYACHTZ POCKET KNIFE SURF SKATE
Best for Nimble Stability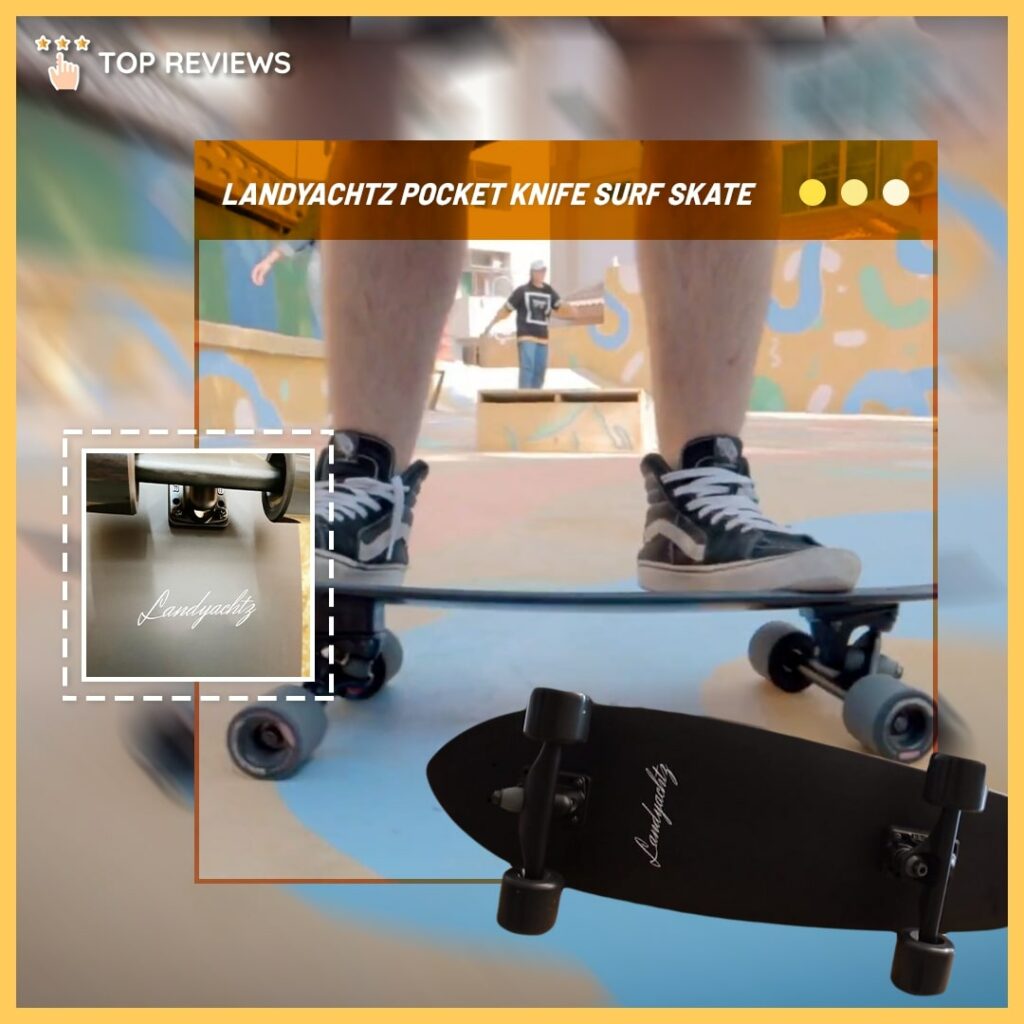 Price: $359.00
Get It Now At Ultimate Surf & Skate
The Pocket Knife may be small, but its stability and responsiveness are excellent. Its perfect for skateboarders that want to have a small, easy to maintain skateboard that will help them navigate tight lines and small gaps.
Its designed to be reliable to ride given its 7-ply maple construction, mellow concave, and kicktail. These features allow you to keep your board on your feet even as you tackle various kinds of obstacles.
It can steer you to where you want with no issue thanks to their Banger Surf Skate Trucks, while its Polar Bear 155 keeps the rear nice and steady. Meanwhile, the soft-top griptape will keep you from sliding off your board, all while staying comfortable for your feet.
Ultimate Surf and Skate's Pocket Knife is best suited for skate spots such as the neighborhood, mellow hills, pathways, and beaches. Given its many features and reasonable price, this skateboard is the perfect companion for a leisurely ride no matter where you want to be.
Pros
Nice and responsive
Mellow concave and kicktail
Smooth and grippy ride
Comfortable
Cons
And with that, we conclude our list of the best skateboards in New Zealand! With these skateboards, you can practise tricks, keep yourself fit and have so much fun!
Do you agree with the products we've listed? Share with us your thoughts or whether you have any questions and we'll reply to you in a jiffy!
Other than that, you might also be interested about the best hoverboards in New Zealand. Hoverboards are a great way to get around the city too!