The 7 Best Smart Watches in New Zealand
Want to know the distance you ran yesterday or how well you slept last night? A smart watch is all you need for that! That's why we've put together a list of the best smart watches in New Zealand here for you!
There are a multitude of smart watches offered in both online and physical stores. However, since each one is unique, it can be difficult to know which one you should buy.
So, before we go on to our list, we'll enumerate what you need to look for in buying a smart watch. Doing so can help you a great deal in picking from our list later on.
Once you've done that, we'll be showing you the best smart watches in New Zealand!
What to Look for in Buying a Smart Watch
As you know, a smart watch has many functions you can use. It can be used to track your active lifestyle, listen to music hands-free, receive phone notifications and more.
Anyway, here are the things you need to consider before you check out a smart watch. We'll go over them in detail:
1) Fitness
With regard to fitness, it's paramount to find a smart watch that gives a correct and true measurement of your vitals and fitness metrics. Otherwise, it would be of no use when you use it for physical activities.
You should also look for a watch that has the metrics you need, of course. There are quite a lot of them now.
A heart rate monitor lets you know whether you're pushing hard in training and how many calories you've burned. A blood pressure tracker keeps you tuned into a vital part of your health.
Don't underestimate sleep level trackers either. These ensure you're getting enough sleep and rest, and tell you to adapt your fitness schedule as needed if you're not resting enough.
2) Waterproof
If a smart watch is labelled as waterproof, always check its rating. For example, IP68 waterproof means you can swim with it in less than 5 feet for 30 minutes.
Never submerge a smart watch in depths and for periods longer than its actual rating. That's a good way to ruin the device quickly.
3) GPS
Smart watches with a GPS feature are usually more expensive than those that don't have one. A GPS feature basically measures your distance and pace when running or walking.
Other smart watches merely track basic stats like heart rate or blood pressure. This is far from the information you really need when you're moving from place to place as part of your fitness routine.
4) Design
Design counts as well in a smart watch: sometimes, a very good-looking watch increases your confidence double or even triple… and that can help whether you're working out or just strolling in the park.
There are square, traditional, aviator, simplistic, and elegant smart watches. Some even have interchangeable bands.
Don't forget though, that you should pick something that's lightweight and comfortable too! That's as much a part of the design of the watch as its actual looks.
5) Durability
Durability cannot be understated as you'll be using your smart watch outdoors most of the time. Your watch could be accidentally dropped or could bump against a hard surface.
Look for smart watches that have scratch-, thermal-, or shock-resistant features. If yours doesn't come with those, you can have someone add a protector to the glass part.
Some watches are built to military standards, meaning they're super tough and durable. Even if you hurl such a smart watch across the room, it will still work perfectly.
6) Price
Price also varies greatly, from low to mid-range to high. In general, expensive ones have more to offer than cheaper smart watches.
However, you should still base your purchase upon features, style, and comfort. You won't want to shell out a few hundred bucks for a smart watch you won't really need.
High-end smart watches costs between $300 to $500 and these come complete with awesome features (and GPS) already.
Mid-range watches are also great in terms of quality and are usually priced around $100 to $200. Still, for a sufficiently reliable and affordable watch, you can already get one from $40.
7) Battery Life
Smart watches largely differ in their battery life and charging times. One with a superior battery can last approximately 10 days on standby mode.
There are wireless charger-capable smart watches, by the way, while USB chargers are the more common and familiar option. Which one should you pick? Whichever's more convenient for you!
8) Notifications
Rather than get your phone to check for notifications, answer calls or reply to messages, you can just check your smartwatch for those if it permits notifications. That's why this is a good feature to look for.
Fortunately, it's fairly standard now. There are still a few smart watches that limit which notifications you can get on them, though.
9) Warranty
Generally speaking, you want a warranty. If your smart watch exhibits faults, it can then be repaired or even replaced promptly.
A 12-month warranty is a good-enough warranty, better than none. But of course, a longer warranty is highly encouraged! If you find a great watch with an even longer warranty, go for it!
The Best Smart Watches in New Zealand
If you've gone through our buyer's guide above, you now know what to look for in a smart watch. This means you're in a better position to pick the right watch from among our selections!
So, let's get you started. Here are the best smart watches in New Zealand:
1) Everis Neptune IP68 Smart Watch (E4002)
Best Mid-Range Smart Watch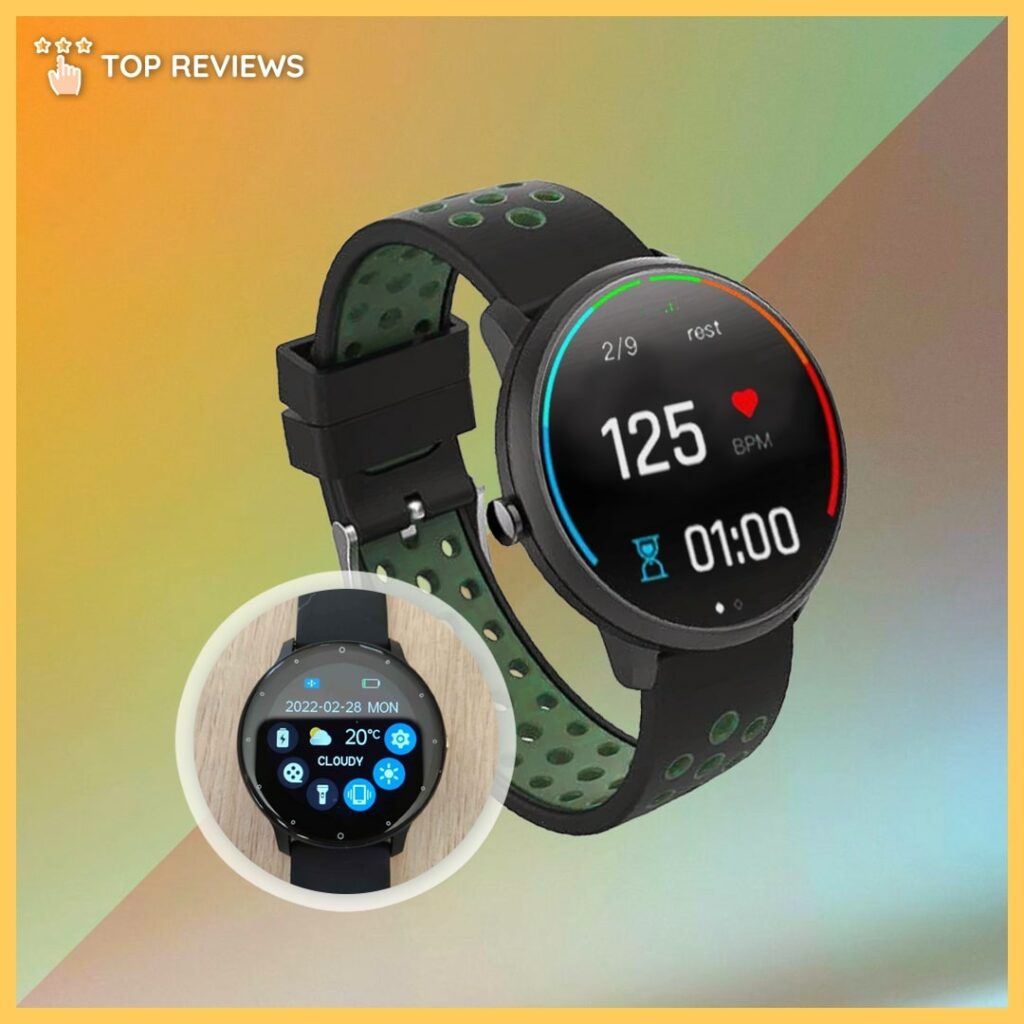 Price: $99.00
Tracking your fitness progress when you run, walk, or swim? You should get the Everis Neptune Smartwatch! It combines style, function and versatility!
On its 0.96" LCD touchscreen monitor, you can check for incoming calls or messages, monitor your heart rate, glance conveniently at the time, and customise your settings.
You'll be able to take this cool smart watch underwater with its IP68 waterproof feature. IP68 means that the watch can be submerged to a depth of 1.5m for 30 minutes' time.
Allowing breathability, the Everis Neptune Smartwatch also sports a perforated band that feels comfortable for workouts. Also, you get an extra black/gray band in the box!
One of the best smart watches in New Zealand you can have, this is a remarkable and reliable smart watch at an affordable price for Android and Apple users!
Pros
Stylish watch for your running, biking or swimming
IP68 waterproof
App is easy to find, download and use
Affordable price point
Comes with an extra black/gray colour
Long battery life
Cons
Small digital screen
At times, touch screen has a slow response
2) Fitbit Ionic Smart Fitness Watch
Best for Fitness Smart Watch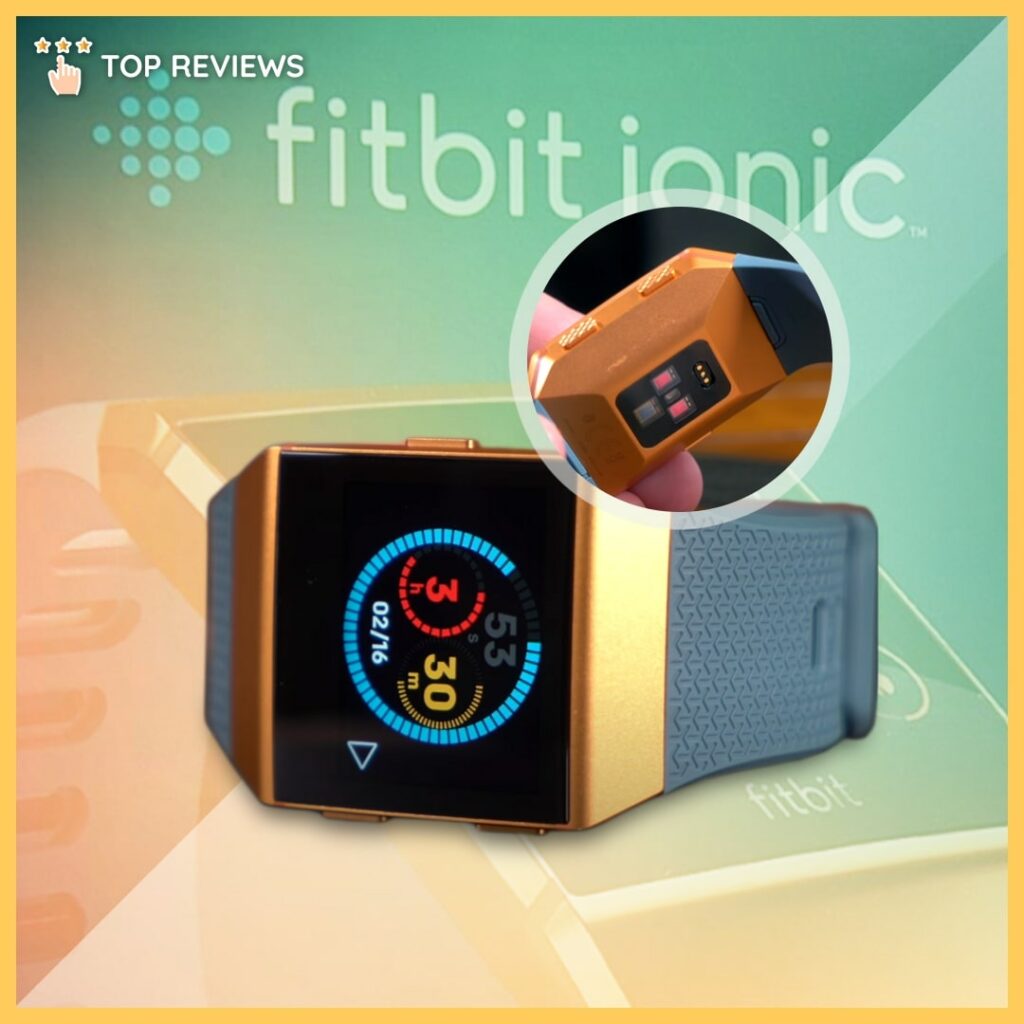 Price: $449.00
With accurate statistics, bright graphics, and an integrated music player, the Fitbit Ionic Smart Fitness Watch is the ultimate fitness watch to take with you when training!
Dynamic coaching guides you step-by-step in a series of exercises whilst adapting to your body. This is a great feature since it lets you know if you are doing things correctly.
PurePulse heart rate continuously tracks your body's statistics. From this, you can see how many calories you've burned, or whether you need to push or work harder.
GPS/GLONASS accurately tracks the current route, distance and location you're in, while the music player lets you play 300+ songs and also download from Pandora.
To top it off, the smart watch also has a battery that lasts more than 4 days, though this depends on use. Still, you can use it at any time of the day, even during sleep!
And bonus: it supports many apps through which you can get information on sports, weather and others. Plus you get a 12-month warranty from The Market if you get it from them!
Pros
Excellent fitness watch
Innovative dynamic coaching
Precise tracking and stats
Bright, clear graphics
GPS/GLONASS feature
Continuous heart rate monitor
Integrated music player
4+ days of battery life
Cons
Expensive
Harder to pair or sync with your phone than some others
Customer Reviews
Customers admired the Fitbit Ionic's superb tracking and data, easy-to-read and bright screen, lightness, and call or text notifications (if you have the phone with you).
One runner even used the watch in 3 half-marathons, and the time and distance were spot on — they matched the chip time of the race.
Furthermore, let's take a look at this feedback as posted by PK on Amazon:
"First, it looks great (I always thought the apple watch face was too small on my wrist) and the various tracking capabilities are super robust and accurate. The most understated feature is the battery life! I cannot tell you how frustrating having to charge your watch every day is. It also makes other watches useless for my favorite functionality – sleep tracking. Sleep cycle patterns are really insightful is already impacting how long I allocate to sleeping and tracking how slight tweaks to my "sleeping experience" (different pillows, oil diffusers, etc) impacts my light sleep vs deep sleep, etc."
3) Garmin Instinct Smart Watch
Best Smart Watch for Durability and Battery Life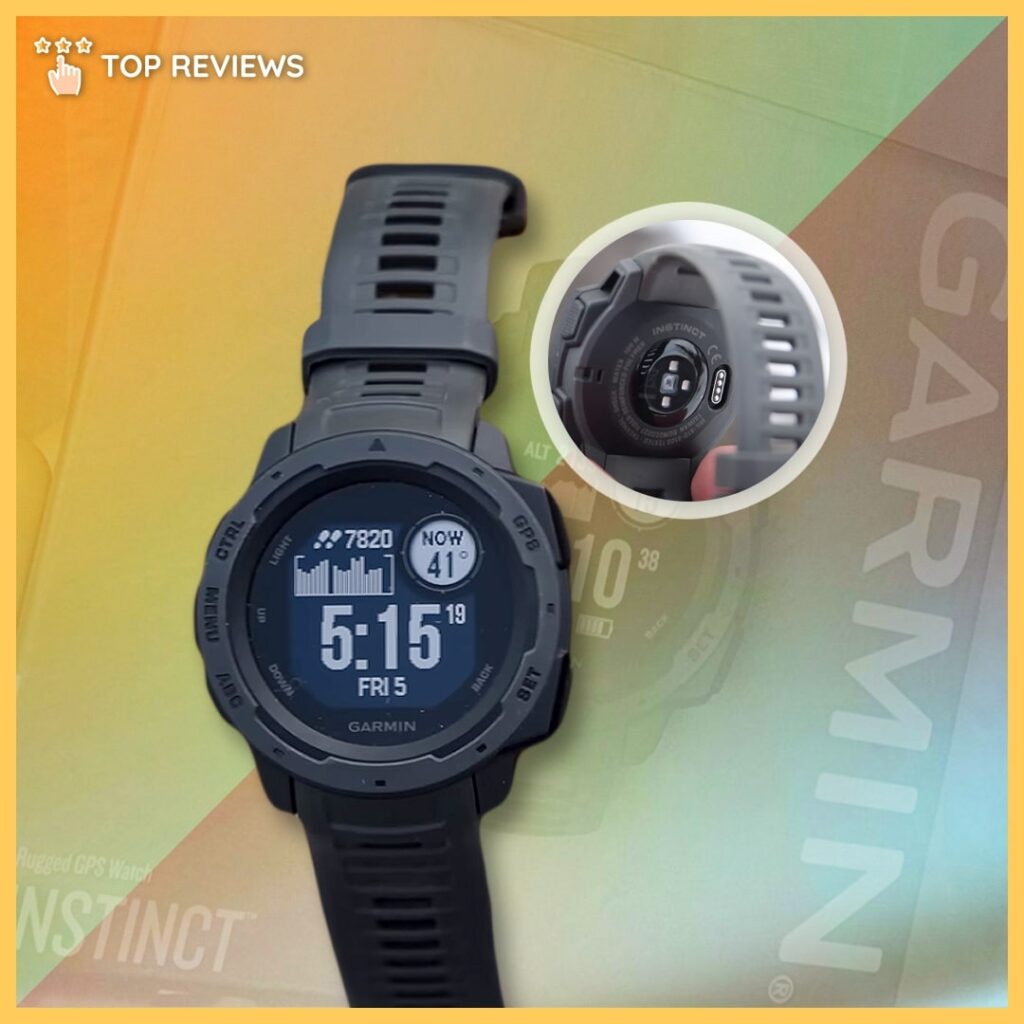 Price: $449.00
If you're hiking, swimming, sprinting, marathoning or climbing, the resilient and stylish Garmin Instinct Smartwatch will be of great help!
This smart watch is constructed to military standards, being thermal-, shock- and water-resistant. Because it can go up to water depths of 100m, you can swim to your heart's content!
Another neat feature is that it features multiple satellite systems, such as GPS, GNSS and Galileo. You'll easily find your way back when hiking with it, even if you're off the beaten path.
In addition, the barometric altimetre and 3-axis compass together provide information on your route and elevation — useful when you're exploring the wilderness or remote areas.
For battery life, this smartwatch is epic! Specifically, it can hold up to 14 days on smart watch mode, 16 hours on GPS mode, and 40 hours on power saver mode.
Also, you can check your stress level, activity and heart rate as you wear it. Basically, Garmin Instinct's smart watch will never fail to make your day!
Pros
Military-grade construction (shock-, thermal-, and water-resistant)
GNSS network capability tracks your location accurately
Reliable heart rate, stress, and activity monitors
Ideal for hiking, adventure, biking, marathon, etc.
Stylish design
Lightweight and comfortable
12-month warranty
Superb battery life
Cons
For others, the band irritates their skin
Higher price point
Customer Reviews
Garmin Instinct received rave reviews on Amazon, taking a score of 4.6 out of 5 from 3,000+ customers. The only drawback is that the band caused rashes for some people.
That being said, many commended its remarkable battery life, incredible lightness, accurate GPS and tracking capabilities, and great features.
Here's an excerpt taken from Clayton's review on Amazon:
"I've now had this watch for a few weeks and have taken it on several hunting trips. I am truly impressed with this watch. I cannot emphasize enough how comfortable and light this watch is. Owning and wearing heavier watches over the years, I think I forgot how nice it is to wear a watch that you forget is attached to your wrist. I hated wearing my Fenix watches to bed. Too bulky and would dig into my wrist. Tracking appears to be very accurate. Attitude has been accurate for daily use and when you are tracking an activity."
4) Samsung Galaxy Watch Active
Best Overall Smart Watch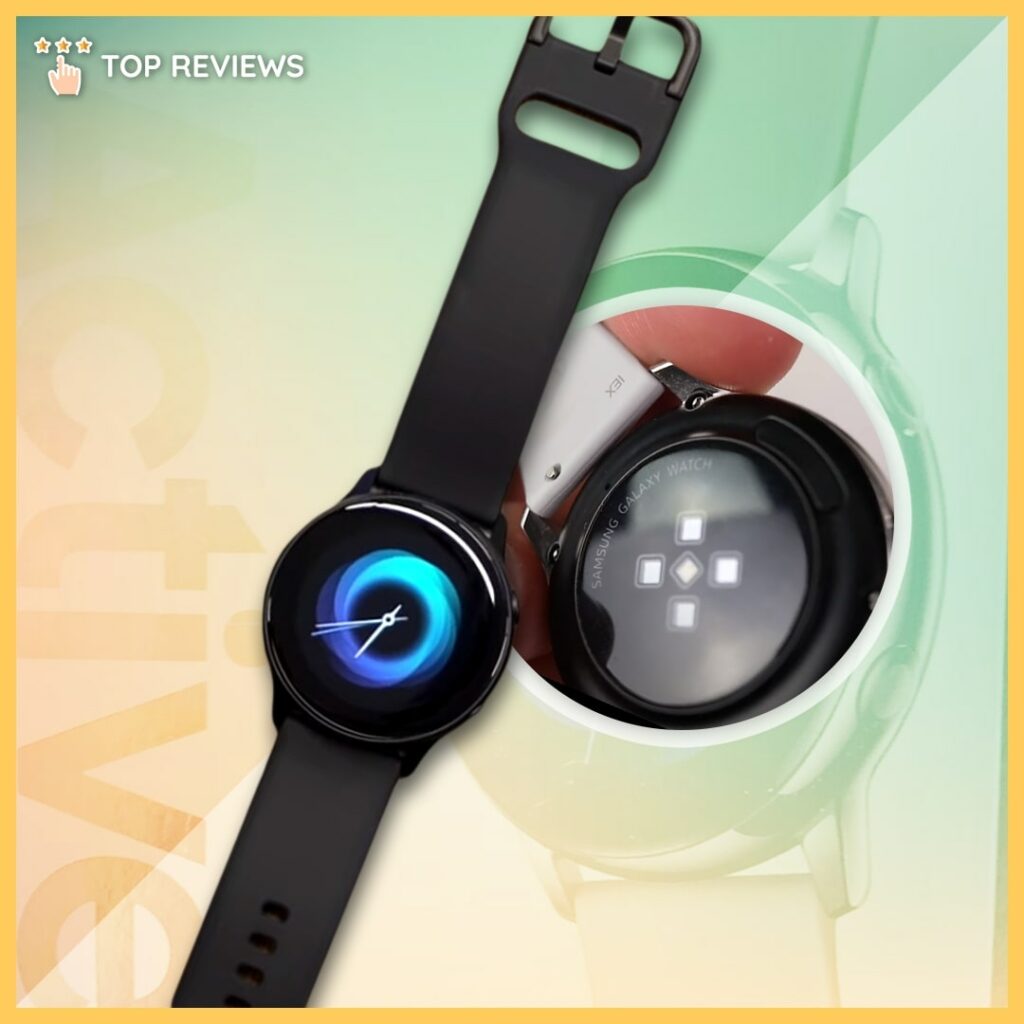 Price: $349.00
Despite its low price, the Samsung Galaxy Watch Active is one of the best smart watches in New Zealand! It is durable, lightweight and jam-packed with reliable and nifty features!
First, it can track your workout whether you are going for a run, swim, or anything in between. It provides insightful information, such as your heart rate and steps taken.
Sleep patterns are also noted so that you can adjust yourself to have a good night's sleep. That way, you'll feel refreshed and healthy for the next day and the following days.
This smart watch can be synced with your phone to play music wirelessly (using Galaxy buds) and access the GPS too. You'll have reliable information on your wrist anytime.
Moving further, the battery is also great, lasting for days. And in case you're about to run out of power, just place it over a compatible phone and it will charge wirelessly.
Pros
Durable and lightweight
Takes your training to the next level!
Tracks your sleep patterns and stress levels
Plays music through Galaxy earbuds
GPS supported
Wireless charging
Easy to use
Great value for price
Cons
There are water resistance issues
Customer Reviews
Some of the features owners like include being able to send text and answer calls, apps informing them about the weather, personalisation, and tracking activity and sleep patterns.
The only drawback would be using the watch when swimming or getting splashes on it. They say it's not the most water-resistant watch out there.
However, let's see this comment as posted by one customer, Letty627:
"I wanted to upgrade my old watch because I had it for some years and it wasn't working that good anymore.So I got this one and I am very happy to have gotten it.I like that I can snooze my alarm in the morning without having to search for my phone.It keeps me motivated and if I'm not active it tells me.It's pretty accurate as far as steps counts and so on.The battery lasts me 2 days without having to charge it but I charge it regularly just "cause I like to have my battery full.When I get calls it shows on my phone and I can answer or reject.I can use any watch face I want and I like that you can use pictures from your phone.I haven't had any connection problems at all.There is so much for me to learn still from this watch.I am satisfied with it and recommend it."
5) Urban Spec Smartwatch & HR Tracker
Most Affordable Smart Watch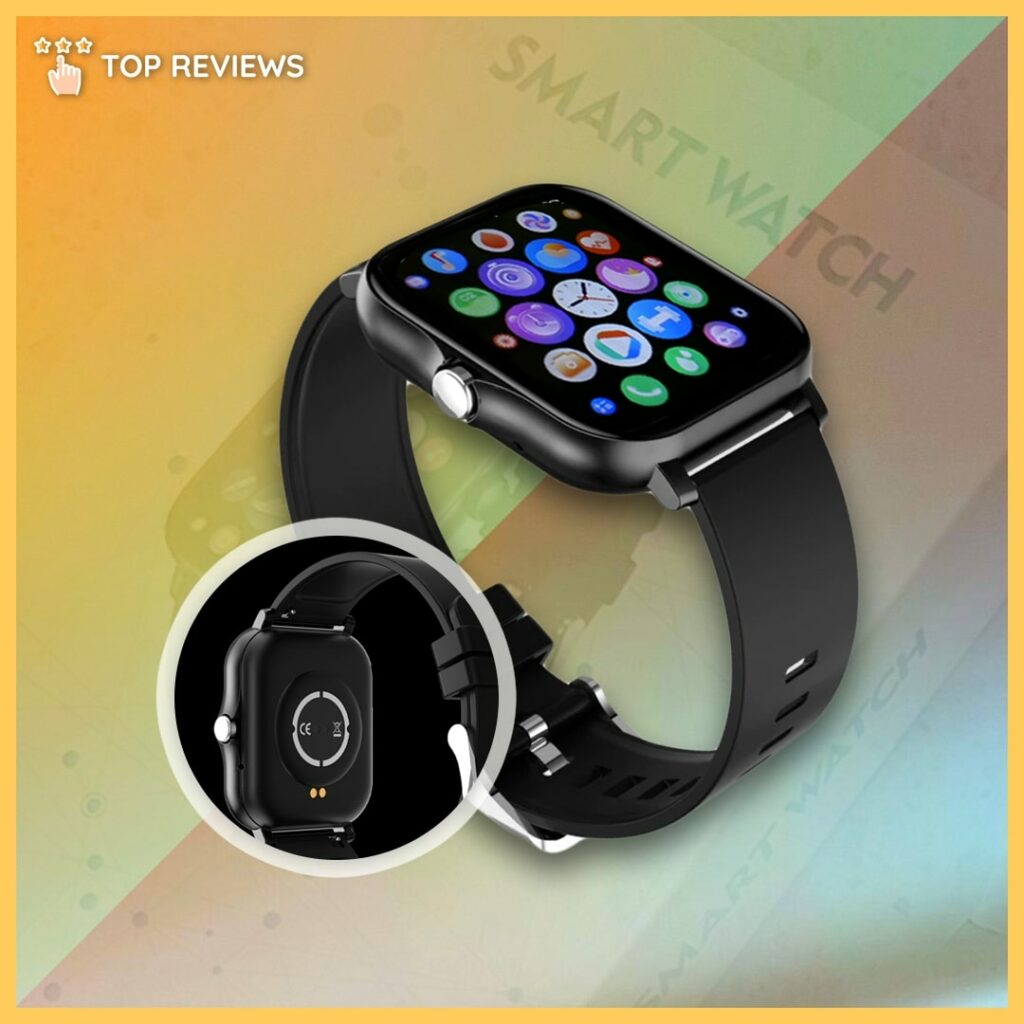 Price: $39.99
If you want a smart watch that's affordable yet punches above its weight, then the Urban Spec Smart Watch & HR Tracker is a great choice!
In addition to being a chic watch, it can function as a continuous heart rate monitor, blood pressure monitor, activity tracker, and pedometer as well as sleep tracker. It even has sedentary monitoring that encourages you to get up and exercise!
The screen has a 1.3" HD coloured display showing the clock and various stats. A tempered glass lens provides protection from bumps, scratches and damages.
Apart from that, the Urban Spec smart watch enables you to receive notifications from Facebook, Twitter and Instagram, as well as calls and texts.
When the power has gone down, you can charge it via the USB charger clip! It is thrifty in consuming power, and can last up to 15 to 20 days on standby mode.
Pros
Affordable price
Groovy design
Lots of features
Simple to use
Receives notifications for calls, texts and social media
Has sedentary reminder
Nifty USB charger clip
Cons
No GPS function
Less durable
6) AWG-AE36 GPS Smart Watch
Best Smart Watch for Kids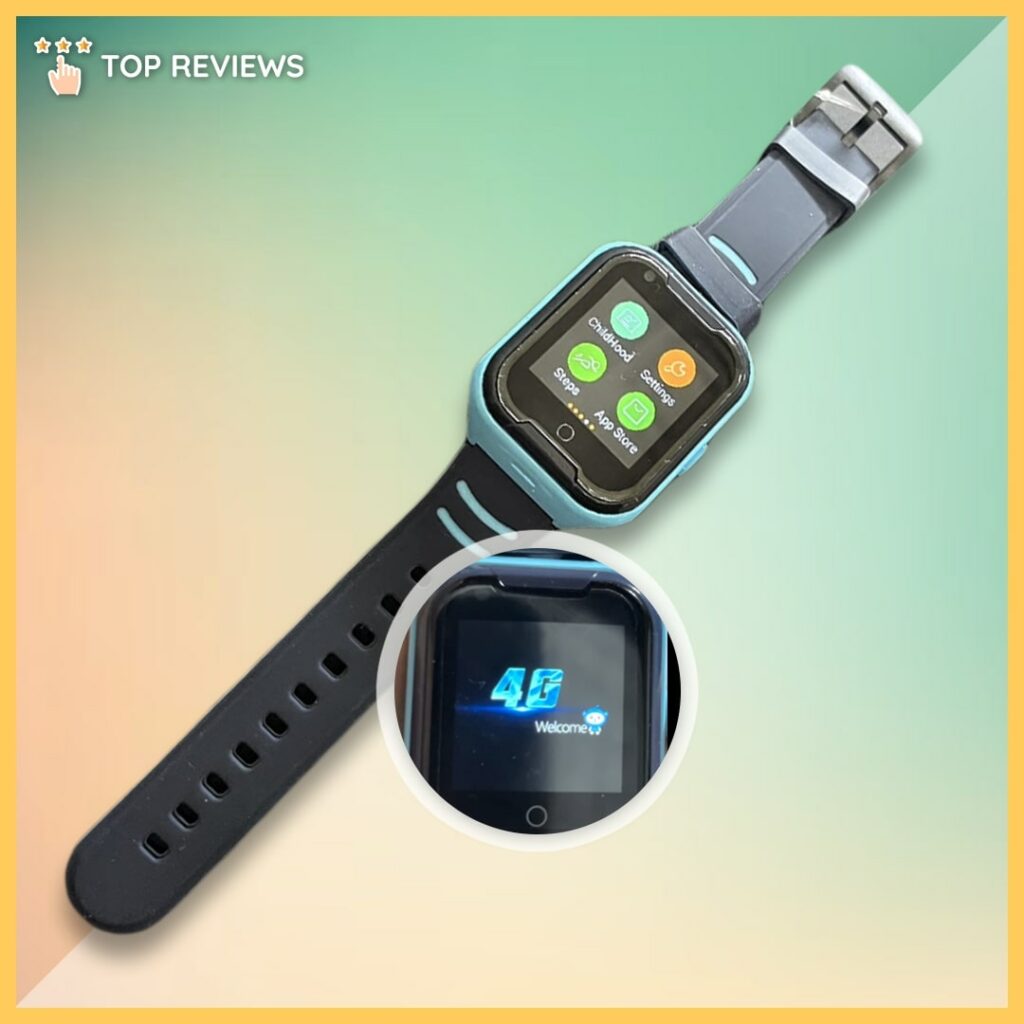 Price: $199.00
The AWG-AE36 GPS Smart Watch is the best one for your kids because it has 4G connectivity with a 3D Positioning system consisting of GPS + LBS + WiFi Localisation. The watch also stores a monthly location history for you to track.
You can even activate an electronic fence alarm to ensure your child is within a safe area only. And should your child need urgent help, they can simply press the SOS emergency button to notify you.
This watch doesn't even need a sim card to function and is compatible with iOS and Android so, you can simply track your child with the SE Tracker mobile app
Aside from these, the AWG-AE36 GPS Smart Watch also has a 3MP camera to let you communicate with your child through video calls.
Because children can be clumsy and playful, the AWG-AE36 GPS Smart Watch is also waterproof. It can withstand up to 1 meter of water in an hour.
Pros
3MP camera for photos and video calls
No need for a sim card to function
3D positioning system
Electronic fence alarm feature
IP67 waterproof
SOS emergency button
Cons
Expensive
Available only in 3 colors
7) AWG-FA28 Elderly GPS Watch
Best Smart Watch for Elderly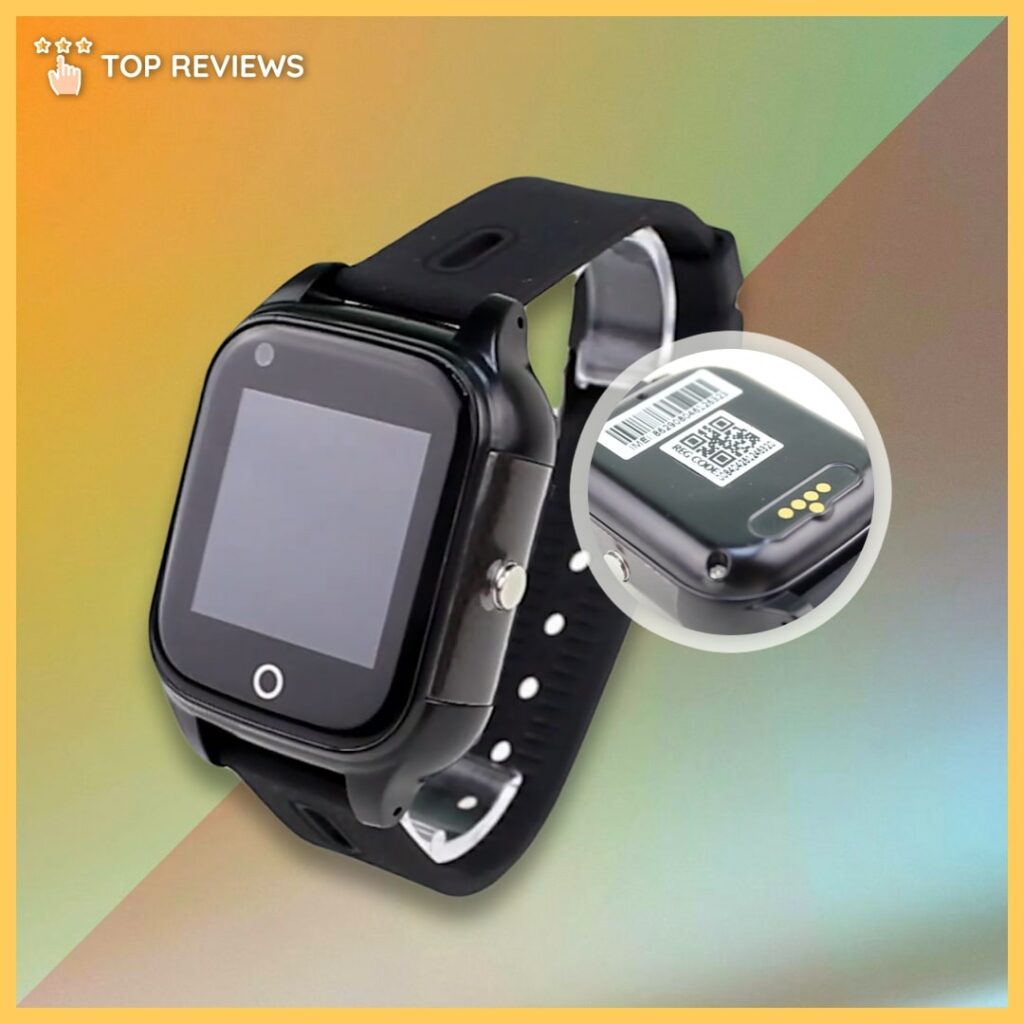 Price: $217.00
But if you're looking for someone to aid your elderly relatives or parents, you should check out the AWG-FA28 Elderly GPS Smart Watch. With this smart watch, you can communicate with the wearer through SMS, calls, and video calls.
It uses GPS+ WIFI+LBS + AGPS positioning for highly-accurate location services. You can even set an electric fence and review the location history to ensure your elders are within safe spaces.
Because it is designed specifically for the elderly, it also has additional features like medicine reminders. You can even make and set your own reminder with this smart watch.
Additionally, the smart watch can also track and monitor sleep, physical activity, and heart rate. The AWG-FA28 then displays it to keep you or your elderly relatives updated with their health.
Pros
GPS+ WIFI+LBS + AGPS positioning
Safe space and electric fence alarms
Medicine reminders
Health monitoring using sleep, physical activity, and heart rate
SOS emergency button
Cons
Expensive product
Only 1-year warranty
And that's a wrap for the best smart watches in New Zealand! If you are looking to improve your health and fitness, you can get one of these smart watches!
Do you agree with our listed products? If you have any questions, suggestions or comments, just drop us a line and we'll get back to you in a bit.
You might like to try a new activity to test out your new smart watch, by the way. Check out our fitness lists for that — for example, try our list of the best yoga studios in Wellington!