The 8 Best Solar Panels Auckland Specialists
Harnessing the power of the sun can give you bigger power savings while reducing your impact on the environment. If you're considering it, we've rounded up some of the best solar panels Auckland specialists to assist you.
We chose the ones who are experienced, knowledgeable and professional. Also, we picked those who offer excellent-quality products and can guide you to help ensure you're making the right decision.
Additionally, we factored in what customers said about them — this let us know that we had been right in our selections for this list!
The companies below offer a lot of options for your solar needs. At any rate, let's get you started: here are the best solar panels Auckland specialists!
1)  GridFree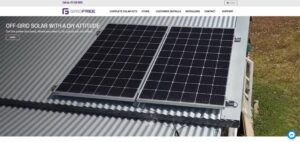 | | |
| --- | --- |
| BEST FOR | Quality Off-Grid Solar Equipment |
| SERVICES | Solar Panel Sale and Installation |
| WEBSITE | https://gridfree.store/ |
| ADDRESS | 22/114 Wiri Station Road, Wiri, 2104 (By Appointment) |
| CONTACT DETAILS | 09 218 5533 • [email protected] |
| OPERATING HOURS | N/A |
GridFree offers quality solar panel solutions at the most affordable prices. Besides offering excellent solar equipment, they also provide customisation services to their clients.
While their team doesn't do installs, GridFree more than makes up for it by providing Auckland locals with accessibly off-grid and DIY kits. With their help, you're sure to get only the best!
Highlights
Customisable solar kit
Free consultation available
2)  Kiwi Solar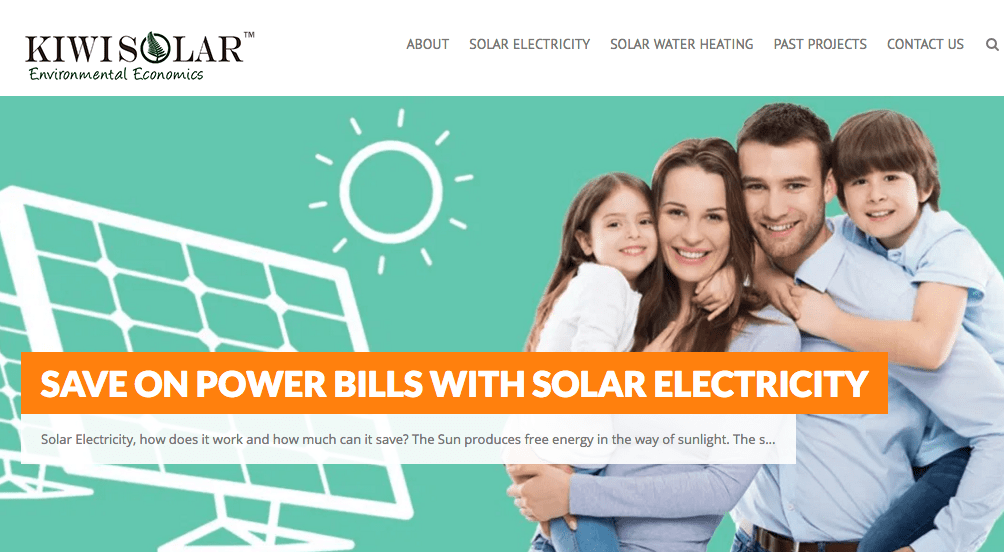 BEST FOR
Full and Guaranteed Satisfaction
SERVICES
Solar Electricity

Solar Water Heating

WEBSITE
https://www.kiwisolar.co.nz/
ADDRESS
F3/13 Laureston Avenue, Papatoetoe, Auckland 2025, New Zealand
CONTACT DETAILS
+64 9-215 4575
OPERATING HOURS
Monday to Friday: 8am – 6pm
Investing in a solar electricity system to save on power bills? You should ring Kiwi Solar! They are a leading supplier and installer of solar panels and solar water heating products.
The company conforms to the NZ solar standards and has a qualified and personable team. Your satisfaction to them is of prime importance and it is guaranteed!
You also get a free estimate from them where they will customise their services to meet your budget and requirements. And they'll handle the entire process from design to installation.
As you can see, they are one of the best solar panels Auckland specialists!
Highlights
Qualified and personable team
Offer a large range of solar products
Conform to NZ solar standards
100% satisfaction guaranteed
Free estimates 
Customer Reviews 
One client, Kylie Forster, said on the website: 
"I'd like to personally thank you for the great service and support. I am very happy. You guys are doing a fantastic job. Everything was quick and effective. I wish you all the best. My wish for Kiwi Solar is you get more business. Keep up the great support."
3)  SolarKing Ltd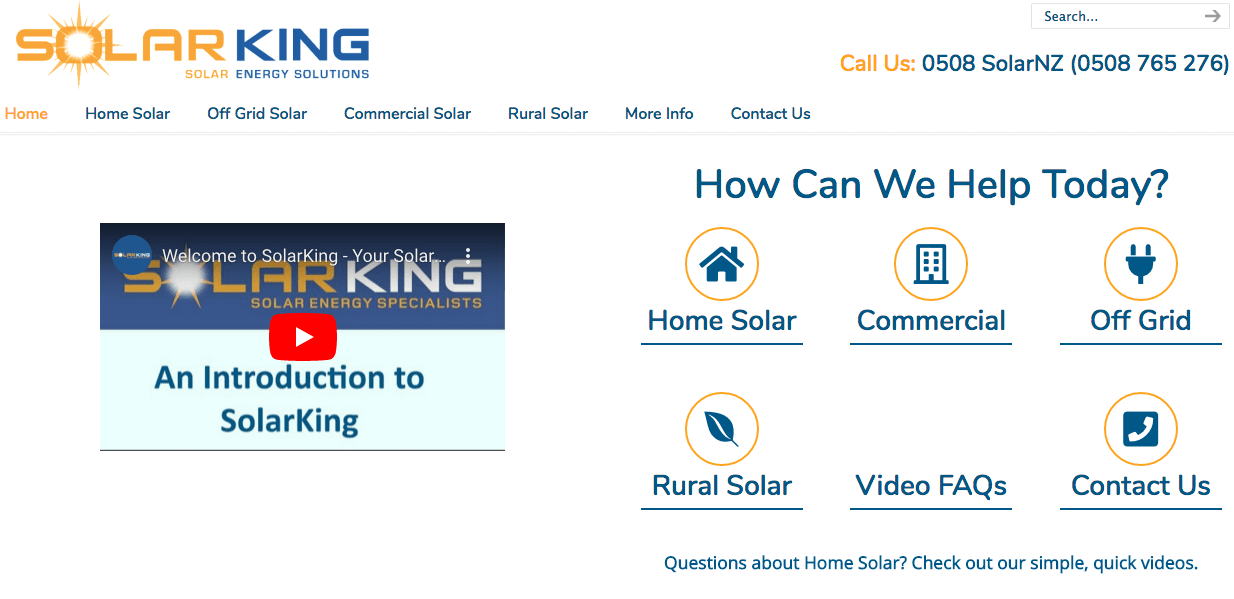 BEST FOR
Top-Quality Solar Technology
SERVICES
Home Solar
WEBSITE
https://solarking.co.nz/
ADDRESS
24B Parkway Drive, Rosedale, Auckland 0632, New Zealand
CONTACT DETAILS
(0508) 765 276

+64 9 486 7443

OPERATING HOURS
Monday to Friday: 9am – 5pm
SolarKing Limited is a New Zealand-wide service provider for top-quality solar products for your residential, commercial, rural and off-grid applications.
Assisting you will be a team of Master Electricians and solar power experts. They can provide a tailored solution to be in line with your purpose, whether that is getting great capital returns or off-grid rural living.
All their solar products come with a solid production warranty up to 25 years. And they provide excellent post-service support and assistance too!
Highlights
Supplies and installs solar products nationwide
Master Electricians and solar power experts
Tailored solutions
25 years production warranty
Excellent post-service support and assistance
Customer Reviews 
Let's see the review on Google Business from one client, Sean: 
"Great experience dealing with Solar King, from first contact to the installation. Friendly staff that know there stuff and more than happy to answer all the questions we had! Definitely recommend to anyone wanting the best – before, during and after service you can get. Thanks team." ?
4)  ZEN Energy Systems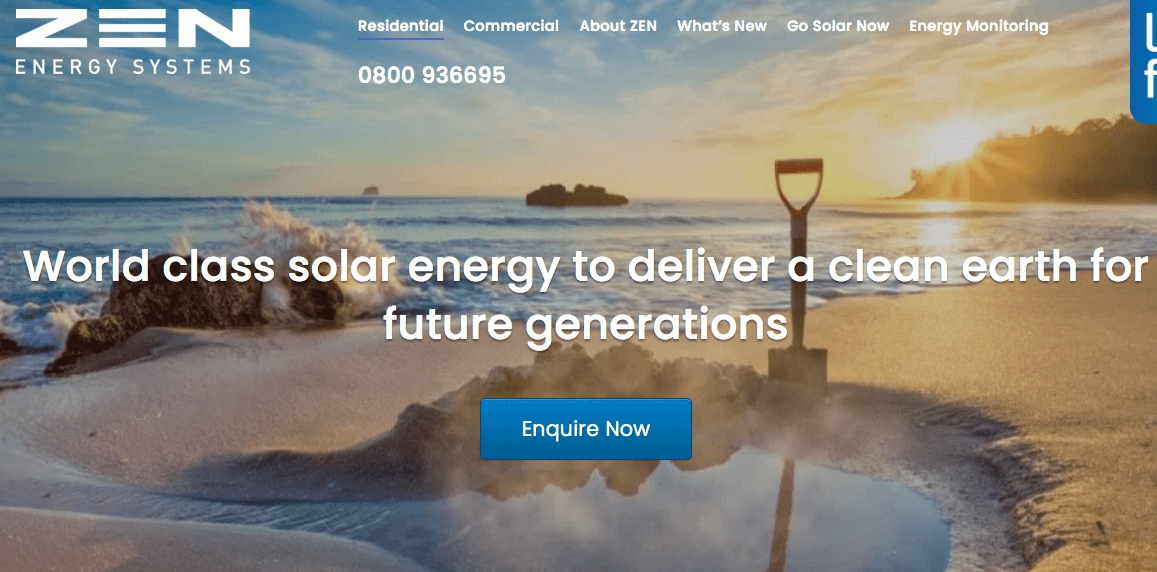 | | |
| --- | --- |
| BEST FOR | World-Class Solar Power & Energy Storage |
| SERVICES | Residential & Commercial Solar and Energy Storage Systems Solutions |
| WEBSITE | https://www.zenenergy.co.nz/ |
| ADDRESS | Suite 6, Level 2/58 Surrey Crescent, Grey Lynn, Auckland 1021, New Zealand |
| CONTACT DETAILS | 0800 936 695 |
| OPERATING HOURS | Monday to Friday: 9am – 6pm |
Make the switch to solar and substantially reduce your power bills! ZEN Energy Systems offers world-class products sourced globally from eminent suppliers.
With extensive experience and engineering backgrounds, their staff have allowed people to not only get power savings, but also reduce carbon emissions!
Plus, they are neat and tidy when installing your solar products at your house. They can provide you advice so that you know you're getting the most out of your investment.
Though a small company, ZEN Energy Systems is deserving to be called one of the best solar panels Auckland specialists! That's why they're on our list. 
Highlights
World-class solar products
Generates higher savings than most
Extensive experience
Helpful and expert team
Small family-owned business
Customer Reviews
One customer, Brenda, shared on the website:
"I had been looking at solar energy for about 18 months and received proposals from five different companies. Through my dealings with ZEN I learned more about solar energy than from the other four companies combined."
5)  NZ Solar Power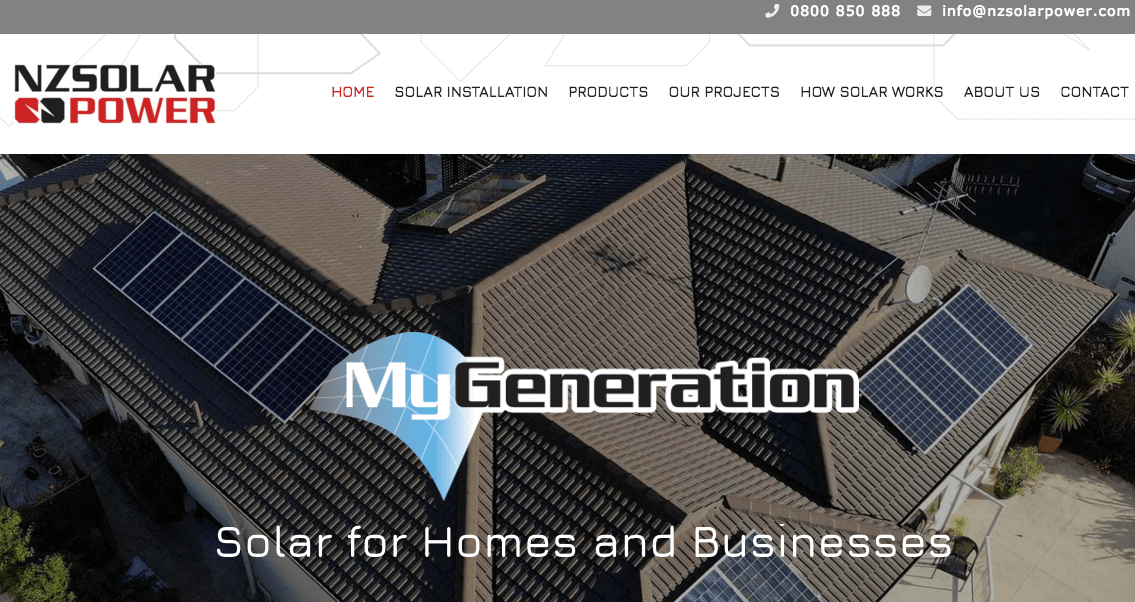 NZ Solar Power is the premier solar product installer and supplier in Auckland, Lower Northland, and Upper Waikato suburbs.
They offer a complete range of products such as solar panels, inverters, and batteries to the domestic and commercial markets. These products are suitable for use in New Zealand.
Their competent tradesmen will first consult with you to determine the best product for your use as well as calculate your energy costs. From there, they will proceed to design and implement an effective solution, followed by installation and after-sales service.
Along with that, their products are backed up by a lifetime workmanship warranty, plus 25 years for their installed solar panels and 10 years for inverters or PV units.
Highlights
Covers Auckland, Lower Northland and Upper Waikato suburbs
Complete range of high-quality solar products
Competent and experienced tradesmen
Lifetime workmanship warranty
Customer Reviews 
Samuel Hung, one client, wrote on Google Business: 
"Great company with professional service!  Andrew is a very knowledgeable expert in solar energy and answered every question I have… also gave us very good advice on what system my family would need.  The quotation is competitive and reasonable, and the bottomline is we are very happy with the system after running it for a month now!  Have to mention that the installation team is also very efficient and did a fabulous job.  Highly recommend this company to anyone I know!"
6)  Harrisons Energy Solutions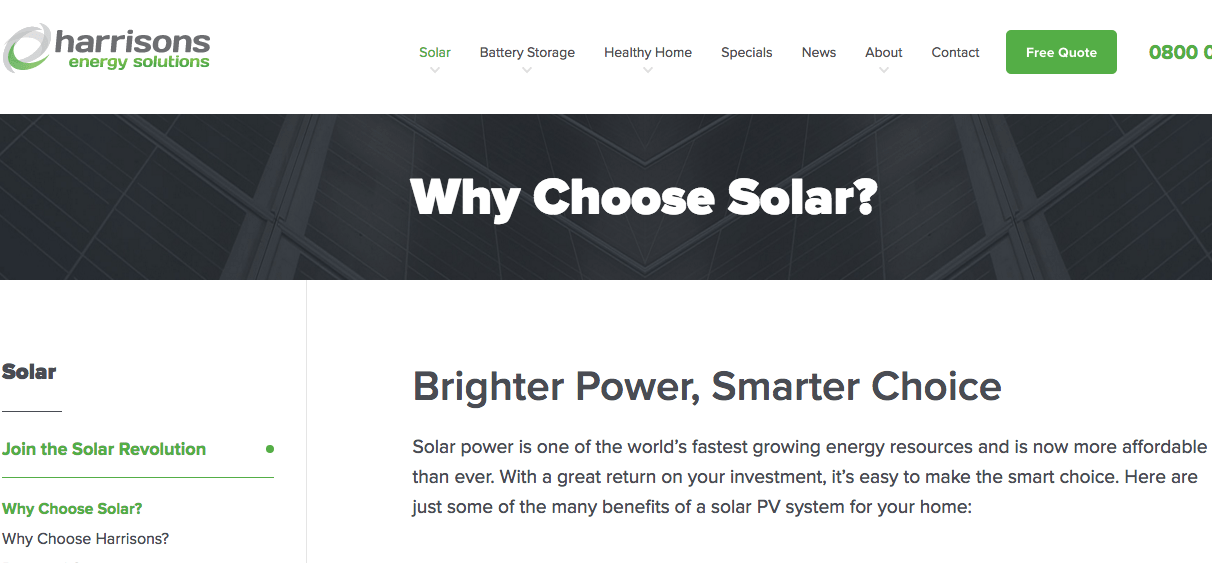 In all facets of their service, Harrisons Energy Solutions shines like the sun. They are committed to helping you have a green and comfortable home while maximising your ROI.
They have your back from consultation to installation of your solar panels or PV system. Whether it's for your home or commercial facility, they can tailor-make a solution for you.
Harrisons Energy Solutions has a large network across the entire country. Time and time again, they have proven themselves as some of the best solar panels Auckland specialists!
With them, you'll get to have solar power for your electricity and hot water with locked-in future savings!
Highlights
Greener and comfortable home
Helps you maximise your ROI
Dedicated, smart, and reliable team
Supplies and installs a range of solar panels, solar modules, and batteries
Large network across NZ
Customer Reviews 
Check out Lesley Harris's feedback on Google Business:
"Just had solar panels installed and highly recommend this company great consultation and support thanks."
7) iGenerate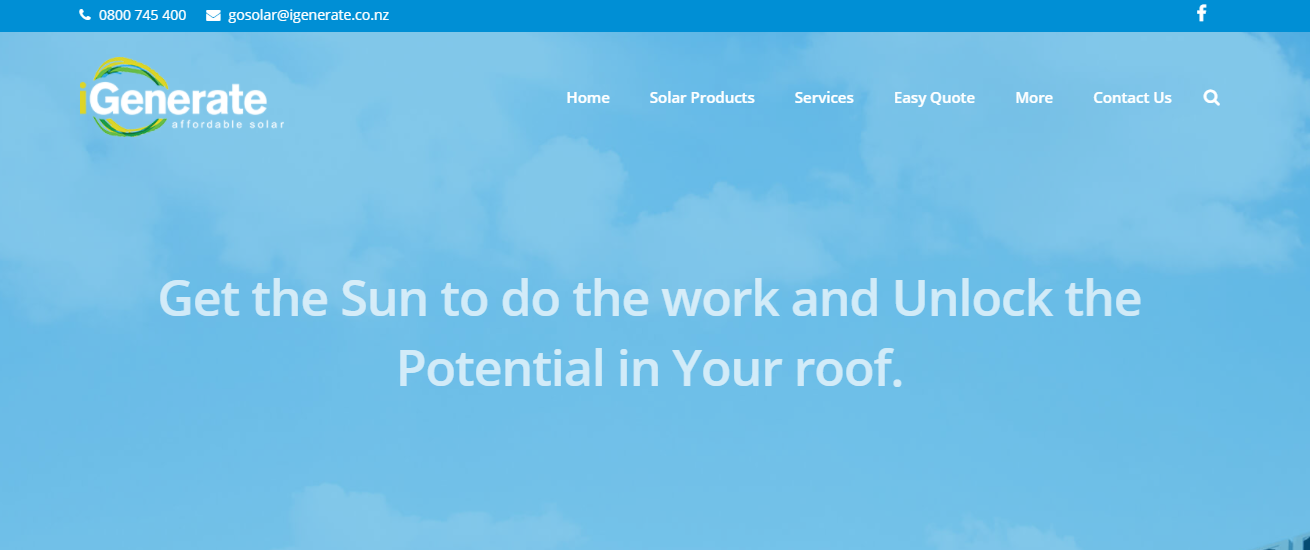 Best For
Affordable Solar
Services
Solar Finance, Solar Lease, Solar Offers, Solar Monitoring, Solar District Monitoring, and Solar NZTG Training Videos
Website
https://igeneratesolar.co.nz/
Address
96a Middle Renwick Road
Blenheim 7201
Contact Details
0800 745 400 or [email protected].
Operating Hours
n/a
iGenerate is one of the best companies you can look up to if you're in need of solar energy. With their services, you'll have energy power for your home and business in the long run.
Their solar energy is known to provide flexible and clean energy, and together with it, your monthly bills will become lesser than the usual.
You'll be able to save a great amount of money as this solar energy of iGenerate will get your energy bills lower. Call them now and become one of their satisfied clients.
Highlights
Accommodating staffs
Free operation
8) Solarworx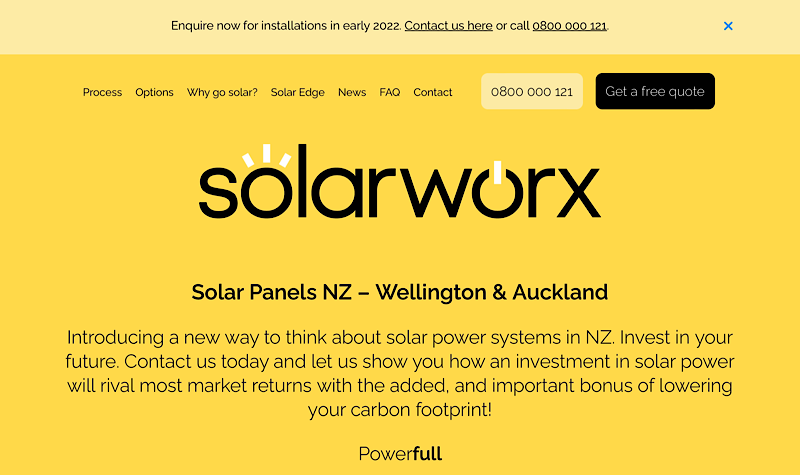 BEST FOR
Solar Panel Systems
SERVICES

Standard Grid Tie, Hybrid Solar Edge System, and Battery Systems

WEBSITE
https://solarworx.co.nz
ADDRESS
Auckland office

Eden Terrace, Auckland

Wellington office

Kapiti Coast, Wellington

CONTACT DETAILS
Auckland office

09 9509446

Wellington office

04 213 8238

OPERATING HOURS
Contact for more details
Based in Auckland and Wellington, Solarworx is a solar panel system company that provides solar systems throughout New Zealand. They offer the Standard Grid Tie, Hybrid Solar Edge System, or Battery Systems depending on what's more convenient for their clients.
In solar panel system installations, residential systems generally take a day to be completed. We like that Solarwork is quick in performing their operations.
In terms of pricing, they pride themselves on being competitive with other solar companies. Nowadays shifting to solar systems is a practical investment so making them affordable is a good initiative.
As a plus, Solarworx offers a minimum of 10 years manufacturing  warranty for all of their solar panels. Some systems have up to 20 or 25 years of warranty which assures their clients on the quality of services they provide.
For those who have no idea how solar systems work, the company also offers a free quotation for their clients. We find this ideal before making an investment.
Highlights
Has three different quality solar system options

Offers competitive pricing

Offers long-term warranties

Free quotation
Customer Reviews 
Here is a Facebook review from their previous client:
"Friendly, efficient, knowledgeable and reliable. David and the crew are an absolute pleasure to work with." – selina Tuomey
And that's a wrap for the best solar panels Auckland specialists! As it is now more affordable, solar power is the future — which is both good for the pocket and planet.
Do you agree with our list of companies here? Share with us your thoughts, opinions or whether you have any questions by messaging us, and we'll get back to you.
Furthermore, you might like to read about the best solar panels in New Zealand! We have excellent options there that will be great if you want to drastically lower your energy use.