The 6 Best Solar Panels Christchurch Providers
The demand for solar panels in New Zealand is increasing owing to their sustainable and cost-saving perks. If that's what you need, then we've outlined the best solar panels Christchurch providers.
We especially chose the ones who offer the highest-quality solar panel systems. Next, we picked those who are proficient and professional, and known for meeting clients' particular requirements and budgets.
These teams can certainly be trusted to give you a noticeable return on your solar panels. And if you're ready, here are the best solar panels Christchurch providers!
1) Green Spark Solar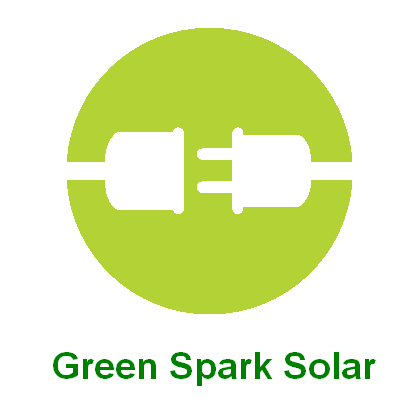 BEST FOR
Top-Quality Solar Panels
SERVICES
Grid-Tied Solar

Hybrid Solar

Off-Grid Solar

WEBSITE
https://greensparksolar.co.nz/
ADDRESS
6 Malcolm Avenue, Cashmere, Christchurch 8022, New Zealand
CONTACT DETAILS
+64 21 294 7591
OPERATING HOURS
Monday to Friday: 8am – 7pm

Saturday: 9am – 5pm
Green Spark Solar is a national company that installs and supplies top-quality solar systems and inverters for residential, agricultural, industrial and commercial clients.
Are you using solar panels for off-grid, grid-tied, or hybrid purposes? They offer it all. We recommend the Bifacial Dual Glass Solar Panels and Immersun Power Manager.
If you need any batteries, they also have them — and they can even install new batteries for your current solar inverter regardless of brand.
Here, you get solar power and all the benefits that come with it, such as a higher rate of return and enhanced property value that draws in more tenants or buyers.
Serving all the major cities in New Zealand, Green Spark Solar is a SEANZ member and one of the best solar panels Christchurch providers!
Highlights
Top-quality solar panels
Offer a breadth of solar products
Enjoy all the benefits of solar energy
SEANZ member (Sustainable Energy Association of New Zealand)
Cover areas across NZ
Customer Reviews
One customer, Chris Bonica, mentioned on Facebook:
"Nice system, Very pleased with it.
easy to use technology that runs quietly in the background.
assessed what I needed. sent all the gear to the north island. installed it all for me. Very helpful team.
Will continue to use their gear
and their advice."
2) Solar Living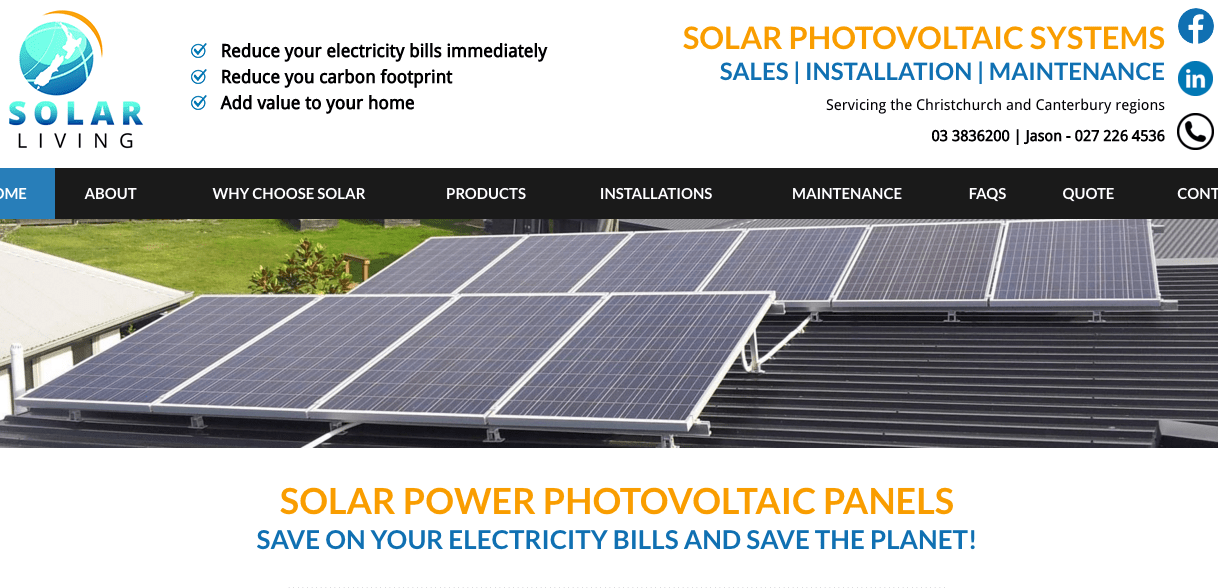 BEST FOR
Affordable Products
SERVICES
Sales, Installation and Maintenance of Solar Panels
WEBSITE
https://www.solarliving.co.nz/
ADDRESS
PO Box 38011, Parklands, Christchurch 8083, New Zealand
CONTACT DETAILS
03 383 6200

027 226 4536 (Jason)

OPERATING HOURS
Monday to Friday: 8am – 5pm

Weekends: by appointment
Solar Living is another company that stands among the best solar panels Christchurch providers. They pride themselves on offering affordable solar products to Cantabrians.
They offer Hopergy Mountings, Trina Solar Modules, and inverters. They promise that installation of your custom solar panels will be quick and easy with minimal to no downtime.
Their solar products are backed by a confidence-assuring 25-year warranty. And you can rest easy knowing you'll have great returns and reduced power consumption.
You can visit their website or call them to book a free on-site inspection and quote.
Highlights
Affordable solar panels
Quick and easy installation
25-year warranty
Serves wider Christchurch areas
Free on-site inspection and quote
Customer Reviews
Check out the review of Dale Gallaugher on Google Business:
"I had the pleasure of dealing with solar living twice for solar installations on two of my homes. Do yourself a favour if your considering solar for your home, use this company. Great price and back up service."
3) Solar Power NZ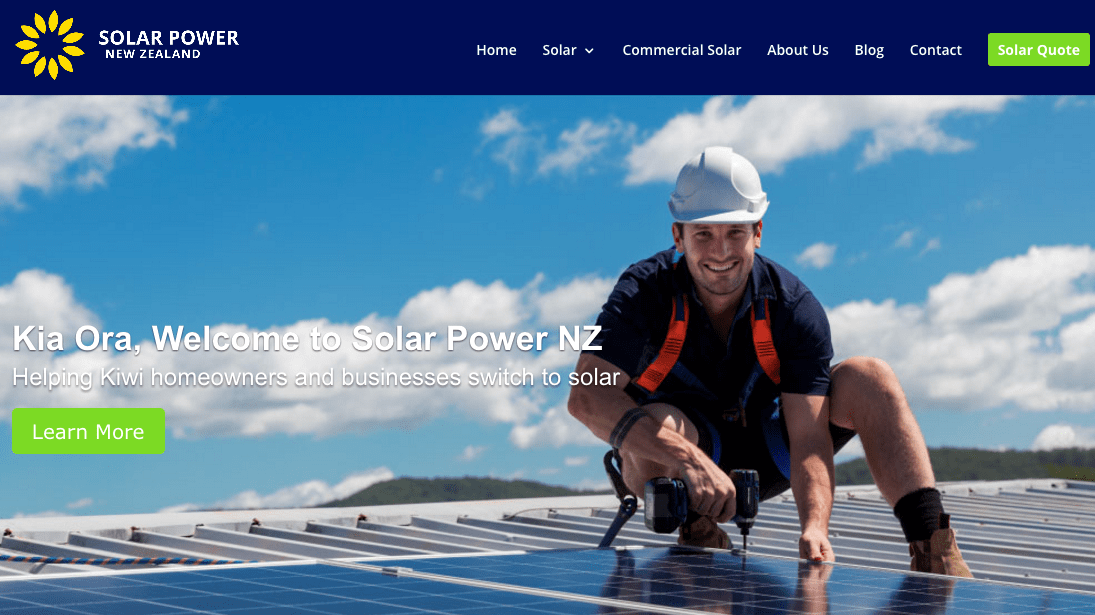 BEST FOR
Cost-Effective Solar Energy Solution
SERVICES
Residential Solar Power

Commercial Solar Power

Solar Diverter for Hot Water

WEBSITE
https://solar-power.co.nz/
ADDRESS
301 Brougham Street, Sydenham, Christchurch 8023, New Zealand
CONTACT DETAILS
0800 004 132
OPERATING HOURS
Monday to Friday: 9am – 6.30pm

Saturday: 10am – 4pm
Quality products at low rates is the business pitch of Solar Power NZ. Whether you'd like to lower your running power costs or reduce your carbon footprint in your home or office — they have what you need here.
You can arrange for a no-obligation consultation with them to get an idea of the suitable solar panel options as well as their buy-back rates for you.
Their team has considerable experience, including when they worked in Australia for 6 years. Moreover, Solar Power NZ are environmental advocates in that they endeavour to plant 5 new native trees for each solar PV system sold!
Highlights
Quality products at low rates
Considerable experience
Careful, tidy and efficient
Plants 5 native trees for every solar PV system sold
Customer Reviews
Let's see one client, Patrick Dodson's review on Google Business:
"Chris was super knowledgeable and highly professional. The solar install was on budget, looked great and had been operating flawlessly ever since!"
4) CPS Solar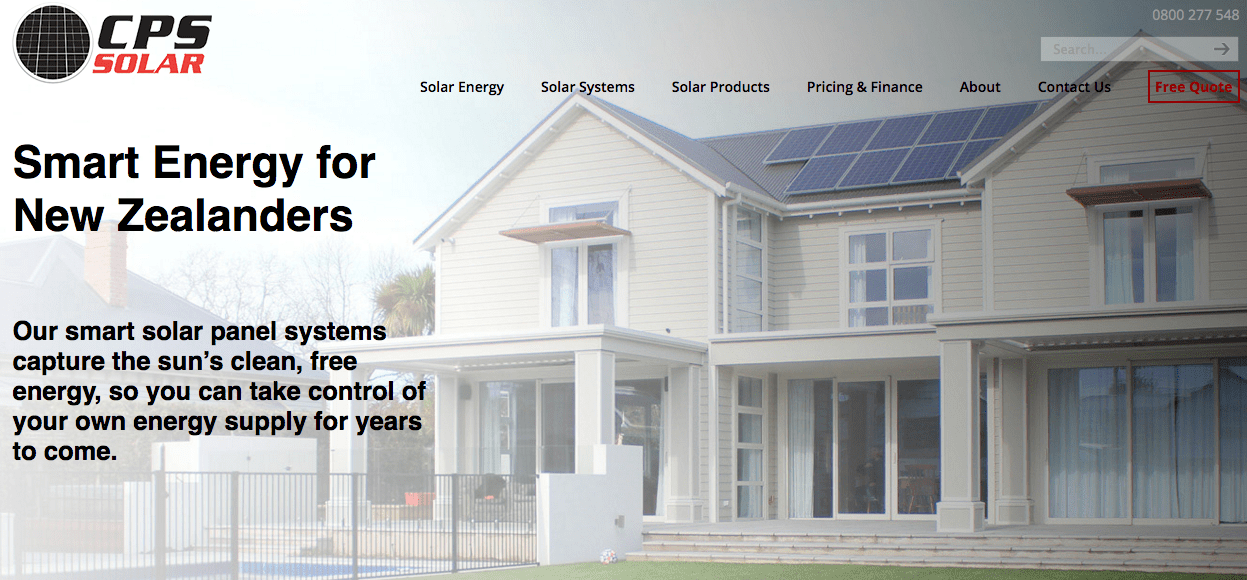 BEST FOR
Prompt & Friendly Service
SERVICES
Grid-Tied Solar

Off-Grid Solar

Hybrid Solar

Commercial Solar

Solar Panels

Inverters

Batteries

Solar Diverter for Hot Water

WEBSITE
https://cpssolar.co.nz/
ADDRESS
11 Four Elms Place, Parklands Christchurch, New Zealand 8083
CONTACT DETAILS
0800 277 548
OPERATING HOURS
Monday to Thursday: 8am – 5pm

Friday: 8am – 4pm
CPS Solar is dedicated to providing renewable energy solutions, particularly solar panels, to clients throughout Christchurch and the South Island.
They offer different solar PV systems like off-grid, grid-tied, hybrid and commercial solar. Just imagine how much money you'll save by using these solar-powered technologies.
They carry high-quality products from such respected manufacturers as REC and Trina. Due to that, you know the products you get from them can last for a long time.
What's more, their professional team is said by clients to be prompt and friendly on the job.
For these reasons, we believe CPS Solar to be one of the best solar panels Christchurch providers!
Highlights
Remarkable solar panel products
Offer different solar PV systems
Prompt and friendly service
Serve clients across Christchurch and the South Island
Customer Reviews
Just take it from Bill Edminstin who said on Facebook:
"Just had the CPS team around instilling our solar system over two days.WOW!!!
Right from the start I experienced possibly the best customer service of all time!
I was so impressed right from the first contact with the office with helping me learn about the product."
5) Sunshine Solar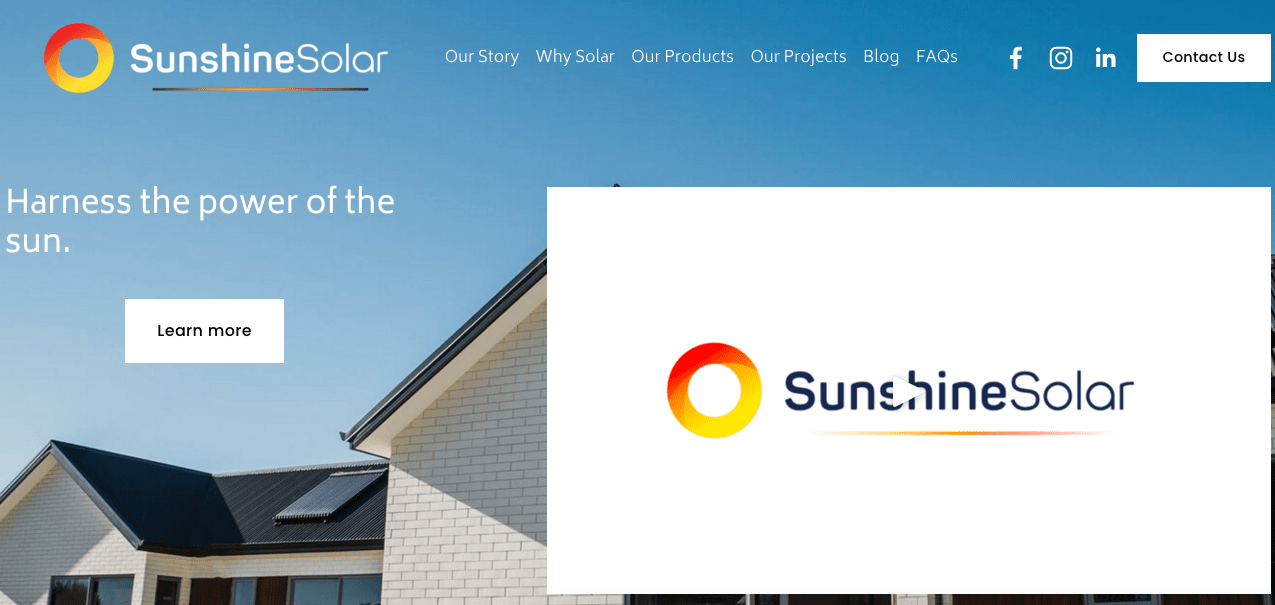 | | |
| --- | --- |
| BEST FOR | Solar Hot Water Systems |
| SERVICES | Residential & Commercial Solar Power and Solar Water Heating |
| WEBSITE | https://www.sunshinesolar.co.nz/ |
| ADDRESS | 582 Buchanans Rd, Yaldhurst, Christchurch 7676, New Zealand |
| CONTACT DETAILS | (03) 342 1050 or 0800 SUNSHINE |
| OPERATING HOURS | Monday to Friday: 8.30am – 5pm |
If you're linking your solar energy resource to your hot water system, then you should get in touch with Sunshine Solar.
They have a professional, experienced team as well as contractors and distributors to perform specialised tasks such as plumbing and electrical fittings.
Also, they have superb-quality solar panels that are built to last and future-proofed. These let you spend less on power bills so you can just use them on other things.
No matter if the project is residential or commercial, simple or tricky — the Sunshine Solar team has the skills and experience to get it done.
Highlights
Specialises in solar hot water systems
Superb-quality solar panels
Professional, experienced team
Using solar power can greatly reduce your energy bills
Customer Reviews
On Google Business, one client, Jeanette McLeod, writes:
"Please pass on my thanks to Ryan – the shower is working great and the water pressure is the best it's been since I moved into this house 7 years ago!"
6) Endless Energy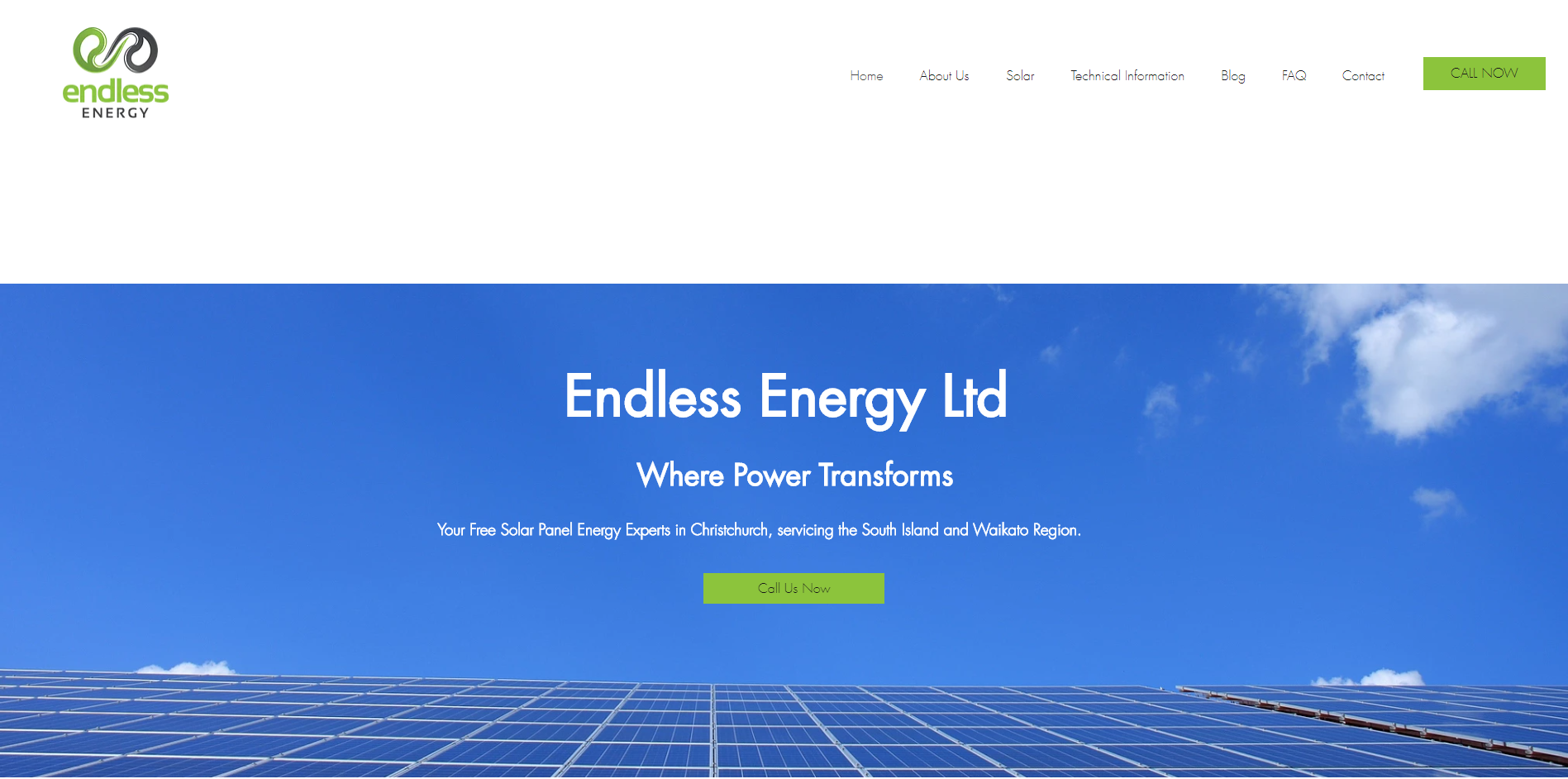 BEST FOR
Prime-quality tier 1 solar panels
SERVICES
Industrial and commercial solar panel installations
WEBSITE
https://www.endlessenergy.co.nz/
ADDRESS
120 Maces Rd, Bromley, Christchurch 8062, New Zealand
CONTACT DETAILS
[email protected]

0508 3635377

OPERATING HOURS
N/A
Endless Energy offers personalised solar solutions to their clients. They take into account one's needs and lifestyle while suggesting a product that will fit their preferences.
Their team of electricians and solar experts are more than qualified to handle any of your concerns. Customer service and experience with Endless Energy is one of the best in Christchurch. With their help, you can easily switch to an energy-efficient lifestyle.
Highlights
Transparent communication
Professional team of experts
Free on-site estimation and detailed quote
Caters to big commercial projects as well as residential ones
And with that, we conclude the best solar panels Christchurch providers. Solar power is the future and the future is now to enjoy huge savings and caring for the environment!
Any questions, thoughts or suggestions at all about our selections? We'd love to know them! Just drop us a line and we'll get right back to you.
Other than that, you may like to read about the best heat pumps Christchurch specialists. You can let your solar panel power your heat pump and double its energy efficiency!