The 9 Best Solar Panels in NZ New Zealand Reviewed
Thinking of being more energy-efficient in your home? Go Solar. A solar panel in NZ is a renewable energy source that gets its power from the sun. And for this guide, we've outlined the best solar panels in NZ New Zealand so you know which ones to get!
There are many solar panels in nz out there offered by prestigious brands, you see. If you're not too well-versed on solar panel tech, how do you know which of them you really need?
To answer this question, we will first guide you through the basics of what to look for in a good solar panel in NZ. Since buying solar panels is a pretty huge decision, hopefully, we can shed light on this subject to help you decide.
Once we have gone through that, we will round up the best solar panels in New Zealand! So if you're ready, let's begin!
What to Look for When Buying a Solar Panel in NZ
There are 5 main things you need to consider before deciding to get a solar panel:
1) Type
There are three main types of systems of solar power in NZ to start off with and one additional advanced Thermal Solar panel heating system. Let's enumerate them one by one.
> Grid-Connected Solar: As the name suggests, this solar panel type works in coordination with New Zealand's power grid.
When your solar panel produces excess energy, it directs it back to the grid. This cancels out your power costs.
> Off-Grid Solar: As opposed to the grid-connected solar type, off-grid solar panels in NZ only require batteries to work and are independent of the national grid. This is an excellent choice for rural or remote locations.
> Hybrid Solar: This is basically a combination of the two previous types we've mentioned (grid-connected and off-grid). You'll have constant solar energy in your home or office, as it can be powered either by the grid or battery.
> Thermal Solar: The Thermo Solar panel heating system heats your hot water directly and stores it in the storage cylinder which saves you up to 80% on your hot water costs over the year. The thermal solar panel system saves greatly on the PV solar power system and roof space.
2) Warranty
The best solar panels in nz generally last for 20 years or longer, so it makes sense that you should find a warranty equal to that number. Or if not, at least you should get a solar power system with a 10-year warranty.
Mind you, it can save a lot of headaches if you've installed the solar panels correctly, and in a position that's protected from cricket balls, storms or accidents as much as possible.
3) Price
A standard solar panel size for your home is 3kW (composing of 10 300W panels). This costs approximately between $8,000 and $10,000, which is an investment that needs to be carefully considered on your part.
Therefore, we recommend getting at least 3 quotes to have some options. Not only will this give you an idea of how much solar panels cost in NZ, but it can also help you get the best deal in relation to the company and their services.
4) Payback Period
The payback period refers to how long it takes for you to recoup your investment in terms of energy use savings within a given period. It depends largely on what you are already paying for your electricity use.
5) Location
When setting up your solar panels, it helps to make sure no obstruction gets in the way. Obstructions includes shades, trees, or coverings that may reduce your panels' access to direct light.
The best times for your solar panels to get and convert energy is when the sun is at its zenith, usually from 11am to 3 pm. So, make sure that nothing's getting between them and the sun at these times.
The Best Solar Panels in NZ New Zealand Reviewed
With the fundamentals in mind, allow us to list down the top-of-the-line solar panels in New Zealand today!
1) REC TwinPeak 300-330W Solar Panel
Best Overall Solar Panel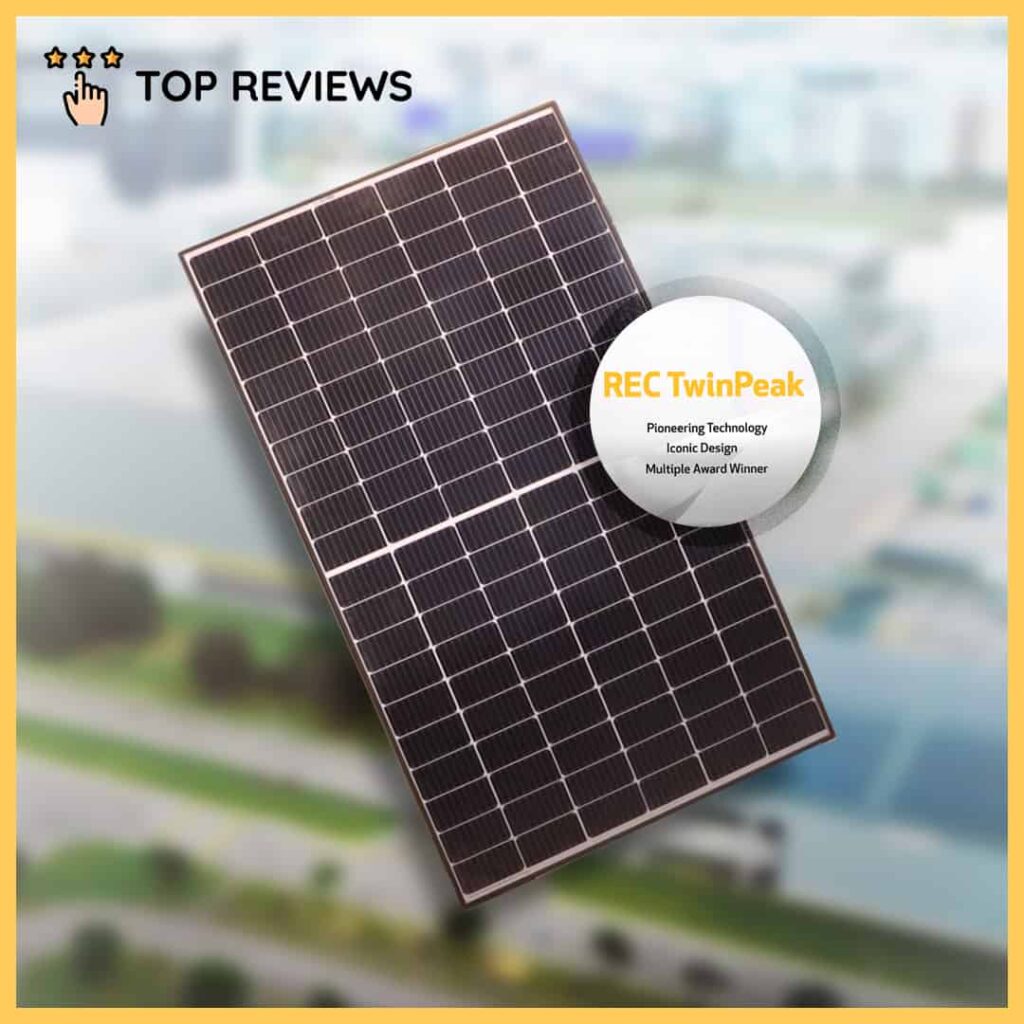 Enquire About This Product Here
REC is a Norwegian brand that is respected for its product quality and innovation. It manufactures and supplies a premium range of solar solutions to provide cleaner energy.
The REC TwinPeak has half-cut cells with a lower resistance to generate power. Unlike other brands, it remains operational even when its other half has been left in the shade.
It features PERC (Passivated Emitter and Rear Cell) housed within the panel. What it does is reflect the captured light onto the cells above to maximise the power output.
At the back, there is a split junction box divided into 3 parts. This allows it to diffuse the solar power and convert it into electricity for your home or workplace.
Also, since an REC panel packs more power per square metre, you will need less in your home or office to achieve the equivalent output. Hence, this lowers the overall costs you'll have to settle.
And finally, you will be given an exceptional 25 years of product and performance warranty for peace of mind and assurance. A good long warranty is one you need to look for when searching for the best solar panels in NZ.
Highlights
Half cut cells that work even with partial shading
Quality Norwegian brand
PERC system for higher utility savings
Lower costs for the same amount of heating
25 years of product and performance warranty
2) Winaico 310W Solar Panel
Best for Limited Roof Spaces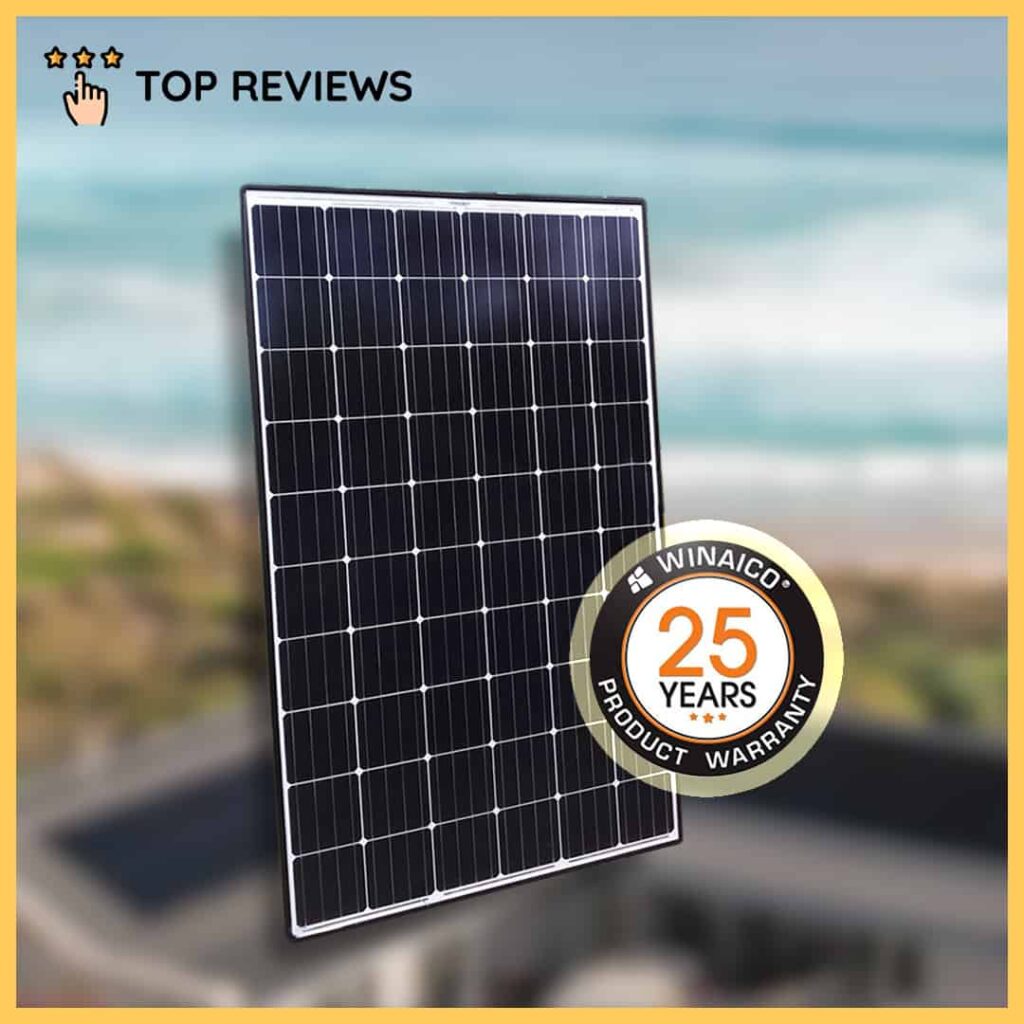 There's a false impression that makes people think solar panels in NZ can only work best with big roof areas.
If your roof has a smaller available space for solar panel installation, why not try out the Winaico 310W Solar Panel? It is made with the highest levels of quality in the semiconductor factory in Taiwan.
It has absolute efficiency thanks to its PERC system, where it captures and converts the radiation from the sun into power and electricity.
Neither cloudy skies nor shades can stop the PV cells from working. It performs remarkably well under those low-light conditions!
The panel's dimensions are 1665 x 999 x 40 mm and weighs at just 19.6 kg. And it is engineered with fire safety properties, so as to keep your home safe at all times.
Likewise, the cells can fare like normal in the harsh heat or ever-changing weather in New Zealand. As a result, you will be able to save up on your bills when you can.
And while the Winaico solar panel has a high durability, you are kept out of worries, just in case, with 25 years of performance guarantee, and 15 years of product warranty. Having peace of mind is also one of the benefits of going with the best solar panels in NZ!
Highlights
Performs incredibly in low-light conditions
Has the PERC system for optimum efficiency
Perfect for limited roof sizes
Fire and weather resistant
25 years performance guarantee; 15 years product warranty
3) Longi Solar 300W Fixed Mono-Crystalline Solar Panel
Best for Boats, Campervans and Small Houses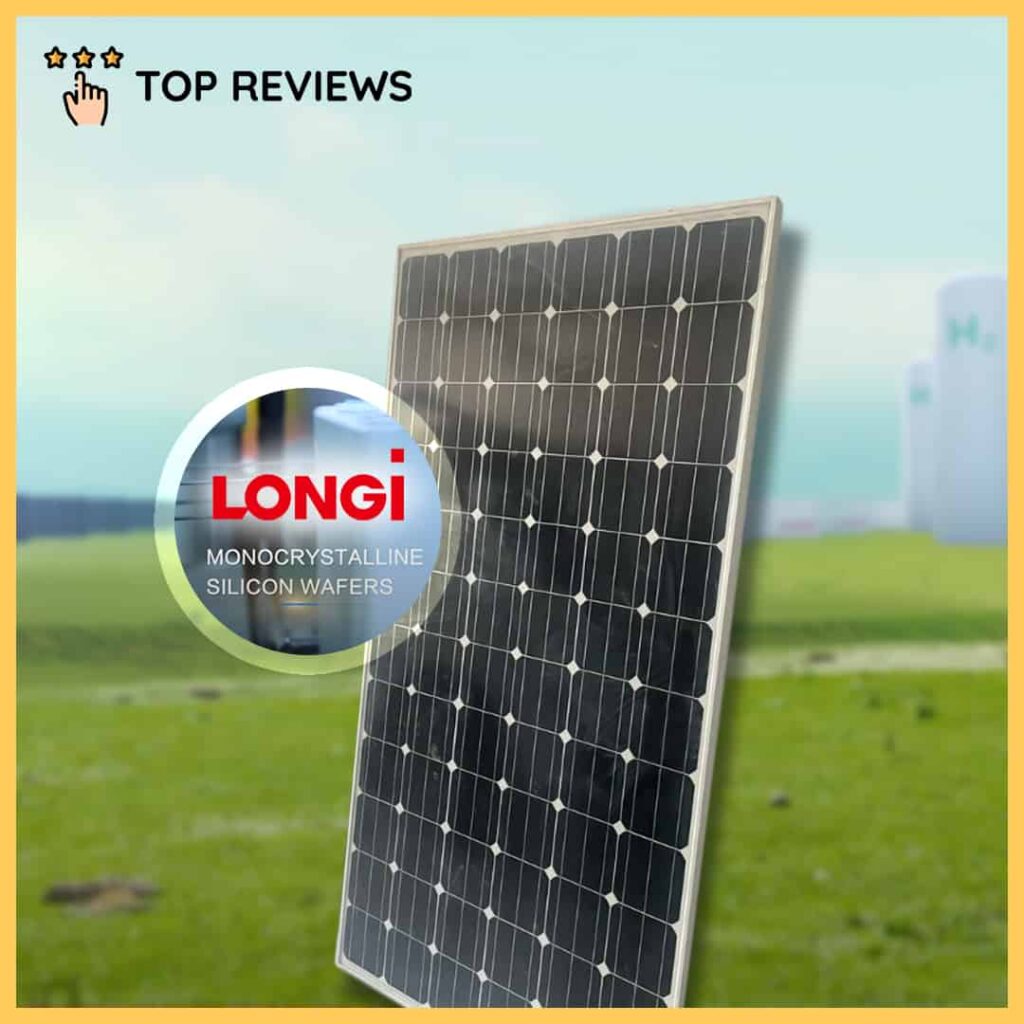 Price: $319.99
Want to power up your boat or campervan with a compact solar panel in NZ? Then look no further than Longi Solar's 300W Monocrystalline Solar Panel.
Its monocrystalline structure makes it extremely capable of A-grade efficiency. It is more effective than its polycrystalline counterpart, which doesn't properly diffuse the solar energy.
This makes it function without problems in dim-weather environments. In fact, you will be blown away by its capacity to give you renewable solar power while keeping your bills down.
Made of aluminium, it can endure the worst of the seasons. For instance, it can withstand whipping wind and heavy snow — that makes a bold statement about its durability.
Not to mention, its junction box is IP67 waterproof, making it rain- and dust-resistant. This tells you how it's perfect for marine applications, where you're going to benefit from the power of the sun.
And again, of course, you are covered by a 10-year product warranty (if there are any defects whatsoever) for home installations, but only 5 years for boats or campervans.
Overall, if you either have a small roof area or love moving around and spend months in your campervan, then this is the best kind of solar panel in NZ for you.
Highlights
Fantastic in low-light conditions
Perfect for campervans, boats, and small houses
Strongly weather-resistant
IP67 waterproof junction box
10-year product warranty
4) JA Solar Panel 300-330W
Best for Lower Utility Bills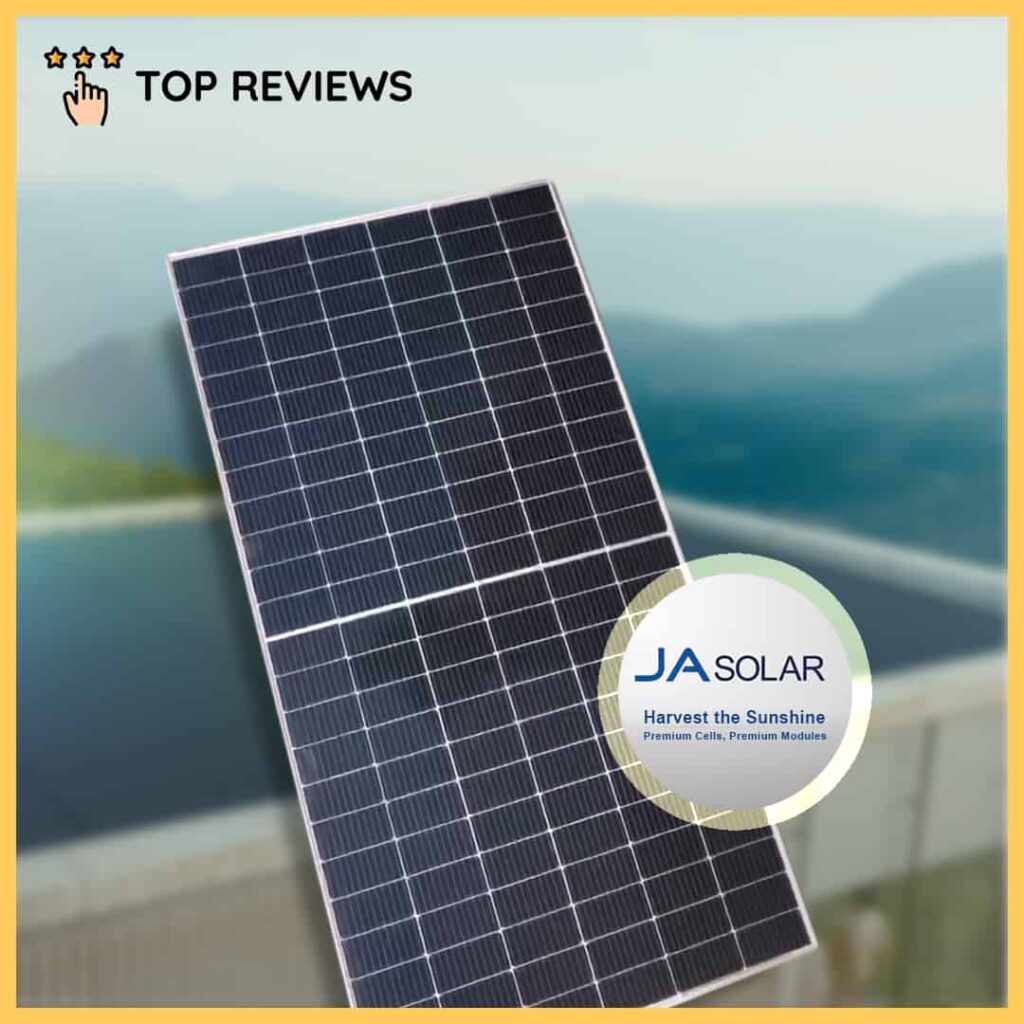 If, like most people, your main reason for getting a solar panel in NZ is to decrease your electricity rates, then read up.
JA Solar is all about giving you a solid return — through lower expenses, greater conversion rates, and electricity output. It's something you can benefit from for a generation.
One of its products that is far above the competition is JA Solar's 300-330W module. This has 60 cells with impressive low-light performance and tremendous durability.
As a proof of that, It has a product warranty of 12 years, and a performance warranty up to 25 years. In addition to getting a return from the panel, you will have also done your part for the environment!
Anyway, this solar panel features PERC technology for industry-leading efficiency at turning sunlight into power. Furthermore, it has a positive tolerance that performs better than its suggested wattage.
It comes as no surprise then that it is one of the best solar panels in New Zealand you can get!
Highlights
Impressive low-light performance
Durably made solar panel
Gives you a great return on investment
PERC technology to optimise the power output
Positive tolerance for its wattage
12-year product warranty; 25-year performance warranty
5) HITEK Solar 330W PERC Monocrystalline Module
Best for Solar Panel Warranty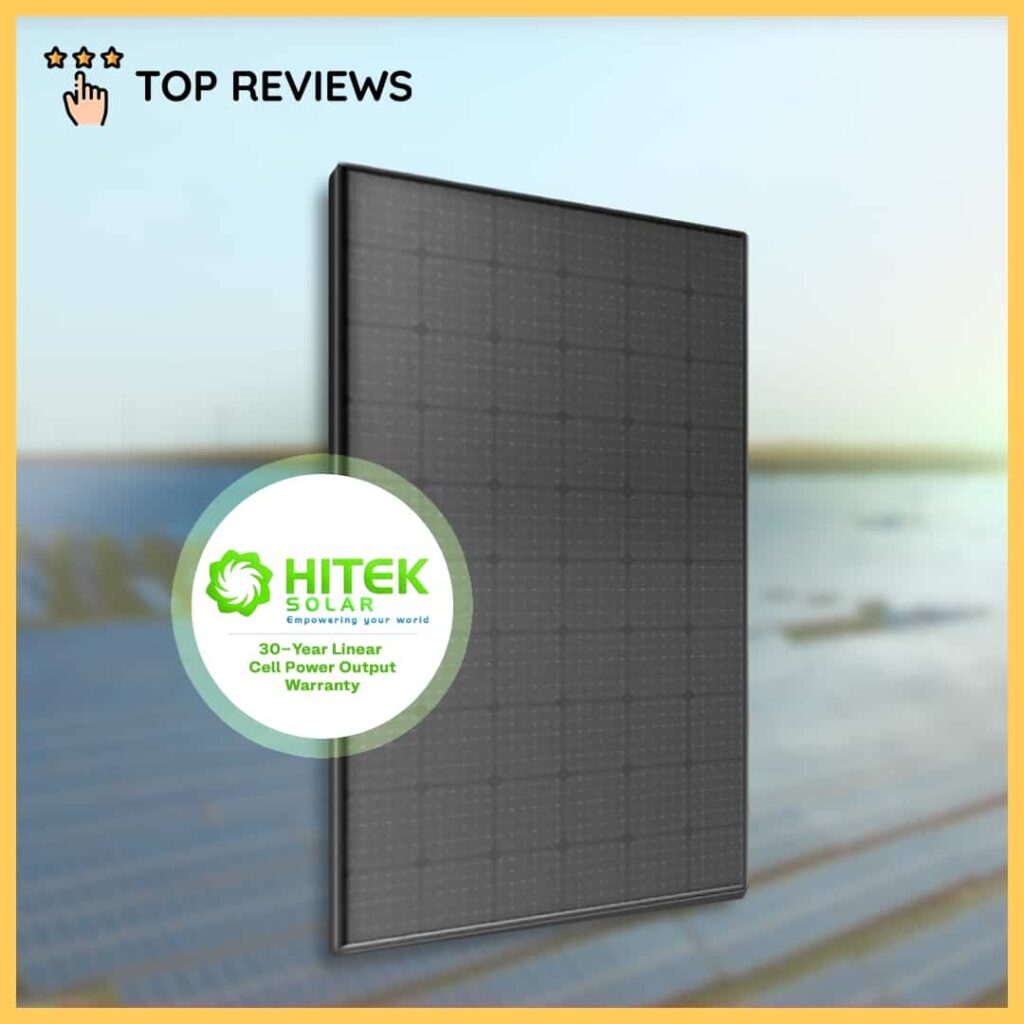 Price: $580
Introducing the full black HITEK Solar 330W PERC module! It just came out in March 2020 — and is one of the best solar panels in NZ New Zealand.
With PERC or rear cells, sunrays bounce from its mirror underneath toward the cells, optimising your energy output. This results in a superb 22.5% efficiency, which is suitable for the country's weather.
Whether you live by the seaside or farm in any NZ season, this solar panel can work flawlessly, while still providing you with a really high conversion rate for solar energy.
The panel also has self-cleaning glass that makes it look good on your roof. Additionally, it is smaller in size than other brands, and is therefore ideal for small spaces.
Its warranty is ultimate with a 30-year Linear Cell Power Output. This ensures that in 30 years' time, the HITEK solar panel can still function at 80% energy output!
And one more thing: you can opt to purchase a Shade Optimisation add-on to reduce power loss when the panels are covered. This could be done in your first purchase or further ahead.
Highlights
PERC Mono lets it have superb efficiency
Latest solar panel
Works perfectly in the NZ weather
Very stylish and neat
30-year Linear Cell Power Output warranty
You can choose to get the Shade Optimisation add-on
6) Hyundai HiE-S350SG Mono-Crystalline 350W SHINGLED Solar Panel
Best for High Power Output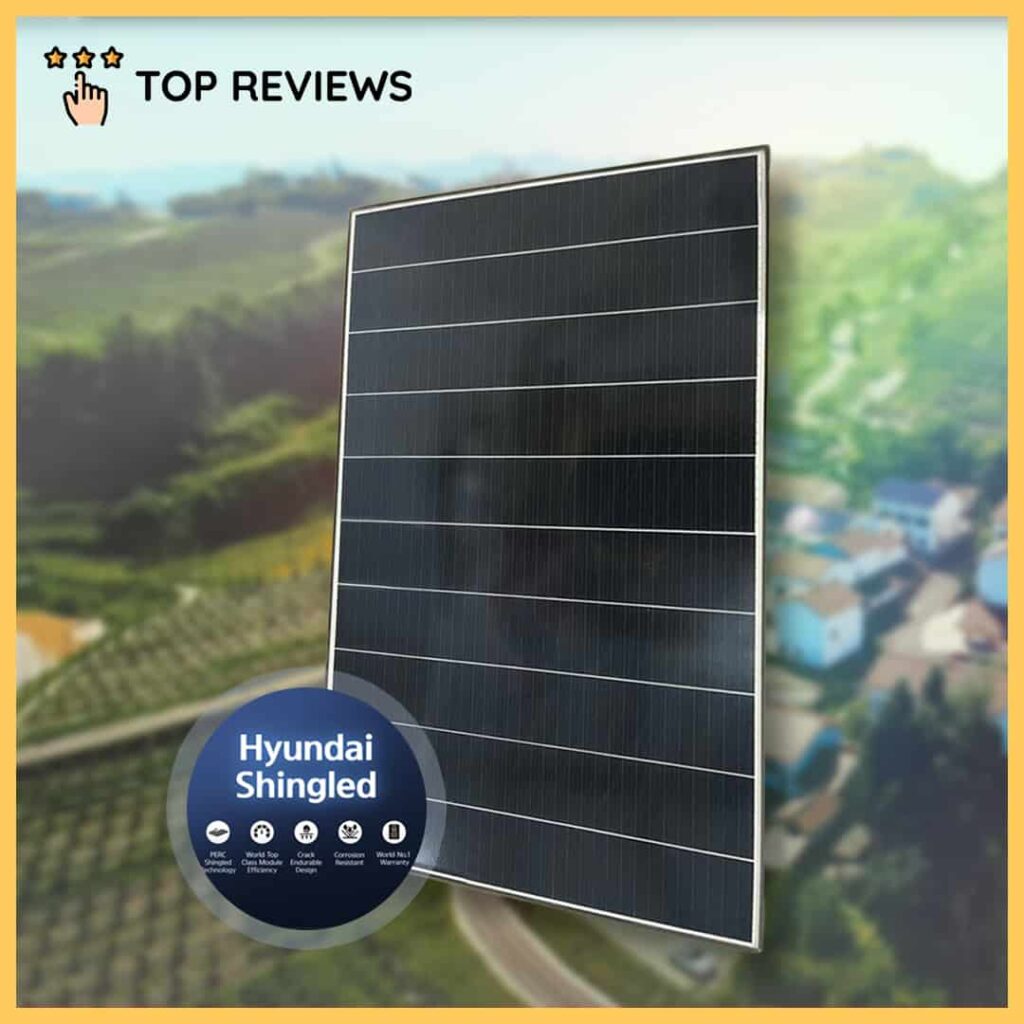 Request A Quote From Trilect Solar
If you're a large family or in need of more power than usual, Hyundai's HiE-S350SG might just the best solar panel in NZ for you. Hyundai's solar panels come in 350W and 390W to help you store and utilise more solar energy.
The HiE-S350SG model measures 1068mm × 1622mm × 35mm and weights 19.8kg. The solar panel's shingle cell technology allows for higher power outputs and ultra-high efficiency.
With durable materials, the solar panel's tolerance ranges from -2400Pa to 3600Pa of pressure from winds or snow. It also has corrosion resistance, making it perfect for seaside applications.
Besides its resistance to corrosion, it also has sufficient protection from naturally-degrading processes because it is anti-LID (light-induced degradation) and anti-PID (potential-induced degradation).
Hyundai's solar panel also has a superior temperature coefficient to survive hotter climates. Thus, it can operate from a cold -40°C to a hot 85°C.
Another great thing about this product is it has a 25-year warranty both for performance and the product itself. With all these benefits, the Hi-E-S350SG is not just the best for its power output, but also for its versatile application.
Highlights
High power output with 350W and 390W variations
Shingle cell technology for high efficiency
Resistance to corrosion, PID, and LID
25-year performance and product warranty
Material strength performance range within -2400Pa and 3600Pa

-40°C-85°C operating temperature
7) 215w PERC MONO+N-TO Solar Panel
Best for Space Limited Applications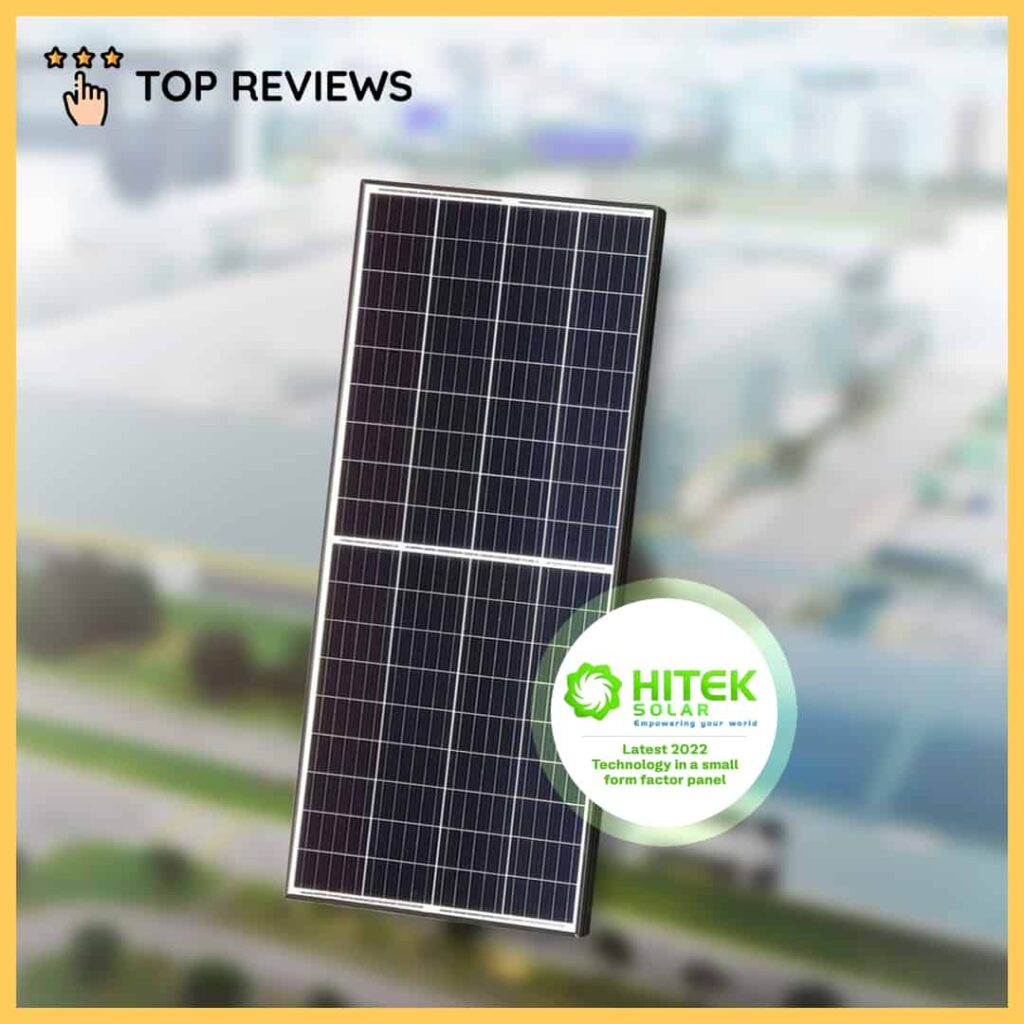 Price: $445.00
Sale Price: $395.00
The 215w PERC MONO+N-TO Solar Panel is made with the latest technology for solar panels. It's perfect for areas that have constantly varying weather conditions.
It's able to have the best energy production no matter the weather because of its built-in mirror reflectors and bifacial cells. It also has a tunnel oxide layer as its component, which makes energy collection more efficient compared to larger, traditional solar panels.
It's smaller compared to traditional NZ solar panels but collects the same, if not more, amount of energy. Homes and buildings of smaller sizes will be able to have to chance to save on their electricity bills as well.
Highlights
Uses 23.6% cell efficiency
High Energy Density
Highest Efficiency
High daily output no matter the weather
Anti-Reflective Self-Cleaning Glass technology
8) MAXEON 5 AC 410W SOLAR PANEL
Best for Efficiency and Reliability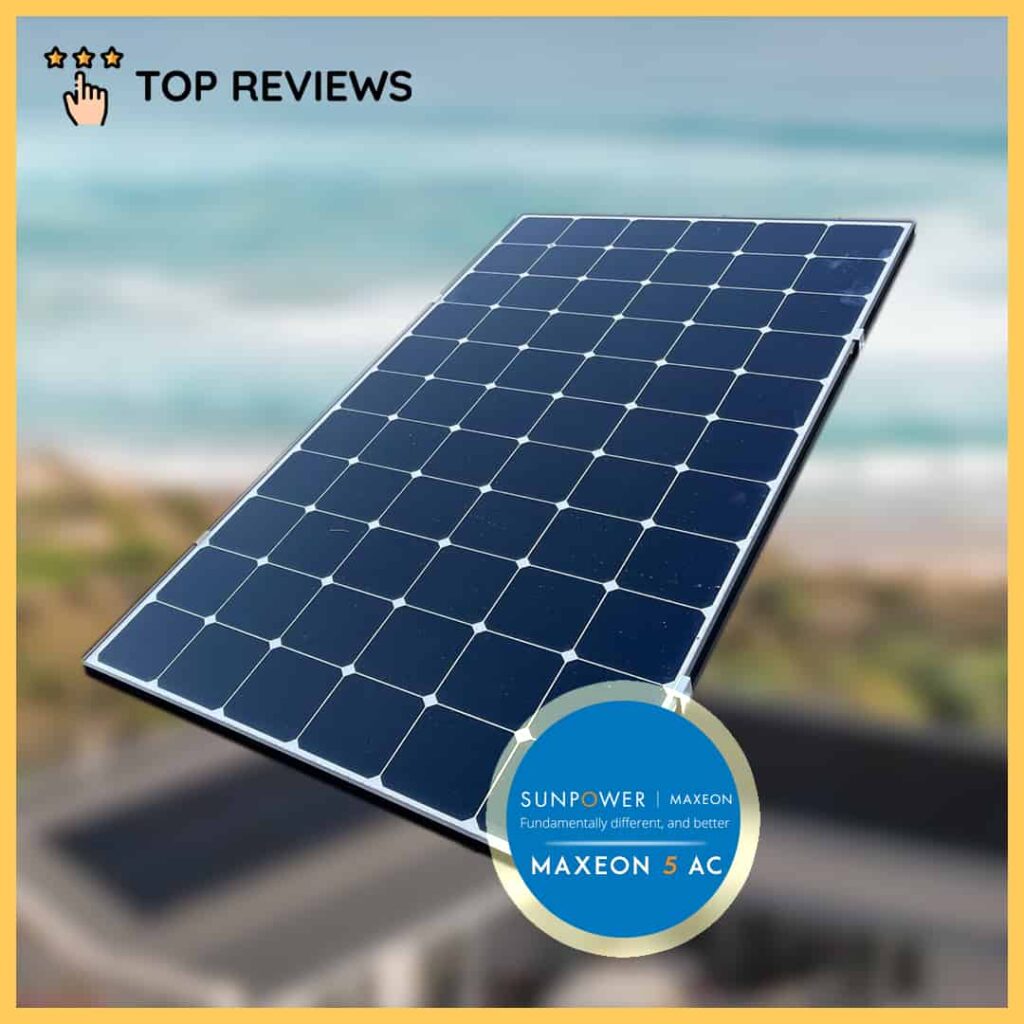 Price: Enquire for more information
The Maxeon 5 AC 410W Solar Panel is unmatched by many when it comes to energy production and saving. It is capable of acquiring solar energy even in less than ideal conditions, such as partial shade and high temperatures.
If longevity is an important factor for you in choosing the best solar panel in NZ, you will be pleased with this one.
With an expected useful life of 40 years, this solar panel will be able to provide your home with energy for many years with little to no issues. Moreover, they have a 25 year warranty, which speaks volumes of their confidence regarding this solar panel's reliability.
Users that keep a close eye on their energy efficiency will be glad to know that the Maxeon 5 AC 410W Solar Panel offers panel level monitoring and real time information updates on any connected device, allowing you to identify any possible problem areas when it comes to energy production.
Moreover, software updates are done automatically, so user will always be up-to-date when it comes to utility upgrades and system improvements. As a product with top-notch hardware and software, the Maxeon 5 AC 410W Solar Panel is a good option to consider for those who want to maximise their energy efficiency as much as possible.
Highlights
40 years expected useful life
25 year warranty
Real time information viewing
Automatic software updates
9) SOLAR ROSA HOME
Best for Innovative Technology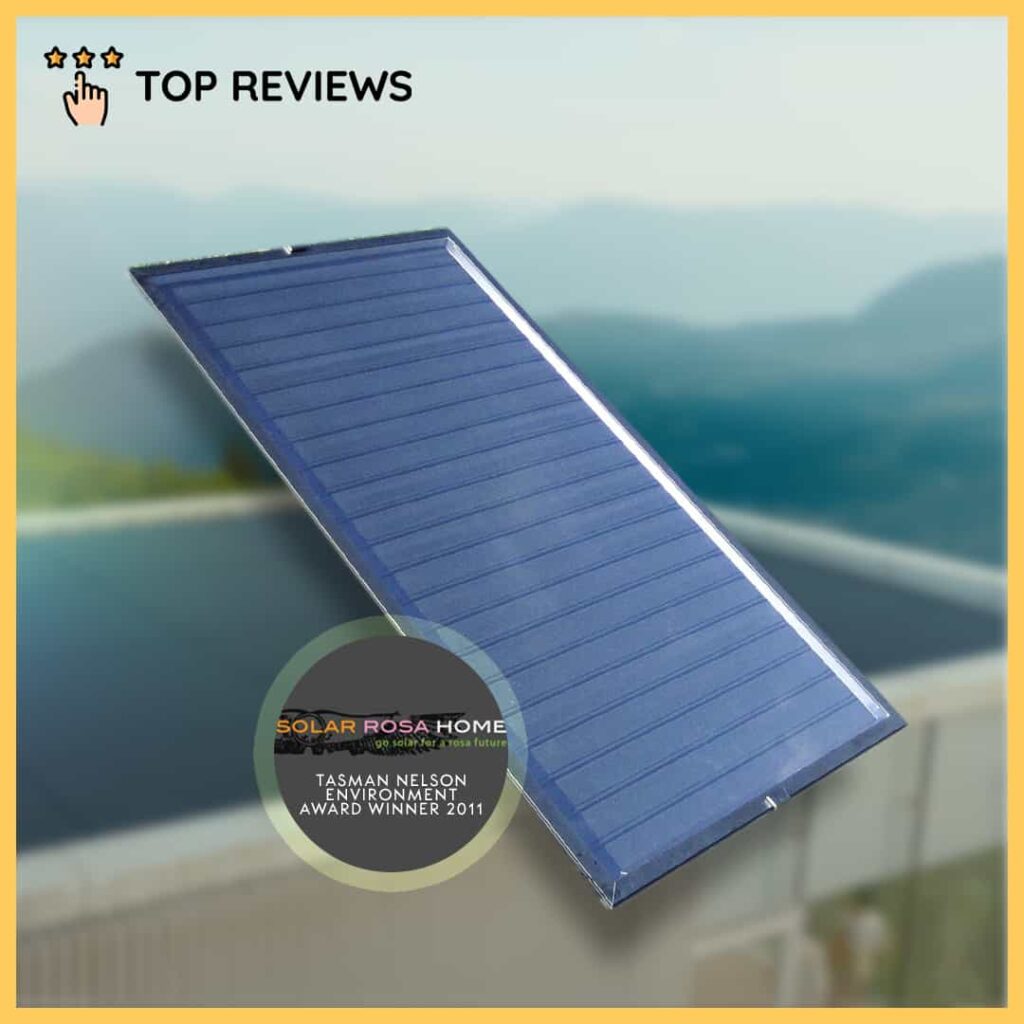 Price: Contact to get quote
Solar Rosa Home makes use of the most recent technology to create healthy and equally distributed warmth.
What we like about their products is that they help users reduce their carbon footprint while saving on their power bill.
Their sustainable solar water heating system is one that combines domestic water heating and underfloor heating, and this is something we also find impressive since it essentially provides one system for all your hot water needs.
With their innovative and proven German technology, we like they're able to provide highly efficient and long-lasting solutions for homes.
We like getting the most out of our investments, so we like how affordable their prices are and how we can get payback in less than 10 years.
To add, their solar panels have a 20 year performance guarantee with an expected lifetime of more than 35 years. Not only that, they are also low maintenance and their designs are retrofittable.
Highlights
Innovative German technology
Efficient and long-lasting
Competitive prices
20 year performance guarantee
Expected lifetime of more than 35 years
Low maintenance solar panels
And that completes the list for the best solar panels in NZ! As you have seen, these solar panels are great options that will give you a considerable return in the years ahead!
To get your roof solar panel-ready, you may want to check our list of the best roof repair services in Auckland too.
Any questions at all about solar panels or what we discussed? If you have one, let us know about it by dropping us a line, and we will get back to you in a bit.
Going further, you may want to read about the best electrician Auckland services. They can help you repair or maintain your solar panels and ensure they are working right.