The 5 Best Soundbars in New Zealand
Soundbars add a new and exciting dimension to your home theatre. But If you don't have one yet, lucky for you, we've compiled the best soundbars in New Zealand in today's list!
You can find a myriad of soundbars in appliance or electronics stores. However, you might be at a loss at where to start, considering they all have enticing features.
So, before we delve into the best soundbars in New Zealand, we'll let you in on the important features before buying one. This will certainly help you in picking from our list later on.
What Features Do You Need to Look For?
Before you get a new soundbar, it will help to consider these features:
1) Sound Quality
First thing that you should consider when shopping for a soundbar is the sound quality. It should produce a beautiful and clear sound without any disruptions or static noises.
It should be loud enough to fill your room, whether small or large. If you feel that the sound is too low, then there are other options that are available.
Speakers have a particular channel (you can have a look at the specs we have for each product below to find the channels for their speakers). Note that you have to look at the leftmost number to determine it, say 3.0 = three channels to bring out sound.
The more channels, the better it performs, although this might not always be the case given the variations across products. So it still depends, but our description for each product will guide you through our own list of picks in this area.
2) Bass Sound
This is important to bring out the best sounds from a movie or music. The bass serves to underscore most of the other sounds we hear.
So, you definitely want a soundbar that has decent bass. The best way to test it is still to try out the soundbar, but you can usually get a good idea of the bass output of a soundbar based on user reviews now.
3) Easy to Set Up
The third feature is that the soundbar should be easy to set up, from the plugging in through changing the settings or syncing the soundbar with the TV.
Not all soundbars are easy to set up or use, unfortunately. Again, you want to check user reviews to see how soundbars score here.
4) Connectivity
This refers to the cable or plug your soundbar uses. Those we featured mostly utilise an HDMI cable, which is the easiest way to connect a soundbar to other devices.
Other options include optical cable and USB storage devices. The latter lets you play music directly from the soundbar.
5) Voice Assistant
Want to use your soundbar without touching the remote? Then look for ones that are Alexa voice supported.
You will be able to play media, control smart appliances, set an appointment or alarm hands-free with these. They tend to cost a little more, but for many users, the convenience tends to pay for itself.
6) Surround Sound
If a single soundbar and subwoofer isn't enough for you, and you want to actually immerse yourself more in the movie, you should definitely get surround sound speakers.
For best results, make sure to get surround sound kits with the same brand as your soundbar and that are actually made to be used with it.
The Best Soundbars in New Zealand
Having gone through the essential features in a soundbar, we now present to you the best soundbars in New Zealand! Consider the things we noted above when picking from this list!
1) Sony HT-S100F 2.0ch Compact Sound Bar
Best All-Around Soundbar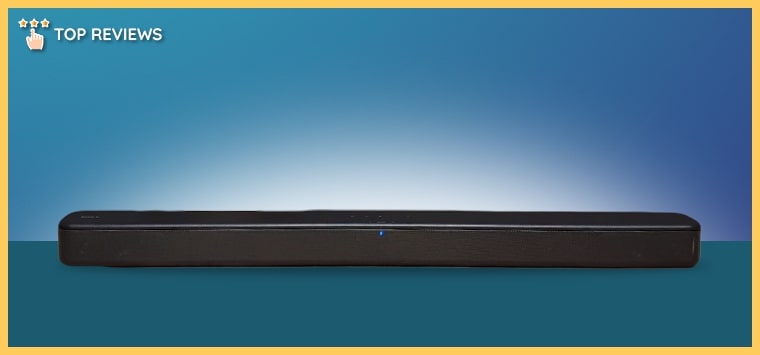 Price: $263.99
Dimensions: 900 x 64 x 88 mm (W x H x D) | Speaker Channels: 2.0 | Audio Power: 120 W | Inputs: HDMI ARC, Optical-audio input, USB type A | Wireless: Bluetooth RX (receiver), version 4.2 | Special Features: N/A
Transport yourself to the world of movies and listen endlessly to your favourite playlist. Your ticket to that is the Sony HT-S100F 2.0ch Compact Sound Bar.
Featuring S-Force Front Surround and Bass Reflex design, it delivers excellent audio with richness and clarity, perfect for your streaming, music, and gaming.
It's not complicated to set up the Sony Sound Bar either, as you only have to plug in a single HDMI cable and you're ready. And since it has a USB type A input, you can play your media files through your flash drive with it.
Aside from that, you can pair your smartphone directly with this speaker by Bluetooth to watch YouTube clips or listen to your downloaded music.
This soundbar proves that the Sony brand will bring you the best of both worlds in your music and movies for the years to come!
Pros
Delivers clear and realistic audio
Lots of connectivity options
Compact form factor
Simple to set up
Cons
Customer Reviews
The Sony HT-S100F has received mixed reviews on Amazon. While some noted its poor bass quality and absence of equaliser settings, the rest of the sound quality has been great for others.
Here's a review coming from one customer, Fussy Mommy:
"The sound is incredible, clear and crisp with just enough bass for the bedroom where it's being used. I actually think it would be great anywhere though. Music sounds amazing, movies, tv shows, I can hear voices loudly and clearly and special effects sound great too. Not too many speakers truly please me and this was a winner from the moment I first tried it."
2) JBL Bar 2.0ch All-in-One Soundbar (JBLBAR20AIOBLKAS)
Best in Value for Money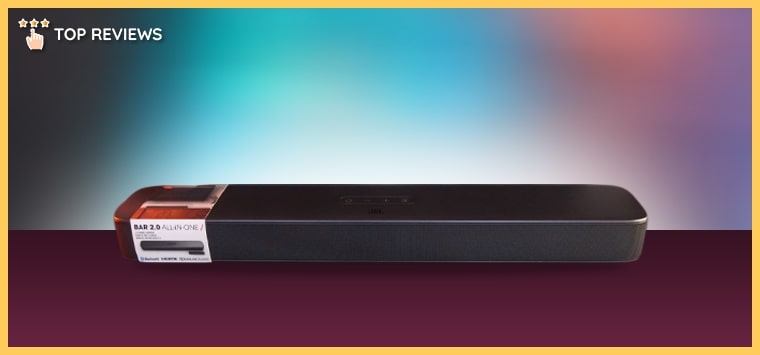 Price: $239.99
Dimensions: 614 x 58 x 90 mm (W x H x D) | Speaker Channels: 2.0 | Audio Power: 80W | Inputs: HDMI ARC, 1 Optical, Bluetooth, USB | Wireless: Bluetooth 4.2 | Special Features: N/A
JBL is an established American firm known for its speakers and headphones. Due to their accurate audio, these products have been used in movie theatres and studios alike.
One of its products is the JBL 2.0 All-in-one Soundbar. It features JBL Surround Sound and Dolby Digital to create an impressive, theatre-like sound in your home.
Setting up the soundbar will be a cinch and won't take any time at all through HDMI ARC or optical cable. And you can instantly get connected with Bluetooth as well!
A nifty feature is its display bar indicating HDMI or sound mode, for instance. The speaker also has manual controls right on top of it, if ever you want to turn the volume up or down.
With its true deep bass sound, you can enjoy your music like never before. You'll hear the fine clarity right down from the production to the fade of that note.
So, if you like a pretty simple, straightforward speaker you can depend on, go for the JBL 2.0 All-in-one Soundbar.
Pros
Cinematic sound from the comfort of your home
Noticeable bass delivery
Stylish, low-profile design
Indicates the mode you're on
Manual controls
Incredibly easy to set up
Cons
Have to press a lot on the remote to adjust to the desired volume
USB mode is for service only (can't play MP3 or WAV files)
Customer Reviews
As per Home Cinema Choice's expert review of the JBL 2.0 All-in-one, the soundbar's strengths are its great handling of dialogue, terrific bass sounds, and clean yet crisp presentation of high-frequency effects.
Afterwards, they summed up what they thought of the product below:
"Overall, this is a strong example of a product that focuses on the main job in hand, and does it well. Supremely simple operation, punchy, authoritative sonics, and a sub-£200 ticket make it easy to recommend."
3) Samsung S61T Soundbar
Best Overall Soundbar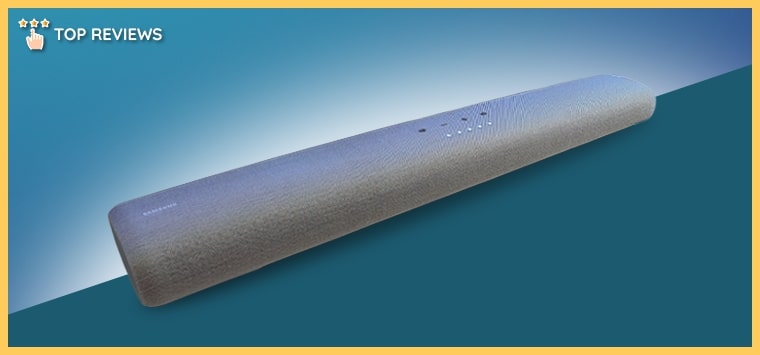 Price: $519.20
Dimensions: 764 x 68 x 125 mm (WxHxD) | Speaker Channels: 4.0ch | Audio Power: 180W | Inputs: HDMI CEC, HDMI ARC, Optical, Bluetooth | Wireless: Bluetooth | Special Features: Alexa, Spotify Connect, SmartThings App
It's truly beautiful when you hear all the subtle nuances in the audio of what you're watching. You hear every word, whisper and action in the fullest clarity, depth and overall feeling.
With the Samsung S61T Soundbar, you get all these — it delivers optimised and unhindered sound with its side horn speakers and adaptive sound technology.
Its music mode stays faithful to the audio that is originally intended by artists and producers. The high-quality music that you hear will turn your rough day into a very satisfying one!
Designed by Kvadrat, this Samsung S61T has a sleek and graceful design that you can mount on your wall for a decorative touch to rock out to your music anytime!
And these are made all the easier with Alexa voice assistant. Just mumble the song you like, ask what date it is, or let her play an uplifting melody out of the blue.
And last, wireless surround sound lets you sync with compatible speakers if you want an immersive and theatrelike experience.
Pros
Optimised and unhindered sound quality
Side horn speakers with acoustic beam
Features music mode
Exquisitely designed soundbar
Built-in Alexa voice assistant
Complements your decor
Cons
No USB music playback
Expensive
4) LG SL4Y 2.1ch Soundbar
Best for Small Rooms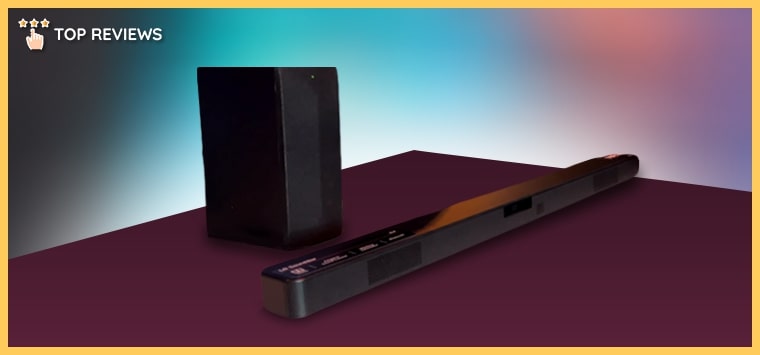 Price: $439.20
Dimensions: 891.54 x 58.42 x 86.36 mm (WxHxD) | Speaker Channels: 2.1ch | Audio Power: 300W | Inputs: Optical Input, Bluetooth, USB | Wireless: Bluetooth 4.0 | Special Features: N/A
Unclear and unpolished sounds negatively affect your home theatre experience. That being so, you might like to check out LG's SL4Y 2.1 channel soundbar to avoid such muddled audio.
This 89 cm soundbar is very cool in front of your TV. Its printed LG logo is on the far right and on the right side, you will find its simple yet unobtrusive controls.
Adaptive Sound Control adjusts intuitively to the sound that's being played on the screen or from your device. It then produces the optimal sound suited for that scenario.
By the way, it also comes with a subwoofer. This subwoofer is engineered to have a carbon diaphragm enabling it to deliver high-fidelity sound, whether that's for movies or music.
If you like the audio output to be more dispersed, you can also get the matching SPK-8S mini speakers. They're to be placed on the side of the room for total surround sound.
This soundbar is also a breeze to set up, as you just need to plug in an optical cable or HDMI. Certainly, life's better with the LG SL4Y 2.1ch Soundbar w/ subwoofer.
Pros
Great for small rooms
Produces remarkable, high-fidelity sound
Adaptive Sound Control
Incredibly easy to set up
Lower price
Beautiful, stylish design
Cons
Disconnects if phone/tablet is synced to other devices
No HDMI connection
Customer Reviews
One customer, IrishNeal wrote a helpful review on the LG site:
"Just set this up today, tv connected by bluetooth, sound is amazing. Initially thought it was just average but if you use the supplied remote control you can set up the subwoofer volume, base etc and its phenomenal. You can also set up for different experiences like cinema, etc. Please note there is no hdmi connection so its bluetooth or optical cable. I wonder if those who say sound is poor haven't fully set up. I would certainly recommend."
5) Samsung Q80R 5.1.2ch Soundbar
Best Soundbar for QLED TVs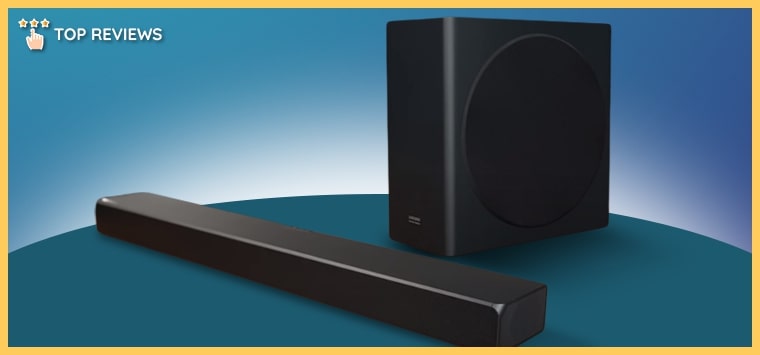 Price: $1279.20
Dimensions: 1225.80 x 82.80 x 135.89 mm (W x H x D) | Speaker Channels: 5.1.2ch
| Audio Power: 372W | Inputs: HDMI, Optical, Bluetooth, Wi-Fi | Wireless: Bluetooth | Special Features: Dolby Atmos and DTS:X Sound, Alexa
If you have a Samsung or any other QLED TV, you're right at home with this soundbar. The Samsung Q80R is one of the best soundbars in New Zealand you can get today!
Designed with 5.1.2 channel and 13 built-in speakers, it fires independent sounds upwards and sidewards so that they bounce across the walls and over to you — making you feel as though you're actually in a game or movie.
Through Adaptive Sound, even the quietest dialogues or conversations can be heard. This is a flawless feature that you can turn on or off at will.
You can also bid adieu to the confusion of having multiple remotes with Samsung's OneRemote. This allows you to use a single remote for both your TV and soundbar which is very convenient.
But convenience doesn't stop there as the soundbar can be controlled by your voice too. With SmartThings, you can voice any command to Alexa for your smart home appliances.
And we almost forgot, the included subwoofer delivers the best bass around, not letting you miss a beat on soundtracks, albums, and turning-point film dialogues.
Pros
Best for QLED TVs
Permeating sound in the room
Adaptive sound
4K pass-through
OneRemote feature
SmartThings lets you control your smart home appliances
Alexa voice assistant
Superb and rich bass
Cons
Customer Reviews
Many customers from the Samsung website were completely blown away by the quality and performance of this soundbar. Even though it has a hefty price tag, they say it was worth it.
Vamsi wrote a very short but sufficient review:
"It was extremely easy to setup and sounds awesome with dolby atmos audio sources!
It was also very easy to configure to my tastes!
Highly recommend."
And that's all for the best soundbars in New Zealand! These awesome soundbars will greatly enhance your home entertainment acoustics to give you a great time!
Do you agree or disagree with the soundbars we listed? Tell us all about it by sending us a message, and we'll get back to you as soon as we can.
Aside from that, you might also like to read about the best Wi-Fi and Bluetooth speakers in New Zealand. As opposed to the soundbars above, these are portable speakers you can take with you just about anywhere if you want your audio on-the-go!