The 6 Best Suitcases in New Zealand
Flying off for your week-long vacation or catching that business expo to meet new clients? You will need the best suitcases in New Zealand — which, luckily for you, we've featured here.
Bringing the right suitcase will ensure your trip is smooth-sailing. A good suitcase should have durability, manoeuvrability, portability, and safety — not to mention it should be cleared to be carried on a plane.
There are a multitude of suitcases out there in hard-case or soft-case types. Realistically, it takes a detailed look to know what you should get.
To guide you in doing so, we will first go through the features to consider. It is paramount so you know how you can get the most bang for your buck to let you enjoy and make the most of your trip!
What to Look for in a Suitcase
Here are some of the things to consider before you purchase a suitcase:
1) Type
As we mentioned earlier, suitcases can either be a hard or soft case.
Hard-cases are protected on the front and back by a tough yet light material. They don't sport any exterior pockets, however, and have to be opened in transit to place in or take out items.
On the other hand, soft-cases are very travel-friendly, stylish, and cool. They are not as durable as hard-cases but they more than make up for it in convenience, lightness, and storage.
2) Weight and Size
Before you buy a carry-on, it is always helpful to take note of its weight and dimensions. As each airline allows only up to a certain size or weight for carry-ons, complying with this saves you from paying more.
3) Manoeuvrability
Wheels and handles play a good role in making your experience seamless. You have to test and see if they're easy to lift overhead in the aircraft or bring down from the scanning belts.
Note that rotatable wheels make a suitcase easier to manoeuvre in any direction as compared to fixed wheels. And a side handle provides you with more flexibility to carry your suitcase.
4) Durability
Because you are not just taking your suitcase for a single trip but for the many years ahead, durability is essential. It might be dropped or thrown onto a surface — you never know.
Durable suitcases are designed to withstand shock and impact, and punctures and scrapes. Take a look too at how a suitcase fares as it drops from kerbs or rolls over an uneven surface.
5) Storage
It helps to have maximised storage for your electronics, sneakers, clothing, food, snacks, and also to save some space in case you have bought something from your trip.
It's very common for suitcases to have compartment pockets for easy organisation. So, try to look for those if you like your things organised.
6) Design
Pick a design that you adore. Whether you like luxurious, chic, adventurous, business, elegant, classic, or vibrant, we have some of them in our list below!
7) Safety
Feeling safe means you will be able to enjoy your trip with total peace of mind. TSA-approved locks help in achieving that aim by providing a secured lock combination.
Only TSA employees can open these locks without breaking them. With them, your suitcases are secured.
The Best Suitcases in New Zealand
Those were the things you need to look for… and which we looked for ourselves when working up the list below. At any rate, we now present to you the best suitcases in New Zealand!
1) Antler Juno 2.0 Suitcase (80cm)
Best for Storage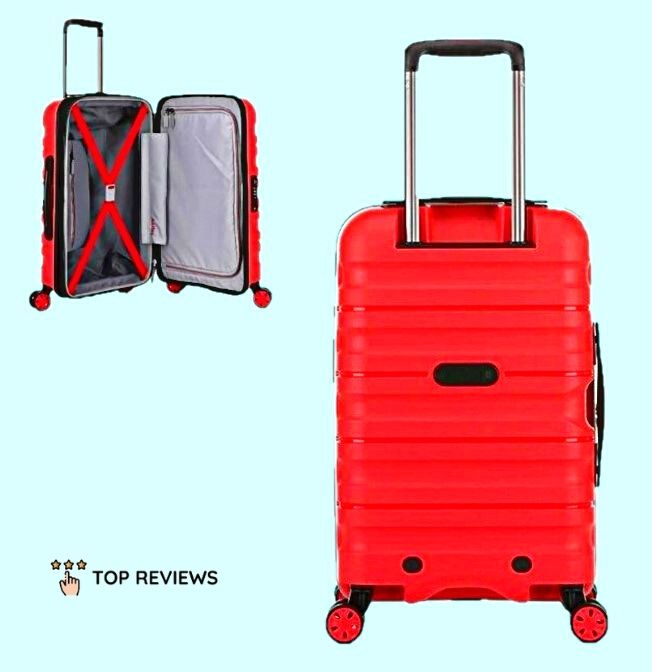 Price: NZ$389
Shop Now On Strand Bags
You get both durability and vibrant style with the Antler Juno 2.0. Carry this suitcase with you whenever you travel as it's incredibly easy to haul, whether in front of you or behind.
With a ridge pattern on the front, this suitcase can take impacts, bumps, or drops like a champ. The interior is padded to give adequate protection to your belongings, which also get an X-strap to hold them secure.
If you need more space, there's an 8L expander to solve the problem. Equipped with self-repairing zippers and TSA locks, your journey has never been safer and less of a hassle.
Plus, it has an affordable price point and comes in a variety of colours like black, royal blue, white, orange, carbon gray, yellow, dark violet, and red — there's something for everyone!
Highlights
Shock- or impact-resistant
Padded from the inside
TSA locks and self-repairing zippers
Variety of colours to choose from
Customer Reviews
One customer praised the Antler Juno 2.0 suitcase, saying it is great in size, sturdy, and very manoeuvrable. Then, Liz O. wrote on Travel Store NZ:
"Absolutely thrilled with my bag! My husband has had a black one for a few years and wanted me to get one. We love that it is not shiny and that the plastic has a bit of give i.e. not crackable! So pleased with the stunning colour."
2) Victorinox Lexicon Hardside (65cm)
Best High-End Suitcase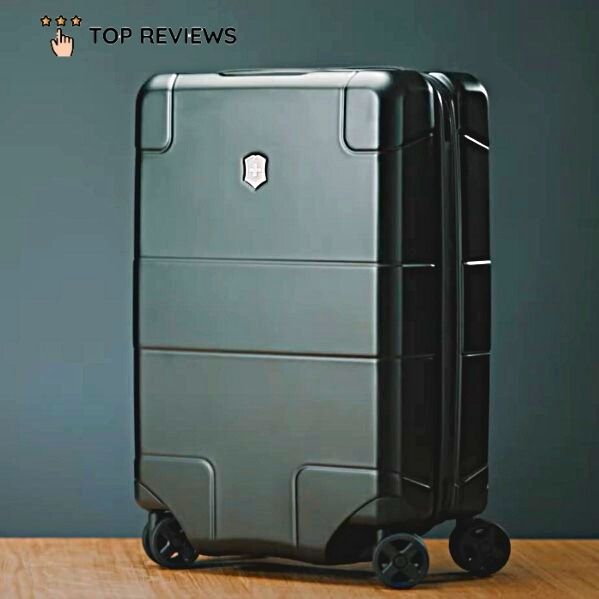 Price: NZ$1079
Find It On Ubuy
Victorinox brands are famous for their quality — and this Lexicon Hardside is no exception. It's one of the best suitcases in New Zealand for its sleek design, safety, and packing capacity.
Its titanium design is second to none with a class look and lightness. Recessed wheels let it roll on any surface without snapping off, following you in any direction.
Inside of it is a large space with side pockets for small items. Take advantage of the full suiter for packing ready-wear business attire without any crease or wrinkles.
Last but not the least, no one can tamper with your suitcase thanks to the puncture-resistant zipper coils and state-of-the-art Travel Sentry combination lock.
Highlights
Deluxe modern design
Spacious interior
Secured combination lock
Customer Reviews
People who bought the Lexicon Hardcase are very satisfied. In particular, they noted the ruggedness, scratch-resistance and many ways you can pack your things in as its strong points.
Paul03 with a 5-star review from Victorinox website said:
"I travel a lot. This bag met all my expectations. I took it on an extended trip to Europe and after being thrown around and dog-piled, it came back with hardly a scratch. Everything inside survived beautifully. The interior maximizes space and is very functional. I've not had such a good bag in a while."
3) Samsonite Octolite Spinner Suitcase (75cm)
Best for Flyers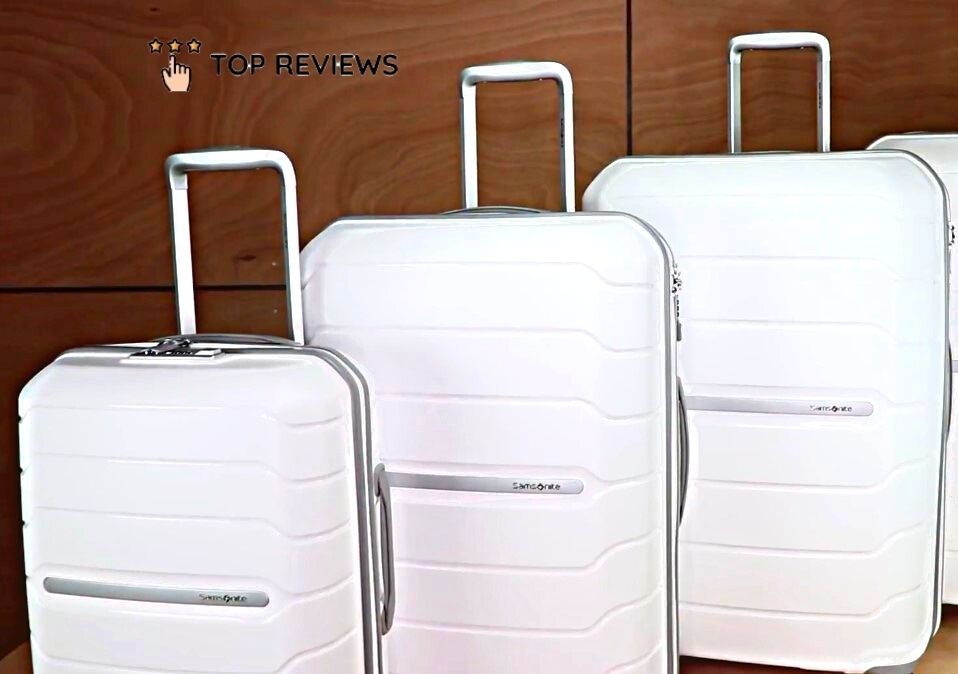 Price: NZ$313.95
Purchase Now On Modern Bags
For a suitcase that you can take with you conveniently on the plane, choose Samsonite Octolite 75cm. It is light, sturdy and is designed to comply with airline standards.
It has a very cool lining that oozes of contemporary appeal and symmetry. It can absorb all sorts of impact thanks to the polypropylene outer covering.
Inside, you have plenty of space with pockets for smaller items like soap, medicine, journal, pen, charger or storage bags. You won't have to worry about running out of space at all.
Its lock is TSA-approved and will thwart most thieves. Best of all, you get a mindblowing 10-year warranty, which is a testament to its superb quality.
Highlights
Perfect for flyers
Maximised interior space
Stylish and modern design
10-year warranty
Customer Reviews
There are but a few reviews on Amazon India wherein Mayuri wrote:
"Complete complete worth for money, the product arrived on time the bag is superb very good for international travelling as it is as per the air travel guidelines it that was the sole reason I got this size I got it for my brother he is very happy with the quality and the size thank U Amazon for timely delivery and packaging is also good."
4) American Tourister Ilite Max Softside (63.5cm)
Best for Budget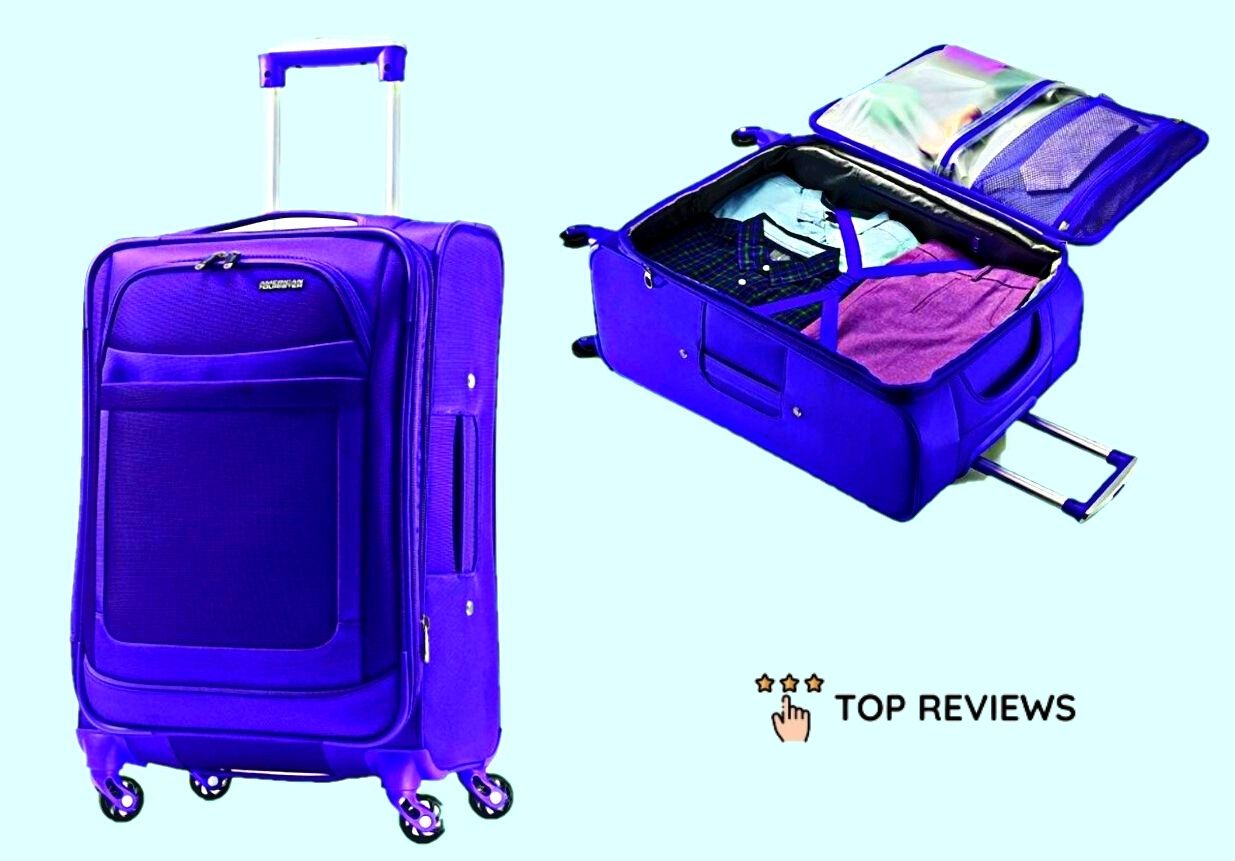 Price: NZ$189
Get It Now On Ubuy
Who says that a suitcase has to always be black and monotonous? Here American Tourister introduces the electric and vivid vibe of the Ilite Max Softside line!
A nice detail is its integrated handle on the top . Wheels are always upright and are easily pulled without any effort on your part too.
Its cheerful and bright colour is not just outside but on the inside too. For instance, the straps and side lining are tinted as well, which embodies the brand's philosophy that travelling should be fun!
American Tourister is beloved by people as its suitcases offer style and function for one great price. Hence, we believe this suitcase from the brand should be among the best suitcases in New Zealand.
Highlights
Bright, vibrant, and fun design
Super affordable price
Organised interior
Customer Reviews
Customers have said that the Ilite Max fits in overhead cabins easily, which makes it perfect for carry-ons. Spifette even called it a snazzy workhorse of a bag that is still as good as new after a year of continuous use.
Furthermore, LMC also wrote on Amazon:
"Great bag, well made, solid, roomy. Got it for my 8 year old, it's lightweight and the spinner wheels make it easy for her to handle. Now I want one for myself! Have flown Southwest and JetBlue with it and it fits the overhead bins perfectly."
5) Delsey Helium Aero Spinner Trolley (29")
Best Overall Suitcase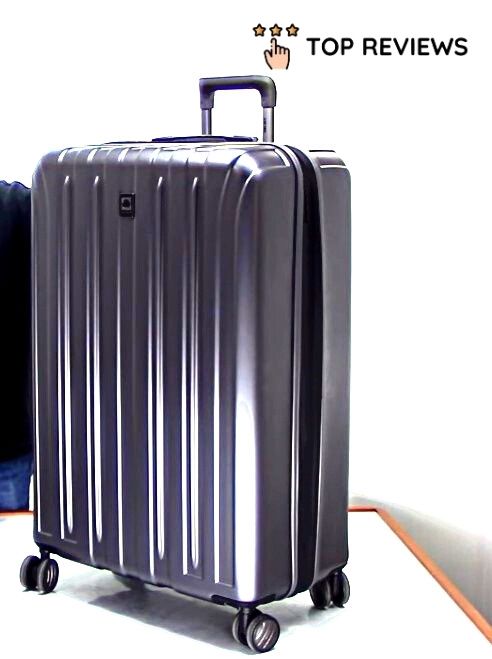 Price: NZ$264
Buy Now On Ubuy
The Delsey Helium Aero is another brand that brings value for money. Made in France, it has a remarkable design with distinct vertical lines and a sleek aluminium handle.
It doubles up as being durable and light thanks to its polycarbonate structure. Add to that the Delsey logo etched right in the middle for a handsome look
A fully lined interior exudes class over the two sides with accessory pockets. It is neat-looking and designed so you can arrange or stack your clothes to be secured by the webbed, Y compression strap.
It is very manoeuvrable too, with four spinner wheels for convenience. Plus, your items are all secured by the 3-dial TSA combination lock.
Highlights
Renowned French brand
Lightweight and durable
Appealing design
Spacious interior
Customer Reviews
It's definitely good to see a number of customers weigh in on the Delsey Helium Aero 29". They indicated how it had exceeded their expectations.
Here is a review written by VeniceGrl:
"I was in Brazil, trying to navigate to the airport down the side of the highway (it was blocked off due to protestors). This lovely suitcase wheeled like a champion 6km, all the way to the airport! Sturdy, but light. Wheels are great. Large size."
6) Explorer Luna-Air 2 (56cm)
Best for Techy Additives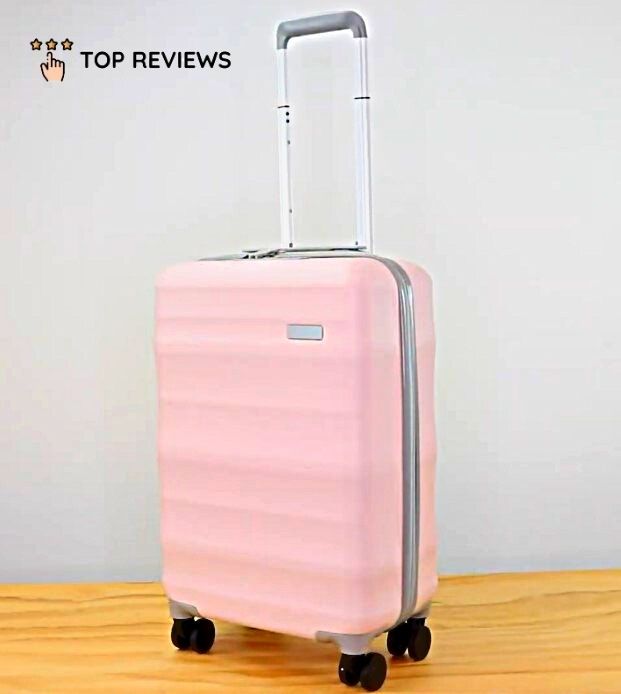 Price: NZ$119.00
The Explorer Luna-Air 2 is great for techy travellers because it has a USB port to help you recharge your devices anytime, anywhere. This suitcase is also lightweight, weighing only 2.7kg for its 56cm size.
One of the best things about this suitcase is that it also has a 5-year manufacturer's guarantee, so you won't have to worry about the wear and tear of it even if you're a casual and frequent flyer.
Despite its small size, it has an excellent storage interior. Inside, it has two excellent dividers, complete with shoe pockets, mesh pockets, and interior straps to keep your belongings intact and in-place.
As for the Explorer Luna-Air's exterior, it has four double spinning wheels and a telescopic handle for easier steering and lifting.
Highlights
Lightweight and small
Compact and detailed interior pockets
5-year manufacturer's warranty
USB port for charging (no batteries included)
Customer Reviews
Just as advertised by its manufacturer, the Explorer Luna-Air 2 is indeed best for its compact yet innovative design. Here's a review from Angela F. for more details:
"Really pleased with the lightness and the many compartments. Got delivered to my work and created much interest"
And that's all for the best suitcases in New Zealand at the moment. If you frequently travel, we are confident that these luggages will be up to the task and are there for the long haul.
So what did you think of the suitcases we featured? You can let us know by dropping us a line and we will get back to you as soon as we can.
Also, we have another article that focuses more on the brands than the suitcases. For that, you might like to read about the best luggage brands in New Zealand.