By Leo Williams
Hoping to buy the best swing sets in NZ for your kids? Well then, today's list is for you!
We've listed the best swing sets we could find in the country here. We've also tackled the basics of how to buy the right swing set for your kid.
This should make it easier for you to pick from our list later on. At any rate, let's start!
How to Buy a Swing Set
Before you buy a swing set, you have to consider the size of your yard, how many kids you have, how old each of them is, and how much they weigh.
That should narrow down your choices a little for swing sets. Also, you have to consider the materials, size, features, safety, and ease of assembly.
Let's take a closer look at each of these factors:
1.   Materials
A swing set usually includes a slide and one or more swings. Swing sets can be made of wood, metal, plastic, or a combination of these.
Wood types give a swing set a classy and traditional finish. Cedar and redwood are great options since they can withstand weather damage and resist insects.
If you want an even more durable swing set, though, go for the metal ones. These are powder-coated, which are tougher than standard painted ones – the coating protects them from harsh weather conditions.
The downside of metal swing sets, however, is that they can rust and corrode. Also, they grow hot under the sun, so you have to tell your little one beforehand to check their temperature in summer.
Of the three, plastic swing sets are the most kid-friendly since there are no slivers or torn wood, no rusting, and fewer temperature issues.
2.   Size and load
As a rule of thumb, your swing set should have at least 5 to 6 feet of clearance to allow your kids to swing safely and out of harm's way.
Speaking of, make sure that the swing set is not set up close to the driveway, street, shed, or garage, where people or vehicles are going by.
Furthermore, you have to know the weight capacity of the swing set where your kids will play. If it can't take their weight or they're hitting its upper limit, best choose another set!
3.   Features
Generally speaking, the bigger the swing set, the more features it can have. Some of them include ladders, benches, monkey bars, basketball, trapeze, and others.
Some swings have harnesses or are closed with a handle in the front and spaces to put the child's legs through for safety. What's more, some slides have handrails as well.
4.   Safety
Some swings come with a shock-absorbing base to protect kids when they fall to the ground. The base can have wooden playground mulch, shredded rubber, or sand.
However, it's nice to have a safe base not just for the swing, but also at the foot of the slide, in fact around the swing set, so that the ground is softer for playful kids.
For swing sets with two or more swings, they must be around a foot apart, by the way, so a kid won't collide with another person mid-swing.
Always check if the swing set is cool enough for your child. Even on a cloudy day, the frame, slide, or swing seat can get very hot.
Plus, your swing set should be anchored to the ground or have metal stakes for safety. This is to prevent it from getting blown over by strong winds.
5.   Ease of Assembly
Last but not least, you should look for a swing set that's easy to assemble and that can be set up in a few minutes or so.
With this, your kids will be ready to go out and have some fun, get their minds and bodies active, and make new friends!
The Best Swing Sets in New Zealand
Now that you know how to buy a swing set, let's get on with the best swing sets in NZ!
1)   Toddler Climber and Swing Set w/ Basketball Hoop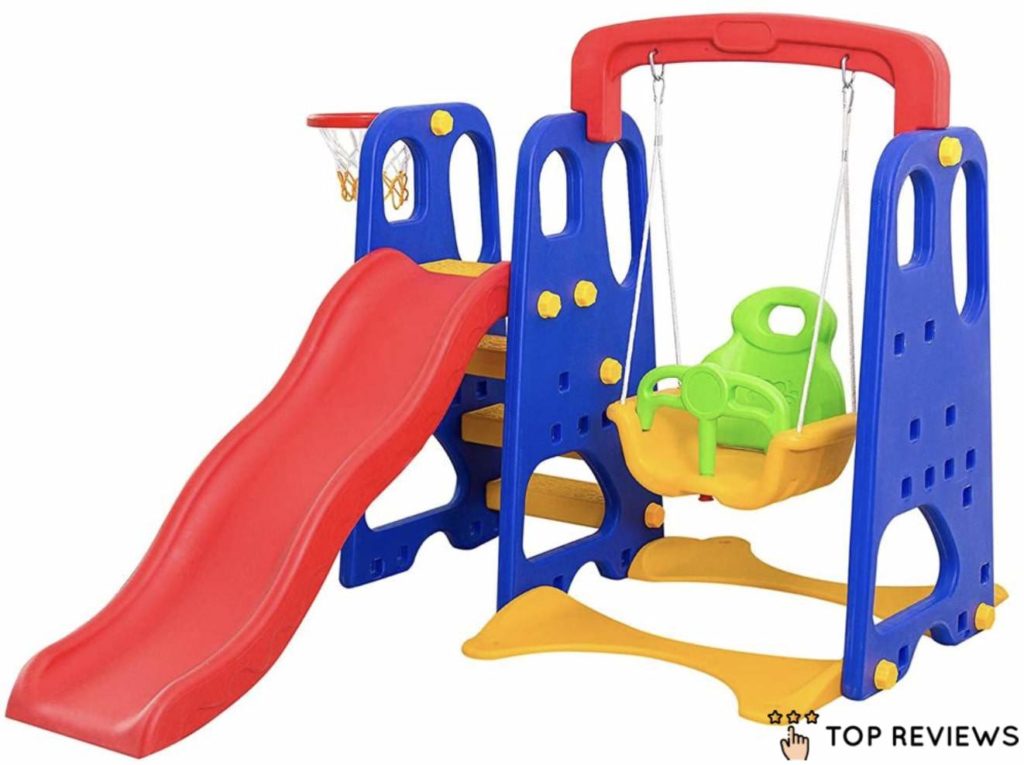 Best for
Toddlers' swing set
Dimensions
180 x 158 x 127 cm (W x D X H)
Features
Non-slip-design
Toddler-support swing
Basketball hoop
Material
Non-toxic plastic
Swing weight capacity
49.90kg
Price
$178.99
Looking for a safe and fun swing set for your little one? If so, the Toddler Climber and Swing Set, which includes a fun slide and tiny basketball, might be for you.
The attractive swing set can be set up in a spacious indoor room or out in the backyard. The parts are made of durable and non-toxic high-density polyethylene plastic.
With the set's slip-resistant ladder and smooth surfaces, your toddler can climb up easily and safely use the slide.
Moreover, the swing is held by high-quality anchors and has reinforced ropes that stay durable for years. The swing base can hold a max load of 49.90kg, by the way.
Finally, this exciting swing set is easy to put together, requiring only a few minutes of your time, and with no complicated tools needed.
Non-toxic HDPE plastic
Non-slip ladder and swing base
Removable basketball hoop
Easy to assemble
The base is actually green, different from the picture – not an issue for us, but it may be for you
2)   Backyard Discovery Buckley Hill Wooden Swing Set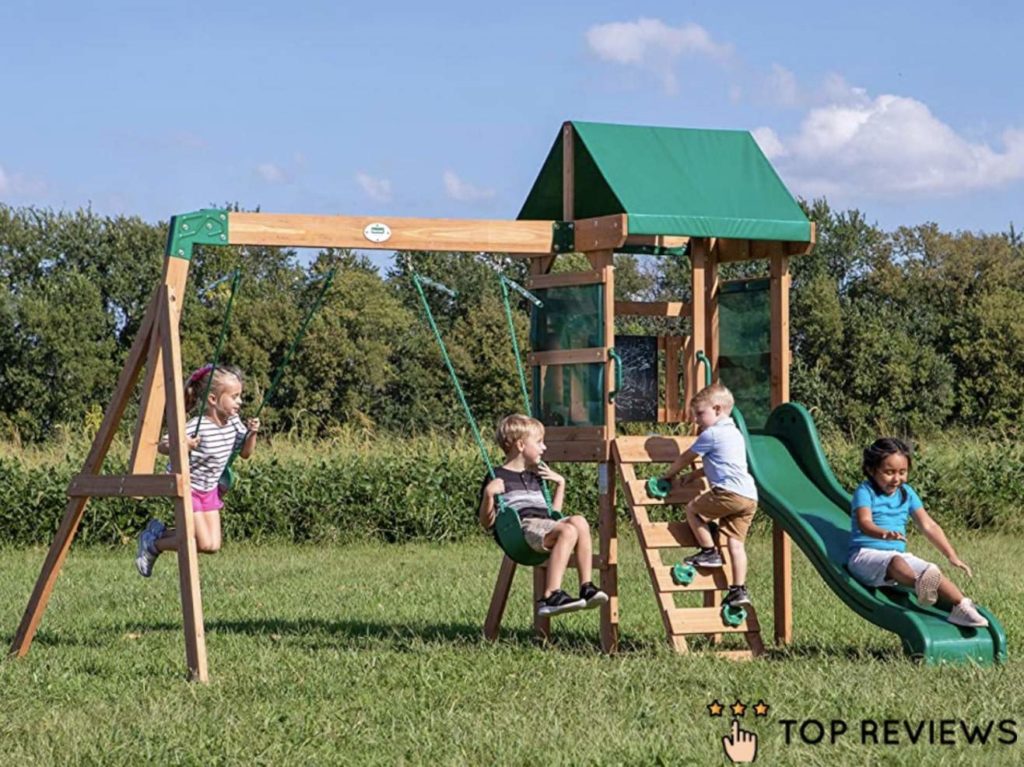 Best for
Wooden swing set
Dimensions
312.42 x 271.78 x 233.68 cm (W x D X H)
Features
Covered upper fort
Mesh walls
Built-in chalkboard
Wave slide with side rails
Material
Wood, cedar
Weight capacity
150kg
Age range
36 months – 10 years
Price
$960
For adventurous kids, the Backyard Discovery Wooden Swing Set is a great choice. This 2-level fort swing set is made from 100% cedar wood that makes it stylish and durable.
It is ideal for children aged 3 to 10 years and has a max load of 150kg. There are two swings with strong leather ropes and heavy-duty seats, safely spaced apart.
Your kid can easily climb up to the house using the safety handles on the entrance. Inside, there's a mid-sized chalkboard where they can draw anything they want.
Then they can exit the enchanted fort by going down the 6-foot slide, and they can climb back up and do it all over again!
The assembly of this swing set is also simple. It can even be shown and narrated to you via the Bilt app if you want help!
Sturdy swing set
Covered upper fort included
Has safety handles
Voice-narrated instructions for assembly
The wood is thin and can crack if you're not careful in setting it up
Expensive
3)   Swing, Glide Ride, and Trapeze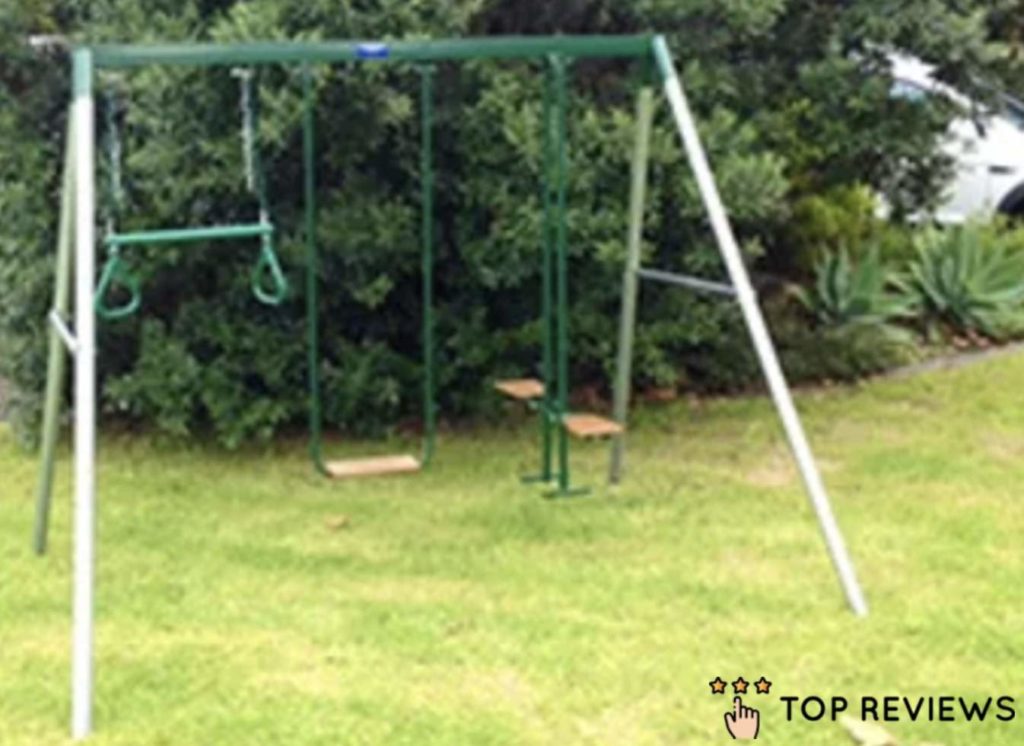 Best for
Long-lasting steel swing set
Features
Swing
Glide ride
Trapeze
Material
Steel, plywood
Recommended age range
Up to 8 years
Price
$425
Unlike others on this list, this particular swing set doesn't have a slide. It only has a single swing, trapeze, and glide ride to throw in some variety for the kids.
The swing set is proudly made in New Zealand. It features a tubular steel body and treated plywood seating that will remain intact under harsh weather conditions.
It also won't be a pain to assemble and comes with a 2-year warranty for peace of mind. For a no-frills and super-durable swing set, you won't go wrong with this one!
Durable swing set
Naturally stained seats
Easy to assemble
2-year warranty
4)   Swing-N-Slide Ranger Wooden Swing Set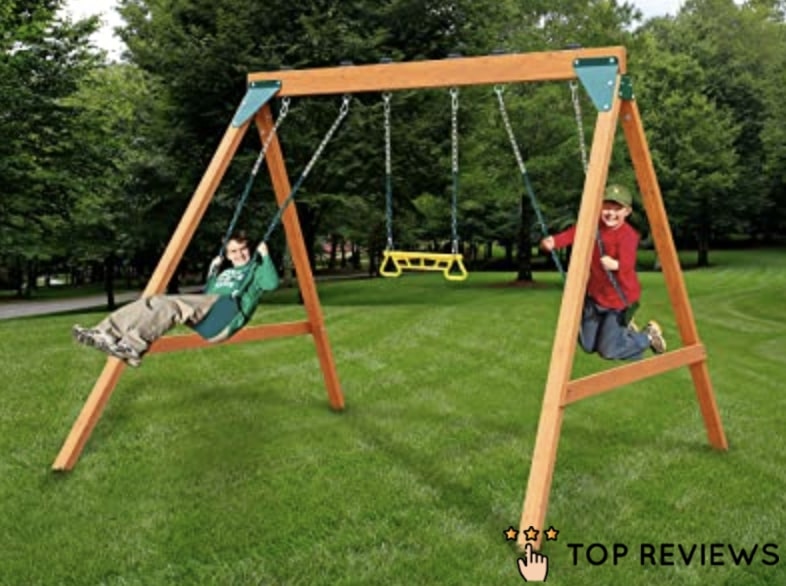 Best for
Safe swing set
Dimensions
264.16 x 233.68 x 208.28 cm (W x H x D)
Features
Swing seats
Ring/trapeze
Material
Wood
Weight capacity
52.16kg
Age range
36 months – 10 years
Price
$662
You can add this to your backyard where it will create lots of fun and memories! The Swing n' Slide Ranger Wooden Swing Set consists of two swings and a trapeze bar.
Exceeding the ASTM safety standards, the swing has Plastisol-coated swing chains that are gentle on children's hands and won't cause any swelling or pinching wounds.
Furthermore, the swing is secured into the ground by way of sturdy anchors, so it won't get blown off by the wind – this gives the swings added stability too.
All parts, fittings, and wood pieces are included in the package. With the provided illustrated manual, you can get this swing set ready by yourself or with the help of someone.
Cost-effective
Pinch-free coated chains
Exceeds ASTM safety standards
Not for big kids
A bit hard to assemble
Customer Reviews
With stellar reviews, the Ranger wooden swing set is indeed one of the best swing sets in NZ. People said that it was simple to assemble and had great durability.
One buyer said of the swing set:
"Great swing set. I have 3 kids and they all have a swing. I bought a baby swing for the middle and all I have to do is unclip the handle bar and attach the baby swing. Set up took a while as you would expect. Looks and feels sturdy. Kids are happy so I'm happy!"
Next, another customer wrote:
"AGES so this is great little swing set for kids, i'd say ages maybe 3-7 or so. STURDY we've had it now for about 6 months and has held up and pretty sturdy. (but if kids TOO big swing on it, it's probably going to damage it. so this is NOT for really big kids. ) the wood appears to be pine, stained to a red. but it's not redwood (of course, redwood is more weather resistant), but the pine so far has held up. i imagine it's been treated to be weather-resistant) ASSEMBLY if you're a do-it-yourselfer, and good at putting IKEA stuff together no problem, the assembly of the swing set shouldn't be too hard. (but i wouldn't say it was easy) if you're NOT a do-it-yourselfer, have your handy uncle or neighbor or handyman put it together it really takes 2 people to put together."
5)   KidKraft Andorra Cedar Wood Swing Set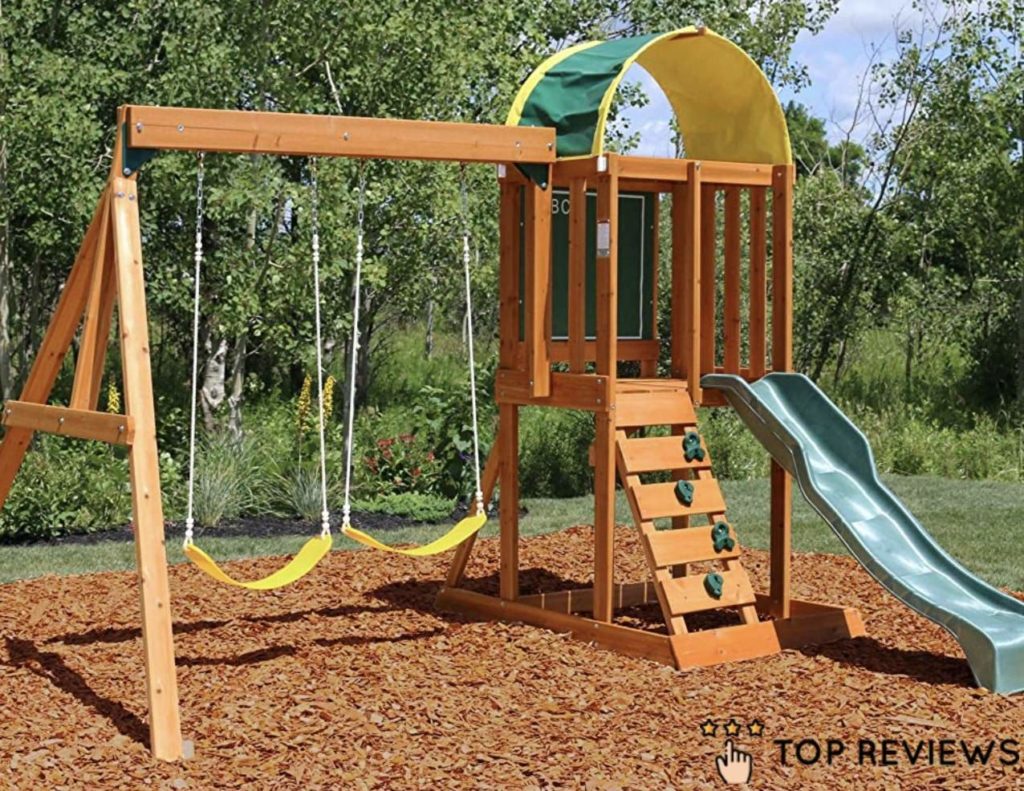 Best for
Complete features
Dimensions
274.32 x 241.3 x 312.42cm (W x H x D)
Features
Canopied play deck
Sandbox
High-rail wave slide
Two belt swings
Vinyl chalk wall
Rock wall
Material
Cedar
Weight capacity
349.27kg
Age range
36 months – 12 years
Price
$1,001
Although the KidKraft Andorra Cedar Swing Set is expensive, it's well worth the purchase. You'll agree when you see your toddler or child having fun with it.
Kids won't be bored with this swing set as it has a high-rail wave slide, rock-climbing wall, yellow belt swings, chalkboard, and a sandbox to build sandcastles in.
Note that sand isn't included, however. You can surround the swing set with wood chips to prevent children from being hurt.
It's also worth noting that this wonderful play centre can hold up to 7 kiddos at once. It makes for a great hangout place, don't you think?
It can be hard to assemble but with patience and effort, you can do it. And the result, if you've done it right, will be a reward in itself—both for yourself and your kid.
Stylish and strong
Holds up to 7 children at a time
Includes a sandbox
A bit hard to assemble
Expensive
Customer Reviews
As we said, we think the price is worth it for this swing set. That's because our kids and the kids of many buyers have had a great time playing on it.
Here's the review coming from one buyer:
"Relatively easy to assemble, good instructions, had all parts plus a few spares on hardware. Suggest 2 people to assemble, but I accomplished by myself with little struggle. Took a little longer than recommended but then I am now 80 years old and can only put in limited time in single work session. Took about 3 hours first day, 2 hours second and final touched in about 2 hours on third day. All went well and am satisfied with results. 6 year old great niece very appreciative for final results."
Let's see another customer's feedback:
"Surprisingly small box. But , every thing was there. Our grandson has not stopped smiling yet. It's a great value for the money. And smaller scale for a medium size yard."
6) TP304 Forest Wooden Double Swing

| | |
| --- | --- |
| Best for | Simple wooden swing set |
| Dimensions | Footprint 240 cm x 183 cm x 209 cm. (h) |
| Features | Wood frame covered by a 5-year guarantee against wood rot causing failure; all other parts 1 year. |
| Material | Wood, FSC certified pressure treated European pine/spruce-no additional treatment required. |
| Weight Capacity | 60kg per seat |
| Age Range | Ages 3+ |
| Price | $395 |
For those who prefer a more simple swing that can be easily assembled, then this set by TP Toys is perfect for you. The forest wooden double swing is a a simple wooden double compact swing set that has room for two children.
The swing frame is made from wood from managed forests and is cut, air dried, planed and kiln dried before being treated with environmentally friendly preservatives which penetrates deep into the wood. It can last for a guarantee of 5 years against wood rotting for added peace of mind.
Finally, the seats on this set can be adjustable and customizable to have baby seats for the little ones who are too young. Have a simple swing set in your own home for your kids to enjoy with the TP304 Forest Wooden Double Swing.
Optional baby seats
Adjustable swing seats
Singe fame available
FAQS about the Top Swing Sets in NZ
---
And that's all for our list of the top swing sets in NZ. Your little one will surely enjoy these swing sets.
So far, do you have any questions you want to ask us? If so, you can drop us a line, and we'll get back to you as soon as possible.
Aside from swing sets, your child may also want to bounce on a trampoline. In this case, you can read about the best trampolines in New Zealand!