Planning to buy a tablet for work or entertainment? If so, we have you covered, as we've put together a list of the very best tablets in NZ here for you!
We also wrote a guide below to help you pick the right slate that meets your needs and budget!
What to Consider When Buying a Tablet
Here are the things you have to consider when shopping for a tablet:
1) Operating System
What operating system do you need for your new tablet? Is it iOS or Android?
Choosing between the two is the first thing you should think about, as this dictates what apps you will be able to use on your tablet.
For instance, an Android tablet won't have apps like Apple TV, iTunes, or App Store. And an iOS phone won't have Google Chrome, Gmail, and Google Maps pre-installed.
Thus, if you have an Android app you need, it helps to choose a tablet that uses an Android OS, whereas if you have an Apple phone and prefer its ecosystem, it will be more practical to get an iPad.
2) Processor
The processor is the brain of your device that executes commands. Simply put, it's responsible for making your tablet run smoothly and efficiently.
It has a direct correlation to how sharp the images will appear, how fast you can open apps and run them on your tablet at the same time.
You will need a powerful processor to be able to play games with enhanced graphics or to stream in 4K. As for office work and ordinary browsing, a regular processor will do.
3) Screen Size
Another factor you have to consider is the screen size. You can find tablets with screen sizes ranging from 7 to 13 inches.
Smaller screens are lighter to carry and are easier to draw or paint on, while bigger screens show more of the picture but are heftier.
Generally speaking, smaller screens are more affordable than bigger screens. Besides that, it's a matter of preference as to which screen size you're getting.
4) Storage
Depending on the make and model, tablets can have storage sizes of 8 GB to 1 TB. Nowadays, you have the flexibility to choose which one you will need.
At the least, you should get 16 GB of storage, which gives you value for money.
If you are a professional and keep tons of photos, videos, and music, we recommend getting 256 GB or even 1 TB to back up your expanding portfolio for the years ahead.
Also, it's worth noting that microSD cards can bring up your storage. Apple tablets don't offer this, however: only Android and Windows tablets have expandable storage.
5) Internet Method
When buying a tablet, you can choose whether to have only Wi-Fi or Wi-Fi and cellular.
The first option is for those on a budget. This lets you connect to the Internet only at your home or to Wi-Fi hotspots in a public place like a restaurant or retail outlet.
Whereas Wi-Fi and cellular will allow you to have Internet even if the place has no hotspots. We suggest picking this option, so you can go online even during emergencies.
6) Battery
Tablets with short battery life can make using it a chore. While it's fine to have to pick up the charger after 8 hours or so of work, for 4 to 5 hours it's too short.
That stresses the importance of picking a slate with good battery life. In our opinion, a good battery life for a tablet should at least be 8 hours and up.
The Samsung Galaxy Tab A 8.0, for instance, can last up to an amazing 19 hours! Imagine the many things you can do if you have a tablet like that!
The Best Tablets in New Zealand
At this point, you now know how to choose the best tablets in NZ! Without further ado, let's proceed to our list!
1) iPad Pro 12.9" Silver 256 GB Wi-Fi (4th Generation)
| | |
| --- | --- |
| Best for | Super-fast operation |
| Processor | A12Z Bionic chip |
| Storage | 256 GB |
| Screen size | 12.9" |
| Resolution | 2732 x 2048 pixels |
| Operating system | iPadOS |
| Battery capacity | Up to 10 hours |
| Price | $2,029 |
With no introduction needed, the iPad Pro 12.9" 2020 is one of the hottest tablets in NZ you can get today.
It's fitted with an ultra-fast processor, the A12Z Bionic chipset. This allows you to browse, game, and use Augmented Reality (AR) apps with no slowdowns whatsoever.
The tablet features an ultra-wide camera and a new LiDar scanner that let you take stunning landscape pictures.
It works with the Magic Keyboard and Apple Pencil so you can mark documents, draw in your journal, and express your artistic side.
The only drawback is that the accessories have to be purchased separately, and you would have to spend a fair bit to get them.
Furthermore, this particular iPad has 256 GB of storage, which can house a great array of your music, movies, and applications!
Liquid retina display
Blazing processor speed
Ultra-wide camera
Supports Magic Keyboard
Costly tablet and accessories
Customer Reviews
The Apple iPad Pro 12.9" is a hit with most people, especially professional artists. Users find it incredibly useful for work and home use and said it gave great value for money.
Here's a review from one owner named Elizabeth:
"It is everything I had hoped it would be and more. I am an artist and use this primarily for drawing. I am using this with the Apple Pencil 2nd gen and its Just as sensitive If not more than the Wacom Cintiq and Kamvas Huion pro. Of all my digital drawing tools this is my favorite. Gorgeous high resolution display, wonderful pen sensitivity equal to the most advanced drawing tablets that are currently available. No lag running adobe photoshop or procreate. 128gb was more than enough space for me to have all my art programs, teaching apps, as well as some extras. This has taken my art and enjoyment of the process to the next level. No more being stuck on a computer. I can create high level art from the comfort of my bed or take it on the road!"
Let's see another one from Jaiquan:
"This iPad is amazing for school Also for other task like operating my business on the go or at home and much more people are saying amazon has over priced this iPad which isn't true check out apple website I don't see anything but the same price. I recommend this iPad Pro for people that has a powerful PC at home to me this can replace your computer in some aspects but not software for as premiere pro and other editors software. If need something portable and powerful this is a must buy."
2) iPad Air 10.9" Rose Gold 64 GB Wi-Fi
| | |
| --- | --- |
| Best for | Portable tablet |
| Processor | A14 Bionic chip |
| Storage | 64 GB |
| Screen size | 10.9" |
| Resolution | 2360 x 1640 pixels |
| Operating system | iPadOS |
| Battery capacity | Up to 10 hours |
| Price | $999 |
The Ipad Air 10.9" is a portable tablet that boasts the intense A14 Bionic Chip.
Its small and compact design means you can take it on the go. It integrates with Apple Pencil and Magic Keyboard or Smart Keyboard Folio – that makes using it a cinch.
Ipad Air's screen features a liquid retina display, P3 wide colour, and True Tone. This makes the colours vibrant and gorgeous on the 10.9" screen.
You can create eye-catching art on it using the Apple Pencil. The tablet is fast-learning—in other words, it is sensitive to your pencil touches, long presses, or zoom pinches, where it won't execute commands you've accidentally pressed or don't intend to use.
Plus, iPad Air has a secure touch ID located on the top of the device. With it, you can buy digital items from different apps via Apple Pay.
Eco-friendly tablet
Liquid retina display
Secure touch ID
Supports Magic Keyboard
Customer Reviews
iPad Air received 4.9 out of 5 stars on Amazon. Owners said different positive things about it like excellent audio, fast performance, and reliable for students, among others.
Jim, one owner, said of the iPad Air:
"I held off replacing my iPad Air 2 in hopes the Air 4 would be worth it. So far, the Air 4 has worked flawlessly. The migration was so easy and fast; just backup old iPad to iCloud then using the same Apple ID do a Restore from Backup to the new iPad. All my apps and their associated data was installed in Air 4. Incredible! The graphics are beautiful, the new CPU is very fast, I've been an iPhone 11 user for a while so the absence of the Home button wasn't a big deal, but I do find myself reaching to the where the Home button used to be. I had considered the low-end iPad Pro but Air 4 costs less and for my needs, gets the job done. You won't be disappointed. PS- I got free next day shipping with Amazon, too. That's a big plus."
Furthermore, Dylan wrote this:
"I purchased this as a sort-of alternative to my laptop. Just something to surf the web and social media on and play the occasional game. The speakers on this thing are INCREDIBLE. So loud and full of depth, it's great to stream music off of. Totally recommend this for the casual user, and with it's new chipset, this thing can handle some serious multitasking for the not-so casual. If you're on the fence about buying an iPad Pro, I recommend you consider this as an option instead, unless video editing is something you're planning to do constantly. I have no quarrel with this product! It has served me well so far."
3) Samsung Galaxy Tab S7+ Wi-Fi 256 GB
| | |
| --- | --- |
| Best for | Movies and gaming tablet |
| Processor | Qualcomm Snapdragon 865+ |
| Storage | 256 GB |
| Screen size | 12.4" |
| Resolution | 1752 x 2800 pixels |
| Operating system | Android |
| Battery capacity | Up to 14 hours (video playback) |
| Price | $1,229 |
Samsung is seriously giving Apple a run for its money with the Galaxy Tab S7+. Its design and features are thoughtful and advanced, from the device to the accessories.
First, the S7+ has an AMOLED display that makes the details pop by sharpening the smaller pixels in-between.
It also features a quad speaker by Dolby Atmos and AKG to bring you immersive sound that's great for movies and graphic-intensive games.
Powered by Qualcomm Snapdragon 865+, the S7+ is fast and mighty. It doesn't entertain any lags and can juggle different applications at the same time.
It can last up to 14 hours for playing videos and movies. You can do this without stopping since the tablet emits low blue light, which reduces the strain on your eyes.
Powerful processor
Ultra-wide camera
120 Hz responsive display
Great battery life
Eyecare certification
Has fewer quality apps compared to iOS
Customer Reviews
The S7+ has exceeded the expectations of many owners. They said that it was excellent in terms of function, sound, and ease of use.
One user shared his experience on Amazon:
"I will be selling my ipad pro 12.9. what's to say, gorgeous screen, very very fast, pen is great, beautiful design, expanded storage , 256 version has 8gb of ram, speakers sound much better than ipad.
My use is music, lots of sketching in concepts app, reddit, basic surfing.
Been using it for a while now no real complaints. Will update if that changes."
Plus, here's Tim's review of the product:
"Absolutely the best screen ever on a tablet. I'm saying that as someone with both a Surface Pro and 12.9 inch iPad Pro. They're both very good, but this is even better. Quad speakers fill a room with excellent sound. I can't say enough good about this item. I'll just round it all out by saying this is simply a superior product!"
4) Microsoft Surface Pro 7 Platinum 1 TB
| | |
| --- | --- |
| Best for | Versatile and light tablet |
| Processor | Intel Core i7 |
| Storage | 1 TB |
| Screen size | 12.3" |
| Resolution | 2736 x 1824 pixels |
| Operating system | Windows 10 Home |
| Battery capacity | Up to 10.5 hours |
| Price | $3,099 |
Microsoft Surface Pro 7 already comes with a removable keyboard and built-in kickstand, to make your tablet into a laptop.
The design is very slim and light at just 0.77 kg. You won't have a problem taking this with you for work or on a family excursion.
Whether you're using the tablet for writing, shopping, surfing, or playing, all are possible with the device's i7 processor and 1 TB of storage.
It has USB Type-A and -C ports where you can charge your phone while working. You can also get the Surface Pen, letting you write or draw freely on the tablet.
Slim and lightweight
Self-adjusting display
Has USB-A and -C ports
Massive storage
Fewer features compared to Apple and Android tablets
Expensive
5) Lenovo Tab M10 (HD) 10.1″ Slate Black 32 GB
| | |
| --- | --- |
| Best for | Budget-friendly tablet |
| Processor | Qualcomm SD429 Quad-Core |
| Storage | 32 GB |
| Screen size | 10.1″ |
| Resolution | 1280 x 800 |
| Operating system | Android |
| Battery capacity | 9 hours |
| Price | $272.22 |
If you're a little tight on your budget, but still want a relatively good tablet, the Lenovo Tab M10 might be for you.
Lenovo uses an Android OS and works seamlessly with the Qualcomm Snapdragon 429 chipset. It gives quick and reliable Internet through an 802.11.ac standard.
The Lenovo Tab M10 even features a Kids Mode whereby the apps are customised for your kids. The parent rating ensures they don't click links they shouldn't when using this tablet.
Logging in is extra-safe and -secure with facial recognition. You or your children will only have to glance at the camera to access the device.
Also, it has Dolby audio that immerses you in the film or music you're enjoying. Furthermore, you can use this tablet the whole day for up to 9 hours.
Affordable
Face recognition login
Immersive audio
Great battery life
Fewer data storage
Basic tablet
Customer Reviews
Owners wrote that it was easy to use and update, and had a vibrant screen, wonderful audio, and good battery life.
Let's see Anthony's review of the tablet:
"I have had nothing but good luck with Lenovo laptops over the years, so I decided to give their tablet a try. The tablet ships with Android 8.0, but immediately updates to 9.0 when you connect it to WiFi. The tablet is VERY responsive and has a beautiful display, battery life seems good as well. Face recognition work perfectly no matter which way the tablet is orientated and in various lighting conditions. I had no problems installing the various apps I use."
I am very happy with my purchase, especially when you compare the price with other tablets of this size."
Also, another user said this:
"I need a basic android tablet for my business that would take photos quickly and not be sluggish. I was able to easily download the app I needed. Photos are good and takes 1 second or less to capture image. Another cheaper tablet I sent back last week took at least 6 seconds to capture image from time I clicked and resulted in missing the moment and long wait times, something we do not have time for in a busy environment. The only negative I have found is a short charging cable, but those are cheap so not a big deal."
6) Samsung Galaxy S7+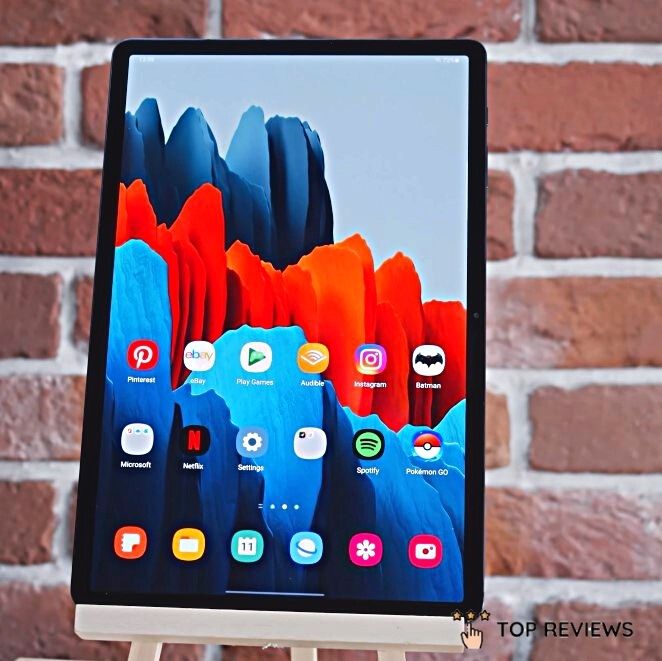 | | |
| --- | --- |
| Best for | Advanced displays |
| Processor | Qualcomm Snapdragon 865 Plus Mobile Platform |
| Storage | 256 GB |
| Screen size | 12.4 in |
| Resolution | 1752 x 2800 |
| Operating system | Android |
| Battery capacity | 14 hours |
| Price | $1,319.00 |
If you're not worried about spending money for a quality tablet, then perhaps Samsung's latest S7+ tablet is the one for you.
Samsung has mentioned that the displays on the S7 series is one of, if not the most advanced displays on the market currently, boasting a massive screen made crystal clear with the largest Super AMOLED display and Quad speaker sound by AKG and Dolby Atmos.
It should be noted, however, that the display itself isn't the only thing worth mentioning when talking about this tablet.
We should also bring up the fact that it's one of the fastest as well, thanks to its Qualcomm Snapdragon 865 Plus Mobile Platform processor. With the base memory being 256 GB with an 8 GB ram, it isn't at all surprising that many people have made the change, some even opting to use the S7+ as their main device for productivity.
Now, let's talk about battery life. With a processor this powerful, it only makes sense that the battery takes a hit, right?
Well, for the S7+ tablet, there's no such thing. People who tend to browse and encode will be happy to find that the tablet can last up to 14 hours. Of course, the more things you do, the more it depletes, but the standard is 14 hours for this device.
Large screen display
Excellent battery life
Fast processor
Immersive audio
FAQS about the Top Tablets in New Zealand
---
And that completes our top tablets in NZ list. You can get one and carry it in your backpack and watch films or work on your projects on the go!
Do you have any questions about our picks? If you have one, kindly let us know by sending us a message and we'll get back to you right away.
Looking for a solid laptop to use? If you are, feel free to browse our list of the best laptops in New Zealand, which have sleek designs and nifty features.