The 9 Best Takapuna Restaurants
Located in the heart of Auckland, Takapuna has many unique and popular restaurants you can go to. If you want to know which places those are, you're on the right page as we've listed the best Takapuna restaurants here.
Instead of focusing on one cuisine, we included different ones to cater to different tastes. We then narrowed them down to restaurants that offer fresh and delicious food and stellar service, as well as those that have an amazing ambience.
If you're ready, here's our roundup of the best Takapuna restaurants!
1) Sam's Mediterranean Eatery & Food Store

| | |
| --- | --- |
| BEST FOR | Authentic Mediterranean cuisine |
| SERVICES | Traditional Menu Vegan & Vegetarian Menu Grilled Meat Desserts Drinks |
| WEBSITE | http://www.sams86.co.nz/ |
| ADDRESS | 86 Hurstmere Road, Takapuna, Auckland 0622, New Zealand |
| CONTACT DETAILS | 09-486 3586 |
| OPERATING HOURS | Monday – Sunday: 10.00 AM – 10.00 PM |
Sam's Mediterranean Eatery & Food Store offers authentic and freshly cooked Greek, Italian, and Turkish recipes with your choice of traditional, vegan, or vegetarian meals.
Your cravings will surely be satisfied as they offer a variety of homemade salads, grilled meat, sweet desserts, savoury soups, and appetising bread.
They offer Turkish coffee with strong flavours, which goes great with their Tiramisu dessert. Apart from this, clients say that the service is personal and excellent.
With numerous perfect 5-star reviews, Sam's Mediterranean Food Store clearly belongs on the best Takapuna restaurants list!
Highlights
Offers fresh and authentic Mediterranean meals
Personal and excellent service
Large variety of food
Perfect reviews on Google
Customer Reviews
A customer named Rob C. wrote a review on Sam's Mediterranean Eatery & Food Store:
"Had a very nice lunch, both meals (meatballs and Mediterranean plate) were generously sized and the ingredients were very fresh. The coffee was very strong, very typically Turkish. Service was good too. Keen to go back and try some other dishes."
2) Mamak Malaysian Street Food

| | |
| --- | --- |
| BEST FOR | Malaysian food |
| SERVICES | Dine-In Takeaway Vegan & Vegetarian Options |
| WEBSITE | https://www.mamaktakapuna.co.nz/ |
| ADDRESS | 6 Huron Street, Takapuna, Auckland 0622, New Zealand |
| CONTACT DETAILS | +64 9-486 0122 |
| OPERATING HOURS | Tuesday & Wednesday: 5.00 PM – 9.00 PM Thursday: 11.30 AM – 3.00 PM, 5.00 PM – 9.00 PM Friday & Saturday: 11.30 AM – 3 PM, 5.00 PM – 9.30 PM Sunday: 11.30 AM – 3.00 PM, 5.00 PM – 9.00 PM |
For a change, you might want to try Malaysian food at Mamak Malaysian Street Food. Here, they serve large portions of super-tasty food at economical prices.
The restaurant is small with lots of pleasant natural light, perfect for intimate gatherings. If you plan to eat with a larger group, you should book ahead so that they can accommodate your party accordingly.
Customer favourites include their Curry Laksa and Sarawak Laksa (coconut-based noodle soups), Cucur Udang (prawn fritters), Beef Rendang rice, and street foods like their crispy Mamak Chicken Bites.
Highlights
Super-tasty Malaysian food
Generous portions
Small and intimate restaurant
Economical prices
Customer Reviews
Let's read Sjaan W.'s review of his experience at Mamak Malaysian:
"One of our favourite places to eat in Auckland. Meals are always a generous size, full of flavour, and very affordable. Perfect for couples or dining in groups, however I'd recommend booking ahead for larger groups as it can fill up around dinner time. Vegetarian and vegan options both available."
3) El Humero

BEST FOR
Colombian-style barbecue restaurant
SERVICES
Entrees Barbecue Vegetarian Beers Wines Drinks
WEBSITE
https://www.elhumero.co.nz/
ADDRESS
3/40 Hurstmere Road, Takapuna, Auckland, New Zealand
CONTACT DETAILS
+64 9 4899973

[email protected]

OPERATING HOURS
Tuesday – Sunday: 11.30 AM – 3.00 PM, 5.00 PM – 9.00 PM
Whether you've been to Colombia or not, with El Humero, you feel as though you're in Colombia and enjoying authentic Colombian food.
El Humero claims to be the first traditional Colombian barbecue restaurant of its kind in New Zealand. Cooked over charcoal and wood-fired grills, their BBQs are mouth-watering and fresh.
Their mission is to share the culture of Colombia to customers and leave a lasting impression. After having your BBQ meal at their restaurant, you'd surely want to come back again soon!
What's more, they have a variety of wine and fresh juices that go well with the flavoursome meals at El Humero.
Highlights
Mouth-watering and fresh Colombian BBQs
Beautiful atmosphere
Reasonable prices
Have a variety of wine
Customer Reviews
Let's see a review from Eric J. of El Humero:
"My wife and I split a plate and an appetizer. We also each got a beverage. The bartender made the beverages to perfection and the food was very delicious. I recommend waiting for a table unless you really like being warm. We sat at the bar and while we were able to see everything as it was prepared (and we did enjoy that), it was really warm. We will likely eat here again."
4) Tok Tok

BEST FOR
Asian fusion cuisine
SERVICES
Small Big Salads Sides Desserts
WEBSITE
https://www.toktok.co.nz/
ADDRESS
1/129 Hurstmere Rd, Takapuna, Auckland, New Zealand, 0622
CONTACT DETAILS
09 4893 988

[email protected]

OPERATING HOURS
Monday: 5.00 PM – 10.00 PM Tuesday – Thursday & Sunday: 12.00 PM – 10.00 PM Friday & Saturday: 12.00 PM – 10.30 PM
If you can't decide on getting Chinese, Thai, Japanese, or Vietnamese food, how about getting all of them instead? For this, you can head down to 1/129 Hurstmere Rd and enter Tok Tok.
Tok Tok serves Asian fusion cuisine by serving delicious and well-presented food in large quantities. For many customers and food lovers, it's one of the best Takapuna restaurants.
For salads, we recommend their roasted duck or green papaya salad. For the entrees, Sweet Potato Pad Seuw, Shaking Beef, or Sweet and Sour Pork Belly are excellent choices.
Let's not forget about their decadent desserts like Vietnamese Coffee Panna Cotta and Matcha Chocolate Fondant. For those with special diets, some of their dishes can be made vegan upon request.
Highlights
Specialises in Asian fusion cuisine
Some dishes can be made vegan
Large quantities
Great ambience
Customer Reviews
Jesse M., one guest, has this say to about Tok Tok and its food:
"The reason it's busy is because it's very, very good. The food — Asian fusion but mostly Thai — arrives hot, fast and fresh and there is enough on the menu to satisfy any particular craving you might arrive with…"
5) Al Forno Italian Restaurant

| | |
| --- | --- |
| BEST FOR | Great-tasting Italian food |
| SERVICES | Dine-In Takeaway |
| WEBSITE | https://www.alforno.co.nz/ |
| ADDRESS | 34 Anzac st. Takapuna North Shore Auckland, New Zealand 0622 |
| CONTACT DETAILS | +64 9-488 0179 |
| OPERATING HOURS | Tuesday – Sunday: 5.00 PM – late |
Next up on the best Takapuna restaurants list is Al Forno Italian Restaurant. They offer supremely delicious Italian food backed with personable and caring service.
The restaurant has a relaxing and pleasant vibe which created fond memories for one client. He even said that the place would always have a special place in his heart.
You should try their Spaghetti Bolognese that's topped with house-made Napoletana sauce, tasty Ravioli di Gamberi, Filetto al Salmone, Scaloppine Marsala, and savoury steak dishes.
Their wine list is another highlight, consisting of New Zealand and Italian red and white wines. They also have beers and ciders for people who want other options.
Highlights
Supremely delicious Italian food
Personable and caring service
Relaxing and pleasant vibe
Have NZ and Italian wines
Customer Reviews
On Facebook, Ryan S. commented on his experience at Al Forno restaurant:
"What an awesome evening! Went to Al Forno for dinner on Saturday night and had the best Spaghetti Bolognese I've ever had. The friendly waiter Patrick gave an awesome recommendation for the starter, with mozzarella and prosciutto will definitely be back – thanks Al Forno & thanks Patrick!"
6) Homecooked Filipino Cuisine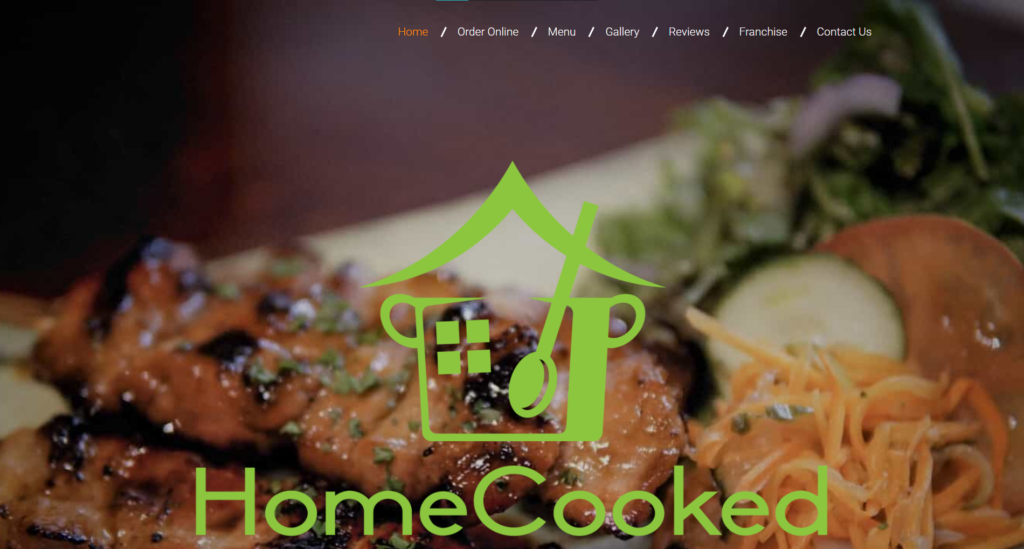 BEST FOR
Classic Filipino Cuisine
SERVICES
Foods, Snacks, Delicacies
WEBSITE
http://nzhomecooked.com
ADDRESS
39 Elliott Street, Auckland Central, Auckland 1010
CONTACT DETAILS
+64 22 432 0350
[email protected]
OPERATING HOURS
Tuesday – Sunday
11:30am – 3pm
4pm – 8:30pm
Homecooked Filipino Cuisine, as the name says, offers authentic Filipino cuisine to its diners. They particularly focus on the cooking style of Kapampangans, whose city is known as The Culinary Capital of the Philippines.
They offer a wide range of dishes for their menu. Grilled dishes, traditional recipes, and stir fried noodles are just some of the meals you can find here.
Their skilled chefs employ a delicious mix of modern-creative and traditional cooking styles. You're guaranteed to find a dish that suits your palate, as well as your budget.
Highlights
Kapampangan cuisine
Sumptuous homecooked meals
Combination of modern-creative and traditional cooking styles
High quality food at affordable prices
7) Ark Coffee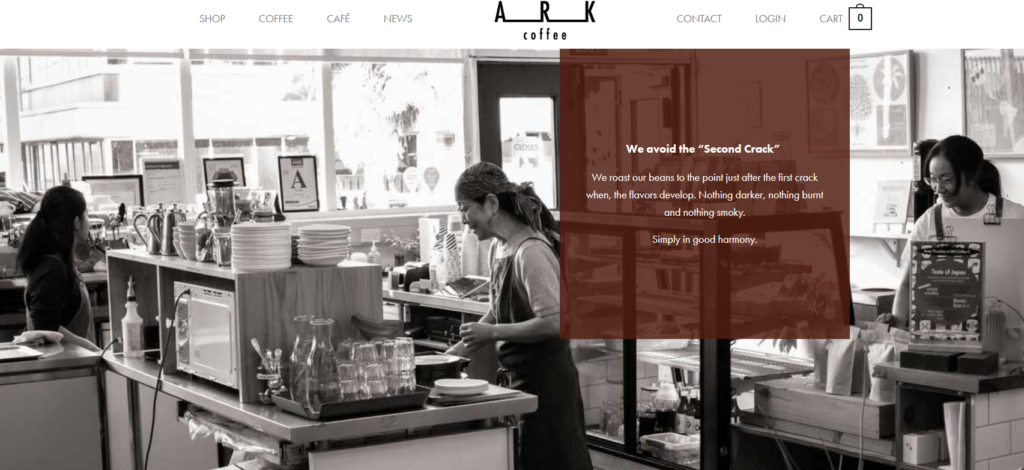 BEST FOR
Handcrafted speciality coffee
SERVICES
Coffee, Pastries, and Japanese dishes
WEBSITE
https://arkcoffee.co.nz
ADDRESS
Shop6, 467 Lake Rd,
Takapuna,
Auckland, 0622
CONTACT DETAILS
09 489 8488
[email protected]
OPERATING HOURS
Mon – Fri: 7am – 2:30pm
Sat & Sun: 8am – 2:30pm
Ark Coffee was established by sisters Naomi and Ulala in 2012, both of which shared one simple goal: Offer Auckland a taste of high quality coffee.
They've done it then, and they continue to do so now. The process begins with procuring beans from local growers that produce them ethically.
Then Ark Coffee's expert staff carefully takes the time to roast each batch, bringing out flavours unique to specific blends. These seasonal roasted coffee options are available both in-store and online.
Ark Coffee also brews coffee in their physical location. For those who wish to elevate the already luxe coffee experience, Ark Coffee offers a handful of handmade baked goods.
Highlights
Sells brewing kits and artisan coffee
Friendly and professional staff
Seasonal coffee options
8) The Burger Bach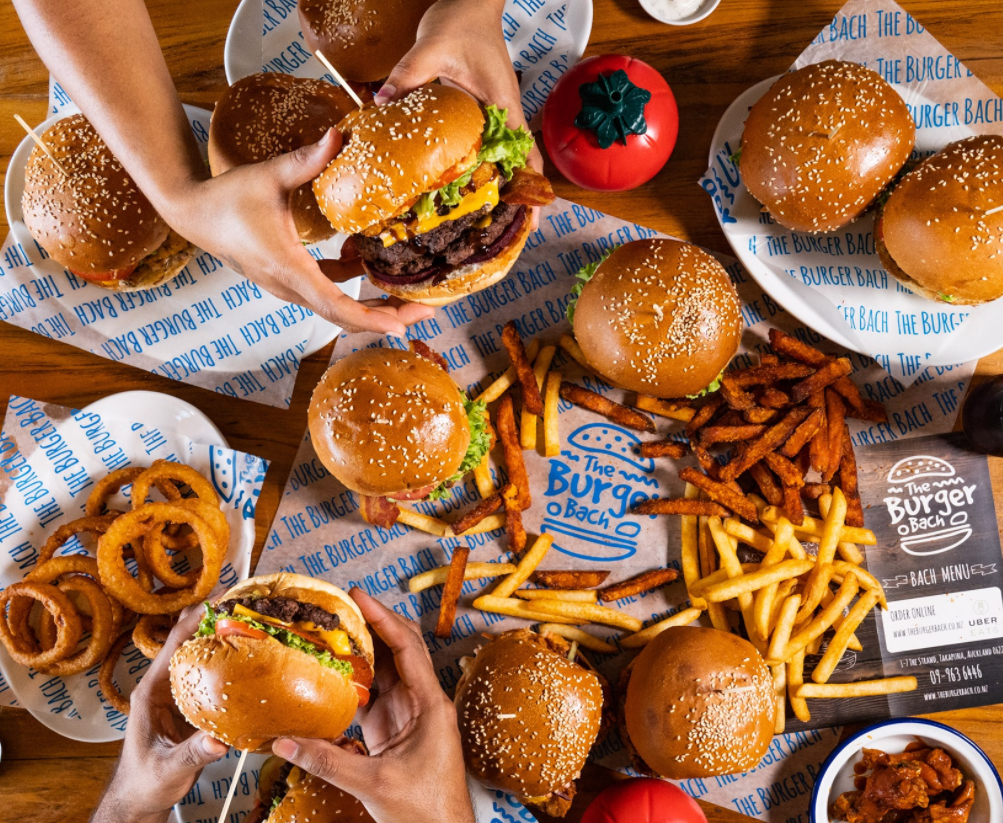 In the mood for burgers? If so, you may want to consider visiting The Burger Bach while you're in the area.
The Burger Bach is one of our top choices for juicy, mouthwatering burger options. The restaurant's menu, as the name may suggest, consists of various burgers that cater to various palates.
There are burgers made with beef, chicken, vegetables, and lamb; with some of our personal favourites being the Bach Classic, the Spicy Bird, the Bhaji Burger, and the Bach Daddy.
To spruce up your meal, you can also choose from a number of sides, including steak-cut fries, kumara fries, onion rings, and buffalo wings.
The Burger Bach is dedicated to providing quality food and service, so it isn't at all surprising that each and every menu item at The Burger Bach is made with the freshest, finest ingredients available. The patties are made fresh, never frozen.
Highlights
Vegetarian options available
Fresh ingredients used
Online orderings and booking available
9) The Backyard Bar & Restaurant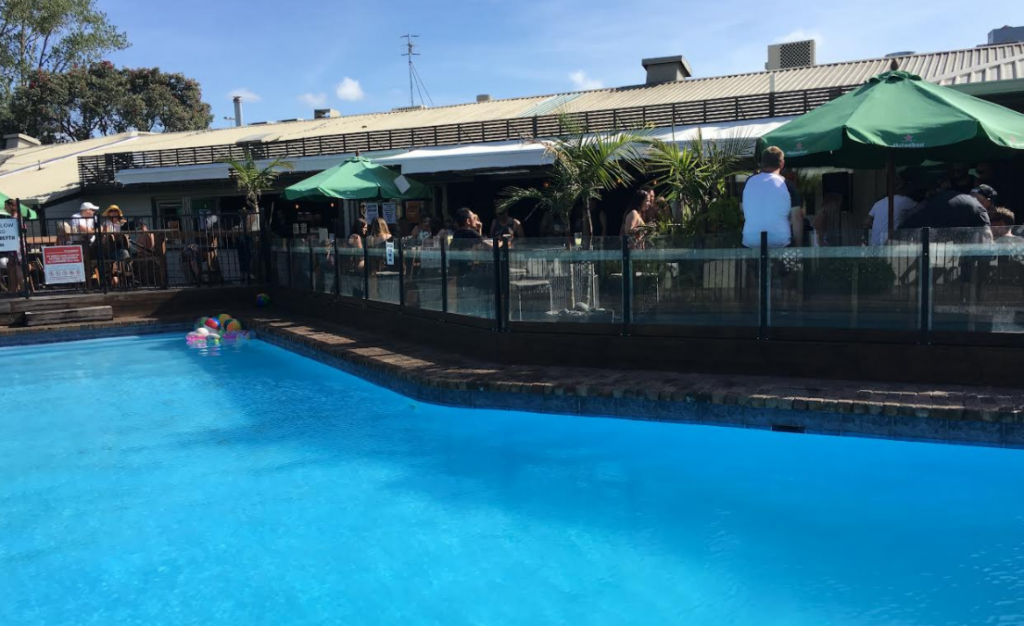 BEST FOR
Drinks by the Poolside
SERVICES
Restaurant and Bar
WEBSITE
http://www.thebackyard.co.nz/
ADDRESS
31 Northcote Rd, Hillcrest,
Auckland 0627
CONTACT DETAILS
09 419 6299
OPERATING HOURS
Monday to Sunday:
11:30am 'til Late
If you're looking for an establishment that promises a fun time alongside good food and drinks, then you may want to visit The Backyard on your next night out.
The Backyard is a hybrid bar and restaurant with a large pool to enjoy oneself in. On the premises, one will also find three bars, two dining areas, and two functions rooms.
The restaurant at The Backyard features an extensive array of Western cuisine, with various finger foods that pair well with beers and other alcoholic drinks.
You can order fried chicken, wings, burgers, pizzas, and even pasta when dining at The Backyard.
Highlights
Open seven days a week until late
Vegetarian options available
Extensive wine and alcoholic drinks menu
Great for events and group get-togethers
So that's all for the best Takapuna restaurants list! Now you know which restaurant you should go to for a memorable and satisfying dining experience.
Do you agree with the featured restaurants on our list? Tell us what you think in the comments section and we'll get back to you promptly.
For more options, you may want to check out our other restaurant lists. For instance, you can read about the best Japanese restaurants in Auckland for healthy and tasty meals like teriyaki chicken bento, takoyaki, and sushi.