The 7 Best Tattoo Studios in Christchurch
Would you like a cool script on your hand or Maori tattoo on your entire arm? That's terrific! And you're on the right page for that, as we've listed the best tattoo studios in Christchurch below.
The tattoos drawn by these artists never fall short of your expectations — in fact, their clients say they exceed them. Whether you're a first-timer or an experienced tattoo these studios are for you.
We searched the Internet for tattoo shops with rave reviews, superb tattoo artists who will give you an experience of a lifetime in tattooing. So if you're ready, we present to you the best tattoo studios in Christchurch!
1) Otautahi Tattoo Christchurch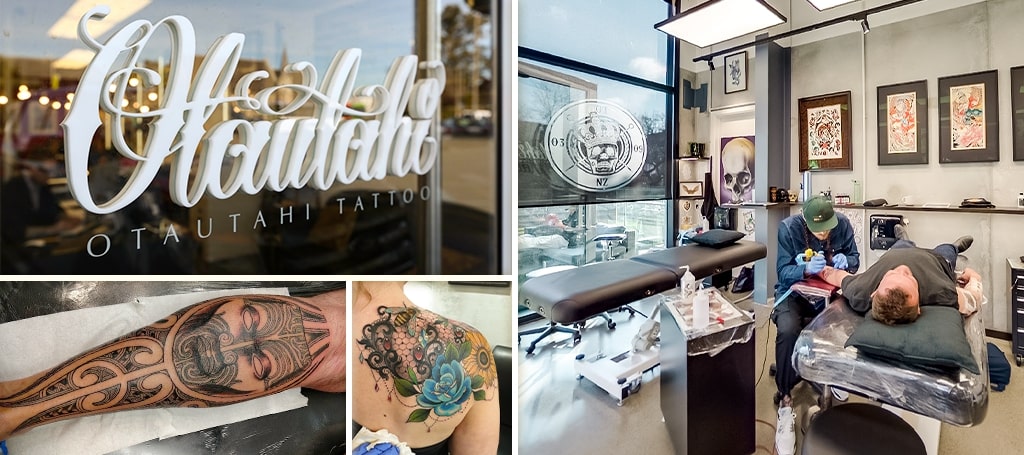 | | |
| --- | --- |
| Best for | Maori Tattoo Artistry |
| Services | Lettering Tattoos, Ta Moko and Tatau, Realism Black and Grey, Full Colour, Neo Traditional and Old School |
| Address | 101/112, Oxford Terrace, 8011, Christchurch, New Zealand |
| Contact no | (03) 365 2566 |
| Website | https://otautahitattoo.com/christchurch/ |
Otautahi Tattoo Christchurch is filled with exceptional and talented artists from all around the globe. Their unique styles and experiences means you'll have a tattoo you will be proud of.
Whether it's a lettering, unique Maori, or full-colour tattoo, they have you covered! You can even show them a picture of somebody special and they'll tattoo it onto your body masterfully.
As such, Otautahi Tattoo Christchurch is one of the best tattoo studios in Christchurch. We encourage you to visit their website to see some of their stunning and elaborate tattoo work.
Highlights
Unique and awesome Maori tattoos
World-class artists
Offers different styles including full-colour and neo style
Customer Reviews
Alexander Pfarl left them a comment on Google Business:
"Very friendly staff and welcoming atmosphere. The quality of the art and work was absolute topp class. If you wanna get a tattoo done. You should definitely do it at this tattoo shop?⭐"
2) Steve Johnson's City of Ink Christchurch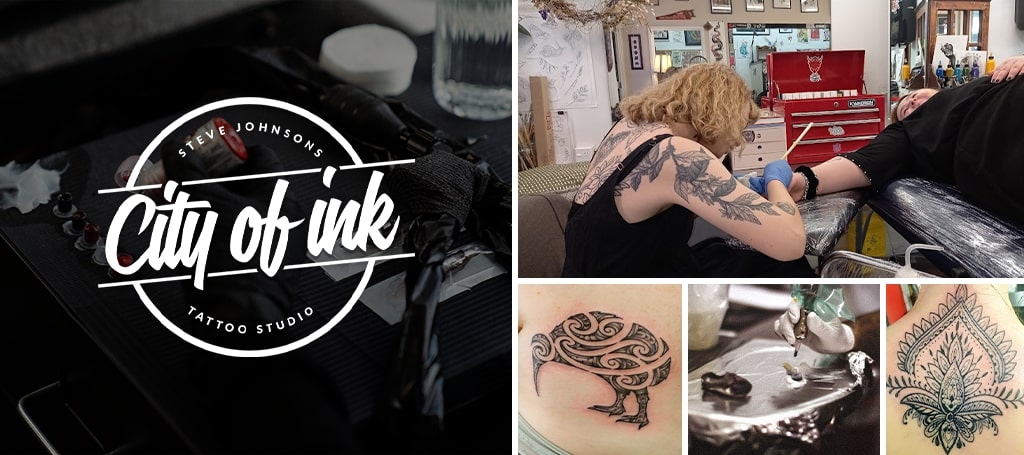 | | |
| --- | --- |
| Best for | Graffiti Stylised Tattoos |
| Services | Black and Grey, Japanese, Neo-Traditional, Maori/Ta Moko, Realism, Blackwork, Cultural/Polynesian, and lots more |
| Address | 94b Riccarton Road, Riccarton, Christchurch 8041, New Zealand |
| Contact no | (03) 341 1301 |
| Website | http://www.cityofink.co.nz/ |
Have an image you'd like done on your arm or leg? Check out Steve Johnson's City of Ink studio. You'll find several tattoo artists who can work out your idea and come up with something special.
They are deft in creating art, mostly thanks to their graffiti background. They offer a variety of styles to suit you i.e. neo-traditional, Maori, black work, Polynesian, Japanese, realism, and it goes on.
People here are laid back and kind, so you can just relax and enjoy a good chat with them and they'll handle the rest. So here's to another one of the best tattoo studios in Christchurch!
Highlights
Team have a graffiti background
Offers a wide range of styles
Relaxed and laid back studio
Customer Reviews
At Google Business, Fiona Anderson commented:
"Awesome, really pleased already got another one planned. Profession and also friendly. I can reccomend them for your first tattoo. Having a cover up done soon and my thoughts were listened too with respect. I look forward to seeing the results."
3) The Jolly Octopus Tattoos and Piercings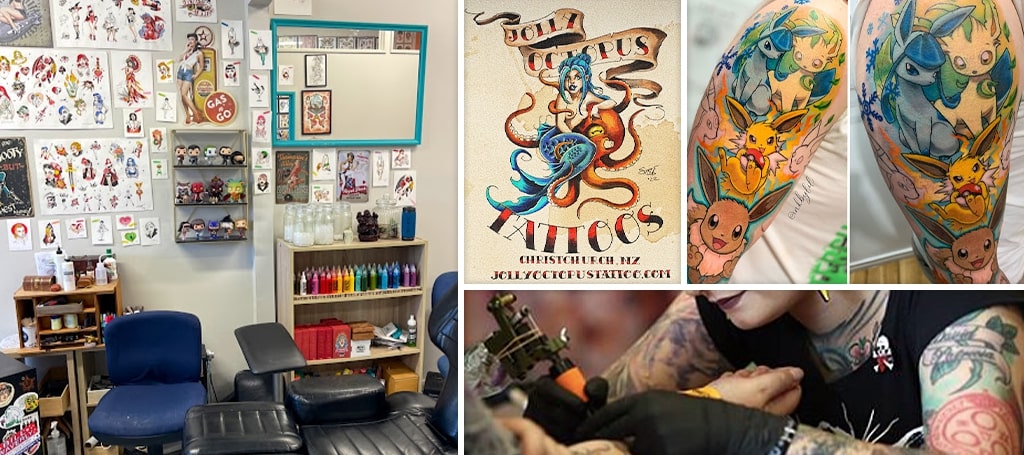 | | |
| --- | --- |
| Best for | Awesome Tattooing Experience |
| Services | Fine Line, Photorealism, Old School, Traditional, Maori, Pacific, Polynesian, Ta Moko, Kirituhi, Tatau, Colour, Black and Grey, and Japanese or Irezumi |
| Address | 272 Greers Road, Christchurch, New Zealand 8053 |
| Contact no | (03) 360 3120 |
| Website | https://jollyoctopustattoo.com/ |
Passion and great customer service differentiate the Jolly Octopus from other tattoo studios. They always strive to ensure their customers' needs are addressed, and do it in an amiable, open way.
This puts them on the list of the best tattoo studios in Christchurch list. The team have great attention to detail and are adept in a variety of styles including photorealism, colour, and cultural styles.
Bring a copy or image of something you like to be tattooed for your wrist, body, leg, or back. And feel free to discuss with them your concepts and ideas to get the tattoo you want!
Highlights
Awesome customer experience
Great artists knowing a variety of styles
Very talented and friendly
Customer Reviews
Robin Riley returns the favour to the company through this sweet review:
"…The second was with a Grim Reaper cover up, and now that its finished, one wouldn't realise that it is a cover up. Steve has great aptitude for detail and colour matching, and I highly recommend him and his staff at The Jolly Octopus if you are looking for flair as I have since returned for several more."
4) Left Hand Path Tattoo Studio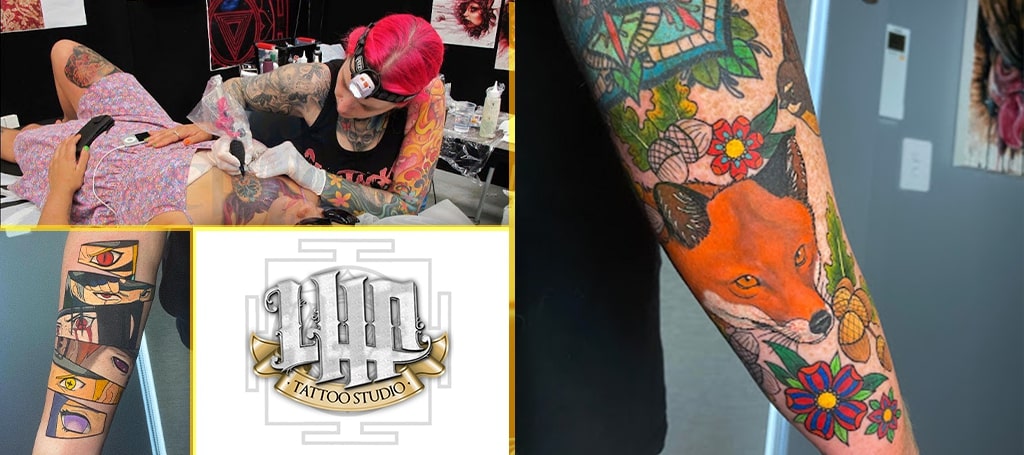 | | |
| --- | --- |
| Best for | Unique Customised Tattoos |
| Services | Coloured Tattoos, Fiction Characters, Reimagined Characters, Mandalas, Geometric Patterns, Comic Book Characters, Lively and Bright Colours |
| Address | Christchurch, New Zealand |
| Contact no | (03) 381 6660 |
| Website | https://www.lefthandpath.co.nz/ |
If you're a fan of movies or animated characters, this is the place to go. Left Hand Path Tattoo Studio is an award-winning boutique with artists Andrew Swarbrick and Lara Higgs to assist you.
They do full-coloured tattoos that are Instagram-worthy. From beloved Disney characters to surreal or fantasy images, you will have a mesmerisingly cool artwork on your body!
The artists are highly skilled and experienced, so lots of people from far and wide flocking to this studio. It's a very popular spot and is certainly one of the top tattoo studios in Christchurch!
Highlights
Unique movie or comic book tattoos
Award winning tattoo studio
Adroit and gifted artists
Customer Reviews
Leanne Feary was really glad about the addition to her tattoo. She wrote this on Google Business:
"Hands down the best tattoo studio. Lara and Andy are both extremely talented artists. Had the privilege of having my tattoo tidied up and added onto it by Lara. Was almost in tears when I seen the improvement to my established tattoo was never really happy with it."
5) The Sanctuary Tattoo and Art Studio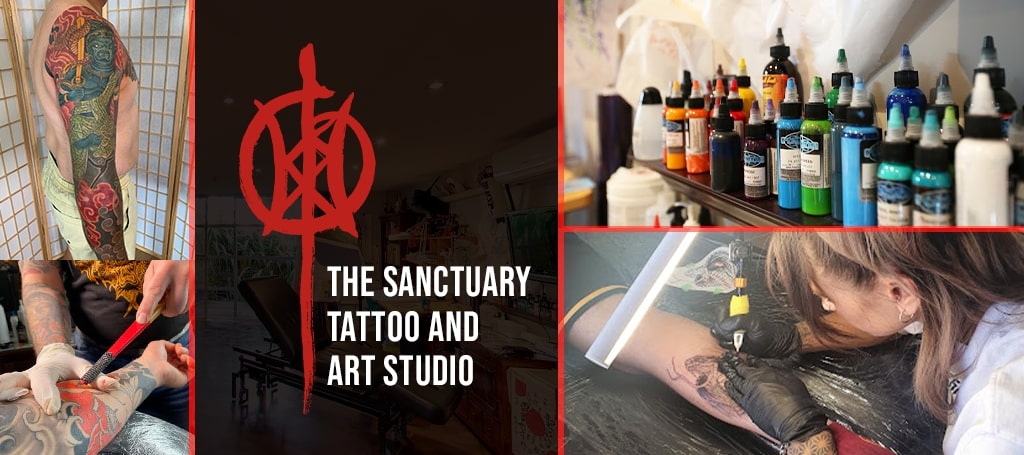 Best for

Japanese style and technique

Services

Tebori, Hand poke, traditional, full colour and black and grey, comic and manga, minimal tattoo

Address

1010 c Ferry Road, Woolston, Christchurch 8023, New Zealand

Contact no

+64 210 238 1698




[email protected]

Website

https://www.horiga.com/
The Sanctuary Tattoo and Art Studio is an expert in body decorations.
Its owner, Horiga, has been in the tattoo industry since 1996. He specialises in Japanese styles and techniques, such as the hand tattooing technique of Tebori and celtic/norse tattooing but is proficient in many styles.
Chelsea has been tattooing since 2016 and covers traditional, comic, and fine line styles.
They also offer a 30-minute free consultation to help you fully conceptualise your tattoo design.
They only accept appointments, so be sure to book one on their site before visiting their location.
Highlights
Japanese styles and technique

20+ years of experience

Free consultation
Customer Reviews
Here's a Facebook review from Selina Vöhringer to give you an idea of how customers benefit from The Sanctuary Tattoo and Art Studio:
"If you're looking for the right place to get the perfect tattoo, then the Sanctuary is the right place. Horiga is truly the best Tattoo artist I've ever met. He worked hard and has a loads of experience. From machine to tebori, he knows how to do it. It's definitely worth the pain. You won't regret it.
6) Lunar Tattoo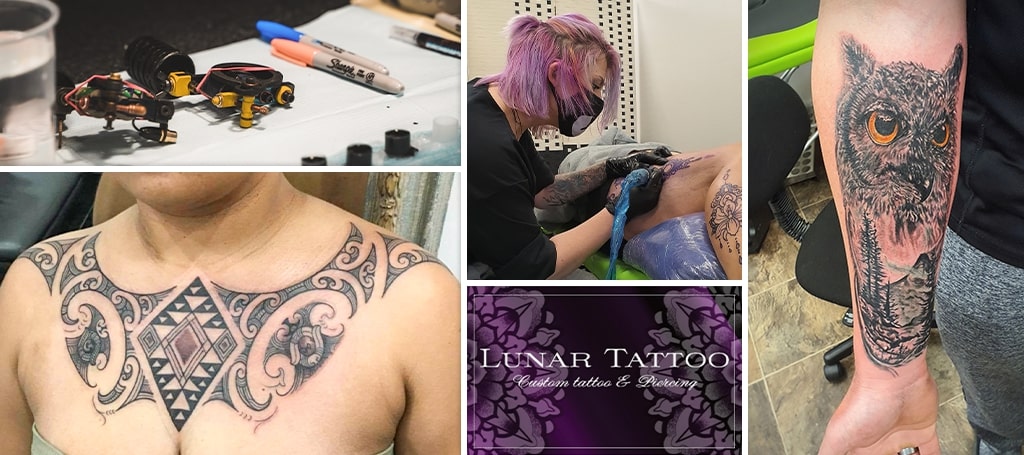 Lunar Tattoo is another of the tattoo studios in Christchurch offering a variety of tattoo options. They are experts in geometric and realistic designs, as well as old-school and tribal tattoos.
Lunar Tattoo can also imprint watercolour or black and white tattoos, whichever interests you. And the great thing about this tattoo studio is that they also offer free consultations.
Just check out their page to see more of what tattoo designs they can bring to life. You can even have more than one body decoration from their shop because they also offer piercings.
Highlights
Wide variety of tattoo choices

Coloured and black and white tattoos

Piercings

Free consultations for tattoo design
Customer Reviews
Here's what Ruth Moore, a Facebook user, and Lunar Tattoo customer, has to say about the studio's services:
"My wife and I came in today to get existing tattoos coloured. The awesome team touched up the existing work and made an absolutely beautiful job of the colouring! We're both stoked with the results! An added bonus was the relaxed atmosphere, friendly team, and good bants! Cheers guys!"
7) Lucky Cat Tattoo Studio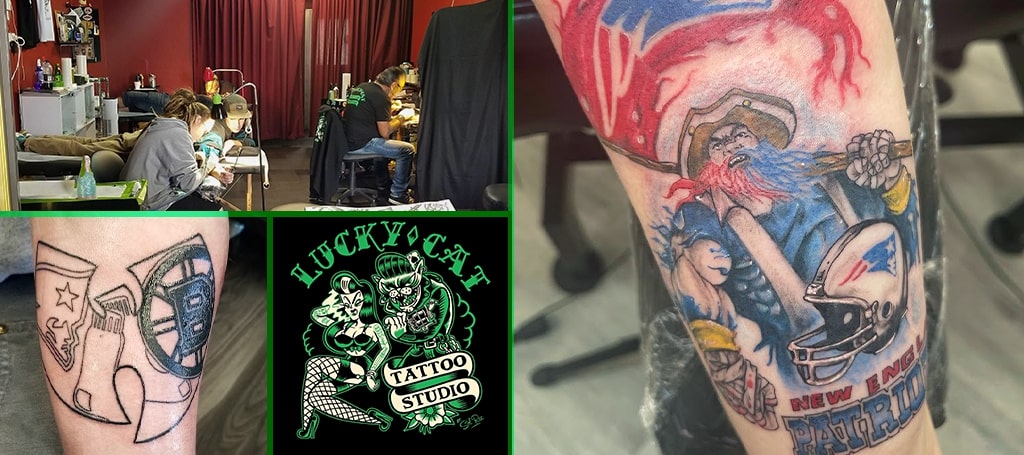 Best for

Traditional tattoos

Services

Ta Moko, black and grey, Japanese,

American traditional, fine line,

script,

blackwork, Mandala, ornamental, dotwork

Address

24 McGregors Road, Bromley, Christchurch 8062, New Zealand

Contact no

+64 27 359 1927




[email protected]

Website

Lucky Cat Tattoo Studio
Lucky Cat Tattoo Studio can serve as your all-around shop for body decorations. They offer a wide range of tattoo methods and designs as well as piercings.
They are experts in specific cultural tattoo techniques such as Ta Moko, Mandala, and American traditional. You can also get simpler ones such as dotwork and fineline print tattoos.
Besides multi-colour tattoos, Lucky Cat Tattoo Studio also has a range of jewelry perfect for your desired body piercings.
Highlights
3 body artists and 1 piercer

Various types of tattoo designs from Ta Moko to fineline

Gift vouchers
Customer Reviews
Read this customer review by Nenetzin Vidal for more information about the tattoo studio:
"Sarah is amazing!! This is definitely the place you have to come. She understand exactly what we wanted and help us finishing our design. The prices are amazing and everything is super clean. Mexico ?? would know your work Sarah!! And if someone is thinking about coming this place, think no more and come!! They also have an easy parking spot"
And there you have it for the best tattoo studios in Christchurch. The tattoo that you get from these studios will be sure to help you express and feel good about yourself.
Have you gone to any of these studios we talked about before? Tell us your experience with them by dropping us a line and we'll get back to you shortly.
Apart from that, you might have a skin problem like acne or rashes. In that case, you can read about the best dermatologists in Christchurch to have them treated.