The 13 Best Tattoo Studios in Wellington
Tattoos have become more prevalent and an accepted method of self-expression. If you don't know where to get a good one, though, no problem, as we'll show you the best tattoo studios in Wellington.
You probably have an image in your mind of your desired tattoo. The talented artists can reciprocate and print it on your body, or they can suggest something that's even better.
We've selected highly acclaimed studios that make you feel at home the moment you walk in, where talent, creativity, and ideas collide. If you're interested in that, here are the best tattoo studios in Wellington!
1) Tattoo Machine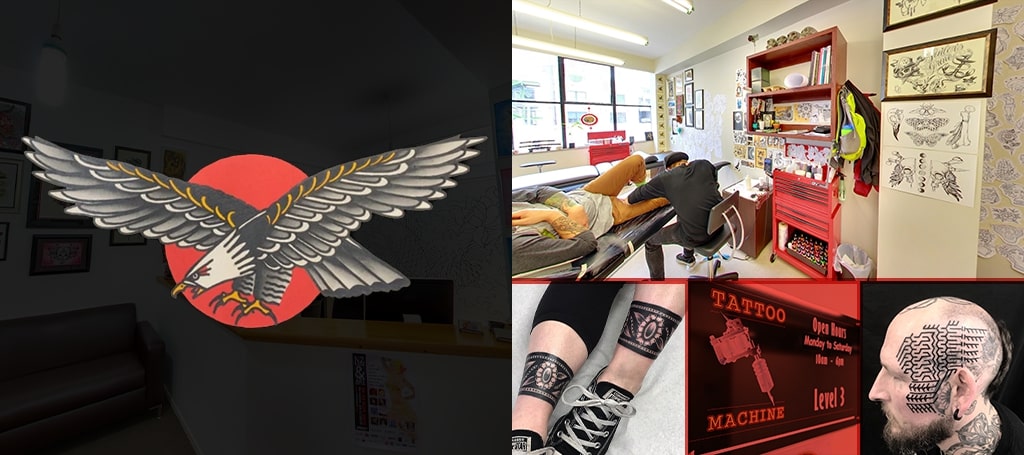 | | |
| --- | --- |
| Best for | Safety and Hygiene |
| Services | Traditional, Character, Pop Culture, Coloured, Blackwork, Asian and Japanese, Pacific and Maori |
| Address | Level 3, 41-47 Dixon Street, Wellington, New Zealand |
| Contact no | 04 382 9481 or 021 105 8588 |
| Website | https://tattoomachine.co.nz/ |
If you're concerned about needle safety, Tattoo Machine has your back. Since the client's well-being is important, they always meet the most stringent health standards in their studio.
Their team has a storehouse of skills and expertise in different genres like traditional, blackworks, character, pop culture, and especially Japanese art (they have a special liking for this).
Just pop in at their studio along Dixon Street located at Welly's entertainment district — you can pass by anytime. Truly, this is another one of the best tattoo studios in Wellington.
Highlights
Incredible tattoo work
Passes the strictest health standards
Clean and decorative clinic
Accessible location
Customer Reviews
Receiving 4.8 stars out of 5 from 111 reviewers on Google Business, Droog said:
"Super stoked with everything I've got from these dudes, especially a big leg piece that Tane did, considering the broad brief I had given him it turned out better than I had even imagined, next level talent!"
2) Dr Morse Tattoo Studio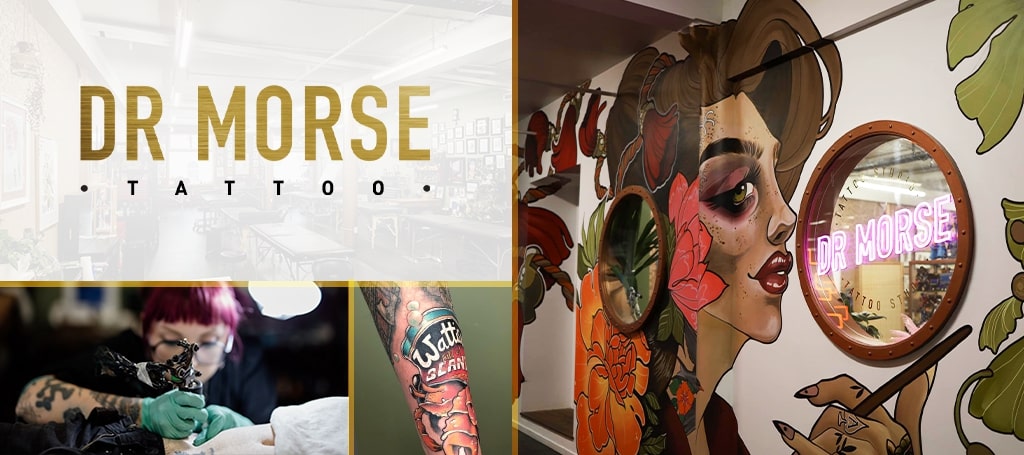 | | |
| --- | --- |
| Best for | Imaginative Tattoo Artists |
| Services | Neo-Traditional, Blackwork, Illustrative Animal Portraits, Floral Pieces, Realism, Water Colour, Geometric Work, Full Colour, Otherworldly Pieces, Movie Tattoo, Animation Tattoo, and more |
| Address | Level 1, James Smith Building, CNR Cuba & Manners St, Wellington, New Zealand |
| Contact no | 04 472 0270 |
| Website | https://www.drmorse.nz/ |
Prepare to enter a totally different world in Dr Morse's tattoo parlour. You will soon find yourself sucked into a vacuum of colour, animals, alternate reality, flowers, whales, and the galaxy.
Simon Morse, dubbed 'the comic book genius', is famous in the USA and Japan. He works alongside similarly talented artists, with each contributing his unique skills and talent to the whole.
They make breathtaking art. So, this is definitely one of the best tattoo studios in Wellington.
Highlights
Makes breathtakingly beautiful art
Diverse range of styles
Creative and talented tattoo artists
Customer Reviews
Here's an interesting review by Jetse Lenting:
"It may seem strange to say I really enjoyed getting jabbed in the arm with a needle for 6 hours (and had that happened at a different doctor's office there would be fewer stars) but I really enjoyed getting jabbed in the arm at Doctor Morse.
Come in, chat with the artists (all approachable, interesting and very talented) and get inspired by the stunning drawings that cover every wall
Just, if it's your first tattoo, maybe don't go for a full back piece. The folks here'll be happy to talk you through some options."
3) Cuba Street Tattoo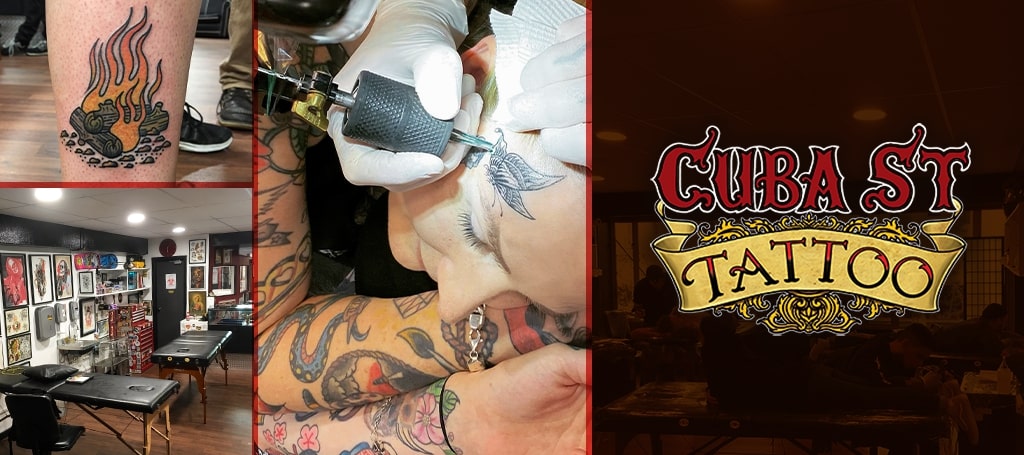 | | |
| --- | --- |
| Best for | Sterile and Clean Equipment |
| Services | Blackwork, Floral Pieces, Neo-Traditional, Classic, Cultural, Colour, Realism, and Geometric |
| Address | Cuba Street Tattoo, 124 Cuba St, Wellington, New Zealand |
| Contact no | (04) 801 7957 |
| Website | http://www.cubasttattoo.co.nz/ |
Another tattoo boutique with great safety practices is Cuba Street Tattoo. It follows the European and French standards in sterilising the needle that will be used for tattoo work.
Cuba Street tattoo artists each have their distinct style they are good at. Their art is more on the side of cartoon-like and friendly, although they can also create realism or make inkwork that seems to pop out or come out of your skin.
Highlights
Neat-Looking tattoos
Offers a variety of styles
European safety practices
Sterilised needle
Customer Reviews
Oskar Davies noted on Google Business:
"Went into Cuba Street Tattoo … And I absolutely loved my experience. Super down to earth guys who really care about what they do. I went and saw Joseph and his flash and custom tattoos are out of this world. Such a great falla. I recommend you come here 110%"
4) Union Tattoo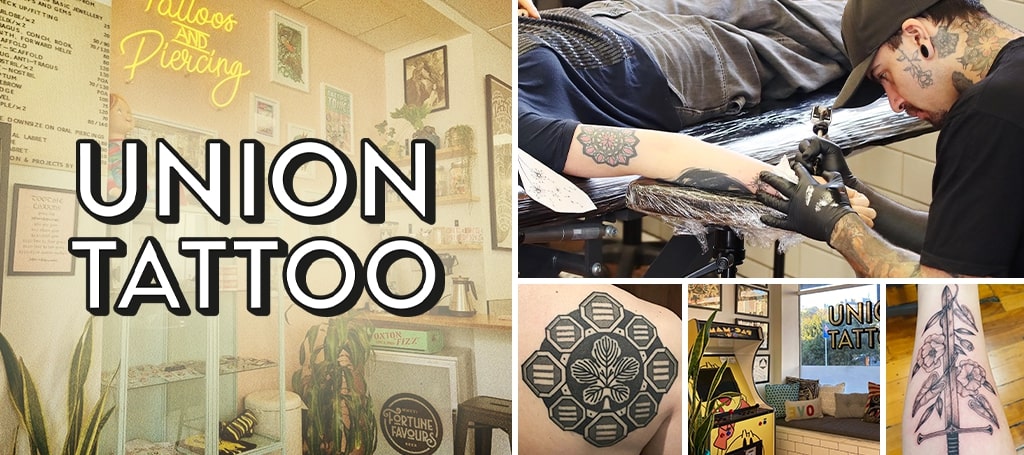 | | |
| --- | --- |
| Best for | Tailored One-Off Tattoos |
| Services | Dark Illustrative Designs, Linework, Detailed Art, Japanese, Full Colour |
| Address | 311 Willis St, Wellington, New Zealand |
| Contact no | 04 384 8071 |
| Website | http://uniontattoo.co.nz/ |
Union Tattoo provides a friendly and open environment for everyone. Beside giving you a custom tattoo, they also let you experience the Welly welcome in the form of hot roasted coffee and chocolates.
You'll meet many resident artists as well as guest artists from New Zealand and abroad. They've all amassed a depth of experience, which you'll see when you let them give you a new tat.
Each member has his own forte — for Craigy, it's dark illustrative pieces; for Zoe, it's linework; for Sholto, coloured Japanese art; and for Luckman, it's bold and lasting tattoos.
Highlights
Highly specialised team
Makes attractive designs
Friendly, warm environment
Customer Reviews
Mike Andrzejewski gave his review of them a perfect 5 stars. He writes on Google Business:
"My wife and i both had work done by Toby, 10/10 service was amazing, atmosphere was great! Really accommodating and such an amazing experience overall! Can def recommend this place to anyone, will def be going back there again! Not to mention the work that was done far exceeded my expectations!"
5) Wicked Tattoo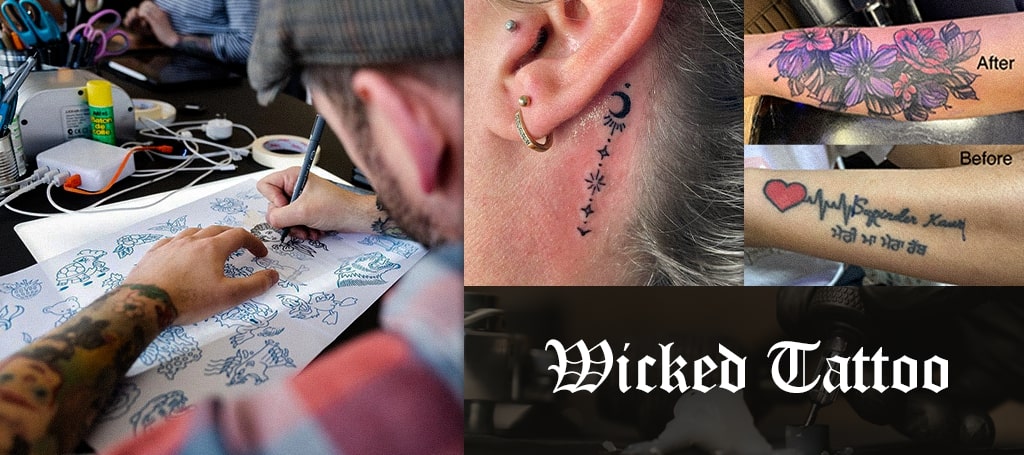 | | |
| --- | --- |
| BEST FOR | Tribal tattoos |
| SERVICES | Fully Custom designs, floral line work, black and grey, black out, white on black, nature portrait, water colour, tribal and tribal fusion, scripts and quotes, asian classic, and modern sleeves |
| WEBSITE | http://www.wickedtattoo.co.nz/ |
| ADDRESS | 1A Hume Street, Alicetown, Lower Hutt 5010, New Zealand |
| CONTACT DETAILS | +64 210 464 167 |
| OPERATING HOURS | By appointment only |
Wicked Tattoo offers a wide variety of tattoo styles, including floral linework, nature portrait, quotes, and scripts. With artist Al's expertise, you can also get grey, blackout, and water colour tattoos.
Al is also an expert in more complex designs such as Filipino tribal, Polynesian tribal fusion, and Asian classic tattoos. But if you want something more personalised, you can bring your own design because Wicked Tattoo also does custom tattoos.
Just make sure to book with them ahead of time because the studio is currently reserved solely for appointments. You can book an appointment through their website, where you can also find their gallery of recent tattoos along with wicked art and tribal art.
Highlights
Simple to complex tattoo styles

Custom tattoo

Convenient booking through the online site
Customer Reviews
Read this Google review from Penny Luke, who has been a long-time customer of Wicked Tattoo:
"My journey with this exceptional Artist began back in 2017. I can say that I am a very happy customer, very professional, studio and work practices are clean. I trust this Artist's creative genius and always comes back to me with what I want and expect in a design. Always comfortable and at ease. I will be back."
6) Underground Arts Tattoo Studio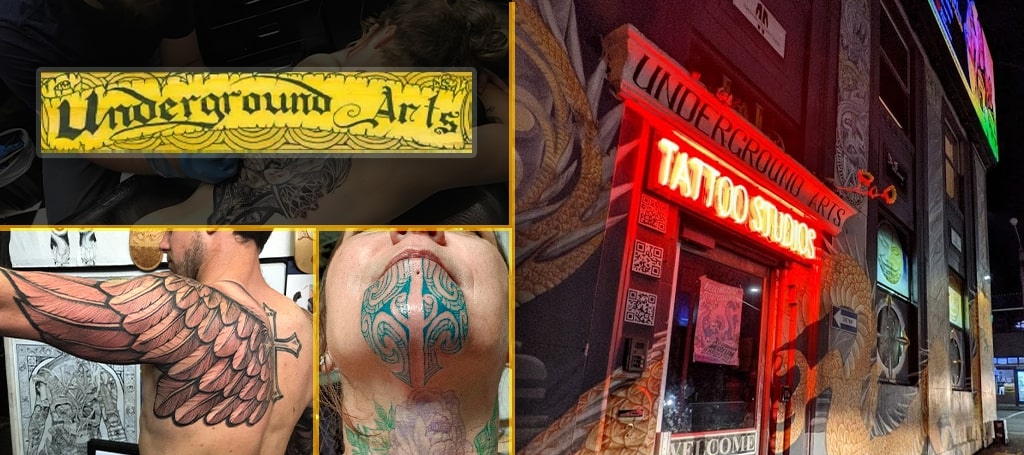 | | |
| --- | --- |
| Best for | Black and Grey Tattoos |
| Services | Maori, Blackworks, Neo-Traditional, Full Colour, Floral Pieces, Black and Grey |
| Address | Underground Arts, 187 Vivian Street, Wellington, New Zealand |
| Contact no | (04) 385-2185 |
| Website | http://www.tat2.co.nz/ |
Going for some black and grey artwork for your body? Check out Underground Arts Tattoo Studio. Steve Maddock is the principal tattooist here, boasting 37 years of experience.
Steve is confident about what he does and is respectful to his clients, especially with women. He is knowledgeable in different styles, but his speciality lies in doing black and grey projects.
The studio is situated at 187 Vivian Street beside his Tattoo Museum. The Tattoo Museum houses beautiful tattoo collections from New Zealand and worldwide that you can explore.
Highlights
37 years' experience in the industry
Remarkably skilled
Respectful and dedicated
Customer Reviews
Here's a testimonial for one of the best tattoo studios in Wellington that can be read on the site:
"We are from the Netherlands and went to your beautiful country for a month, Steve tattood my brother, it is absolutely amazing, really awesome with the turtle!! He was also very nice and we were really impressed with his work! Thank you so much for the unforgettable experience!"
7) The Gallery Custom Tattoo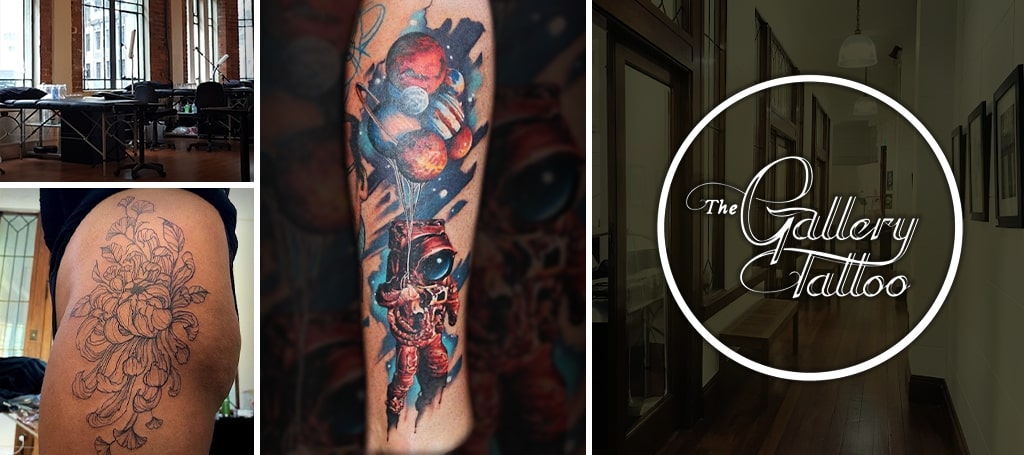 | | |
| --- | --- |
| Best for | Shop ambience and customer service |
| Services | Custom tattoos, black and grey realism, tattoo illustration, full colour |
| Address | Level 2/4 Bond Street, Wellington Central, Wellington 6011, New Zealand |
| Contact no | +64 4-473 6566 |
| Website | https://www.thegallerytattooart.com/ |
The Gallery Custom Tattoo is yet one of the most sought-out tattoo shops in Wellington. They guarantee that they can bring to reality even the most intricate tattoo designs and ideas.
They are a group of five talented tattoo artists who will listen to what you want and need. The Gallery also has large windows and clean tattoo stations to keep you comfortable during your tattoo experience.
Besides, the owner of the tattoo studio also specialises in making coffee-shop-quality refreshments, so expect to get some high-quality espresso or hot chocolate while you wait.
Highlights
5 tattoo artists to choose from

Hot chocolate and high-quality espresso

Excellent customer service

Coloured and complex tattoo designs
Customer Reviews
Customers really appreciate the cleanliness and quality of The Gallery Custom Tattoo's skin art. Here's a review that Matthew Murray left on Google Business for more information:
"Awesome place to get a tattoo! Really helpful staff, super talented and friendly artists, good rates; and they'll even offer you a hot chocolate on a long session."
8) Saturnia Tattoos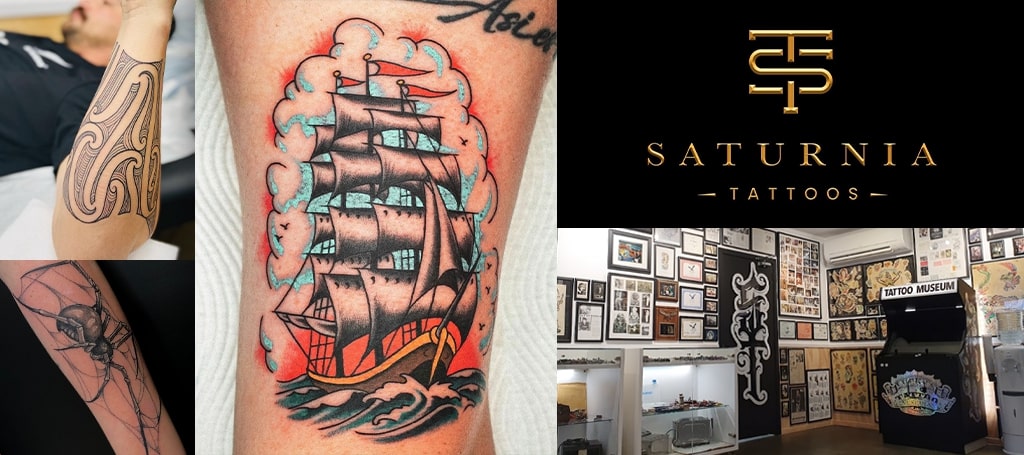 Best for
Tattoo museum
Services

Custom work, flash pieces, coloured, and black and white tattoos

Address
42A Ward Street
Upper Hutt
5018
New Zealand
Contact no
T: +64 (0)21 081 818 67
E:

[email protected]

Website
https://saturniatattoos.com
Established in 2018, Saturnia Tattoos is a parlour found within the walls of Lucky's Tattoo Museum. Here is where you'll find four talented artists, each with their own distinct tattoo styles.
First is Dre, owner and artist, who specialises in traditional Japanese tattoos. Co-owner and artist Ludo, on the other hand, focuses more on horror blackwork tattoos.
Two other artists that work in the studio, Stephen and Nikolai, specialise in Ta Moko & Kirituhi, and American traditional tattoos respectively.
The diversity that this artistic team has to offer allows Saturnia to cater to various requests from clients, ranging from custom works to flash pieces. Clients interested in supporting the parlour further can also avail of Saturnia Tattoos' prints, accessories, and apparels.
Highlights
Aftercare products available
4 artists to choose from
Unique interior design
Does flash works and custom pieces
Customer Reviews
Previous clients have nothing but praise for the artists of Saturnia Tattoos. Here are some comments found on their Facebook review page:
"First session yesterday. Excellent, friendly people with a professional attitude. Thanks so much and see you again soon!"

"A huge shout out to Niko.. awesome experience and a fantastic end result. Love my tattoo. Highly recommend this great guy."
9) Mario – Konstantin Studios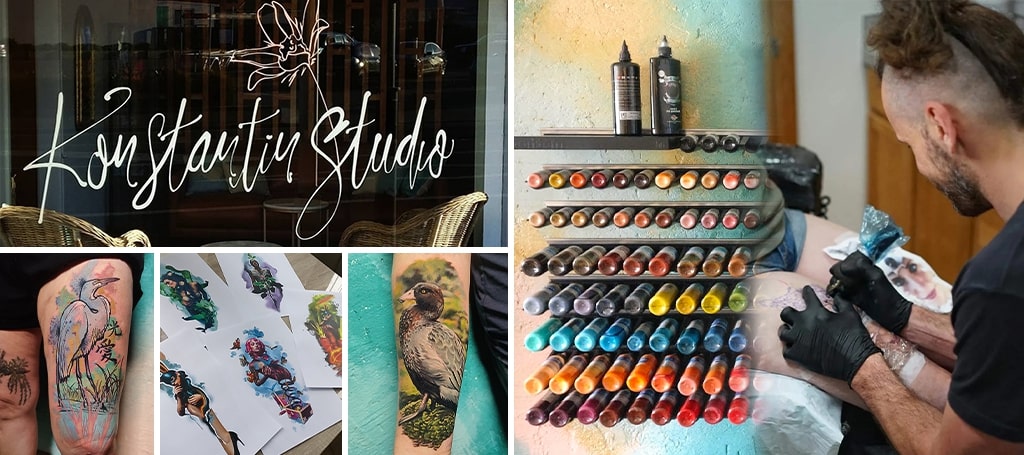 Konstantin Studios is home to a tattoo artist most known for tattoo pieces that just pop colours. Mario is his name and he began working on this art medium in 2012.
Mario works in a private studio in Featherston, where he accepts bookings year-round from clients interested in art that seem to have been lifted off of photos onto the skin. He's often booked and busy, allotting a proper amount of time depending on size and style complexity, to ensure that the clients receive the best tattoo possible.
While he specialises in coloured tattoos, Mario is also open to doing black and white pieces. He's friendly, attentive, and tries his best to make clients feel comfortable in every session.
Highlights
Vibrant colour tattoos
Often booked and busy
Private studio, one artist
10) Taupou Tatau Tattoo Studio
Best for
Traditional Samoan Tatau
Services
Custom Pieces
Address
James Smiths Corner, Level 1, 55 Cuba St, Te Aro, Wellington 6011, New Zealand
Contact no
Phone: 04 550 4452 | Email:

[email protected]

Website
https://www.taupoutatau.com
Taupou Tatau Tattoo Studio is a tattoo studio that operates in the same space as Killa Kutz Barbershop.
Here you'll find talented artists, each with their own specialisations.
Andy, in particular, is most known for the black ink he creates. He has an extensive background in doing traditional Samoan tatau, and is open to custom requests.
Notably, Taupou Tatau Tattoo Studio is an excellent place for individuals who wish to get pieces made from clean lines and distinct shapes. While the studio's portfolio shows numerous black inks, coloured pieces can be done as well.
Highlights
Does black and coloured pieces
By appointment only
Easy online booking
11) Brows by Prince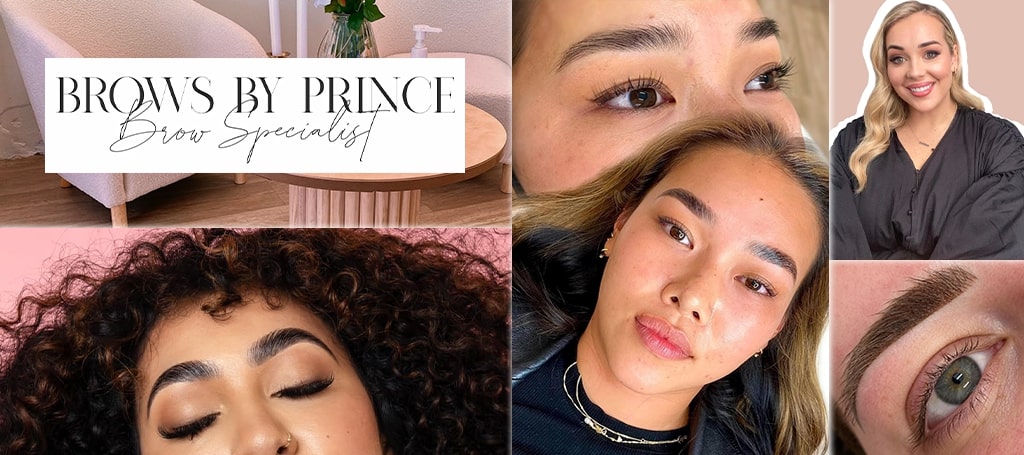 Cosmetic tattooing has risen in popularity in recent years, especially amongst beauty enthusiasts. If you're the same and you're looking to get your brows done without having to worry about upkeep for a long, long while, then you may want to consider Brows by Prince.
Brows by Prince is headed by Georgia Prince, a cosmetic tattoo artist known for her styles and techniques in cosmetic tattooing. She established the shop with the goal of providing a range of different brow and lip techniques and styles that are custom designed for each individual's face shape, skin type, and vision.
The salon's main offering, microblading or combination brow tattooing (cosmetic tattooing), is tailored to each client's desires. Georgia's skilled and caring hands constantly deliver natural results, which can last for up to eighteen months before the clients need to come in for a touch-up.
Aside from the quality of the tattoo itself, we also commend Brows by Prince for its exceptional customer service. Georgia and her team believes that the experience at Brows by Prince begins when a customer first steps into the establishment, which is why the salon endeavours to provide a cosy and eye-catching environment filled with top of the line equipment and products, all of which serve to put the customers at ease and provide quality services.
Highlights
Cosmetic tattoo can last eighteen months before touch-ups
Also offers lip blush services alongside brow tattoos
Sessions last a few hours
Training courses for cosmetic tattooing available
12) Fabulash Brows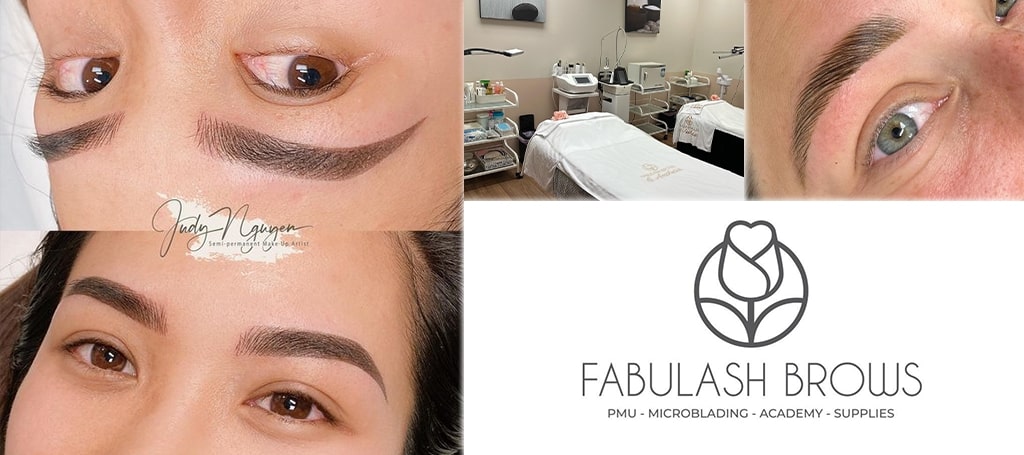 Best for
Microblading Services
Services
Microblading & SPMU
Skin Treatments
Eyelash Treatments
Eyelash Extensions
Nail Service
Address
Level 5, Grand Central Building, 76 Manners Street Te Aro, Wellington CBD

​Shop 32, 4 Seasons Nails, Johnsonville Shopping Centre, 16 Broderick Road, Johnsonville, Wellington

Contact no
For Same-day Appointments: 04 213 8595


For Training, Booking & Enquiries: 022 130 8020For Sales and Order Enquiries: 021 085 94187/ 021 0248 2289[email protected]

Website
https://www.fabulashbrows.co.nz/
Fabulash Brows is an institution and facility that specializes in both giving and educating individuals with eyebrow grooming services among other interrelated aesthetic services as well. Commonly praised for their effective and long-lasting techniques, they are among the most reliable and trusted brands in the field.
From microblading, eyelash extensions and nail care treatments, their sessions include free touch-ups and discounts for first sessions and special prices for other sessions afterwards as well.
They also readily feature on their website an extensive blog wherein clients can readily use it for reference should they have any inquiries regarding the said treatment in general.
Though note that clients may need to book an appointment beforehand since walk-ins may be subjected to long waiting times.
Nonetheless, with their accommodating and professional staff, latest facilities and techniques, we highly recommend them to clients in the area who intend to have their brows, lashes and lashes groomed.
Highlights
Informative and educational approach
Well-maintained facilities
Comprehensive packages
13) Natives Tattoo Company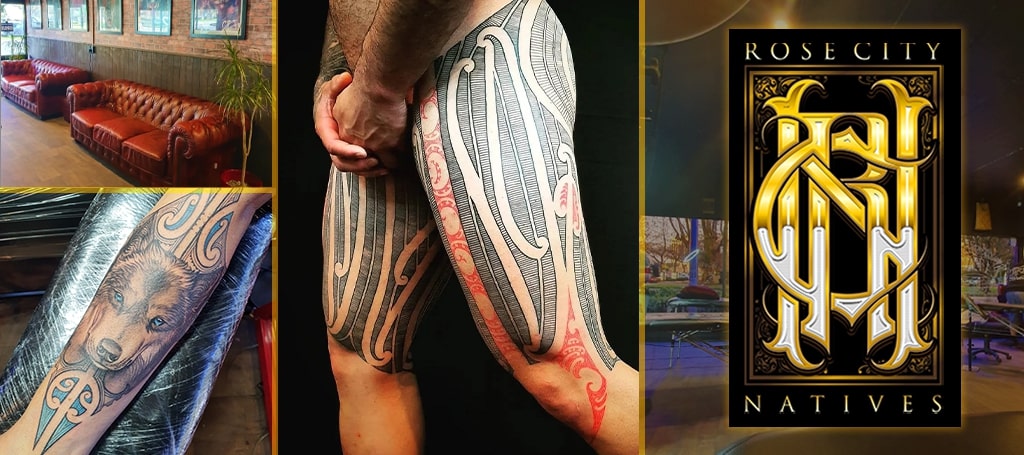 Best for
Flexible Tattoo Styles
Services
Color Sleeves
Custom Tattoo Design
Taa Moko
Address
148 The Square (Corner of Rangitikei and The Square) Palmerston North New Zealand 4410
Contact no
063540524


[email protected]

Website
https://www.nativestattoo.co.nz/
Natives Tattoo Company is a facility that is able to accommodate all sorts of tattoo and ink works such as Taa Moko, Kitituhi, and Maori Tattoos among many others. Founded back in 2012, they have since then garnered a solid reputation for their majestic and note-worthy handiwork.
We find their artists very appropriate since not only do they have the skills needed to accurately do each work but they also studied extensively the different styles to further their mastery of the craft.
Unlike other companies, they have 5 tattoo artists. Their advantage over others is that since their artists have different techniques, clients can freely choose what they prefer and not just stick with a certain style.
Aside from this, they also accommodate custom designs which are ideal for clients who have tattoo designs already in mind or would like to undergo further consultation on this as well.
Overall, with their skilled artists and extensive knowledge of various styles and tattooing services, we highly recommend them to clients looking for reliable and tested professional tattoo services.
Highlights
Wide mastery of different types of tattoo styles
Consultation offered
Professional artists
And that's it for the best tattoo studios in Wellington. With these tattoo artists, you're sure to have a hygienic, safe, and most of all, marvellous design on your body.
Are there any questions you'd like to ask us? If you have one, don't hesitate to send us a message, in which case we will get back to you in a jiffy!
After you've gotten your new tattoo, maybe you can pass by hair salons to help your hair match your new tat! For that, you can read about the best hair salons in Wellington.