The 6 Best Teeth Whitening Dentists in Auckland
Let's be honest, stained yellow teeth can discourage a person from taking pride in his appearance. For this reason, we've listed the best teeth whitening dentists in Auckland who can work with you and bring back your confidence!
We already found you dentists who are not only skilled and experienced, but who also genuinely care about your teeth and their condition — and of course, those who have neat and relaxing clinics too.
If you're ready, allow us to bring you the best teeth whitening professionals in Auckland! Here they are:
1)  JJ – Lovelysmiles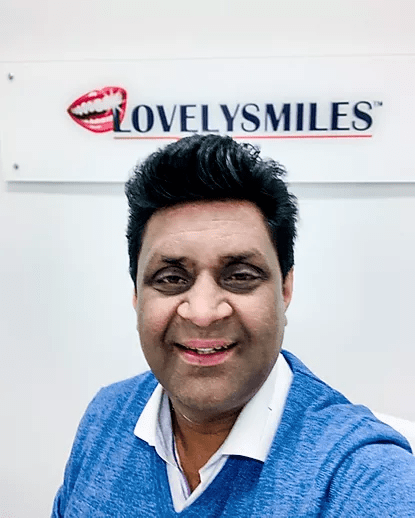 | | |
| --- | --- |
| Best for | Patented Teeth Whitening Gel |
| Services | First Time Whitening and Ultimate Whitening |
| Address | 188 Broadway, Newmarket, Auckland 1023, New Zealand |
| Contact no | +64 508 568 359 |
| Website | https://www.lovelysmiles.co/about |
Like a white and confident smile everywhere you go? Call Lovelysmiles and book an appointment with JJ. He uses a specially made whitening gel that's effective for your teeth.
JJ has 12 years' experience in the industry, and has treated clients like singers, actors, and MMA fighters, to name a few. Presently, he is a member of the New Zealand Cosmetic Teeth Whitening Association (NZCTWA).
How do you know then that he's one of the best teeth whitening professionals in Auckland? Simple! You'll have perfectly white teeth, which you can achieve through a series of treatments at his clinic.
Highlights
Formulated a new whitening solution
12 years' experience in the industry
NZCTWA member
Customer Reviews
Sumz was all too happy about his newly whitened teeth, he said:
"Never had teeth whiting before but after trying out lovelysmiles im hooked! will definatly be back for another treatment, love what a difference one treatment has made to my smile. The team is professional and explained the process very well. Highly recommend."
2)  Dr Fraser Borland – Whitesmile Dental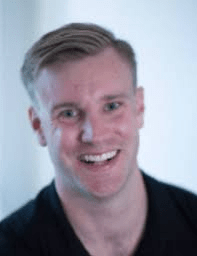 | | |
| --- | --- |
| Best for | Patient-Centred Dentistry |
| Services | Teeth Whitening, General Dentistry, Tooth Extraction, Emergency Dental |
| Address | 15-17 Hurstmere Road, Takapuna, Auckland 0622, New Zealand |
| Contact no | +64 800 433 777 |
| Website | https://www.whitesmiledental.co.nz/ |
The stereotype of being nervous and uncomfortable when going to the dentist is passé. From general dentistry to dental surgeries, you will be at ease throughout the whitening procedure at Whitesmile Dental.
Dr. Fraser Borland, the head of the practice, obtained his Bachelor of Dental Surgery degree and training from the Royal College of Surgeons of Edinburgh (RCSEd).
He has also travelled to Peru for dental humanitarian work. There, he trained and supervised dental trainees in order to provide good dental and oral health care to the community.
Highlights
Relaxed and laid-back approach
Experienced and adept dentist
Member of the RCSEd
Customer Reviews 
Tiana Lee Sainty expressed her satisfaction from Whitesmile clinic, saying: 
"I went to white smile on a recommendation from a family member. I am usually very nervous about going to the dentist, the team were super kind from the get-go. They were very welcoming and explained things very clearly so that I understood. I will 100% be happy to go back there ! Reasonable prices too ! -super super happy customer."
3)  Dr Andrew Campbell – The Tooth Company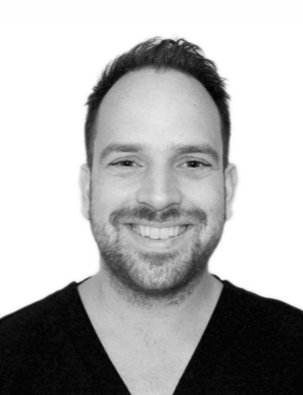 Best for
Caring and Personable Attitude
Services
All aspects of dentistry, including cosmetic dentistry
Address
Shop 2B, 74 Taharoto Road, Ground Floor AIA House

(The Avenue), Smales Farm, Takapuna, Auckland 0622, New Zealand

Contact no
(09) 410 9971
Website
https://thetoothcompany.co.nz/the-people/#dr-andrew-campbell
If you're looking for a great dentist to bring you that perfectly white smile, enquire with Dr. Andrew Campbell from the Tooth Company. He works at the Smales Farm branch of the Tooth Company located in Takapuna, Auckland.
He is an Otago graduate with a Bachelor of Dental Surgery and is a New Zealand Academy of Cosmetic Dentistry and New Zealand Dental Association member.
To ensure he brings the finest and most up-to-date dentistry to you, he regularly takes part in international seminars and conferences. That's dedication to one's profession!
Highlights
Highly trained and experienced dentist
NZDA and NZACD member
Caring and friendly personality
4)  Dr Rachel Lindsay – Smile Dental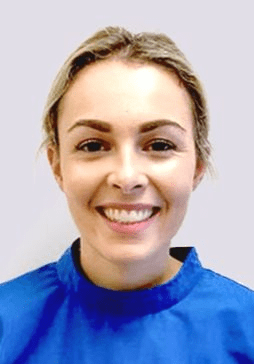 Best for
Transparent and Honest About the Patient's Needs
Services
General Dentistry and Cosmetic Dentistry
Address
Albany – 119 Apollo Drive Albany, Auckland 0632, New Zealand

Henderson –  6-8 Pioneer St, Henderson, Auckland 0612, New Zealand

CBD – 280 Queen St, CBD, Auckland 0101, New Zealand

Contact no
0800 476 453
Website
https://www.smiledental.co.nz/dentist/dr-rachel-lindsay/
Dr Rachel Lindsay is skilled in all aspects of general and cosmetic dentistry, which includes teeth whitening. She is an alumnus of the University of Otago from South Island's Dunedin City.
Her approach is professional and dedicated toward achieving the dental goals of her patients. She always explains the treatment options clearly for the individual before it is carried out.
As one of the best teeth whitening dentists in Auckland, she will help lighten the stain on your teeth to make your smile beautiful and attractive.
You can book a schedule with her in Smile Dental branches of Albany, Henderson, and Auckland CBD.
Highlights
Explains the treatment options clearly to the patient
Professional and dedicated approach
Works in 3 branches of Smile Dental clinic
Customer Reviews 
Grayson Goffe wrote a detailed review from Google:
"… They way Dr Rachel and the team handled my complication also was outstanding. I was talked through all options with care and patience in order for me to make and informed decision. No pressure was added either. They followed up with an email which is why I would recommend this brilliant clinic to many!"
5)  Dr Grace Geoghegan – New Lynn Dental Care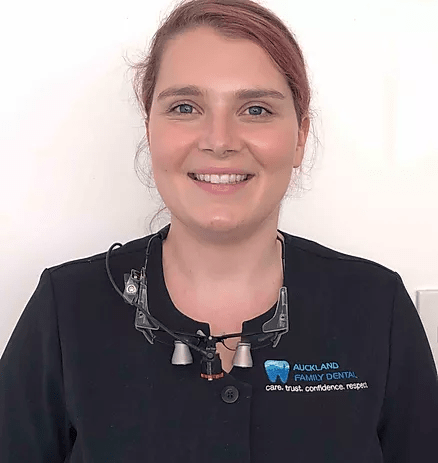 | | |
| --- | --- |
| Best for | Cosmetic Dentistry |
| Services | Cosmetic Dentistry, Wisdom Teeth Surgery, Extractions, IV Sedations, Minimally Invasive Dentistry |
| Address | 14 Delta Ave, New Lynn, Auckland 0600, New Zealand |
| Contact no | 09 827 1664 |
| Website | https://www.newlynndental.co.nz/dr-grace-geoghegan |
Get that sparkling white smile you've always wanted, and smile your way toward your snapshots and videos in social media. You can rely on Dr Grace Geoghegan to help you achieve it.
Born and bred in Wellington, she studied at the University of Otago. And before joining New Lynn Dental Care, she worked as a dentist in Middlemore, Green Lane, and Auckland hospitals.
She is known to foster a gentle and comfortable environment with her patients. Aside from teeth whitening, she also offers wisdom tooth extraction, sleep dentistry, and cosmetic dentistry.
Without a doubt, she is one of the best teeth whitening dentists in Auckland you can find!
Highlights
Comfortable and gentle approach
Adept and highly practised dentist
Specialises in cosmetic dentistry
Customer Reviews 
Sofia Wolf mentioned this on Google Reviews:
"I had a great experience at New Lynn Dental Care today! Fernando was super welcoming at the front desk. Grace was my dentist and she was very thorough and friendly. Reasonably priced too. I will be back!"
6) Ageless Beauty Laser Clinic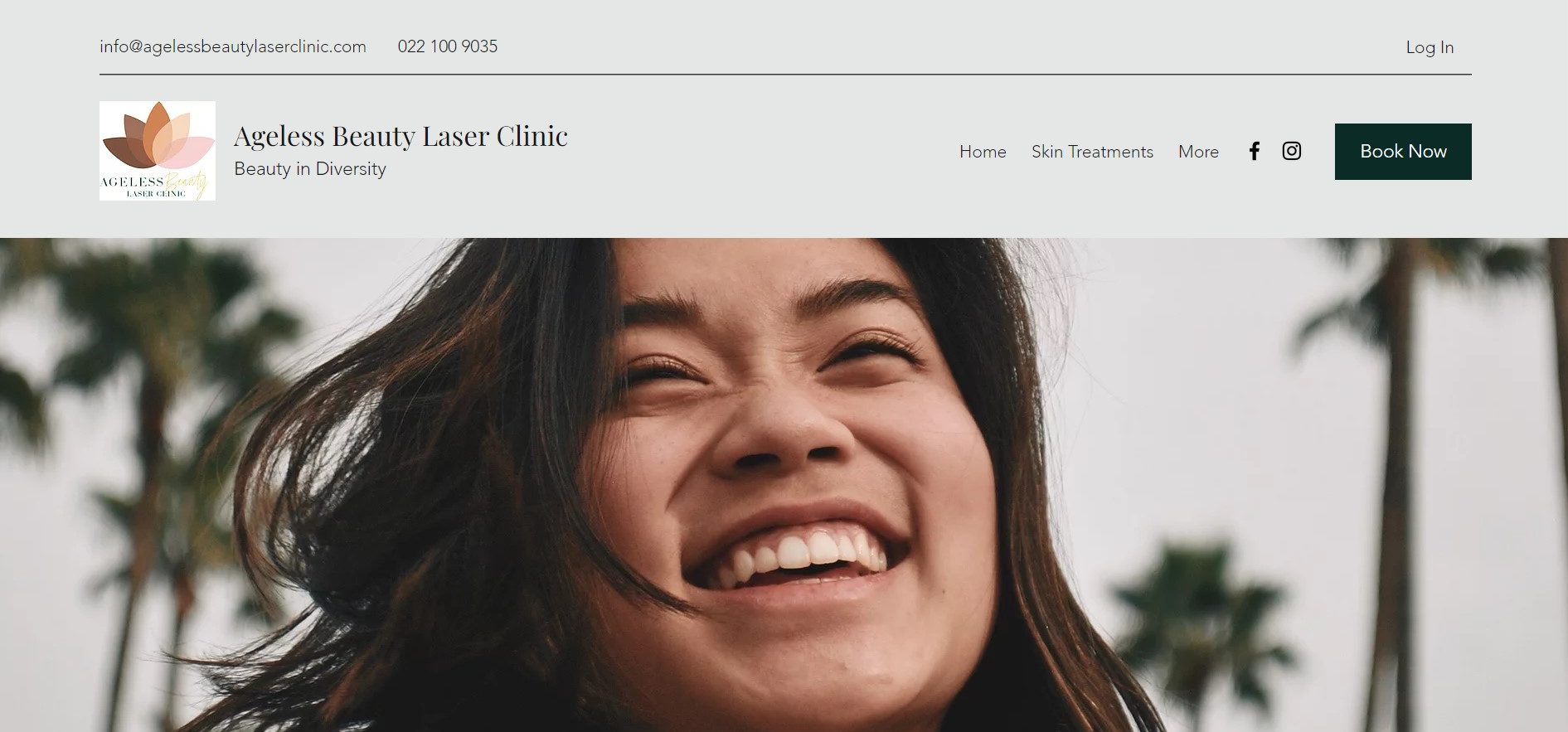 Best for
Holistic treatment
Services
Laser & IPL facial
Green Peel Herbal Facial
Dr Schrammek Facials
LED light therapy
Skin tightening
Hair Reduction
Vascular
Teeth Whitening
Address
123D, Dominion Road, Mount Eden, Auckland 1024, New Zealand
Contact no
[email protected]
022 100 9035
Website
http://agelessbeautylaserclinic.com/
Next on the list for dental centers to consider for teeth whitening is Ageless Beauty Laser Clinic. They work with the Beyond Polus Teeth Whitening System, which allows teeth to whiten healthily and naturally.
What's more, the gel for teeth whitening is eco-friendly and safe for everyone to use, so there's no worry about risks of damage or sensitivity to the teeth or gums.
If, in some way, you feel like the results aren't enough or your teeth hasn't shown any visible results, Ageless Beauty Laser Clinic offers a full refund or a 40-minute whitening session for free, whichever you prefer.
And, of course, to assure that each procedure is done correctly, Ageless Beauty Laser Clinic houses only the best aestheticians and dentists to do them. Whatever service you acquire, they'll be sure to provide only top-class treatments and assistance at their best price.
Learn more about their teeth whitening process on Ageless Beauty Laser Clinic's website. You can also send further inquiries there before booking an appointment.
Highlights
Eco-friendly
Affordable services
Cruelty-free
Expert aestheticians and dentists
And those were the best teeth whitening dentists in Auckland. If you'd like to get rid of the stains on your teeth, these dentists will handle that and give you a great-looking smile!
Do you have any questions about teeth whitening services or the dentists we featured? Drop us a line and tell us about it, and we will get back to you as soon as we can.
Also, if you intend to do the teeth whitening yourself, you can try out some teeth whitening products. To know more about this, read about our picks for the best tooth whitening products in New Zealand.