Our smiles are the most beautiful gift that we have and can give to others. For that reason, we have gathered the top products for the best teeth whitening in New Zealand, to help you perfect your smile!
Stains cling or form on the teeth from having too much tea, coffee, red wine, or cigarettes. This causes your teeth to appear yellowish and psychologically impart a feeling of not taking care of them enough.
You can simply go to your dentist to perform bleaching on your teeth. But since the effects will only last a few months and will cost you a thousand bucks or more, you can try out these whitening products instead — toothpastes, trays or strips, and handheld lights.
But before we continue to the most effective teeth whitening products in the country. It's important to distinguish the kinds of teeth whitening products that are available, to make it easier for you to pick from our list later on.
Three Types of Teeth Whitening Products
You should always consult or talk to your dentist or hygienist first prior to trying out products. This can help you find the right solution for whiter teeth and to be safer, especially for those with sensitive gums and teeth.
What can you do to have whiter teeth in no time? Here are the kinds of teeth whitening products that you can use at home or on-the-go:
1)   Whitening Toothpaste
A whitening toothpaste is different from an ordinary toothpaste in that it has abrasives and peroxide in its ingredients.
The abrasive helps to remove the stains and polishes the teeth. Meanwhile, the bleach helps to give your teeth a whiter appearance.
However, the whitening can only remove the surface stains and it can't clean your teeth to have a lighter shade as compared to using trays, gel-paints, and handheld blue lights.
2)   Whitening Strip and Trays
These are trays or mouthpieces made from plastic that contain a milder concentration of peroxide. You can wear them on your teeth for 15 minutes twice a day for a period of 2 weeks.
Careful when you buy a tray from over the counter, however, as it may not fit the lining of your mouth. Another thing to take note is if the bleach is too strong, as it can irritate your gums and the area on the topmost part of your teeth.
A strip is like a whitening tray wherein you simply wear it on your teeth. The only downside is that it only whitens the front of your teeth but does not reach the back teeth and areas by it.
3)   Handheld Blue Light
The third type is a handheld blue light that works by painting gel on the tooth surfaces or using trays over which you then hold the LED blue light to hasten and make the whitening process more effective.
The Best Teeth Whitening in New Zealand
Let's now take a look at some of the safest products for the best teeth whitening in New Zealand:
1)   Crest 3D Whitening Strips (40 Strips)
Best Whitening Strips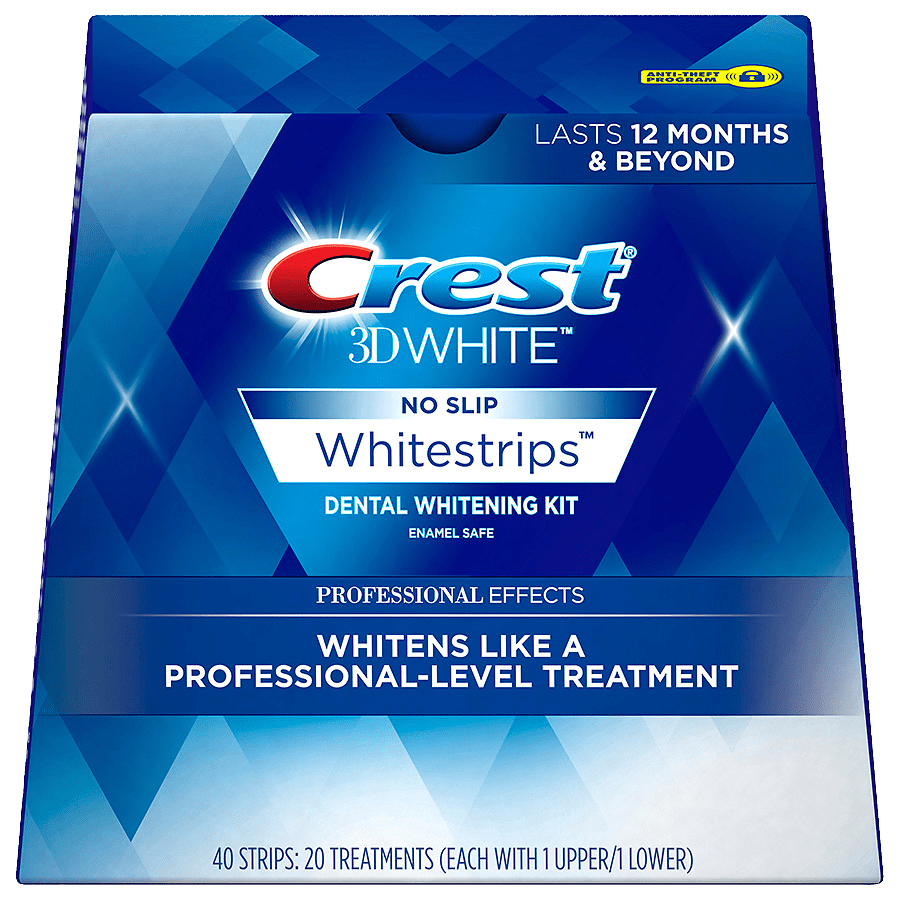 Price: from NZ$97.50
Whitening your teeth doesn't have to be complicated. In fact with Crest 3D Professional Effects, it only takes seconds to remove the slip and line it on your teeth — while folding the rest of the strip in behind your teeth.
The pack contains 20 treatments that will remove the stains in your teeth for just 30 minutes a day. And see, it's really convenient with the no-slip grip: it sticks to your teeth so that you can talk and even drink water.
It's one of your options for the best teeth whitening in New Zealand for its efficacy and convenience. Plus it's safe to use for your mouth, teeth and gums.
Highlights
Whitens your teeth in a period of 2 weeks
The strip easily moulds to and sticks to your teeth
No-slip grip allows you to drink water and talk to your friends
Contains 40 strips for 20 treatments
Customer Reviews
Thumbs up for Crest 3D Whitening Strips for their pure wizardry on transforming the stains on pearly whites. Amazon customer Chris V comments:
"These strips have been a godsend to me. There's no gum or enamel damage. It's recommended to only do two of them per year. I've kept them on for an hour every night and they've completely changed my teeth!"
Another customer uses it only once a year, using the strip for 35-40 minutes and gets great results. He also noted that this product is less expensive than other whitening strips.
2)   AuraGlow Teeth Whitening Light
Best Features for LED Whitening Devices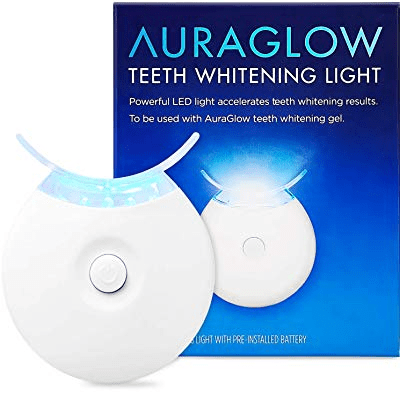 Price: NZ$42
You can get whiter results by shining a blue light on your teeth. This AuraGlow Teeth Whitening Light works best when it is paired with strips and trays of the same brand sold separately.
With a built-in timer, you will be notified every 10 minutes without looking at your watch or overdoing it. Its curved shape fits perfectly in front of the mouth and the light accelerates the whitening of your teeth.
And you can have confidence knowing AuraGlow Teeth Whitening Light is safe to be used without causing pain for your mouth and teeth.
Highlights
Blue LED light for fast whitening of your teeth
Includes batteries that last more than 48 hours
Built-in timer for auto shut off and alert every 10 min
Safe and gentle to your teeth, gums, and mouth
Customer Reviews
Experts weigh in on the pros of the Auraglow Teeth Whitening Light. Here is the review as contributed by Jen Reviews:
"The AuraGlow Teeth Whitening Accelerator Light is our budget pick and it uses blue LED light technology to whiten your teeth and it includes 5 LED light bulbs to give you a brighter smile. The technology and light activates the whitening gel to help break down your teeth stains faster than most products and it has an accelerator light to improve your teeth surface."
Then Authority Dental wrote:
"It uses a hands-free device that uses LED technology along with the AuraGlow teeth whitening gel. This one-two punch can wipe out years of stains."
3)   Colgate Optic White Express White Toothpaste (6 pack)
Best Taste for a Whitening Toothpaste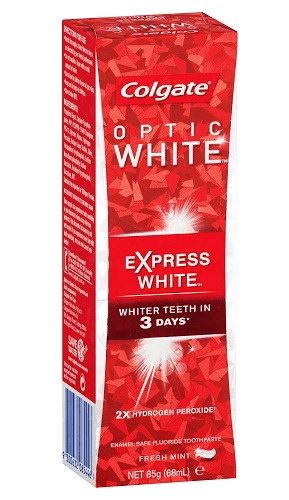 Price: NZ$14.35
If you have indulged in refills of coffee in your office, face the stain head-on with Colgate's Optic White Toothpaste.
It contains twice the whitening agent hydrogen peroxide, which erases the stains for a deep-clean effect. Brushing your teeth with it lets you have a confident and sparkling smile in just 3 days.
What's more, it freshens your breath, fights cavities and prevents plaque buildup on your tooth surfaces. And it claims to be the Fastest Whitening Toothpaste of Colgate.
Highlights
Express Whitening Toothpaste
See results in just 3 days of use
Freshens breath and fights against tartar
Has a cool fresh mint flavour
Customer Reviews
Here's why Colgate Optic White Express White is considered among the best teeth whitening in New Zealand:
Candice from Glenvale writes:
"I have used this toothpaste on and off for years and always enjoy it. It makes my teeth noticeably cleaner and brighter straight after rinsing clean. It has a good minty flavour which doesn't overpower your mouth. I recommend this one!"
And GPT who smokes shares:
Huge fan of this particular brand of toothpaste. I always try to get it on sale and stock up on it! It's definitely a product that's in demand and popular. One of the very few brands I've seen results with within two weeks. I'm a smoker so knowing my teeth can get a thorough clean and whiten at the same time makes me a happy customer. Highly recommend!
4)   Philips Zoom Day and Nite White Standard Kits
Best for Tooth Care and Whitening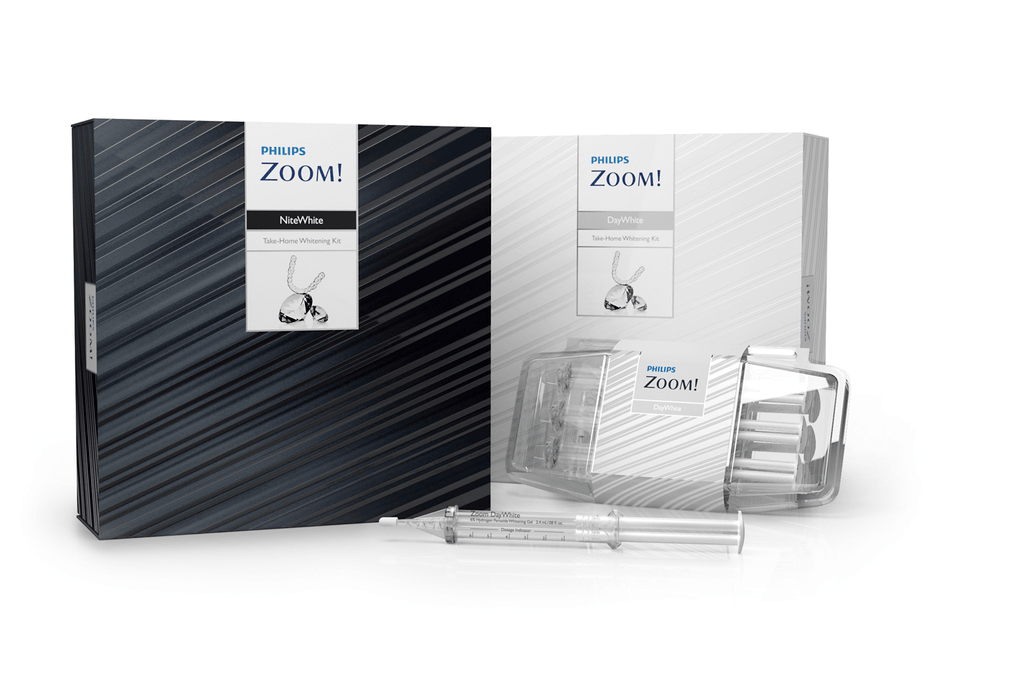 Price: from NZ$124.50
For a single price, you've got the best of both worlds in whitening your smile. Both the Day White and Nite White sets each contain three 2.4ml syringes, plus cases and trays.
Combining fluoride, potassium nitrate, and peroxide (which you normally find in other whitening products) with the patented Amorphous Calcium Phosphate (ACP) leads to this product. And with it, you will have healthier and stronger teeth, in addition to having them whiter.
Day White Gel will only take you 30 minutes a day for 10 days, whereas the Night White will require overnight use or 2-4 hours daily for 7 days or more.
It sounds like a lot of work, but soon you can smile confidently and look younger, perhaps years younger. And who wouldn't want that?
Highlights
Very effective and safe whitening product
Contains ACP in the ingredient for less tooth and gum sensitivity, faster enamel repair and rebuild
2 pack buy of Day and Nite White
Day White – 6% Hydrogen Peroxide; Nite White – 10% and 16% Carbamide Peroxide
Customer Reviews
Let's take a look at some of the experiences customers have with the Zoom Day and Nite White Kits.
Mchet who works as a dentist reviews the Day White with 10% peroxide gel at philips.co.uk:
"After using Phillip day whitening gel , I can definetly 100% recommend this product .It does what it says, amazing results seen in couple of weeks time. Absolutely easy to use, clear information on their leaflets for anyone to understand and no issues of sensitivity noted. I have had patients reporting back to me how pleased they are with the results. So all in all great product from a good company meeting the demands of people in a economical way."
And here's a feedback for the Night White with 16% gel application:
"What a great product, thanks to WhiterSmile my teeth have been glowing white for the past few years with many compliments along the way…which has put a smile on my dial!"
5) The White Kit – Premium Teeth Whitening Kit
Best for Industry-Backed Whitening Products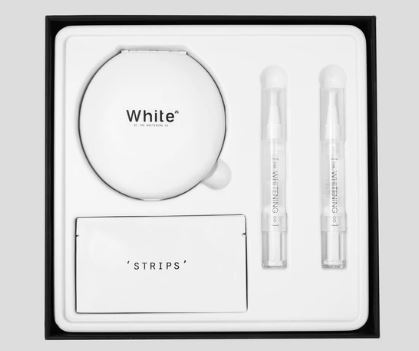 Price: from NZ$189.95
The Whitening Co's Premium Teeth Whitening Kit is designed for anyone who loves to smile. It's one of the most complete and competitively priced teeth whitening kit on the market, with approximately 34 uses per kit.
The white light from the Premium Teeth Whitening Kit uses advanced led technology and a built-in timer for ease of use and effective teeth whitening.
Their hand-picked kit is designed to be kept, and then top up pens and strips purchased when you run out – reducing waste and saving you money.
Highlights
The white kit includes 2 white pens, 14 white strips and our state of the art white light
The kit is safe, dental-grade and FDA-approved.
6) Brighter Smile Custom Whitening Trays (3 Gels)
Most Convenient Home Whitening Tray

Price: NZ$199
If you'd like to get rid of the mild yellow stains on your teeth, then you might like Brighter Smile's Custom Whitening Trays. Each one contains 3 gels, which is equivalent for a total of 9 uses for icy white teeth.
Included in the pack are 1 dental tray and 3 gel syringes. Note that you'll have to fit the tray in your upper and lower teeth until moulded, and this is then sent back to Brighter smile for them to produce your very own customised tray.
Your new tray will be at your address within a week or less. Once it arrives, you can simply follow the instructions and make sure to do it properly and carefully every time you wear the dental tray.
Gradually the stains will be reduced . This leaves you free to smile with total confidence — and you never know, you might get opportunities you weren't able to get before as a result.
Highlights
Results in whiter teeth in days
Incredibly easy to use
Contains 3 gels and 1 syringe
Gives you a bright, perfect smile
7) WhiteBlanc Pro Teeth Whitening Strips (28 strips)
Best for Budget Whitening Strips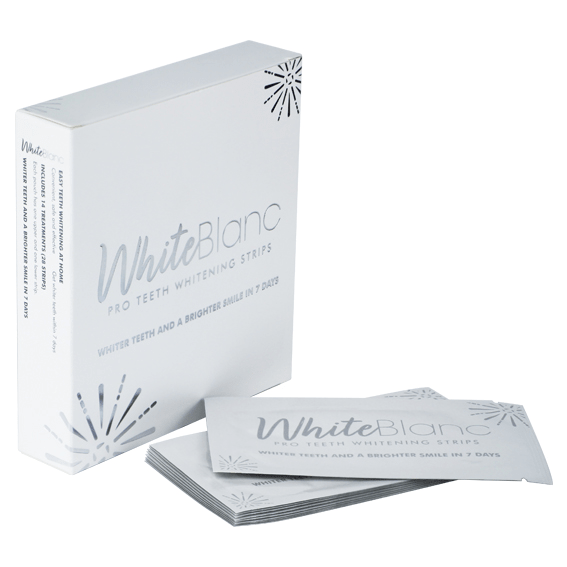 Price: from NZ$39.95
If you want a quick whitener for 7 days' time and pay a little less, you can choose Whiteblanc Pro. This pack containing 28 strips is good for a treatment for two weeks.
As for the steps, separate the strip from the paper, then place it on your teeth, gently letting it mould onto your teeth and toward the sides of the gums. Do the same for the lower teeth, then wait for 30 minutes, take it off and rinse with water.
Budget-wise, WhiteBlanc Pro counts as one of the products for the best teeth whitening in New Zealand.
Highlights
Get whiter teeth in just 7 days
Comes with 28 strips or 14 treatments
Moulds well to the teeth and gums
And that's all for now for the best teeth whitening in New Zealand. Try out our suggestions which aren't likely to irritate your gums, and which offer surprisingly fast results!
Do you think we missed an amazing product, though? Let us know what else we should include in this list by commenting so that we may update it.
While you are letting your chosen whitener do its work, it might get too boring to wait and do nothing. So how about listening to music — read our list of the best headphones in New Zealand to jive and dance to your favourite songs.