12 Best Teeth Whitening Products in NZ New Zealand Reviewed
Our smiles are the first impression we give to other people, so it's important to ensure our teeth are sparklingly white. That's why today we're going to talk about the best teeth whitening products in New Zealand today to help you perfect your smile!
We've gathered several options for you to choose from, namely DIY products, whitening kits, and professional whitening services. We based our findings on a product's reputation among its users and any unique ingredients or benefits it offers.
But before we continue, it's important to get a sense of how much each teeth whitening option will cost, so that you can make the best decision possible.
How much do teeth whitening products cost in New Zealand?
Stains are often caused by the food or drink we consume, such as tea, coffee, or red wine. However, yellowish or dull-colored teeth may also be caused by cigarettes and old age.
Due to advances in technology, there are now various over-the-counter teeth whitening products that you can purchase. These products have various forms and mediums and can range from toothpaste with whitening ingredients or fancy handheld LED light kits.
Before you purchase a product though, it's important to think about what kind of treatment style best suits your lifestyle.
If you always have a full schedule, then whitening strips or a toothpaste is probably the best option. For those that have the luxury of time and money, on the other hand, perhaps having a dental professional perform the whitening is a better option.
To give you an idea of what these different products cost, we've rounded up the prices of the products in our list in the table below.
Average Cost of Products for Teeth Whitening in NZ:
| | |
| --- | --- |
| Colgate Sensitive Pro-Relief Whitening Toothpaste (110g) | $9.00 |
| Colgate Optic White Express White Toothpaste (125g) | $13.50 |
| Blaq Teeth Whitening Charcoal Powder (30g) | $14.00 |
| Crest 3D Vivid Plus Whitening Strips (24 strips) | $66.00 |
| WhiteBlanc Pro Teeth Whitening Strips (28 strips) | $49.95 |
| AuraGlow Teeth Whitening Kit | $48.00 |
| Philips Zoom Day and Nite White Standard Kits | $164.50 |
| The White Kit by The Whitening Co | $189.95 |
| Ultradent Opalescence Go | $160.00 |
| Zoom Whitening by Smile Concepts | $1,000.00 |
| Beyond Polus by Wellington Cosmetic Clinic | $350.00 |
| Non-Peroxide Treatment by Bella Body | $129.00 – $299.00 |
The Best Teeth Whitening Products in NZ New Zealand Reviewed
Now that we know what to expect in terms of costs, let's take a look at some of the top products for teeth whitening in New Zealand. We'll start with tooth whitening products, then go to the kits, and finally, the services.
Best Teeth Whitening Paste, Powders & Strips
1. Colgate Sensitive Pro-Relief Whitening Toothpaste
Best Whitening Toothpaste for Sensitive Teeth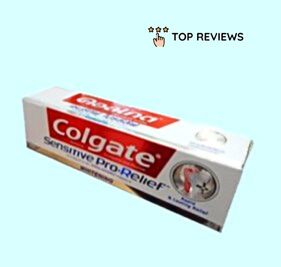 Colgate's Sensitive Pro-Relief product line aims to provide comfort from the pain of sensitive teeth while whitening your teeth at the same time. By using this toothpaste, you can potentially fix two problems at once.
We like this product primarily because of Colgate's two-in-one approach. Combining their trademark calcium carbonate whitening recipe and pain-relieving Pro-Argin formula offers customers a multi-purpose product.
Moreover, since Pro-Relief Whitening is toothpaste, it's understandably easy to use. There is no need to fiddle with any mouth trays or fancy LED lights either.
Now, if you want to experience the instant and targeted benefit of the Pro-Relief toothpaste, you can also place it directly on the affected tooth with your fingertip. Apply a smooth massaging motion for around a minute so that the formula can start working quicker.
Once the toothpaste is applied, it will block the pathways that link to the nerves responsible for transmitting pain. With constant use over a long period of time, the Pro-Relief Whitening toothpaste can even build permanent protection for all of your teeth against future sensitivity.
This toothpaste doesn't provide instant whitening though, so it's a good option to consider primarily for those with sensitive teeth. The Pro-Relief essentially offers a gentle option to remove stains and restore the natural whiteness of your teeth.
Moreover, it also offers all the other benefits that using toothpaste provides such as guarding you against plaque, tartar, and cavities. It helps strengthen your tooth's enamel as well.
Overall if you have sensitive teeth or gums then this could be the best whitening toothpaste in NZ for you.
ProArgin formula is ideal for sensitive teeth
Affordable and value price
Conveniently easy to use
Doesn't provide instant noticeable whiteness
Isn't ideal for those who don't need pain relief
Customer Reviews
Definitely recommend
"After years of suffering with extreme sensitive teeth and trying numerous toothpastes i was given a sample of this Colgate sensitive pro relief from my Dentist to try and i found it really great. I like this because its a smooth toothpaste not gritty like some and this has a nice taste. It is the only toothpaste that i have found that actually works so now i will only buy this and i like the fact that this also gently whitens your teeth. Definitely recommend this toothpaste." – Mandie Barton
Very good
"I have sensitive teeth and decided to try this toothpaste, I'm actually using it at the moment. It is very good, does everything it says it will. I would definitely recommend it." – Sandi Davis
2. Blaq Teeth Whitening Charcoal Powder
Best Natural Teeth Whitening Product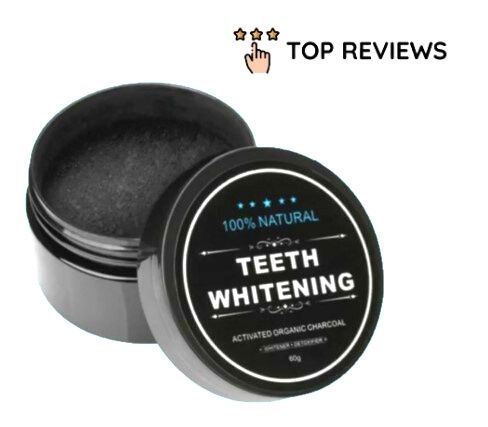 Blaq Teeth Whitening is one of the unique products on our list of teeth whitening in NZ because it uses activated charcoal. Instead of bleaching your teeth white, the black powder strips away the stains and bacteria from your teeth, revealing the natural whiteness.
The charcoal essentially acts like a magnet by attracting yellow stains and washing them away. Do take note that this is a powder and not toothpaste, so the friction is what helps remove the impurities in your teeth.
The other ingredient you'll find in Blaq Teeth Whitening is bentonite – a form of clay that has been used throughout history to remove impurities from the skin. It works similarly to charcoal by removing bacteria, raising the pH level in your mouth, and assisting to remove plaque.
Bentonite is touted as safer to use because it's not as abrasive as pure charcoal. However, some dentists still caution against using these kinds of oral products because the friction can still be dangerous to the enamel of your teeth.
However, Blaq Teeth Whitening can potentially provide a cure to cuts and ulcers in the mouth. Now, while it may be used similarly to toothpaste, it's our opinion that it needs more added benefits to convince people to make the switch to using activated charcoal.
Nevertheless, Blaq Teeth Whitening also contains antiseptic menthol, which provides a fresh and cool taste after brushing. It's likewise made from natural ingredients, is 100% cruelty-free, and doesn't have any strong chemicals that may irritate your gums or teeth.
If you want natural ingredients in your quest for a bright smile then this could be the best product for teeth whitening in NZ for you.
Uses bentonite to clear stains
100% cruelty-free
All-natural ingredients
Can be abrasive to teeth
Powder form may not appeal to people
Customer Reviews
My teeth literally look professionally whitened
"I'm always skeptical about stuff like this, but this powder is INSANE. After about 4-5 days of using it nightly, I noticed a significant change in the brightness and shade of my teeth. Flash forward a two weeks with this powderand my teeth literally look professionally whitened. I've tried gel pens, but they always seem to make my teeth feel sensitive and being ineffective. So grateful for this stuff; it has given me a lot of confidence!" – Abby F.
Teeth super white
"This stuff is great! I've used many different charcoal toothpastes. This one leaves my breath minty fresh, teeth super white and has even reduced plaque. Ordering more now!" – Teri T
3. Colgate Optic White Express White Toothpaste
Best Taste for a Whitening Toothpaste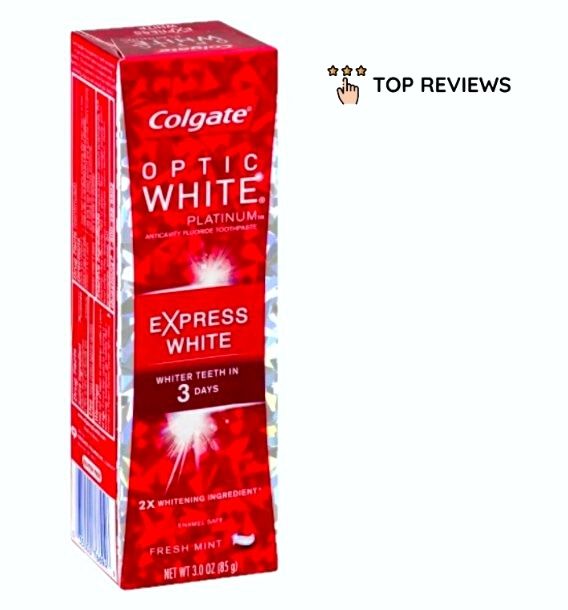 Voted Product of the Year in 2017 in the whitening category, Colgate's Optic White Express White is an upgrade from the regular Optic White toothpaste. It contains double the amount of 2% hydrogen peroxide to help whiten your teeth more effectively.
What we like about this whitening product is that it tastes just like regular toothpaste. There are no gimmicks or eccentric flavors to make it stand out – it's boringly just like your average toothpaste.
The Optic White Express White's lack of flair means that it can easily appeal to a wide range of people. Sometimes, specialty teeth whitening products can have a strange flavor, medium, or texture that people may not be too keen on trying.
However, the results each person will get from using Optic White Express White depends on the current discoloration of their teeth. Some people may see results in as little as three days, while others might take up to a week to notice a difference.
While Colgate claims Optic White Express White is their fastest whitening toothpaste, it may not be for those who need white teeth in a pinch. So if you need a white smile for a photo-op or social event, you may want to opt for an instant teeth whitening product instead.
Nevertheless, Colgate recommends using Optic White Express White regularly so that the ingredients in the toothpaste can gradually whiten your teeth. They claim that if used for six consecutive weeks, you may notice your teeth lighten up to four shades whiter.
In short, we like the no-frills approach of this Colgate product as an all-around toothpaste. It freshens your breath, fights cavities, prevents plaque buildup, and whitens your teeth at the same time.
Overall if you want a brighter smile without the icky taste of whitening products, then this is the best teeth whitening toothpaste in NZ for you.
Standard toothpaste flavor and texture
Results in as little as three days
Results can vary for each person
No unique features or qualities that make it "marketable"
Customer Reviews
Doesn't overpower your mouth
"I have used this toothpaste on and off for years and always enjoy it. It makes my teeth noticeably cleaner and brighter straight after rinsing clean. It has a good minty flavour which doesn't overpower your mouth. I recommend this one!" – Candice from Glenvale
4. Crest 3D Vivid Plus Whitening Strips
Best Whitening Strips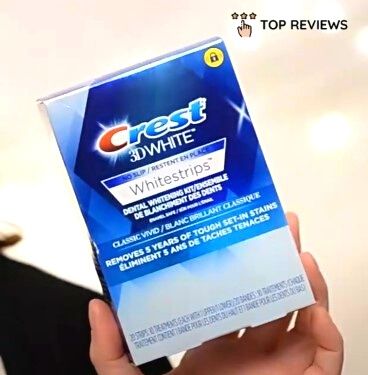 | | |
| --- | --- |
| PRICE | NZ $66.00 |
| PRODUCT SIZE | 24 strips with 1-Hour Express Treatment |
| FEATURES | Non-slip strips |
| WEBSITE | http://www.crest.com/ |
If you have a busy lifestyle and need a quick and convenient way of whitening your teeth, Crest's 3D Vivid Plus Whitening Strips is one of our top choices.
We like this offering from Crest mainly because of its ability to non-slip characteristics that help it firmly stick to your teeth. As long as you don't loosen the strips with your tongue or keep touching them with your fingers, they should stay latched on while you go about your day.
Moreover, we like these strips because it only takes seconds to put on your teeth utilizing a simple folding motion. It only needs to be applied 30 minutes each day as well, making it ideal for those constantly on the move.
If you have an active lifestyle, these Vivid Plus Whitening Strips are designed to mold to the shape of your teeth and keep the tooth whitener in place. Each strip is coated with a peroxide solution that is safe for sensitive teeth and won't cause harm even if you accidentally swallow it!
Crest claims that the strips can remove 10-year old stains from teeth that may have already set into your enamel. It can also remove other stubborn surface stains from coffee, wine, and smoking to reveal the whiteness of your teeth.
However, make sure you don't brush your teeth immediately before or after applying Crest strips as it may irritate your gums. So you may want to plan ahead when you will be using them.
If you regularly use the strips once a day, Crest's Vivid Plus Whitening Strips can provide noticeable results in as little as three days. However, it will be at least 10 days before a truly visible whiteness is present.
Overall, if you have a busy schedule but can remember to apply (and remove!) these strips, then this could be the best option for teeth whitening in NZ for you.
Non-slip strips moulds to your teeth
Quick 30-minute application only
Ideal for those with busy lifestyles
Can't brush your teeth immediately before or after application
Can take up to 10 days for full results
Strips are single use only
Customer Reviews
They've completely changed my teeth
"These strips have been a godsend to me. There's no gum or enamel damage. It's recommended to only do two of them per year. I've kept them on for an hour every night and they've completely changed my teeth!" – Chris V
5. WhiteBlanc Pro Teeth Whitening Strips
Best for Budget Whitening Strips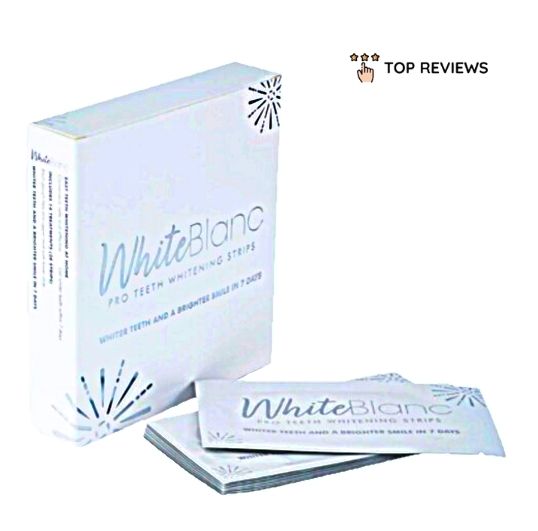 If you're looking for affordable but effective teeth whitening strips in NZ, WhiteBlanc Pro is an option worth considering. It's sold by the pack that contains 28 strips.
Each treatment requires two strips, so a single pack of WhiteBlanc Pro would provide you with 14 days' worth of whitening treatment if used once daily. If you use the strips twice a day, however, you'll only get up to seven treatments only.
Using WhiteBlanc Pro's whitening strips is straightforward – place the strip on your teeth, until it molds onto your teeth. Do the same for your lower teeth (if you wish to do so) and leave the strips on for 30 minutes before taking them off.
There is one important thing to remember though – don't forget to dry your teeth well before applying the strips, which is more difficult and uncomfortable than it sounds. However, this is necessary to ensure the strips can firmly latch onto your teeth to provide the best results.
While the actual application only takes around half an hour, do take note you shouldn't consume dark or staining food and beverages for around 24 hours before and after treatment.
There is only one authorized distributor and reseller of WhiteBlanc products in New Zealand, which is Smile Store. This essentially means that you will not find a cheaper option, or any other seller for that matter.
Regardless, at the price WhiteBlanc Pro's whitening strips are going for, it's already very affordable. This also makes it ideal for those who have never tried whitening strips in NZ before.
Affordable
Quick 30-minute application
Single use strips
Only one authorized reseller in New Zealand
Best Teeth Whitening Kits
1. AuraGlow Teeth Whitening Kit
Best Features for LED Whitening Devices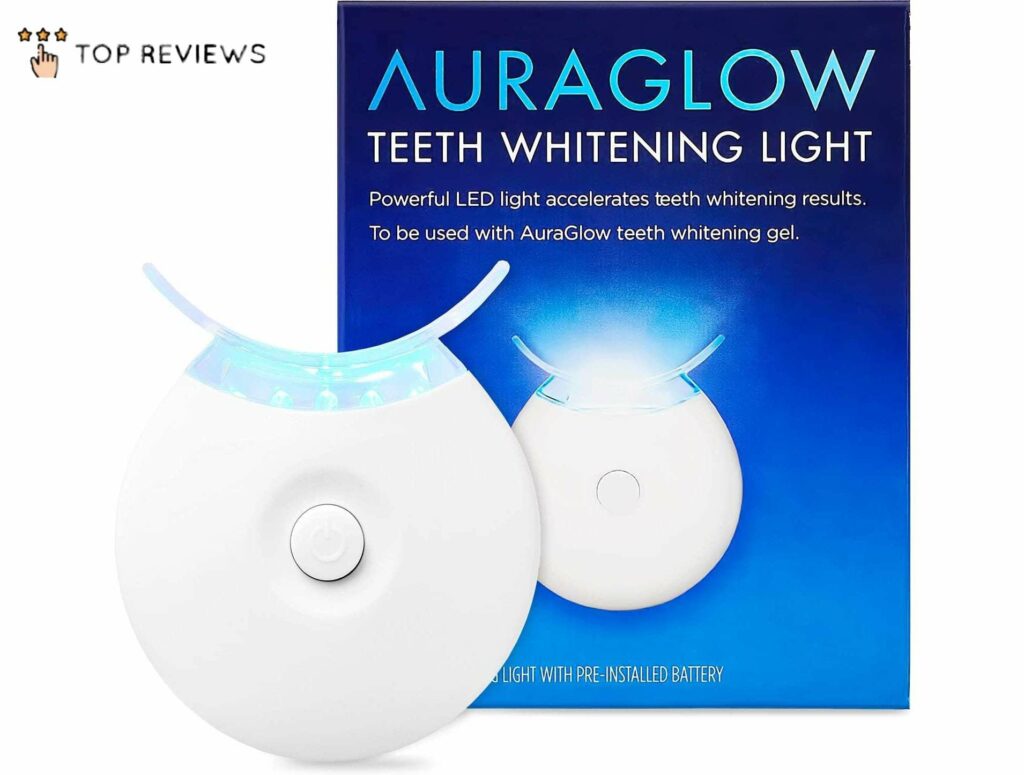 | | |
| --- | --- |
| PRICE | NZ $48.00 |
| PRODUCT SPECS | AuraGlow Teeth Whitening Kit, LED Light, 35% Carbamide Peroxide, (2) 5ml Gel Syringes, Tray and Case |
| FEATURES | Accelerator Light |
| WEBSITE | https://auraglow.com/ |
Using the power of LED light, this teeth whitening in NZ light speeds up results by enhancing the whitening gel to break down stains faster on the teeth. To be used with Auraglow whitening gel, strips or pens.
LED light activates the gel to speed up whitening results
Flexible mouth tray that fits any smile
Safe for at home use with no side effects
Built in 30 minute timer
Charging cable
The AuraGlow Teeth Whitening Kit uses LED light technology and whitening gel to refresh the color of your teeth. It comes bundled with an Accelerator Light with 5 LED bulbs and a built-in audible timer that helps you time your sessions.
If you think the light is what makes your teeth whiter you're mistaken – it simply accelerates the process. The whitening gel, which is composed of 35% carbamide peroxide, is actually what revitalizes your teeth.
The kit includes two 5mL teeth whitening gel syringes, which provide a total of more than 20 whitening treatments. The gel is gluten-free, kosher, safe for enamel, and can be used by those with sensitive teeth.
A "one-size-fits-all" mouth tray is also provided in the kit, which conveniently attaches directly to the Accelerator Light. AuraGlow claims the tray is universal and can mold to both your top and bottom teeth.
The only downside of the AuraGlow is the power consumption of the Accelerator Light. Although batteries are included with the kit, it will only last for around 100 uses.
Nevertheless, each part of the kit is also sold as individual products, so you can replenish the gel, purchase more mouth trays, or replace the Accelerator Light if needed.
Overall if you want to use LED light technology and want an almost professional result, then this is the best teeth whitening kit in NZ for you.
Built-in timer for auto shut off and alert every 10 min
Blue LED light for fast whitening of your teeth
LED light consumes a lot of power
Mouth tray may not fit some users
Customer Reviews
Can wipe out years of stains
"It uses a hands-free device that uses LED technology along with the AuraGlow teeth whitening gel. This one-two punch can wipe out years of stains." – Authority Dental
2. Philips Zoom Day and Nite White Standard Kits
Best for Tooth Care and Whitening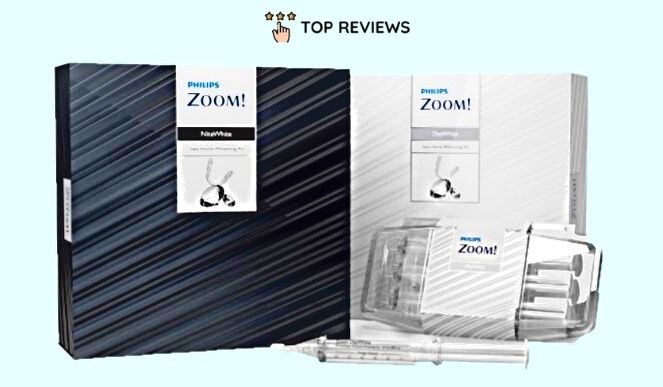 | | |
| --- | --- |
| PRICE | NZ $164.50 |
| PRODUCT SPECS | Standard Kit: (6) 2.4 mL Syringes; 18 Dual-Arch Applications |
| FEATURES | Amorphous Calcium Phosphate |
| WEBSITE | https://www.philips.co.nz/ |
Philips' Zoom products have a unique selling point – they contain a special formula of three main ingredients that can whiten your teeth effectively. These ingredients are potassium nitrate, fluoride, and Amorphous Calcium Phosphate (ACP).
ACP is a patented technology that quickly creates a new coating of hydroxyapatite over the tooth's surface. When combined with the other ingredients, they provide numerous other benefits for your teeth such as reducing sensitivity, repairing enamel, and filling in gaps.
Now, before you use Philips Zoom products you'll need to get a mouth tray from your dentist first. Not just any tray will work either – you need to get a customized impression of your own teeth.
Nevertheless, the Philips Zoom comes in two forms – a DayWhite or NiteWhite kit. As their names imply, you apply the specific product depending on what time you will be using it.
Day White Gel will only take you 30 to 90 minutes a day for around two weeks, twice a day. This is ideal for those who want to wear the tray for as short a time as possible in one go, because it may not be the most comfortable.
The Night White on the other hand is only used once a day, worn overnight, or at least 2-4 hours daily. It's available in two concentrations of 10% or 16% carbamide peroxide and can whiten your teeth in as little as a week.
Both Day White and Night Whitebasically have the same results, so your choice wholly depends on your preference of applying the product. Each kit contains three 2.4ml syringes, including cases and trays, which can be purchased separately.
If you want professional grade for your pearly whites and you can commit to the time required, then this is one of the options for best teeth whitening kits in NZ for you.
Contains Amorphous Calcium Phosphate
Nite White is available in two concentrations of carbamide peroxide
Day White is only available with 6% hydrogen peroxide
Expensive
Customer Reviews
100% recommend this product
"After using Phillip day whitening gel , I can definetly 100% recommend this product .It does what it says, amazing results seen in couple of weeks time. Absolutely easy to use, clear information on their leaflets for anyone to understand and no issues of sensitivity noted. I have had patients reporting back to me how pleased they are with the results. So all in all great product from a good company meeting the demands of people in a economical way." – Michet
3. The White Kit by The Whitening Co
Best for Industry-Backed Whitening Products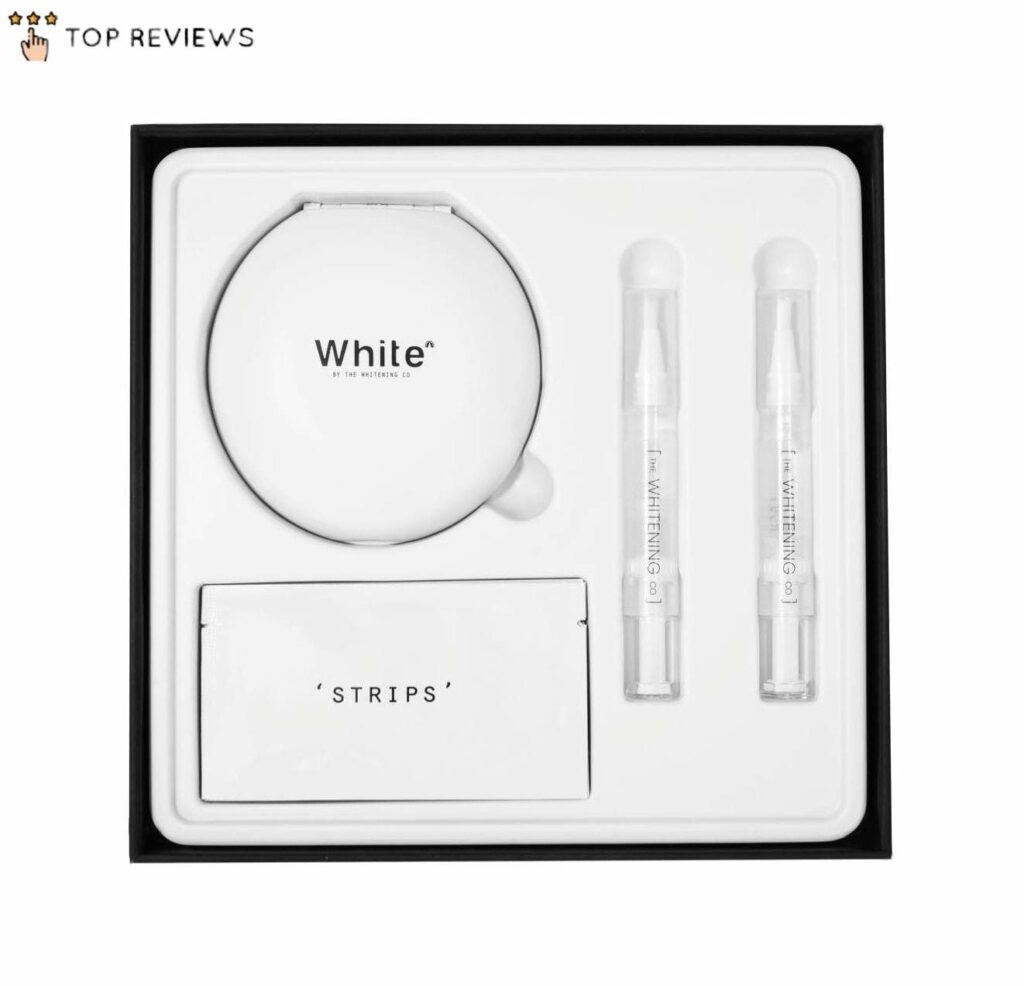 The Whitening Co's Premium Teeth Whitening Kit is designed to be one of the most complete at a competitive price. Each kit includes 2 white pens, 14 white strips, and an LED white light mouth tray.
Whitening Co claims that their product can create a noticeably whiter smile after only 1 treatment, although each kit offers up to 34 treatments. So if you don't notice a difference after the first try, you can rest easy knowing you've got a lot more chances.
For those with extra stubborn stains on their teeth, applying the whitening gel once or twice a day for two weeks is suggested. If you've already got white teeth and just need to refresh their whiteness, you can use a whitening strip right before an important social event or a photo-op.
We like this teeth whitening kit in NZ because it doesn't take up a lot of time to use. You simply apply it to your teeth, leave it on for 25 minutes, and use their advanced LED white light mouth tray to activate the hydrogen peroxide.
Now we've come to our favorite part – the LED-lit mouth tray is actually powered and controlled by your smartphone! You can set a timer to let you know when your treatment is done as well!
The whitening strips provided are likewise activated by the white light, but they can be used on their own as well. This makes the strips ideal for bringing along with you for emergencies or when you're traveling.
Take note that just like other whitening products, you have to wait for around half an hour before or after consuming any kind of food. This will ensure that the whitening agents can do their work and not get wiped away by anything you eat or drink.
Lastly, The Whitening Co is a New Zealand based company with brick-and-mortar shops in Eden Terrace and Takapuna. You can visit them in person to purchase their products or avail of one of their many in-house professional whitening services as well.
Smartphone controlled LED mouth tray
Only 25 minutes needed per treatment
Offers professional cleaning services
Kit only offers up to 34 treatments or uses
Usually sold out so it's recommended to reserve
4. Ultradent Opalescence Go
Best for Busy Lifestyles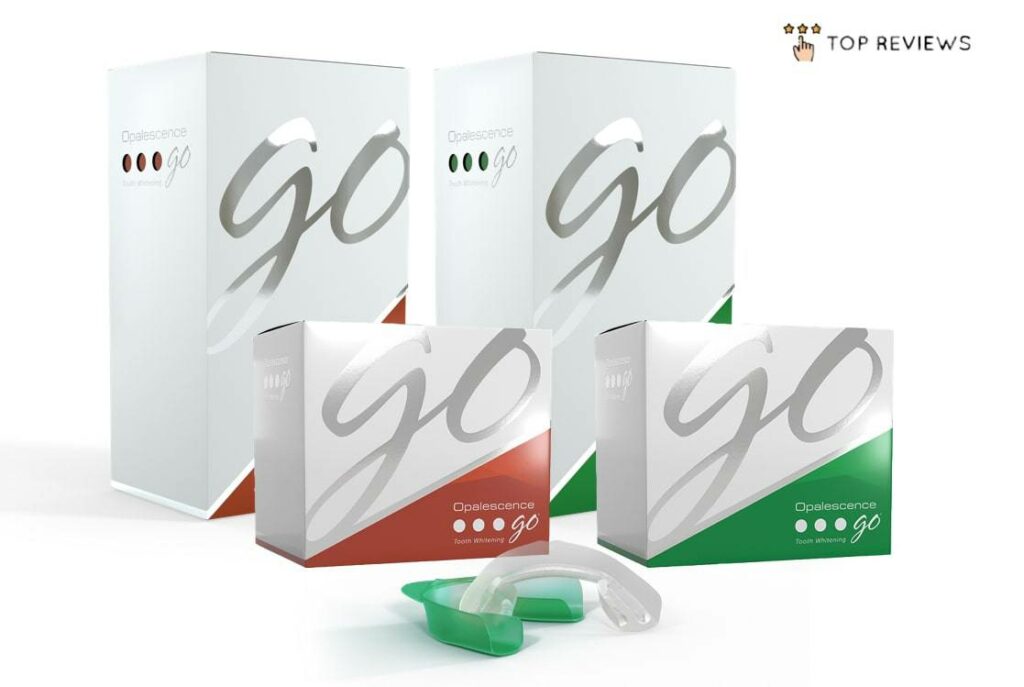 Opalescence Go by Ultradent is a whitening solution that provides professional caliber treatments for you to use in your home. However, it's only dispensed by a licensed dental professional, so you'll need to find a dental clinic near you that sells it.
Nevertheless, Opalescence Go is a simple treatment option to treat or touch-up your dull-colored teeth. No dental impressions or custom trays are needed either, so it's ready to use right out of the box.
Just as its name implies, Opalescence Go is ideal for those who are always on the go. Its disposable UltraFit trays are already prefilled with whitening gel, which is ideal for taking around with you.
Each UltraFit tray is made of special material that molds to the shape of your teeth by responding to your internal body temperature. It essentially creates an impression of your teeth with each use, therefore offering complete coverage from "molar to molar and buccal to lingual".
Opalescence gels include potassium nitrate and fluoride which aid in minimizing cavities and teeth sensitivity. The gel also has carbamide peroxide to balance pH levels and is made of 20% water to keep your teeth hydrated during the whitening process.
You can choose from different concentrations of hydrogen peroxide which likewise determines how long you wear each UltraFit tray. These concentrations are 6% (use 60–90 minutes for 5 to 10 days), 10% (use 30–60 minutes for 5 to 10 days), and 15% (use 15–20 minutes for 5 to 10 days).
Moreover, the whitening gel is vegan, gluten-free, and certified kosher! This makes it suitable to use for people with different cultures, beliefs, and backgrounds to use.
To "sweeten" the deal, Opalescence Go tastes great as well! It's sweetened with xylitol and is available in mint or melon to suit your preference.
If you are quite busy but can still spare some time to brighten your smile, then this could be one of the options for best teeth whitening kit in NZ for you.
UltraFit trays mold to your teeth
Offered in two flavors
Convenient prefilled trays can be use instantly
Needs to be dispensed by a dental professional
Expensive
Customer Reviews
The only product I trust
"Having tried most of the take home bleaching agents on the market, I have found that Opalescence is the only product that consistently produces exceptional results with minimal sensitivity. In a practice that is heavily geared towards aesthetic procedures, teeth whitening is a universal foundation of every case and Opalescence is the only product I trust." – Dr. Angelo Lazaris
The best product I have ever tried
"I have been whitening my teeth for some time and tried different methods. Opalescence Go is, by far, the best product I have ever tried. From now on, this is what I will ask for! "– Brian Utah
BEST WHITENING SERVICES
1. Zoom Whitening by Smile Concepts
Best for Zoom Whitening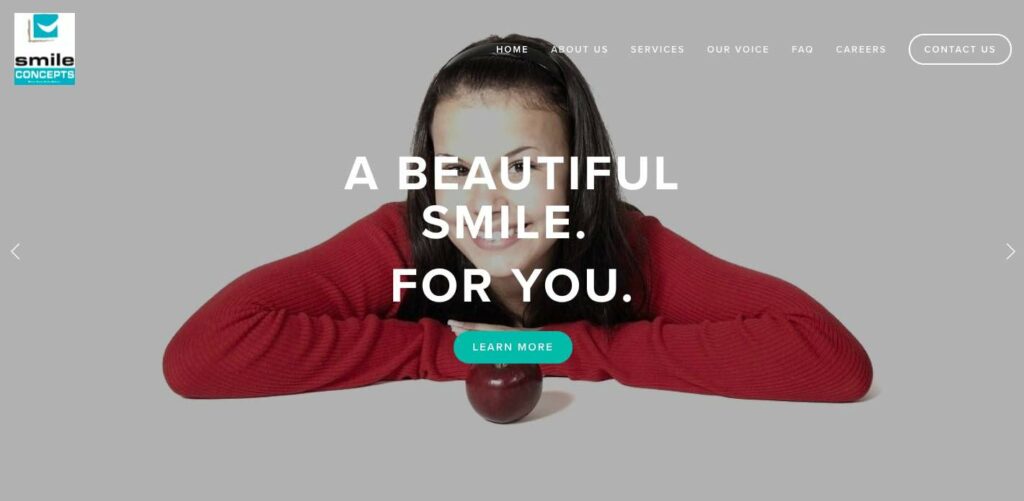 PRICE
NZ $1,000.00
SERVICES
General Dental Services, Cosmetic Services
HIGHLIGHT
Zoom Whitening
WEBSITE
https://www.smileconcepts.co.nz/
ADDRESS
104, Colombo Street, Beckenham, Christchurch 8023
CONTACT
Phone: (03) 332-6399
Email:

[email protected]

OPERATING HOURS
Monday & Wednesday: 8:30am – 9:00pm
Tuesday, Thursday & Friday: 8:30am – 5:00pm
Saturday & Sunday: Closed
If you live in the Christchurch area, Smile Concepts is an option worth considering to get professional teeth whitening done. They were awarded the "Best Dental Care Practice – Christchurch" by APAC Insider Magazine for the 2020 Business Award.
Although primarily known for dental surgery, they also offer a relaxed atmosphere for customers who prefer a dentist to revitalize the lost color in their teeth. One benefit of having a professional perform this cosmetic fix is that a proper treatment plan can be made specifically for you.
Their in-house whitening services use Zoom technology, which is a bleaching process that addresses the discoloration of enamel and dentin. A Power Chairside Lamp is used to activate the hydrogen peroxide solution, which accelerates the whitening process.
What essentially happens is that the hydrogen peroxide is deconstructed, which allows oxygen to enter the enamel and dentin and bleach the stains. This process leaves the tooth intact with a fresher and whiter appearance.
However, you'll need a complete examination first before you undergo this whitening process unless you're already a customer at the clinic. If you make a booking, take note that any cancellations made within 24 hours of your appointment will result in a cancellation fee of $75.
The treatment is a little expensive at $1,000 per session, but it will last longer than using a "take-home" kit. Smile Concepts offers financing options through vai Genoapay, which allows you to pay for the treatment over a course of 10 weekly payments.
Offers take-home whitening and Zoom whitening
Has financing options available
Long-lasting results
Expensive
Penalty fee for cancelled appointments
2. Beyond Polus by Wellington Cosmetic Clinic
Best for Whitening Services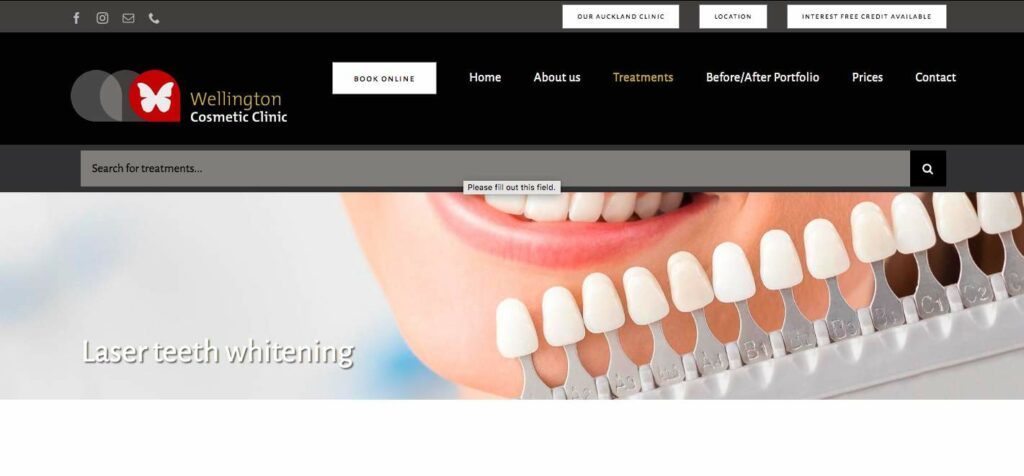 PRICE
NZ $350.00
SERVICES
Orthodontic & Cosmetic Dentistry, Cosmetic Treatment, Therapeutic Treatment, Skin Rejuvenation, Laser & Beauty Therapy, Body Sculpting
HIGHLIGHT
Beyond Polus Teeth Whitening
WEBSITE
https://wellingtoncosmeticclinic.co.nz/
ADDRESS
30 Taranaki Street, Te Aro, Wellington 6011, New Zealand
CONTACT
Phone: (04) 385-9555
Toll-Free: 0800-111-111
Email:

[email protected]


Emergencies: 021 355 333
OPERATING HOURS
Monday to Friday: 9:00am – 5:00pm
Saturday: By Appointment Only
Sunday: Closed
The Wellington Cosmetic Clinic was established 35 years ago by Dr. Robert Watcyn Jones and his son Dr. Tom Watcyn-Jones, a dental surgeon and plastic surgeon respectively. With their combined experience, they provide a comprehensive range of aesthetic, therapeutic, and cosmetic treatments for their clients.
They offer laser teeth whitening via Beyond Polus, an in-house Whitening Accelerator that can provide instant and noticeable results in a single session. It uses "cold-light" technology combined with a specially formulated 35% hydrogen peroxide-based whitening gel.
The patented Beyond Polus LightBridge technology uses halogen light, LED light, and ultrasonic technology to accelerate the whitening process of your teeth. It operates at a lower temperature as well, which minimizes the sensitivity to your nerves throughout the treatment.
The Beyond gel also contains alkaline, calcium, and minerals which can prevent damage and strengthen your teeth. These ingredients and procedures have been used by dental professionals for many years, so you can rest assured that it's a safe and standardized process.
The treatment itself only takes around 30 to 45 minutes but may take longer if a consultation or examination is needed. You'll even be given a "smart remote" so that you can keep track of how long your session is.
Do take note that there is a $95 fee for each whitening consultation, which is redeemable if you continue with your treatment.
So, if you have visibly stubborn stains from food, drinks, or cigarettes, this treatment offered by Wellington Cosmetic Clinic is an option worth considering. It can even whiten fluoride or age-related stains to bring your teeth back to their natural whiteness.
Potentially, the Beyond Polus treatment can keep your teeth's whiteness for up to two years – that is if you generally avoid consuming too much food or drink that can stain your teeth. For a relatively affordable price, we feel like this is a good guarantee and makes Wellington Cosmetic Clinic one of the top choices for teeth whitening in New Zealand.
Uses advanced LightBridge technology from Beyond Polus
Whitening effects are long lasting compared to home kits
Treatment administered by trained professionals
Affordable
Charges for a consultation fee
Effects can wear off quickly depending on your lifestyle
Customer Reviews
5 STARS!!
"5 STARS!! I can't recommend these guys enough! Dr Robert Jones is an absolute magician and is a complete perfectionist! He's incredibly informative and I loved that he took the time to explain in great detail to me and his assistant what he was doing and why. I have had a couple of bad experiences in other clinics in the past but he and his wonderful team totally put me at ease. This is totally the place to go for expert advice, fantastic results & and a warm friendly smile. Thank you team Wellington Cosmetics. ❤" – Hil Cook
3. Bella Body
Best for Non-Peroxide Teeth Whitening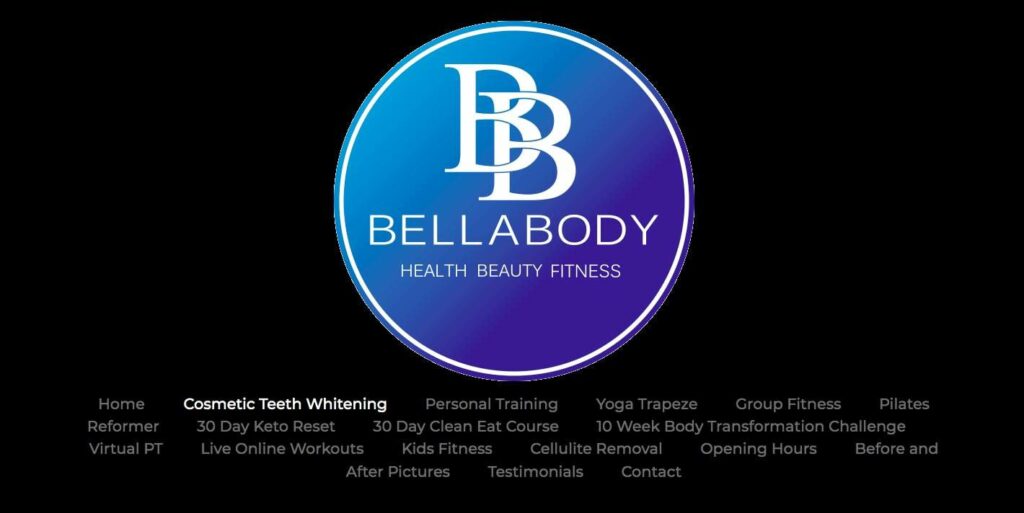 PRICE
NZ $129.00 – $299.00
SERVICES
Cosmetic Teeth Whitening, Personal Training, Yoga Trapeze, Group Fitness, Pilates Reformer, 30 Day Keto Reset, 30 Day Clean Eat Course, 10 Week Body Transformation Challenge, Virtual PT, Live Online Workouts, Kids Fitness, Cellulite Removal
HIGHLIGHT
Non-Peroxide Products
WEBSITE
http://www.bellabody.net/
ADDRESS
5 Pascoe Drive, Woodend 7610, New Zealand
CONTACT
Phone – (03) 312-2002
Mobile – (021) 072-5870
Email –

[email protected]
Established in 2010, Bella Body offers a range of health, beauty, and fitness services. Their goal is to help their customers improve their health and appearance to improve their confidence and performance.
The owner of Bella Body is a qualified and recognized teeth whitening technician who received her training in the United Kingdom. She has worked in the United States and several locations in Europe where she received most of her experience.
Each teeth whitening product and service offered in Bella Body has been hand picked to ensure that all New Zealand guidelines and standards are followed. They only use high quality dental grade products that are all FDA registered and approved.
What makes Bella Body stand out is that they offer both peroxide and EU non-peroxide whitening options, the latter of which is best suited for those with sensitive teeth. Both products are equally safe and the procedure itself is comfortable.
Your teeth will be coated with the whitening gel and a spectrum blue LED light will be used to accelerate the whitening process. Each treatment is either in 20, 45 or 60-minute sessions that already include the consultation time.
This is not a medical procedure and when observing good dental hygiene, results will last from 6 months to 2 years and can brighten your teeth up to twelve shades. After the in-clinic procedure, you can purchase aftercare whitening kits to take home with you to help maintain your teeth's whiteness.
Offers non-peroxide products
Affordable rates with different session lengths
Can purchase aftercare whitening kits for self-maintenance
Treatment rooms for whitening are shared
You may need more than one session for stubborn stains
Customer Reviews
I love the system
"I have had my teeth whitened before at Bella Body. I have received two treatments and brought a treatment for my mum for mothers day. I love the system. It's quick, painless and results are instant. I would definitely go back for other treatments" -Jackel Aitchison
Simple and easy
"The non – peroxide treatment amazed me. My teeth whitened 15 shades with two 40 minute treatments and it was so simple and easy. I didn't feel a thing. Thanks Bellabody for making me more confident (I now love smiling!) and your team is just fantastic."- Brian Brae
Three Types of Teeth Whitening Products in NZ
You should always consult or talk to your dentist or hygienist first prior to trying out products. This can help you find the right solution for whiter teeth and to be safer, especially for those with sensitive gums and teeth.
What can you do to have whiter teeth in no time? Here are the kinds of teeth whitening products that you can use at home or on-the-go:
1. Whitening Toothpaste
A whitening toothpaste is different from an ordinary toothpaste in that it has abrasives and peroxide in its ingredients.
The abrasive helps to remove the stains and polishes the teeth. Meanwhile, the bleach helps to give your teeth a whiter appearance.
However, the whitening can only remove the surface stains and it can't clean your teeth to have a lighter shade as compared to using trays, gel-paints, and handheld blue lights.
2. Whitening Strip and Trays
These are trays or mouthpieces made from plastic that contain a milder concentration of peroxide. You can wear them on your teeth for 15 minutes twice a day for a period of 2 weeks.
Careful when you buy a tray from over the counter, however, as it may not fit the lining of your mouth. Another thing to take note is if the bleach is too strong, as it can irritate your gums and the area on the topmost part of your teeth.
A strip is like a whitening tray wherein you simply wear it on your teeth. The only downside is that it only whitens the front of your teeth but does not reach the back teeth and areas by it.
3. Handheld Blue Light
The third type is a handheld blue light that works by painting gel on the tooth surfaces or using trays over which you then hold the LED blue light to hasten and make the whitening process more effective.
FAQs about Teeth Whitening Products in NZ
---
And that's all for now for the best teeth whitening products in NZ New Zealand. Try out our suggestions and share with us your results!
Do you think we missed an amazing product, though? Let us know what else we should include in this list and we'll check it out.
If all this talk about teeth whitening has got you thinking more about your oral health, then you may want to check out this list of the best dental insurance in New Zealand as well.