The 4 Best Telescopes in New Zealand
Telescoping is getting more and more popular these days. However, if you want to see the best of what the universe has to offer, you need a decent telescope… and if you're shopping for one, you're on the right page. We've listed the best telescopes in New Zealand here for you!
We know there are a great array of telescopes available out there in different types, features and prices. That's why so many people get confused when shopping for a telescope.
That's why we'll do more than give you a list of our top picks. We'll also walk you through the fundamentals and the difficult terms before we proceed. Doing this will help you in picking from our list of telescopes, which will follow!
Anyway, let's get started with the best telescopes in New Zealand!
How to Buy a Telescope
Going back to what we said, a telescope can be hard to buy if you don't know the terms, features and types… especially if you're a newbie or just starting out.
At any rate, we'll break them down here to make it easy for you. So without further ado, here are the features to look for when buying a telescope!
1) Purpose
As people's needs vary, so do telescopes. But it can help if you know what you want from the get-go. These are some questions you can ask yourself:
Are you using it for land, sea or planet viewing, leisure, stargazing or bird watching?
Do you need a small and portable one, or a powerful one you can have for your backyard?
Do you plan on trying out a telescope and then shifting to a new one, or would you like one that you can use for a long time?
This helps you get an idea of what you really need in a telescope.
2) Budget
Knowing your budget narrows down your options when buying telescopes. Be wary of the cheap ones such as ones with prices lower than $250, as they might easily break or be unusable.
Usually, you can get a decent telescope for $250, medium ones with premium quality from $500 to $1500, and large telescopes with the best quality for $1500 and above.
However, if these are still too expensive, you might consider getting binoculars or spotting scopes instead. They're better than actually spending on a sub-par telescope.
3) Aperture
Aperture refers to the size of the mirror or lens that is capable of gathering light. What it does is allow you to have splendid and clear detail in viewing deep sky objects.
There are sizes from 60 to 130mm, though 70 to 90mm ones are usually the most common. But the point is that the larger the size, the heavier the telescope will be.
For example, a 70mm telescope weighs in at a light 7.45 lbs as compared to a 150mm unit weighing around 23.6 lbs, making it heavier to carry. That said, the heavier one will also have clearer image quality.
4) Magnifying power
Magnifying power is how much the telescope can zoom in on a particular object or view. Your telescope should have 2 eyepieces at least for switching or finding the best view.
Then there's a Barlow lens that doubles the magnification of the eyepiece for your telescope. This lets you see a brighter and clearer detail of the viewed object.
For convenience, some telescopes come with tray storage to store your eyepiece when changing. Others even have an eyepiece rack.
5) Quality
When we say quality here, we mean the optical design. It's the mirror or lens of your telescope that's directly responsible for your general enjoyment in using it.
This is vital in buying a telescope, regardless of the size of scope. If there's something wrong with the optics, you won't see well with the scope.
6) Portability
Portability is a huge plus, especially when you like to take your telescope on road trips, carry it from room to room, or set it on the bed of your pickup to watch the stars.
Note in this regard that a 203mm telescope is usually cumbersome in that it requires 2 people to move it to a different spot. Such telescopes are usually set in one place and aren't used that often.
7) Mount
Don't take the mount for granted since it's as important as the quality. Without the mount, you won't be able to focus your telescope and move it well.
Generally, mounts can be of two types: Alt-azimuth (AZ) or Equatorial (EQ):
Alt-azimuth mounts are used for terrestrial viewing, which can be moved in up/down and left/right directions. Meanwhile, equatorial mounts are designed for use in astronomy.
8) Warranty
As much as possible, you should buy a telescope with a warranty. So, if anything goes wrong with your telescope, it can be looked after or repaired without any extra cost.
If you buy any of the scopes we've listed below, you can enquire about each shop's warranty for them first — unless this is explicitly stated — so that you have peace of mind.
Best Telescopes in New Zealand
Anyway, you now know what to look for in buying a telescope. And if you're ready, we can bring you the best telescopes in New Zealand!
1) Celestron PowerSeeker 60AZ Telescope
Best-in-Value Telescope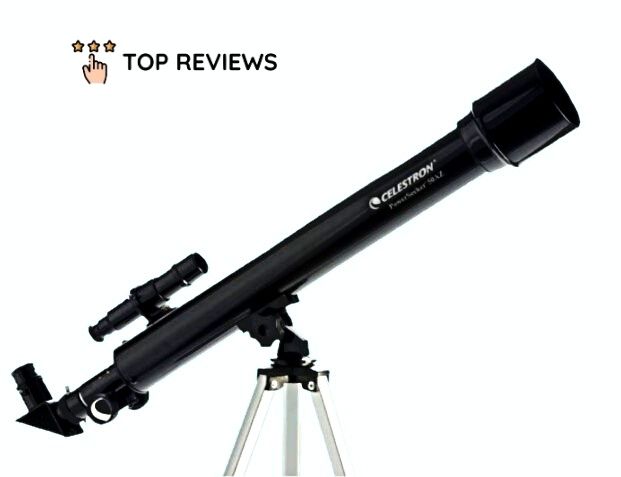 Price: $204
Optical Design: Refractor | Aperture: 60mm (2.36″) | Mount Type: Alt-azimuth | Total Weight: 7 lbs (3.18 kg)
Keen on exploring landscapes, night skies, planets and the profound galaxies light years away? Then you should get the Celestron PowerSeeker 60AZ telescope!
It is a refractor-type telescope with a 60mm aperture that lets you zoom in clearly and easily on the object. Setup will only take a few minutes, letting you use it in no time at all.
Having an Alt-azimuth pan handle means you can navigate the stars in left/right, up/down directions in a smooth and accurate way. Furthermore, it's relatively lightweight to carry and move around.
But we're just getting started: the Celestron PowerSeeker 60 also features 2 eyepieces of 20mm and 4mm, erect image star diagonal, finderscope and Barlow lens.
Plus, you will be able to download the Starry Night Basic Software. It is packed with useful knowledge and resources to help you get the most out of your Celestron PowerSeeker 60.
Pros
Excellent optics
Sleek and neat design
Lightweight and easy to set up
Points at the object accurately and smoothly
Starry Night Basic software included
Great value for money
Cons
Has lower detail due to a smaller lens
Customer Reviews
Many customers have said that the Celestron telescope is a very good choice for starters as it is very easy to set up and use. It provides value for money and kids also love it!
One particularly praised the clarity and resolution of the finder scope alignment when viewing terrestrial objects.
Other than that, here's a review as written on Jacobs Digital by one buyer, Loren M:
"The telescope arrived yesterday, setting it up was super quick and very easy. So far my partner and I have seen the craters of the moon, Venus in one of its lunar phases where it looks like a crescent moon, Jupiter and its bands (stripes), also 4 of Jupiters moons, and we managed to see the rings of Saturn ! This was all in the first night of using this telescope. Very excited to see what else we can discover."
2) Orion StarBlast 6″ Astro Reflector Telescope
Best for Viewing Celestial Bodies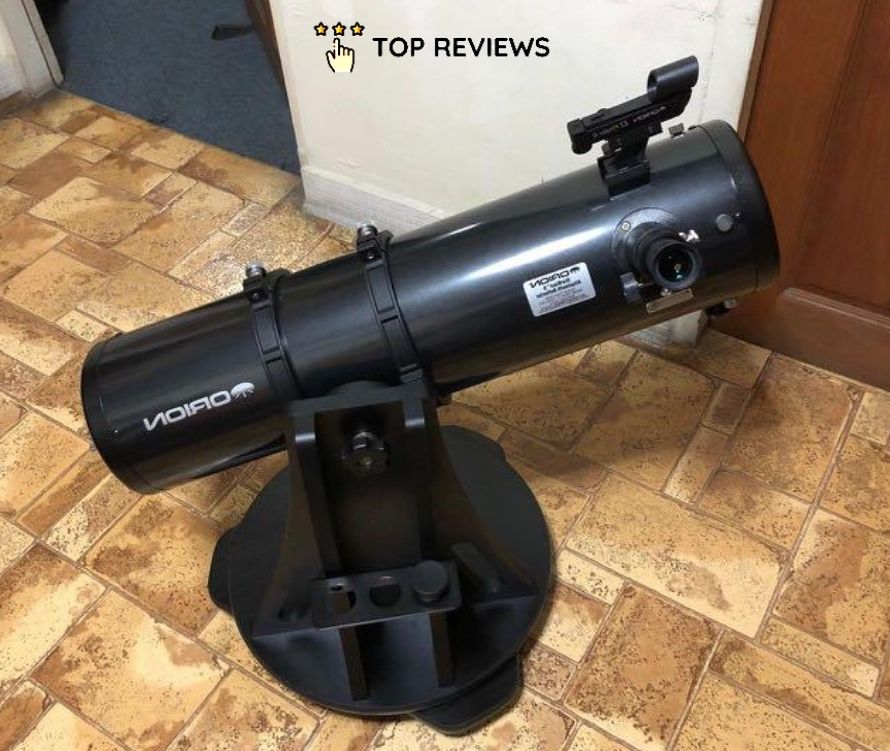 Price: $749
Optical Design: Reflector | Aperture: 150mm (5.9″) | Mount Type: Alt-Azimuth | Total Weight: 23.6 lbs (10.70 kg)
Earth is only a pale blue dot amid the exponential number of planets in the entire universe. And with that mystery and curiosity, you just might like to explore what you can with the Orion StarBlast 6 Telescope!
With a 6-inch aperture and focal ratio of f/5.0, the StarBlast 6 provides you with a wide panoramic field and easy tracking in observing celestial bodies and their movements.
You can witness the stunning full moon, majestic Saturn and its rings, sublime glowing nebulae, marvelous patterned constellations with this versatile reflector telescope.
Then, the Orion EZ finder II Red Dot enables you to accurately pinpoint the cosmic object you're aiming at. This just involves a simple alignment of your telescope.
Sirius eyepieces in 25mm or 10mm allow you to view distant sky objects at different focal lengths. You can conveniently switch or attach them on the built-in eyepiece rack.
So whether you're a fledgling astronomer or an experienced stargazer, the Orion StarBlast 6 is made for you!
Pros
Wide panoramic field
Versatile, grab-and-go telescope
Accurate aiming with EZ finder II
Great value for money
Simple and fun to use
Comes with 2 Sirius Plossl eyepieces
Includes a Starry Night Special Edition softwar
Cons
Need to buy Barlow lenses 2x to see the planets better
Battery runs out quickly when the EZ finder is left on
Customer Reviews
On Amazon, this telescope has received favourable reviews. They noted that it is of great quality, easy to set up and take to the back of your SUV or carry inside a car's trunk.
Only thing is that the telescope needs to be further upgraded to grant you a closer look and better detail in viewing the solar system and deep sky objects.
Fred gave an account of his experience with the Orion StarBlast 6 as follows:
"But honestly nothing will trump viewing the planets for me and this scope does an excellent job even with its compact size. I hope to spot Uranus with its greenish-blue tint in the back half of 2019. It functions very well as a grab and go telescope. Anything heavier and with a longer focal length will be difficult to transport. To me this is about the max size/quality/bang for your buck if you want to be able to take it with you and enjoy good views of the sky."
3) Orion StarMax 90mm TableTop Maksutov-Cassegrain Telescope
Best Mak-Cass Telescope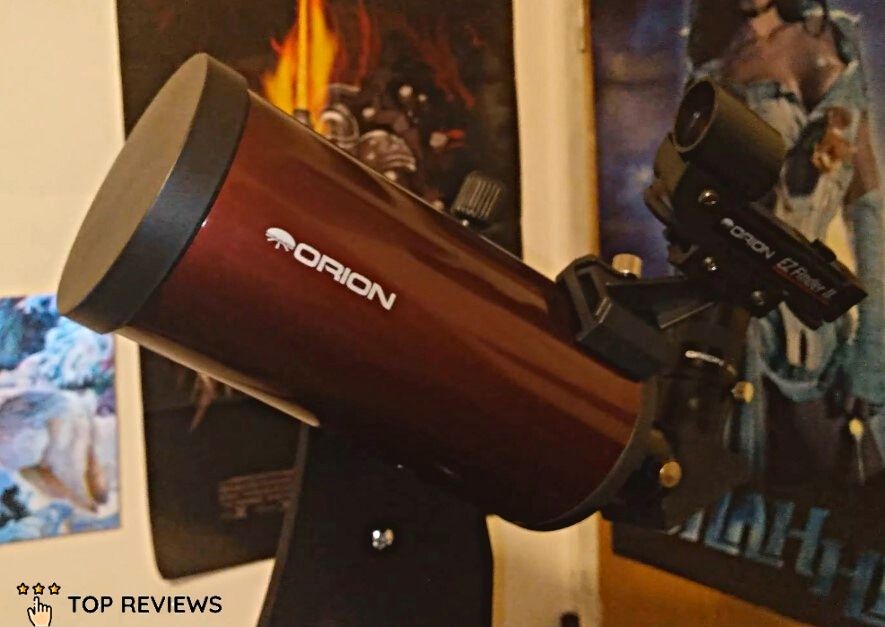 Price: $499
Optical Design: Maksutov Cassegrain | Aperture: 90mm (3.54″) | Mount Type: Alt-Azimuth | Total Weight: 6.5 lbs (2.95 kg)
Feel like stargazing or exploring beyond the earth's frontier? Check out the Orion StarMax 90mm Maksutov Cassegrain Telescope.
Maksutov Cassegrain utilises both mirror and lens to gather more light to behold the moon and planets. It is powerful yet light and portable, perfect for travel.
The telescope has a 90mm aperture letting you enjoy the mesmerising views of brighter celestial bodies in the likes of Jupiter, Saturn, globular clusters and bright galaxies!
You can magnify your view through the 10mm or 25mm eyepieces. The former provides a close and detailed look at objects, while the latter is best for a relaxed, panoramic view of the starry sky.
Another feature is the 90ø star diagonal, which prevents you from stargazing in awkward positions. This lets you have a fun and exciting viewing session whenever you like!
And the box includes a tripod adapter to which you can attach the telescope. As a result, you'll have more flexibility and convenience for your planetary telescoping!
Pros
Gathers more light for a brighter view of celestial bodies
Powerful telescope
90ø star diagonal prevents awkward body positions
Remarkable focal lengths to select from
Light to travel with
Cons
Customer Reviews
On Amazon, the Orion StarMax 90mm telescope holds a 4.3/5 score from 168 customers. Most of them mentioned that it's convenient, portable and enjoyable to have.
One also said that it gave a clearer and brighter view that greatly outperformed his previous telescope. Moreover, here's a snippet from Clohse's review on Amazon:
"This is an excellent quality scope and I couldn't be happier. The compact design has been very convient and makes you want to use it more than a huge telescope as many have written. Don't be deceived by how portable and short this telescope is and think it will produce cheap images because that's simply not true…"
4) STARSENSE EXPLORER™ LT 127AZ
Best Newtonian Reflector Telescope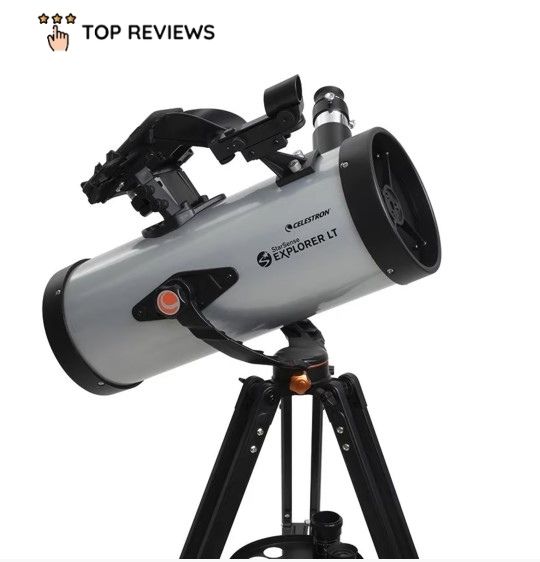 Price: Contact for more information
Optical Design: Newtonian Reflecttor | Aperture: 127mm (5″) | Mount Type: Manual Alt-Azimuth | Total Weight: 11.4 lbs (5.17 kg)
With STARSENSE EXPLORER™ LT 127AZ , you will be able to unleash the power of your smartphone. Through its little screen is a guided tour of the night sky– with no telescope experience needed!
In comparison to other telescopes, this product has a patent-pending StarSense sky recognition technology. This basically means that it uses your smartphone to analyze the different star patterns and even calculate its position in real time.
What's even better is that the StarSense Explorer application automatically generates a list of objects that are visible. Whether it is a planet, star clusters, or a nebula, you will get to see it in high definition.
You will simply place your phone in the unique StarSense dock and launch the StarSense Explorer app. Aligning your phone to the telescope's optics is also quick and easy.
Pros
Locating objects is easier and faster
Accurate findings
Sturdy Altazimuth Mount
With a large 127mm (5") objective lens
Perfect for the City or Dark Sky Sites
Cons
You need to contact the company in order to know its price
Customer Reviews
Here is a review from one buyer:
"Got my new telescope yesterday from FLO, which came very quickly in just two day's. They where very helpful, as I'am new to astronomy. It was well boxed. The telescope Is well made and easy to set up for some who is new to this hobby, like myself. I would recommend FLO to any one who is looking for a telescope."
And that's all for the best telescopes in New Zealand! Let the stargazing and fun begin when you get one of these portable, awesome telescopes!
Are there any questions you'd like to ask us? If you have one, feel free to drop us a line and we'll get back to you as soon as possible.
Apart from telescopes, if you like to capture stunning scenery, you might be interested in using drones too. For this, you can read about the best drones in New Zealand!