The Best Things to Do in Franz Josef for Adults
Franz Josef offers an array of experiences that can leave any traveller feeling invigorated and inspired. As two of us on the staff actually spent some of our childhood in this town, we'll act as your tour guides and take you through the best things to do in Franz Josef for adults.
So pack your bags, grab your camera, and get ready to explore this breathtaking destination with us!
What are some things to do in Franz Josef for adults?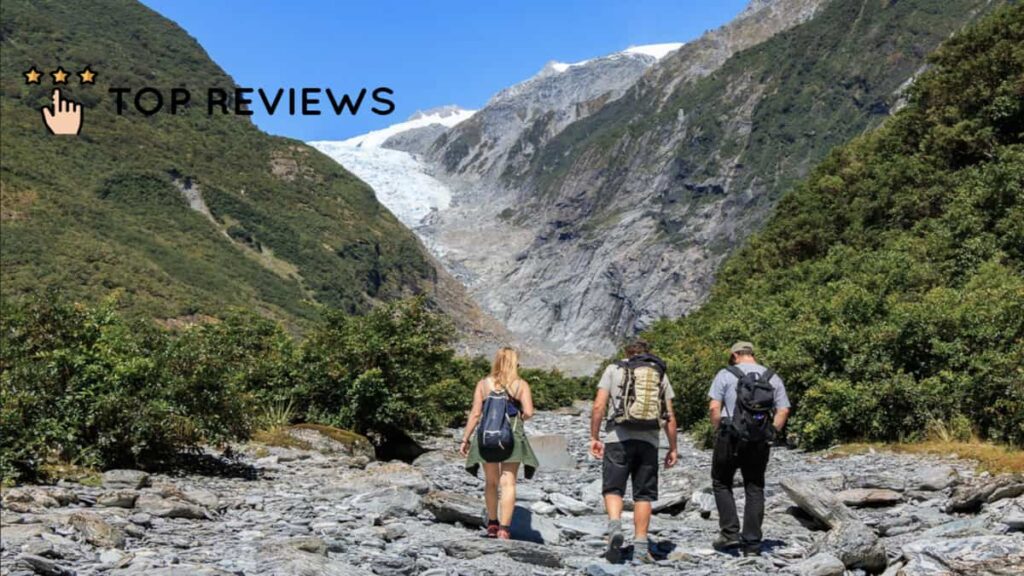 Franz Josef, New Zealand, is a small town on the South Island's West Coast. Despite its diminutive size, it is a popular destination for tourists from all over the world.
In Franz Josef, adults can enjoy nature and outdoor activities like rainforest walks, glacier hikes, heli-hikes, heli-ice climbing, thrill-seeking activities like skydiving, paragliding, and kayaking.
Adults can also visit the glacier hot pools and enjoy the thriving food and drink scene in Franz Josef.
So, whether you're looking for a relaxing getaway or an action-packed adventure, Franz Josef has something for everyone.
Glacier Hikes on the Franz Josef Glacier
Lace up your hiking boots and prepare to embark on a journey like no other. The glacier hikes in Franz Josef offer a once-in-a-lifetime opportunity to explore the icy blue wonderland from up close, so it's something we always recommend to anyone visiting Franz Josef.
Although we ourselves have gone glacier hiking plenty of times, we never grow tired of the magnificent sights. As you make your way across the glacier, you'll be greeted by stunning ice formations, glittering ice caves, and breathtaking views of the surrounding mountains.
If you need help, we've used Franz Josef Glacier Guides to help us navigate our way across the glaciers. Their expert guides made it easy to go through the ice and snow maze, and they shared their knowledge of the glacier's history and unique features. 
However, not all hikes across Franz Josef Glacier are at the same difficulty level, so whether you're a seasoned glacier hiker (we weren't) or a beginner, there's a hike for you.
Heli-hiking and Heli-ice Climbing
For those seeking an extra adrenaline rush, heli-hiking and heli-ice climbing on the Franz Josef Glacier are perfect activities to add to your itinerary.
Imagine soaring high above the glacier in a helicopter, taking panoramic views of the snow-capped peaks and valleys below—it's a sight like no other.
On previous trips, we've used the services of Helicopter Line Franz Josef Heli Hike to engage in both heli-hiking and heli-ice climbing. They're pretty good at what they do.
The way heli-hiking works is once you land on the glacier, you'll strap on your crampons and set out on a guided hike through the stunning ice formations.
We ourselves have explored ice caves, crevasses, and tunnels that were inaccessible by foot and we're not exactly the fittest or bravest explorers in the world. That means just about anyone else can do it!
If you're feeling particularly adventurous, you can even try your hand at heli-ice climbing, where you'll scale the glacier's towering ice walls with the help of ropes and ice axes.
Be warned that these activities are not for the faint of heart. But for those who're up for the challenge, they offer an unforgettable experience.
Visiting the Franz Josef Glacier Hot Pools and Spa Treatments
We recommend The Franz Josef Glacier Hot Pools as a must-visit to all who come to Franz Josef because. They're a relaxing and rejuvenating way to unwind after a day of outdoor activities.
The pools are fed by natural hot springs and offer stunning views of the surrounding mountains and rainforest. Usually, the pools are open year-round, unless the weather permits otherwise, but you can choose from a range of pool temperatures to suit your preferences.
The Glacier Hot Pools complex also includes a spa, where you can enjoy a range of massages and beauty treatments. The spa uses natural New Zealand products, such as manuka honey and volcanic clay, for a truly unique and rejuvenating experience.
For an extra touch of luxury, we recommend booking a spa treatment at one of the town's many wellness centres like Amaia Luxury Spa or Waiho Hot Tubs. From massages to facials to body wraps, there's a treatment to suit every need. 
So, let the skilled massage therapists work their magic and leave you feeling rejuvenated and refreshed.
Rainforest Walks and Bird Watching
If you're looking for another relaxed way to experience the natural beauty of Franz Josef, take a stroll through the town's lush rainforest. Keep an eye out for the many native bird species that call the area home.
The rainforest walks offer a peaceful escape from the hustle and bustle of everyday life, with towering trees, babbling streams, and abundant flora and fauna.
We recommend keeping an eye out for the rare and endangered kiwi bird and the tui, bellbird, and kereru.
But, for a more immersive bird-watching experience, we recommend joining a bird watching trip led by a local expert who can help you spot even the most elusive species.
Still, whether you're an avid bird-watcher or just looking for a tranquil escape, the rainforest walks and bird-watching in Franz Josef are not to be missed.
Skydiving and Paragliding
For the ultimate adrenaline rush, why not take to the skies and experience Franz Josef from a whole new perspective?
Skydiving and paragliding are two of the most thrilling activities in the area, offering breathtaking views of the glacier, rainforest, and surrounding mountains.
Imagine free-falling from 16,500 feet above the ground, feeling the rush of wind in your face as you plummet towards the earth.
Or, if you prefer a slightly more gentle experience, take to the skies in a paraglider, soaring high above the town and taking in the stunning scenery below.
The best option here might be Skydive Franz, who have experienced instructors that a lot of people recommend. Anyway, skydiving and paragliding in Franz Josef will leave you with memories that will last a lifetime.
Rafting and Kayaking on the Waiho River
For those who love water sports, rafting and kayaking on the Waiho River in Franz Josef is an exciting and adventurous activity. The river offers a range of rapids, from gentle to thrilling, making it suitable for beginners and experienced paddlers.
As you navigate the rapids, you'll be surrounded by stunning scenery, including the Franz Josef Glacier and the lush rainforest. You can go solo or take rafting and kayaking tours.
Some companies that offer rafting and kayaking tours here are the following:
The tours are led by experienced guides who provide the necessary equipment, safety gear, and expert instruction to help you navigate the rapids.
Quad Biking and ATV Tours
For those who love adventure and speed, quad biking and ATV tours in Franz Josef are an exciting way to explore the stunning scenery of the area. A reputable company we often refer to our friends who come visit is Franz Josef Wilderness Tours  as they help make quad biking and using an ATV easier. 
Plus, you'll ride through rugged terrain, including rivers, forests, and mountains, on a powerful quad bike or ATV, experiencing the thrill of off-road riding.
The quad biking and ATV tours are suitable for both beginners and experienced riders, with options for both guided and self-guided tours. Keep in mind too that you'll be provided with all the necessary safety gear and instruction to ensure a safe and enjoyable experience.
Exploring the Local Food and Wine Scene
Franz Josef is a small town, but it has a surprisingly vibrant food and wine scene, with a range of restaurants, cafes, and bars offering delicious local cuisine and wines.
One of the most popular local delicacies is whitebait, a type of small fish that is caught in the nearby rivers. Whitebait fritters are a must-try dish, and one of our favorites! Try Alice May Restaurant and The Landing Restaurant for a sample. 
Other local seafood, such as crayfish and green-lipped mussels, are also popular choices among those who come to visit Franz Josef. Basically, this place is a seafood-lover's dream.
In addition to great food, Franz Josef is also home to a number of wineries and vineyards. The region is known for its cool-climate wines, particularly Pinot Noir and Chardonnay.
Many of the local wineries offer tastings and tours, allowing you to sample some of the region's best wines and learn about the winemaking process.
Overall, exploring the local food and wine scene in Franz Josef is a must-do for any foodie or wine lover. With a range of delicious local cuisine and wines to choose from, there's something for everyone to enjoy.
Suggestions for Planning a Trip to Franz Josef
So now that you have a list of things to and see in Franz Josef, if you're deciding to make a trip, here are some suggestions to help you make the most of your visit:
1. Choose the right time of year
Franz Josef is a year-round destination, but the best time to visit depends on your interests. If you're interested in hiking and outdoor activities, the summer months (December to February) are the best time to visit.
If you prefer cooler weather and fewer crowds, consider visiting in the shoulder seasons of spring (September to November) or fall (March to May).
2. Book accommodation in advance
Franz Josef is a small town, and accommodation can fill up quickly, especially during peak season. Be sure to book your accommodation in advance to avoid disappointment.
3. Plan your activities
There is a range of activities to choose from in Franz Josef, including hiking, glacier tours, and scenic flights. Plan ahead to ensure you have time to do everything you want.
4. Pack for the weather
The weather in Franz Josef can be unpredictable, so be sure to pack for all conditions. Bring warm clothing, rain gear, and comfortable hiking shoes.
5. Try the local cuisine and beverages
Franz Josef is known for its delicious local cuisine, including whitebait fritters and craft beer. Be sure to try some of the local specialties while you're in town.
By following these suggestions, you can ensure that you have a memorable and enjoyable trip to Franz Josef.
---
Franz Josef is a truly unique and beautiful destination that offers a range of experiences and activities for visitors to enjoy. From hiking on glaciers to tasting local cuisine and beverages, there's something for everyone to experience and explore.
Exploring and experiencing all Franz Josef offers is an unforgettable experience that will leave you with memories to last a lifetime. So don't hesitate to plan your trip and discover the beauty and culture of this fantastic destination.