If someone else's car is blocking your driveway or your batteries stopped mid-route, you will have to call the towing service. To help with that, we have listed down the best towing services in Auckland.
But it doesn't necessarily mean your car has to be towed a long way. A professional tower can usually fix your car for you right then and there to get you good and running again.
There are a number of towers that you can find in Auckland. But how do you know which one you should call on?
The closest one to your location means saving time to get to you fast, but you have to balance it with the price offered and the handy services such as a secured area to bring your car and the like.
Now that we've set it out, here are the best towing services in Auckland!
1)  GHL Recovery and Salvage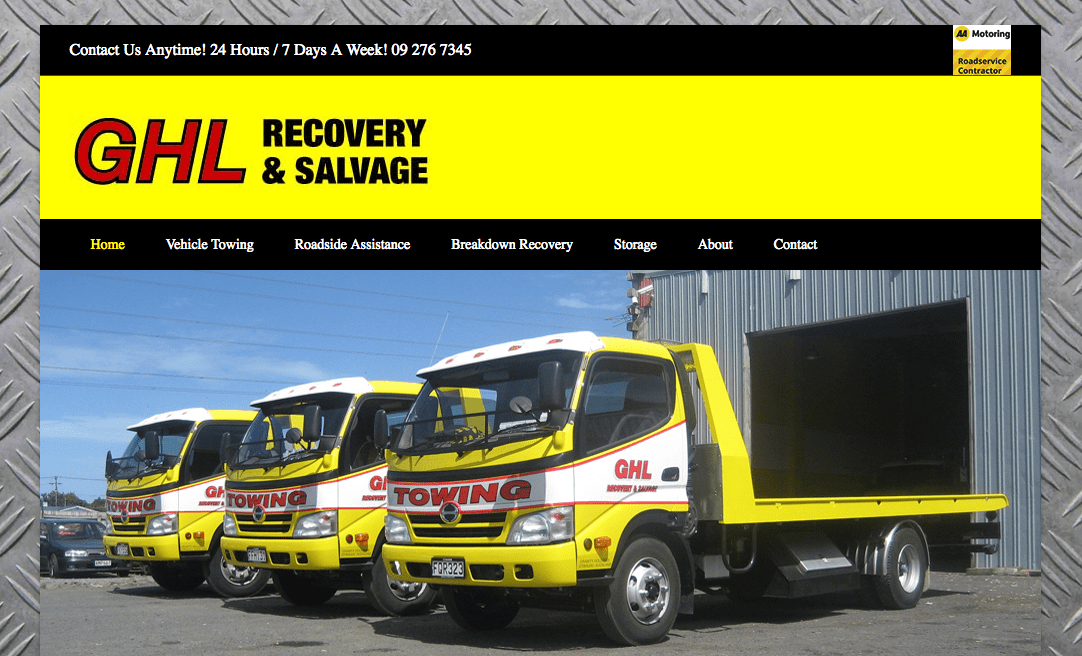 | | |
| --- | --- |
| Areas covered | Auckland Region |
| Services offered | Vehicle Towing, Car Towing, Vehicle Recovery, Accident Towing, Police Towing, Tow Aways, Roadside Assistance, Jump Starts, Vehicle Unlocks, Breakdown Recovery, 24 Hour Towing, Secure Storage |
| Address | 64 Luke Street, Otahuhu, Auckland 1062, New Zealand |
| Contact no. | 09 276 7345 |
| Website | https://ghltowing.co.nz/ |
If you need a reliable team to get your car sorted out wherever and whenever in Auckland, GHL will come to the rescue! They come ready with all the equipment and skills to get the job done.
Helping customers for over 25 years, GHL offers the best price, quality, and professionalism in car and police towing, breakdown repairs, tow aways, vehicle storage, and even vehicle unlocks.
Another reason they are in the best towing services in Auckland is that they are licenced and authorised to tow vehicles while keeping them safe and undamaged along the way.
When you call them, as customers have mentioned, they arrive fast, are courteous, and are professional.
2)  Affordable Towing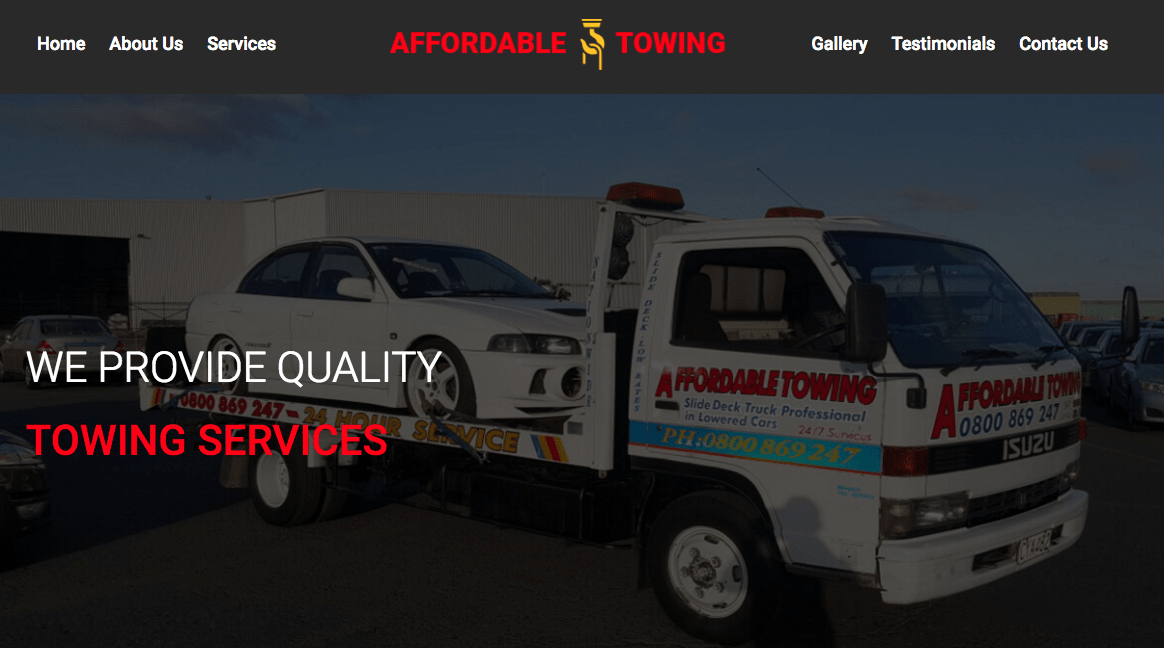 | | |
| --- | --- |
| Areas covered | Auckland wide |
| Services offered | Car and Heavy Vehicle Towing, Car Scrapping, Long Distance Towing, Accidental Insurance, Vehicle Recovery, Tow Diggers and Forklifts, |
| Address | 96 Station Rd, Papatoetoe, Auckland 2025, New Zealand |
| Contact no. | 0800 TOW(869) 247 or 0800 862 942 |
| Website | https://www.affordabletowing.co.nz/ |
Some towing companies add more costs than what they quoted upfront. If you don't want that headache, here's Affordable Towing, one of your best towing services in Auckland.
It's really affordable as they give lower prices in exchange for a great slidedeck service. Whether your car has been involved in an accident or your tyres are flattened on the road, their roadside assistance will get you out of that quagmire 24/7.
With 8 years of experience, their team can handle vehicles like vans, sports cars, and SUVs as if they were their own. Forklifts and diggers are no big deal to them too!
One more plus is their professionalism or work attitude. One customer wrote that the drivers are always willing to help.
3)  Tow & Go Ltd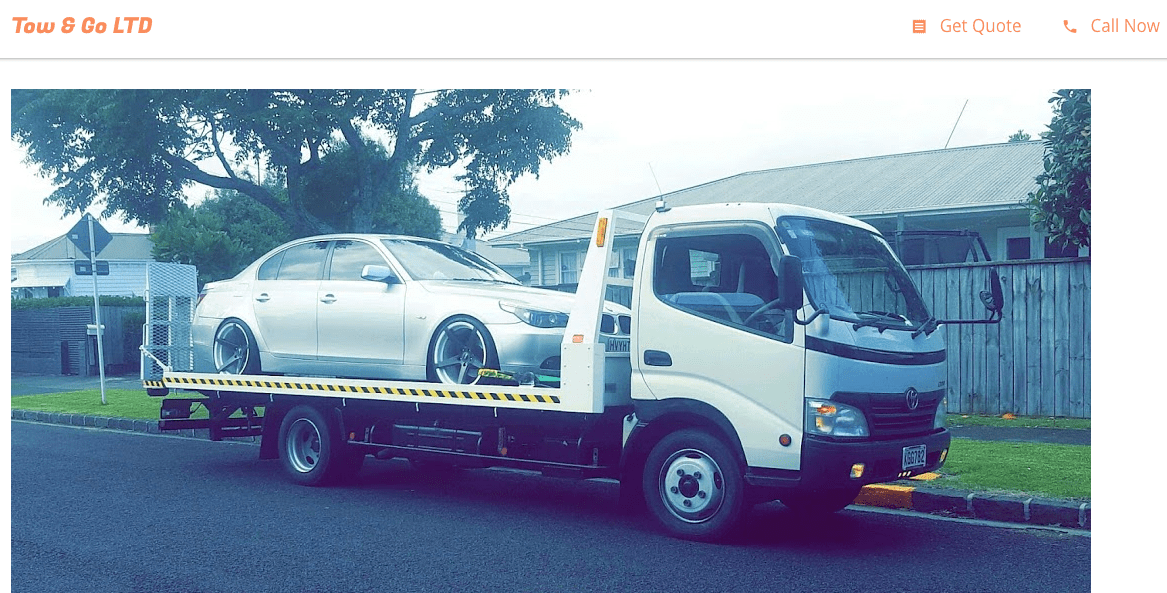 | | |
| --- | --- |
| Areas covered | Auckland wide |
| Services offered | Cars, Small Trucks, and Transit Vans Towing, Breakdown Towing, Accident Towing, Machinery up to 2 tonne, Transportation |
| Address | Near Otahuhu Railway Station, Auckland, New Zealand, 1062 |
| Contact no. | 0224662249 |
| Website | https://towngoltd.business.site/ |
Tow and Go Ltd. is a small company based in Auckland. They have years of experience in the vehicle and transport industry.
It offers 24/7 service for those cars unable to drive at the darkest of night, anywhere in Auckland. And it can tow cars, small trucks and vans or machinery you need to transport across the metro.
Moreover, you have a friendly, quick, and professional team to relieve you of the stress you had so all you have to do is calm down and entrust your car to them.
Best of all, prices are cheap and economical, which many people like.
4)  Quick Towing and Car Removal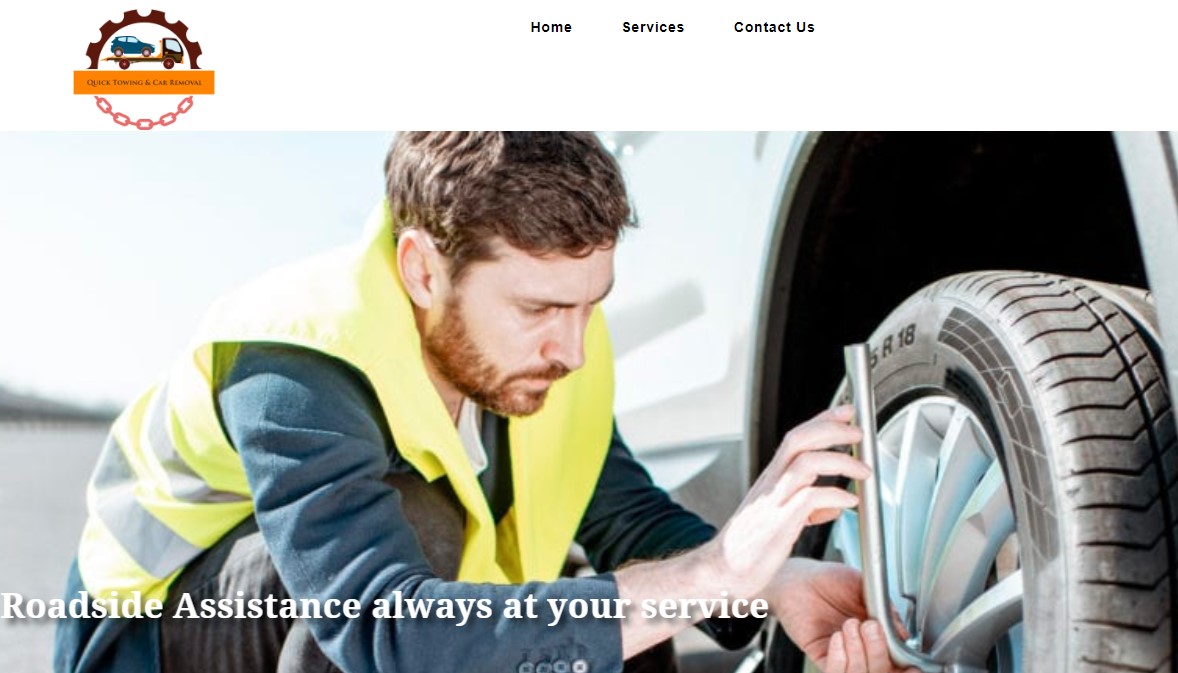 Areas covered
Auckland Region
Services offered
Accident Towing
Roadside Assistance
24 Hour Towing
Free Car Removals
Instant Cash for Cars
Free Recycle & Wreck
Address
—
Contact no.
[email protected] | +64 20 4104 5670
Website
https://quicktowing.co.nz/
Quick Towing and Car Removal can help you to take your car to your Mechanic or to the place where you would like it to be dropped off. If your car battery is flat, need fuel or any other urgent assistance in the middle of nowhere, they will be at your service 24/7.
They also do free car removals, recycling, and wrecking all over Auckland, and they can also give up to $8000 on the spot for car exchanges.
5)  Cost 'U' Less Towing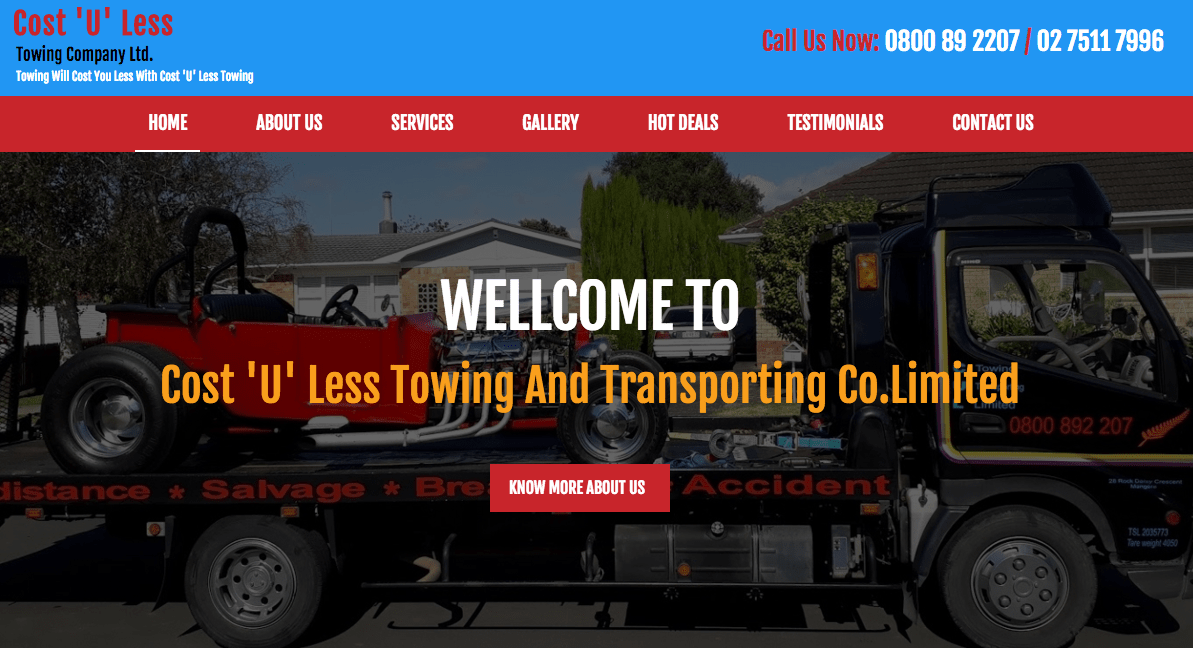 | | |
| --- | --- |
| Areas covered | Auckland and the North Island |
| Services offered | Breakdown Assistance, Illegally Parked Cars Towing, Storage Space |
| Address | 61 Tidal Rd, Mangere, Auckland, New Zealand |
| Contact no. | 0800 89 2207 / 02 7511 7996 |
| Website | http://www.costulesstowing.co.nz/ |
No vehicle is too big or too small for Cost 'U' Less Towing, as they tow them all skilfully and safely. Campervans, farm trucks, and bulky SUVs are no match for them.
In terms of towing, they have 3 main specialties: fast and efficient roadside assistance, removal of illegally parked cars blocking the motorway, and a storage space for vehicles.
Along with this you get a lower price without sacrificing the quality. Since you have to look after other matters in the event of an accident, or repair, they offer this price to lower your burden.
This company serves Auckland City and goes all across the North Island, so when you need some towing done, call them at the numbers indicated.
6)  National Car Parts

Areas covered
Auckland Region
Services offered
Cash For Cars
Car Wreckers
Toyota Wreckers Auckland
Nissan Wreckers Auckland
Mitsubishi Wreckers Auckland
Truck Wreckers
Address
East Tamaki Branch – 22 Ormiston Road, East Tamaki, Auckland, Otara, Auckland

Wiri Branch – 12 Bolderwood pl, Wiri, Auckland

Contact no.
Toll-free: 0800 88 44 55
Phone: 09 579 5152
[email protected]
Website
https://nationalcarparts.co.nz/car-removal-auckland/
Car Wreckers pay top cash for cars & offer a FREE car removal service If you're sick of having that old or wrecked vehicle taking up space on your property, it's time to call the best National Car Wreckers.
With so many options for car removal and car wrecking companies, they assure customers that they offer the best price and the best service to help you make an easy choice.
When you call National Car Removal Auckland, they will offer you a quote for your vehicle depending on its condition. If you like and accept the quote, they will send our truck with cash and to tow away your broken car, trash truck or 4X4. Free removal and the most hassle-free way to sell your old junk car in Auckland.
7)  A2Z Towing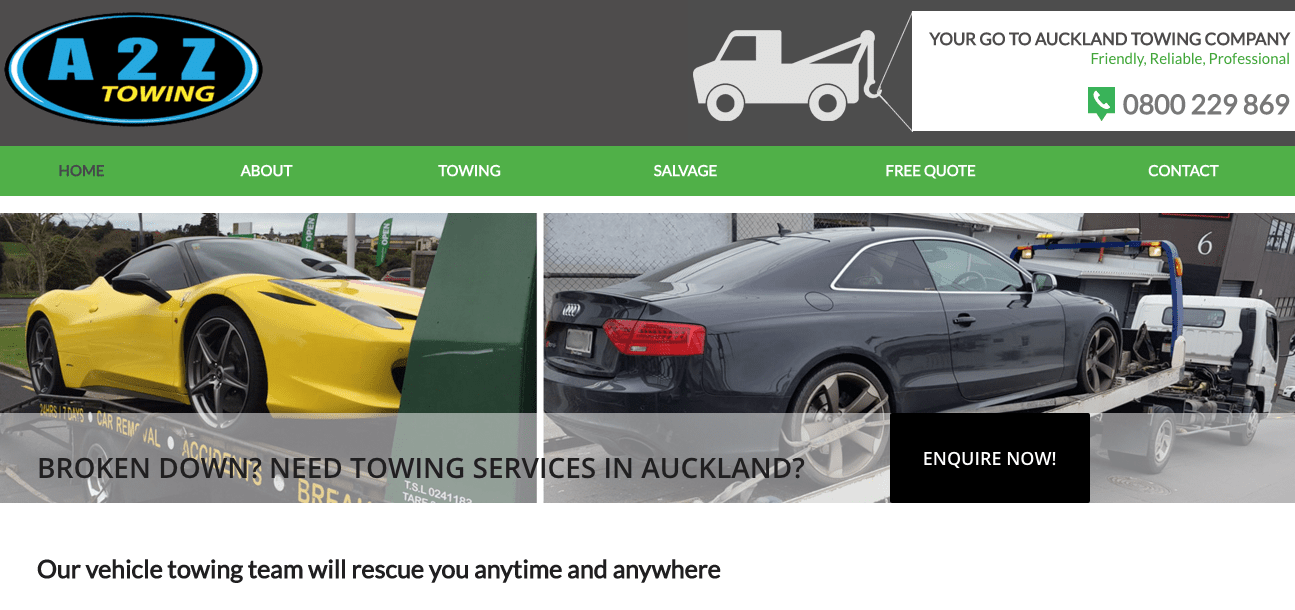 | | |
| --- | --- |
| Areas covered | Auckland Region |
| Services offered | Vehicle Disposal, Mud Bank and Concrete Winching, Salvage Towing, Roadside Assistance, Vehicle Recovery, and Others |
| Address | 362 Neilson Street, Onehunga, Auckland, New Zealand |
| Contact no. | 0800 229 869 |
| Website | https://www.a2ztowing.co.nz/ |
A2Z delivers value in each aspect of their business through knowing what the customer needs, employing licenced towers, and keeping their fleet in tiptop condition.
Specialising in breakdown assistance (with the help of expert mechanics), salvage, and vehicle towing, you can rely on them round the clock, 7 days a week to get you cruising again without any towing.
Staff are very kind, helpful, and friendly. They know their clients are having stressful experiences, after all, so they strive to make things a bit easier with their attitudes.
Whether you're in Onehunga or Ponsonby to the entire region, A2Z is one of the best towing services in Auckland you can count on.
---
And that's everything for the best towing services in Auckland. These are the affordable choices that will ensure your car will be taken care of and not carelessly.
Did you find our list helpful? If you have any questions, please send us a message and we will get back to you as soon as we can.
Now if your towers find that your car is really beyond help but're still saving up for a new car, perhaps you can rent a car for the moment. Renting a car entitles you to roadside assistance bound by the terms of the rental company.
If you're interested, then you can read up on the best car rentals in Auckland. That way, you can still temporarily drive to shops, restaurants, or theatres until you get your new car!