The 7 Best Towing Services in Christchurch
Car breakdowns can be a massive pain to deal with. Fortunately we've done some digging for the best towing services in Christchurch to come to your rescue!
From a simple mistake of locking yourself out of your car to more complex issues such as having your car damaged in an accident, a towing service can handle these jobs very well.
In Christchurch, you can find a few good towing services that offer you the best professional service from staff members, operators with excellent skills, and of course, great prices!
So if you're all set, lets get on with the best towing services in Christchurch. And they are:
1)  Christchurch Towing Services
| | |
| --- | --- |
| BEST FOR  | Safety and Care in Towing |
| SERVICES | Lowered Vehicles, Specialty Vehicles, Breakdowns, Accident Recovery, Rental Company Breakdowns |
| WEBSITE | https://www.chchtow.co.nz/ |
| ADDRESS | 70 Vagues Road, Papanui, Christchurch, 8052, New Zealand |
| CONTACT DETAILS | 027 7820325 |
| OPERATING HOURS | Open 24 hours |
If you're stuck in some ditch and can't seem to go past it or if you have a race car needing some pit stop repair, Christchurch Towing Services are your first-class low vehicle specialists!
Their trucks can accommodate vehicles as low as the earth and will support your car with the best safety and care whether it's standard or high-end. To give you peace of mind, they are also insured.
Bringing with them 8 years and more of experience, they're among the most reliable towing services in Christchurch. You can just relax and let them tow your car or 4WDs to the repair centre or back at your home South Island wide.
Not to mention the CTS team will try to fix your rental car once they arrive. And if that's not possible, you will get a replacement car in agreement with the car rental company you may be using.
Highlights
Tows your car with safety and care
More than 8 years' experience in the field
Insured for your peace of mind
Customer Reviews
John Frampton, one of their clients, said on Google Business:
"Had the pleasure of getting a tow with Stewart after my Ford ranger had a couple of issues. Was very helpful with getting me back on the road thanks guys ??"
2)  Ashley's Tow Taxi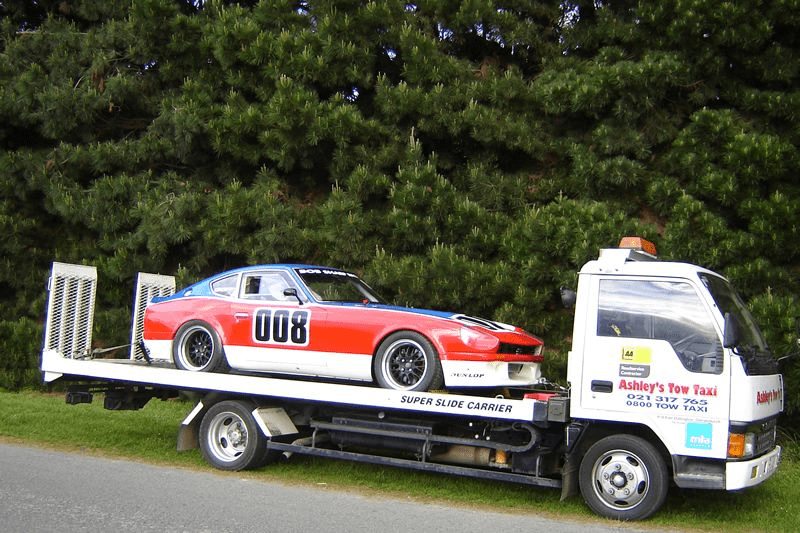 BEST FOR 
Specialty Cars Towing
SERVICES
Specialty Cars Towing, Vehicle Transport, Breakdown Assistance
WEBSITE
http://www.ashleystowtaxi.co.nz/
ADDRESS
55 Riccarton Road, Riccarton, Christchurch 8011, New Zealand
CONTACT DETAILS
0800 TOW TAXI

0800 869 8294
For race, vintage, muscle cars, tractors and carriages, Ashley's Tow Taxi definitely belongs in the lineup for the best towing services in Christchurch.
Starting small with only a Toyota Land Cruiser tugging along a trailer in 1990, it grew to be what it is today through its reputation of providing excellent care for both cars and clients.
Ashley's Tow Taxi is an NZTA-licenced tower that is currently owned by Peter Farr. It is also partnered with insurance, car rental companies, and dealerships for repair or transport.
Need an emergency repair for your car? They can take you to the safety zone of your home or the nearest repair station with their low vehicle towing — with spoilers to keep it stable in transit.
Highlights
NZTA member
Specialises in towing race, vintage, muscle cars, tractors and carriages
Emergency car repairs are also offered
Customer Reviews
Pierre Gordon-Stratton, one customer, wrote on Google Business:
"I have been a customer of Ashley's since Peter ran it, Chris is the perfect new owner given his proximity to Ashley's in the past. Absolute care and detail, our dealership will unequivocally continue to shift cars here."
3)  Canterbury Towing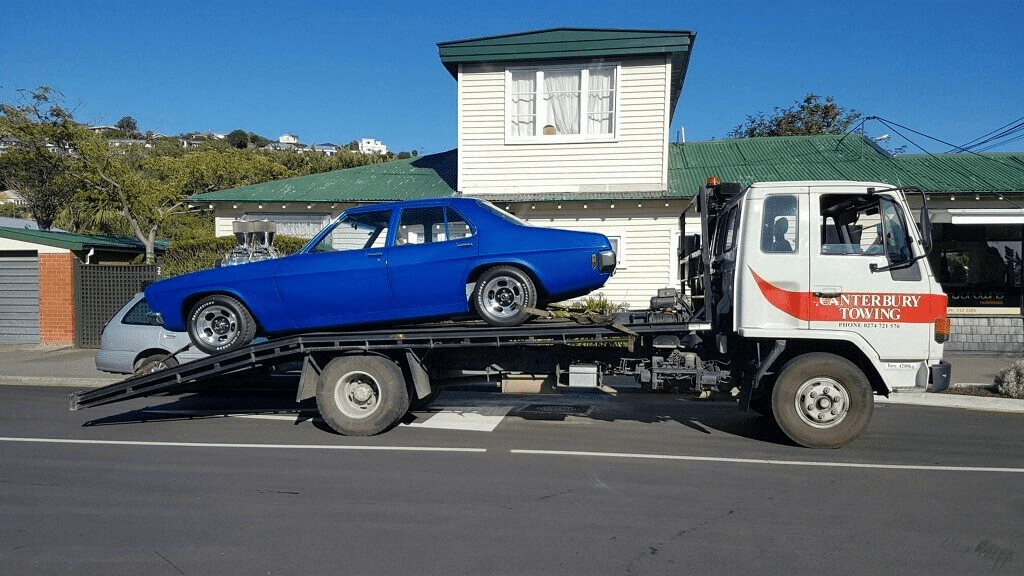 | | |
| --- | --- |
| BEST FOR  | Timely and Efficient Tower |
| SERVICES | Vehicle Towing, Breakdown Recovery, Free Car Removal, 24/7 Service, Commercial Vehicles, Vehicle Transportation |
| WEBSITE | http://canterburytowing.nz/ |
| ADDRESS | Not specified |
| CONTACT DETAILS | 0800 767 869 |
| OPERATING HOURS | Open 24 hours |
 Anytime you need a timely and efficient tower in Christchurch and North Canterbury, bring in Canterbury Towing. With a 24/7 service, they are fast in answering calls and quick to arrive.
Whether it's a car needing mechanical assistance or a 4 x 4 with a flat battery, you can expect great service, professionalism, and an affordable price.
Their team is composed of individuals who are skilled and who enjoy their work. Canterbury Towing is currently operated and led by Steve Saul, who is continuing its success.
Highlights
Timely and efficient tower
Affordable rates
Quick response and reliable service
Customer Reviews
Here's a review written by Chris & Tania Forbes on Google:
"Good people to deal with on time every time and willing to halp in a bad situation."
4)  Towman Towing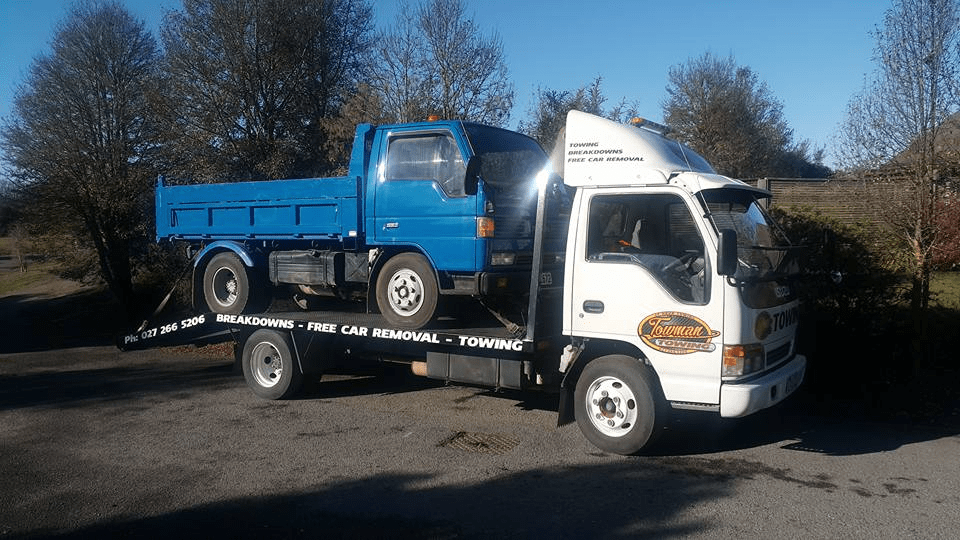 BEST FOR 
Customer Service
SERVICES
Vehicle Towing, Breakdown Recovery, Free Car Removal, 24/7 Service, Commercial Vehicles, Vehicle Transportation
WEBSITE
https://towman.nz/
ADDRESS
Christchurch, New Zealand
CONTACT DETAILS
0800 767 869

02 7266 5206

OPERATING HOURS
Open 24 hours
Give Towman Towing a call if your cars or commercial vans need to be transported. They have an excellent fleet of flatdecks with American-made cars as their forte.
What sets Towman Towing apart from the others is doing more for the customer — like answering questions, being more accommodating, and giving them value through their service.
They are based in Christchurch and have accumulated 20 years plus of service. Therefore, when it comes to your towing needs and emergencies, you can depend on them.
Their flatdecks are versatile and can carry cars of different sizes and shapes, even towing two at a time — and carefully at that, making them one of the best towing services in Christchurch.
Highlights
First-class customer service
20+ years of service
Excellent fleet of tow trucks
Customer Reviews
Gabriella Strom, one client, writes on Google Business:
"Our break down couldn't have gone better thanks to these guys. Thought we were stranded in Arthurs pass but Chris came out & rescued us at 11pm on a Sunday night. Then next day Steve helped us get our cracked radiator sorted and even let us ride along with him in his sweet Buick! All solid good guys working there, 100% recommend them to get you out of a difficult situation."
5)  Parks Towing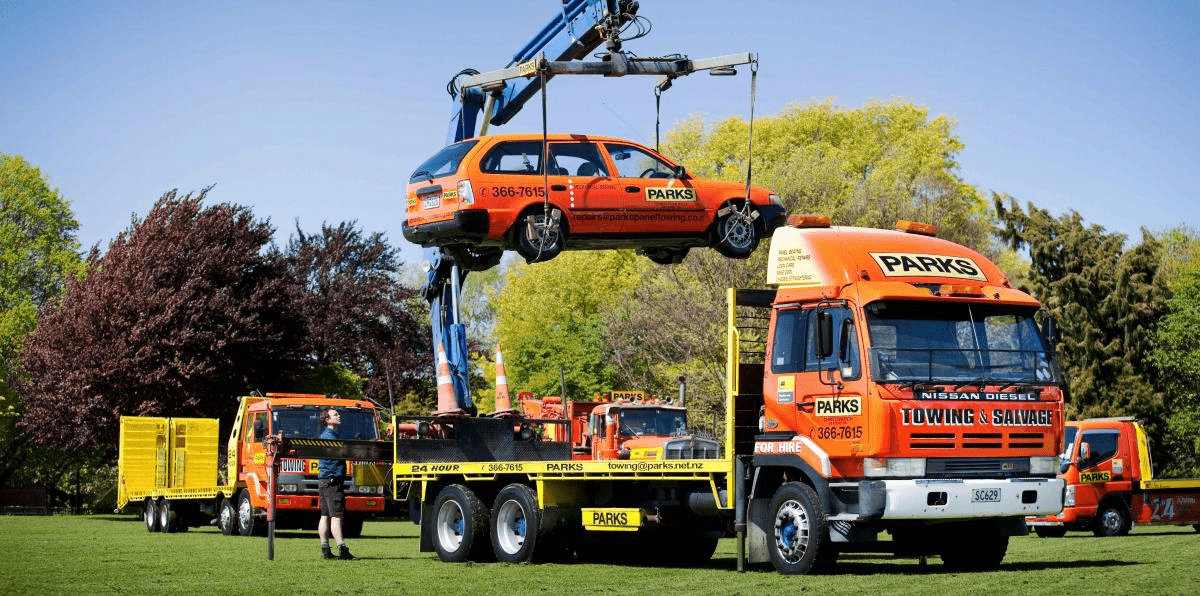 | | |
| --- | --- |
| BEST FOR  | Towing All Types of Vehicles |
| SERVICES | 24 Hour Vehicle Recovery, Mechanical Workshop, Vehicle Storage, Machinery Transport |
| WEBSITE | https://parkstowing.co.nz/ |
| ADDRESS | 34 Owaka Rd, Hornby, Christchurch 8025, New Zealand |
| CONTACT DETAILS | 03 366 7615 |
| OPERATING HOURS | Open 24 hours |
Parks Towing is a large towing company based in Hornby, Christchurch. Matthew Parks started this business just when cars were being used to offer mechanic services dating back to 1916.
It expanded and developed so that they now have a fleet of 45 vehicles with tow trucks (including the largest one) and assist vehicles at the ready — one of the best towing services in Christchurch!
No matter what the size of your vehicle, from a puny golf cart to sports car to fellow tow truck, they have the right truck for that. The drivers are all licenced and safe.
Their main appeal is their unparalleled tracking and truck dispatch system wherein they can give you valuable info about the status of your car, how much time it will take for the team to arrive, and more.
Plus, they can handle your insurance concerns for you — all they need is the claim number.
Highlights
Have a fleet of 40 tow trucks
Unparalleled truck dispatch system
Established in 1916
Can handle your insurance concerns
Customer Reviews
Let's see one customer's review on Google:
"Very happy with the quick response Parks Towing gave me, got the job done quick and professional. The staff are very friendly and are very helpful with my inquires."
6)  Tow Works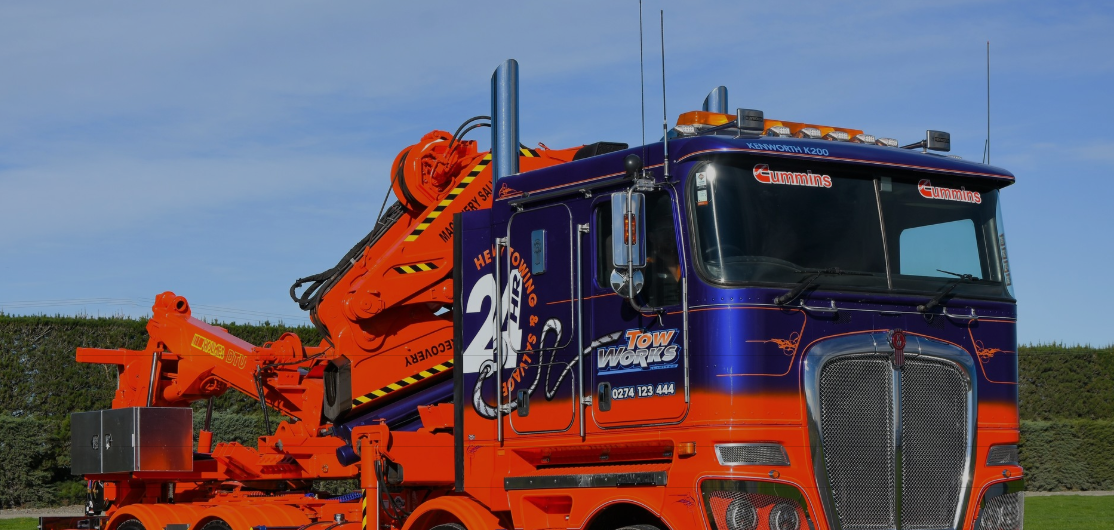 | | |
| --- | --- |
| BEST FOR  | Towing Heavy Vehicles |
| SERVICES | Heavy Vehicle Recovery Savage and Towing Services |
| WEBSITE | http://www.towworks.co.nz/ |
| ADDRESS | 147 Ellesmere Road, Prebbleton, Christchurch, 7674 |
| CONTACT DETAILS | [email protected] or 027 4 123 444 |
| OPERATING HOURS | N/A |
Should you need help in towing your heavy vehicles, don't hesitate to call Tow Works. They are available 24/7, so they've got you covered at any time of the day!
They have durable and high-quality towing trucks, making them one of the best towing companies in Christchurch you can depend on. You can rest easy as they handle your vehicles in the safest way.
They look forward to serving and assisting you in towing your vehicles. Contact them now and experience an exceptional service like no other!
Highlights
24/7 available
Strong and durable towing trucks
7)  I-Tow Towing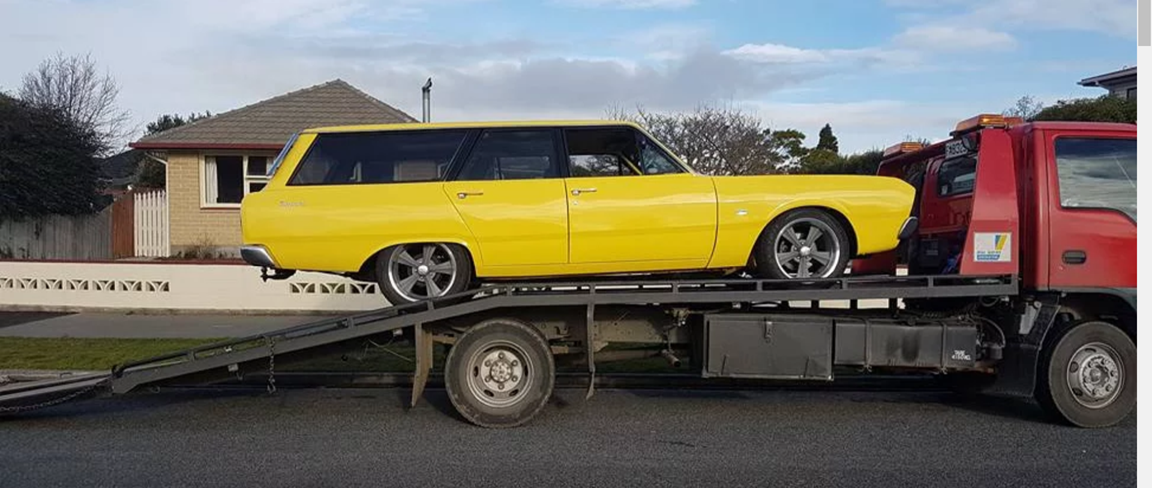 BEST FOR 
Local towing services
SERVICES
Local Towing, Roadside Assistance
WEBSITE
https://www.i-towtowing.com/
ADDRESS
Staffordshire street Burwood New Zealand 8083
CONTACT DETAILS
[email protected]
021317877
OPERATING HOURS
N/A
If you're searching for a competent towing service company that is prompt and efficient in its response, then look no further– I-Tow is the one for you. They're one of the best choices for towing in Christchurch, especially in case of emergencies. Wherever you are in town or South Island, they're sure to back you up if need be.
I-Tow's adept assistance for each of their clients is what sets them apart from other companies. Their attention to detail and priority for customer satisfaction is no joke, proving just how important it is for them to leave you happy.
So in case you require towing or even roadside assistance, don't be afraid to call I-Tow for fast and effective methods of pick-up.
Highlights
Efficient service
Prompt response to emergency towing
Affordable rates
---
And we are done with the best towing services in Christchurch! Nobody likes to be towed, but if that happens, these companies will be there for you to sort out any problem you may have.
What do you think of the towing services we listed? If you have any questions, just send us a message and we will get back to you in a bit.
Also, you may want to check out the best car rental services in Christchurch. Just to be sure that you have someone to repair your vehicle or bring in a replacement at the time of need.