The 6 Best Trampolines In New Zealand Tested and Compared
If you're after the best trampoline in NZ, it's best to first know about safety standards in the country. When it comes to trampolines, New Zealand currently follows the safety standards set by Australia.
Manufacturers may either comply or not with the standards, and most have only passed a few of the entirety. It's up to the buyer to decide what's the best trampoline by research and instinct.
In this article, we'll let you in on some of the best available NZ trampolines that you can buy.
Things to keep in mind before buying a trampoline in NZ
A great way to unwind and spend the weekends is to hop, jump, and get some workout done with a space jump trampoline.
Used carefully and with supervision by adults, it helps to increase bone mass and make them taller and share bonding time with their friends.
On the other hand, trampolines have also seen their share for product-related injuries and we should prevent that from happening. Let's see some of the terms and considerations for a safer and better trampoline jumping experience:
Age – jumpers should be at least 6 years and older to use the trampoline, but for those under 6, there's a mini indoor version. However, always prioritize safety and don't try dangerous tricks or something you know that can hurt. Always take care and supervise your child.
Mat diameter – This is what you see in the product names when there is a foot unit such as 8 ft or 10 ft. By this purpose, you have to ask beforehand how many people will use the trampoline. The standard diameter ranges between 3 feet to 15 feet and up. It also tells you if it is a perfect fit in your backyard. Remember to set up the trampoline at least 5 feet away from all sorts of obstructions such as branches of trees or power lines to keep safe.
Stable base – You'd like to buy a trampoline that stays without being moved while you or your kid are bouncing in the air. If it does, tipping over will be an issue. It should likewise be able to support the total amount of weight of ones who use it simultaneously. New models coat the base or the supports of the trampolines with rust-proof material as well as a UV coat to withstand any throw of the weather.
Safety Nets – Having a safety net or what is known as enclosures around your trampolines will prevent slipping through gaps in the net, hitting the springs, or falling out. A safety net prevents all these from happening.
Stainless parts – Stainless tubes make a trampoline longer-lasting. Consider whether you'd like to get a springfree trampoline in NZ, since it won't corrode to rust and temperature such as snow or very hot weather.
Unique features – this will add a whole lot of fun for jumpers. An example is the basketball ring setup, the bars for having something to hold on while jumping, and LED lights that change in your jumps. Talk about a cool feature!
1. Superfly Trampoline – Best for Safety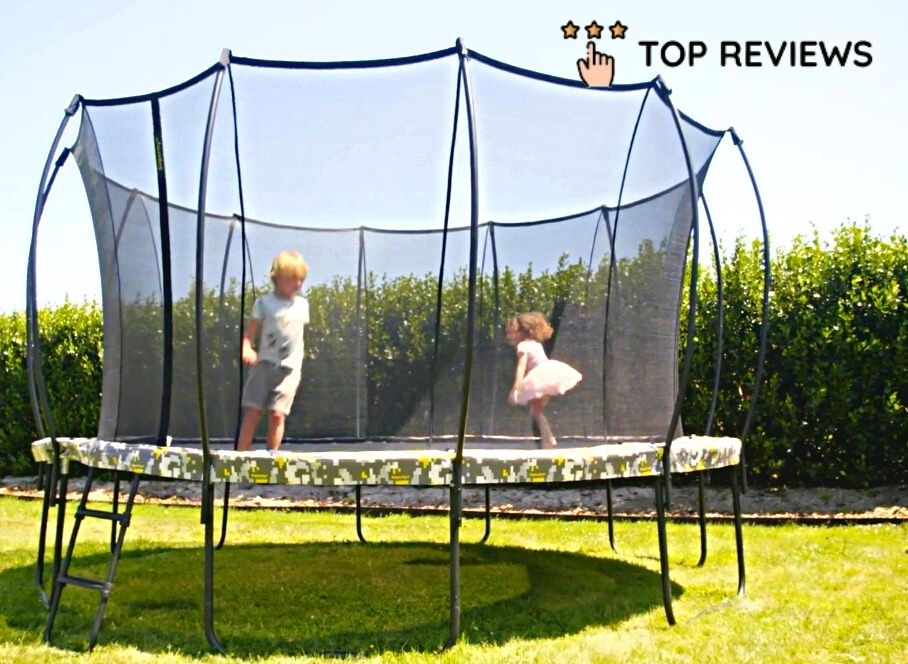 Superfly trampolines are NZ made, and as their brand tagline says, designed for Kiwi kids aged 6 to 96.
This safety-net-equipped trampoline is among the best you can get if you want durability and safety to be considered in your trampoline purchase. It comes with a stellar warranty (10 years for the frame) and high-quality materials, so you know you and your kids won't wear it out any time soon.
Even the springs are made of high-quality galvanised metal. The net is very fine but tough and clips securely to the base, so you never have to worry about kids falling out either. Overall, it's a fantastic 12-foot option if you want a big trampoline for your yard.
Pros
Excellent warranty (1o years for the frame, 5 years for the jump mat and springs, 3 years for the spring pad and safety net)
Simple net sleeve and clip design for easy setup
Cons
Zip closure is just slightly awkward
Customer Reviews
On Trade Tested, this product has garnered rave reviews with customers saying it had great build quality and value for money. What's more, they said that setting it up was quite simple and that the kids enjoyed the trampoline very much!
One owner, Supreet, wrote:
"Absolutely love the build quality and the look of this trampoline, initially was really confused with multiple options including springfree ones which really costs so much..but glad we sticked to the Superfly one its a real value for money. Setup was straight forward and comes really sturdy. You will need at least 2 ppl to assemble…bounce is really nice. Highly recommended !!"
Also, Tash commented:
"We bought this tramp as our old trusty faithful square one had dome its dash. This has definitely filled the shoes. The kids are on it constantly and it has heaps of bounce. Even the adults have been spotted out on it too."
2. Skywalker Trampolines 15-Foot Jump N' Dunk – Trampoline having the largest size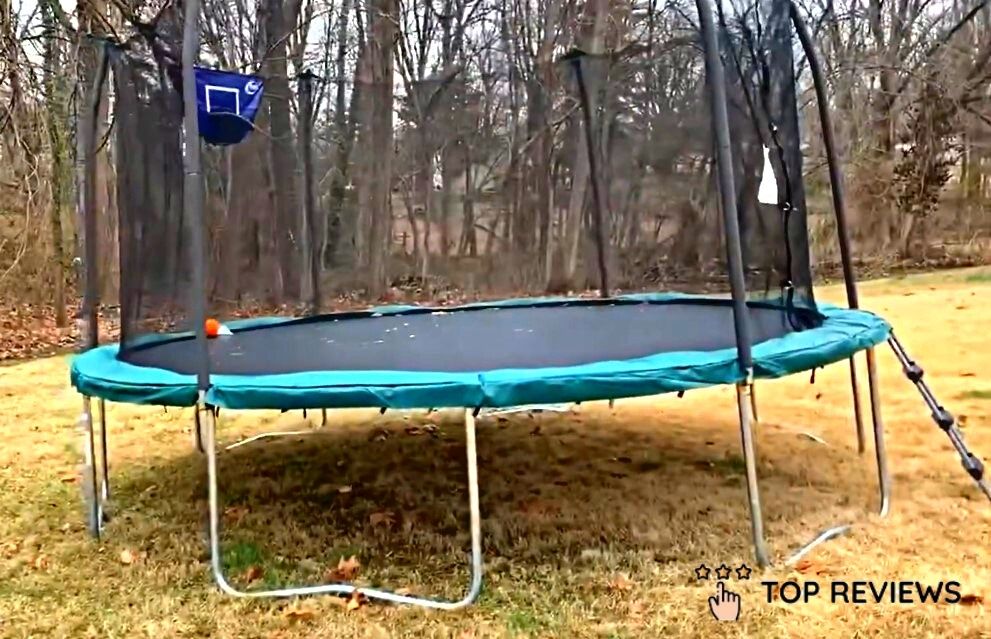 A trampoline with a basketball feature but more important than that are all its carefully wrought safety features. The no gap enclosure adds a layer of cover to protect from out of area tumbles and finger or foot traps, in addition to the net. It allows kids to enjoy and have a good exercise. Springs that are used are galvanized for rust resistance. Plus, frames are fortified by a T-socket that keeps them more stable and durable.
The mat shape is round and brings in the fun and excitement of trampoline-jumping. The Skywalker is possibly the biggest trampoline in nz that you can find, so this is perfect for grown adults who are kids at heart.
Pros
Patented No gap enclosure
Fun round shape to enjoy your trampolining
Basketball feature
Cons
Hoops are loosely built
Less warranty period
Customer Reviews
The majority of the buyers gave a positive review for the Skywalker Trampoline, although it also had its share of criticism. Few of the customers said that parts broke off easily including the zipper, padding, pole, and etc.
However it wasn't so for other owners, especially if it's handled with great care. For one with a family, they even used it for the whole month everyday without a single rip or tear.
Anyway, here's one buyer's review on Amazon:
"We own a fishing/vacation lodge, plus we have 4 boys of our own, so we wanted something sturdy because we knew it would get a lot of use. And we chose right!
The trampoline was delivered earlier than anticipated, putting it together didn't take long at all, everything was in the box, it has great bounce-it's totally worth the money. We also bought a ladder and it attached beautifully.
The basketball net is a lot of fun, but we haven't figured out a way to keep it from sagging. Anyone have any tricks?
We've had it for about 2 weeks, and it's held up great so far. Highly recommend."
And check out Tony Di Lorenzo's feedback:
"Seems like a good quality product and after a month of daily use shows no signs of wear as yet. Glad we went with the 15′ instead of 12′ as it seems like it's quite easy for the kids to travel from one side to the other in a bounce or two. Arrived in two large and heavy boxes so be prepared to haul those around. Installation took my son and I about two hours and was fairly straight forward."
3. Clevr Kids Trampoline with Safety Enclosure Net – Design-friendly trampoline for kids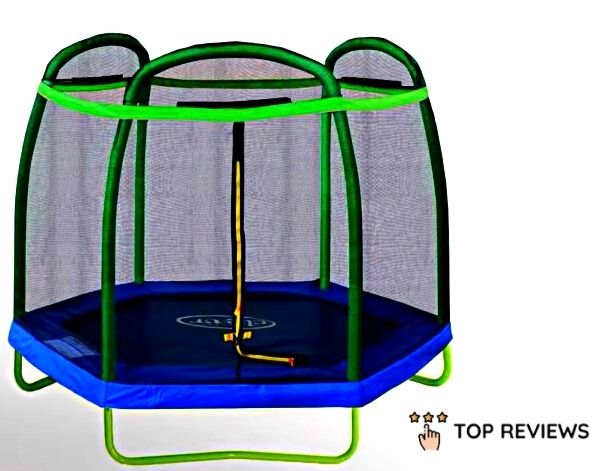 Attractive colors of green/blue or orange/blue makes this trampoline attractive for kids. It stands at 7 ft only, quick to set up and is not intended for adults. Built with an impact absorber padding, it's going to be safe for kids to play in, and jump around, not to mention the heavy-gauge steel frame that keeps your trampoline standing and very stable.
Safety nets will protect kids of all sizes so we consider this the best trampoline in nz if you have young tots. Lastly, it's relatively easy to set up and takes no time at all.
Pros
Attractive design and colors
Impact-absorbing padding
Creative zipper for the trampoline
Cons
Frames are closer to the jumping surface
Small space
Customer Reviews
Reviews have been mostly positive for this kids trampoline. Siblings and little ones can't get enough out of this thing — having heaps of fun and enjoyment where a parent can even join in!
The trampoline's being low to the ground has also been highly regarded, plus its sturdy and solid quality. Setup was a breeze for many of the customers. You can also take a look at other customer's images to know how to install it correctly.
One customer, Heather Peterson, shared on Amazon:
"This is by far the best thing I've purchased for my kids. We set it up indoors in their play room because we live where it rains all the time. My kids are 5 & almost 2. They absolutely love playing and jumping. My daughter can get in and out by herself because it's low to the ground. This has saved my sanity on stormy and rainy days! This is the perfect size for younger children. I even jump with them once in a while, and 4 kids can jump at the same time without being on top of each other. It's a high quality product. No tears, snags, or holes anywhere and we've had it for 7 months so far. It's still in like-new condition after lots of daily use. It took my husband about an hour to set up and he had no difficulties. Buy it! Your kids will love it!!"
And Paul said:
"Super sick even I jump in it sometimes lolol (I'm 24) my brothers deff enjoy it more though, easy to put together it is possible to do it with one person just know putting the last like 7 springs is a god darn work out but besides that super easy."
4. Bounce Pro 12 ft Trampoline w/ Flash Light Zone – Trampoline with the coolest feature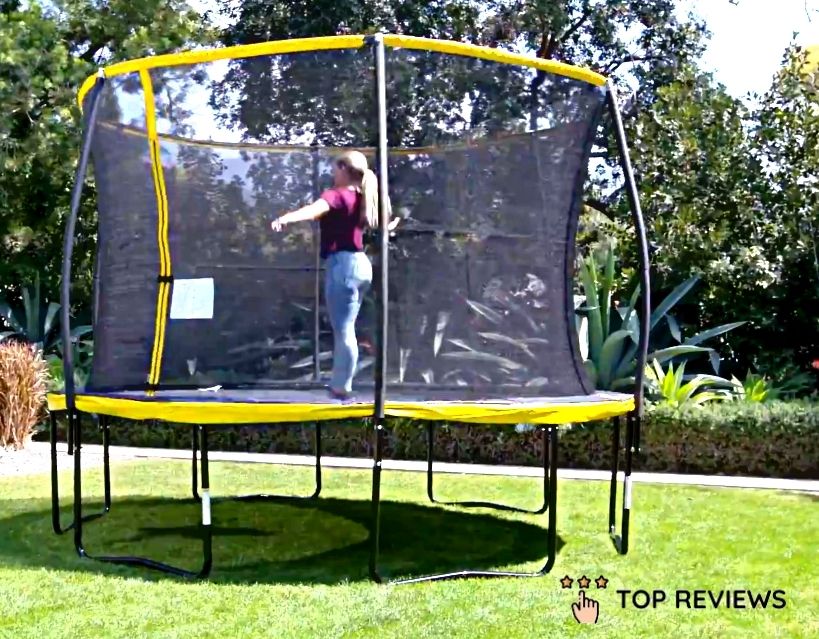 Every jump is lit by Bounce Pro 12ft Trampoline w/ Flash Light Zone. Galvanized steel frame pulls the trampoline to the earth and gives it an incredible stability and structure. Mat is built with durable UV materials that enable it to take all sort of weather beatdowns.
Because of its nifty feature of having lights, this is the best nz trampoline if you prefer to play at night, or during winter when it get dark early.
Plus, the 12 ft capacity encourages more friends to skip, jump, and play inside the jump area.
Pros
Very awesome light-up-as-you-jump function
UV protected durable mat
Trampoline size encourages play with more friends
Cons
Occupies a larger space in your backyard
High structure compared to other trampolines
Customer Reviews
This trampoline is well-liked by many people on Amazon. Assembly can take a couple of hours, but once that's done the fun begins. Kids, adults, neighbours, everybody likes to jump on this tramp! This has an amazing build quality!
One owner, DWC mentioned:
"Very nice trampoline. Me and my wife researched several sites and looked at Walmart. The price wasn't much more than Walmart but the construction and durability was well worth the price difference. Very easy to assemble but it does take two people."
And another customer, Jeffrey Green, comments:
"Kids love it and all the neighbors come to jump, even the adults! Very simple directions and took about 3 hours by myself (including mowing the back yard before placement). Definitely a must buy for any family!"
5. ANCHEER Mini Rebounder Trampoline – Best indoor trampoline for bonding or fitness w/ family
This one is a mini oval trampoline perfect for exercise or for fun. Its adjustable bars are foamed for a comfortable grip when holding on to it while jumping. It can be adjusted from 38 to 45 inches in height to suit young kids and adults. A good PP material is used for the durable construction of the mat and PVC material for edge covering that will take care of water splashes or sweat.
Because it does not have any safety net, this trampoline in NZ is better for bigger kids or those who are more athletic and confident with their jumping skills. As long as the kids are watched over by their parent, and they hold on to the bar and jump carefully, it will be safe.
Pros
Small and safe indoor mini
Durable PP material used for the mat
Can be used by kids or adults
Cons
Can be a bit boring
Longer setup process
Customer Reviews
This Ancheer trampoline is a hit with its reliable, adjustable handle that provides safety by balancing the trampoline out in the middle. Its stable quality can easily accommodate 4 children jumping at the same time as for one customer.
Note, however, that it's strong enough to let adults jump on too! Plus, the trampoline takes no time at all to put together.
Here's one reviewer, Nathan Gillespey, who said on Amazon:
"Came with the springs already attached, which was awesome! Easy to assemble and didn't take long. It's very sturdy and has a good amount of space to jump. Our daughter loves it and it makes for great entertainment!"
Also, Jasmine Swartz wrote:
"I bought this for my kids and my nieces and nephew and they love it!!! One year old to three year olds and all five kids can fit on at one time while holding on to the handle bar!!! I was sick of them jumping on their beds and the couches so now when they start to we just redirect them to the trampoline! And it works out their energy especially for the winter months when they are mostly indoors!!! It also helps that the handle bar is the middle to balance it out so it doesn't tip over like the normal little kids trampolines so I feel that it's safer even with all five kids on there at once!"
6. Jumpflex Flex100 City 10ft Trampoline – Best Weight Capacity
Jumpflex has got many things to boast about: a 10-year warranty for its frame that is also rustproof and UV protection coated.
Its no-gap safety net is bonded to the mat from end-to-end, and having high tensile springs to hold up to a 150 kg which at that number is even unrelenting. Since the metal poles are one of the causes of injuries, every pole is curved away for Jumpflex from the net to reduce chances of an injury or accident.
With a maximum capacity of 250 kilograms, this is the best trampoline in nz for bigger kids and adults. Not only does it have all these features, but it scores a lot of points on design as well with neon green and black, cool to have in your backyard.
Pros
It offers a 10-year warranty for the frame
Higher, smoother jumps
Holds a max of 250 kg of jumpers
It can be used by children and adults
Cons
Customer Reviews
One owner praised the excellent safety design of the netting and padded mats that serve to protect the jumpers from the springs. Some of them said that it had sturdy quality and value for money.
In addition, let's take a look at the excerpt from Shellby's review:
"As for the quality of the trampoline. I think its great. We have strapped it down with the anchors you can also purchase with the trampoline. We live in a high wind area and since having it up we have had some strong winds and it's still happily sitting there and no movement. The netting feels very strong and thick so I feel it will last the warranty easily. We can have 2 people of it jumping with a weight of up to 130kgs and it feels very stable and lots of bounce. We are also impressed with the poles bending outwards and the net inwards – there is no way to hit the poles even if you tried to bounce off the net. Safety has definitely be thought of in this design."
And Smurfette said:
"Its sturdy and stable, but very early days, we will see what is like in a couple of years. Wow. It takes a bit of time to put together, but that's expected of any trampoline, we love the design and it's easy to clean, just hose off. I love it that my son can just grab the net and lean on it full body weight, very good quality."