When it comes to trampolines, New Zealand currently follows the safety standards set by Australia. Manufacturers may either comply or not with the standards, and most have only passed few of the entirety. It's up to the buyer to decide what's the best trampoline by research and instinct.
In this article, we'll let you in on some of the best trampolines to buy in New Zealand.
Things to keep in mind before buying a trampoline
A fun way to spend the weekends is to do some hopping, jumping, or exercise with the help of a trampoline. Used carefully and with supervision by adults, it helps to increase bone mass and make them taller and share bonding time with their friends.
On the other hand, trampolines have also seen their share for product-related injuries and we should prevent that from happening. Let's see some of the terms and considerations for a safer and better trampoline jumping experience:
Age –  jumpers should be at least 6 years and older to use the trampoline, but for those under 6, there's a mini indoor version. However, always prioritize safety and don't try dangerous tricks or something you know that can hurt. Always take care and supervise your child.
Mat diameter – This is what you see in the product names when there is a foot unit such as 8 ft or 10 ft. By this purpose, you have to ask beforehand how many people will use the trampoline. The standard diameter ranges between 3 feet to 15 feet and up. It also tells you if it is a perfect fit in your backyard. Remember to set up the trampoline at least 5 feet away from all sorts of obstructions such as branches of trees or a power lines to keep safe.
Stable base – You'd like to buy a trampoline that stays without being moved while you or your kid are bouncing in the air. If it does, tipping over will be an issue. It should likewise be able to support the total amount of weight of ones who use it simultaneously. New models coat the base or the supports of the trampolines with rust-proof material as well as a UV coat to withstand any throw of the weather.
Safety Nets – Having a safety net or what is known as enclosures around your trampolines will prevent slipping through gaps in the net, hitting the springs, or falling out. A safety net prevents all these from happening.
Stainless parts – Stainless tubes makes a trampoline longer-lasting. Since it won't corrode to rust and temperature such as snow or very hot weather.
Unique features – this will add a whole lot of fun for jumpers. An example is the basketball ring setup, the bars for having something to hold on while jumping, and LED lights that changes in your jumps. Talk about a cool feature!
1. Superfly Trampoline – Best Warranty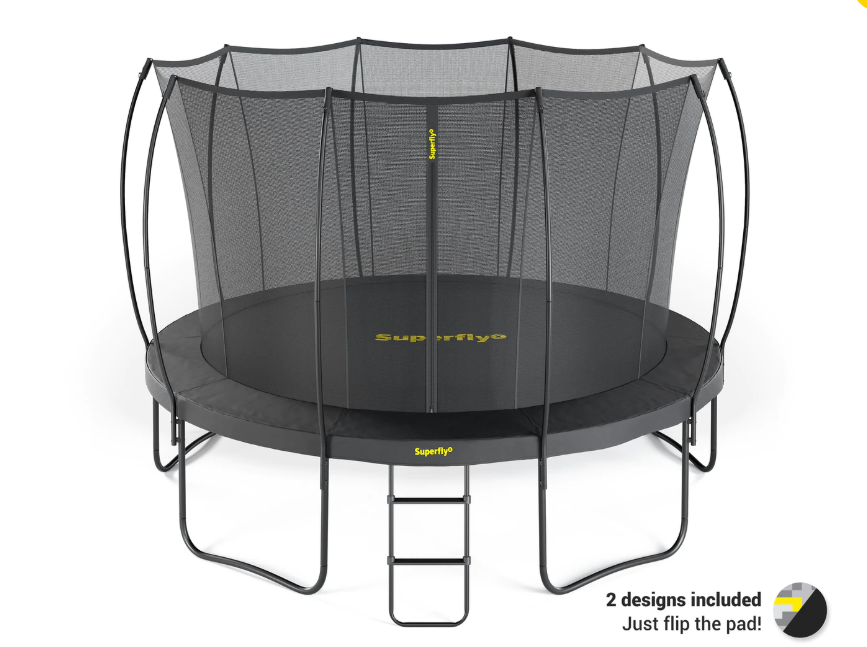 Pros
Excellent warranty (1o years for the frame, 5 years for the jump mat and springs, 3 years for the spring pad and safety net)
Simple net sleeve and clip design for easy setup
Cons
Zip closure is just slightly awkward
This safety-net-equipped trampoline is among the best you can get if you want durability and safety to be considered in your trampoline purchase. It comes with a stellar warranty (10 years for the frame) and high-quality materials, so you know you  and your kids won't wear it out any time soon.
Even the springs are made of high-quality galvanised metal. The net is very fine but tough and clips securely to the base, so you never have to worry about kids falling out either. Overall, it's a fantastic 12-foot option if you want a big trampoline for your yard.
2. Springfree Trampoline – Safest trampoline in the world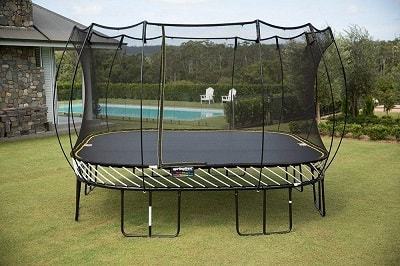 Pros
Passed the Australian safety standards conducted by CHOICE
Metal springs and hard impact points have been removed
Sleek and cool design
Cons
Occupies a larger space in your backyard
An innovative trampoline devised by Dr Keith Alexander is all about safety first. It is made of premium materials with a sturdy frame, no springs attached (pun intended) where kids can hang up their tablets with the TGOMA, a trampoline app, have fun on their jumping and bouncing. The safety net catches them upon reaching it like a gentle elastic band and prevents them from falling over. And instead of hard-bound metal springs, the mat is coolly linked with flexible rods not across, but beneath the mat. With different sizes, they could play in it all day. Springfree Trampolines are winners of 8 world class awards.
3. Skywalker Trampolines 15-Foot Jump N' Dunk – Trampoline having the largest size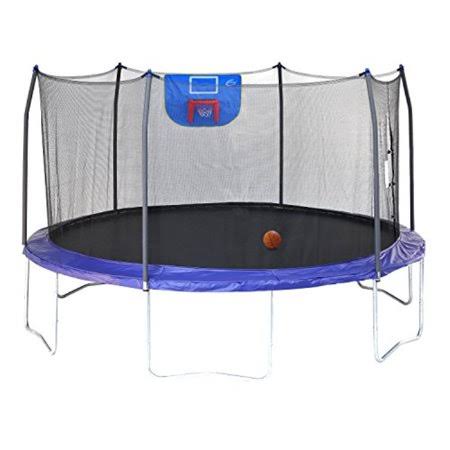 Pros
Patented No gap enclosure
Fun round shape to enjoy your trampolining
Basketball feature
Cons
Hoops are loosely built
Less warranty period
A trampoline with a basketball feature but more important than that are all its carefully wrought safety features. The no gap enclosure adds a layer of cover to protect from out of area tumbles and finger or foot traps, in addition to the net. It allows kids to enjoy and have a good exercise. Springs that are used are galvanized for rust resistance. Plus, frames are fortified by a T-socket that keeps them more stable and durable. The mat shape is round and brings in the fun and excitement of trampoline-jumping.
4. Clevr Kids Trampoline with Safety Enclosure Net – Design-friendly trampoline for kids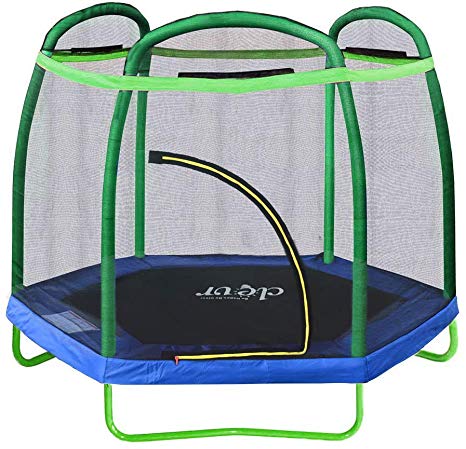 Pros
Attractive design and colors
Impact-absorbing padding
Creative zipper for the trampoline
Cons
Frames are closer to the jumping surface
Small space
Attractive colors of green/blue or orange/blue makes this trampoline attractive for kids. It stands at 7 ft only, quick to set up and is not intended for adults. Built with an impact absorber padding, it's going to be safe for kids to play in, and jump around, not to mention the heavy-gauge steel frame that keeps your trampoline standing and very stable. Safety nets will assist in protecting your kids for parents not to worry. Lastly, it's relatively easy to set up and takes no time at all.
5. Bounce Pro 12 ft Trampoline w/ Flash Light Zone – Trampoline with the coolest feature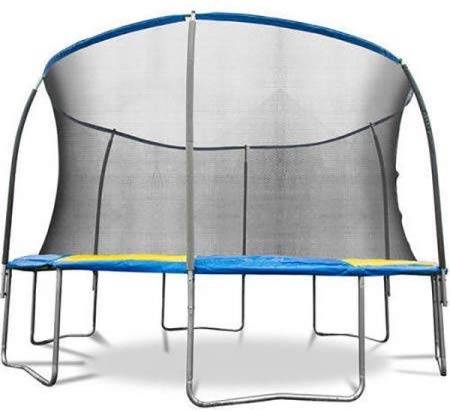 Pros
Very awesome light-up-as-you-jump function
UV protected durable mat
Trampoline size encourages play with more friends
Cons
Occupies a larger space in your backyard
High structure compared to other trampolines
Every jump is lit by Bounce Pro 12ft Trampoline w/ Flash Light Zone. Galvanized steel frame pulls the trampoline to the earth and gives it an incredible stability and structure. Mat is built with durable UV materials that enable it to take all sort of weather beatdowns. And kids can play with the trampoline all day with the lights blazing in either day or night. Plus, the 12 ft capacity encourages more friends to skip, jump, and play inside the jump area.
6. ANCHEER Mini Rebounder Trampoline – Best indoor trampoline for bonding or fitness w/ family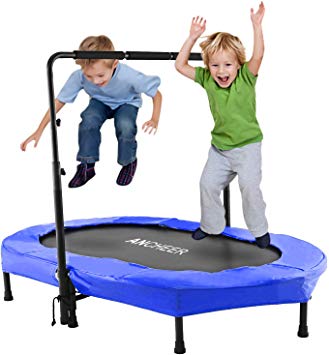 Pros
Small and safe indoor mini
Durable PP material used for the mat
Can be used by kids or adults
Cons
Can be a bit boring
Longer setup process
This one is a mini oval trampoline perfect for exercise or for fun. Its adjustable bars are foamed for a comfortable grip when holding on to it while jumping. It can be adjusted from 38 to 45 inches in height to suit young kids and adults. A good PP material is used for the durable construction of the mat and PVC material for edge covering that will take care of water splashes or sweat. As long as the kids are watched over by their parent, and they hold on to the bar and jump carefully, it will be safe.
7. Jumpflex Flex100 City 10ft Trampoline – Best Weight Capacity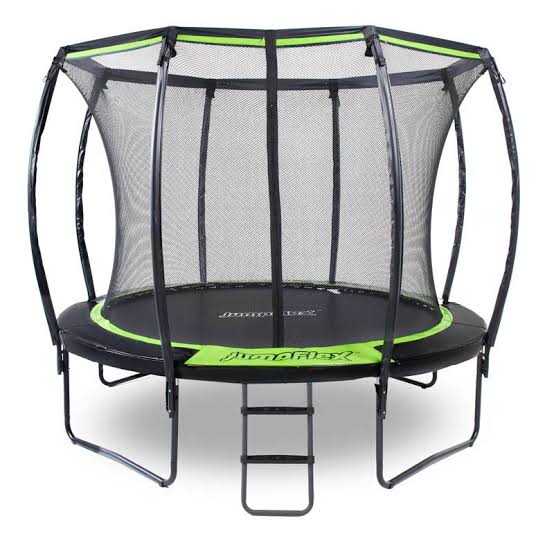 Pros
It offers a 10-year warranty for the frame
Higher, smoother jumps
Holds a max of 250 kg of jumpers
It can be used by children and adults
Cons
Jumpflex has got many things to boast for: a 10-year warranty for its frame that is also rustproof and UV protection coated. Its no-gap safety net is bonded to the mat from end-to-end, and having high tensile springs to hold up to a 150 kg which at that number is even unrelenting. Since the metal poles are one of the causes of injuries, every pole is curved away for Jumpflex from the net to reduce chances of an injury or accident. Not only does it have all these features, but it scores a lot of points on design as well with neon green and black, cool to have in your backyard.