7 Best Treadmills in NZ New Zealand Reviewed: Buying Guide
Jogging or running is great exercise for a healthy body, but what to do if you have no place to go for it? No problem, because today, we have the best treadmills in NZ New Zealand for your home fitness room.
Now, there are a lot of things to consider when looking for treadmills for sale in NZ. Storage-wise, for instance, you can have a foldable treadmill in NZ, or a non-foldable one, each with pros and cons.
The former are more space-saving and lightweight. On the other hand, the latter are more stable but less convenient.
That's just the tip of the iceberg too when it comes to the factors in your decision in choosing the best treadmill in NZ for you. You may also want to look for things like a touchscreen, smartphone holder, inclines, etc.
Whatever features you do want in particular, the fact is that you want quality in every part of the treadmill you buy. That's why we've decided to help by lining up the best treadmills in New Zealand!
The Best Treadmills in NZ Reviewed
1. NordicTrack Commercial Treadmill (Model 1750)
Best Overall Folding Treadmill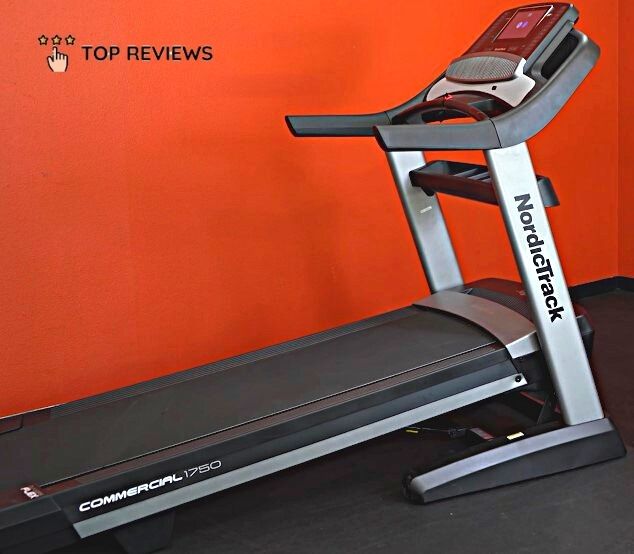 Price: NZ$3135
If you're a fitness enthusiast and looking for a NordicTrack treadmill in NZ, you should consider this one.
Get the NordicTrack Commercial Treadmill 1750 to instantly convert your home into a gym. This enables you to walk, jog, or run for speeds up to 12 mph.
Noise indoors is brought down considerably with a 3.75 CHP DurX Commercial Plus motor. And with the quality it has, it's going to stay with you for a long time.
The 22 x 60" belt accommodates even taller runners or longer striders easily. In addition, you can choose the size of your screen and use iFit with expert trainers that will digitally set up your speed, incline, and recovery live.
Once you're done, this foldable treadmill in NZ can be easily stored. Hands down, this is one of the best treadmills in NZ if you want to have your space and workout too!
Highlights
Up to 12mph
Uses 3.75 CHP DurX motor
Includes iFit subscription for a year
Foldable to take up less space
Customer Reviews
Negative reviews point to the hidden costs of iFit subscriptions, mid-workout stops, and occasional rebooting just to get the treadmill started. Yet there were still more positive reviews from satisfied customers.
A.C. Lunn, for instance said:
"This eliminates all excuses; it's raining, it's too cold, it's too hot, it's dark, etc. It's right in my living room! I have no excuses now, PLUS I paid over $1,800 for it! If you can afford to throw away $1,800, you're a luckier person than I am. This treadmill is comfortable, can easily fold, has a bright display, and you can hook up your iPod/MP3 to the consult as well. The fans work well, too (two settings). This treadmill was well-worth the purchase price. DEFINITELY have it professional assembled though; it was only $68. I do not recommend attempting assembly yourself! Nice job, NordicTrack."
2. Horizon T101 Folding Treadmill
Best In Cushioning Folding Treadmill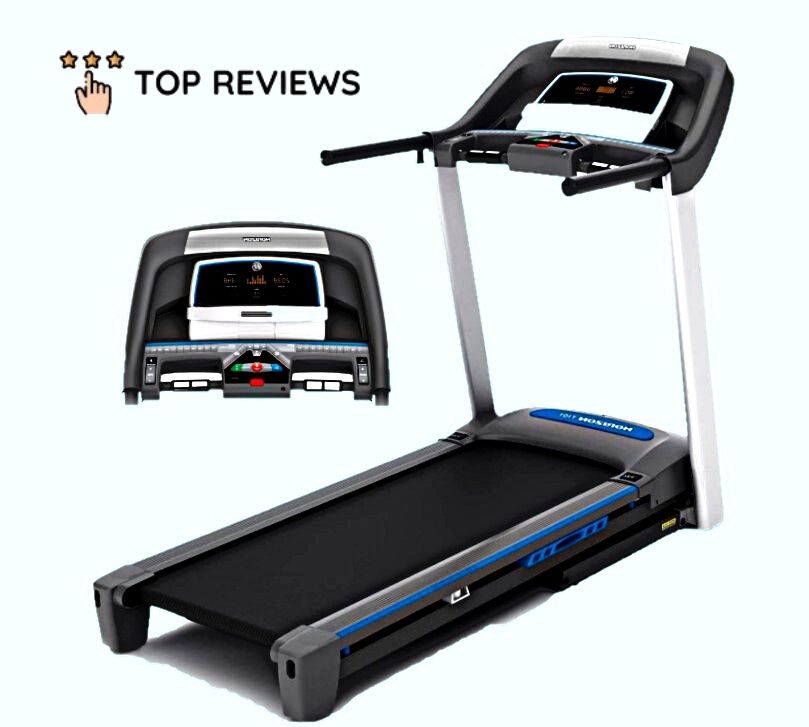 Price: NZ$1047
If you prefer a foldable treadmill in NZ that does not require an entire village to actually fold, pick the Horizon T101. After your program, you simply fold it up and just like that, it's ready to be put aside and stored.
It operates with a 2.5 CHP motor that lets you run at speeds of up to 10 mph. This makes it perfect for improving your performance for that upcoming fun run event or marathon.
Rest assured, you'll be able to take care of your knees too because of the 3-zone deck cushioning. Even if you're pushing your runs and working hard, it's going to accommodate you.
As you run, your iPad stays perfectly secured in its dedicated holder. And you have fans to cool you and speakers to play some tunes via Bluetooth!
Overall, if you want an easily portable foldable treadmill that's not jarring to the knees and joints, then the Horizon T101 is the best treadmill in NZ for you.
Highlights
3-zone deck cushioning
Energy-saving 2.5 CHP motor
Up to 10 mph
Bluetooth connectivity
Customer Reviews
The Horizon T101 has been well received by customers, who praised its speed range, quietness, convenience and the Bluetooth music playback feature. Lower scores only point out minor faults, such as the speakers and fans not working as expected for some users.
Why is this then one of the best treadmills in New Zealand for a home gym? Garth S. explains it on the Horizon website:
"I bought the Horizon T101 after my treadmill of about 10 years died on me. So far it has been fantastic. The motor is quiet as I run and the frame is sturdy. It was easy to put together and customer service was great when I had a few questions about belt tightening. My only real complaint so far is that the speaker is a bit soft but that is minor and rather secondary to the actual purpose of the machine. So far so good!"
3. NordicTrack T 6.5 Si Treadmill
Best in Portability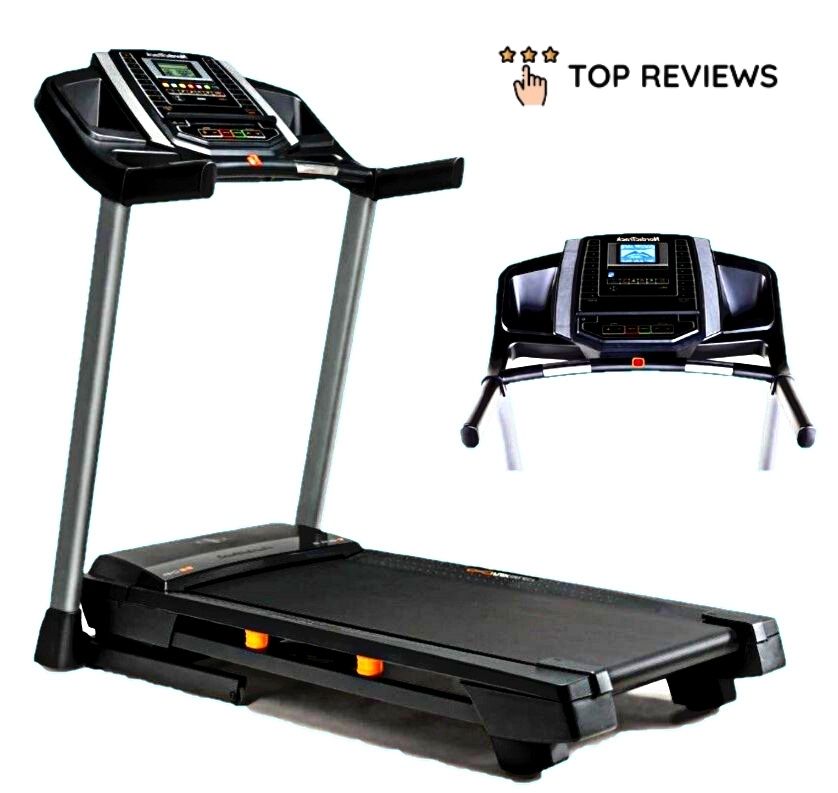 Price: NZ$1743
If you've been searching for a NordicTrack treadmill in NZ that can give you a good workout but is still light and slim in design, then you'll find this of interest.
You can add some variety to your training with the NordicTrack T 6.5 Si. With speed and auto-incline options to burn those extra calories, you can work out to your heart's content on this machine.
This light framed, ultra slim model is fitted with a 2.6 CHR DurX motor that's designed to reduce vibration as well as keep itself cool for longer and better runs.
You also have a 10" high-def touchscreen where you can personalise your training to suit your fitness goals.
Buying this also gives you a 1-year iFit subscription that gets you going and moving in real time with globally renowned trainers.
Furthermore, an ultra-portable design lets it be folded and lifted up easily. This maximises your space and lets you put it away in a jiffy.
Highlights
Powered by 2.6 CHR motor
Comes with 1 year iFit membership
Self-cooling technology
Easy fold-up for portability
Customer Reviews
Customers mostly left nice reviews for the NordicTrack 6.5 Si. They liked that it has soft cushioning, inclines that adjust automatically, and great weight burning capacity.
However, some of the owners also didn't like the iFit membership, or the speakers, which they said blared out too much sound.
Here's one review to show why this made our best treadmills in New Zealand list:
"I love the treadmill. The cushion while running is great. Machine works wonderfully and have had no issue mechanically. The IFit integration has is excellent. I love the workouts and it really keeps me engaged. The problem I have is specifically with the ifit system. Sometimes when I schedule workouts, the tablet will tell me the scheduling isn't working. There is no search function or any way to narrow the workouts to weed out what I don't want. Technologically, there could be a lot of improvements. The idea itself is spot on though."
4. Sole Fitness F80 Folding Treadmill
Best for Running Inclines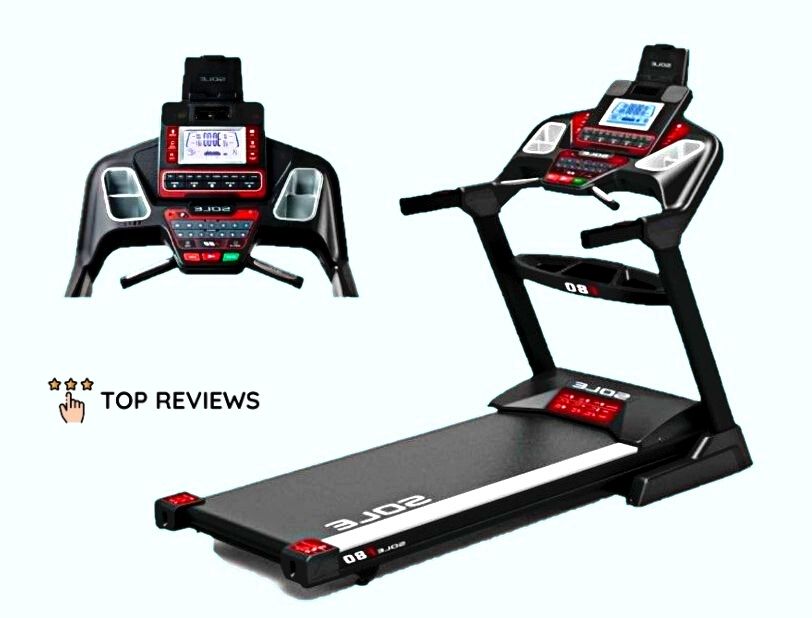 Price: NZ$2615
Getting back in shape? The Sole Fitness F80 is all you need.
It uses a 3.5 HP motor that operates quietly and efficiently whilst providing 0.5mph up to 12mph of speed with no fuss.
It's also safer and gentler for your knees than most others, thanks to the Cushion Flex Whisper Deck. And the 22 x 60" will fit most runners—competitive or casual—that use it.
You have a sleek, LCD control panel that directs your treadmill settings such as running speed, calories burned, distance, and incline level.
And it has more than enough receptacles to hold your smartphones, tablet, water bottle or towel. You can also charge your devices anytime with the supplied USB charging port.
Whether you're a beginner adding some mileage in your runs or want to do incline training for a trail run or competition, this is one of the best options for treadmills in NZ for you.
Highlights
Very efficient 3.5 HP motor
Up to an intensive 12 mph speed and 15-setting incline
Multi-pocketed to hold your belongings
Foldable design
Customer Reviews
Owners of this treadmill were very positive about it in reviews, saying in particular that it felt good and sturdy to run on. However, there were still critiques, as others found little use for the fan, some found broken parts, and another said it suddenly stopped working.
A reviewer from Dick's Sporting Goods, cbHoo says:
"This treadmill is well built. It may not have all of the electronic bells and whistles that come on some other treadmills (like the Nordictrack) but if you want a rock solid treadmill that is built to last (bigger motor, larger rollers, better belt, great warranty) than all others in its class, then this is the one for you. For those with a lower ceiling, this Sole has one of the lowest deck heights you will find out there. I am very pleased so far and expect many years of great service from this treadmill."
5. ProForm SMART Performance 600i Treadmill
Best All-Rounder Folding Treadmill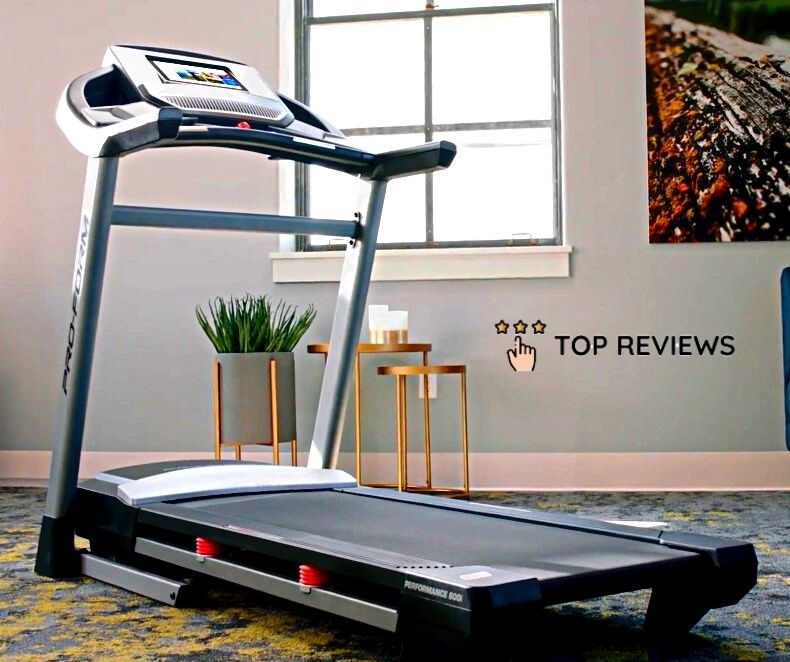 Price: NZ$2149
Next up for our list of the best treadmills in NZ New Zealand for a home gym is the ProForm SMART Performance 600i. It includes an iFit app that will take you far around the globe in spectacular locations to shed those pounds.
It uses a 2.5 CHP motor that rotates its belt, reaching 12 mph. Space isn't a problem as well with its compact 55 x 18" size that you can fold up whenever you're done.
It also has a cushioned deck that's better for your joints, especially if you're a competitive runner or just taking it easy. The deck is made with ProShox technology.
For music lovers, this also offers the ability to listen to your rock, hip hop, pop, or classic hits with the dual speakers. Alternately, you can connect your phone via Bluetooth.
Highlights
Well-built and compact
Equipped with a 2.5 CHP motor
ProShox cushioning technology
12mph max speed
6. ProRunner Vision LCD Treadmill
Best For Preset Workout Programs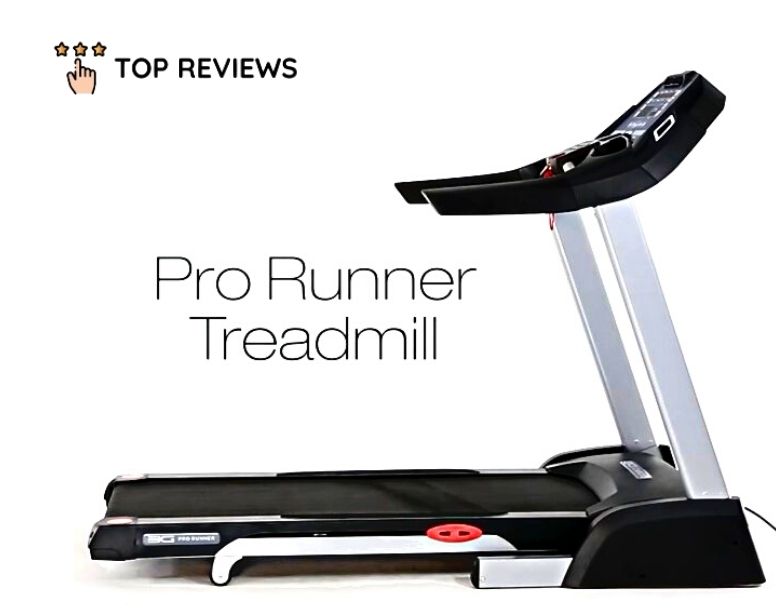 Price: NZ$1799
Doing the same routine every single day can get a little boring. Luckily, with ProRunner Vision Treadmill, you have 36 preset programs to choose from… or you can just set it based on what you need to work on like speed or distance.
It goes all the way up to 12mph. You will also be protected from constant pressure that's put on your joints while running with a smart, impact-reducing design.
Together with that, you have a neat-looking LCD screen that details your calories, body fat, pulse, speed, and distance travelled. Toggle up or down options to get whatever you need.
In terms of portability, it has effortless fold-up as well.
Overall, if you want something that is portable and also want variety in your running workout, then this is one of the best treadmills in nz for you.
Highlights
Offers a max speed of 12 mph
Retro, simple LCD screen
With wheels for easier moving
7. Cluster Fitness Cluster Runner
Best For High-Intensity Interval Training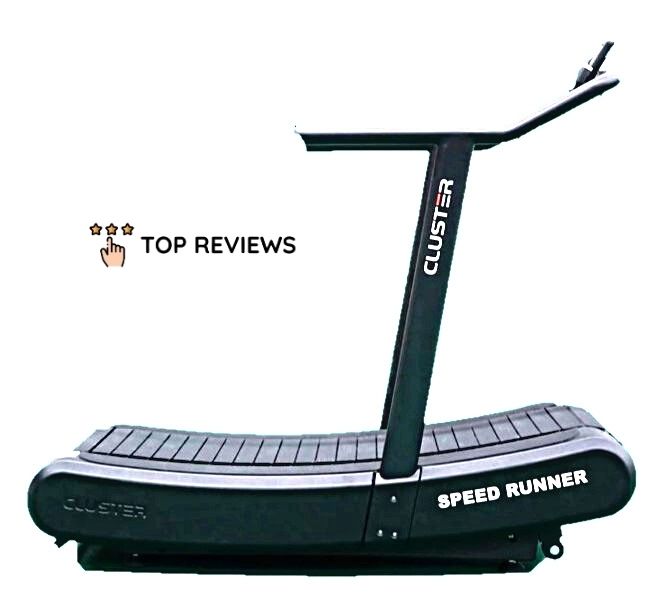 Price: NZ$4499
Next on our list is Cluster Fitness' Cluster Runner. Unlike the other options on this list, this treadmill is formed with a concave shape and is powered solely by the user's legs.
The shape of the treadmill itself can be off-putting for beginners, but after some time many finds that it helps not only in one's journey to achieve better physical health through weight loss and muscle training. No, the Cluster Runner is an essential tool for correcting the posture given that the curve forces the user to maintain a proper one to prevent off-balancing.
If you're serious about running or an athlete training off-season (or just want to train like one!), we really think this is the best treadmill in NZ for you.
Highlights
Engages more muscle groups
Less harmful on the joints
Helps burn calories faster
And that's it for now for the best treadmills in New Zealand. What better way to complete your home cardio than getting a folding treadmill like the products we mentioned?
Of those that we listed, which did you like? If you have any questions or even recommendations that we never included in this list, send us a quick message and let us know!
If you want prime nutrition to go along with your training, you may want to read our list of the best meal replacement shakes in NZ.
Of course, you might like to enjoy the sun and go biking too if you want some outdoor activity to go with your home fitness regime. You might want to check out our article for the best bikes in New Zealand too, if that's the case.