The 8 Best Trundler Beds in New Zealand
Trundler beds are a space-saving option to accommodate guests staying in for the night. But if you're not quite sure what to buy, we can help you with our list of the best trundler beds in New Zealand!
You can find a great range of trundler beds in home and living stores or online. However, how do you know which of them you should get that can solve your needs?
No worries about that, as we'll delve into the basic things you need to look for in a trundler bed before we give you our list of the top ones.
You don't have to go through it if you already know how to pick a bed, though. Feel free to skip right to the best trundler beds in New Zealand if you like!
How to Buy a Trundler Bed
While some people think getting a trundler bed is simple, things couldn't be farther from the truth. You need to consider a lot of factors to get a decent one!
To be precise, these are the things you need to look for before you get a trundler bed:
1) Comfort
Of course, the first thing you should check is if the foam or mattress is comfortable since you, your family members, or your guests will be sleeping on it a lot of the time.
You want to check out the material that the mattress is composed of. Those with springs are built to last and offer great support for your body, particularly your back. They're preferable to foam options, which tend to compress and go flat over time.
But take note that not all spring beds perform the same. Some have springs placed throughout the mattress, some are pocketed, and others are connected and work as a unit.
Most of the ones in this list are of the spring variety. They are brilliant options for a trundler bed — and yes, they feel comfortable and relaxing.
2) Durability
Next to being comfortable, the trundler bed should be durable. Trundlers aren't cheap, so you want to get your money's worth.
Be aware of the maximum load of the frame, just to be safe. Knowing this can help you to select the right one for your guest or relative, and be confident about your choice.
3) Value for Money
You can get a great trundler bed from $600 to $2,000. Most options that are cheaper aren't durable or comfortable and most options that are pricier aren't worth the added cost.
4) Ease of Assembly
Being easy to assemble makes your trundle bed incredibly easy to use, which can be a relief when you need it ready in a pinch.
It should at least include detailed instructions in super easy-to-follow format so you can use your trundle bed without delay. Images or pictures in the manual are generally good!
5) Warranty
In case there's an issue with your trundle bed, at least you're covered with a warranty. Rather than spend on repair and replacement costs, you can just invoke the warranty and let the manufacturer or vendor handle the problem.
For assurance, you should pick those with several years' warranty, at least. Anything above 3 years is pretty good.
6) Extra Features
Small things count too with a trundler bed's extra features!
These may be castor wheels on the trundle bed so you can roll it out easily. They can also be extra storage drawers for keeping your clothing, bedsheets, duvets or other belongings.
These aren't generally necessary, of course, but they're nice to have. And if you have 2 trundle beds that are more or less equal in all other respects, these can help you choose one from the two.
The Best Trundler Beds in New Zealand
Now that you know the essentials when buying a trundler bed, here are the best trundler beds in New Zealand!
1) Bailey Captain's Single Bed Frame with Trundle
Best Trundle Bed for Kids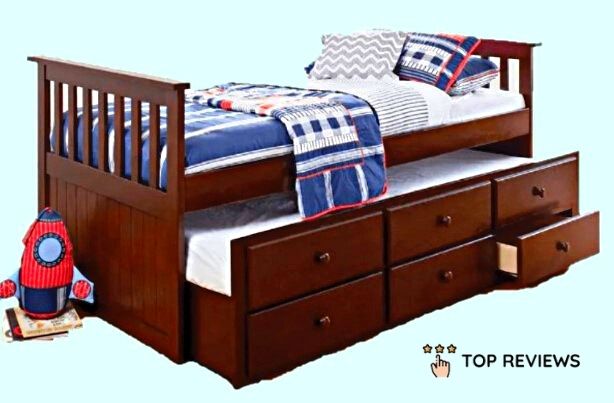 Price: $631
John Young Furniture's Bailey Captain Trundler Bed is a great addition to a kid's room. It is elegant, solidly-built, and space-saving — a product that has the whole package.
Your kid will relax and sleep comfortably in this bed. A trundle from underneath makes it possible for siblings to be together and share their stories each night.
There are three pull-out drawers in the lower section while the uppers are just for decoration. This can be used to stow their belongings like books and toys.
You'll be impressed with the slat quality, as customers have said. And although the bed is higher than other trundler beds, it's not a big deal.
Mind you, the bed covering, mattresses, pillows or blankets aren't included with this purchase. And there are two colours to choose from, merlot (as in the above picture) and white.
Pros
Sturdy and well-built frame
Elegant and space-efficient
Has three storage drawers
Great price
Two colours to choose from
Fantastic trundler bed for kids
Cons
Takes time to assemble
Higher than other beds
Customer Reviews
MimiBrown wrote a very helpful review on Harvey Norman:
"I managed to put this sturdy bed together all by myself with easy to follow instructions although hand screwing the slats to the frame did need patience as there were a lot of screws. In saying that the slats are strong and don't move about supporting the mattress wonderfully. I love the three draws on the lower row the top three are faux but finish the look of a bed that is very comfortable and stylish for my grandchildren…"
2) Kiwi King Single Trundle Bed by Englander
Best Overall Trundle Bed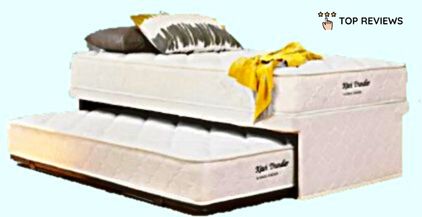 Price: $899
Available Now On Harvey Norman
Have a friend or family member sleeping over for the night? Well, with the Kiwi King Single Trundler Bed, you'll be able to accommodate them and make them feel at home!
The set consists of a Bonnell Spring King Single mattress and a single trundler bed. This provides superb comfort and support for the body.
The amazing thing is that you can use the trundler bed level with the ground, or raise it on its stable legs for height. Once done, you just slide it back under the bed frame.
Kiwi-made and versatile, this product's quality is top-of-the-line and really solid. And to prove that, you are provided a 5-year warranty that can come in handy.
As you can see, Englander's Kiwi Trundler bed fits the bill when looking for the best trundler beds in New Zealand.
Pros
Extremely comfortable and neat
Bonnell Spring type mattresses
Value-giving price
Easy to set up and use
Proudly made in New Zealand
5-year warranty
Cons
Customer Reviews
Customers are raving about this trundler bed on Harvey Norman. They mentioned that it's super comfortable, reasonably priced, and correctly sized. Basically, they love it!
Granny C posted a review:
"I purchased this for my spare room and it has had plenty of use over the summer. Because it can be two separate beds and also used as a double it is great no matter who visits. The beds are both equally comfy and the trundler is so easy to roll out and raise up. I would recommend this to anyone needing a spare bed."
3) Dream Support King Single Trundle Bed by Sleepmaker
Trundler Bed with Best Warranty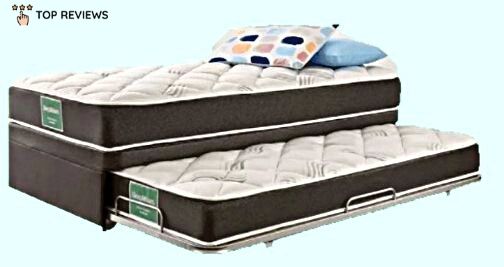 Price: $1,549
If you need a trundle bed that offers tremendous support for your hip and back after a hectic and stressful day, then you should get the Sleepmaker Dream Trundle Bed!
This trundle bed set comes with a King Single bed and a Single trundle mattress underneath. It features a Miracoil Spring structure that offers regioned and cradling hip support.
Not only that, but you'll feel really comfortable with the soft wool layer. At the same time, it lets you feel cooler or warmer, in line with the seasons.
With metal handles and castor wheels, the trundle bed is very easy to pull out as opposed to others. This can also be set up to stand higher on its legs for those used to it.
Its unparalleled quality and usability is justified by its higher price point. Being made in New Zealand assures that the design fits Kiwi lifestyles and homes too, something you can trust.
Best of all, the manufacturer stands behind their word with an industry-leading 10-year guarantee! It's pretty hard to find better than that!
Pros
Remarkable comfort and support
New Zealand-made
Miracoil Zoned Spring mattresses
Trundler has metal handles and castor wheels
Industry-leading 10-year guarantee
Cons
Customer Reviews
At the time of writing, all of the customers who bought this on Harvey Norman scored this product 5 stars. They said that it's been wonderful for them in terms of support and comfort.
One also liked that the trundler bed stands up to full height and is great for guests. One, Lynette, mentioned the Sleepmaker Dream Support:
"This bed is super comfy. And ideal for a room where we can either make it up to a double or have as two singles. Perfect for our small home."
4) Sleepyhead Classic Sleep Over Trundler Bed
Best for an Eco-Friendly Trundler Bed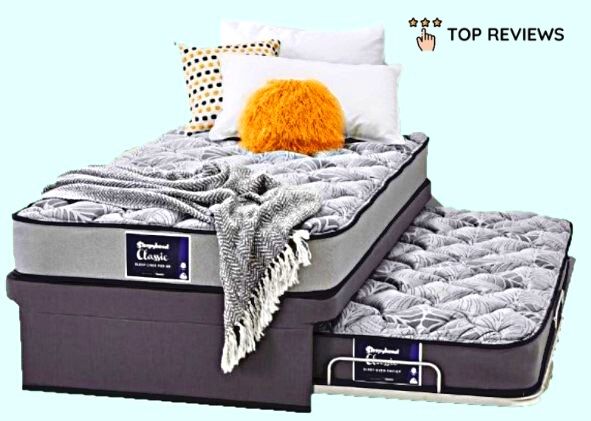 Price: $1999
The Sleepyhead Classic Sleepover Trundler Bed has a space-saving and eco-friendly design that makes it excellent to have in the guest or kid's room.
Its Duracoil springs provide top-notch stability and support for the entire width of the mattress. Its woven fabric adds a neat and stylish touch that matches with your decor too.
Like the others, you get a spacious King Single bed along with a trundle bed neatly stowed under it. The latter can also pop up to full height and upsize your King Single.
It also features Dreamfoam, a patented foam layer engineered from eco-friendly materials. If you care about the environment, this would be a terrific trundler bed.
And for a no-stress mindset, the product is backed by a dependable 5-year warranty.
Pros
Offers top-notch stability and support
Unique and durable woven fabric
Eco-friendly design
100% Kiwi-made product
5-year warranty
Cons
Relatively higher-priced than other products
Shorter-length mattress
5) Wonderest Origin Pop Up with Trundle Bed
Most Comfortable Trundler Bed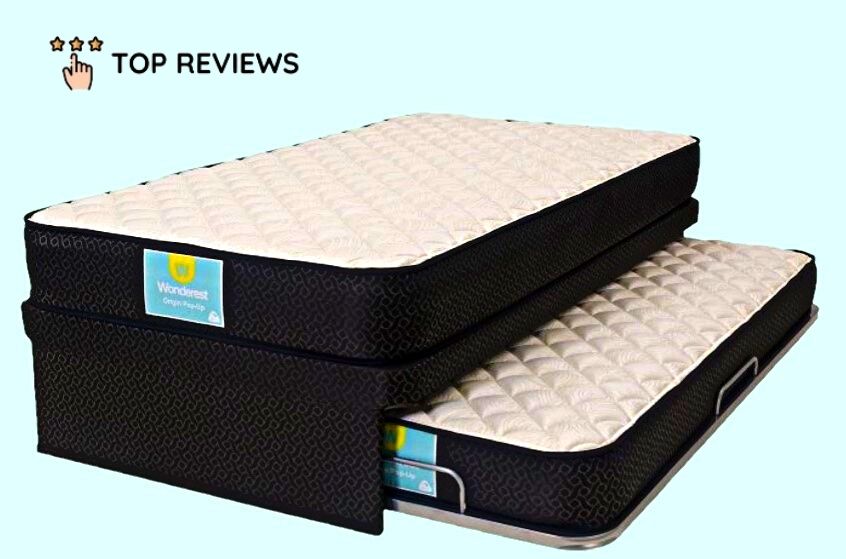 Price: $999
For a stylish and resilient trundle bed, we highly recommend the Wonderest Origin Pop Up Trundle Bed. It's certainly another one of the best trundler beds in New Zealand.
The quilted layer of the mattress brings robust support and comfort in your sleep. Since it's breathable, it can keep you cool when it's hot and warm when it's cold.
In addition, the sleeping surface has inner coil springs distributed evenly across the bed. So, whatever position you lie down or sleep, you feel utterly comfortable.
All premium-quality products come with a product guarantee with them — and it's no different with Wonderrest: you're guaranteed wonder in your rest for up to 5 years.
Caring or cleaning for this mattress is simple and easy as well. And its black and white colour scheme seamlessly blends into any home.
Pros
Quilted layer providing robust support and comfort
Breathable sleeping surface
Great for all body shapes and sizes
Easy-care mattress
5-year product guarantee
Affordable price
Stylish design
Cons
Trundle bed can't stand up for added height
6) Sleep Star Trundler
Best for Lumbar Support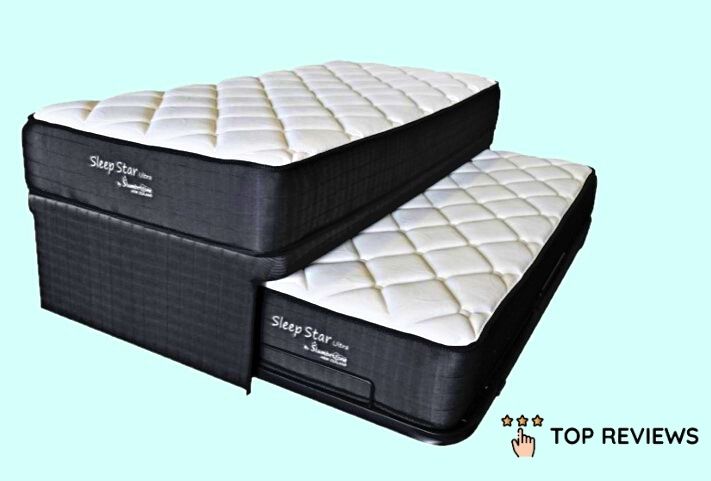 Price: Enquire for more information
The Sleep Star Trundler bed is perfect for accommodating guests or friends during sleepovers. It's space saving and comfortable in either configuration.
The high density foam is perfect for providing the optimal level of lumbar support for its users. You won't need to worry about moving around either — its 8 inch pockets help reduce partner disturbance.
Unlike other trundler beds, the single can be raised to the king single bed's level for a larger area. This bed is made of breathable fabric, perfect for a good night's sleep.
Pros
Breathable stretch knit fabric
High density foam
Great lumbar support
Maximum sleep surface
Cons
7) Pull Out Bed with 13 Slats
Best for Minimalist Design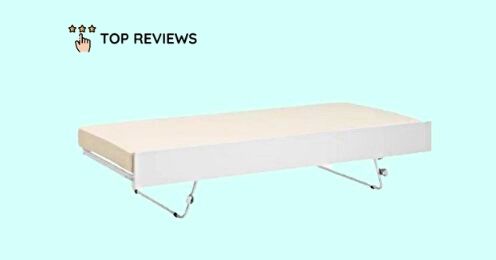 Price: $600.00
The Pull Out Bed with 13 slats is perfect if you want to go for a neat and clean design for your room. It features a bed that is plain white and minimal in design.
Made of pine wood and steel, this bed is sturdy enough to support you as you sleep. The pull out part raises to match the level of the base bed — perfect for if you want a wider surface to sleep on.
It's easy to pull out and keep thanks to its simple mechanism. Surprise guests won't need to worry about where to sleep with with this bed.
Pros
Low bed height
Simple design
Sturdy structure
Pullout has same height with the base bed
Cons
8) Classic Trundle Bed Set
Best Value for Price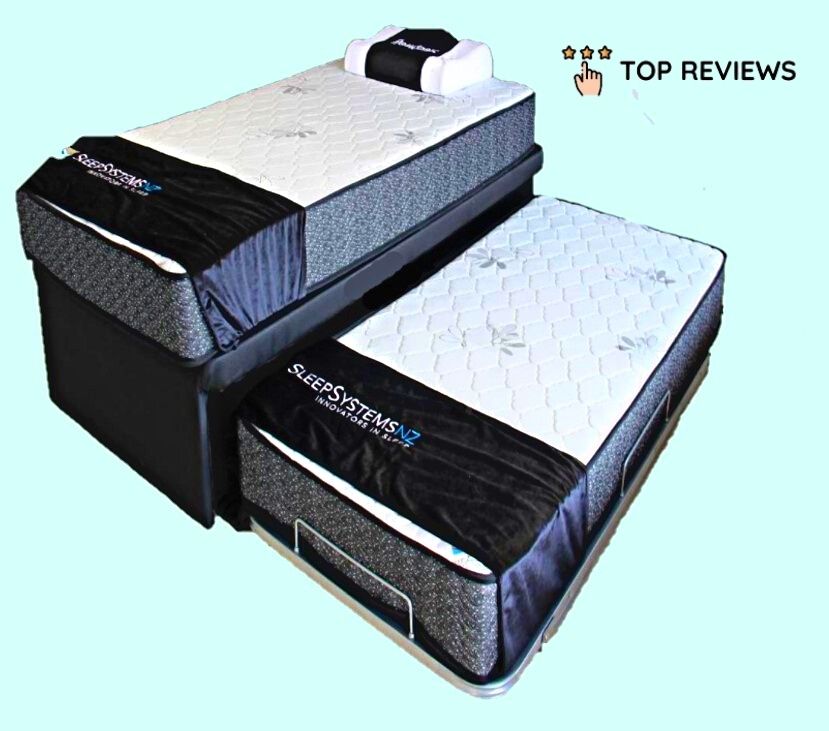 Price: $899
Get Yours On SuperPrice Furniture
The Classic Trundle Bed Set is a quality bed that's available for incredibly low prices. It boasts quality upholstery, made to New Zealand's high standards.
It features a King Single mattress for the top bed, while the lower mattress is a Single. Both beds are guaranteed to be comfortable and sturdy.
It's available in two types of mattresses, a tight top mattress and a pillow top mattress. No matter what you choose, you can rest assured that it won't be as pricy as you think.
Pros
2 sets of mattresses available
Quality materials
Excellent value
Extremely low prices
Cons
Only comes in one color scheme
Anyway, those were the best trundler beds in New Zealand! When it's nearing the holidays and you know a friend may come and sleep over, you can buy these extraordinary trundler beds in advance!
So far, has the discussion about trundler beds been crystal clear? For questions, opinions or suggestions, you can drop us a line, and we'll get right back to you in a bit.
To keep your visitors warm, dry and cosy, you may also want to install a heat pump. In this case, you can read about the best heat pumps Auckland installers.