The 6 Best TV Cabinets in New Zealand
Are you in search of minimalist and sleek TV cabinets? If your answer is yes, then we believe we can help you out as we are listing the best TV cabinets in New Zealand today!
Now, there's a humongous range of TV cabinets out there. That makes it all the more confusing for buyers, with regard to their different features and prices. Which of them should you get?
We'll help. Today, we'll guide you through the fundamentals of buying a TV cabinet first. However, you can freely skip this part if you want and go directly to our list of the best TV cabinets in New Zealand.
How to Buy a TV Cabinet
When you shop for a TV cabinet, you should take note of the features below. Note that these aren't in any particular order as you can actually jumble them according to your priority.
1) Design
This boils down to preference. You should think carefully about what may fit best in your home and your tastes… but generally, you can't really make a wrong choice here.
Our picks for TV cabinets are centred on Scandinavian design, which is minimalist by nature without compromising style. They are made of authentic oak wood for a classy texture and look that can be very versatile, design-wise.
2) Durability
Another critical feature to look for is durability of the furniture. This goes not only for the stability of the TV cabinet alone, but of the integrity of its surface, parts, etc.
Try to avoid cabinets made of flimsy materials, like cheaper MDF variants or very thin plywood. These will break faster than others, so you won't get your money's worth.
Then there are lacquer wood types that can give the cabinet a natural wood grain finish. Depending on the wood use, they can be fairly durable… Unfortunately, these can yellow over time, especially if placed near or in direct sunlight.
You can also choose ones with a veneer, which provides your cabinet with a beautiful finish and resists warping. For this type, natural wood variants are generally much more appealing and can be refinished.
This is actually why all the cabinets we chose for this list are made of solid, natural oak wood. This in itself provides remarkable durability that will last for a quite a while.
3) Size
You have to check or estimate the dimensions of the space where you will put the cabinet. Otherwise, you may end up with a cabinet you can't use!
Another helpful indicator is the size of the TV you're going to get. Whether you plan to wall-mount your TV or set it on the cabinet, this is really important as well.
4) Storage
TV cabinets typically come with an open space so you can place your Apple TV or Blu-ray player in them. You'll also find drawers or cupboards for holding various stuff and accessories.
TV cabinets have a wide range of storage designs. For some, the storage is traditional and simple, whilst for others, it can get more creative (think: hidden cupboards and the like).
You may want to look in particular for those with cable management systems as this can organise the cords you use to connect to your TV. That will make your cabinet look neat and tidy.
5) Price
Wooden cabinets cost way more than particle board, MDF, and plywood varieties. However, they are also the most durable, elegant and usable for the many years ahead.
Of course, the higher the price of the cabinet, the more you should expect from it. Look for a warranty just in case the product delivered to you is defective or has been damaged. Look for quality materials as well (solid wood, solid steel or aluminium frames, etc.).
While the cabinets we listed below are in the $1000-up price range, they will surely offer you value for money.
The Best TV Cabinets in New Zealand
Now that you know what you should look for in a TV cabinet, allow us to present to you the best TV cabinets in New Zealand!
1) Woodenforge TV Unit
Most Durable TV Cabinet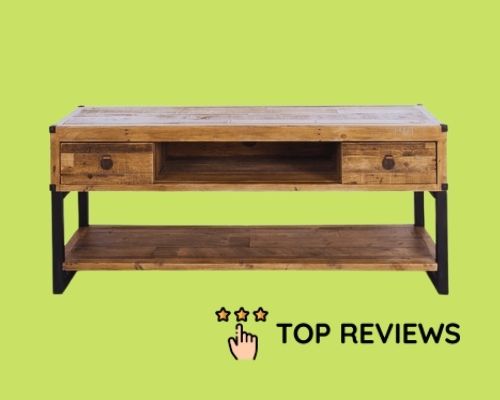 Price: $1199.99
Great partnerships often bring out the best in each other, such as that of PGT and Furniture By Design. Together, they were able to craft this elegant and eco-friendly TV unit.
Part of the Woodenforge dining series, the Woodenforge TV Unit sports a polished, natural-looking timber surface complemented by black metallic legs and quaint pull-out drawers.
Its timber material is certified by the Rainforest Alliance and sourced from FSC forests. This ensures the wood supply from these forests won't be harmed as much as possible.
But don't miss the little details in the leather-capped corners and the subtle beauty of the Woodenforge cabinet. Your new flatscreen TV will immediately call this furniture home!
Sustainable, sensible and magnificent, this surely is one of the best TV cabinets in New Zealand that you can have!
Pros
Exquisite piece of furniture
Sustainably sourced timber wood
Very durable
Two pull-out drawers
Fits right in with your home interior
Cons
Expensive
Heavyset furniture
2) Palliser TV Unit
Best TV Cabinet for Small Rooms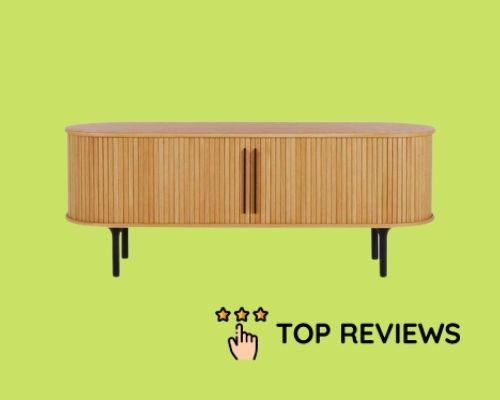 Price: $1,397.99
Want a fresh, space-efficient TV cabinet for your living room? The Palliser TV Unit is just the thing you need! It has a low-profile look with oak slatted doors that opens roundly, and classy timber legs.
When opened, you can find the storage is divided into 4 extra-wide spaces that can house your Blu-ray discs, books, souvenirs, organisers, personal gifts and memorabilia.
This minimalist TV cabinet is marked with well-thought out and flawless craftsmanship from the main design right down to the details, like its elegant, sturdy door handles.
More importantly, the oak material provides it with a durable structure that will stay with you for generations — and yet it never goes out of style considering its timeless appeal.
Bottomline, this is great for those with smaller living rooms or personal rooms. That's because it takes up only a small amount of space, whilst projecting a creative and stylish personality!
Pros
Modest and minimalist design
Nice attention to detail
Slatted oak cabinet door
Roomy storage
Durable structure
Great for smaller living or personal rooms
Cons
Too small for bigger TVs
The door has to be opened fully to get items on the side
3) Oslo TV Unit
Best Overall TV Cabinet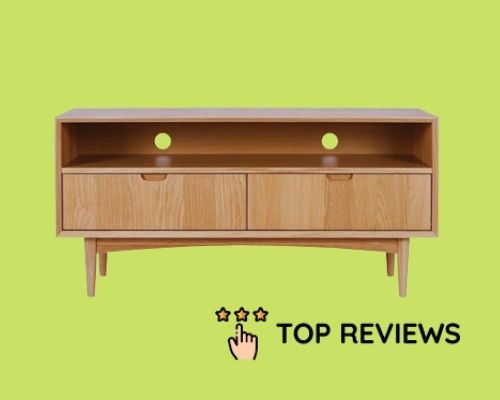 Price: $1,159.99
Belonging to the Oslo range, which takes a bit from both classic and Scandinavian styles, Oslo furniture like this TV cabinet is a perfect epitome of beauty in simplicity.
It's where traditional meets modern and practicality meets style. The block shaped cabinet pairs attractively with the graceful joinery of the oak legs.
On the space below, there are cord organisers, great for your Blu-ray or gaming consoles. Meanwhile, you can stow your remotes, accessories and magazines in either one of the drawers.
Your TV can be set on the tabletop or wall-mounted (which can save you more space), depending on your choice. But we recommend just putting it right on top to keep it simple.
In sum, an affordable price point and fantastic quality sets it apart from the rest of the pack. That's why we recommend it to those who want a great bargain!
Pros
Simple and stylish furniture
Inspired from Scandinavian and classic styles
Lots of storage
Affordable price point
Space-saving and durable
Cons
4) Linea TV Unit
Sleekest TV Cabinet Design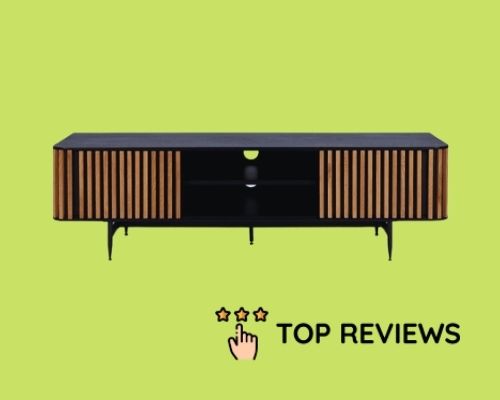 Price: $1,149.99
It's quite possible that you haven't seen anything like the contrasting elegance of the Linea that oozes cutting-edge coolness! This is one of the more striking options we found in our search.
The strip panels create a curious visual effect: they are actually open-sided and can be opened or closed. There are two doors in all and they close softly and without noise.
Now, what's left is the center cavity, which is empty and dark but beautiful, with a cord organiser situated behind. Note that the center shelf can be adjusted too.
The wide surface plain allows you to set up a widescreen TV, and while you're at it, you can display your favourite items, figurines or knickknacks.
For these reasons, we think that it's one of the best TV cabinets in New Zealand. And we are sure your guests will be in awe of the cabinet from top to bottom!
Pros
Forward-thinking design
Two soft-closing cabinet doors
Great price
Cable management at the back
Wide space for your TV
Excellent quality product
Cons
Not suitable for placing a lot of items inside
5) Flow TV Unit
Best for Value TV Cabinet
Price: $1,349.99
Just add two hundred bucks more to the prevous option and you already get the pleasing, contemporary Flow TV Unit! It features attractive round edges, brushed metal joints and tonnes of storage.
Made of oak material and veneer, the Flow TV unit is durable and stable. Apart from that, it is finished with a matte coating for an elegant finish as well as for surface protection.
Unlike other TV or entertainment units that compromise storage for style, Flow TV furniture is cleverly designed to store your items, manuals, books and accessories.
Incidentally, Flow is a wondrous emphasising Scandinavian practical and minimalist style. We like most of the items in it, so you may want to think about checking out the collection for matching furniture.
Pros
Pleasing, natural and contemporary design
Durable and stable
Gives value for your money
Lots of storage
Cons
6) IKEA HEMNES TV BENCH
Best for Clean Design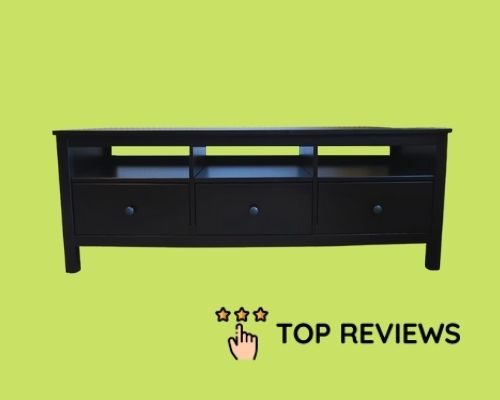 Price: $425.00
The Hemnes TV Bench is an affordable and high quality TV bench suited for rooms of all styles. It's created with solid wood and stained with white varnish, for a natural and clean look.
It has numerous drawers and shelves for storage space. The spacious compartments are perfect for DVD players and game consoles of any size.
The easy to assemble bench can be installed on any sturdy wall in your home. It can be kept clean easily with mild cleaners, so you can rest assured that it can serve you for a long time.
Pros
High-quality
Numerous storage spaces
Easy to assemble
Affordable
Cons
And with that, we conclude the list of the best TV cabinets in New Zealand. These will be phenomenal choices to have in your living room, lounge, or bedroom.
Did you like the cabinets we suggested on this list? If you have any questions or suggestions, feel free to drop us a line, and we'll get back to you as soon as we can.
Now that you have a great-looking TV cabinet, you might like to add a great-looking sound bar to that? You can read about the best soundbars in New Zealand to know more.
Or if you like to further decorate the space above your cabinet, you can also try the best floating shelves in New Zealand. You'll be able to display ornamental plants or books neatly on them.