The 5 Best TVs In New Zealand: A Complete Buying Guide
Buying a new TV for your home? You're on the right page, as we're featuring the best TVs in New Zealand here today!
A lot of thought went into this list, and we put together a list that covers the affordable to the extravagant. Whether you're looking for the ultimate entertainment system, the best smart tv in NZ or an affordable set, we've got you covered.
Later on, we'll tackle the fundamentals of TVs along with some tips on how to choose one. But we'll start off by talking briefly about how much this is all going to cost first.
How Much Do TVs Cost in New Zealand?
Getting a new TV in NZ is always a big deal – it's one of the most expensive electronic products that most people will buy purely for pleasure. Moreover, wherever the TV is set up can make or break a space.
The going rate for a decent TV in NZ with a balance between quality, size and features would be around $500 to $900. However, choosing a set has more to do with personal preference and lifestyles.
For example, gamers will opt for different TV sets as opposed to the film buff. Then there are considerations like longevity (especially considering burn-in, which tends to shorten the lifespan of TVs using OLED technology in particular).
With so many choices out there, the best way to choose the best TV in NZ for you is to give yourself a budget. From there, you can work out which features are essential and which ones you can live without.
To give you a general idea of what to expect when you go shopping for a new TV in NZ , we've summarised a few key points below.
Under $350
● Under 40 inches in size and most are not smart TVs
● Usually lower resolutions, such as 1080p or 720p
● Some have a smart interface, but most do not.
● Usually secondary sets or workhorses that don't need image quality
$350 – $700
● Average maximum size of 55-inch screens
● May have 4K at smaller sizes
● Most will have smart interfaces
$700 – $1,400
● Average size of 65-inches
● Mostly 4K with more premium features
● Will usually have HDR Support
Above $1,400
● Expect to find QLED, OLED, HDR
● Slimmer designs and bezels
● Extra features
● More connectivity (i.e. Alexa, Google Assistant)
The Best TVs in New Zealand: A Buying Guide
Now that you know what to expect at your price range when you buy a TV, we now show you our top choices for the best TVs in NZ!
1. Samsung TU7000 4K LED TV
Best Affordable 4K TV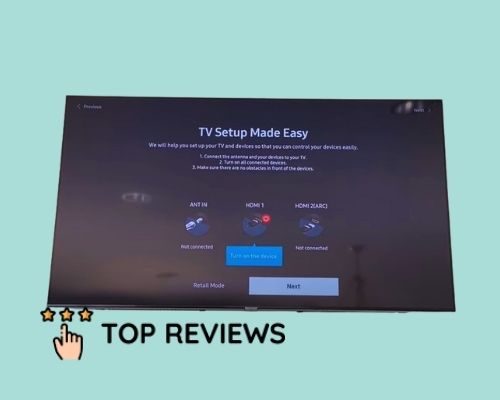 | | |
| --- | --- |
| PRICE | $755.00 |
| RESOLUTION | 4K Ultra HD |
| SCREEN SIZE | 43″, 50″, 55″, 65″, 75″ |
| PANEL TYPE | LED |
| YEAR / MODEL | 2020 / TU7000 |
| KEY INPUTS | HDMI 2.0 ports x 2 USB x 1 Ethernet LAN x 1 |
| OPERATING SYSTEM | Tizen |
| OTHER FEATURES | Upscale FHD Content to 4K Picture Quality, Sharper details with, HDR, 3-Side Bezel-less Design, Crystal Processor 4K, UHD Dimming |
The Samsung TU7000 is an entry-level 4K television aimed at consumers looking for an affordable option. It's a perfect low-cost solution whether you're a gamer or film enthusiast.
We also like that it comes in a range of sizes so if you're looking for a 55 inch smart tv or a 65 inch tv in NZ, this Samsung model has got you covered.
With a 4K (3840×2160) resolution that runs at a 60hz refresh rate, it has deep blacks, impressive contrast, and good color accuracy. It handles non-4K content efficiently too, upscaling it with minimal effort even at 480p thanks to the Crystal Processor 4.
While the contrast may be impressive (typical of VA panel technology), we think the brightness could use a little more work. It lands only at 241 to 259 nits.
This already tells you it won't please HDR aficionados.
We're also a little disappointed that it only has two HDMI ports and a single USB port. Most TVs in this price range and category have at least three HDMIs and 2 USBs, so this was a curious design choice.
Nevertheless, we like the Tizen OS it comes installed with since it has Netflix, Hulu, Apple TV installed. While this doesn't make up for the lack of inputs, it's enough to keep most complaints at bay.
Now, once we start discussing audio quality, we begin to see how Samsung made this 4K television affordable. The audio quality from its 2.0 channel system has only 20 watts of power – so you may want to start saving up for a soundbar.
The lackluster audio is not a deal-breaker though, especially since the TU7000 has built-in Wi-Fi, Ethernet, and AirPlay 2 connectivity as recompense. You can also mirror the screen from your devices and can control the TV with your voice via Amazon Alexa or Google Assistant.
Another feature we like in the TU7000 is the Auto Game Mode (AGM), which automatically optimizes your screen to minimize input lag. Generally performing at around 10ms, quickly switching between gaming and streaming services eliminates the need to adjust picture modes when you change input sources.
In short, the Samsung TU7000 is a great option if you're looking for an affordable 4K display for both gaming and streaming. For the price, you get a smart TV with superb contrast, solid up-scaling abilities, and decent input lag, which rightfully earns it a spot on our list.
In short, for less than $1000, this is one of the best smart tvs in NZ as its still enjoyable and installed with streaming packages enough for endless hours of entertainment.
Auto-game mode
Works with Alexa and Google Assistant
Efficient 4K up-scaling
Great contrast ratio
Decent input lag
Affordable 4K television
Only 2 HDMI ports
Low SDR and HDR brightness output
No wide color gamut support
Viewing angles aren't great (due to the VA panel)
2. Veon VN40E202019 40-inch Full HD TV
Best Kiwi-Made TV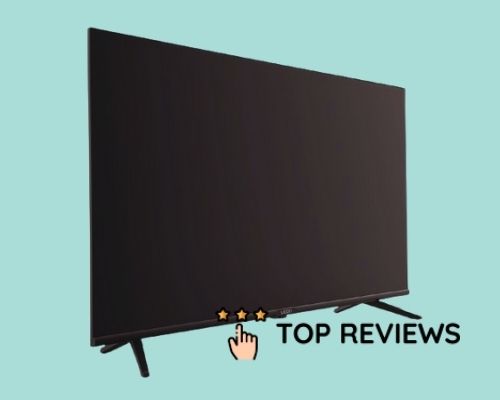 | | |
| --- | --- |
| PRICE | $ 449.00 |
| RESOLUTION | 1920×1080 |
| SCREEN SIZE | 40-inch |
| PANEL TYPE | HD LED / LCD TV |
| YEAR / MODEL | 2019 / VN40E202019 |
| INPUTS | HDMI x3, USB x2 |
| DIMENSIONS | With stands: 893L x 555W x 211D mm Without stands: 893L x 8518W x 90D mm |
| OTHER FEATURES | Freeview HD Built-in, Contrast Ratio: 3500:1 |
If you're after a 40 inch smart tv in NZ, this could be the one for you. There are a lot of popular brands out there but nothing beats purchasing a locally made product.
If you're wondering how the Veon was made affordable, you'll know even before you turn it on. Taking it out of the box, you'll immediately notice that it isn't exactly made of super-sturdy material, sporting predominantly plastic in its outer shell.
Regardless, the brushed metal finish and slim bezels are quite well done, considering. It could easily fool anybody walking quickly by that you have a thousand-dollar flat screen in your living room, which isn't such a bad thought.
Now, once you turn this Veon on you'll need to fiddle with the picture settings to get the appropriate contrast, sharpness, and temperature. The presets aren't much help and aren't visually pleasing, so you'll need to do this manually.
It's best to say it now: this is not a Smart TV, so you'll probably want to plug in a device via one of its 3 HDMI ports or 2 USB ports to give it Wi-Fi functionality. The good news is that almost anything will work – whether it's a Chromecast, Xbox, or Apple TV.
However, you'll be limited to a 1920×1080 maximum resolution and it also doesn't support x265 HEVC encoded files. But connecting an external input, such as your laptop, will easily identify the TV as a second monitor.
This Veon also does a great job with SDR, which it needs to do because of its lack of support for HDR. The blacks on this TV could be blacker, but they're respectable.
Now, we like the included remote control because it surprisingly supports the Consumer Electronics Control (CEC) protocol. This means you can use it to control other devices connected via HDMI, such as a Blueray player.
That convenience is a bit unexpected. Remember, the Veon VN40E202019 is not a high-end TV, but an affordable solution for those who want a quality display to watch movies, play games, or use as a second monitor for their PC.
It even comes with Freeview HD, by the way, giving you access to several premium channels if offered in your area.
So, in our book, this Veon brand is one of the best brands for TV in NZ. It is a great Kiwi-made product that may well find its way into the homes of many New Zealanders.
Built-in Freeview HD
3 HDMI ports
CEC remote control
Made mostly of plastic
Not smart TV
3. Sony X80H 65-inch 4K LED TV
Best for Multi-Directional Sound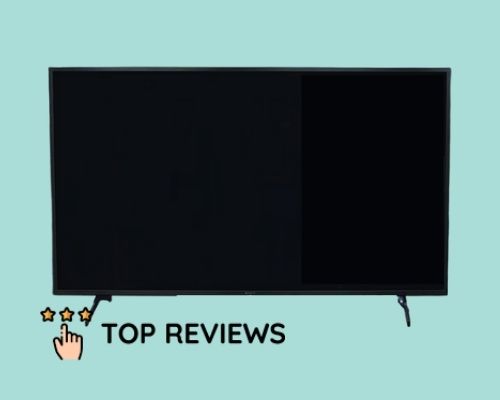 | | |
| --- | --- |
| PRICE | $1,698 (65-inch) |
| RESOLUTION | 3840 x 2160 Ultra HD |
| SCREEN SIZE | 43", 49", 55", 65", 75", 85" |
| BACKLIGHT TYPE | Direct LED |
| YEAR / MODEL | 2020 / X80H or X8000H |
| INPUTS | HDMI x 4, USB x 2, Ethernet |
| OPERATING SYSTEM | Android |
| DIMENSIONS | With Stand: 1462W x 71D x 841H mm |
| OTHER FEATURES | Motionflow XR 100Hz, Triluminous Display, X-Balanced Speakers |
It's important to take note that the X80H models that are less than 55-inches don't feature the signature X speakers that boost this model's sound quality. So before we proceed, we recommend getting one of the larger screen models for the step-up in audio.
The X80H may look unassuming, but it feels quite durable compared to other TVs in its class. With a VESA mount point and v-shaped legs, it's designed to subtly blend into the background of any home.
With a 60Hz, 3840×2160 (4K UHD) panel on all variants, the models above 55 inches all have direct LED backlights. Utilizing Sony's Triluminos color technology, the X80H supports HDR10, HLG high dynamic range (HDR) content, and Dolby Vision HDR.
There's also support for Dolby Atmos surround, Google Assistant, Amazon Alexa, Apple's AirPlay 2, and HomeKit. As this is a full Android TV, you can mirror your phone onto the display and also benefit from countless apps on the Google Play Store.
While navigating the homepage is still a little tricky and needs some work, you can customize your input list to reflect the apps that you frequently use. This lets you cycle through menus to get to the app that you need much quicker.
The X80H has excellent image quality and motion compensation, and just might make you forget that it's only a 60hz TV. Considering its lower price range, it can hang with its 120hz competitors quite easily.
Now, if you've bought Sony TVs in the past and have been pleased with their color precision and saturation, then you'll be equally pleased with the X80H. Do take note though that it can't dim the backlights over darker images, which means that contrast and blacks may not be as rich as you'd like.
The average user, however, may not even notice it – it will only become evident if you're watching a movie that's predominantly shot at night, or compared to an OLED display.
The screen size of the X80H starts at 43 inches so if you're looking for big TV sizes in NZ, then this could work well for you.
The X80H makes up for this in its sound quality, which outclasses its rivals in the same price range. The 20-watt X-Balanced Speakers are integrated with Dolby Atmos and DTS Digital Surround to provide you with a multidimensional sonic experience.
The port selection includes four HDMI 2.x ports, SP/DIF digital audio output, 3.5mm headphone output, ethernet, and two USB ports among others. The X80H also has Bluetooth 4.2, but only supports inputs, which means you'll need a Bluetooth transmitter if you want to pair it with wireless headphones.
Despite this, the X80H does well in a price range that is fiercely competitive in offering an affordable TV with quality features. In our opinion, this TV holds its own with its exceptional audio, clear image quality, and the overall experience of owning an Android TV.
4K picture quality
Dolby Atmos surround sound
Runs Android OS
Excellent motion handling for a 60Hz TV
Easy access to favorite apps
Weak black reproduction
No Bluetooth support for sound output
4. Panasonic HZ1000 55-inch 4K OLED TV
Best for Movies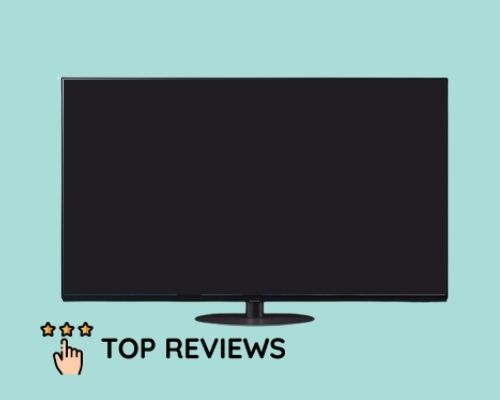 | | |
| --- | --- |
| PRICE | $2,698 (55-inch) |
| RESOLUTION | 4K Ultra HD 3840 x 2160 |
| SCREEN SIZE | 55" and 65" |
| PANEL TYPE | OLED |
| YEAR / MODEL | 2020 / HZ1000 |
| OPERATING SYSTEM | My Home Screen v5.0 |
| INPUTS | HDMI 2.1 ports x 4, USB 3.0 port x 1, USB 2.0 ports x 1, Ethernet |
| DIMENSIONS | 1449W x 837H x 58D mm |
| OTHER FEATURES | HDR10, HDR10+, HLG, Dolby Vision IQ, Freeview Play |
Those who love to spend their days binging on their favorite TV series or doing movie marathons on the weekend will love the Panasonic HZ1000. With its strikingly thin bezel, this 55 inch tv in NZ (or 65 inches) will blend in well with your existing decor.
This 4K TV makes no secret that it was tuned specifically to watch films, with Hollywood colorist Stefan Sonnenfeld at the helm to supervise its image quality. Featuring Dolby Vision IQ, the HZ1000 is engineered from the ground up to bring the cinema into your home.
It has four HDMI ports that are all 4k compatible at 60fps, which is an impressive feat in itself. However, without compatibility for 120fps, gamers who are looking for an ultra display for their consoles won't find it on this TV.
Panasonic offers its Auto Low Latency game Mode (ALLM) to try to appease this niche market. The HZ1000's input lag measures at around 22ms at 1080p and 60fps, though, which just isn't on the same level as its competitors with similar specifications.
It does offer Universal HDR support, though, with HDR10+ and Dolby Vision with Ethernet, three USB ports, and a 3.5 mini jack that also acts as an output for your subwoofer.
The Panasonic user interface can be easily accessed from the rather large remote control, but you'll have a fair share of apps to choose from. Selections include Netflix, Amazon Prime Video, and Freeview Play among others and you can "pin" your favorites onto the home screen.
Where the HZ1000 truly shines is in its description as a 'master' OLED. If you're looking for fantastic image quality, look no further.
Whether it's the sharpness in detail, contrast, or color, the HZ1000 performs exceptionally well. Blacks are very deep and image detail in shadows is reflected sharply.
Even if your TV is in a brightly lit room, the Dolby Vision IQ and patented Filmmaker Mode use the HZ1000's ambient light sensor to optimize the picture accordingly. This means you get two modes of Intelligent Sensing that adjust your picture's light levels at the same time.
Moreover, Panasonic's updated Smooth Motion Drive Pro and Intelligent Frame Creation technology, handles motion very well, especially with fast-moving scenes. This makes the set ideal for watching sports or action movies.
To complete your immersive experience, you may want to upgrade to higher quality sound setup, although the 2x15W speakers on the HZ1000 should serve well for just about anyone.
Available in two screen sizes, the Panasonic HZ1000 is a fantastic OLED TV performer that aims to bring the cinema to your home. So if you want either a 55 inch smart tv in NZ or 65 inches, then you'll be pleased with their 2 sizes.
They've done this quite well in our opinion and it earns the TV a spot on our list as one of the top TVs you can get in New Zealand.
Filmmaker mode
Ambient light sensor
Dolby Atmos surround sound
Excellent picture quality
Dolby Vision IQ and HDR10+ support
21ms input lag
No support for 4K at 120fps
Average speaker quality
Not a lot of smart features
5. Sony KDL32W600D 32-inch HD Smart TV
Best TV under 40-inches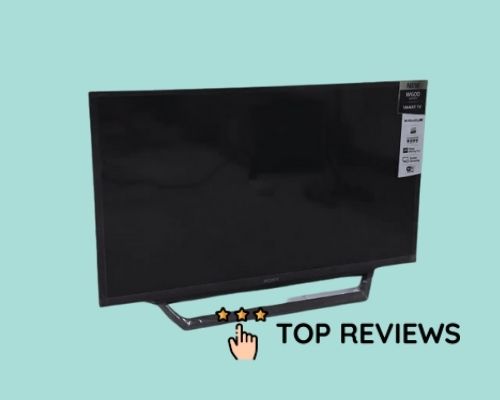 | | |
| --- | --- |
| PRICE | $449.00 |
| RESOLUTION | 1366 x 768 |
| SCREEN SIZE | 32-inch |
| BACKLIGHT TYPE | Direct LED |
| LCD TYPE | IPS |
| YEAR / MODEL | KDL32W600D |
| INPUTS | HDMI x2, USB x2, Digital Optical Audio Out x1, Analog Audio Out 3.5mm x1, Analog Audio Out RCA x1, Ethernet |
| DIMENSIONS | With Stand: 735 x 481 x 174 mm |
| OTHER FEATURES | Live Color™ Technology, X-Reality™ PRO, Motionflow XR 200 Hz (native 50 Hz), Dolby® Digital, Dolby® Digital Plus, Dolby® pulse |
The Sony KDL32W600D is available in only a 32 inch tv in NZ and is a little clunky considering that it's quite small. It doesn't look lavish like its higher-end cousins because of its thick bezel and a stand that is frankly, quite distracting.
However, despite its size, it's an energy-efficient TV and doesn't produce much heat at all, which makes it ideal to mount on a wall or pushed back in a tight corner of your home. Still, you'll want to avoid placing it in a bright room as reflections on the display can be quite harsh.
It's important to take note that the native resolution of the W600D is 1360 x 768 – so the clarity you might be expecting from 1080p or 4K content is out the window. Since it doesn't match HD standards, you'll see some loss in detail when trying to view something made for higher resolutions.
On the flip side, the W600D can handle 480p content quite well and can be viewed with ease from multiple angles. It also excels in its motion handling with its Motionflow XR 200 Hz, which makes it ideal for watching sports or playing video games.
Running a Linux operating system, the apps selection is sorely lacking in the W600D, although you do get the basics. If a smart TV experience is essential for you, you'll want to connect an additional device such as a Roku or Firestick.
In our opinion, the W600D is best paired with a console. Despite its lackluster performance for watching movies, the input lag result of 26ms isn't so bad, and you can easily play a racing game or watch an F1 race with ease.
But most importantly, it's a very affordable option for a smart tv in NZ. That's where a lot of Kiwis will probably consider it.
Affordable
Noise-reduction technology
Free Freeview subscription
Built-in Wi-Fi
Good for sports and video games
Picture is good when watched from just about any angle
HD picture quality
Lack of app selections
Harsh screen reflections
Factors to Consider When Buying a TV in NZ
Before you get a new TV in NZ, you have to think about a few things to help you find the most suitable TV for your lifestyle and budget.
1. Resolution
The resolution or picture quality is the main thing you should look for in a TV in NZ. This will determine how clear and detailed the picture will be on the screen.
The resolution for your TV can be one of the following:
This stands for high definition with a display size of 1280 x 720 pixels. HD TVs give ample clearness to your screen and are more affordable than other types.
Also known as 1080p, this has a higher resolution than HD and delivers a sharper and clearer image, great for streaming videos or playing the newest games.
Also called QHD, this is 2560x1440p and improves further on FHD. Currently among the most popular resolutions for gamers in particular.
A 4K TV gives your display superb clarity and detail. You'll see a big difference in graphics if you compare it against Full HD and HD TVs.
As such, it comes as no surprise that 4K TVs are more expensive than those with lower resolutions, though the price will also depend on the TV's screen size.
Some TVs now support 8K resolution, which has 4 times more pixels than 4K and 16 times more than Full HD. That means it has the most detailed display of them all… but they're expensive and hardware compatibility is still sparse.
Most so-called 8K implementations are just upscaled from lower resolutions, so it's hard to recommend these for now to most people – unless you have money to burn.
2. Screen Size
TV sizes in NZ are available from 32 inches to more than 80 inches. Screen size is measured across the screen diagonally from one corner to the opposite corner.
It's a common misconception that you only get a higher resolution such as FHD or 4K from larger screens. You can find those resolutions on smaller-sized screens as well.
Thus, if you want to get a crisp and colorful picture but don't want to pay a lot, you can sacrifice a bit of the screen size for your TV.
3. Panel Type
Panel type pertains to the display type of your TV. This influences the contrast and color that show up in the pictures and films you are watching.
They come in three different types, which are:
LED TVs are good enough to handle the dark colors on your TV. This tech creates the picture through different types of backlights from behind the TV screen.
OLED displays are composed of millions of backlights to illuminate the screen, offering superior contrast and darker colors. Because its thin panels don't need backlights, it also consumes less power… but suffers from burn-in, or pixels "dying" and leaving static images on the panel.
QLEDs are similar to LEDs, but they're wrapped under a layer of quantum dots. This has the effect of further enhancing the picture to make it super-bright and beautiful.
Most QLEDs can have a longer life span than the types mentioned above. This technology is available for TVs with up to 88" screen size.
4. TV Tech
This just refers to whether or not you want a smart TV.
Smart TVs allow you to access a wide range of apps, including Netflix, Lightbox, NEON, Disney Plus, HBO Max, Amazon Prime Video, among others. Some models work with Amazon Alexa and Google Voice Assistant, so you can use voice commands to start a movie or channel.
FAQs about choosing the best TVs in New Zealand
---
And those were some of the top TVs in New Zealand. One thing is for sure—you'll be mesmerised by the sharp and vibrant detail on these TVs.
Do you have any questions or suggestions for us? If you do, kindly send us a message and we'll get back to you promptly.
What's more, if you're looking for a 4K or Full HD computer monitor, you can check out our list of the best computer monitors in New Zealand!