Featured Image Source from Samsung
By Isla Thompson
Buying a new TV for your home? You're on the right page, as we're featuring the best TVs in New Zealand here today!
We'll tackle the fundamentals of buying a TV including the terms, pros and cons, and some tips so you can effortlessly pick from our top products later on.
Factors to Consider When Buying a TV
Before you get a new TV, you have to think about a few things to help you find the most suitable TV for your lifestyle and budget.
1. Resolution
The resolution or picture quality is the main thing you should look for in a TV. This will dictate how clear and detailed the picture will be on the screen.
The resolution for your TV can be one of the following:
HD – This stands for high definition with a display size of 1280 x 720 pixels. HD TVs give ample clearness to your screen and is more affordable than other types.
Full HD – Also known as 1080p, this has a higher resolution than HD and delivers a sharper and clearer image, great for streaming videos or playing the newest games.
2k – Also called QHD, this is 2560x1440p and improves further on FHD. Currently among the most popular resolutions for gamers in particular.
4K – A 4K TV gives your display superb clarity and detail. You'll see a big difference in graphics if you compare it against Full HD and HD TVs.
As such, it comes as no surprise that 4K TVs are more expensive than those with lower resolutions, though the price will also depend on the TV's screen size.
8K – Some TVs now support 8K resolution, which has 4 times more pixels than 4K and 16 times more than Full HD. That means it has the most detailed display of them all… but they're expensive and compatibility with hardware for actual 8K video tends to be low just yet. Most so-called 8K implementations are just upscaled from lower resolutions, so it's hard to recommend these for now to most people – unless you have money to burn.
2. Screen Size
Screen sizes are available from 32 inches to more than 80 inches. Screen size is measured across the screen diagonally from one corner to the opposite corner.
It's not true that you only get a higher resolution such as FHD or 4K from larger screens, by the way. You can find those resolutions on smaller-sized screens as well.
Thus, if you want to get a crisp and colourful picture but don't want to pay a lot, you can sacrifice a bit of the screen size for your TV.
3. Panel Type
Panel type pertains to the display type of your TV. This influences the contrast and colour that show up in the pictures and films you are watching.
They come in three different types, which are:
LED/LCD – LED TVs are good enough to handle the dark colours on your TV. This tech creates the picture through different types of backlights from behind the TV screen.
They are the most common and affordable of the bunch.
OLED – Made up of millions of backlights to illuminate the screen. With that number, it has better contrast and darker colours to bring out a vibrant colour display.
Because its thin panels don't need backlights, it also consumes less power.
QLED – Same as the LED panel type but wrapped under a layer of quantum dots. This has the effect of further enhancing the picture to make it super-bright and beautiful.
Most QLEDs can have a longer life span than the aforementioned types. This tech available for TVs with up to 88" screen size.
4. Design
After considering the vital specs such as the resolution, screen size, and panel type, you can freely pick a TV with the design of your choice to fit your home interior.
You can also find curved screens, which give you an immersive experience as though you were in a fictional place in the story.
Aside from that, curved screens make it easier to view the screen from different angles as opposed to flat screens.
5. Sound
Next is the sound. In addition to great picture quality, you need great sound on your TV to match it.
If you want to upgrade your TV's sound, you might want to consider getting a sound bar. There are lots of options out there and it can do justice for your TV.
Sound bars can be wired or wireless and can have nifty features. Alternatively, you can purchase a surround sound system for a true home-theatre experience.
6. Smart TV
Smart TVs allow you to access a wide range of apps, including Netflix, Lightbox, NEON, Disney Plus, HBO Max, Amazon Prime Video, and others.
Some models work with Amazon Alexa and Google Voice Assistant, so you simply need to ask them to start the movie or channel you want.
The 5 Best TVs in New Zealand
Now that you know how to buy a TV, we now show you our top choices for the best TVs in NZ!
1) Samsung 50-inch 4K LED TV (TU7000)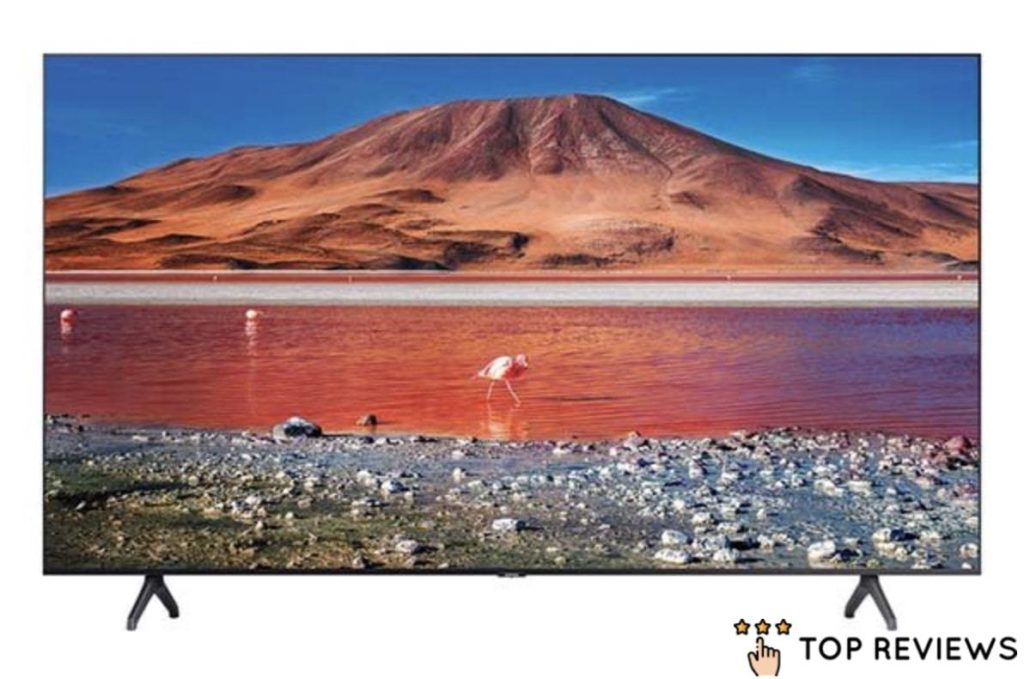 | | |
| --- | --- |
| Best for | Stunning 4K picture |
| Resolution | 4K or Ultra HD |
| Screen size | 50" |
| Panel type | LED/LCD |
| Year model | 2020 |
| Ports | x2 HDMI 2.0 ports |
| Price | $1,299 |
Samsung's 50" Crystal 4K TV can deliver breathtaking clarity and colour to your picture.
It has a high-dynamic range that enhances the dull colours and visual details on the screen, resulting in a much more vibrant, realistic, and enjoyable viewing experience.
The screen measures 50" diagonally and sports a sleek and minimalist design. Having a very slim bezel, the screen immerses you right in the middle of the story or action.
It supports a wide range of apps such as Netflix, Disney Plus, Lightbox, Neon, Spark Sport, and more. Through Apple Airplay 2, you can stream movies and music onto the TV from your iPad, iPhone, or Mac.
Also, the Samsung 4K TV works with Amazon Alexa and Google Assistant. You can ask them to play your favourite movie, change the channel, or turn up the volume.
Breathtaking 4k display
Sleek and minimalistic
Auto-game mode
Has a cable organiser
Works with Amazon Alexa and Google Assistant
Lots of buttons on the remote
Only 2 HDMI ports
Customer Reviews
True, there have been complaints about its features and apps. But the Samsung TV doesn't disappoint on the things that matter such as the picture quality and value.
Let's take a look at Collins' review of the Smart TV:
"Good picture quality for the price, adequate settings for picture quality and sound settings. Also, you have pretty good privacy options with regard to the smart features; obviously you can't completely turn them off unless you decide not to connect to internet and use it like an old school TV. Only two HDMI inputs, which is disappointing, additionally cannot turn off some connectivity options like Bluetooth. However, happy that it includes Airplay as an option, while implementation isn't perfect, it's welcome at this price point."
Another customer posted this feedback:
"I'm a 20th century guy, smart TV's however are a requirement in this day and age. This went into my bed room, have a much larger Samsung smart TV in the Living room. So the title exactly matches how my expectations were met. It's a good TV, really for the price point it's an amazing TV. Does everything my semi tech life requires and has more features than I'll ever figure out how to use."
2) Veon 40-inch Full HD TV (VN40E202019)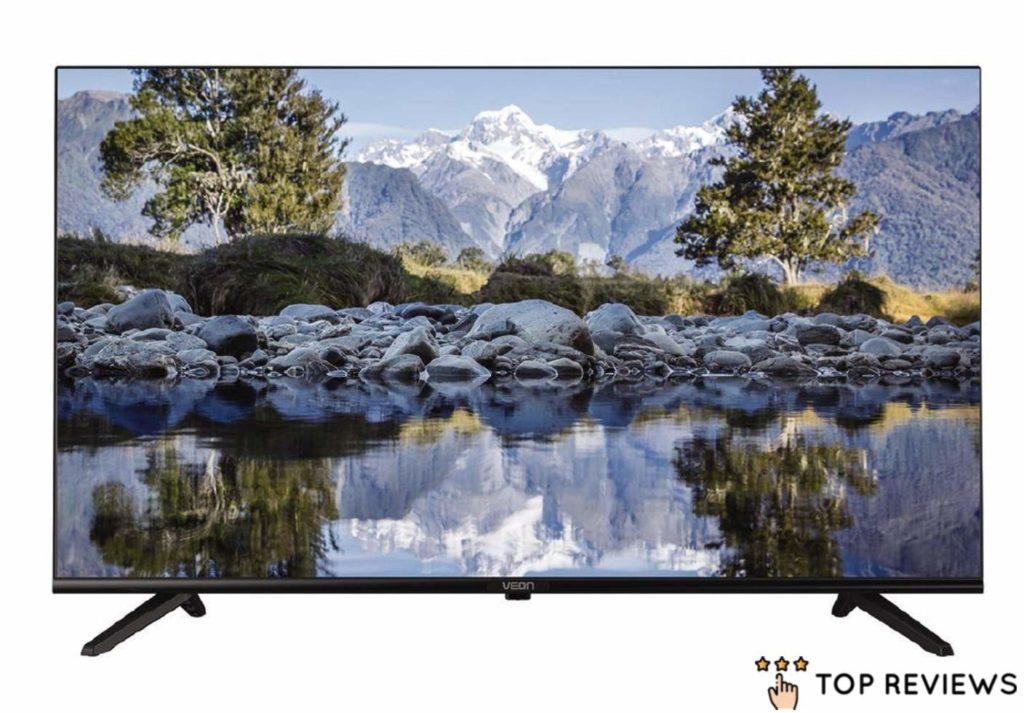 | | |
| --- | --- |
| Best for | Budget Large Full HD TV |
| Resolution | 1080p or Full HD |
| Screen size | 40" |
| Panel type | LED/LCD |
| Year model | 2019 |
| Ports | x 3 HDMI ports x 2 USB ports |
| Price | $299 |
If you want a Full HD TV without the hefty price tag, the Veon 40" Full HD TV is a great choice!
It's a simple TV that lets you watch, stream, and game in 1080p—good enough to catch up with today's full HD TV series or shows on Netflix or Amazon Prime Video.
It's nicely designed with 3 HDMI ports and 2 USB ports at the back. You can plug in your Xbox Series X, Google Chromecast, Apple TV, laptop, sound bar, and the like.
The full HD TV also comes with a Freeview HD with BBC HD, BBC One HD, Channel 4 HD, and ITV1 HD channels. However, you have to check if your area is covered by them.
Outstanding value
Built-in Freeview HD
Lots of ports
Lower resolution
Weaker sound
3) Sony 85-inch 4K LED TV (X80H)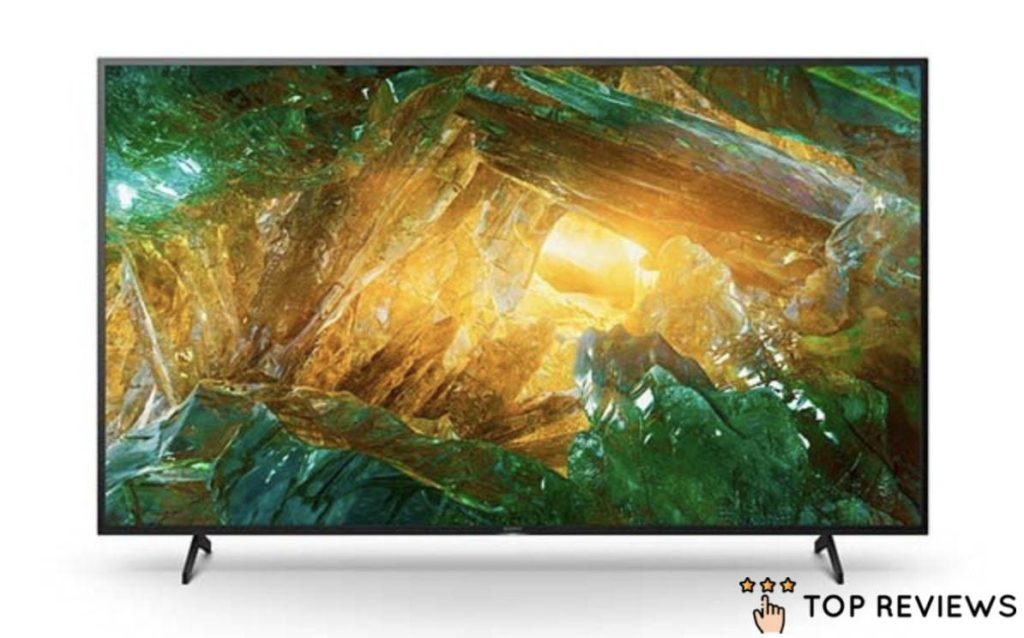 | | |
| --- | --- |
| Best for | Multi-directional sound |
| Resolution | 4K or Ultra HD |
| Screen size | 85" |
| Panel type | LED/LCD |
| Year model | 2020 |
| Ports | x 4 HDMI 2.0 ports x 2 USB ports x 1 ethernet port |
| Price | $4,199 |
With powerful X1 processors and Dolby Atmos software, it's hard to dethrone the Sony X80H as one of the largest and best Smart TVs in New Zealand!
It presents images in vivid and lifelike 4K transporting you to the scene. Utilising HDR means that it can bring more contrast and highlights to the movie you're enjoying.
Standard TVs can't read fast-paced scenes and blur them, but not the Sony X80H, which threads the series of images together so that you don't miss any detail.
The design is another highlight, being resilient and made to last. It passed the highest standard of tests from Sony and can even withstand lightning strikes and power surges.
Plus, with the Dolby Atmos technology, you can hear sounds flowing from the sides and overhead. This involves you in the movie or game more fully.
4K picture quality
Narrow bezel
Dolby Atmos surround sound
Rugged build
Runs Android apps
Customer Reviews
Customers praised the picture quality of this Sony X80H, but some were lukewarm about the sound, just saying it was 'good' and not excellent. Here are some of the reviews from them.
Mick from the UK wrote this review about the television:
"I've bought this basically for all the football I watch. Great picture with easy set up, sound is good but possibly requires additional set up to maximise. Great tip from a friend who advised me to upgrade my HDMI cables and difference was instantly noticeable."
Furthermore, Tyler commented:
"It had delivered everything that I wanted. Great picture quality and good audio at a great price. Perfect for our bedroom."
4) Panasonic 55-inch 4K OLED TV (HZ1000)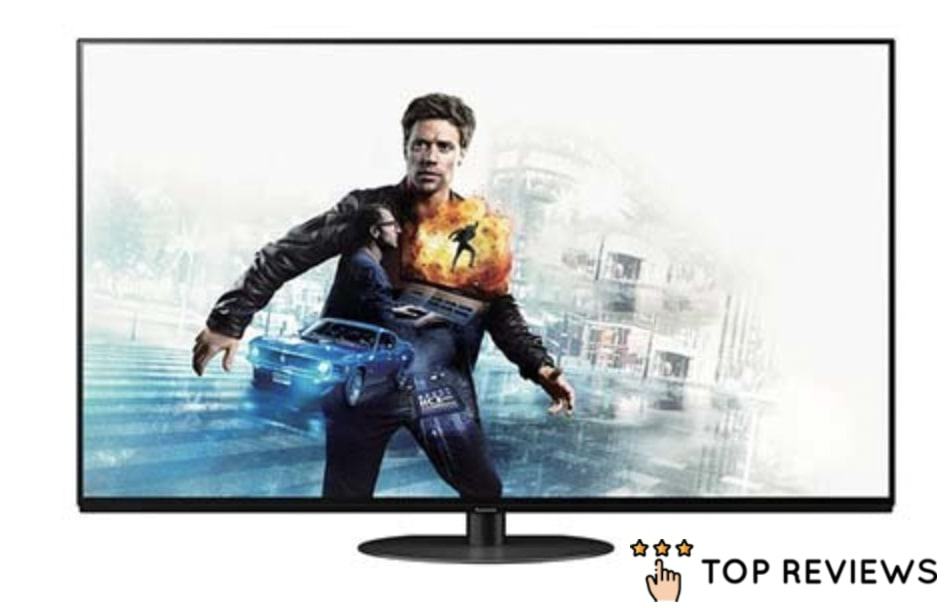 | | |
| --- | --- |
| Best for | Streaming movies or TV series |
| Resolution | 4K or Ultra HD |
| Screen size | 55" |
| Panel type | OLED |
| Year model | 2020 |
| Ports | x 4 HDMI 2.1 ports x 1 USB 3.0 port x 2 USB 2.0 ports x 1 ethernet port |
| Price | $3,599 |
If you enjoy going to the cinemas, then you'll love the Panasonic HZ1000 TV. It lets you enjoy films, TV series, and shows just as the director intended for his audience.
For this, you can simply set your TV to the Filmmaker mode for watching any film or the Netflix-calibrated mode whenever you're streaming Netflix.
This OLED TV lights up each small pixel on the screen except for the black areas, creating a sharp contrast, true-to-life colours, and beautiful and deeper blacks.
Its light sensors adjust the colour and detail to the light surroundings of your room. It's powered by the HCX Pro Intelligent Processor, which delivers astonishing picture quality.
Furthermore, it also comes with the Dolby Atmos to draw you into a different world through engaging surround sounds. Now that will certainly be fun!
Filmmaker mode
Ambient light sensor
Dolby Atmos surround sound
Simple interface
Expensive
Not designed for gamers because of its input lag of around 21ms (controller sync with the TV's display)
5) Sony 32-inch HD Smart TV (KDL32W600D)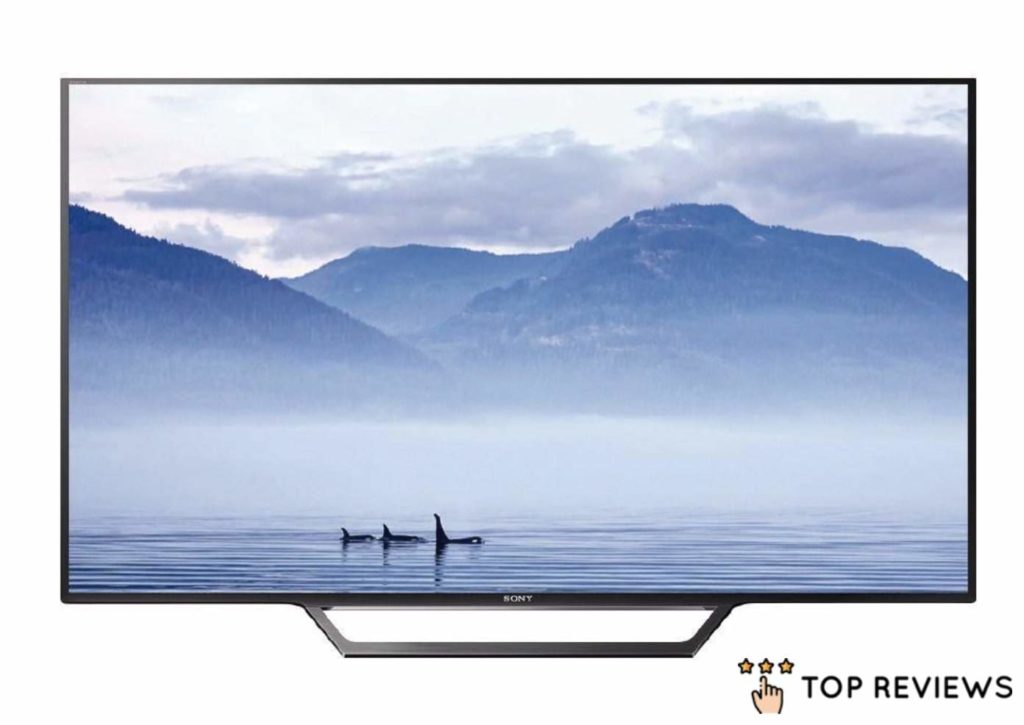 | | |
| --- | --- |
| Best for | Affordable Wi-Fi-capable TV |
| Resolution | HD |
| Screen size | 32" |
| Panel type | LED/LCD |
| Year model | 2016 |
| Ports | x2 HDMI ports x2 USB ports x1 ethernet port |
| Price | $469 |
Another affordable TV you can get is the Sony 32-inch HD Smart TV. It has a good resolution, noise-reduction technology, and built-in Netflix and YouTube apps.
Thanks to the Motionflow XR, the picture will be natural and smooth during fast-paced sequences like a car chase, gunfight, or all-out war on the battlefield.
You also get a free subscription with Freeview, which has a hundred channels for you to choose from. Along with that, you get a 1-year warranty for this TV if you get it from vendors like The Market.
Affordable
Noise-reduction technology
Free Freeview subscription
Built-in Wi-Fi
HD picture quality
Cannot install other apps
FAQS about the Top TVs in New Zealand
---
And those were some of the top TVs in New Zealand. One thing is for sure—you'll be mesmerised by the sharp and vibrant detail on these TVs.
Do you have any questions or suggestions for us? If you do, kindly send us a message and we'll get back to you promptly.
What's more, if you're looking for a 4K or Full HD computer monitor, you can check out our list of the best computer monitors in New Zealand!