By Amelia Montgomery
Don't give up yet on your worn and discoloured chairs — those stains are just proof of the service they've rendered to you over the years. You can still give them a refresh and re-upholsterng, fortunately, through the best upholstery Auckland companies!
Here, we've chosen the ones who can transform and repair your chair to make it look wonderful, as well as those with outstanding communication and rave customer reviews.
So now, without any further ado, let's round up the best upholstery Auckland companies!
1)  Klever
BEST FOR
Residential Carpet and Upholstery
SERVICES
Carpet Cleaning, Upholstery Cleaning, Stain Removal
WEBSITE
https://klever.co.nz/
ADDRESS
83 Whytehead Cresent, St Heliers, Auckland 1740, New Zealand
Locations: East – Central – North – West
CONTACT DETAILS
Tel: 0800 553 837
Email: [email protected]
OPERATING HOURS
Open 24 hours
After a few years of use, you should always clean your furniture to keep it looking good. Fortunately, Klever offers top-notch residential carpet and upholstery cleaning.
Their technicians are sure to cover every inch of your furniture thoroughly. No matter the condition of your couch and cushions, you can rest assured that Klever will make it good as new.
Highlights
Specialises in cleaning residential carpet and upholstery
Leaves your carpet soft, fresh, and clean
Expert carpet technicians
Customer Reviews
One customer, John Snow, said on Google Business:
"Thank you for an awesome job guys very friendly staff love Your work, our carpet looks good and will definitely contact you guys again in the future."
2)  Suite As Upholsterers
| | |
| --- | --- |
| Best for | Furniture Restoration and Commercial Re-fits |
| Services | Fabrics, Restoration, Commercial and New Design |
| Address | 13 Matama Road, Glen Eden, Auckland 0602, New Zealand |
| Contact no | 027 466 4015 or 021 054 5359 |
| Website | http://www.suiteas.nz/ |
Sprucing up your past-its-prime sofa or commercial furniture? Try Suite As Upholsterers. They provide a pickup and delivery service for your furniture that's incredibly convenient.
With 40 years' industry experience, they have helped re-upholster and custom-make a myriad of antique chairs, office chairs, sofas, banquettes, squabs, and scatter cushions.
They can advise you on a particular fabric to suit your chairs to reinvigorate them. Quoting is as seamless too — you can even just send your chair's photos via email to get a quote!
As you can see, Suite As Upholsterers belongs among the best upholstery Auckland companies. Convenience- and experience-wise, its team offers some of the best service around!
Highlights
Specialises in furniture and commercial re-upholstery
Delivers fantastic upholstery quality
Convenient pickup and delivery service
Free quoting through email
Over 40 years' experience
Customer Reviews
On Google Business, Frances Campbell wrote a helpful review:
"Vince did an excellent job of recovering and repairing our grand, old sofa. It looks fantastic, has another lease on life and will carry on! Vince helped me to sort through fabric options and I was able to take samples home to see what suited. Pick up and delivery made everything easy as. Highly recommended :)"
3)  West Auckland Upholstery and Covers Ltd.
| | |
| --- | --- |
| Best for | Marine, Residential and Automotive Upholstery |
| Services | Marine Upholstery, Residential Upholstery, Clears and Covers, Automotive Upholstery and Custom Bedding |
| Address | 10 Unit 2 Culperry Rd Glendene, Auckland 0602, New Zealand |
| Contact no | 021 079 0343 or 021 466 861 |
| Website | http://www.westaucklandupholstery.co.nz/ |
Auckland is deemed the City of Sails for its quays, boats, and majestic ocean views. For classy marine upholstery to go with all of that, you can depend on West Auckland Upholstery and Covers!
They will assist you throughout the planning and design process. Their keen eye for detail and talent will perfectly capture your taste and personality for a style you'd want.
Aside from that, they specialise in automotive and residential upholstery as well. And they are also one of the best upholstery Auckland companies you can find.
Highlights
Premium quality custom marine upholstery
Excellent attention to detail
Talented and experienced staff
Customer Reviews
Here's a short but detailed Google review coming from Steve Hay:
"Have just had the carpet replaced in the cockpit and helm station of my boat. Could not be more happy. The finish is fantastic. Has given the boat a whole new look and feel. Thanks Justin and Sharon."
4)  Upholstery Specialists
| | |
| --- | --- |
| Best for | Topnotch Upholstery Work |
| Services | Home and Living, Marine Upholstery, Commercial Upholstery, Superyacht Upholstery, Upholstery Repairs and Auto Upholstery |
| Address | 166 Harris Road, East Tamaki, Auckland, New Zealand |
| Contact no | 09 273 5464 |
| Website | http://upholsteryauckland.co.nz/ |
Upholstery Specialists is a prominent upholstery supplier and designer in New Zealand. Its clients range from famous fast food chains to superyachts, and everything in between.
Their products and services are best-in-class, always giving you a result that astonishes. They are also certified with ISO 9001 standards, constantly striving for excellence and client satisfaction.
Without question, Upholstery Specialists is one of the best upholstery Auckland companies. You are sure to attract more customers in your business if you ask them to do your business's upholstery, all the while increasing your sales and revenue.
Highlights
Unrivalled quality of upholstery
Has a lot of clients from top brands
Custom-makes orders to your needs
ISO 9001 certified for client satisfaction
Customer Reviews
Sylvia Park Manager stated on Google Business:
"We recently used Upholstery Specialists and their team to manufacture a range of products for our ECE centre! The service was fantastic, the finished products were of high quality and the price was fair. Would highly recommend!! Well done guys!!"
5)  Snip-It Upholstery
| | |
| --- | --- |
| Best for | Selection of Upholstery Fabrics |
| Services | Marine Upholstery, Furniture Upholstery and Automotive Upholstery |
| Address | Unit E 60 Surrey Crescent, Grey Lynn, Auckland, New Zealand |
| Contact no | (09) 360 6366 |
| Website | https://snipitupholstery.co.nz/ |
Whether you're looking to upholster your new furniture or repair damaged ones, Snip-It Upholstery can get the job done! They have a massive range of upholstery fabrics for you to choose from.
It doesn't matter if you're looking for automotive, boat, or furniture upholstery — they're sure to have whatever you need. There are bold colours, elaborate patterns, and elegant options to impart a modern and luxurious feel.
Mind you, their fabrics or textiles are not only stylish, but are also highly durable and can last a long time.
Highlights
Offers stylish, elegant and durable upholstery
Specialises in automotive, marine and furniture applications
Reasonable prices
6)  Mr Upholster
| | |
| --- | --- |
| Best for | Extraordinary Customer Service |
| Services | Car Upholstery, Marine Upholstery, Furniture Upholstery, Bar Upholstery and Hotel Upholstery |
| Address | 6/35 Saleyards Road, Otahuhu, Auckland 1062, New Zealand |
| Contact no | (09) 600 2399 |
| Website | http://www.mrupholster.co.nz/ |
Located in the Otahuhu suburb in South Auckland, Mr Upholster is an upholstery restoration expert for automotive, marine, and furniture applications.
Their customer service is impressive — they are also said to be very pleasant to deal with. Furthermore, they can give your upholstery an update that you'll enjoy for many years.
Their exceptional quality of work has earned the trust of customers, designers, and even architects. So, there's no reason why you shouldn't call Mr Upholster if you need them.
Highlights
Upholstery restoration specialist
High-quality work
Fantastic customer service
Great prices
Customer Reviews
Mr Upholster holds an average score of 4.9 stars from 27 customers from Google Business. Vaughan Ofisa shares:
"Just had my chair recovered by Ken and his staff at Mr Upholster in Otahuhu. I am over the moon guys. Awesome work, reasonable price, and happy its a local business. You are a top bloke Ken, see you again soon."
7)  New Zealand Restoration Service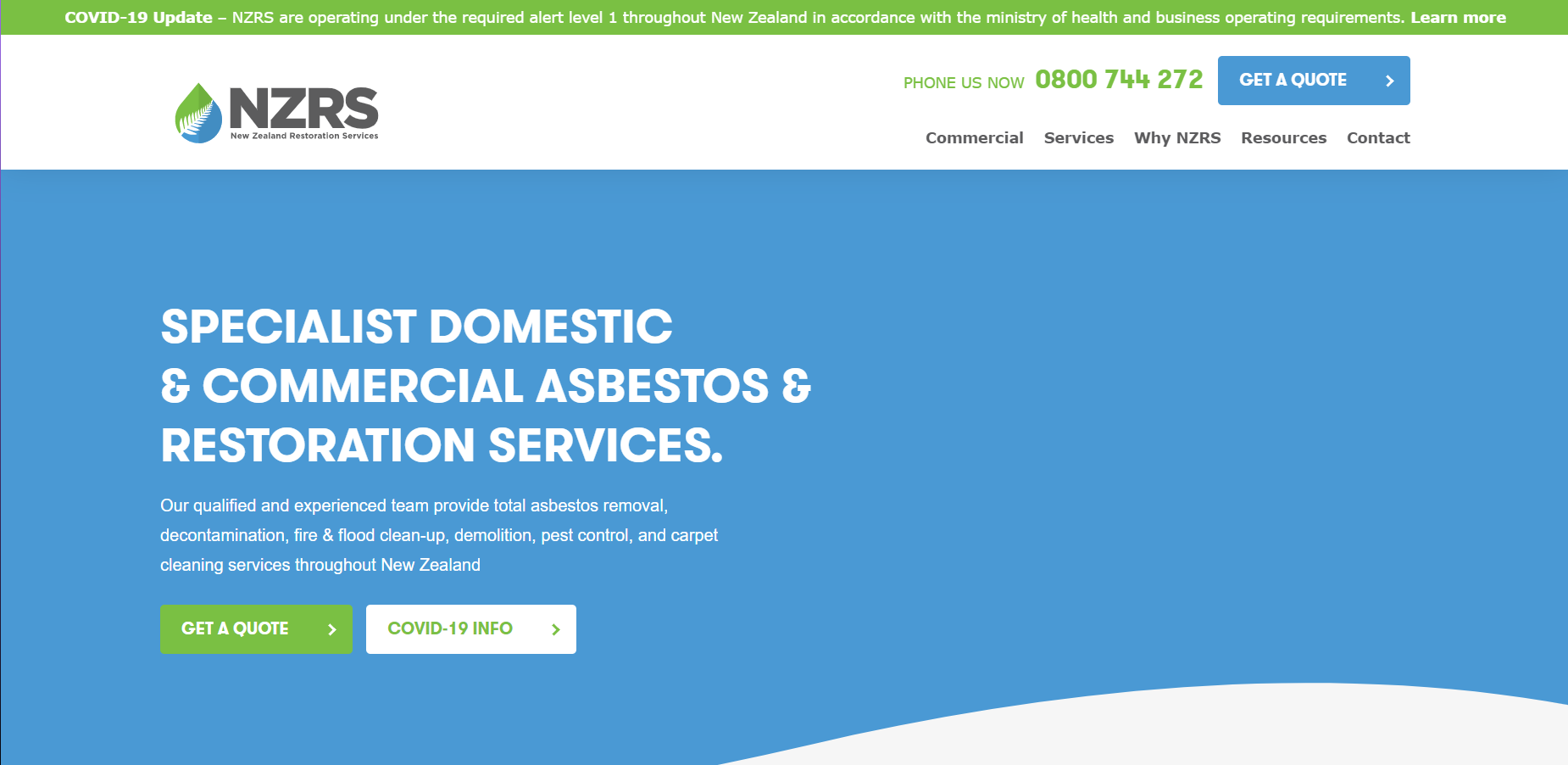 Best for
Restoration Services
Services
Asbestos Removal
Asbestos Surveying & Testing
Fire Damage
Flood Damage
Demolition
Meth Decontamination
Mould Treatment
Specialist Clean-Ups
Carpet & Upholstery
Address
57 Walls Road, Penrose,
Auckland
Contact no
Email: [email protected]
Phone: 0800 744 272
Website
https://nzrsnational.co.nz
The NZRS aims to provide restoration services all around New Zealand. They boast more than 50 years of experience in the industry.
They have a unique range of services to offer to their clients. Some of these include Asbestos Removal, Damage Treatment, Mould Treatment, and more.
Their qualified technicians are always on-call, no matter the time of day. If you're in a pinch and in need of emergency removals or restorations, you can rest assured that the NZRS will be able to assist you quickly.
Highlights
More than 25 years of combined experience
Wide range of services
Qualified and experienced team
Covers large areas in New Zealand
And with that, we conclude the best upholstery Auckland companies! Get your upholstery looking like you bought it yesterday with these well-versed upholsterers.
Do you agree with our selections pertaining to this topic? Let us know what you think by sending us a message and we'll get back to you in a jiffy.
Anyway, with your upholstery fixed and fabulous, you'll need to clean it along the way to keep it spotless and allergy-free. For this you can read about the best upholstery cleaning companies in Auckland.