7 Best Upholstery Cleaning Companies in Auckland
Your sofas are way safer and nicer to sit on when they're clean. If yours are badly stained or dusty, though, no problem — here, we've listed the best upholstery cleaning companies in Auckland.
Without any cleaning, your furniture can be home to allergens and microorganisms. These are harmful for you, especially for kids, and can cause allergies, asthma, or coughs.
Anyway, we selected upholstery cleaners that have experienced staff, modern equipment, and friendly and trustworthy attitudes. So now, here are the best upholstery cleaning companies in Auckland.
1) Hot & Steamy
Best for
Professional carpet cleaning, ceiling cleaning, upholstery cleaning
Services
Carpet & Upholstery, Ceiling & Wall, Tile Grout & Glass Restoration, Bathroom Restoration
Address
Auckland, New Zealand
Contact no
0508 STEAMY (783269)
021 1881158
[email protected]
Website
https://www.hotandsteamy.co.nz/
First up and number 1 on our list is Hot & Steamy Limited, a professional upholstery cleaning company headed by James Emery.
James began his journey in the cleaning business operating a well known cleaning franchise; where he honed his upholstery cleaning skills and displayed great attention to detail resulting in strong customer loyalty.
Over the years he not only perfected his upholstery cleaning service, but also added other niche services to the new Hot and Steamy business he started back in 2013, where he could better serve the people of Auckland, delivering specialised cleaning services that are second to none.
Now, when it comes to Hot & Steamy, clients can rest easy knowing that they are in great hands. James and his small team of technicians have every clients' best interest in mind as they go in and provide high quality, comprehensive upholstery cleaning services. Whether a lounge suite, your favourite armchair or even mattress, they will leave your treasured furnishings in clean and pristine condition.
Upholstery services they offer include polyester, wool, micro suede,  organic cotton / linen fabric cleaning, leather cleaning and conditioning.
The team at Hot and  Steamy can also help maintain the integrity of your upholstery with their specialised fibre guard protection application service that will repel spills that will help prevent permanent staining of your precious fabric.  Ask us about our discounted cleaning and protection package
Hot & Steamy use only the best quality products and equipment to ensure only the best results for their valued customers.
Although their services may be premium. Hot & Steamy wouldn't dream of overpricing their services. In fact, aside from offering one of the best carpet and upholstery cleaning in the business, Hot & Steamy is also one of the most affordable companies on our list.
To end things off, we also commend Hot & Steamy for their excellent customer service. The team is prompt, professional, and polite in every interaction and this is reflected in their online feedback.
Highlights
Comprehensive carpet and upholstery cleaning services
Highly trained, experienced and professional cleaning crew
Affordable cleaning services
Customer Reviews 
Here are some reviews left by previous customers:
"A highly professional and quality company. James and his team are awesome to deal with and the results of both carpet and couch cleaning were outstanding. They went the extra mile to ensure all marks taken care of and worked around our schedule. Very reasonable prices and just a pleasure to deal with. Would highly recommend."
"Their customer service, professionalism and job quality is 10/10. I had a HUGE black coffee spill on a beige carpet over the weekend. I'm renting, so this was a really stressful experience. They rearranged their own busy schedule to help me out last minute. Thanks James & Bobby, I am extremely grateful for your accommodating service. It's looking much better! :)"

2) Upholstery Cleaning Auckland Ltd.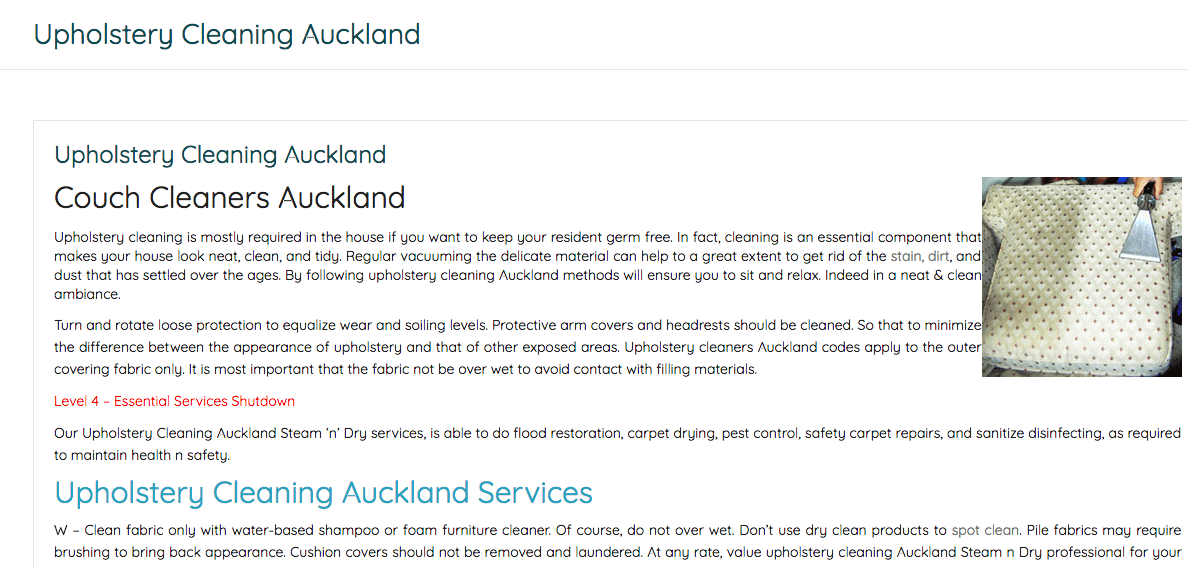 | | |
| --- | --- |
| Best for | Quality Upholstery Cleaning |
| Services | Furniture Upholstery, Car Upholstery, Furniture Cleaning, and Carpet Cleaning |
| Address | 26 Avondale Road, Avondale, Auckland 1026, New Zealand |
| Contact no | (09) 535 1055 |
| Website | http://upholsterycleaning.co.nz/ |
Your furniture or upholstery deserves to be cleaned every now and then. For fresh and spotless results, choose Upholstery Cleaning Auckland.
Their team is IICRC-registered which proves they consistently meet high standards in cleaning. In conjunction with this, they use hot water extraction to eliminate dirt and bacteria completely.
Prices are decent and the people are amiable and respectful of your belongings. In effect, this makes them one of the best upholstery cleaning companies in Auckland.
Highlights
Fresh and spotless results
Reasonable prices
IICRC certified member
Customer Reviews 
Alexa Jones noted on Google Reviews:
"They've been working on my parents upholstery and carpeting and I finally got the opportunity to have them clean my rugs and couches. The difference was so noticeable it was amazing. They are punctual, professional and personable, all the things we desire in a service company."
3)  Sofa Doctor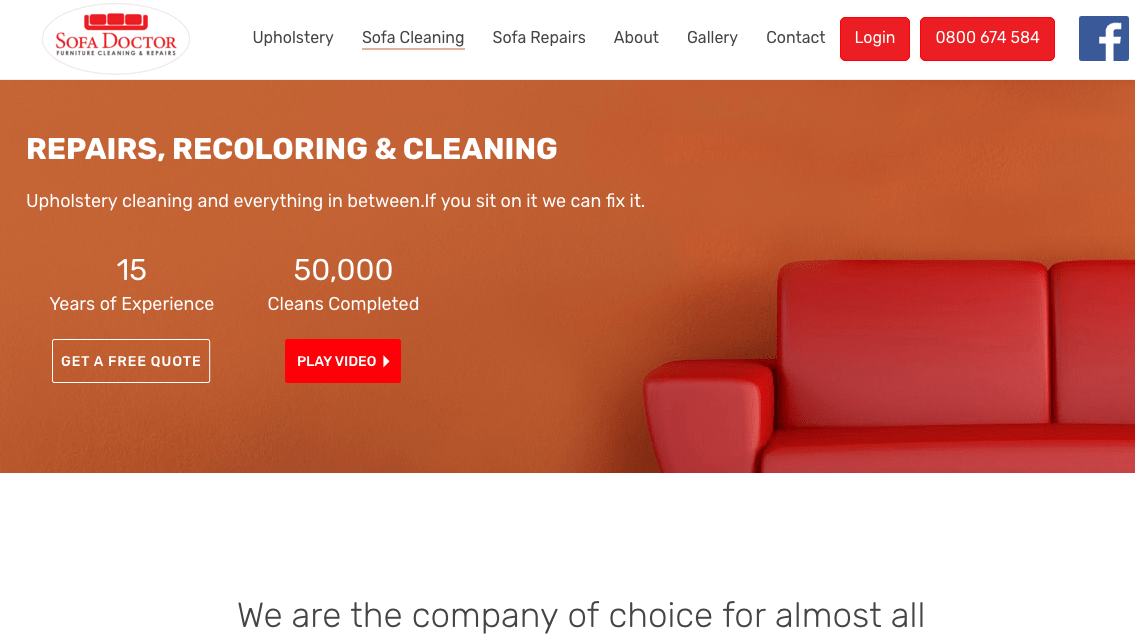 | | |
| --- | --- |
| Best for | Upholstery Repairs and Cleaning |
| Services | Domestic and Commercial Upholstery Cleaning, Re-upholstery, Sofa Cleaning and Repairs |
| Address | 443 Swanson Road, Ranui, Auckland 0612, New Zealand |
| Contact no | 0800 674 584 or 0800 295 882 (after hours) |
| Website | https://sofadoctor.co.nz/ |
Sofa Doctor, like its name, remedies your sofa or upholstery holes, stains, scuffs, wear-and-tear and the rest. This includes cleaning it, so you'll be comfortable enough to sit on it again.
In a way, Sofa Doctor is a one-stop solution for repairing anything you can sit on. For instance, they can repair and re-upholster your chair with a fabric and colour of your choice.
As their team are qualified professionals, you can expect a very high level of quality. They also give advice on caring for your upholstery in order to extend its life span.
Highlights
One-stop shop for your upholstery needs
Complete makeover for your furniture
Highly qualified team
Customer Reviews 
Yajing Yu has said onGoogle Reviews: 
"Fantastic result and professional service! Repaired my lounge onsite in 2 hours and I'm happy to use them again for sure! Highly recommended"
4)  Upholstery Cleaning Specialists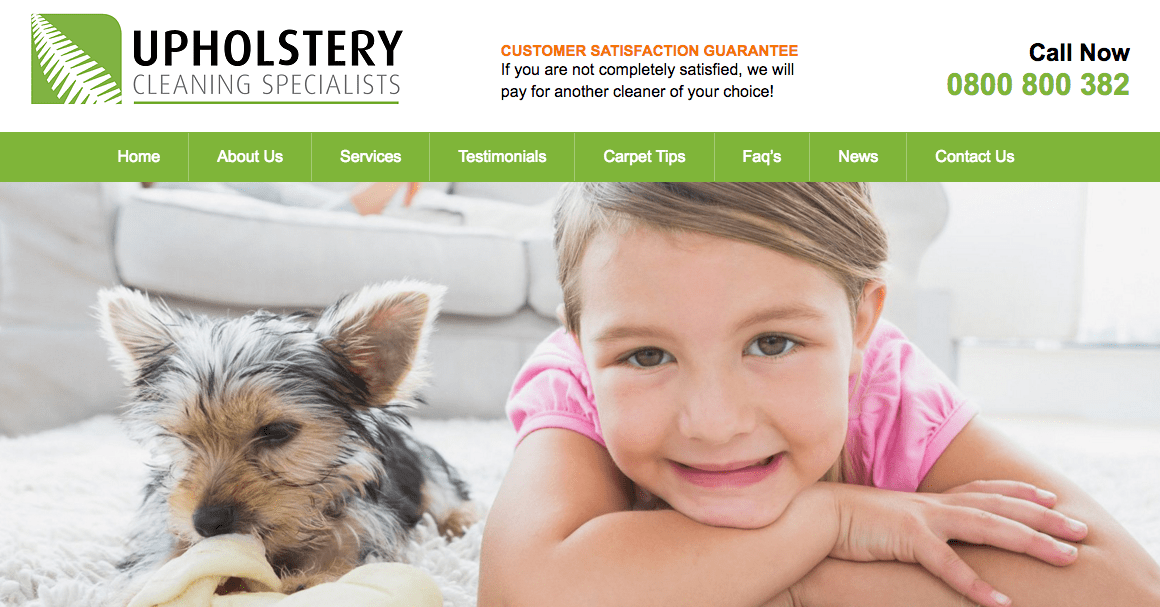 | | |
| --- | --- |
| Best for | All-Around Upholstery Cleaning |
| Services | Upholstery Cleaning, Marine Upholstery, Fabric Protection, Stain Removal, Pet Emergencies, and Water Damage |
| Address | 28-30 Constellation Drive, Rosedale, Auckland 0627, New Zealand |
| Contact no | 0800 800 382 |
| Website | https://upholsterycleaningspecialists.co.nz/ |
Worried that the upholstery cleaners will damage your fabric? Well, not with Upholstery Cleaning Specialists. In fact, they have upholstery (and any kind of fabric you can think of) down to a science.
They are the veteran of veterans with 25 years' experience in the industry. Be it stain removal, pet urine emergency, or upholstery refresh, they have you covered.
Not only that, but many retail companies call the team to rescue their upholstery. Among them are Harvey Norman, Warwick Fabrics, Harrisons Carpet One, and others.
That's first-rate evidence that they're one of the best upholstery cleaning companies in Auckland. And then there's their excellent customer service too!
Highlights
25 years of upholstery cleaning
Knowledgeable and efficient team
Renowned clients like Harvey Norman and Warwick Fabrics
Excellent customer service
Customer Reviews 
Here's Mrs Mckenzie's comment from the UCS website:
"Upholstery cleaning specialists cleaned our micro-suede lounge suite way better than our previous cleaner. The results were amazing, I would go as far to say, perfect!"
5)  Carpet Surgeon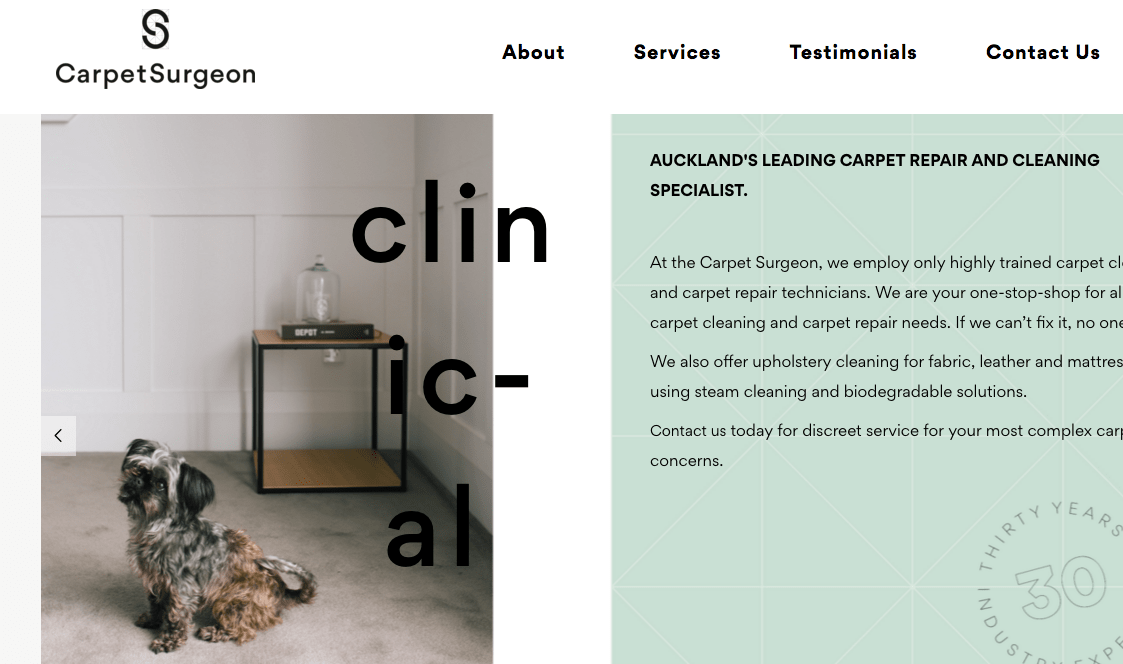 | | |
| --- | --- |
| Best for | Eco-friendly Upholstery Cleaning |
| Services | Fabric Upholstery Cleaning, Leather Upholstery Cleaning, Carpet Cleaning, Flood Restoration, and Rug Cleaning |
| Address | 1 Ferryhill Road, Epsom, Auckland, New Zealand |
| Contact no | 0508 787 4366 |
| Website | https://carpetcleanerauckland.net.nz/ |
For eco-friendly and safe cleaning of your upholstery, Carpet Surgeon is for you. They serve clients from the North Shore to Papakura and all across Auckland.
They generally use deep steam cleaning for both fabric and leather upholstery using the latest equipment while adhering to industry cleaning standards.
Being IICRC-licenced, the team at Carpet Surgeon can be trusted to get the job done exceptionally. With them, your couches or sofas will look and smell better than ever.
Highlights
Eco-friendly and safe cleaning solutions
Modern equipment and methods
Uses deep steam cleaning for fabric or leather upholstery
IICRC-registered team
6)  CleaningPro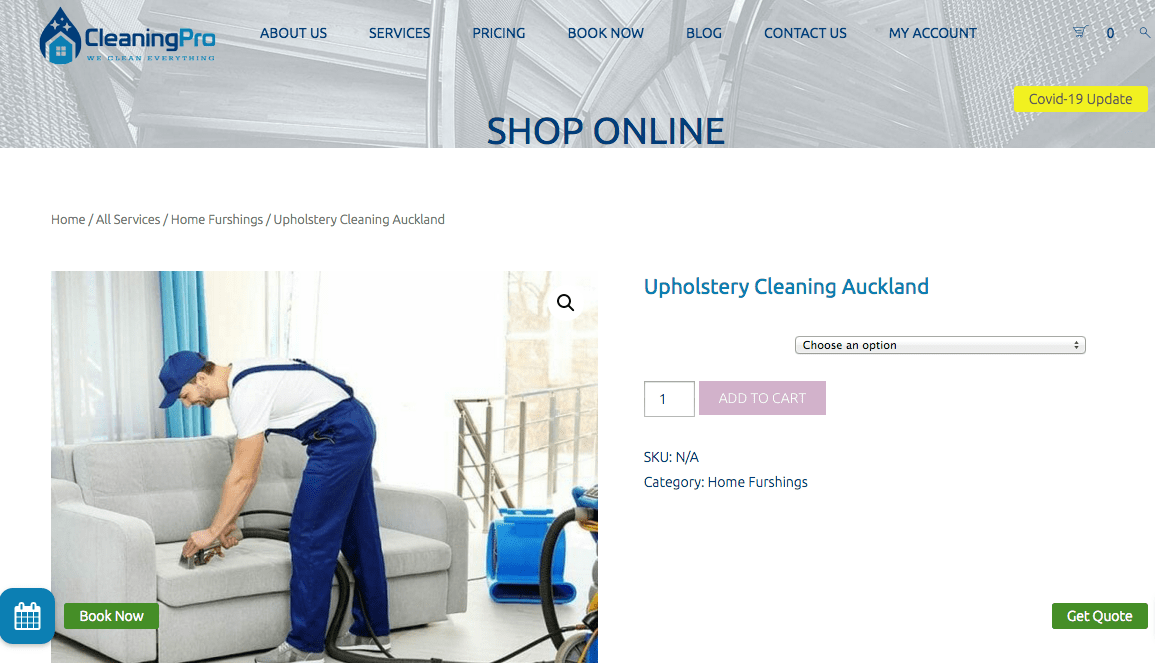 | | |
| --- | --- |
| Best for | Stain Removal from Fabrics |
| Services | Upholstery Cleaning, Stain Removal, Rug Cleaning, Mattress Cleaning |
| Address | 8/251 Lincoln Road, Henderson, Auckland 0610, New Zealand |
| Contact no | 0800 405 670 |
| Website | https://cleaningpro.co.nz/ |
CleaningPro is another of the best upholstery cleaning companies in Auckland. Partly, it's because they can remove stains from different fabrics like cotton, velvet, or suede expertly.
The solutions they use are planet-friendly and safe around kids and pets. Their deep steam cleaning reaches deep into the fibres to remove the harmful dust mites and germs.
You can book with them either through phone or their online booking system. Plus, they're open 7 days a week just in case you need them on the weekends.
Highlights
Brilliant team
Uses deep steam cleaning
Easy booking online
Utilises safe and planet-friendly agents
 7) New Zealand Restoration Service
Best for
Restoration Services
Services
Asbestos Removal
Asbestos Surveying & Testing
Fire Damage
Flood Damage
Demolition
Meth Decontamination
Mould Treatment
Specialist Clean-Ups
Carpet & Upholstery
Address
57 Walls Road, Penrose,
Auckland
Contact no
Email: [email protected]
Phone: 0800 744 272
Website
https://nzrsnational.co.nz
The NZRS aims to provide restoration services all around New Zealand. They boast more than 50 years of experience in the industry.
They have a unique range of services to offer to their clients. Some of these include Asbestos Removal, Damage Treatment, Mould Treatment, and more.
Their qualified technicians are always on-call, no matter the time of day. If you're in a pinch and in need of emergency removals or restorations, you can rest assured that the NZRS will be able to assist you quickly.
Highlights
More than 25 years of combined experience
Wide range of services
Qualified and experienced team
Covers large areas in New Zealand
And there you have it for the best upholstery cleaning companies in Auckland. Improve your home's hygiene by calling these professionals to clean your upholstery!
Do you have any questions about upholstery cleaners? If you have one, don't hesitate to send us a message and we will get back to you in a bit.
Furthermore, you might like to read about the best carpet cleaning in Auckland. Most of the companies there also do upholstery cleaning besides carpet cleaning, so feel free to check out that list too.