The 8 Best Upholstery Cleaning Companies in Christchurch
Similar to carpets, your upholstery needs to be cleaned regularly. If it's been a while since you've cleaned it, you can call on the best upholstery cleaning in Christchurch to do it for you!
What do you look for in an upholstery cleaning service? Simple — it's the team expertise and latest equipment to remove dirt and stains without damaging the leather or fabric.
Apart from that, you should look for someone who cares about your upholstery just as much as you do and is kind, friendly, and most importantly efficient.
We've gone looking for the best upholstery cleaners in the area to make things a bit easier for you, though. So if you're raring to discover who they are, here are the ones who do the best upholstery cleaning in Christchurch!
1) Puro Cleaning Service
BEST FOR
Holistic Cleaning Services
SERVICES
Carpet Cleaning
Office Cleaning Services
Commercial Disinfecting Solutions
Fogging & Sanitization Services
Mattress Cleaning
Move in & Move Out Cleaning
Tile Grout Cleaning
Upholstery Cleaning
Window Cleaning Services
WEBSITE
http://purocleaningservice.co.nz/
ADDRESS
Christchurch, New Zealand
CONTACT DETAILS
03 332 0750 /

[email protected]

OPERATING HOURS
Puro Cleaning Service is a company that accommodates a wide range of cleaning services ideal for both commercial and educational facilities. From carpet cleaning to window cleaning, they have since then been known for offering premium and thorough cleaning services ever since their establishment.
We like that they make it to a point to make sure that each client receives not only tailor-fit services but also products that specifically suit their environment and cleanliness goals as well.
Each of their services is also readily packaged and highly inclusive wherein they take the time to do procedures such as inspections and cleaning to ensure that the job is finished in an organized and punctual manner.
Note though that even if there are rates readily available, clients may need to expect additional fees to apply or changes on the overall quotation.
Nonetheless, with their exemplary and proactive customer services, efficient and holistic services, and highly effective products, we highly recommend them to business owners in the area looking for such services near them.
Highlights
Proactive and prompt customer service
Inclusive and comprehensive packages
Thorough and professional inspections done
2) Jae Christchurch North and West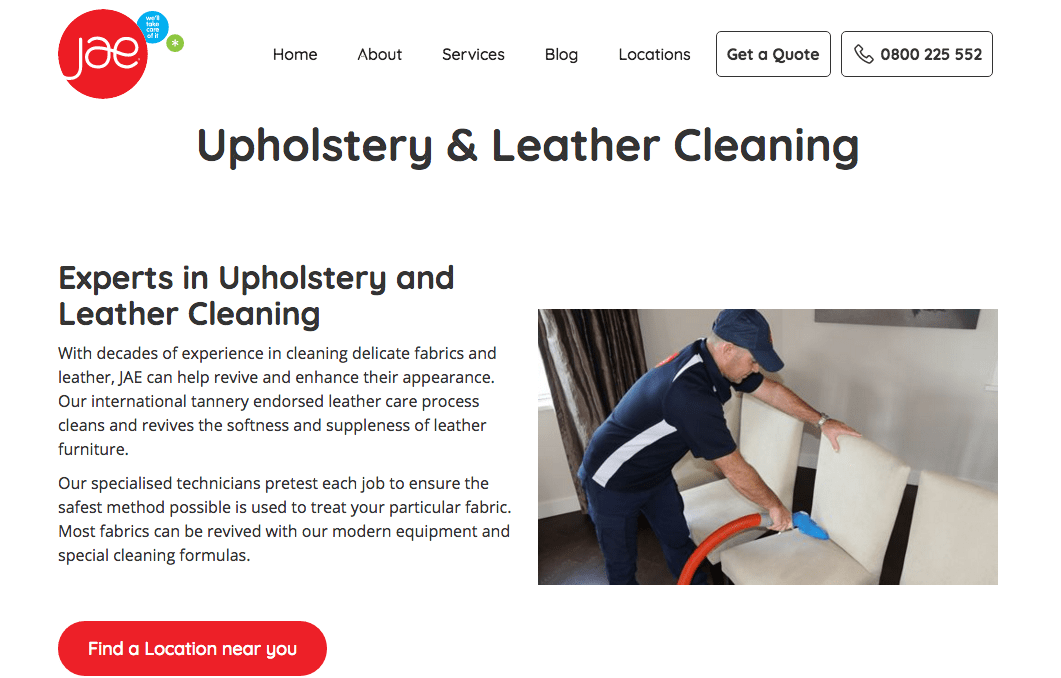 | | |
| --- | --- |
| BEST FOR | Highly Trained, Professional Cleaners |
| SERVICES | Upholstery Cleaning, Leather Cleaning Stain Removal, Hot Water Extraction |
| WEBSITE | https://www.jae.co.nz/locations/christchurch-north-west |
| ADDRESS | 48 Valley Road, Cashmere, Christchurch 8022, New Zealand |
| CONTACT DETAILS | 0800 225 552 |
| OPERATING HOURS | Monday to Friday: 8am – 5pm |
Upholstery cleaning is a cinch with JAE Christchurch North and West. Established in 1967 in Auckland, they have been providing reliable carpet and upholstery cleaning to Kiwi homes ever since.
The reason it's the best upholstery cleaning in Christchurch is that their team is composed of driven individuals who are highly trained and are courteous and honest to deal with.
They follow an effective process in their upholstery cleaning that includes inspection and spot treatment. After that, they use cutting-edge equipment in deep cleaning to take out the dirt.
You can also get a good, reasonable price from them to get the work done above par. That's why we're putting them in our list of top options.
Highlights
Above par upholstery cleaning
Highly trained, honest and courteous cleaners
Established in 1967
Reasonable price
Customer Reviews
One client, Robyn McDonald, wrote on Google Business:
"Wonderful team, polite efficient and consciousness. Explained everything they did. Were very prompt on all app times and did a great job. Thanks so much to your staff ☺"
3) Stainbusters
BEST FOR
Unmatched Efficiency and Skill
SERVICES
Carpet Stain Removal
Rug Stain Removal
Upholstery Stain Removal
Mattress Stain Removal
Curtain Stain Removal
WEBSITE
http://www.stainbusters.co.nz/
ADDRESS
Sydenham, Christchurch 8023
CONTACT DETAILS
027 385 8777/ 0800 289 2011 l [email protected]
OPERATING HOURS
Open all day
The work of Stain Busters is marked only by the highest standards. Whether your carpet, upholstery, rug, or curtain that needs cleaning– the efficiency and skill of their staff as well as their quality of service, remain unmatched.
The services they offer are accessible to everyone. Be it home or office cleaning, they make sure to accommodate any and every needs of yours. Moreover, they are flexible, readily able to adapt to your schedule so you don't have to worry about making time for them.
Stain Busters' work is IICRC-certified, complete with a hundred percent money-back guarantee and comprehensive liability insurance. By placing your trust into the hands of its responsible team, you are not only able to experience top notch cleaning, but will also support NZ charities such as the Child Cancer Organization and Heart Kids.
Highlights
Top-notch cleaning
Adept and efficient staff
Flexible and can adapt to your schedule
Has money-back guarantee and comprehensive liability insurance
Customer Reviews
Let's see Claire Mckinstry's review on Google Business:
"Really really good service!!! Outstanding! Messaged on a Sunday,
Got a call that day! Patrick came over on a Sunday to see the carpet stain and access everything, very friendly and knew so much about stains and how remove them very smart and switched on!!! We had a very hard stain to remove, curry … it had stained yellow we tried everything and could get it out!!! Patrick came and removed the stain, we were so stoked he got it out we thought it was impossible !!! But Patrick got it out, such a good job, we just cant reccomend enough!!!!!"
4) Extreme Carpet Cleaning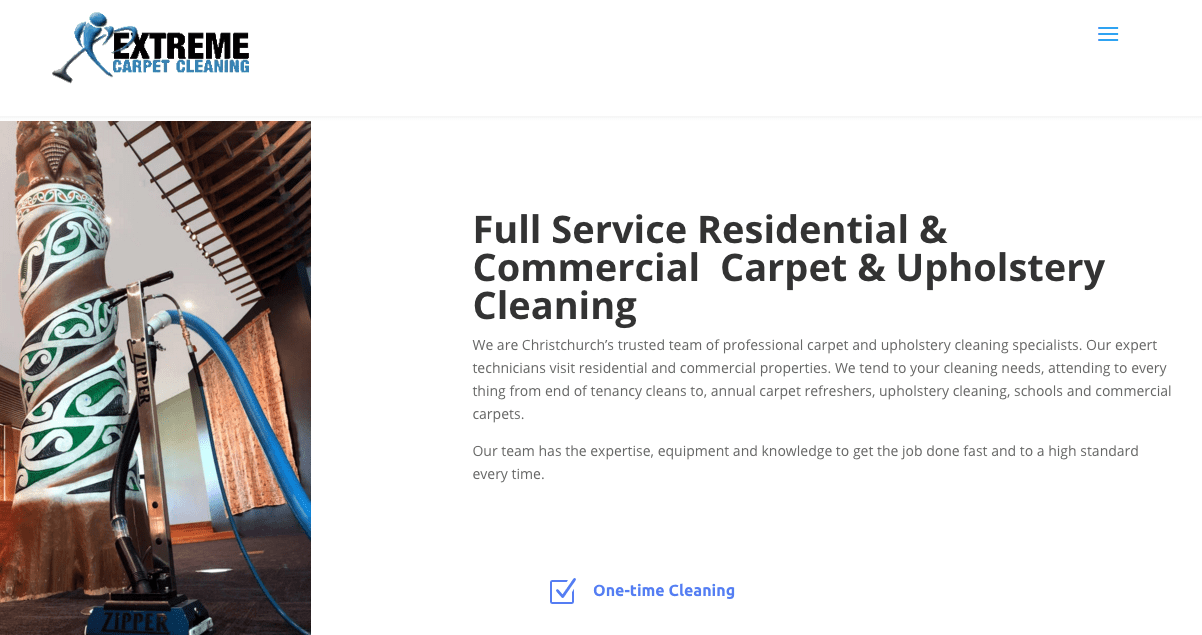 | | |
| --- | --- |
| BEST FOR | Affordable Rates |
| SERVICES | Residential and Commercial Upholstery Cleaning |
| WEBSITE | https://www.extremecarpetcleaning.co.nz/ |
| ADDRESS | 3/469 Tuam Street, Christchurch 8011, New Zealand |
| CONTACT DETAILS | 022 160 2598 or 03 390 1299 |
| OPERATING HOURS | Open all day |
If your upholstery or carpet are used almost daily, regular cleaning is vital to stay productive at work or home while reducing wear-and-tear.
But no worries as Extreme Carpet Cleaning will take care of that for affordable rates. Their team is knowledgeable and employs a standard process from the pre-cleaning right to the drying.
Eco-materials are imported from the USA and are used to take out the lingering soil and dirt from your sofa, lounge, and mattresses.
Being familiar with fabrics and the cleaning that's needed, they utilise a truck-mounted system or encapsulation techniques and make your upholstery and home white and clean again.
Highlights
Knowledgeable and skilled team
Follows an effective cleaning process
Uses Eco-materials for upholstery cleaning
Customer Reviews
One customer, Charlotte Harrison, shared on Google Business:
"Once again, Eamon and Sass have done an amazing job deep cleaning the carpets in my living areas and my module couch! With 3 kids and one child with a compromised immune system I have complete peace of mind knowing everything is all hygienic and clean. These guys are so thorough, personable, professional, and down to earth. Highly recommend using their services! Thanks guys!!"
5) Kimmie Kare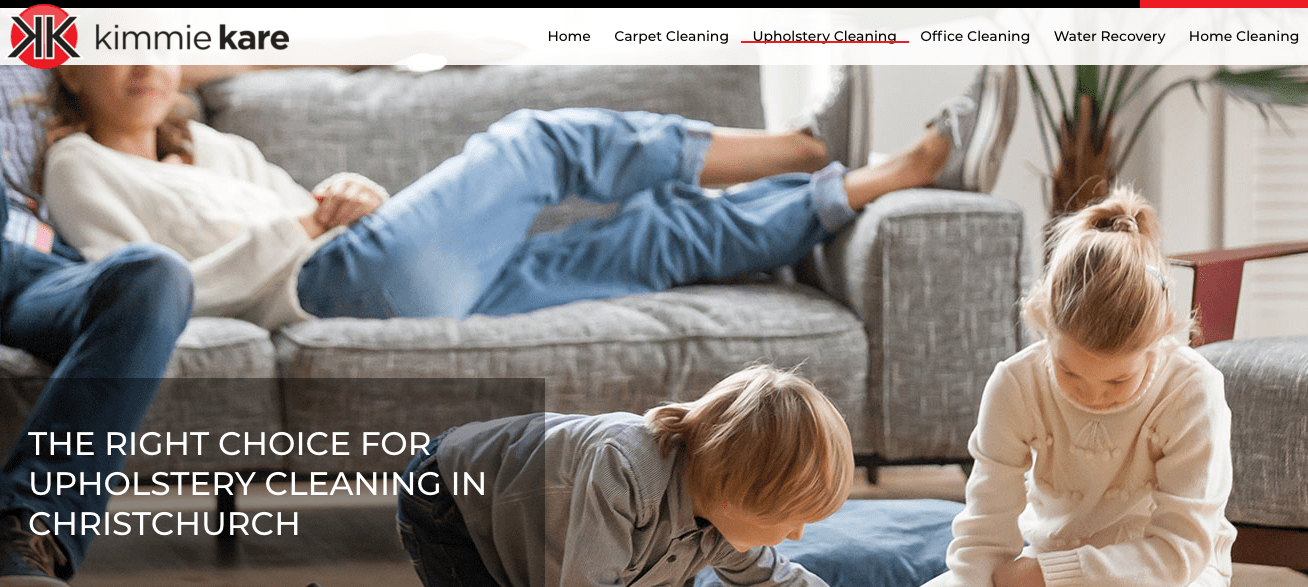 | | |
| --- | --- |
| BEST FOR | Spotless Cleaning and Competitive Pricing |
| SERVICES | Residential and Commercial Upholstery Cleaning |
| WEBSITE | https://www.kimmiekare.co.nz/ |
| ADDRESS | 5/72 Barton St Woolston, Christchurch 8023, New Zealand |
| CONTACT DETAILS | 03 3764576 |
| OPERATING HOURS | Monday to Friday: 9am – 5pm |
Moving on with the best upholstery cleaning in Christchurch, you have Kimmie Kare. They have a spotless cleaning standard, attention to detail, plus competitive pricing as their strong points.
Most of their clients are in the school and rental sectors. Using eco-friendly products, they do their part in keeping people safe while not harming the environment.
The staff are highly experienced professionals who know how to totally free your furniture from dust, pollen, and lost crumbs.
Kimmie Kare serves Christchurch and the surrounding areas, so delay no longer and get in touch with them if you need cleaner upholstery pronto.
Highlights
Spotless cleaning standard
Excellent attention to detail
Highly experienced professionals
Competitive rates
Customer Reviews
Check out Lisa Jones' review on Google Business:
"I've just had my lounge suite cleaned and what a difference it has made! Looks brand new again. The condition it was in prior was not good, water stains and children's sticky finger prints everywhere. Paul the technician was great to deal with and very friendly. Would definitely use Kimmie Kare again and highly recommend them.Thank you!"
6) Steampro Carpet Cleaning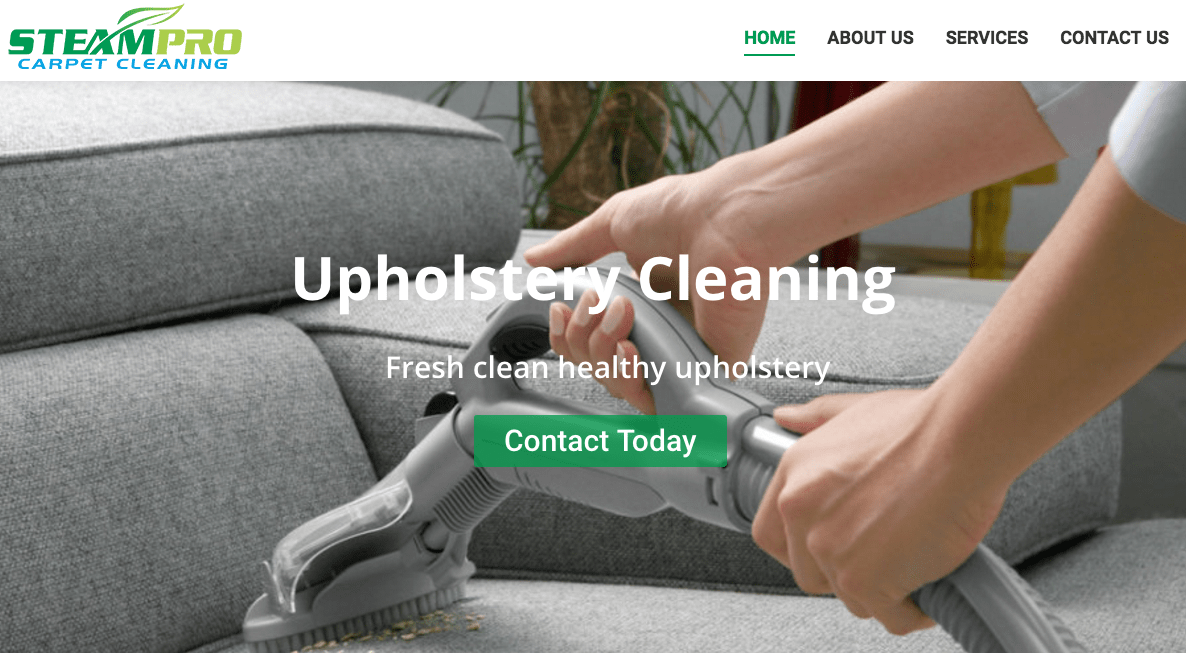 | | |
| --- | --- |
| BEST FOR | Safe and Eco-friendly Cleaning |
| SERVICES | Commercial and Residential Upholstery Cleaning, Deep Cleaning, and Stain Removal |
| WEBSITE | http://steampro.co.nz/ |
| ADDRESS | 21 Philippe Ave, Yaldhurst, Christchurch 7676, New Zealand |
| CONTACT DETAILS | 027 207 5588 or 03-768 7588 |
| OPERATING HOURS | Monday to Sunday: 9am – 9pm |
If you have playful kids and dogs at home, keeping your upholstery constantly clean is advisable. Therefore, you can call for Steampro Carpet Cleaning.
They care about your health and safety, which is why they use less water and only safe and eco materials. This way, it does not foster the growth of mould and will help in resisting stains.
Steampro Carpet Cleaning is 10 years strong in the cleaning industry too, it's worth noting. You can rely on their highly experienced team as well as state-of-the-art equipment for organic cleaning.
As a result, your home or workplace will have cleaner air and surroundings, letting you sit back and enjoy the day with your kids and pets!
Highlights
Uses safe and eco-friendly solutions
Highly experienced team
State-of-the-art equipment
Customer Reviews
Roger Shew, one customer, said on Google Business:
"Fast, friendly and professional. David went above and beyond in helping us clean our dining room carpet after an incident with our little dog. Came on the same day which was greatly appreciated. All stains and smell are gone, carpet fresh like new. Would definitely use this company again and highly recommend them to anyone wanting a top notch service at a very affordable price!"
7) GW Cleaning Services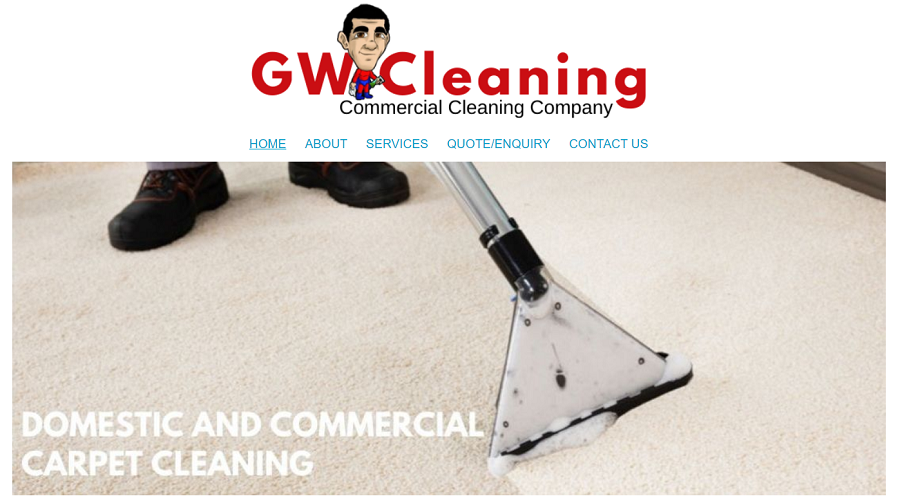 G W Cleaning Services can take care of all your carpet cleaning chores. They offer a professional carpet cleaning and upholstery cleaning through using a specialist hot water "steam" extraction system to make your carpets come alive.
Regular vacuuming will not be enough to remove built-up dust, dirt, grime, spills and all kinds of stains. This is where we G W Cleaning Services can help. Their system cleans deep down into the pile of the carpet. They ensure all residues are removed leaving you with a clean and fresh carpet.
Highlights
Professional carpet and upholstery cleaners
Uses a special hot water "steam" extraction system
Takes care of all your carpet cleaning needs
Customer Reviews
On the company's website, Sarah said:
"GW Cleaning provide a Reliable and Quality Service. Standards are high and well maintained. Glenn is friendly and approachable and if any problems arise he is there in a flash to fix them."
8) Triple Star
BEST FOR
Safe, High-Quality Cleaning
SERVICES
Christchurch COVID-19 Sanitize Services
Christchurch Office Cleaning Services
Christchurch Carpet Cleaning Services
Christchurch Upholstery Cleaning Services
End Of Tenancy Cleaning Services
Hard Floor Cleaning Services
Christchurch Commercial Cleaning Services
Christchurch Window Cleaning Services
WEBSITE
https://www.3plestar.nz/
ADDRESS
AIDANFIELD, Christchurch, New Zealand 8025
CONTACT DETAILS
021 023 57774 l [email protected]
OPERATING HOURS
Open all day
Triple Star Commercial Cleaning Services is a family-owned and operated company in Christchurch, built with the objective of providing top-notch cleaning services in both residential and commercial areas. They have been working in the cleaning industry for more than eight years– still continuing to stay true to their goal.
If your home is in serious need of cleaning but you have too little time, you can expect nothing but the best from Triple Star. The services are performed by skilled staff, armed with years of training and dedication to the field.
From the largest of rooms to the smallest of nooks, Triple Star has you covered– complete with an assurance of safe, high-quality cleaning.
Highlights
Family-owned and operated company
Providing top-notch cleaning services
Skilled and dedicated staff
Customer Reviews
Bob who works at Riccarton Mall Motel wrote on Google Business:
"Recommend!!! Very professional and detailed cleaning service.
This team has done the good job for our motel carpets cleaning.
Thank you so much for your excellent service at reasonable price."8) Puro Cleaning Service
---
And that's it for the best upholstery cleaning in Christchurch. Being happy is directly correlated to being healthy, which is related to the home environment you're living in.
Do you have any questions about the discussion today? Just send us a message and we will reply to you soon.
However, if you need to clean your entire house from top to bottom, corner to corner, and door to door, you can take a look at the best cleaning services in Christchurch instead. These are the most meticulous cleaners you can find in the area!