Our 5 Picks for the Best Upholstery Christchurch Services
One way to make your old chair look new and attractive is to reupholster it. If you are looking to rejuvenate it instead of replace it, you're in luck, as we've collated the best upholstery Christchurch services.
You need these services if your furniture has gone well past its peak from accumulated wear-and-tear. After sitting on them daily for long hours, you may realise the cushion has become flat and the fabric darker.
Not to worry, as Christchurch has a lot of upholstery services that will repair your furniture so it looks good as new. They'll also make sure it blends in with your decor amazingly — you'll love it!
If you're looking for a service that's cost-efficient, high in quality and equipped with helpful and well-versed staff, we've got them here with the best upholstery services in Christchurch.
1) Southern Comfort Upholstery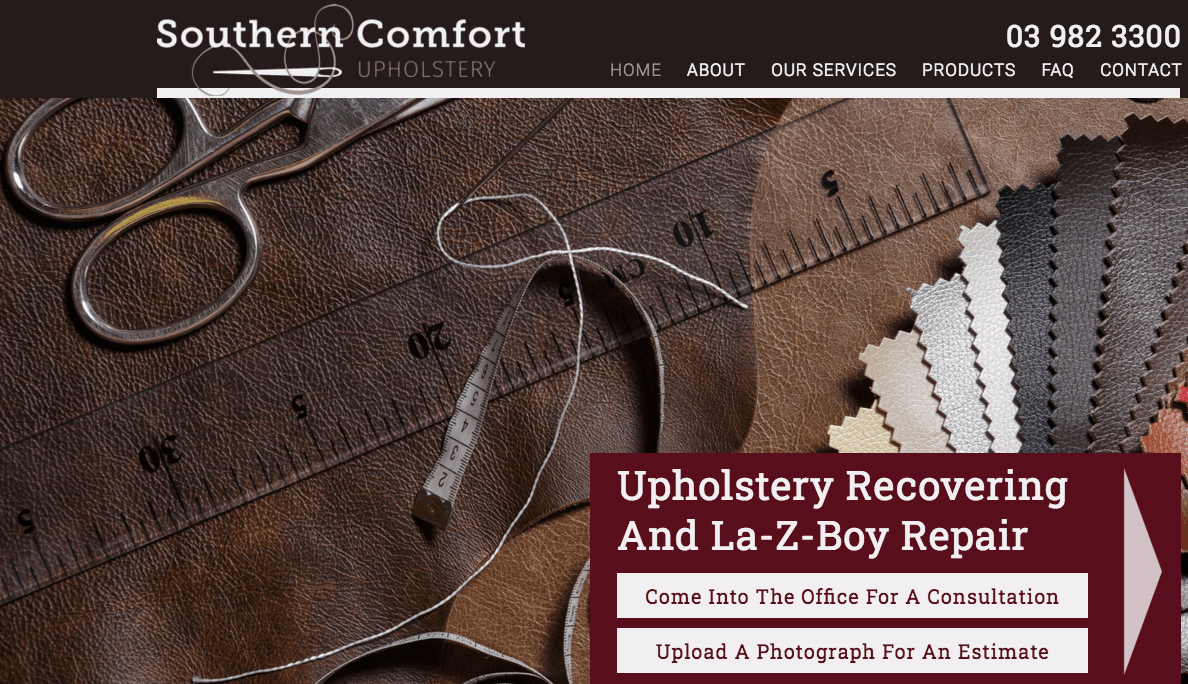 | | |
| --- | --- |
| BEST FOR | Remarkable Quality Service |
| SERVICES | Custom Upholstery Repair and Restoration, La-Z-Boy Recliner Repair, Vehicle Upholstery |
| WEBSITE | http://southerncomfortupholstery.co.nz/ |
| ADDRESS | 6/193 Waterloo Road, Hornby, Christchurch 8042, New Zealand |
| CONTACT DETAILS | 03 982 3300 |
| OPERATING HOURS | Monday to Friday: 8am – 4.30pm |
Your first choice for Christchurch upholstery professionals should be Southern Comfort Upholstery. No matter what style or how broken down the furniture is, they do a great job.
They offer repairs for your sofa, recliner, ottoman, chaise longue, dining chair, and even automotive or boat seats. That will give your seats a new look, touch, and durability.
Having 50 long years of experience, Southern Comfort Upholstery's quality is at the highest level. It is led by Garry and Zelma, who know everything about carpets.
All in all, they are a 5 man team that covers the Christchurch and Canterbury areas. They're easily among the best upholstery Christchurch services now.
Highlights
Provides a high standard of service
Long-standing 50 years of experience
Covers Canterbury-wide
2) Somerfield Upholstery Ltd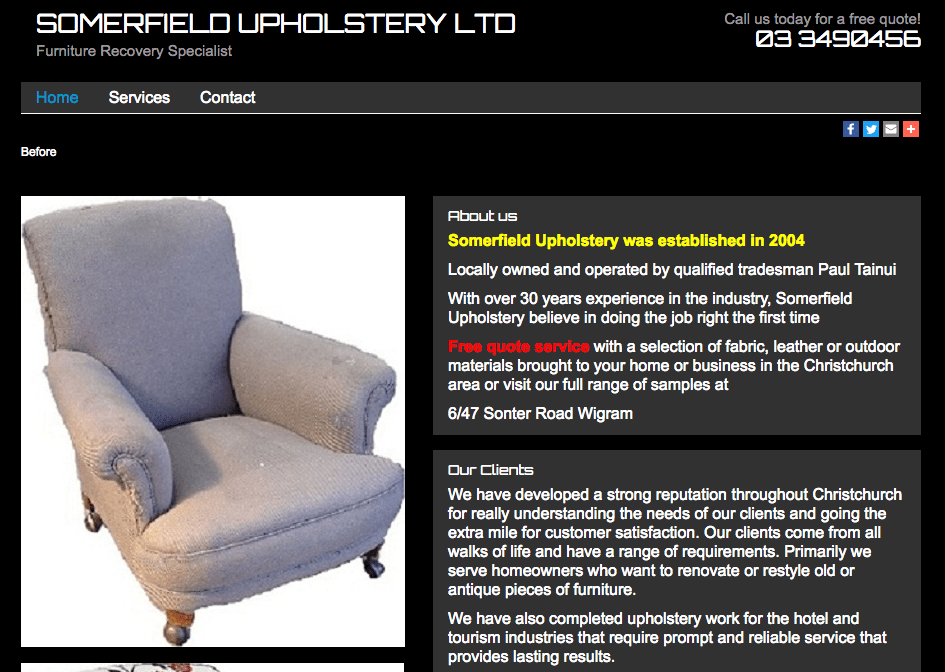 | | |
| --- | --- |
| BEST FOR | Value for Money |
| SERVICES | Upholstery Repair and Restoration |
| WEBSITE | http://www.somerfieldupholstery.co.nz/ |
| ADDRESS | 6/47 Sonter Road Wigram, Christchurch 8042, New Zealand |
| CONTACT DETAILS | 03 349 0456 |
Give your furniture upholstery a more epic look with the help of Somerfield Upholstery. They repair or restore a range of chairs, mostly antiques and elegant pieces.
Let them restore your saggy and sunken chair for a decorative and vibrant style. Or if there is damage to the furniture, they can repair it for you so you can use and relax on it once again.
They are composed of a team that pays attention to small details, are adept in all kinds of fabric, and who will help you design your home to be above expectations.
It's also good to note that they use sustainable products and the prices are affordable without giving up value. Hence, it is one of the best upholstery Christchurch services.
Highlights
Repairs and restores all kinds of upholstery
Great attention to detail
Provides value for money
Customer Reviews
One client, Wendy Goodbrand mentioned on Google Business:
"We are delighted with the reupholstering of the tub chairs that Paul at Somerfield Upholstery did for us. He did a great job, kept us informed throughout the process and had a great selection of fabrics to choose from. Would happily recommend his services."
3) Altered Images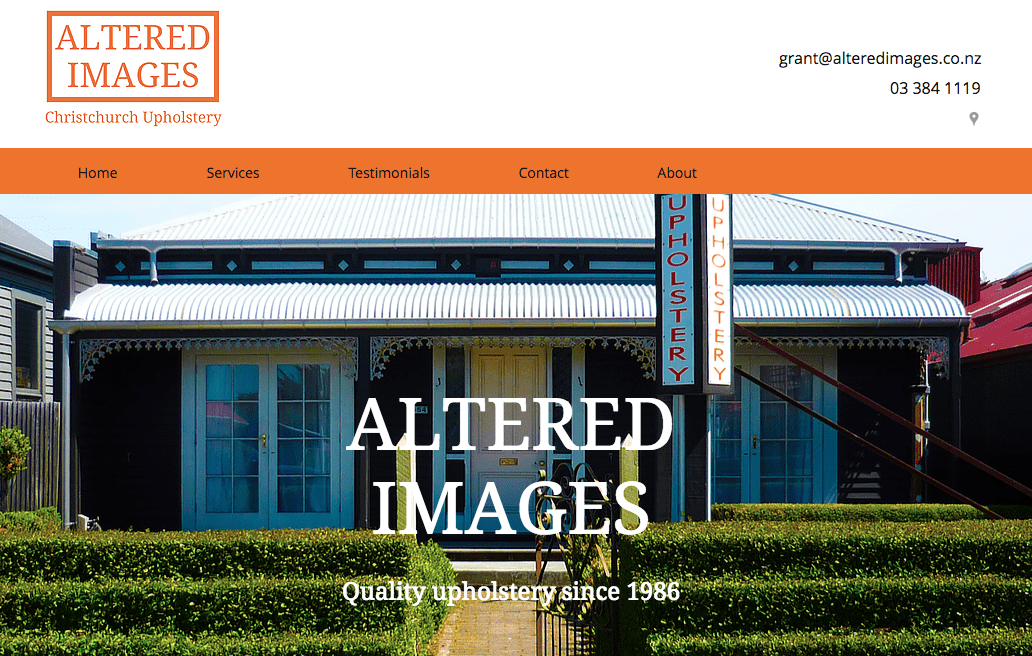 | | |
| --- | --- |
| BEST FOR | Customer Satisfaction |
| SERVICES | Re-Upholstering, Custom-Made Furniture, Antique Restoration, Restaurant/Bar Fit-Outs |
| WEBSITE | https://www.alteredimages.co.nz/ |
| ADDRESS | 654 Ferry Rd, Woolston, Christchurch 8023, New Zealand |
| CONTACT DETAILS | 03 384 1119 |
| OPERATING HOURS | Monday to Friday: 9am – 5pm |
Whether you'd like to reupholster the furniture your grandparents left to you or need furniture for your cafe or bar, get in touch with Altered Images.
The small details count for a lot when it comes to upholstery services. Here you get the comfiness of the cushion, smoothness of the fabric, or buttoned areas of period furniture you've always dreamed of.
Grant bases his success on customer satisfaction — and he does this by staying open to the ideas and goal of the clients as well as doing his work the right way, without any shortcuts.
This is yet another of the best upholstery Christchurch services for that reason. You will get exactly what you envisioned for your home or office for a great price and with stellar customer service!
Highlights
Superb customer service
Pays attention to the small details
Knowledgeable and experienced upholsterers
Customer Reviews
On Google Business, Emma Brittenden wrote a review:
"Grant recently restored a retro settee for us, and did an absolutely beautiful job. We probably could have spent a similar amount getting a mass-produced couch, but instead we got a stunning piece of furniture with a story. It has been lovingly restored from the springs and wooden legs right up to the new velvet fabric… and it looks and feels a million bucks. It's lovely to work with a craftsman… highly recommend going this route if you have a treasured piece of furniture."
4) Agnew Bros. Ltd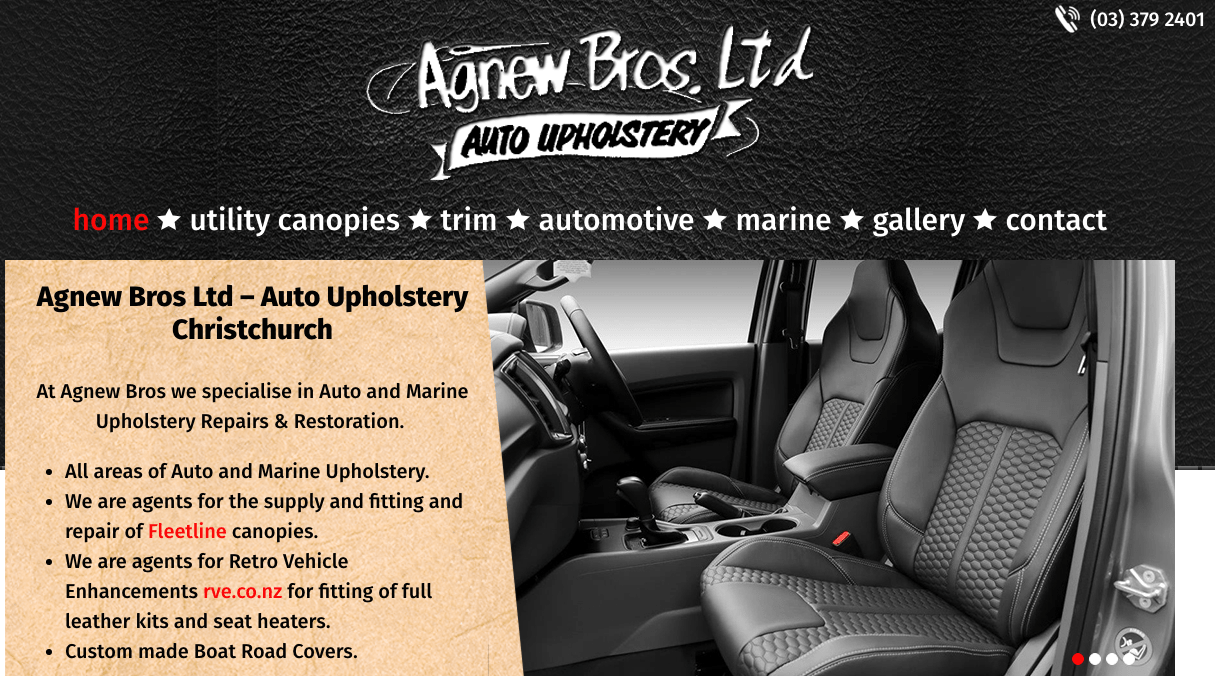 | | |
| --- | --- |
| BEST FOR | Car and Boat Upholstery |
| SERVICES | Automotive and Marine Upholstery Repair and Restoration, Custom Automotive and Marine Upholstery |
| WEBSITE | https://www.agnewbros.co.nz/ |
| ADDRESS | 91 Montreal Street, Sydenham, Christchurch, New Zealand |
| CONTACT DETAILS | (03) 379 2401 |
| OPERATING HOURS | Monday to Friday: 8am – 5pm |
If your car is several years old but the upholstery is a mess or needs to be changed, Agnew Bros is here to restore your car to ensure you still drive in style, whether it's inside or out.
Besides replacing the car seat upholstery, they can fix anything faulty within the car, such as the forward/backward or recliner levers. They also offer a ton of upholstery material options to suit your preferences.
Boat owners will benefit from their service too as Agnew Bros can do full work on their vessels' upholstery, squabs, carpeting, and others.
With them, your car will have never looked or felt better. This company is the go-to for car upholstery here.
Highlights
Provides a strikingly beautiful restoration
Automotive and marine upholstery specialists
Offers a large upholstery selection
Customer Reviews
One customer, Paul McCormick, noted on Facebook:
"What a great job u guys made of a classic seat recover!, such great efficient service guys!, thanks so much!"
5) John Cochrane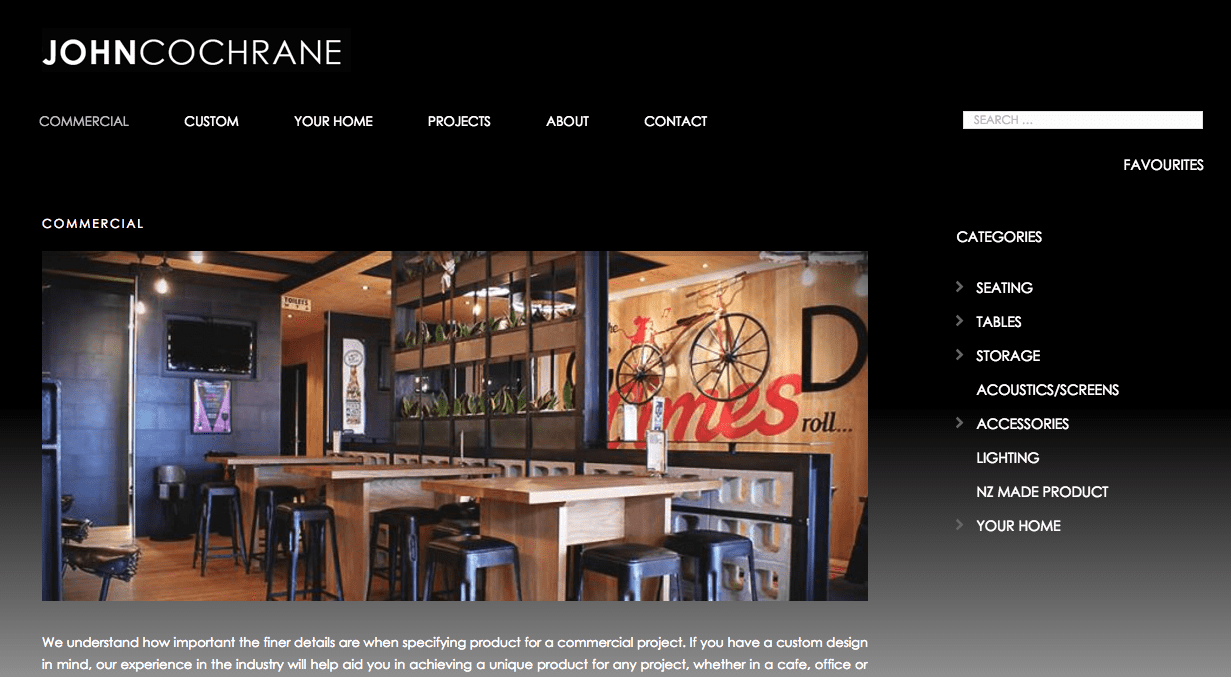 BEST FOR
Product Quality and Customer Service
SERVICES
Upholstery Repair and Restoration, Commercial Furniture, Home Furniture, and Custom-Made Furniture
WEBSITE
https://johncochrane.co.nz/
ADDRESS
1 Kingsley St (corner Hawdon St), Sydenham, Christchurch, New Zealand
CONTACT DETAILS

+64 3 377 0266

OPERATING HOURS
Monday to Thursday: 8.30am – 5.30pm

Friday: Closed

*For services outside of these hours, please schedule an appointment
John Cochrane supplies premium furniture for homes, offices, bars, and restaurants. Additionally, they refurbish or restore your furniture upholstery to its glory days.
They have all sorts of fabrics and designs — you can browse from the website or showroom. You can try to visualise if it is the design you would like and how you feel about it.
You can depend on John since he knows everything about the design aspect of upholstery too. Being approachable and optimistic, he will assist you and do everything to make it easy for you.
For quality of product and fantastic customer service, this is another one of the best upholstery Christchurch services.
Highlights
Fantastic product quality
Have all sorts of upholstery fabrics and designs
Approachable and helpful team
Customer Reviews
Danny McNeil said on Google Business:
"Great service here. If you are looking for interior decorating advice and or installation services these guys are excellent. Quality products from furniture to fabrics. Not just commercial either."
---
And that's a wrap for the best upholstery services in Christchurch. Make the most of your furniture by re-upholstering them and see their depreciation overturned.
Do you have any questions about the topic we've just had? Let us know if you have any questions and whether or not we missed something, and we will get back to you.
Other than that, if you need cleaning for your upholstery, you can just read about our picks for the best upholstery cleaning in Christchurch. That will keep your furniture in tiptop condition for years.
And how about adding floating shelves to your decor beside your elegant upholstery? If you want that, you can read our list of the best floating shelves in New Zealand.