Imagine hitting the road with a campervan and touring a city dotted with attractions and natural wonders. If this sounds right for you, you're on the right page… because we're here to help you out with the best van rentals in Auckland.
There are a lot of things you can do with a campervan in this area. In Auckland or Tamaki Makaurau, you can kayak to the majestic Rangitoto Island, go back in time at the old houses of Parnell, and have your brunch with coffee in Waiheke Island.
All this you can do with a campervan with friends and fellow Kiwis. Plus, in the motorhome, you are provided with all the necessities such as a kitchenette, shower, and toilet, so there's no need to seek a hotel.
Now without letting you wait any longer, here are the best van rentals in Auckland! These are the companies we found to be offering the best campervans and packages.
1)  Sunrise Holidays
Website: https://www.sunriseholidays.co.nz/campervans
Unlike other motorhomes, Sunrise Holidays makes sure you have the comfort of a home in your freedom camping. It is literally a home that you take with you on your travels.
The campervans are named after native birds that express the size and function of the vehicle. Piwakawaka, a small flyer; Weka, flightless but quick; and Takapu, magnificent gliders.
These are self-contained vans that are built for travelling, excursions, and utmost comfort. Each one has an oven and hob for cooking, spacious bed, table, shower, toilet and for larger vans, a cosy couch.
To take it even further, they have GPS, books, DVD, sound system, and solar panels. And customer support is on your side with roadside assistance too!
2)  Travellers Autobarn
Website: https://www.travellers-autobarn.co.nz/
Travellers Autobarn is for budget travellers with an add-up of space and convenience. It has two locations for its depot, Auckland and Christchurch.
It has been renting campervans in New Zealand for 11 years and more. Their fleet is modern with converted space-saving vans with a bed, table, storage, and kitchenette.
The most popular choices for backpackers are the Chubby and Kuga vans. Inclusive of the daily rate, you get roadside assistance, unlimited kilometres, and toll-free contact with the rental team.
Why is it then one of the best van rentals in Auckland? The answer to that is in their affordable rates and selection of safe and reliable campervans.
3)  Cruzen Campers
Website: https://cruzencampers.com/
Enjoy your driving with Cruzen Campers! It uses a finned-top Nissan NV200 packed with all the essentials and conforming to the country's road trip regulations.
The Cruzen1 and Cruzen2 are almost the same in all facets except the wider bed of the latter! For couples alone or with a child with them, this is one of the best van rentals in Auckland.
You will feel relaxed as you stream by (with an open or half-open awning) the many beautiful views around the harbour, the middle of nowhere , and sunny and summer beaches.
Not only that, but all the cutlery you need is included — spoons, forks, glasses, cups, and cooking pans. The solar panel from the roof lets you charge your phone and other electronics.
4)  Jucy Rentals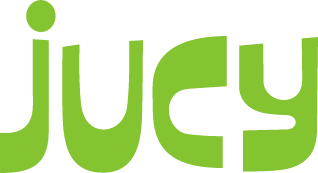 Website: https://www.jucy.com/nz/en/
This prominent campervan rental started right here in Auckland, New Zealand. People just love Jucy and there's nothing not to love about it.
When you book with Jucy, you get the best of everything — vans, accomodation, comfort, and sustainability. They have a fleet that caters to couples and families.
You can go green with the Jucy EV, as this car is electric-powered, has fold-up tables, kitchenette, classy couch, wooden floors. And you can call it a night on the roof with  a pop-up bed for two.
Apart from that, they have Jucy Condo, Jucy Chaser, Jucy Compass, Jucy Cabana and the more affordable Jucy Coaster vans. You can also enjoy convenience by hiring their vans from Auckland City and airport.
5)  Hippie Campers
Website: https://www.hippiecamper.com/
If you like to immerse yourself in a country scene (with fishing, picnicking, or hiking) just like in Hemingway's Nick Adams stories, you can hire Hippie campervans!
What makes it one of best van rentals in Auckland? It has great rates and designs that go with the campervans in the adventure you have always wanted.
Are you ready to be a hippie and have a memory-making road trip? Look out for their discounted deals on their homepage if so!
And there you have it for the best van rentals in Auckland. Avail of discounts and offers with these so that you can have the most bang for your buck for that dream New Zealand trip!
Do you have any questions about what we discussed? If you do, kindly let us know by sending us a message and we will reply to you as soon as possible.
And for an even more economical choice, if you're more of a traveller than a freedom camper, you can check out the best car rental services in Auckland.
And while you're at it, why not document the entire adventure? We have great suggestions for the best dash cams in New Zealand to capture those moments.