Top 6 Services for the Best VPN in NZ
Browsing online isn't that safe anymore. Everything we do and type on the Internet is watched, tracked, and even used by hackers and organizations.
That's why we've listed the best VPNs in NZ today! These can help keep you secure and free to do anything you want online, like shopping, streaming, and torrenting.
However, before we proceed to our top selections, we'll examine the price range of VPNs so that you'll have a good idea of which one you should get from our list below!
How Much Do VPNs Cost in NZ?
You'll find that most VPN plans are priced in US dollars, so we'll do the same here. Based on our data, the price range for leading VPNs in New Zealand is $30 to $60 per year.
But it can be lower, especially if you commit to a plan for a longer term, say 2 or 3 years. Some even include free months so you can enjoy your VPN service to the full.
Below is a table showing the annual VPN prices from different providers:
| | | |
| --- | --- | --- |
| VPN Providers | Price for 1-year plan | Price for 2-year plan |
| FastestVPN | $2.49/month | – |
| IPVanish | $2.62/month or $2.92/month (with storage) | – |
| Private Internet Access | $3.33/month | $2.69/month |
| CyberGhost | $3.99/month | $3.49/month |
| NordVPN | $4.92/month | $3.71/month |
| ExpressVPN | – | $6.67/month (15 months) |
| PureVPN | – | $3.33/month |
| Surfshark | – | $2.49/month |
As you can see from the table above, ExpressVPN's 2-year VPN plan price is higher than the others because it gives you 3 extra months for a total of 15 months.
Most of these VPN companies give you a money-back guarantee from 15 to 45 days too, which makes your purchase low-risk!
You can get tons of discounts too, so you have to check the sites often during holiday seasons. That way, you'll get a better deal and save up big time.
Also, you should carefully read the pricing plan before you buy a VPN. Some charge a very low rate in the first month but raise it exponentially in the succeeding months.
Hence, look out for statements such as 'billed this amount now and that amount thereafter' or 'charge this amount for the first year', or others.
The Best VPN in NZ Services
Now that you know how much VPNs cost, here is our roundup of the top services for the best VPN in NZ.
1) ZoogVPN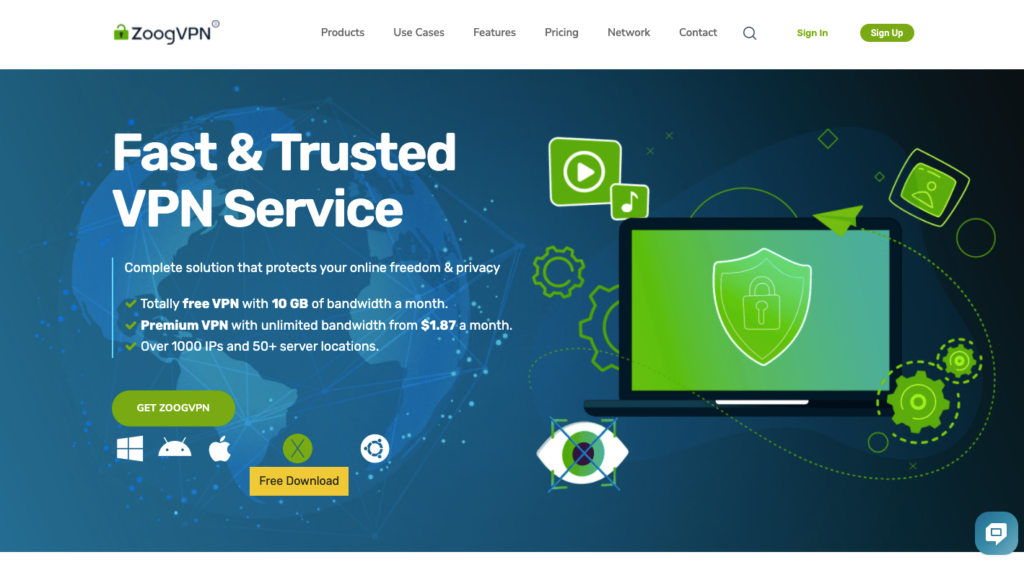 BEST FOR
Unlimited Devices
Affordable Price
SERVICES
VPN services
ADDRESS
130 Germanou, Patras 26224
CONTACT DETAILS
+306982989576


[email protected]

PRICES
2-year plan: $1.87/month
1-year plan: $2.99/month
1-month plan: $9.99/month
Per month: Free
Since May 2013, ZoogVPN has been of service in breaking down Internet censorship and providing true freedom and peace of mind to the average user online from anywhere around the globe.
ZoogVPN has its headquarters in Greece but due to the growth of their business with the help of existing and new clients, they have a strong team of management, developers, system administrators, product managers, and publishers.
But this doesn't limit their service as they also operate all over the world, including Europe, Asia, and North America.
It is impressive that they continue to innovate and improve their products and services since the ease and availability of their VPN service are critical to their success.
You won't worry a thing about your data's safety as ZoogVPN has been formed by a group of networking geeks and techies with IT experience dating back to the 1990s, during the Internet's heyday. They have a solid background in IT, Computer Science, and Networking. Your traffic is encrypted, your data is safe, and your internet is uncensored with ZoogVPN.
ZoogVPNs features have been designed for your security and convenience. These features include the best VPN protocols, a kill switch feature, leak protection, ZoogShadowing, Bank-grade encryption, Torrent-friendly features, strictly no logs, Global VPN Network, and SOCKS5 Proxy.
ZoogVPN is available for Windows, Mac, iOS, Android, Android TV, Amazon Fire TV Stick, Blackberry, Linux, and even on routers.
John D. provided this feedback for ZoogVPN:
"Virtually all VPNs are now blocked from accessing BBC iPlayer and ITV Hub, but to my surprise during my trial ZoogVPN worked with these streaming services. As a result I have now signed up for their great 2 Year Deal which must be the cheapest on the market. With this I am also pleasantly surprised to get US Netflix access among many other US streaming services. They have a handy "Play" icon in the apps to indicate streaming service availability. Had one or two small connection issues, but that is normal with VPNs, so nothing to complain about really. Highly recommend for streaming 5* +++"
Charles also left this review for Zoog:
"Quite happy with ZoogVPN with its coverage of Netflix, it covers dozens of countries for Netflix not just US and UK. The speeds are great from Europe and it's affordable. One or two more servers will not go amiss but the ones they have work very well."
2) NordVPN

BEST FOR
Exceptional online security
SERVICES
VPN services
ADDRESS
HQ: Panama
CONTACT DETAILS
Enquiries:

[email protected]


Business development:

[email protected]


Business sales:

[email protected]


For live chat, click here
PRICES
2-year plan: $3.71/month
1-year plan: $4.92/month
1-month plan: $11.95/month
NordVPN is the ultimate solution for securing all your data and traffic online whilst providing a high-speed Internet connection.
How? It features security protocols such as OpenVPN, IKEv2, IPsec, and NordLynx guarding your data against different ISPs, governments, and hackers.
With over 5506 servers in 59 countries, you can access geo-blocked content, share and download large files, stream movies and sports that are particular to one country.
Internet slowdowns are non-existent with NordVPN even if 6 devices are used by your family at home simultaneously.
Add to that the reliable 24/7 support and 30-day money-back guarantee. Certainly, NordVPN is the absolute best VPN in NZ and beyond!
NordVPN comes highly recommended by tech and security experts. Here are some of them:
Max Eddy, a software analyst from PCMag, said this:
"As VPN services go, it's hard to beat NordVPN. It has a large and diverse collection of servers, an excellent collection of advanced features, strong privacy and security practices, and approachable clients for every major platform."
Here's another one from Tech of Tomorrow reviewer:
"The bottom line here is: When you're online, you don't have to worry about being secure or about your information getting out there if you have a VPN. NordVPN makes it simple."
3) Surfshark

BEST FOR
Unlimited devices
SERVICES
VPN services
ADDRESS
Wickhams Cay I, Road Town, Tortola, British Virgin Islands
CONTACT DETAILS

[email protected]


Submit a request here
PRICES
2-year plan: $2.49/month
6-month plan: $6.49/month
1-month plan: $12.95/month
Surfshark is based in the British Virgin Islands and is teeming with a wide range of features to camouflage your online presence.
For instance, it uses CleanWeb to keep away aggressive advertising, malware, and phishing on your browser.
With a no-logs policy, none of your information, history, and searching habits are stored or visible to outside sources like marketing companies or cyber thieves.
Thanks to the AES-256-GCM encryption technology, no one can steal or spy on your data ever again. In case you lose your VPN connection, the Kill Switch feature activates to safeguard your privacy.
Even better, there's no cap on the number of gadgets that use the VPN. And signing up for a 2-year deal is super-affordable at only $2.49 a month!
Surfshark garnered a total 4.3/5 stars from thousands of reviewers. They mostly praise its quick and helpful customer service and great Internet speed.
Here's Dr Mario Heiderich, Founder & CEO of Cure53:
"To sum up, Cure53 is highly satisfied to see such a strong security posture on the Surfshark VPN extensions, especially given the common vulnerability of similar products to privacy issues."
Moreover, Daichi from Japan also mentioned this:
"My use case is to use streaming service. It didn't work first but ultimately worked perfectly with customer support's help. It has great live chat, and this person Lisa was very helpful. My case is with Linux(Ubuntu) so I actually didn't expect it solved, but she was so helpful and issue was resolved. Very reliable service including customer success I believe."
4) CyberGhost

BEST FOR
Streaming and torrenting
SERVICES
VPN services
ADDRESS
Bucharest, Romania
CONTACT DETAILS
For live chat, click here
PRICES
3-year plan + 3 months: $2.25/month
2-year plan: $3.49/month
1-year plan: $3.99/month
1-month plan: $12.99/month
Having more than 6600 servers worldwide, CyberGhost lets you stream and share media from different global servers, whether you're at home or travelling abroad.
CyberGhost's data security is top-notch and virtually unbreakable with AES 256-bit encryption, alongside private DNS servers and leak protection.
It also has an automatic killswitch, ensuring your data is protected during a VPN outage. Not even one bit of data will be taken and used without your knowledge.
The highly secured VPN can also hold up to 7 devices at the same time. That's sufficient for one family or household.
And the rates are better for a longer-term subscription. For example, their 1-year plan costs $3.99 per month and 3-year plan + 3 free months costs only $2.25/month.
Also, you get a 45-day money-back guarantee for the aforementioned plans. You can then get a refund if the service fails to live up to your expectations.
Though there were complaints about the Vpn from a few clients, most CyberGhost users have been happy with its streaming capability, neat and intuitive interface, and good speed.
One customer named Harold gave this feedback:
"CyberGhost, in my testing, simply gives the fastest throughput I've yet to see from any VPN I've tested. I haven't even mentioned their no tracking, and no logs policy. That combined with their vast number of server's located throughout the world means you can truly customize your browsing, and p2p activities without the fear of losing your privacy."
What's more, MPL wrote a review of the VPN provider:
"This is a great VPN program that is user friendly and works well. I have been able to stream things in other countries and watch tv shows I would not otherwise have been able to watch. There have been times when I tried to stream in other countries where it didn't work because the provider knew there was a VPN but it has not been a big deal. I check ipleak.org periodically and I have never had a leak detected while using CyberGhost. It is well worth the money to get this VPN and stay safe."
5) PureVPN

BEST FOR
Kind and dependable support team
SERVICES
VPN services
ADDRESS
Hong Kong
CONTACT DETAILS

[email protected]

PRICES
2-year plan: $3.33/month
7-day trial + 47% off on 1-year plan: $0.99/week
1-month plan: $10.95/month
PureVPN was formed in 2006 to secure users against hackers.
It has 6500+ servers located in over 180 countries, a 100% zero-log policy, and 256-bit AES encryption to keep you unidentifiable and unpredictable on the web.
Furthermore, 10 multi log-ins allow you to sign in up to 10 different devices under the same account. The VPN will work on those devices without any slowdowns or lags.
Aside from that, for an extra cost, you can have your very own disguised IP to further enhance your security online.
What's unique about PureVPN is its 7-day trial for just $0.99 a week. Availing of this will give you almost half-price on their 1-year plan.
Plus, they have a nice and helpful customer support team to sort you out 24 hours a day and 7 days a week.
As we said, the customer service of PureVPN is professional and friendly and that's important for every service.
Let's take a look at Luis' review on Trustpilot:
"Was connected to Ethan and he did a great job answering me questions and providing me links to everything, all that with great speed and fast response.
Thanks."
Another VPN user left this comment:
"I have been using PureVPN for months now and i have to say their services are the best out there. I personally use it for everything on my day to day life and from the start to the end they have everything you need. Excellent support and service provided from the beginning."
6) ExpressVPN

BEST FOR
Lightning-fast connectivity
SERVICES
VPN services
ADDRESS
The British Virgin Islands
CONTACT DETAILS
Live chat can be accessed from the bottom of their website
PRICES
15-month plan (includes 3 free months): $6.67/month
6-month plan: $9.99
1-month plan: $12.95
ExpressVPN brings excellent security and lightning-fast connectivity whether you are file-sharing, tweeting, downloading apps, or streaming videos and music.
Your VPN will run on your phone in just one click and you can choose from any of the 160 global servers at any time and without restrictions.
Key features include split tunnelling, a private DNS server, and a network lock kill switch that automatically blocks all incoming traffic if your VPS network drops.
Through the BitPay app, you can also purchase things securely using Bitcoin without needing to supply personal details except for your email address.
The VPN app is available on devices such as Windows, Mac, Linux, iOS, Android, and even routers and smart TVs.
This premium VPN lets you have peace of mind in protecting your privacy. It's also great for when you travel a lot and don't want to miss a show or app that you need.
One satisfied user named Richard wrote this review:
"ExpressVPN is without doubt the best VPN available, I have now found it indispensable especially as I travel extensively. ExpressVPN enables me to access all of my favourite apps and websites while on the go so that I never miss anything and the yearly payment enables me to connect all my devices. Another really great addition is the quality customer service so no matter where you are in the world ExpressVPN is always with you. As a genuinely happy customer I fully recommend this VPN not only to keep your anonymity but to be able to access your device when you travel as if you were at home."
And check out Jose's comment of ExpressVPN:
"I am delighted with express VPN. I feel confident that if I do not have a strong enough signal that is not secure, I will not log onto the Internet. If my Internet provider throttles the Internet access, I see that it is not an issue using express VPN. My second year using the Express VPN, and I also use it for my phones and laptop. I recommend it to everyone I know, mostly when they complain about their privacy."
FAQS about the Top VPN in NZ Services
---
And that's all for our top VPN services in New Zealand list! With them, you'll have more freedom in accessing content and streaming media safely and securely.
Do you have any questions regarding our picks? If you have one, kindly send us a message, and we'll get back to you in a jiffy.
Also, if you need to replace your slow Internet, you might want to read about the best Internet providers in New Zealand too. Check out our other article for that!