The 6 Best Waffle Makers in NZ New Zealand Reviewed
Sometimes there's nothing like the perfection of waffles with maple syrup in the morning. If you want an easy way of making some for yourself or your family each morning, you'll need the best waffle makers in NZ New Zealand — which we'll discuss today.
You have tons of choices for waffle makers now, with each one differing in texture, taste, heating time, price, and features. That being said, how do you know which to pick?
Before we start our product list for electric waffle irons, we'll help you out with that. We'll enumerate the two types of waffle makers and then go over the features to consider.
After that, you should have a better idea of what waffle makers you need. That's when we'll take you through our choices for the best waffle makers in NZ New Zealand.
Two Types of Waffle Makers in NZ
There are two types of waffle makers or irons you can buy:
1. Cast Iron Waffle Makers
Cast iron waffle makers have to be preheated over your stove. They're composed of two iron plates pressed together with their handles to cook the waffle.
Once the waffle iron maker is heated, you pour the batter onto the lower plate and close it. To help the batter spread evenly, you then have to flip it carefully onto the other side for a few minutes to cook it.
You have to be careful with these, as they can spill batter or drop some crumbs.
2. Electric Waffle Makers
A more convenient way to cook waffles is through electric waffle makers. Unlike cast iron types, these don't need a stove.
An electric waffle maker has considerably better heating and evenness than its cast iron counterparts. However, it still depends on what model you are using.
With its deeper lines and gaps, the batter spreads out consistently with the waffles you make. And the flip function lets the top and bottom get their share of heating and taste perfection.
To save your space, most of them can be closed and stowed in your kitchen cabinet or atop your counter.
Features to Consider in Buying Electric Waffle Makers in NZ
Here are some of the important features to have in your electric waffle irons:
1. Consistent Heating
A waffle iron that heats consistently is what you should go for. That leads to evenly cooked waffles.
Again, a waffle is best when it's crisp on the outside, but soft and fluffy on the inside. If it's not heated evenly, a waffle can turn out slightly dry.
Also note that the heating has to be at the right temperature range, preferably at 400-435 degrees for 3-4.5 minutes. Exceeding that level usually means a soggy waffle or overcooking.
2. Stationary or Flip
There are two versions of electric waffle makers: stationary and flip.
Both of them act through a simple mechanism where you press down the plate over the batter to griddle your waffles.
However, flip versions are those with flip or rotary features. They make it easier to produce evenly cooked waffles.
3. Reheat Time
This lets you cook your waffles one after the other continuously and without wasting energy. Usually the models that let you do so (even ones that cook 2 or 4 waffles at a time) cost considerably more than budget models.
4. Removable Plates
This lets you remove the plates so you can wash them thoroughly and dry them before putting them back on the appliance.
Note that you may also want to check if the plates are non-stick. If they are, that means easier washing.
5. Drip Tray
For neatness in your kitchen, a drip tray for your waffle maker comes in handy. It catches the spills and crumbs that may fall from the machine.
6. Audible and Light Indicators
A cooking indicator can be useful when cooking waffles. You will hear it beep to provide you information on its cooking stages, such as if it's starting to cook or if it has already finished.
Same goes for light indicators that inform you if you can put the batter in, it's close to being done, or it's already done.
7. Convenience
Since your kitchen counter only takes up so much space, a model that folds down to close it securely is convenient, especially if it comes with cord storage.
The Best Waffle Makers in NZ New Zealand Reviewed
Now that you have an idea about the features you have to consider, let's round up our best waffle makers in New Zealand.
1. Breville Crisp Control Waffle Maker
Best for Smaller and Healthier Waffle-Snacking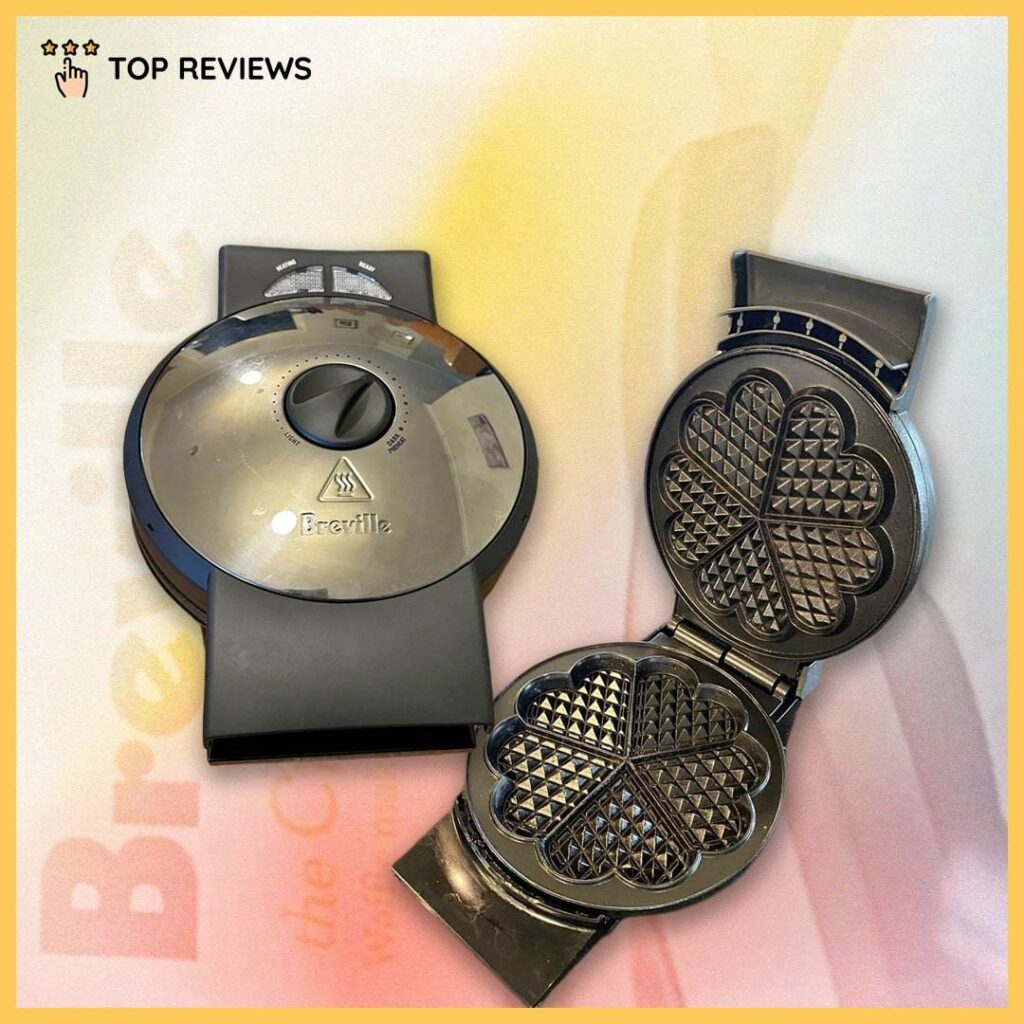 Price: NZ$104.00
If you like waffles for a small snack or to incorporate in other sweet and tempting desserts, you will like the Breville Crisp Control waffle maker.
Your waffles will be made in the form of a heart — the famous Scandinavian waffle. That heart consists of a diamond-shaped body when you look at it without slanting it.
With the variable temperature control, you can set it to cook in the way that you like. From fluffy and light flavours up to crispier and more baked versions.
The disc-shaped lid is made of stainless steel, giving it style and durability as well as allowing your waffle to be heated better. And don't worry, the handle is cool enough to be held during cooking.
You have light indicators instantly telling you if it is currently cooking and when your waffles are ready. This is a great safety feature, especially when there are children around.
Plus, the lid has a non-stick coating and therefore is easy to clean after use. Just use a damp towel and it'll remove any stains or crumbs left on it–the best waffle maker in NZ for those with very little time especially in the mornings!
Highlights
Variable temperature dial
Makes Scandinavian heart waffles
Easily cleaned with a damp towel
Non-stick plate
Heating and ready indicators for safer operation
Customer Reviews
23 out of 29 people gave it a 5-star rating on Harvey Norman. They praised it, saying it is user-friendly, easy to clean, and most importantly, adjustable.
Sadie from Wellington, NZ comments:
"I bought the Breville crisp control waffle maker two weeks ago. I am super happy with it and its one of the best appliances i have bought in a while. if you are a lover of crispy waffles like me this product is definitely for you."
And May11 also writes:
"Great machine can have waffles cooked to different tastes- light or crispy easy for kids to use easy clean, be great to have one that made deaper waffles."
2. Breville No Mess Waffle Maker
Best for Innovative Feature (Spill Free)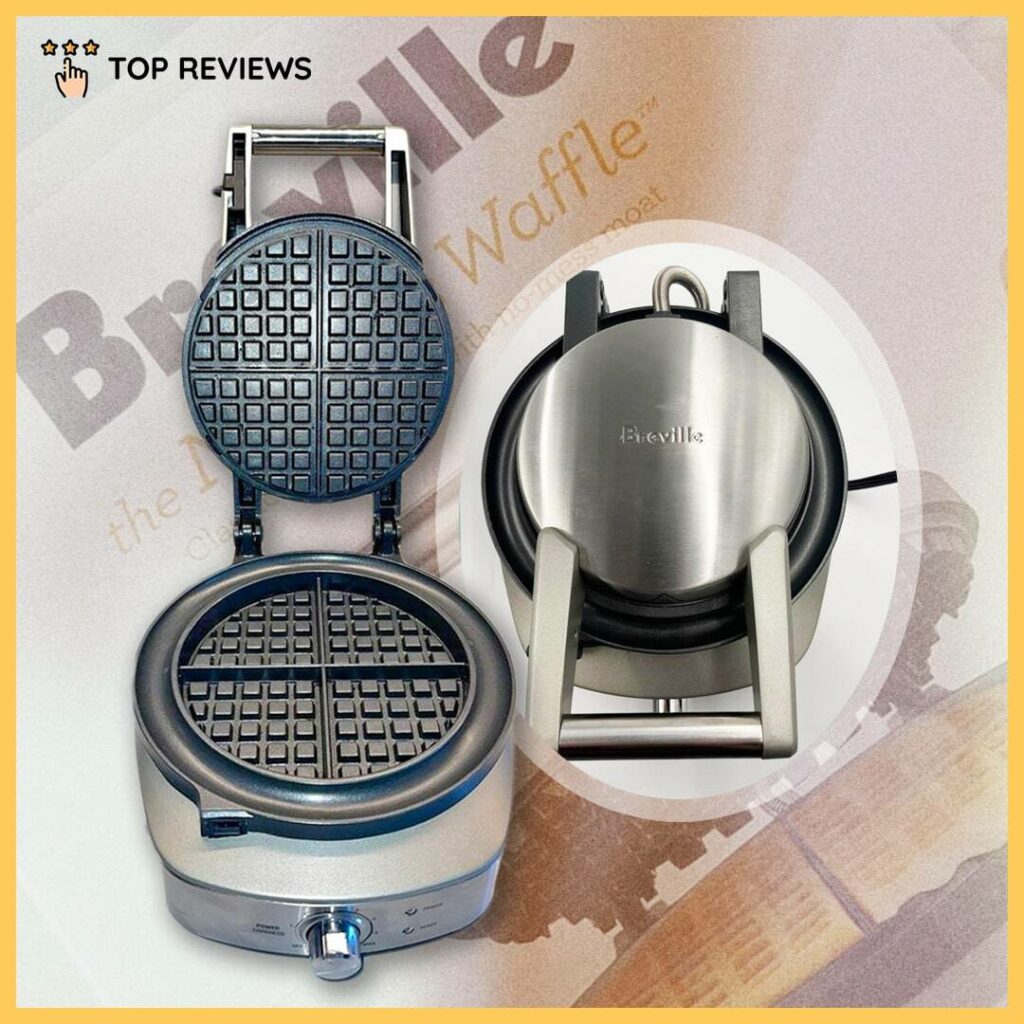 Price: NZ$148
With the simplistic handling and perfect waffle it makes every single time, what more could you ask for with the Breville No Mess Waffle Maker?
7 doneness settings let you pick if you like your thin American waffle lightly cooked, mild and medium, or even totally crusty and fully cooked.
And it's truly a no-mess waffle maker, as it has a moat around it that prevents the batter from spilling outwards. And cleaning it becomes easier with its PFOA-free non-stick surface.
Thermal Pro even heating ensures your waffle is browned and aptly heated to your satisfaction. You can then make your gourmet recipes or morning breakfast without any fuss.
Super simple light-up indicators tell you when power is on or when the batter is ready to be used. Along with its no-spill feature, it's the best waffle maker in NZ for those with kids who want to help make breakfast!
Lastly, its reheating is premium too as you can shortly cook another waffle without loss of effect, taste, and texture.
Highlights
Cooks the entire waffle evenly with Thermal Pro
Fast reheat time for a new round of waffles
No-mess batter splatter
PFOA-free non-stick coating plate surface
Light-up indicators for both power and readiness
Customer Reviews
This Breville no-mess model is an appliance masterpiece, say many owners. The features are perfectly thought-out, and the waffles are of good quality as well.
Horabed from the Breville website wrote:
"I have used this for a few months now, and every recipe has turned out well. I can achieve any finish at all, which is great. I particularly like using the recipes in Where There's A Will, There's A Waffle. Sweet, savoury, heavily loaded or simple recipes, this machine does them all very well. The moat has saved many a mess and the spill over is cooked and edible as well."
Another, a Noel Leeming reviewer, Janene J says:
"Very happy with our new waffle maker. Makes lovely deep crispy waffles with no mess. Far superior to our old Breville machine.
It is a bulky appliance but the quality of the waffles well and truly compensates."
3. Presto FlipSide Belgian Waffle Maker
Best for Budget Waffle Maker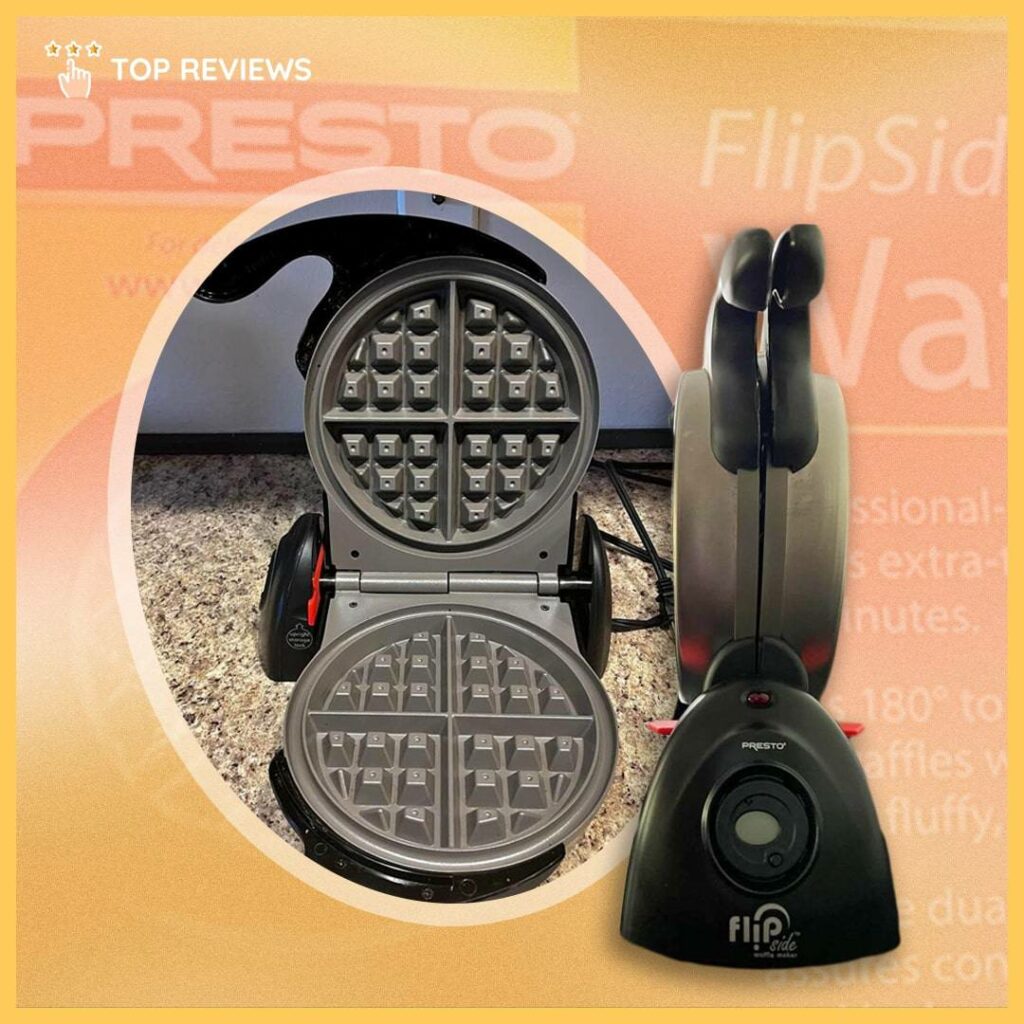 Price: NZ$75
If you're looking for a more affordable Belgian waffle maker that cooks incredibly well, we highly recommend the Presto Flipside.
Its main feature is that you can flip it 180° over to the other side for the batter to be heated in an even manner that will produce a beautifully cooked and luscious waffle.
While you do this, you have a digital countdown timer to help you with your waffle making. It's best set at 4 minutes and will inform you when the waffle is ready.
At the end of it, you have a fluffy, crispy, and 7" waffle that is easily sliced into four parts for your brunch!
Design-wise, its brushed stainless steel look classes up your kitchen. It's also foldable in a vertical position that locks into place with the main base for storage and convenience.
Plus, ceramic steel plates offer a non-stick surface that's easy to clean with a towel. Overall, if you're after Belgian waffles and want something affordable, this is one of the best waffle makers in NZ for you.
Highlights
180° flip allows the batter to spread out
Makes a delicious Belgian waffle
Foldable vertically
Countdown timer
Non-stick ceramic coating
Classy brushed stainless steel
Very affordable
Customer Reviews
Beloved by testers, the Presto FlipSide will never cease to amaze with the quality of waffle that it makes for your breakfast or snack, say owners. It scored it 4.6 out of 5 from almost 7,000 people in Amazon.
One owner, Sharyn Nassau shares:
" . . . The very first time I used the Presto it produced a golden-brown waffle (see picture above on left) which, although visually pleasing, required some tweaks to the recipe (slightly more vegetable oil and milk to the batter) to achieve a crisper exterior while retaining the chewy interior texture that I prefer (see picture above on the right). In addition to making consistently perfect waffles, the diameter of the waffle fits perfectly on a mid-size plate while the deep grid pattern retains the ideal complementary proportions of butter and syrup for a fully satisfying serving."
He then mentioned about it being easy to clean and about its no-spill outer edge reservoir:
"Perhaps one of the most practical features of this Presto is the durability of the ceramic grids and the ease of clean-up with a damp cloth once it cools. And best of all – no more messy over-flows as the well-designed reservoir around the outer edge captures any excess batter from an over-zealous pour! . . ."
4. Cuisinart 4-slice Belgian Waffle Maker
Best Overall Waffle Maker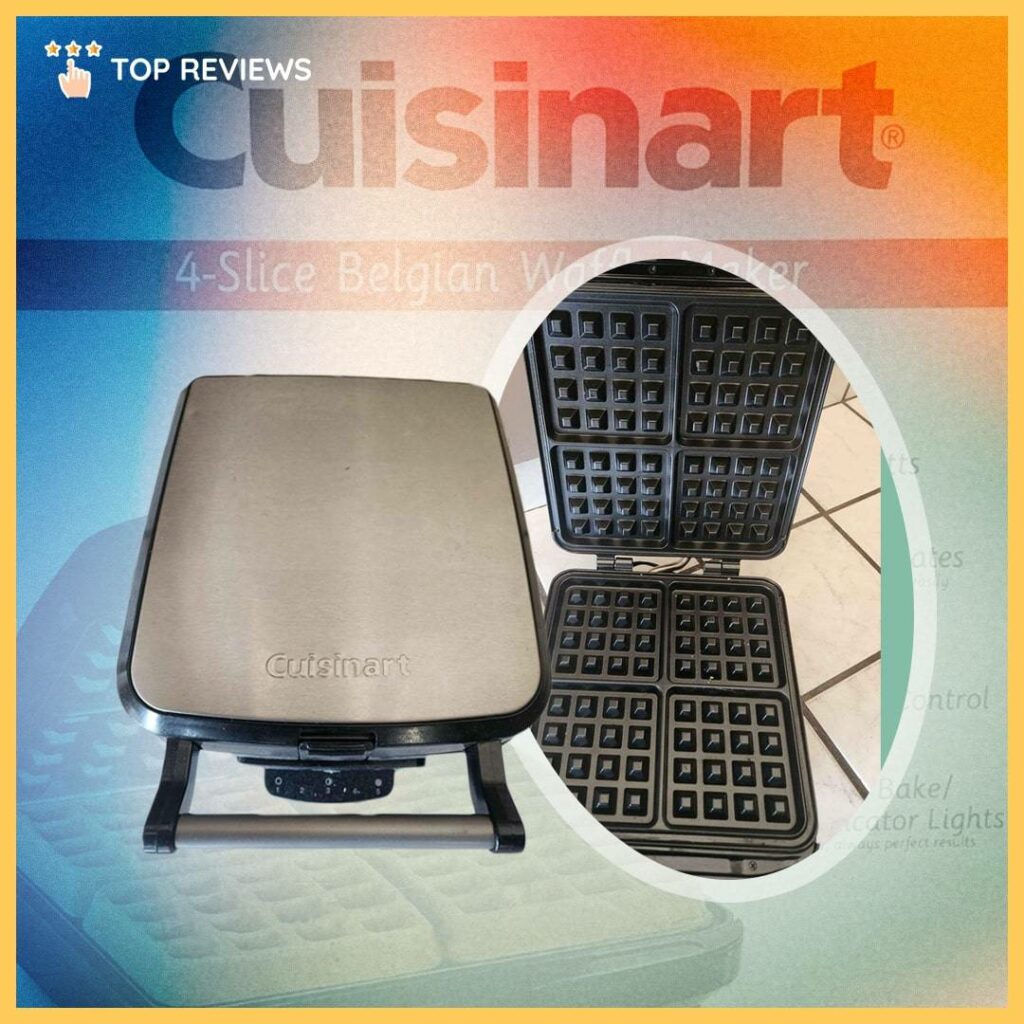 Price: NZ$179.00
Craving buttered and strawberry-syruped toasty brown waffles at home? Then the Cuisinart 4-slice Belgian Waffle Maker might be the best waffle maker in NZ for you.
It is a high-performance waffle iron has an elegant stainless steel top and makes deep-pocket waffles to hold more toppings for more delicious options!
You have two light indicators that alert you if you can pour in the batter when it is done. It also illuminates when you take the waffle out during cooking mode.
The waffles are thick, fluffy, and deeply pocketed, perfect for housing your syrups, fruits, ice cream, and whipped cream. It also saves time as you will be able to make two at a time.
The non-stick feature also proves to be helpful, especially when you're baking several waffles and need to clean up.
Highlights
Comes with light indicators
Non-stick plates
Cord wraps under the base and unit stands on end for compact storage
Chrome-plated handle
5. KRUPS Belgian Waffle Maker
Most Portable Design for Waffle Makers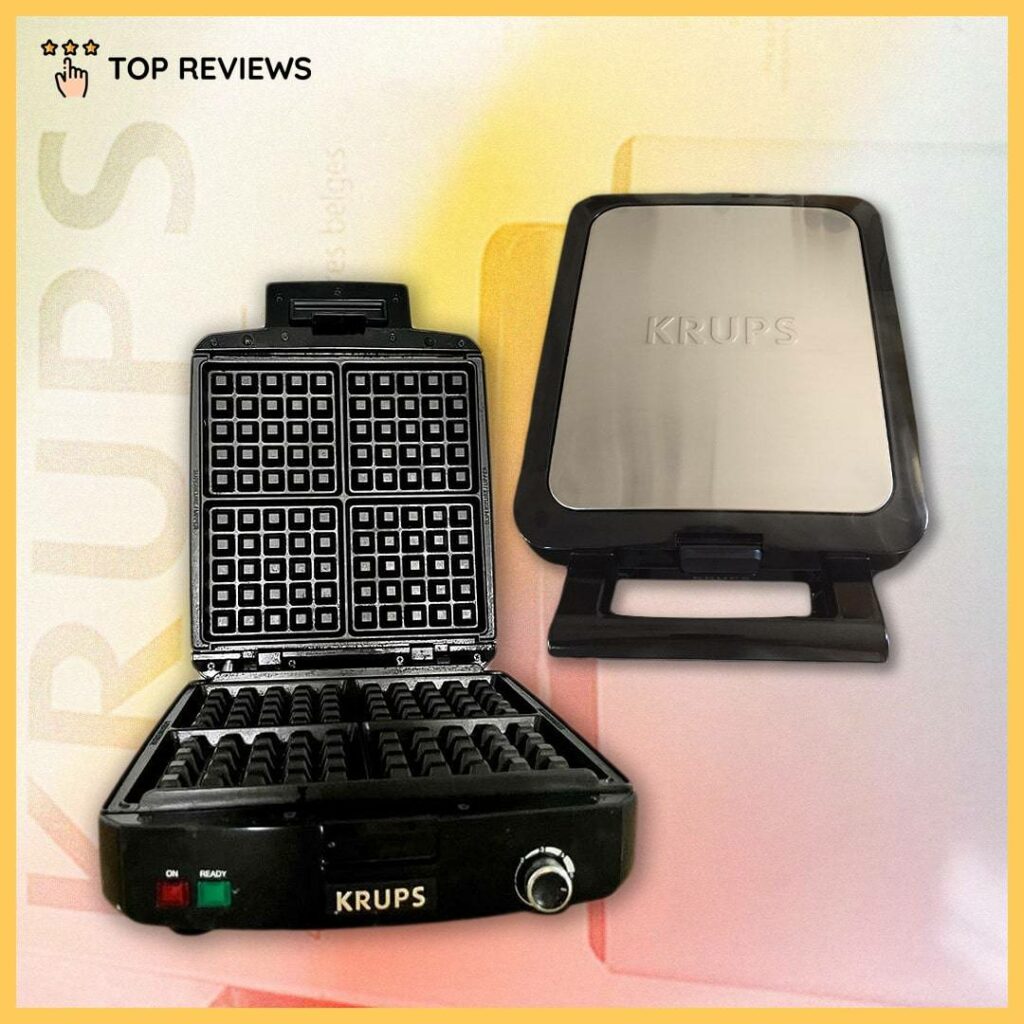 Price: NZ$108
How about square waffles as opposed to the round types? This bad boy can serve up to 4 Belgian-style waffles at one time — that's what KRUPS GQ502 is all about.
Sleekly designed with options for setting the browning level and power and other indicators, you never feel like you have to babysit the KRUPS as it works.
What's more, it's completely stowable, with the handle secured by a lock and a built-in cord wrap. It takes up only a little space in your cupboard or cabinet when it's stored in the vertical position.
The plates are removable and the non-stick coating makes them easy to clean. A tip is to put a small amount of fat on the irons to prevent sticking entirely, but it should be fine even without that, for the most part.
Overall if you have a small kitchen and you don't want appliances cluttered, then this could be the best waffle maker in NZ for you.
Highlights
Bakes 4 Belgian-style waffles at a time
Browning level with light and audible indicators
Removable and dishwasher-safe plates
Compact and portable design
Try out many savoury waffle recipes with it
6. All-Clad Belgian Waffle Maker
Best Belgian Waffle Maker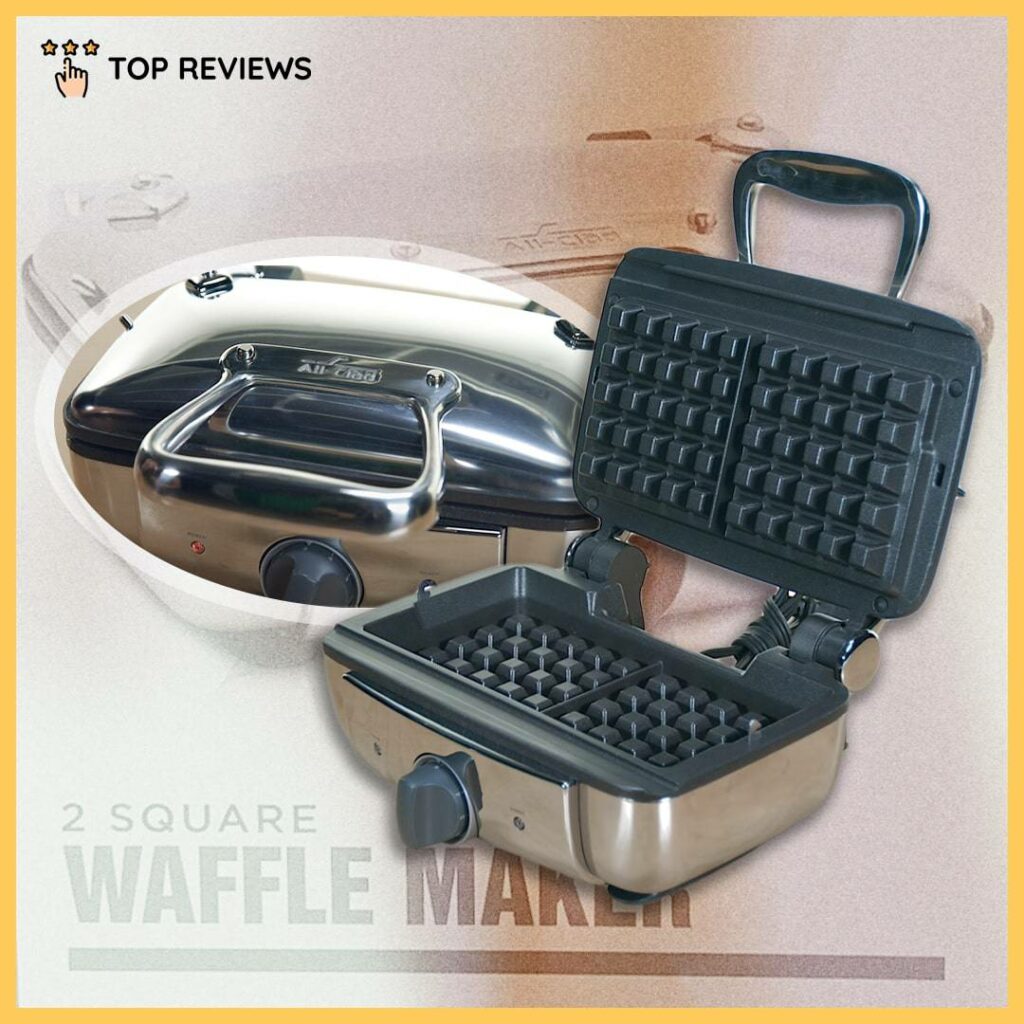 Price: NZ$280
To be honest, the design of the All-Clad Belgian Waffle Maker is a bit retro with its large stovetop dial and square shaped structure.
Don't be fooled by its looks, though, as it makes the best Belgian waffles you can have, thanks to its consistent heating.
With it, you can cook 2 square Belgian-style waffles at a time, perfect for a bigger family. Its grid produces ones with deeper divots, perfect for those who like a lot of syrup on their waffles.
You also have 7 browning levels to choose from. Moreover, there are light-up cooking indicators to tell you when it's time to pour the batter in or if it's ready for meals.
This waffle maker also has a non-stick surface but with a drip tray for catching wayward crumbs and spills. That keeps your countertop neater.
Considering all that we mentioned, it surely is one of the best waffle makers in NZ New Zealand! And hey, if you like the retro look, that only makes it better!
Highlights
Consistent heating of the waffle
Bake 2 Belgian-style waffles at a time
7 browning levels to suit individual preferences
Non-stick surface and a removable drip tray
Customer Reviews
From 350 Amazon customers, it received an overall of 4.4 out of 5 stars. It has loads of praise for its waffles' texture, which is described as perfect, brown and fluffy.
One customer even said it's so good that she'd let the square shape pass even if she preferred round shapes.
JEMMJM notes this about it:
" . . . I don't use any nonstick spray and have only had to wipe the iron down with a towel when I'm done cooking. All excess batter goes out the back. I have made a wide variety of waffles and all have turned out great regardless of whether there is fruit in them, or they're made with whole wheat flour–all have been perfect. The handle stays nice and cool while you're cooking, but do beware that the rest of the waffle iron gets very hot–so watch out for little kids. I am ridiculously happy I bought this waffle maker and would recommend it to anyone."
And Bonnie Reece comments:
"If you are serious about waffles like I am, spend the bucks & get this one. It is the best waffle maker I have ever had. The waffles are thick with deep indentations and evenly cooked. As soon as my kids saw it, they started arguing about who should get it in my will."
Anyway, that's it for the best waffle makers in New Zealand! They're all great options to make American or Belgian-style waffles at your home with less potential for spills or messes than other appliances.
What do you think of the products we suggested — do you like or dislike anything in particular? Tell us what you think by writing in the comment section below.
Other than that, if you want to pair your waffle with home-brewed coffee, read about our picks for the best coffee machines in New Zealand. One of those with one of these waffle makers could give you perfect breakfasts in the future!