The 8 Best Waste Management Auckland Contractors
Proper waste management is essential to safeguard our environment. If you have waste items you'd like to get rid of, it's best to depend on the professionals. For this, we've listed the best waste management Auckland contractors here for you.
We selected the ones who have a sustainable and professional approach. Also, we chose those with a prompt and fast response as well as excellent client reviews.
These crews can map out a sustainable waste programme for you. Anyway, here are the companies with the best waste management Auckland contractors!
1)  Waste Management NZ Ltd
BEST FOR
Innovative Waste Management Solutions
SERVICES
Wheelie bins

 

Skip bins

FlexiBins

Front load bins

Compactors

Daniels SharpSmart

Hook bins

Portable sanitation

WEBSITE
https://www.wastemanagement.co.nz/
ADDRESS
318 East Tamaki Road, East Tamaki, Auckland 2013, New Zealand
CONTACT DETAILS
0800 10 10 10
OPERATING HOURS
—
Waste Management NZ has been sustainably collecting, removing and managing waste in the residential and commercial sectors for over 30 years across the nation.
With rising population figures and growing environmental concern, their team always looks ahead to the future.
They procure the newest technologies to keep their waste management processes effective and safe for their staff, the people and the communities they live in.
You can book from a variety of options to get rid of your daily rubbish and unwanted items by hiring a wheelie, skip, front-load and hook bins as well as FlexiBins.
Their committed team can advise on and tailor the best waste collection solution for you within a certain period. You can get in touch with them by calling them.
Highlights
Innovative and sustainable service
Variety of bin options
Personalised waste solution
30 years of experience
2)  EnviroWaste

BEST FOR
Eco-conscious waste management
SERVICES
Wheelie bin collectionsSkip hire

 

Waste collections

Recovery facilities

Hazardous liquid waste & treatment

Disposals

Environmental remediation

Product recovery solutions

WEBSITE
https://www.envirowaste.co.nz/
ADDRESS
114 Patiki Rd, Avondale, Auckland, New Zealand
CONTACT DETAILS
09 820 5691
OPERATING HOURS
Monday to  Friday: 6am – 6pm

 

Saturday to Sunday: 7am – 4pm
For environmentally-responsible waste management for your workplace, home or DIY project, EnviroWaste has your back.
They offer wheelie bin and skip bin hires at reduced rates whether for the short- or long-term. In addition, they also offer hazardous liquid waste disposal and treatment.
As much as possible, the garbage collected will be reused, recycled or upcycled to reduce the impact on the planet.
For your business, they can assess how much waste you produce in your work. Then they can implement a cost-effective strategy that will minimise your waste products.
Also, payment can be done online and is secured and hassle-free. All it takes is a quick signup and filling in some details.
Highlights 
Eco-conscious waste management
Offer wheelie bin and skip bin hires
Lower rates
Secure and hassle-free online payment
Customer Reviews 
Here's one client's feedback on Google Business: 
"Friendly people all the time at the counter/scale,sharing few quick and short stories about  the day how did things went for all of us, well organized , easy  to drive in & drive out , strict on the Health and Safety which is very important for all of us and the prices way better than where I use to go previously so I will be staying with you guys probably for forever 🙂 . Highly Recommended A+++"
3)  Junk Run

BEST FOR
Large-Scale Waste Management Services
SERVICES
Rubbish removal

 

Furniture removal

Skip bin hire

FlexiBag & FlexiBin

Waste management

E-Waste collection & recycling

WEBSITE
https://www.junkrun.co.nz/sustainable-waste-management/
ADDRESS
33A Anzac St Takapuna, Auckland 0622, New Zealand
CONTACT DETAILS
021 586 544

[email protected]

OPERATING HOURS
Monday to Friday: 6.00am – 6.00pm
Junk Run is an award-winning and certified waste management specialist serving Auckland. They provide sustainable waste solutions for small to large-scale works.
That includes rubbish from homes and groceries to buildings and construction. They strive to redirect and recycle the waste to prevent them ending up in the landfills.
Basically, they can come with an end-to-end plan for you to reduce your waste. Doing so will make your business more efficient as well as healthier and safer for everyone.
Junk Run's services have earned them recognition from the Ministry of Environment and the Sustainable Business Network Awards.
And that's why they have some of the best waste management Auckland contractors.
Highlights
Award-winning company
Dedicated sustainable approach
Can solve small- to large-scale waste management
Serve clients in Wider Auckland
Customer Reviews
One of their clients, El Framo Picture Framing, left a review on Google:
"The team were really helpful, quick to respond to emails, and very quick to clear out our very large pile of things to get rid of. Really appreciate how easy the whole process was. Best part was that they also take e-waste so everything could go in one lot. Will be using them again."
4)  Green Gorilla

BEST FOR
Efficient and prompt waste collection service
SERVICES
Waste collection serviceProcessing facility

 

Wood chip & gypsum

Thro 'N' Pay

WEBSITE
https://www.greengorilla.co.nz/
ADDRESS
1 Victoria Street, PO Box 13-827, Onehunga, Auckland 1061, New Zealand
CONTACT DETAILS
09 636 2244
OPERATING HOURS
Monday to Friday: 7.30am – 5.30pm
With tonnes of waste produced from a range of sectors, they need to be diverted from the landfills — and this is where Green Gorilla comes in.
Based in Onehunga, Auckland, their team is composed of a friendly and efficient team with the goal of leaving the country better environmentally, with less waste.
They have a fleet of 80 waste collection trucks and 2 transfer stations — they're all in this together. They also have their own waste processing facility to do the 3R's.
For an easy way to collect your trash at home, they offer Thro 'n' Pay bins that they'll come and collect every week.
As you can see, Green Gorilla has some of the best waste management Auckland contractors. 
Highlights
100% Kiwi waste service company
Friendly and efficient team
Have their own waste processing facility
Outstanding customer service 
Customer Reviews 
Here's one client, J Orsborn, who stated on Google:
"Fantastic service. We're based in West Auckland. We've used the gorilla bags twice and would do it again if the two bags hadn't already cleared out everything we wanted to get rid of. They do everything on time and exactly as you expect."
5)  Silverfox Bins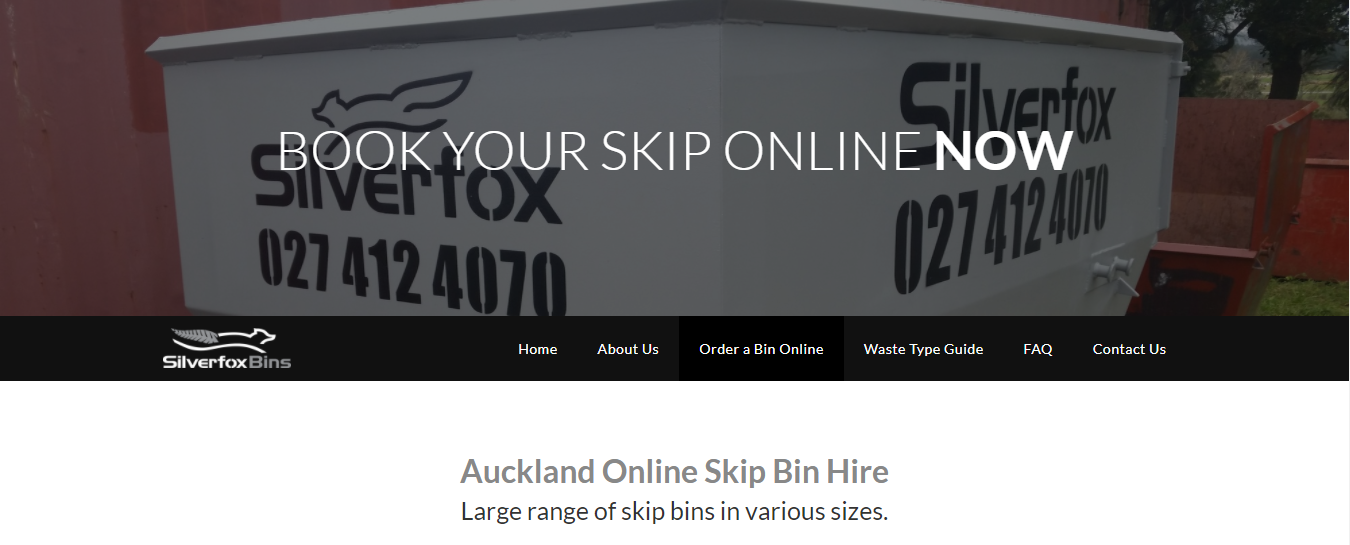 You yourself can also do the cleaning, especially when it involves house clean-ups or renovations. If such is the case, then Silverfox Bins can be your trusted waste management contractor.
To help you manage waste, Silverfox Bins offers a convenient way to hire skips through online and phone reservations. And one of the best things about them is they guarantee to deliver functional skips to wherever you are in Auckland within a day of your booking.
They offer a wide variety of skip sizes, which you can rent for a maximum of five days. However, if you need to use it for longer, you can still discuss special arrangements with Silverfox Bins' staff.
And because of its various skip sizes, you can hire one for any type of project or event. Some examples of how you can use Silverfox Bins' skips include bathroom renovations, house clean-ups, and excavation projects.
Highlights
Small bins: 2m3, 3m3, 4.5m3

Larger bins: 6m3 and 9m3

Online skip rental reservations

5-day maximum rental period
Customer Reviews
Karen Burge, a long-time customer of Silverfox Bins, wrote this review on Google:
"I've used Silver Fox many times over the past three years and they have been excellent every time. So helpful and accommodating and they always do their best to make it work. Their communication is helpful and friendly and it's so nice to know you are supporting a local independent business as well. I wouldn't use anyone else."
6)  Smart Environmental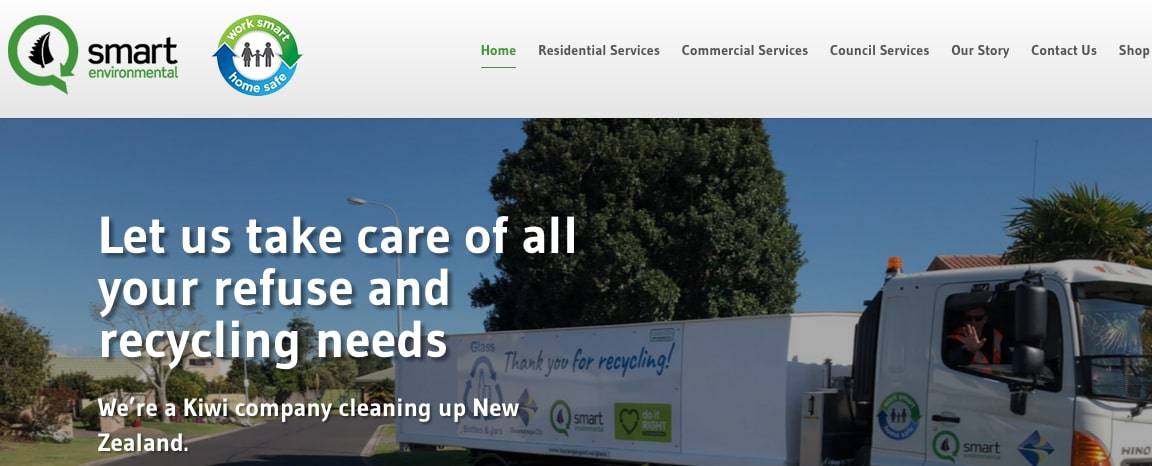 BEST FOR
Professional and personable service
SERVICES
Residential services

 

Commercial services

WEBSITE
https://www.smartenvironmental.co.nz/
ADDRESS
192 James Fletcher Drive, Favona, Auckland 2024, New Zealand
CONTACT DETAILS
+64 800 424 990
OPERATING HOURS
Monday to Friday: 8.30am – 5.00pm
Smart Environmental is a Kiwi waste collection and recycling company that serves commercial and residential clients. They are dedicated to cleaning up New Zealand with sustainability in mind.
Their professional and reliable team can tailor a waste management plan for your house or business depending on the amount and type of rubbish produced.
You can book different types of bins from them including front load, rear load, hook, skip and wheelie bins. You can do so on the commercial services section on their webpage.
Best of all, you get value for money from using the waste disposal and recycling services of some of the best waste management Auckland contractors.
Highlights 
Serves NZ-wide
Tailored waste management plan
Recycles as much as they can
Professional and reliable team
Value for money
Customer Reviews 
On Google, Chris Cranshaw, who is one client, said this:
"Great team of guys at the Tuakau branch. Professional and always a pleasure to deal with."
7)  Appliance Recycling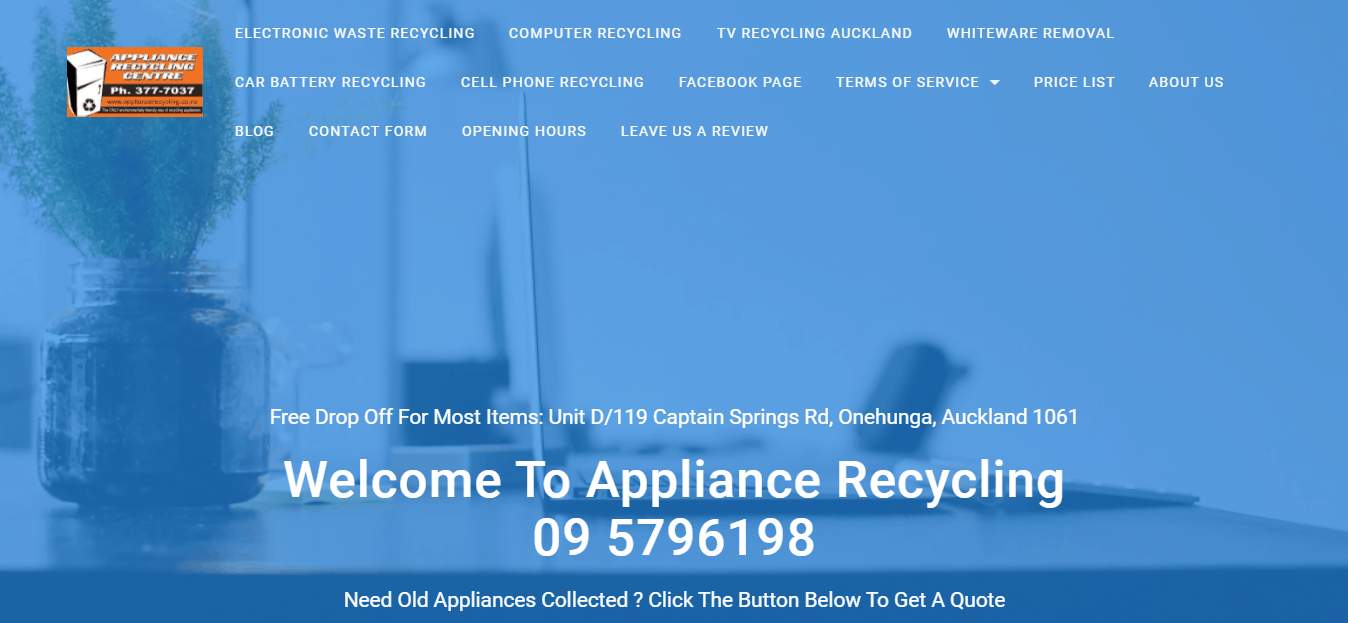 SERVICES

Appliance and computer recycling, car battery recycling, whiteware removal

WEBSITE

https://www.appliancerecycling.co.nz/

ADDRESS

Unit D/119 Captain Springs Road, Onehunga, Auckland 1061

CONTACT DETAILS

+64 9-579 6198

OPERATING HOURS

Monday – Thursday: 7:30 AM – 4:00 PM

 

Friday: 7:30 AM – 2:00 PM
Now, if you have big items, perhaps overused appliances, then Appliance Recycling can a good option. As its name suggests, this firm accepts all types of electronic wastes, from small cell phones to large refrigerators.
Additionally, Appliance Recycling accepts whiteware items, as long as you do your own drop-off. This waste management company even picks up used car batteries around Auckland for free.
Appliance Recycling also offers to pick up your old appliances, as long as you place them outside of your house. It does this service for $55 per call, with additional costs for additional items.
While it benefits from all your junk, Appliance Recycling's drop off is all for free. However, it also doesn't pay for any of your discarded junk so if you want to sell your appliances, you should go to a scrap metal dealer, instead.
Highlights 
Free drop-off

Accepts all sizes of appliances and electronic wastes

Free whiteware recycling

Free pick-up of old car batteries
Customer Reviews
Read these customer reviews to know how much people benefit from Appliance Recycling's services and facility:
"Great service from these guys not only do they recycle your appliance responsibly they allow you to drop your old appliance for free & they can also arrange for your old whiteware to be picked up too. Highly recommend Cheers guys ?"—Jono Fisher
"A great place to pick up a bargain and improve your recycling habits. I bought a decent tumble dryer and I didn't need to dispose of any packaging when I got home. You can also drop off items to be recycled – smaller ones free."—David Medland-Slater
8)  Electronic Recycling NZ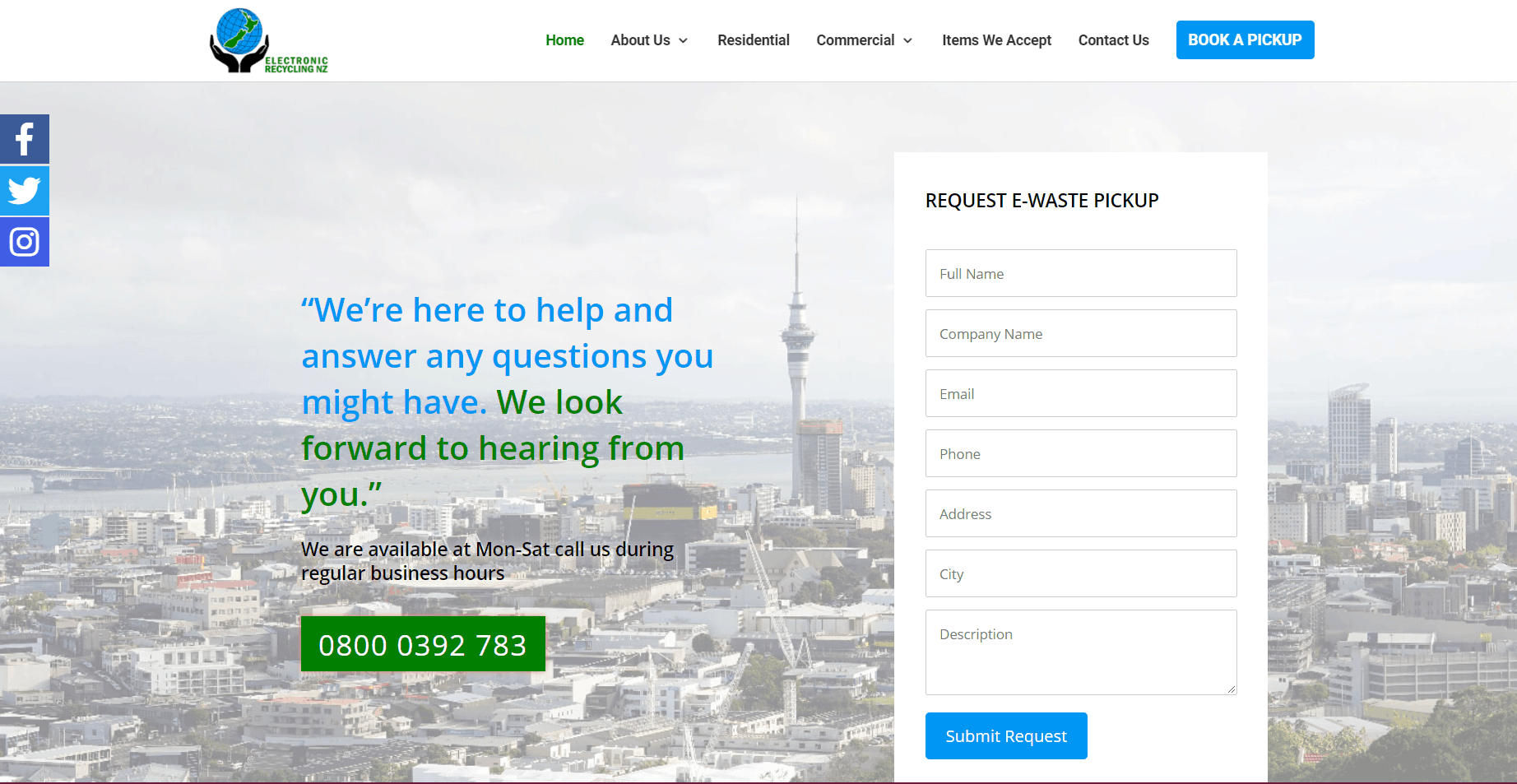 True to its name, Electronic Recycling is one of the few companies that have a wide range of services suited for disposing of electronics and data. Many praise them for providing transparent and straightforward support throughout their entire working process.
They have experience working with clients of various sizes, from small foundations to large corporations. Moreover, they are capable of accommodating clients coming from various industries, such as public sectors, schools, and more.
One of their main goals is to maximise the reusage of products, may it be from recycling or resale. With that in mind, they strive to provide a wide range of recovery and reusing options for their clients, not only through e-waste disposal but also through data destruction and disposal.
Finally, they'll make sure to provide adequate recording and documentation as they work, so that the client will be able to monitor their process thoroughly. Given their excellent work quality and extensive communication, Electronic Recycling is a reliable company to consider if you're ever in need of someone to dispose of your e-waste and data.
Highlights 
Wide range of services
Commercial and residential services available
Accurate reporting
Extensive and confidential information destruction
And that ends our list of the best waste management Auckland contractors. Because they are environment stewards, you can absolutely leave your waste to these companies.
Do you have any questions or opinions about our discussion? If you have one, feel free to drop us a message and we'll get right back to you.
Additionally, you might like to check out the best compost bins in New Zealand. These compost bins let you produce compost so you can use them to nourish your garden.