The 5 Best Water Damage Professionals in Wellington
A lot of damage can happen if a house has been flooded, such as sodden upholstery and ripped flooring. If that's your situation, we've got you covered, as we listed the best water damage professionals in Wellington!
For this list, we carefully selected the ones who have an excellent reputation in their years of work — experienced, skilled, prompt and amiable. They will repair the water damage done to your property as soon and as expertly as possible.
The ones we found are also ready to take your emergency calls 24/7! In any case, without any further ado, here are the best water damage professionals in Wellington!
1)  JAE Carpet Cleaning Wellington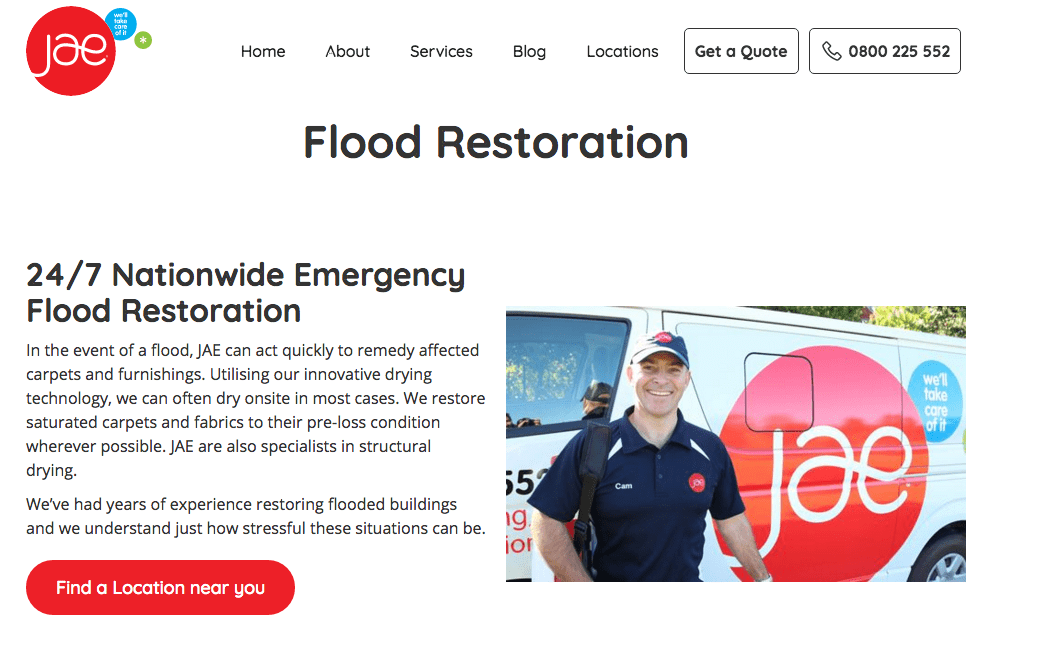 More than carpet cleaning experts, the pros at JAE Carpet Cleaning Wellington also specialise in flood restoration for your carpets, furniture, walls, and flooring.
Their qualified team holds IICRC and Applied Structural Drying (ASD) certifications. This ensures that they are knowledgeable and competent enough to completely restore your home to its previous, clean condition where possible.
Fabrics like carpets and curtains will be deodorised, sanitised, cleaned, and even stain-treated. After that the team will put everything back to its proper order.
Of course, your health and safety is kept in mind whenever they work. That's why they'll inform you firsthand of the chemicals or methods they will use to dry out your home.
Highlights
Knowledgeable and competent tradesmen
Holds IICRC and Applied Structural Drying (ASD) certifications
Restores your home to its previous condition
Prioritises your health and safety
Customer Reviews 
One of their clients, Emma Cullen, wrote on Facebook:
"Thanks so much Jay once again for all your hard work and doing an amazing job at my home. We recommend your team to family and friends a 10/10 from my family here in Manurewa. Thanks so much for this amazing prize. Your customer service is great. Our personal service agent Seith was amazing and your guys job was outstanding. Thanks once again."
2)  Tech Clean & Restoration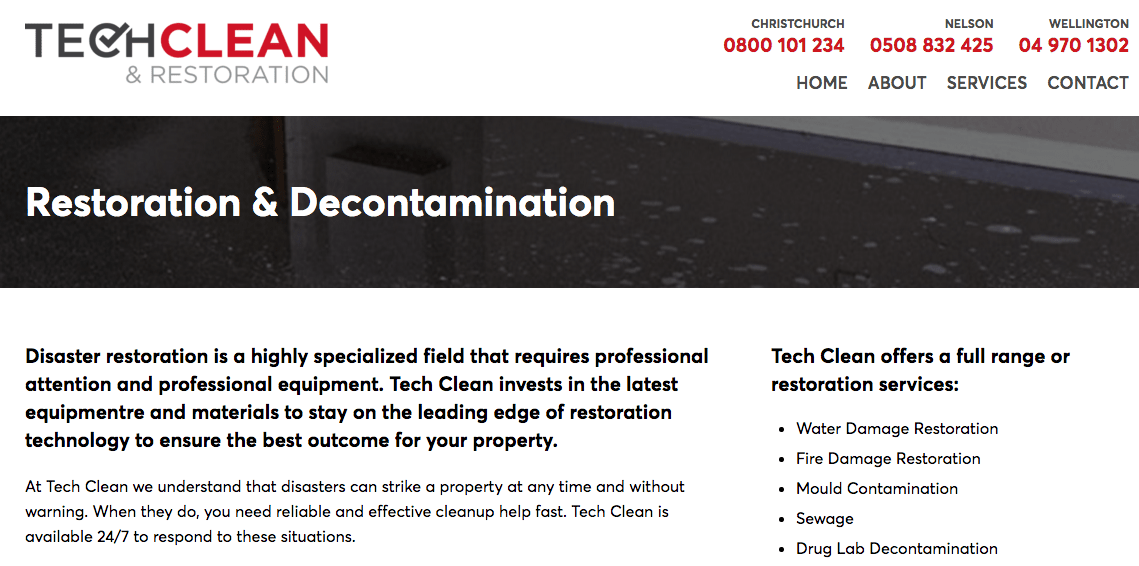 BEST FOR
Industry-Leading Equipment and Materials
SERVICES
Water Damage Restoration

Fire Damage Restoration

Mould Contamination

Sewage

Drug Lab Decontamination

Thermal Imaging

Biohazard Decontamination

Trauma Scenes

Odour Mitigation

WEBSITE
https://techclean.co.nz/restoration-decontamination/
ADDRESS
Wellington, New Zealand
CONTACT DETAILS
04 970 1302
OPERATING HOURS
Monday to Friday: 8.30am – 5pm
Tech Clean & Restoration provides 24/7 disaster restoration services and addresses your predicament with the help of state-of-the-art equipment and products.
Whether your house has been damaged by water, mould, fire or smoke, their trustworthy and experienced team will work to the very best of their ability to solve it.
Tailored services ensure that you get the very best solution to your problem. And they have public liability insurance in order to protect your property against any damage or mishandling.
With their assistance, you'll feel less anxious and frustrated from what happened. Also, they will make your home healthy and safe for you, your family, and your pets to live in.
Highlights
Offers disaster restoration services
Provides 24/7 service
Trustworthy and experienced team
Public liability insured
Ensures a healthy home for everyone, including children and pets
Customer Reviews
Here's what one customer, Chris Lewis, said on Google Business:
"Great Team at TechClean. They quoted a competitive price, Turned up on time, completed on time had a friendly helpful team on the Job. Did a great job."
3)  Maxi Carpet & Floods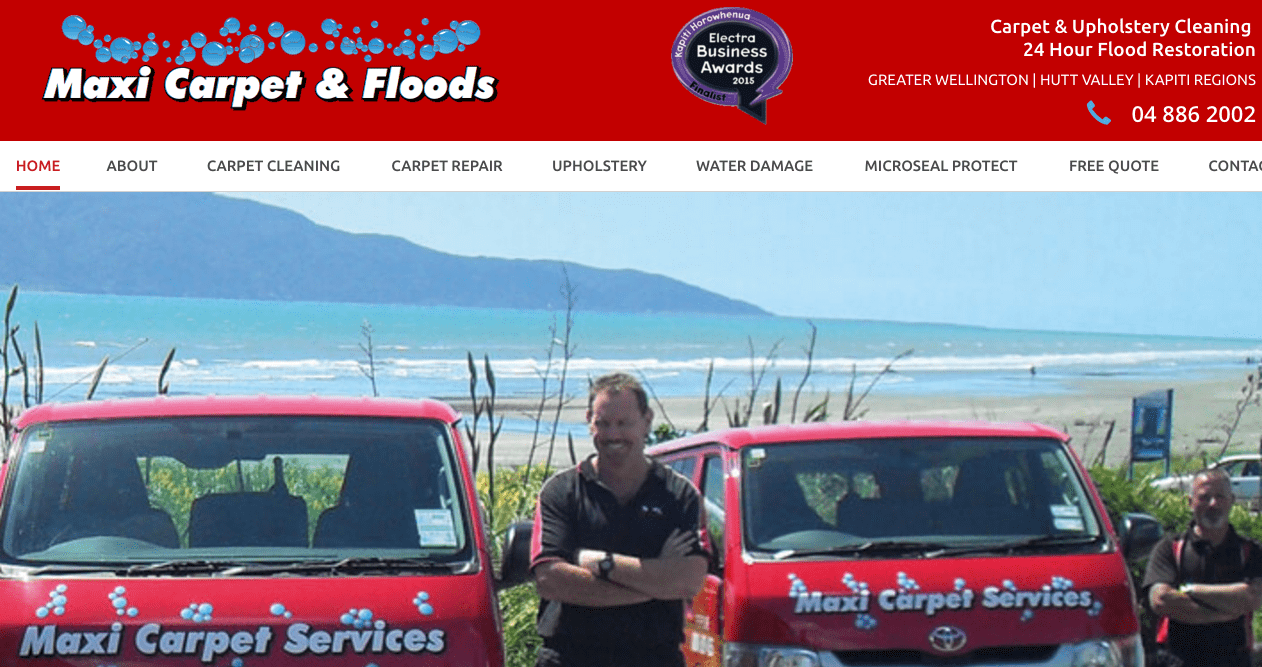 BEST FOR
Careful and Well-Equipped Team
SERVICES
Upholstery Cleaning

Stain Treatments

Flood Restoration/Drying Carpet & Dwelling

Carpet Cleaning

WEBSITE
https://www.maxicarpetservices.co.nz/
ADDRESS
68 Martin Road, Paraparaumu Beach, Kapiti Coast, New Zealand
CONTACT DETAILS
04 886 2002
OPERATING HOURS
Monday to Friday: 9am – 5pm
A sure contender for the title of the best water damage professionals in Wellington is Maxi Carpet & Floods. Their team has a solid record of combined experience that spans over 20 years in the industry.
The team possesses a complete range of drying equipment. These include water pumps, water vacuums, heavy-duty dehumidifiers and air movers.
They even have a wall cavity drying machine that can reach inaccessible gaps or spaces in your premises.
Maxi Carpet & Floods will treat your property as if it were their own. The company has also been serving clients across Wellington, Hutt Valley and Kapiti for years.
Highlights
Careful and well-equipped team
Combined industry experience of over 20 years
Possesses a full range of drying equipment
Serves clients throughout Greater Wellington, Hutt Valley and Kapiti
Customer Reviews
One client of theirs, Genna Marshall-Dunn, wrote on Facebook:
"Maxi Carpets are fantastic, I've used their services twice now, the first time nail polish was knocked off a counter onto brand new (laid 5 days earlier) carpet, Shane was there within 20-30 minutes and got it right out. The second time our house was flooded from a burst water pipe. The lads came around, pulled up the carpet and underlay, left industrial blowers and dehumidifiers and then came back a few days later once everything was dry and relaid the carpet. Thank you Maxi Carpet & Floods!"
4)  Carpet Cleaning Wellington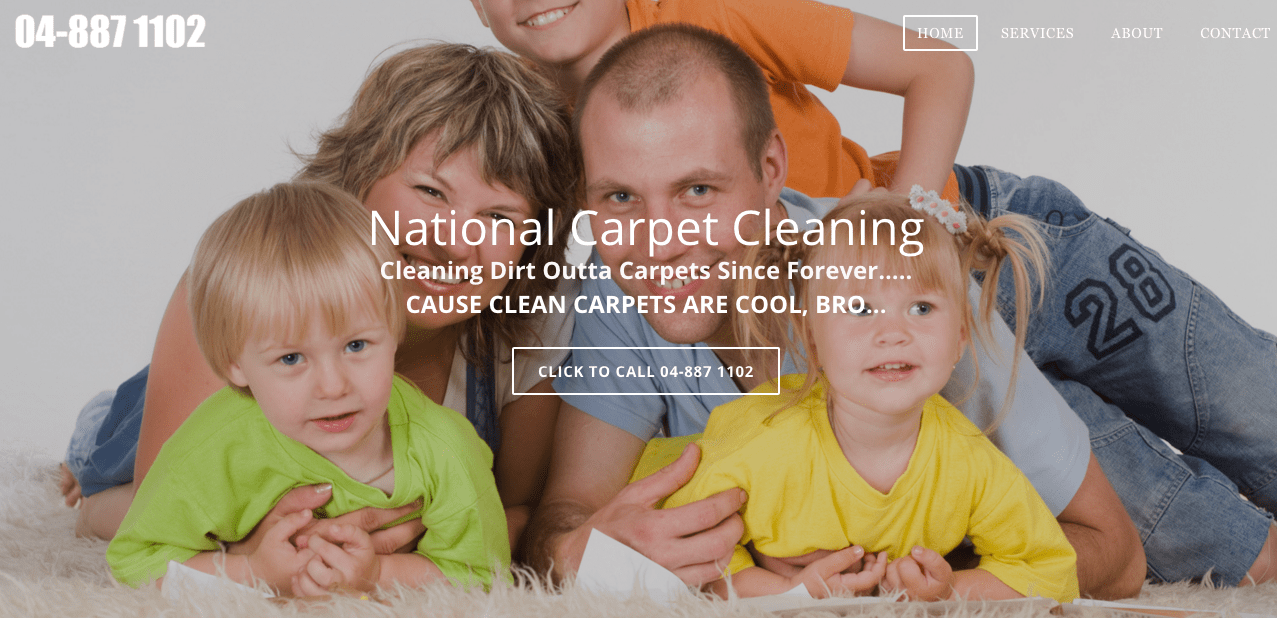 BEST FOR
Quick Response and Decent Service
SERVICES
Residential Carpet Cleaning

Commercial Carpet Cleaning

Upholstery Cleaning

Stain Removal

Carpet and Fabric Protector

Flood Restoration

Rug & Mat Cleaning

WEBSITE
https://www.wellingtoncarpetcleaner.co.nz/
ADDRESS
4A/154 Cuba St, Te Aro, Wellington, New Zealand 6011
CONTACT DETAILS
04-887 1102

027 284 6576

OPERATING HOURS
Monday to Sunday: 7am – 7pm
Leaks or floods can leave your carpets susceptible to mould and mildew that pose a health risk to you and your loved ones.
Good thing Carpet Cleaning Wellington is always ready to answer your calls — and usually arrives at the scene within 15 to 20 minutes after you've contacted them.
With Carpet Cleaning Wellington, your carpets are in safe hands. Their highly qualified and insured team will get to work to totally clean your carpets inside and out!
Using top-quality drying and moisture testing equipment, you can expect wholeheartedly that your carpets will be restored to their original, pristine condition — and your floors will again be safe for the whole family!
Highlights
Arrives at the scene within 15 to 20 minutes of your call
Highly qualified and insured team
Remove or deter the odours, mould and mildew from your carpet
Utilises top-quality drying and moisture testing equipment
Customer Reviews
Carpet Cleaning Wellington is one of the best water damage professionals in Wellington you'll probably come across if your primary concern is carpet cleaning. On Facebook, John Escon described their service:
"Very professional and affordable service… They cleaned my carpet and made them look like brand new… highly recommended."
5)  Capital Carpet Cleaning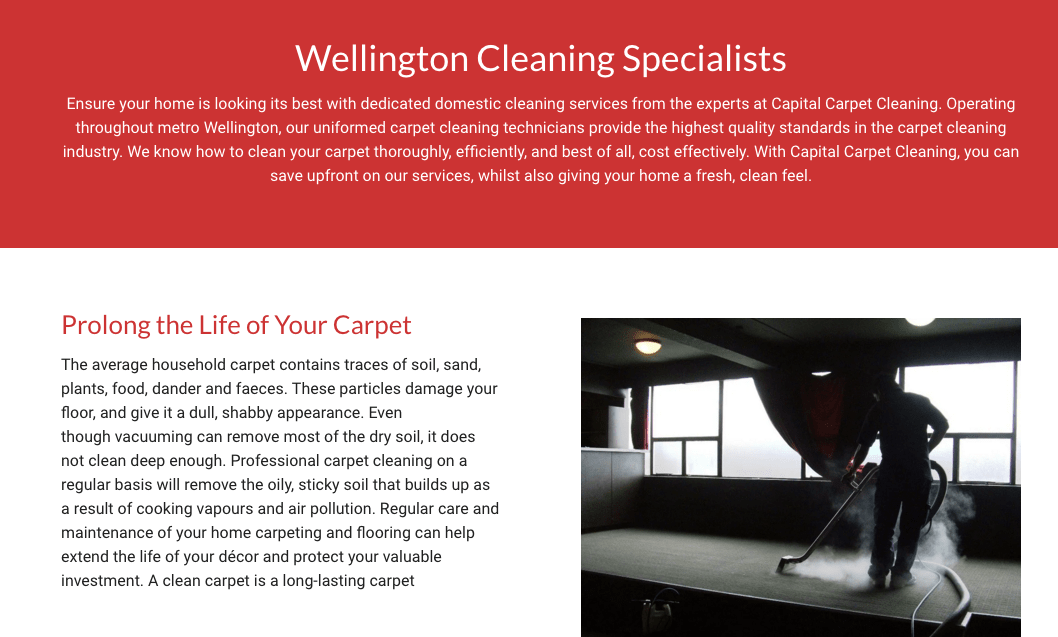 BEST FOR
Professionalism and the Most Efficient Drying Time
SERVICES
Flood Recovery

Stain Treatment

WEBSITE
https://www.capitalcarpetcleaning.co.nz/
ADDRESS
178 Featherston Street, Wellington Central, Wellington 6011, New Zealand
CONTACT DETAILS
38 98 425
OPERATING HOURS
Not mentioned
Having been in the industry in excess of 30 years, Capital Carpet Cleaning has one of the most experienced teams around. They're committed to drying down your property, be it residential or commercial, with minimal disruption.
Their certified team has water damage work down to a science. They have the latest equipment and techniques, besides the professionalism required to complete the task.
Your carpets, flooring and furnishings will undergo an efficient moisture-removal process, in addition to being properly sanitised and deodorised.
Some of the best water damage professionals in Wellington, the flood restoration technicians here will make your home or business usable and habitable again as soon as possible.
Highlights
Repairs water damage with minimal disruption to your home or business activities
Efficient cleaning process
Industry-accredited team
More than 30 years of service
Have the latest equipment and techniques
And that's it for now when it comes to the best water damage professionals in Wellington. You now know whom to call to rectify your saturated carpets, walls, flooring and furnishings!
Do you have any questions for us about the companies we listed? If you have one, feel free to send us a message and we'll get back to you as soon as we can.
For stand-alone carpet repair, by the way, you may also check out the best carpet repairs in Wellington! In addition to flood restoration, they'll keep it fresh and clean for you too!